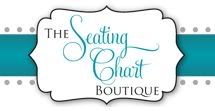 A BIG thanks goes to everyone who entered the Seating Chart Boutique giveaway that we recently hosted! It was definitely exciting to read your responses and see all the lovely designs you chose as your favorites! It's true, the Seating Chart Boutique really does have a lovely collection!
Unfortunately, there can only be one winner! As a reminder the winner will get to choose from over 20 designs, 22 colors and 20 fonts. So without further ado I'd like to announce the winner of the FREE seating chart!
A big congrats goes to Rhian! Thanks again to all who entered and stay tuned for more fun and exciting giveaways!
Share This: