The Perfect Palette
recently teamed up with a group of North Georgia wedding pros to design a four part inspiration series featuring the latest wedding trends, styles, and colors. It was just last week that
we took you glamping
as we celebrated our love for all things bohemian.
However, this week we're switching it up a bit by sharing a bold and refreshing approach to fall wedding colors. Picture rich berry tones mixed with copper, paired lush florals galore. It's a look full of elegance, and romance —
and truth be told, we fell in love at first sight.
Plus good news! It's a look that's absolutely trending right now for the season. And for those reasons alone we're just so excited to share it with you. With the help of
Stems Atlanta
, we dreamt up this dreamy scene up at
Tatum Acres
on this beautiful day in August.
The weather was gorgeous, the venue was absolutely stunning, and beauty could be discovered around each and every corner. Our
bridesmaids
were radiant wearing dresses from
David's Bridal
and it's always a good day when
Lauren Rae Photography
is behind the lens to capture it all.
Here at The Perfect Palette, we're always being asked about the latest trends for wedding colors. What are the hot colors? And what are the ways that color is being used in weddings?
You may be surprised to find out that one of the biggest ways couples are bringing color into their day is through the selection of their bridesmaid dresses.
That's right! This year more than ever we're seeing more and more couples embracing the concept of having each of their bridesmaids in a different color! Because what's not to love?
To say we were in our element on this day would be a total understatement. The colors were vivid, the blooms were lush and every little detail was just as we had imagined.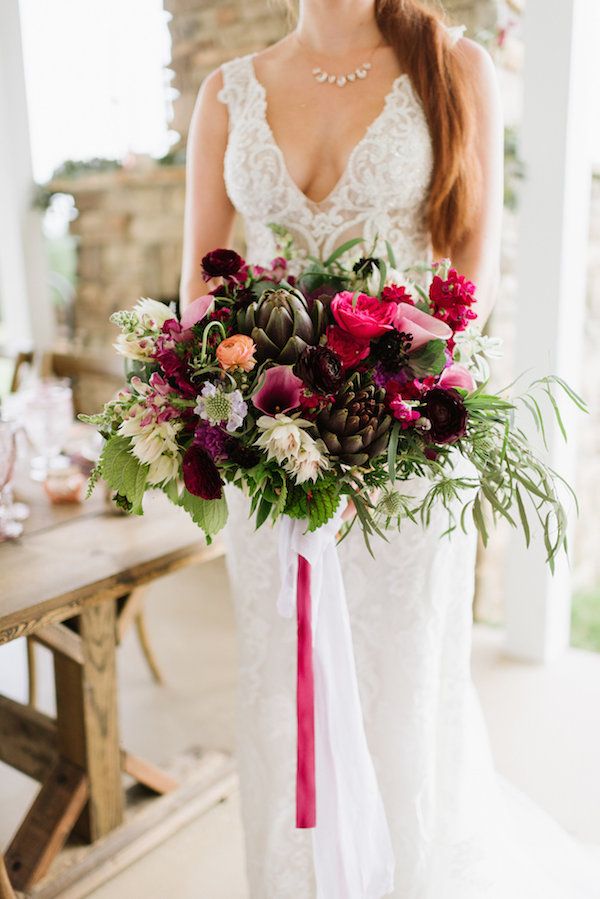 Stems Atlanta completely outdid themselves with this crazy beautiful bridal bouquet featuring chocolate artichoke, lavender mini callas, orange ranunculus, blushing bride, burgundy ranunculus...
...lavender scabiosa, fuchsia stock, hot pink garden roses, burgundy snapdragons, silver thistle, purple dianthus, snow on the mountain, purple cabbage, feathered eucalyptus, coleus, and c

hocolate lace.
And with a dress that's as stunning as this one? It's no wonder that heads were turning as our bride, Taylor, walked on set.
We chose the illusion lace plunge bodice wedding dress and as you can see the lines of this silhouette were both form fitting and oh-so flattering.
We paired bridesmaid dresses in a variety colors including — this open-back lace and mesh number in 'Begonia,' another illusion v-neck lace dress in 'plum,' and a long bridesmaid dress with a lace bodice in 'Rose Gold Metallic.'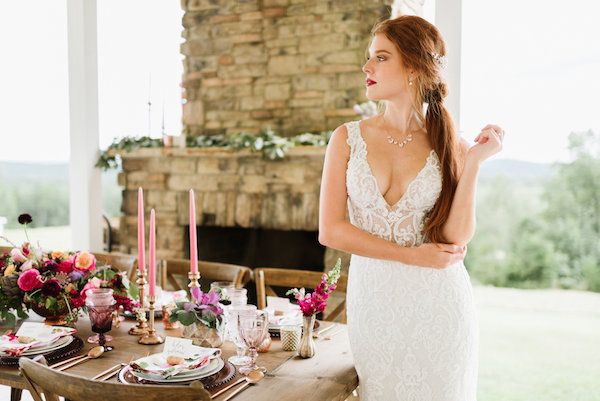 And oh. my. goodness! Can these ladies look any more lovely? We think not.
A full table was designed using furniture from Miss Milly's, tabletop pieces from The Prissy Plate Company and flatware from Presentime Rentals. We even had speciality napkins flown in from ModMix Studio.
And just when we thought things couldn't get any more dreamy. The florals catch our eye again. Um, can we just take a moment to lose ourselves in this texture? These colors?
100 Candles provided the pop of color we were craving with these pink taper candles that we placed in rose gold taper holders from World Market.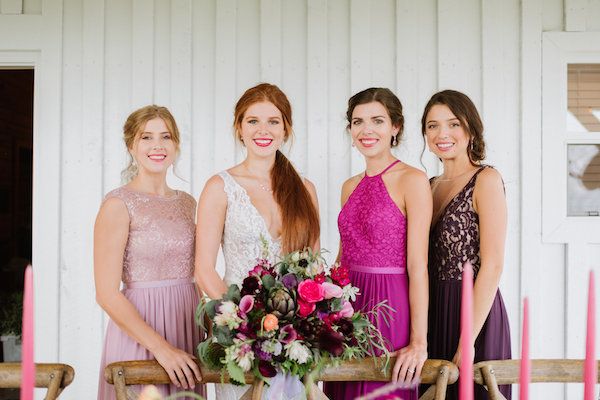 And how beautiful was this girl squad featuring the always lovely: McKenzie McAdams, Taylor Adkins, Tiffany Adkins, and Amanda Sanders?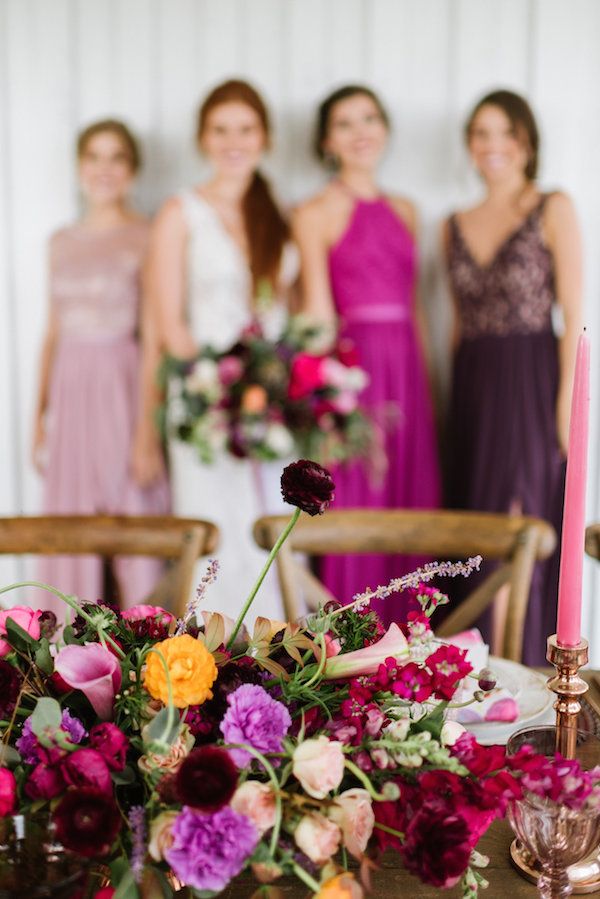 As for the wedding gown itself, the plunging tank bodice of this slim sheath wedding dress was a dramatic show-stopper.
Fully lined in beige illusion mesh, it created a barely there backdrop that allowed the beauty of beaded lace to shine through.
The scalloped back features illusion mesh, creating another dazzling focal point atop the lace-edged skirt.
In addition, a one tier cake was whipped up by wedding cake extraordinaire, Cake Envy.
And we can't go without mentioning our love for how it all came together with these soft brushstrokes and the blooms accents.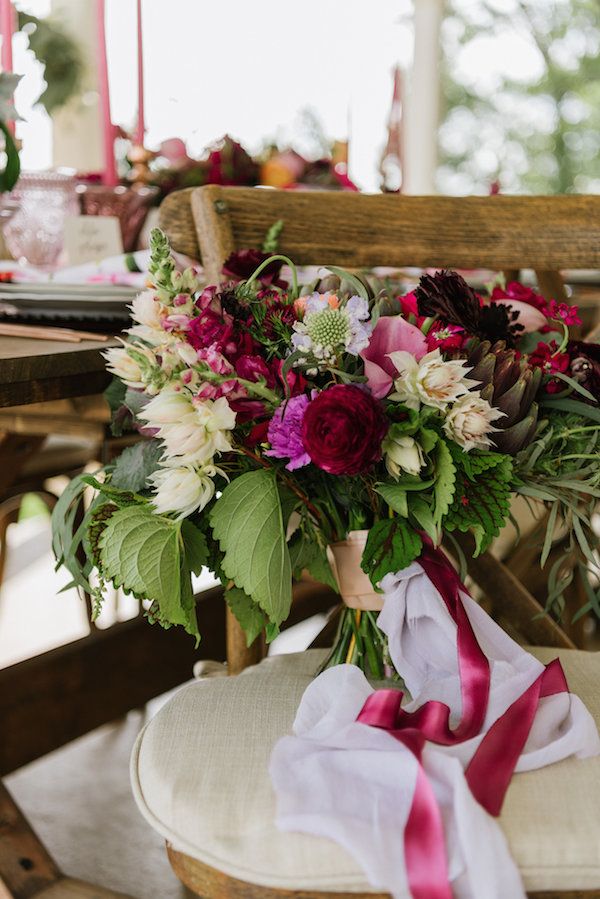 Calligraphy by was added to simple white place cards by
Lauren Rae Photography
.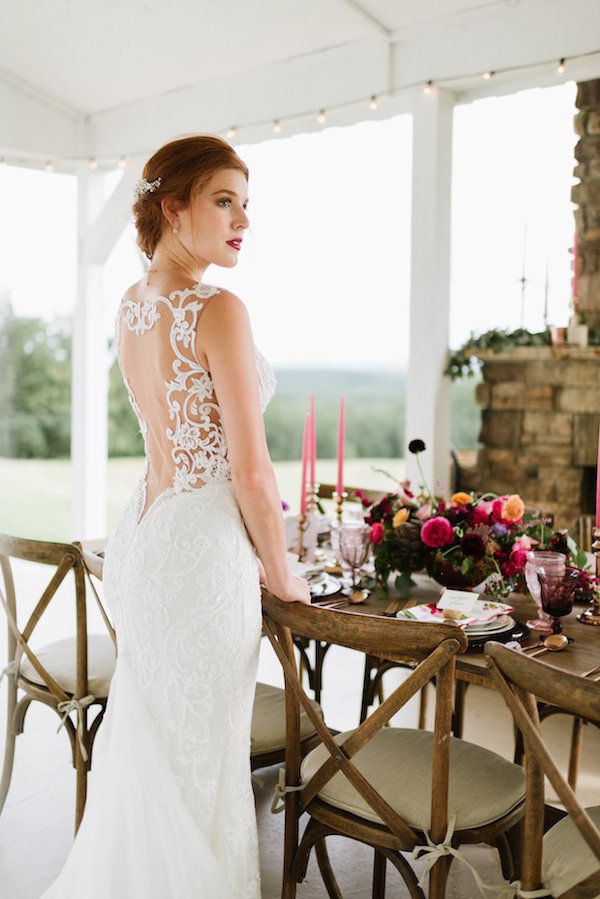 Still swooning over this mix of dresses from David's Bridal.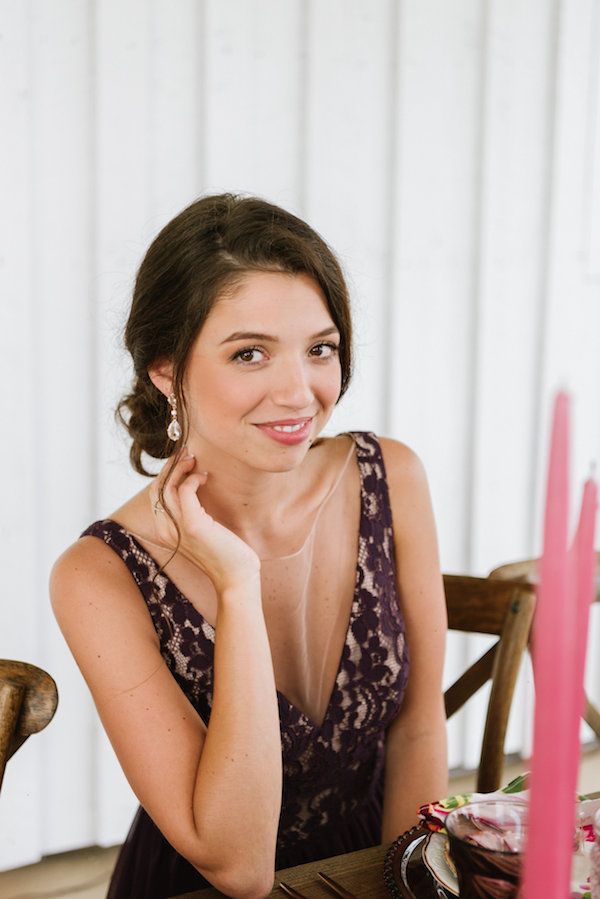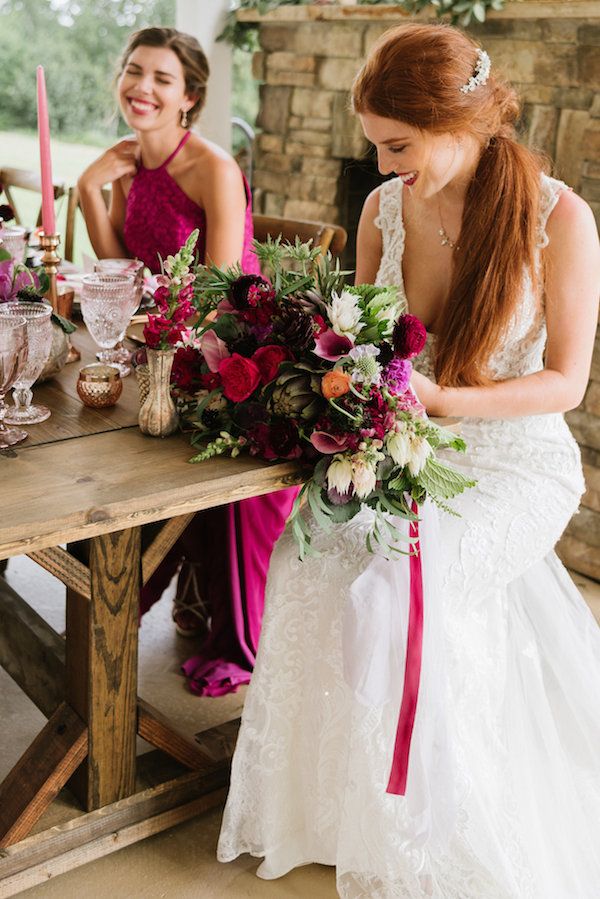 Oh, and we can't go without mentioning the beautiful stationery suite that Simply Paper Co.

dreamt up on this day.
The dresses and the blooms absolutely popped! And the hair and makeup team at B. Young Beauty Studio worked their magic to create a fresh, and modern look for these beauties.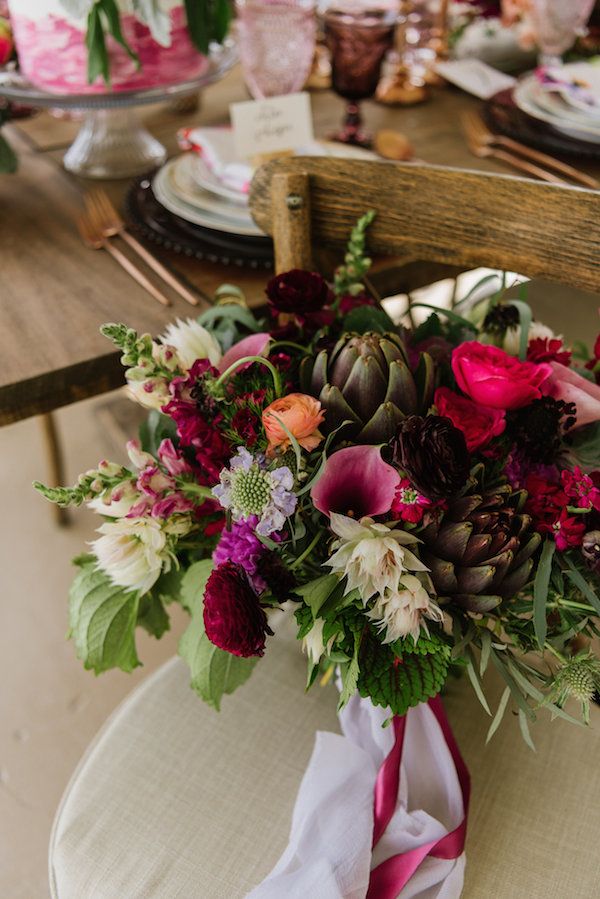 So much head-to-toe gorgeousness, you guys! Ahhh, we actually envy you ladies! Oh, to be a bride planning her big day. Totally wishing for a wedding redo (same groom of course) - just so we could dive into all of the details all over again! So much excitement ahead of you. So many fun and festive celebrations as you head into becoming a Mrs.
Things to remember: #1 Don't be afraid of color. Go bold. Get creative with textures. #2: Don't be afraid to mix it up when it comes to your bridal party's look! And #3: As you begin the process of selecting your bridesmaid's attire, we hope you'll remember to check out out David's Bridal! Because, um, the options are truly endless when it comes to finding the perfect look for you (and your bridesmaids) on your special day.
Now excuse us, because we have some serious pinning to do. Care to join us?
Photography: Lauren Rae Photography // Concept, Event Design, Styling: The Perfect Palette // Floral Design: Stems Atlanta, florals sourced from Blooms by the Box // Wedding Dress, Bridesmaid Dresses & Accessories: David's Bridal // Venue: Tatum Acres // Hair and Makeup: B. Young Beauty Studio // Furniture + Rentals: Miss Milly's // Tabletop Rentals: The Prissy Plate Company // Flatware:
Presentime Rentals
// Floral Napkins: ModMix Studio // Cake:
Cake Envy
// Day of Assistants:
Debbie Ley
and
Ivy Marie Weddings
// Stationery:
Simply Paper Co // Candles:
100 Candles
// Copper Candle Holders: World Market // Calligraphy:
Lauren Rae Photography
// Models:
Taylor Adkins
,
Tiffany Adkins
,
McKenzie McAdams
,
Amanda Sanders
Featuring Wedding Dress

—

Illusion Lace Plunge Bodice Lace Wedding Dress, Bridesmaid Dresses

—

Open-Back Lace and Mesh Bridesmaid Dress in 'Begonia,' Illusion V-Neck Lace and Mesh Dress in 'Plum,' Long Bridesmaid Dress with Lace Bodice in 'Rose Gold Metallic,' // Shoes: Layla, Ceternity, Nayomi, Elton9x, Vianne, and Accessories, Bridesmaid Earrings: Filigree and Crystal Drop Earrings, Bride's Necklace: Crystal Pear Pendant and Pave Necklace
This post was sponsored by
David's Bridal
. However, all opinions are our very own.
Share This: