Warm, cozy and all kinds of pretty, today's fall inspiration has us feeling oh-so inspired! Because who doesn't love the idea of sitting down to read a good book with a warm cup of hot cocoa? So many creative wedding ideas by
Simmi Floral & Event Design
and thank goodness that
Nina Milani Photography
was there to capture it all. Because this shoot is a total must-see!

From the designer, "For this styled shoot we decided to combine two of our greatest loves: chocolate and old books."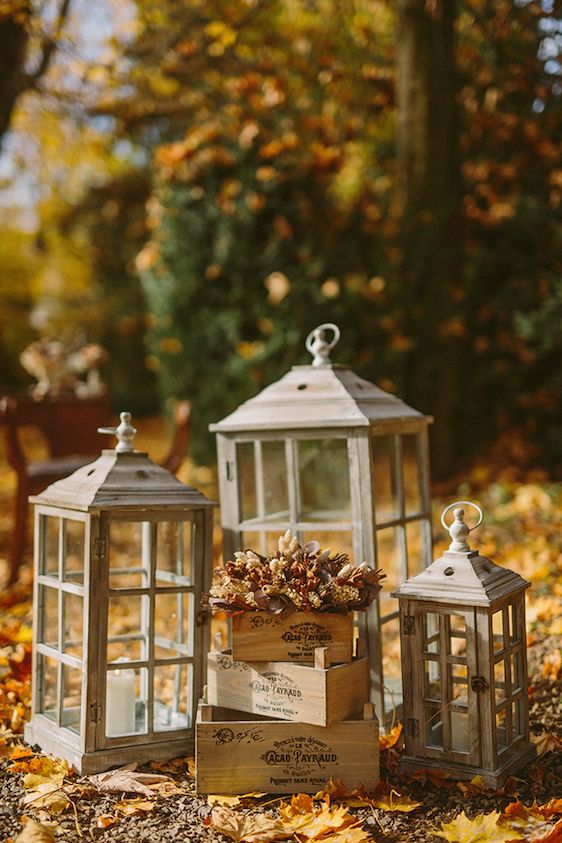 "We chose Autumn especially for its warm colors that range from ocher to orange, from mossy greens and a multitude of browns."
"The locale we chose is Villa Corinna's amazing garden."
"To create the bouquet and floral decorations we did not want the typical flowers, so we went for berries, pine cones, cinnamon and little bundles of sticks we foraged in the woods..."
"...also leaves from the brown eucalyptus and golden berries every now and then to give that sparkle and remind us of chocolate paper and old books."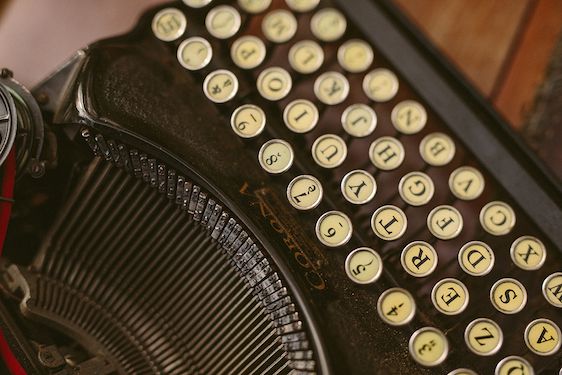 "We chose a woodland ceremony locale, under high trees and on top of a carpet of multicolor and golden leaves."
And the result? Absolutely stunning, we say!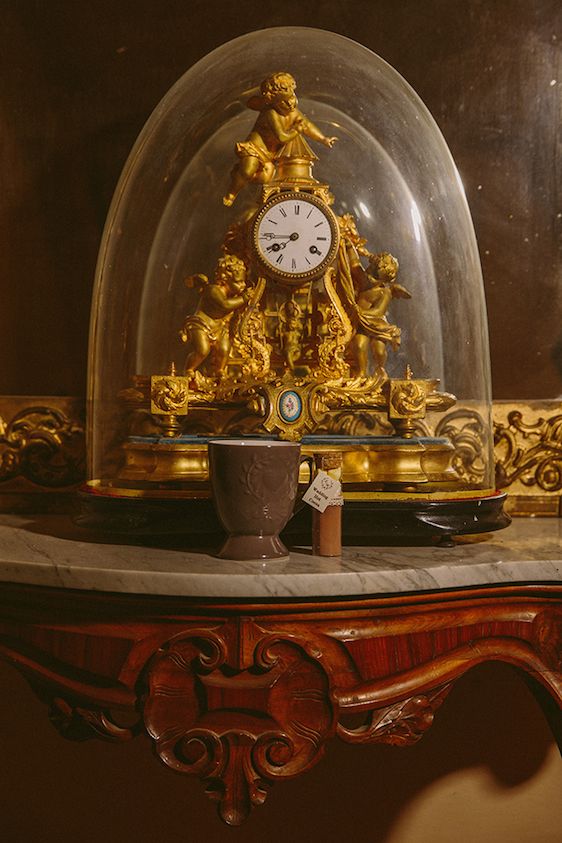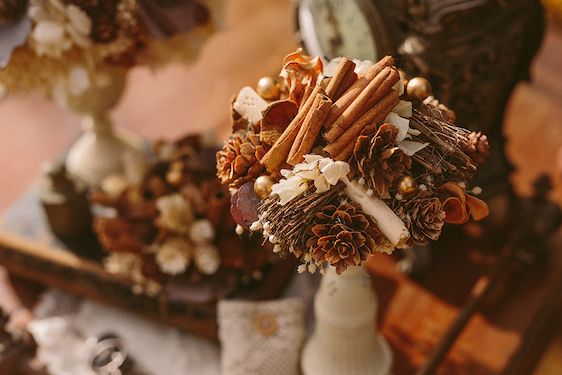 "Instead of using a typical floral decoration we chose to put ancient objects, books and little decorations on a vertical metal shelf."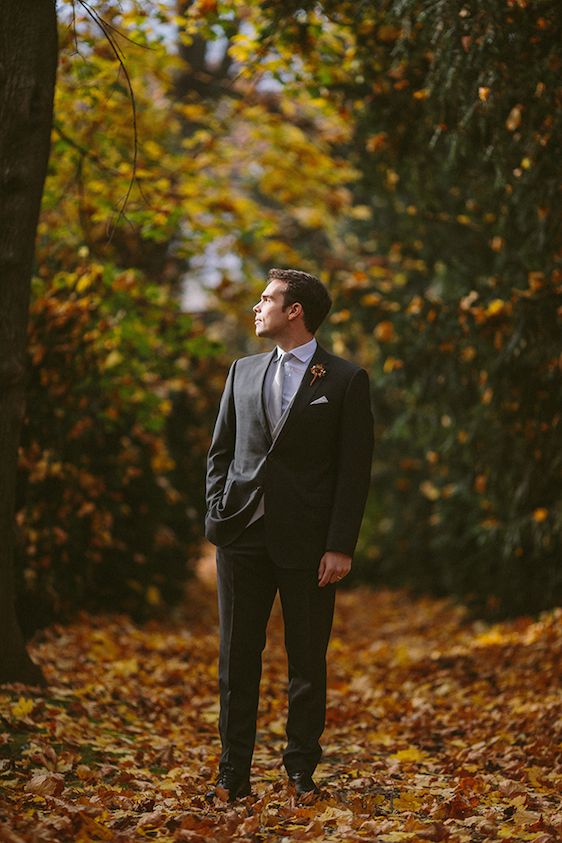 "And the pralines in various shades of brown coordinated really well with the tones of old books, and with their covers slightly faded by time."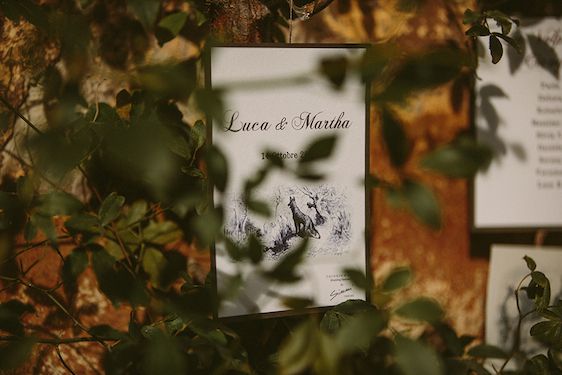 "The table we used was an old wooden desk, from the end of the 1800s..."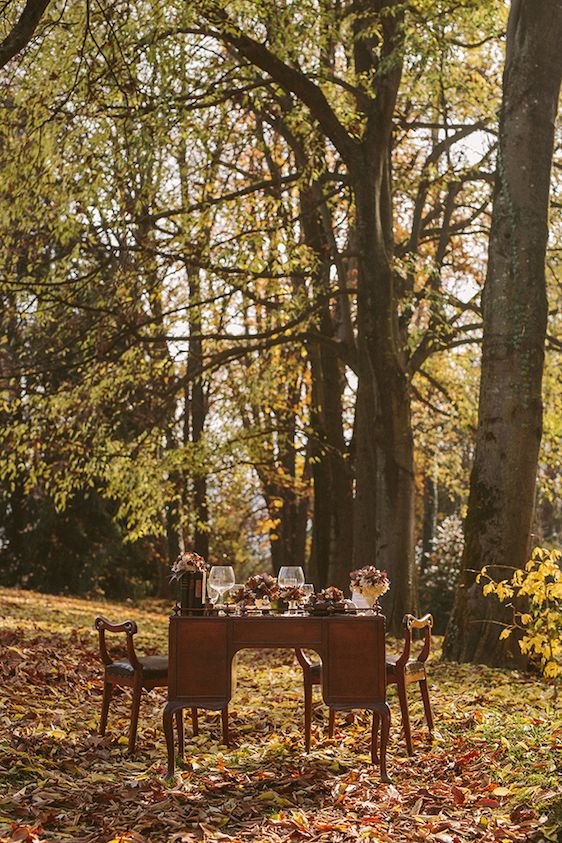 "...we styled it with small themed compositions and old books."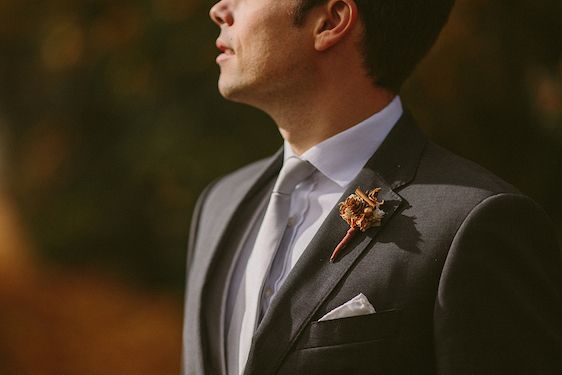 "All you need is love and maybe a little chocolate" was the title we used for the candy bar."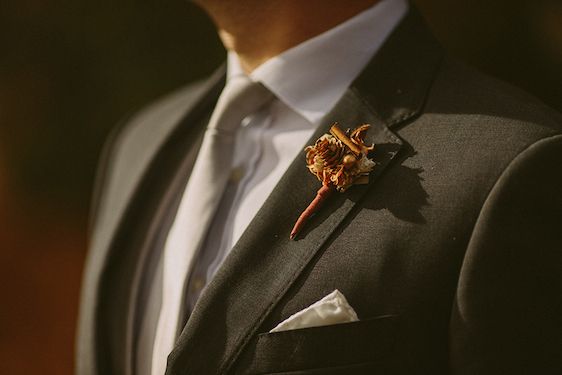 "We were looking for a natural and spontaneous feeling. We used golden plates as place mats and on top of the vintage ceramic plates we put the menu, decorated with an ecru lace."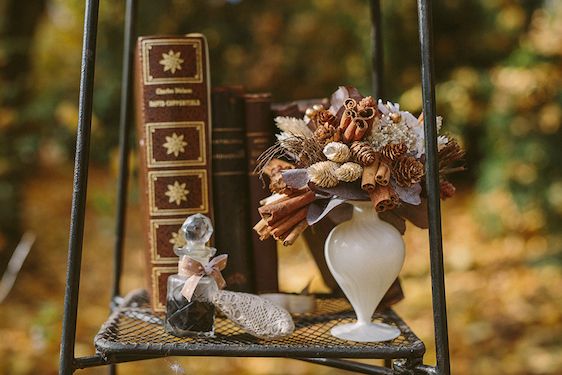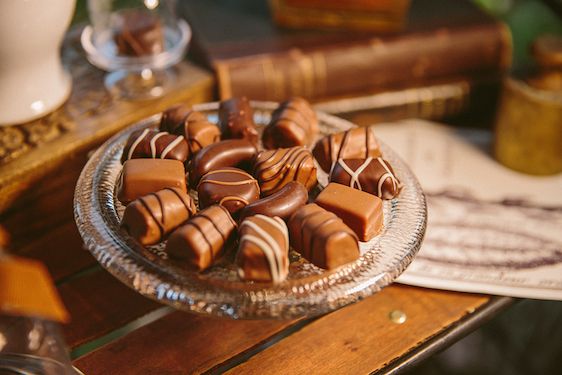 "Replacing flowers with berries, cinnamon, dried leaves and many other elements makes this shot special."
"We chose to use silver and porcelain jars and cake risers, with little compositions with an autumn feeling."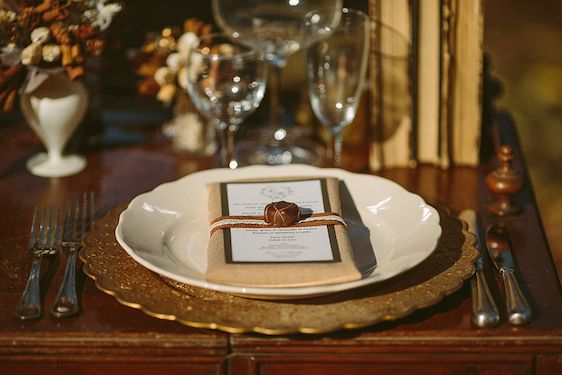 "We also chose a different kind of floral composition, preferring a vertical opposed to a more traditional horizontal one..."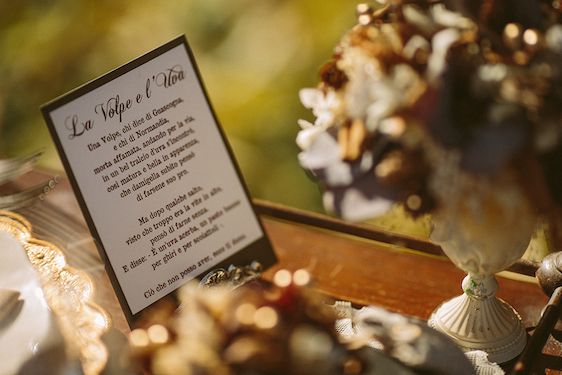 "On the different shelves there were glass cake risers with chocolate pralines, little plates and cups filled with dragées, chocolate bars, marshmallows and candies and obviously more books."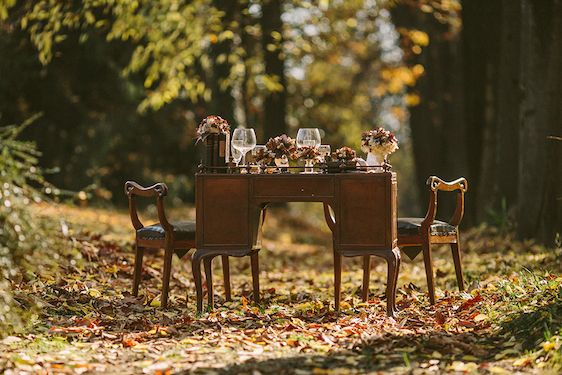 "Also featured was a book as a ring holder, a chocolate filled little glass bottle as wedding favor... The seating assigments were made with reproductions from the La Fontaine tales."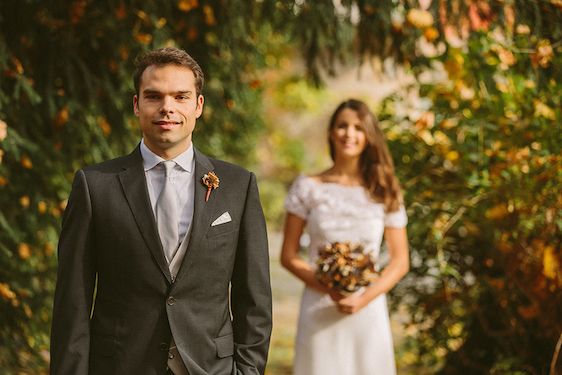 "Every table corresponded to one of the tales so to allow the guests to read it and, why not, learn something new!"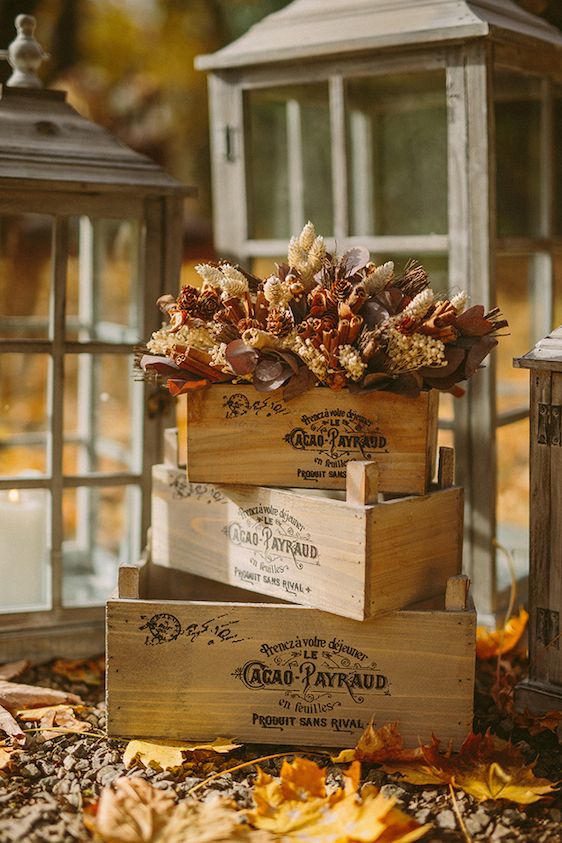 "On the other side, as to introduce the ceremony area, a trio of lanterns and wooden boxes form a cocoa producing company."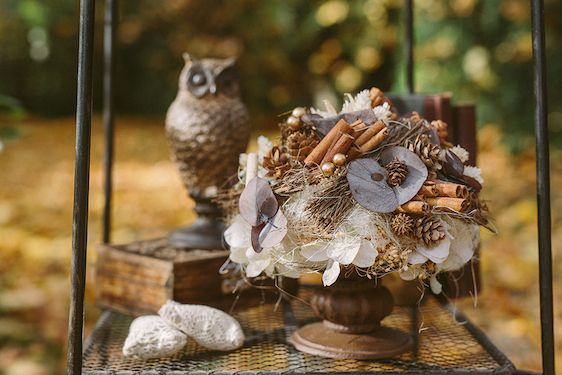 "The event design look is simple but cozy."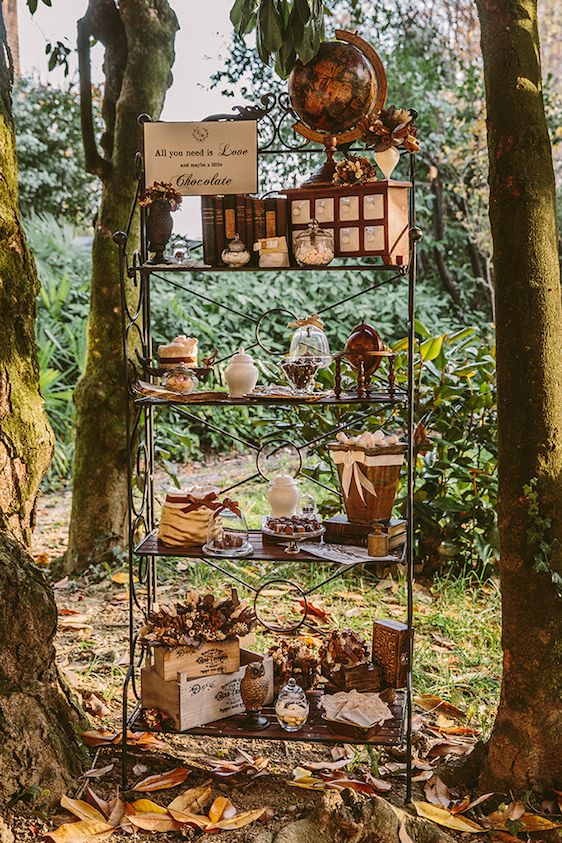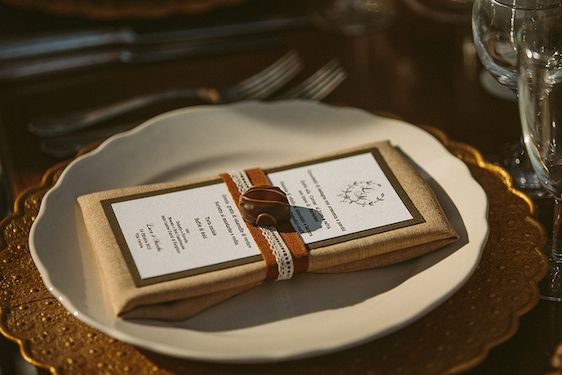 "For that "extra touch" we thought it would be nice for the guests to find a chocolate praline on top of the menu."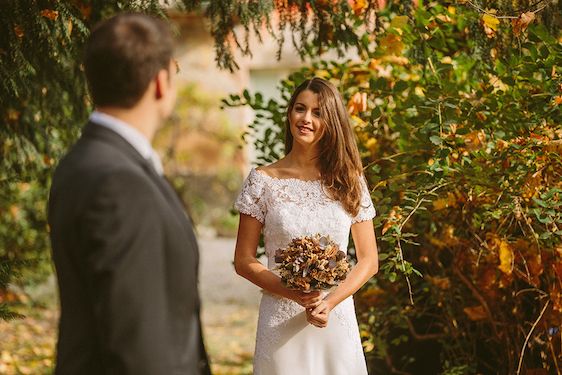 And these two? How sweet are they?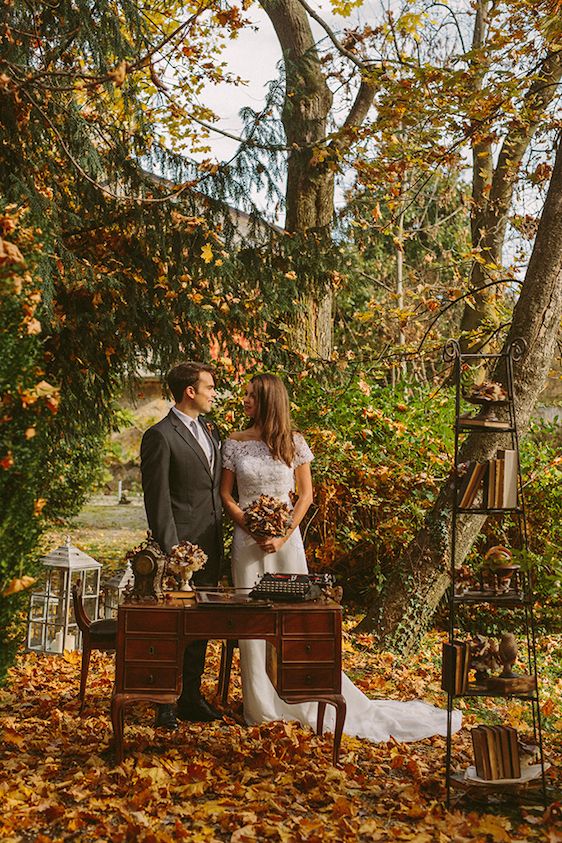 Thinkinwhite Wedding Stationery really tied this theme together with custom menus and beautifully designed paper pretties.
And as the sun began to set? So many beautiful moments were captured...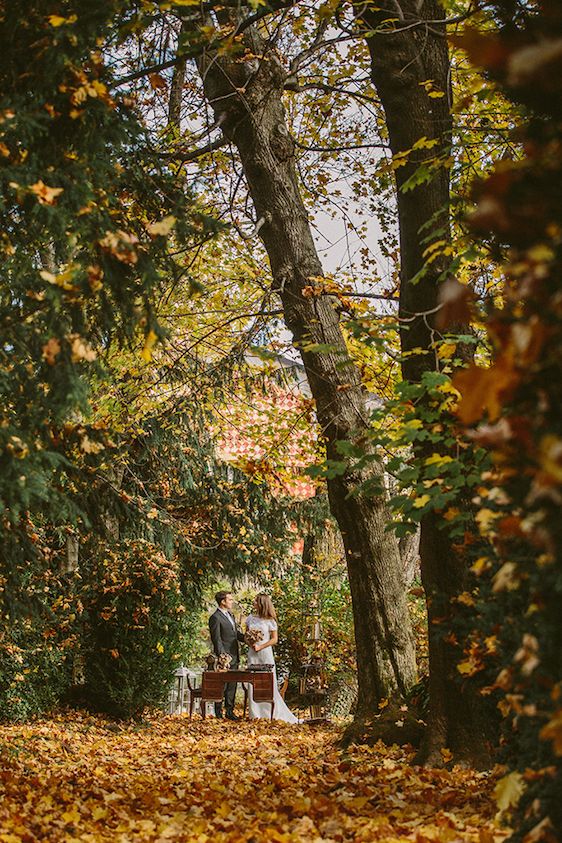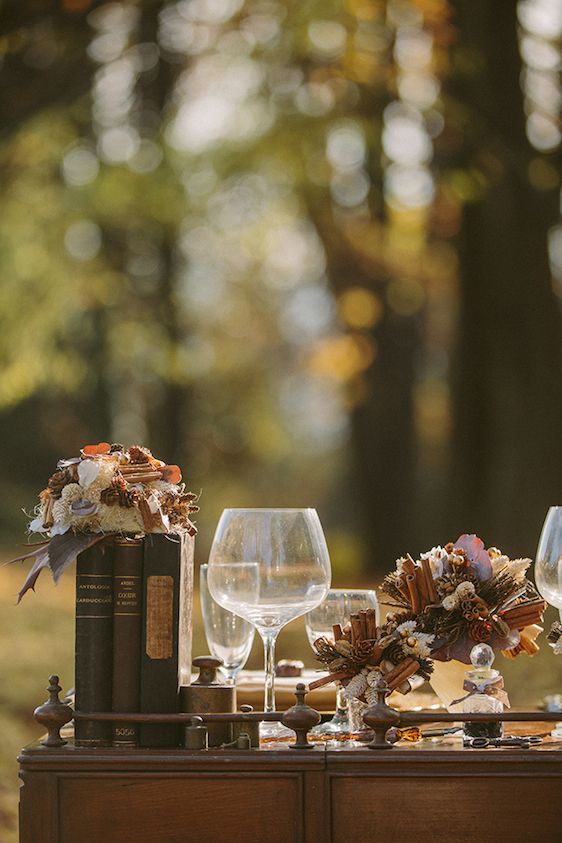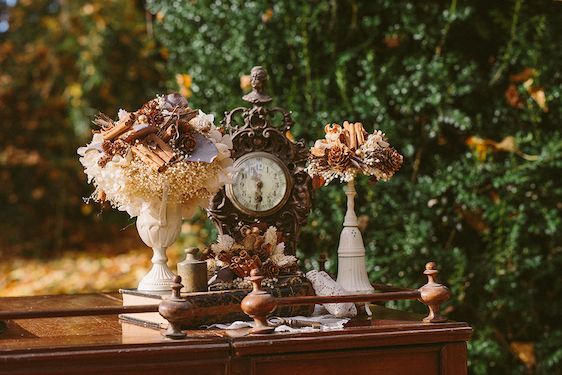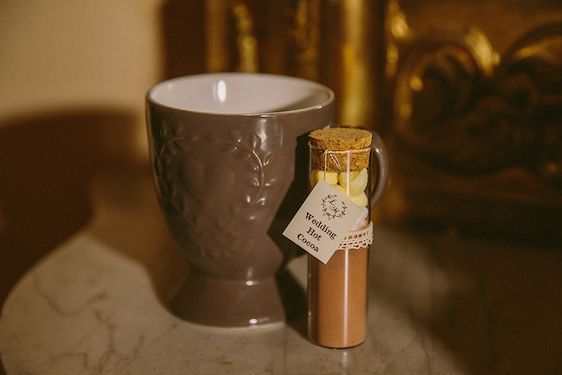 And how gorgeous is this wedding gown by Pronovias?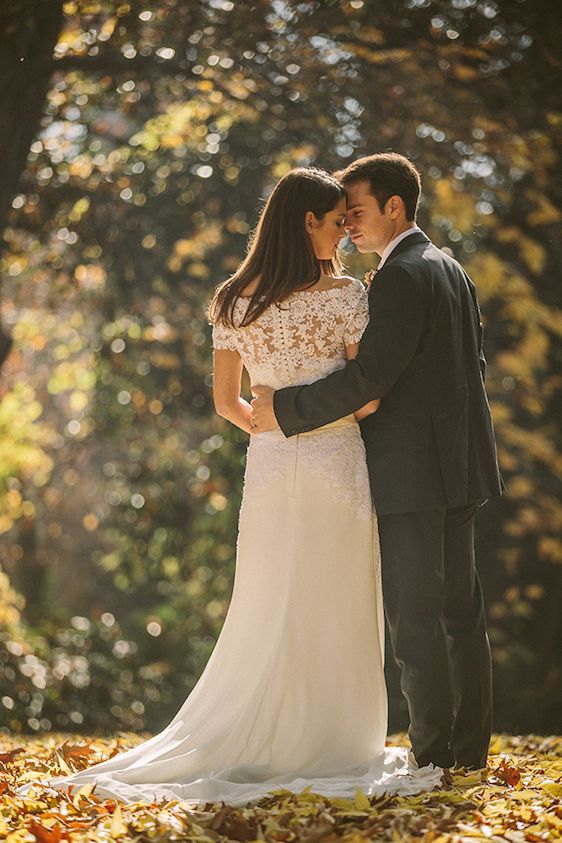 So simply exquisite if you ask us!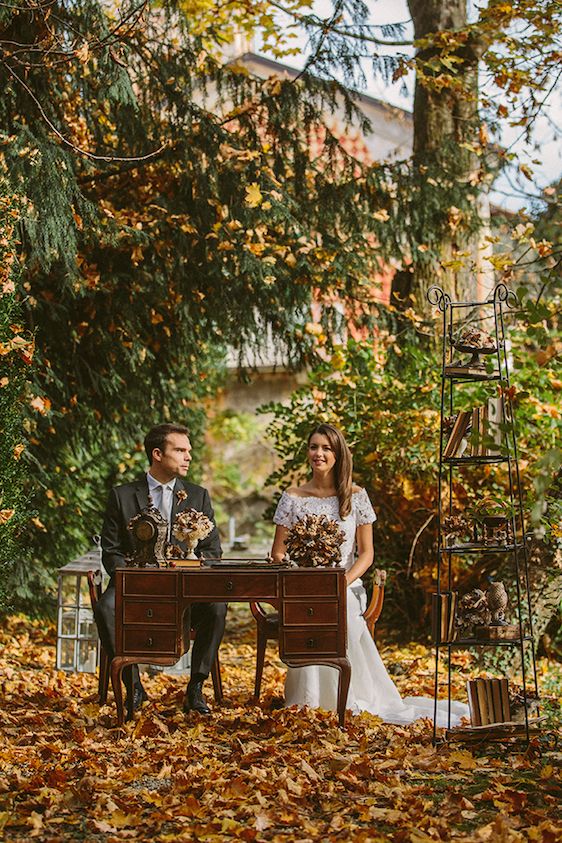 The colors, the textures, the crunch leaves that filled this space?
It was all so perfect for the season and we're loving these creative nods to literature, travel and old world charm.
Because what's not to love?
It's a shoot like none other and we're just loving all of these dreamy details!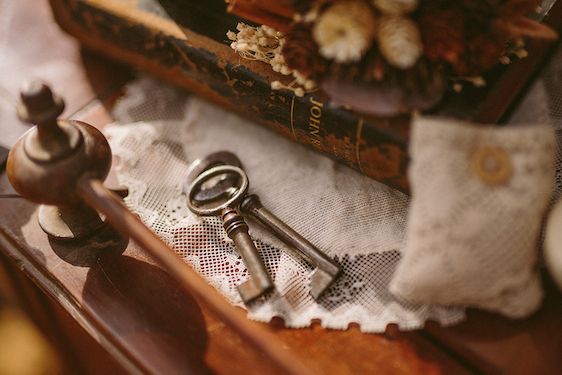 Gorgeous doesn't even begin to describe this stunning shoot!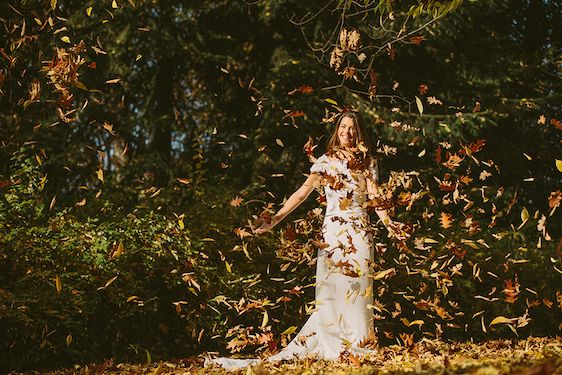 We told you this shoot was a beauty! It's definitely one for the books (pun totally intended) and one of our all time faves. Lots of love to this dream team of wedding pros who worked their magic on this day!
Photography: Nina Milani Photography // Event Design & Florals: Simmi Floral & Event Design // Makeup Artistry: Erika Lucci Make up Artist // Stationery: Thinkinwhite Wedding Stationery // Wedding Gown: Pronovias
Share This: