Top 5 Most Flattering Bridesmaid Dress Colors
! And the response was so great! A couple of the shades might have come as a surprise to you, but for the most part, the colors I chose were classic, dark shades that in my opinion are universally flattering. And so as promised, today we'll be taking a look at a short list of colors that I consider to be the least flattering colors when it comes to bridesmaid dresses.
Okay, so last week we went over the
Did you know that wearing the wrong color can actually make you look up to 3 dress sizes larger? Yep, it's true. There are colors out there that are absolutely unforgiving. These are the sort of colors that you absolutely dread to wear as a bridesmaid because you just know that the color is going to wash you out. Or even worse, show every little imperfection. Ugh! Simply put, these are the colors you probably wouldn't want to wear if you were a bridesmaid in a wedding. So why put your friends through the agony?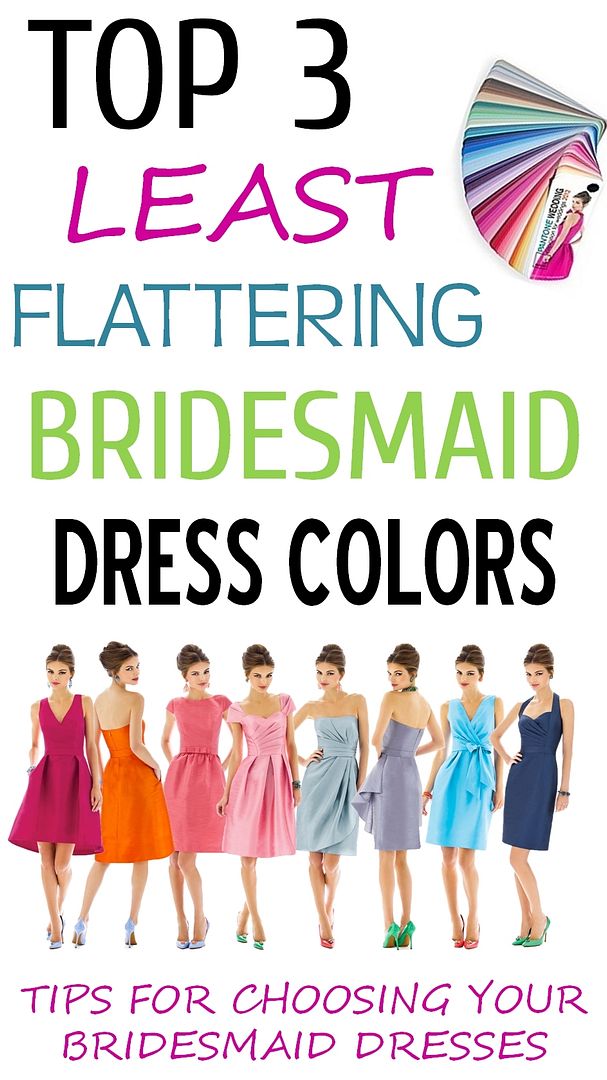 Okay. So before I go on, I just have to point out that the dresses above are clearly examples of beautiful bridesmaid dresses in an array of very flattering shades! When it comes to determining the perfect bridesmaid dress, let it be known...
Dessy Group
does it right!
But as I mentioned there are a select few colors that just are hard to pull off. Am I saying it can't be done? No, of course not! Let's face it, there are certainly women who just have a way of pulling off any color or any style no matter the day of the week! I, for one, am not that kinda girl!
So without further ado, let's talk about these dreaded colors, shall we?
Okay, so I have nothing against peach as a wedding color, but when worn as a dress, it's super easy for most skin tones to sort of be washed out. It's a hard color to pull off, especially if you are lacking a Summer tan. And if you have a fair complexion... good luck! Okay, that sounded harsh. But it's true, fair skinned people just have a hard time pulling off peach!
Still set on peach for your bridesmaids? Well, if you care about finding a flattering dress, I urge you to consider a deeper shade of peach. One that leans more towards coral. Beige is similar to peach in that it lacks a lot of pigment. And sadly, this too is just another color that ultimately has a way of washing out most people out. It's unforgiving and it can appear 'blah' if not done right. Now don't get me wrong, I'm not saying that I've never seen a gorgeous, vintage inspired wedding that used neutrals like beige to pull it all together. But what I am saying is that for the most part, beige is just not a universally flattering color to wear! And quite frankly, it's a little drab!



If your heart is set on beige. I urge you to consider other colors first. But if you still feel that this is the color for you, simply opt for the darkest shade of beige available. Or better yet, opt for a dress that has a great pattern or print!
It's not often that we see bridesmaids in white. But there's been a recent trend where couples are opting for an 'all-white' wedding. Personally, I like to see white reserved for the bride only (for traditional reasons). But white is also a really tough color to wear. Especially in the form of a dress. Don't get me wrong, I love wearing a white blouse with a pair of jeans. But white pants? You'd never catch me wearing those. Not because I don't love the look. I just feel like it shows every little thing.
Well, if you insist on having white incorporated, perhaps you should look into a two-tone dress that has a darker shade on the bottom? Perhaps black on bottom, white on top? Breaking up the white with a dark color on bottom will definitely be a lot more flattering and easier on the eyes. And besides, a little contrast is always a good thing!
So there you have it! My top 3 least flattering colors for bridesmaids! If I had to guess, the colors probably didn't surprise you much? The concept is pretty simple. Darker colors are more universally flattering and lighter colors are just sadly a little harder to pull off. I hope these tips will help you to select the right dress for your bridesmaids! Be sure to leave me a comment and let me know which colors you love to wear? And which colors you have a harder time pulling off?
Looking for a handy dandy wedding color tool that will make this whole wedding color thing a whole lot easier? The
Pantone Wedding Fan Guide
is so helpful when shopping for wedding fashions, and makes it so easy to communicate your color choices to your wedding vendors, such as florists and cake designers. Or even your mom who isn't quite sure what you mean when you say you're having a "terracotta'' colored wedding!
Share This: