If you love to bake, then you're in for a real treat (pun totally intended) with this sweet and inspiring party concept! It's a Galentine's Day Baking Party, you guys! Ahhh, where do we sign up? With design by
Design by Laney
and florals by
Jennifer Cole Florals
, get ready for a whole lot of gorgeous! Because today's ultra sweet baking party hosted by
Bakerita
, will surely get you in the mood for some girl time!
From
Cavin Elizabeth Photography
, 'Anyone who knows me knows I have a huge sweet tooth! And so imagine my excitement when I found out that my favorite baking blogger, Rachel of
Bakerita
, was actually going to be in San Diego. It was fate, and I just knew I had to collaborate with her!"
"The Galentine's movement is absolutely here to stay and I wanted to create inspiration for a baking party that any gal could do with her closest friends or bridesmaids."
"The idea is that you'd all get together for mimosas or bellinis and bake simple, yet gorgeous sweet treats together before sitting down to enjoy them with each other."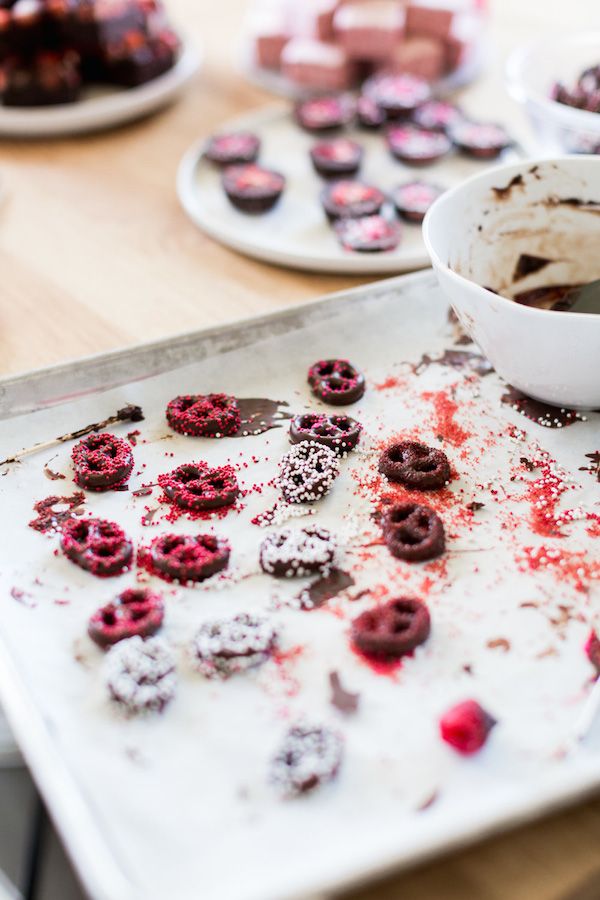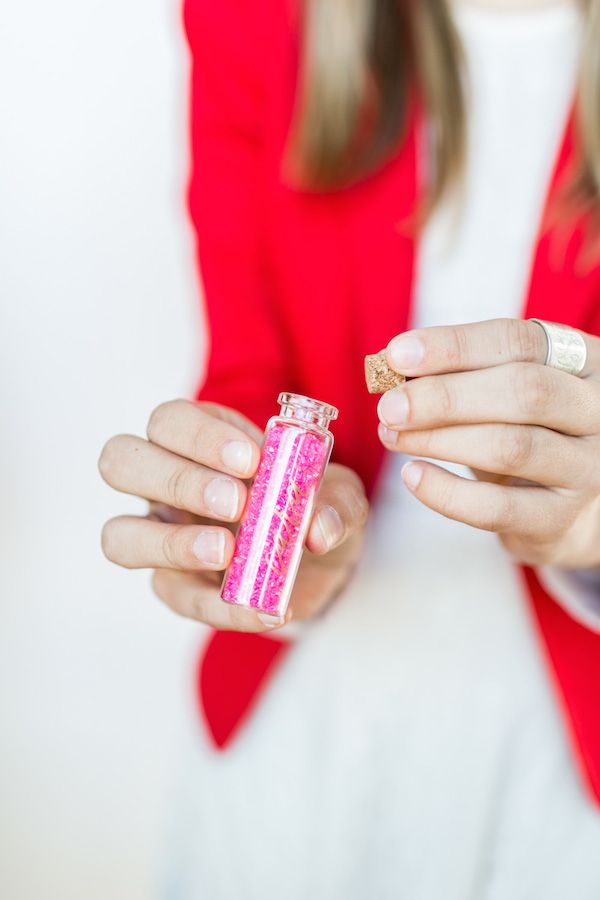 Design by Laney created an incredibly fun accordion invitation to match the multiple festive paper pieces also included in our shoot.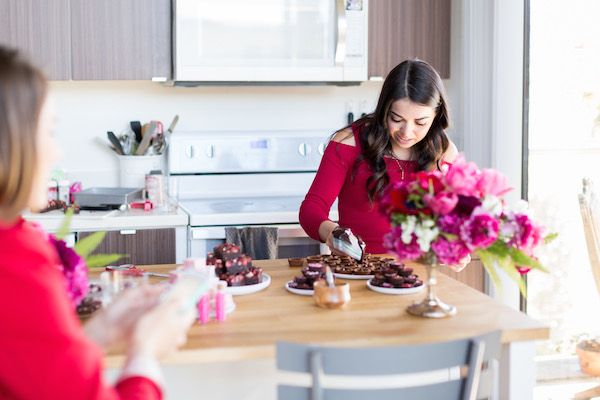 "With heart shaped dessert cards, she calligraphed them with each sweet's name."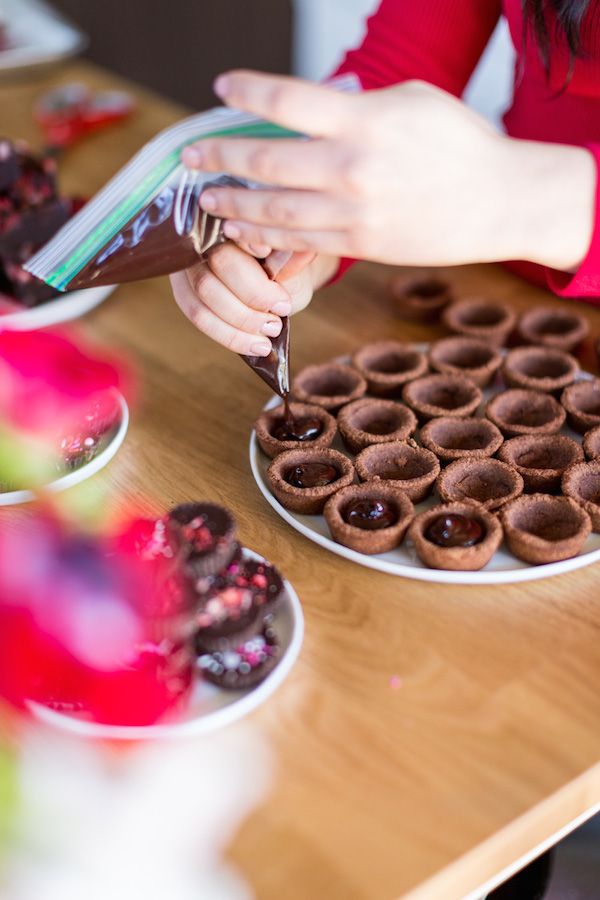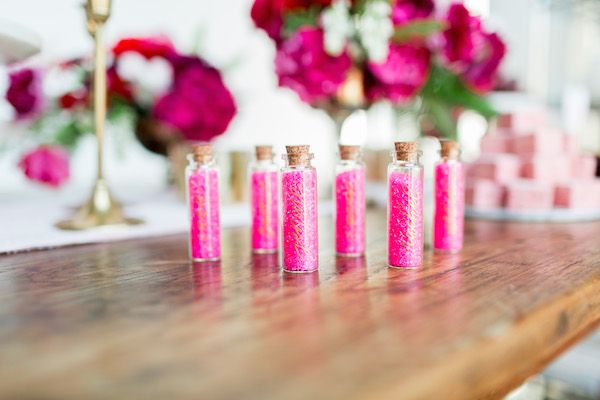 "She also created beautiful recipe cards that a bride could send to her 'maids and request that each gal bring a different recipe."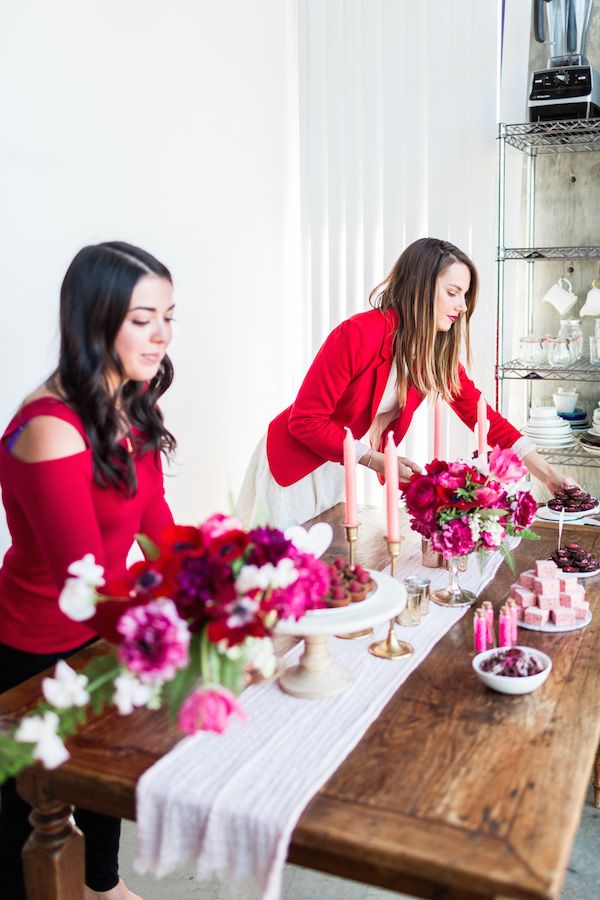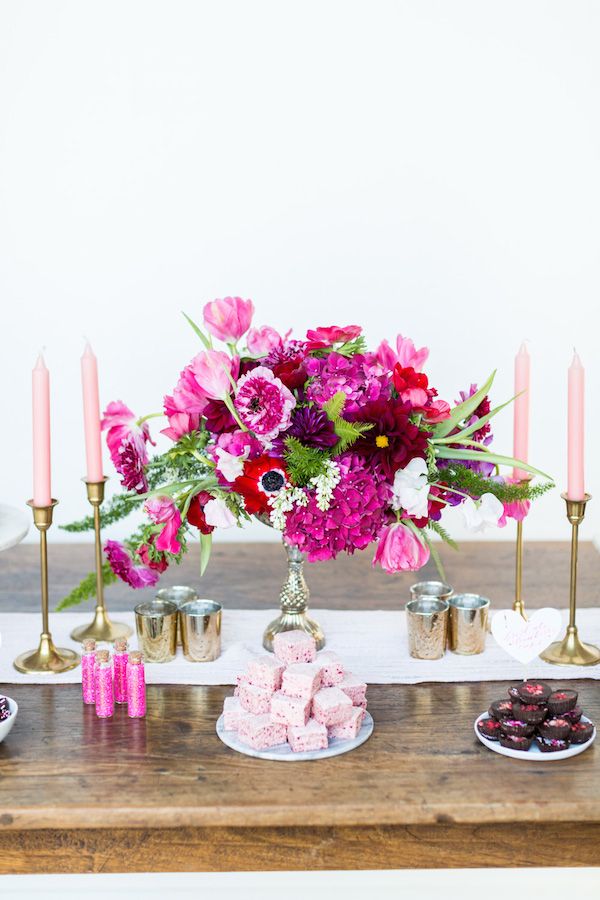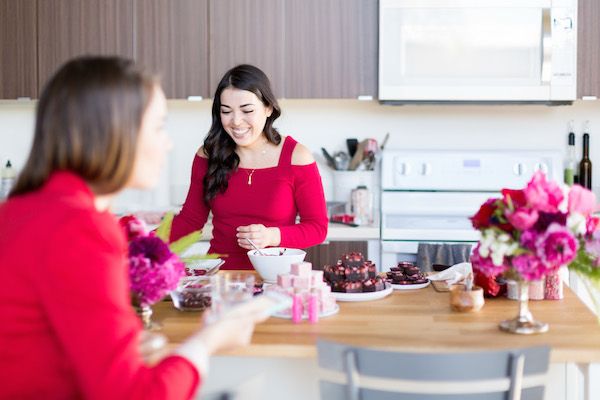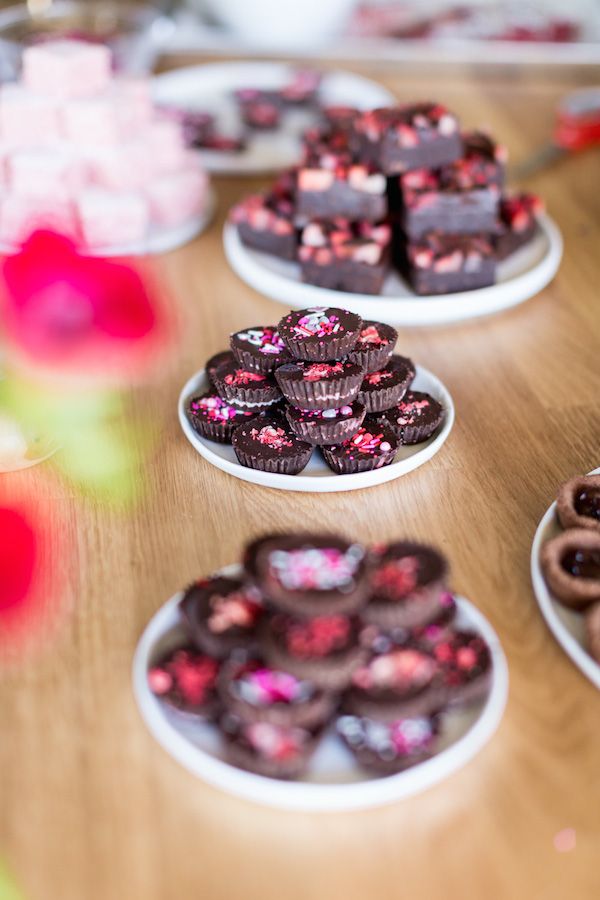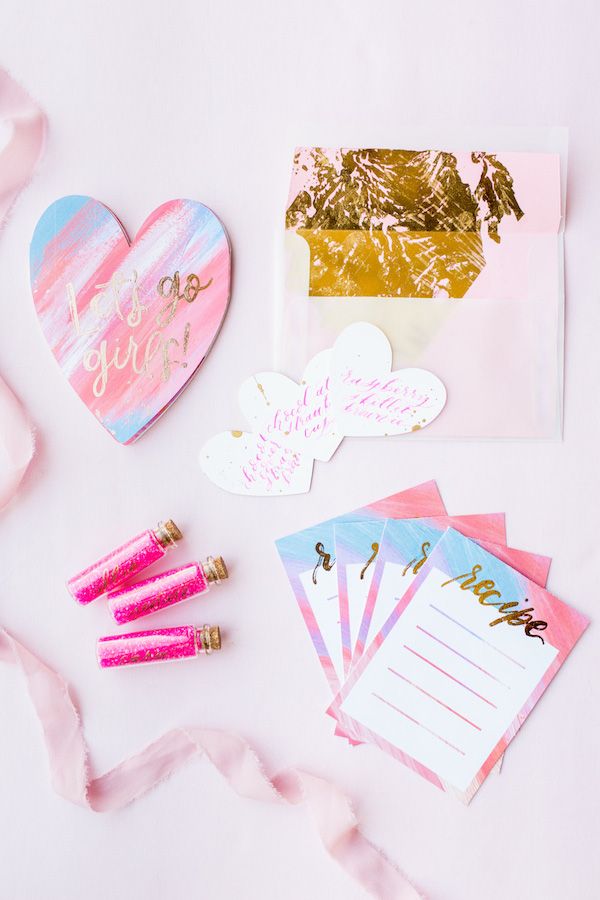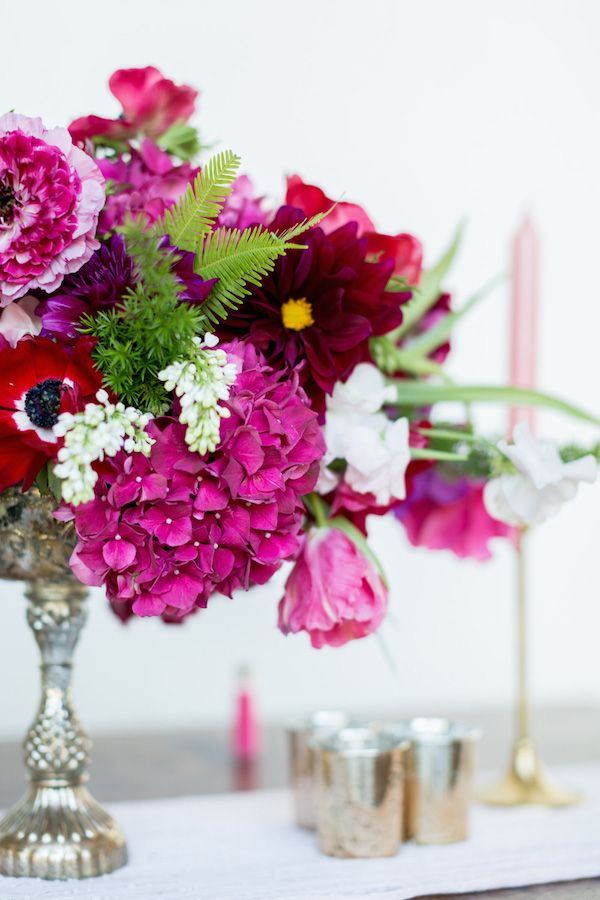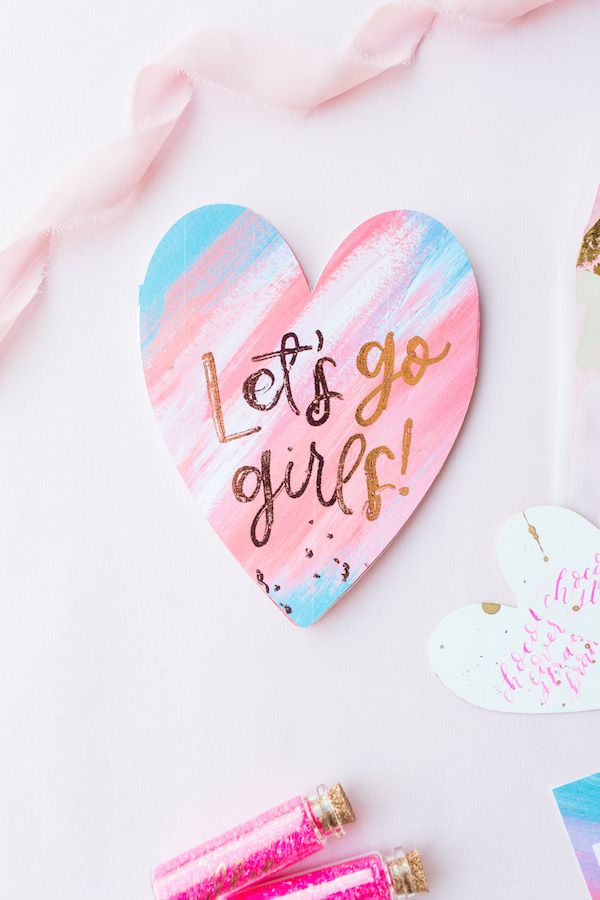 "Laney also calligraphed precious miniature jars full of pink sprinkles, which serve as the perfect place card for this baking party."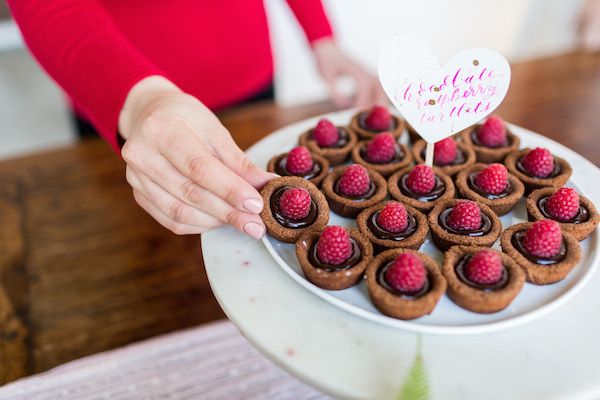 "
Jennifer Cole's
pink and red floral arrangements make the most gorgeous centerpieces for the dessert table."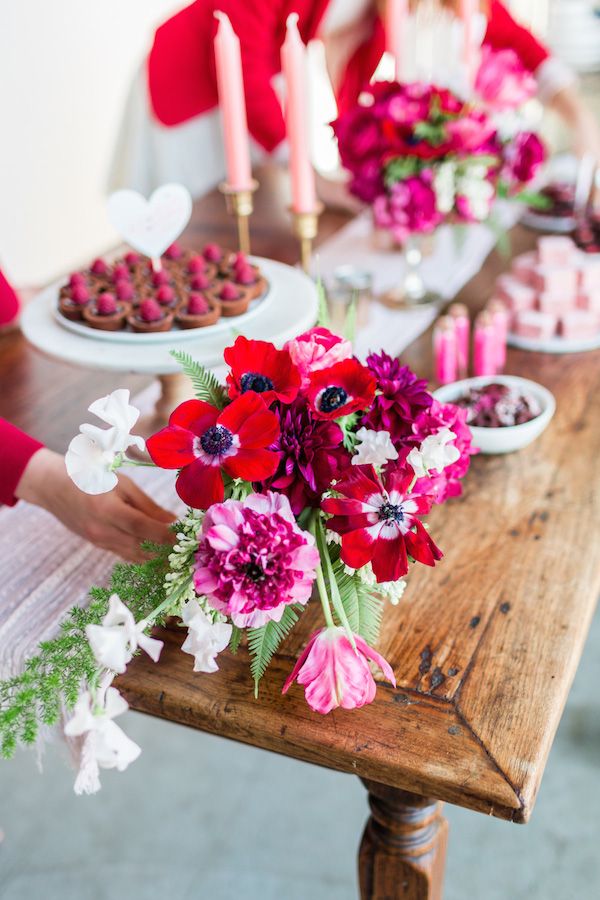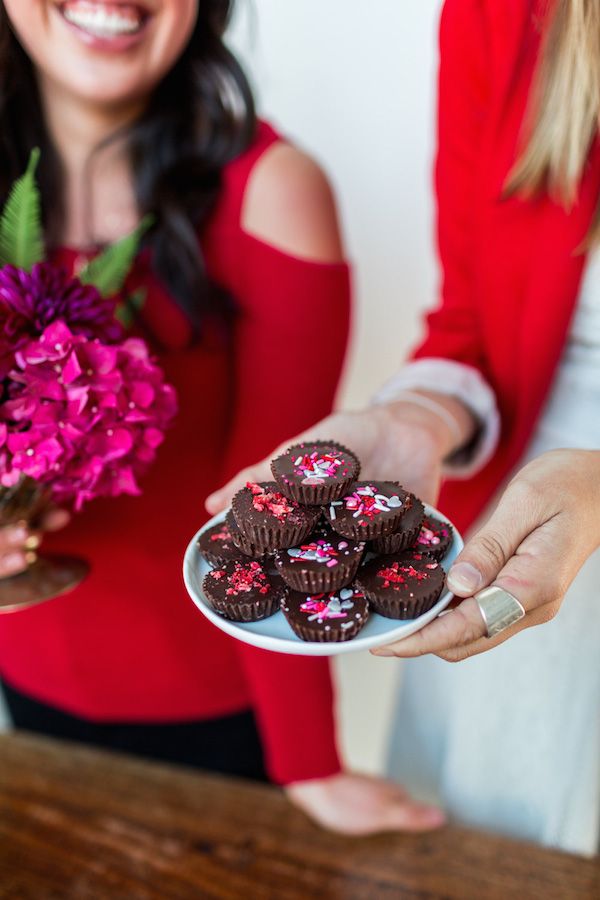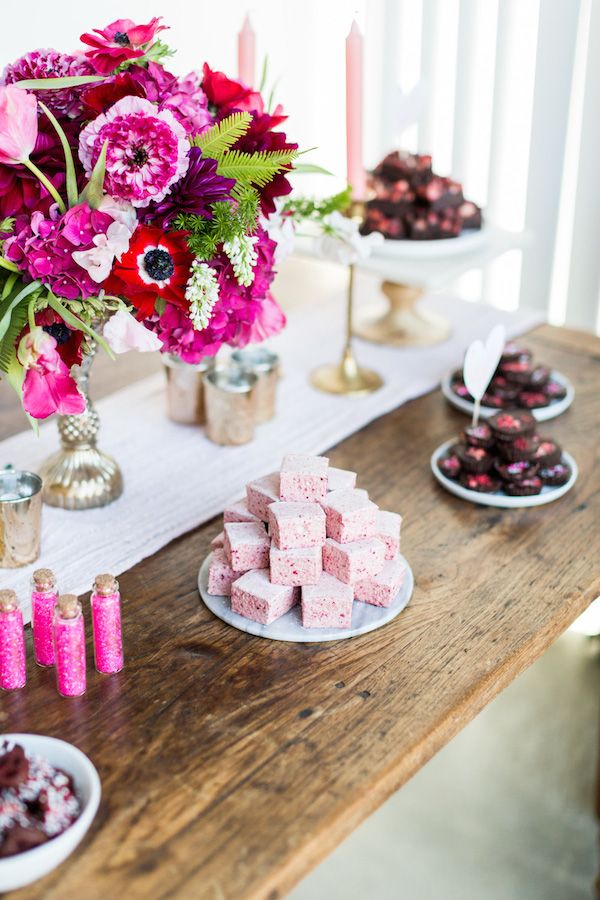 "With so many textures, they complement the fun and joyful vibe of the party."
"Her pink candlesticks add just the right amount of pink to this sophisticated gathering of gal pals.'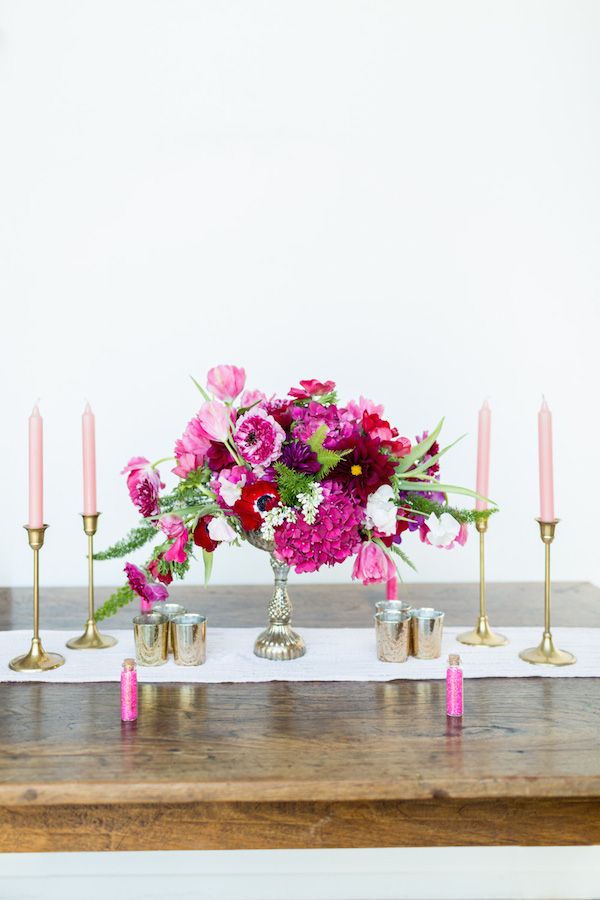 "Bakerita selected five different sweets for our spread: chocolate raspberry tartlets, raspberry marshmallows, chocolate covered pretzels, chocolate strawberry cups, and chocolate covered strawberry brownies."
"Each is absolutely delicious, simple to make, and perfect for a Galentine's baking party!"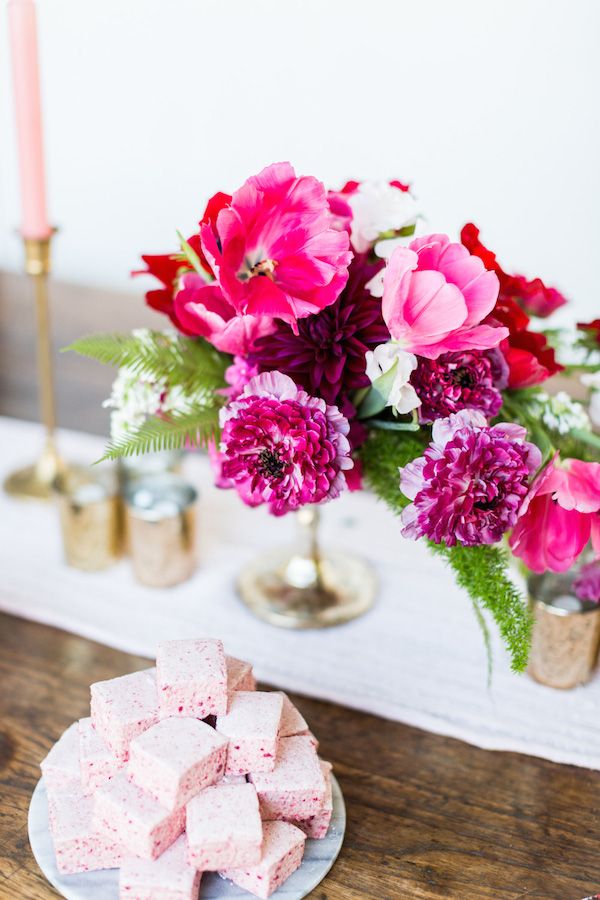 Want to try some of these delicious desserts? Sure you do! Snag the recipe below!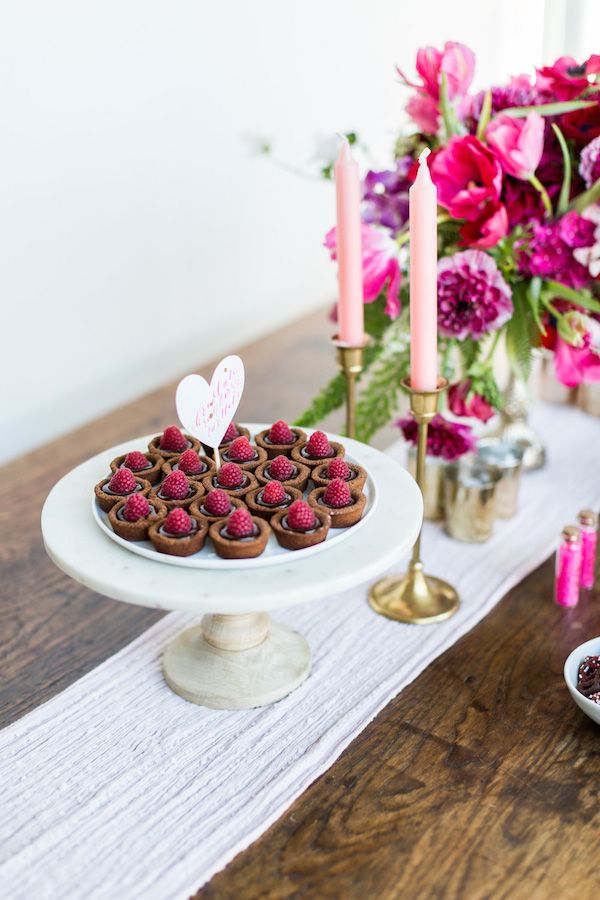 Chocolate Raspberry Tartlets (Gluten Free, Paleo + Vegan)
3⁄4 cup (96g) coconut flour
1⁄2 cup coconut oil, solid
6 oz. dark chocolate, chopped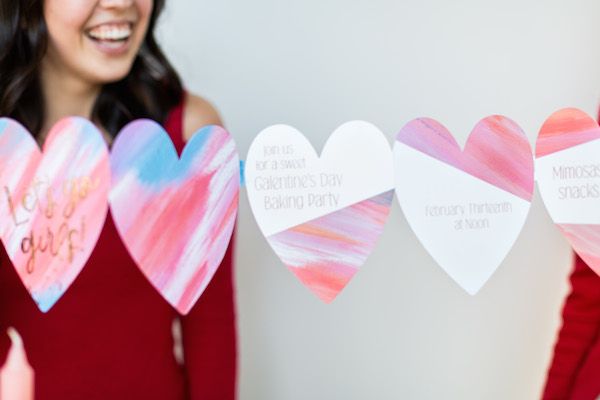 • Preheat the oven to 350 F. Lightly grease a 24-cavity mini muffin pan with coconut oil.
• Combine coconut flour, cocoa powder and salt in a bowl. Add the maple syrup and room temperature coconut oil and mix until a large dough ball forms, pressing out any clumps of coconut oil.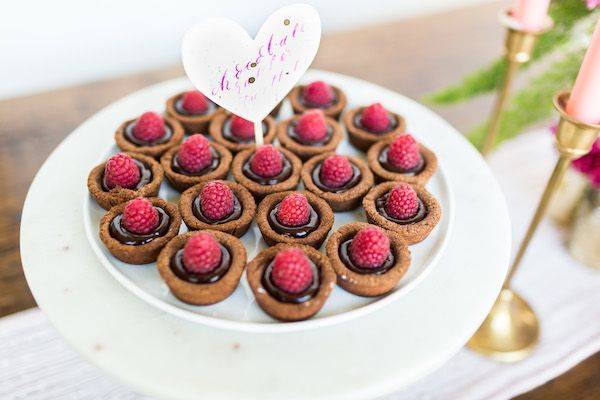 • If you're mixing with a bowl and spoon (not a stand mixer), you may want to use your hands at the end to bring to dough fully together and make sure there aren't any lumps of coconut oil remaining.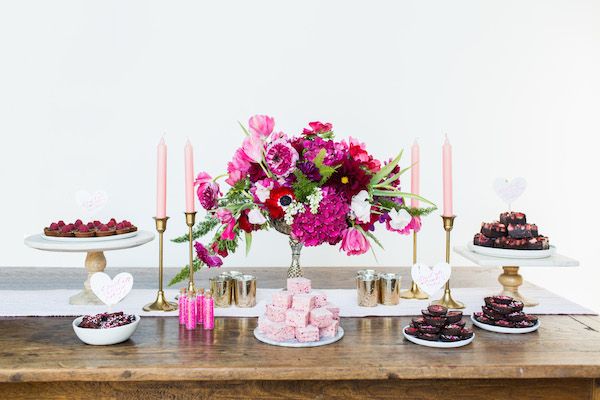 • Divide the dough between the 24 mini muffin cavities and press up the sides. Bake for 8-9 minutes, or until firm. Let cool completely before using a toothpick or knife to pop the cups out of the muffin tin.
• Place the chopped dark chocolate in a heat-proof bowl. In a small saucepan or in the microwave, heat the coconut milk until it's simmering.
• Pour the hot coconut milk over the chocolate and let stand for 1 minutes, and then whisk until completely smooth.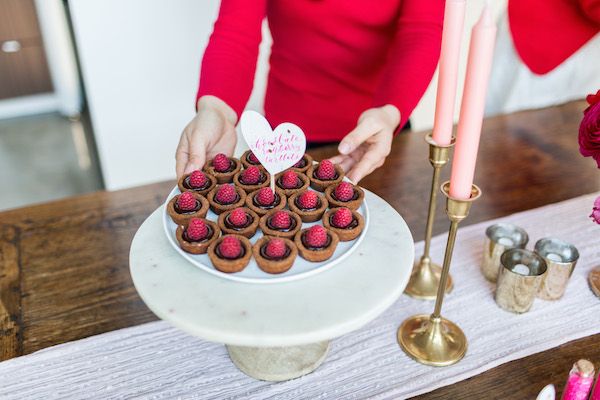 • Fill each of the cups with the chocolate ganache - you can do this with a spoon, or put the chocolate in a piping bag and pipe it in for a cleaner look. Top each of the tartlets with a fresh raspberry.
Raspberry Marshmallows
3 tablespoons unflavored gelatin
3⁄4 cup (252g) honey
1⁄2 cup (156g) maple syrup
2 teaspoons pure vanilla extract
1⁄8 teaspoon salt
2 oz. freeze-dried raspberries, crushed into powder
1 cup cold water, divided
1⁄3 cup tapioca flour
•

Grease an 8x8 square pan (for thick marshmallows), 9x9 pan (for slightly thinner), or 9x13 pan (for thin marshmallows) very well with coconut oil, using a paper towel to rub it and make sure you fully coated the bottom, sides and edges of the pan. Set aside.
•

In the bowl of a stand mixer fitted with the whisk attachment, combine the unflavored gelatin and 1⁄2 cup cold water, whisking gently to combine. Let stand to allow the gelatin to bloom while you make the syrup.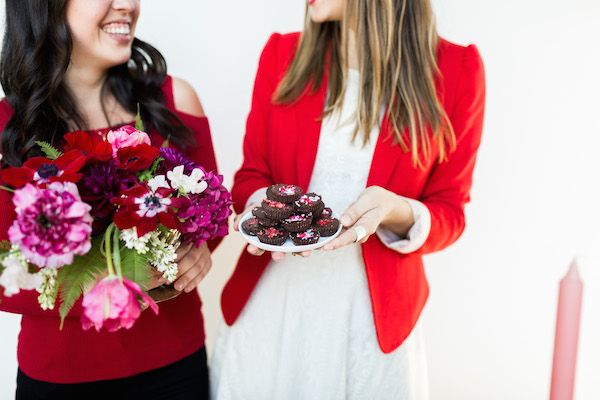 •

Place the honey, maple syrup and 1⁄2 cup water in a medium saucepan and stir gently. Clip a candy thermometer onto the pan, and place it over medium-high heat.
•

Bring it to a boil, checking it occasionally–you are looking for it to eventually hit a temperature of 235-240°F (soft ball stage). Once the syrup reaches 240°F, pull it from the heat. Turn the mixer up to medium speed and slowly pour the sugar syrup into the gelatin mixture.
•

When all the syrup has been added, turn the speed to medium-high and let it go for about 8-10 minutes–the mixture should turn white and fluffy.
•

Add the vanilla extract, salt, and freeze dried raspberry powder and mix for 30 more seconds until it's all combined.
•

Pour the marshmallow into the prepared pan and use an offset spatula spritzed with cooking spray to even it out. Tap the pan on the counter a few times to get rid of air bubbles. Let sit for about 6 hours or until firm.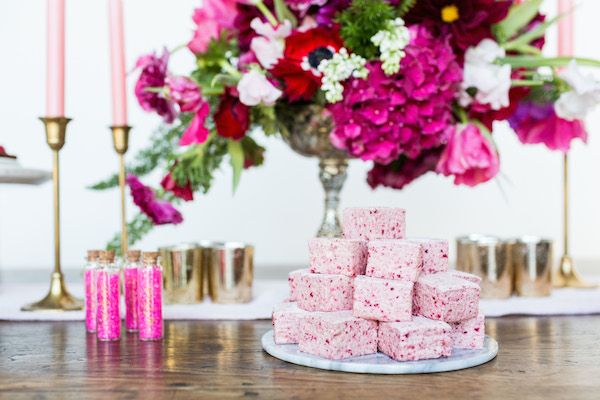 •

Use a knife to loosen the marshmallow from the edges of the pan and invert it onto a tapioca flour-dusted work surface. Dust the marshmallow slab with more tapioca flour and cut into whatever size pieces you wish (a pizza cutter works great here).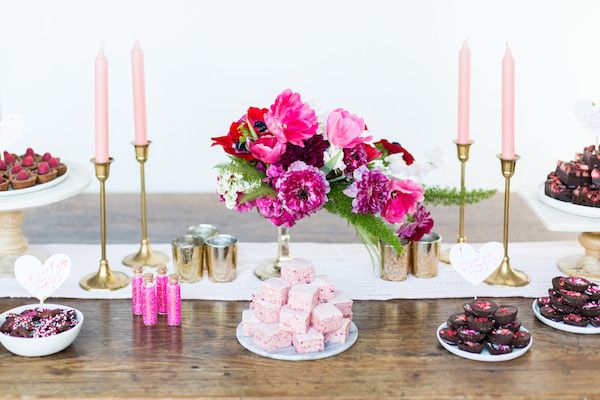 •

Dip the sticky edges of the marshmallows in more tapioca flour and shake in a sieve to remove excess. Store in an airtight container for up to 1 week. It all sounds so delicious.
Share This: