Holy gorgeous! Today's styled shoot is such a breath of fresh air, you guys! Oh, and did I mention that it's simply perfect for that upcoming Spring or Summer wedding you're planning?
With event design by
Wishbones & Whisky Events
and florals by
Forage Florals
, this California shoot has me dreaming of what happens when peach tones meet soft yellow and touches of green and gold. And these captures by
Brooke Borough Photography
? Get ready for gorgeous!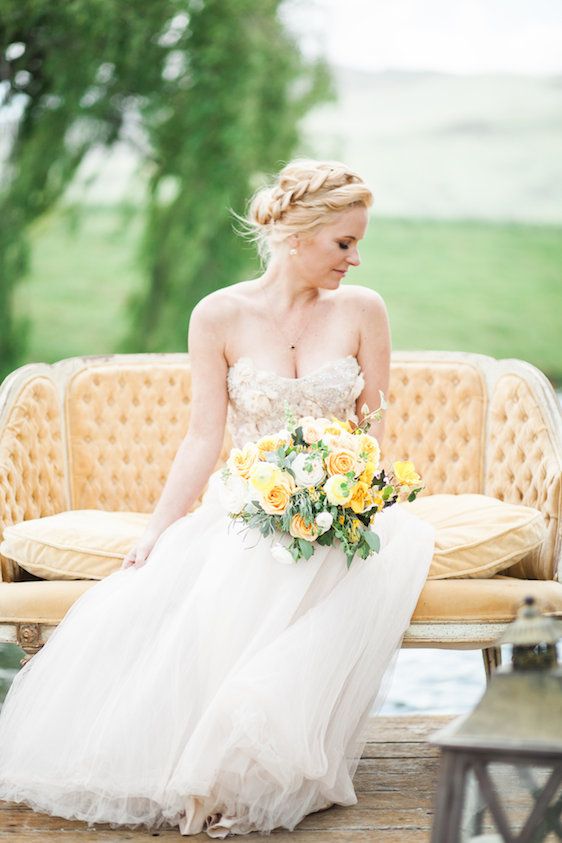 This shoot took place on a private working horse ranch in Lompoc, California.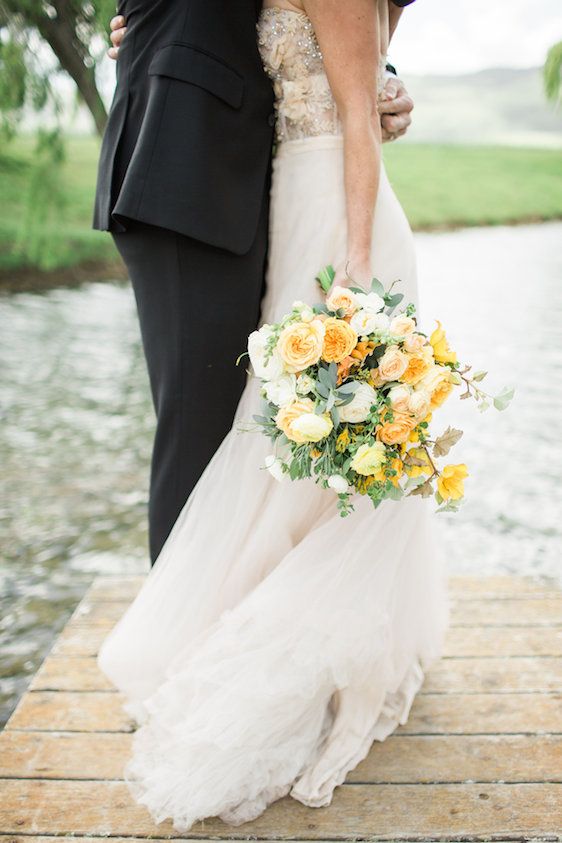 From the

Wishbones & Whisky Events

, "The color palette was inspired by the natural tones you would see driving down the roads to get to the ranch... including the road signs (hence the mustard florals)."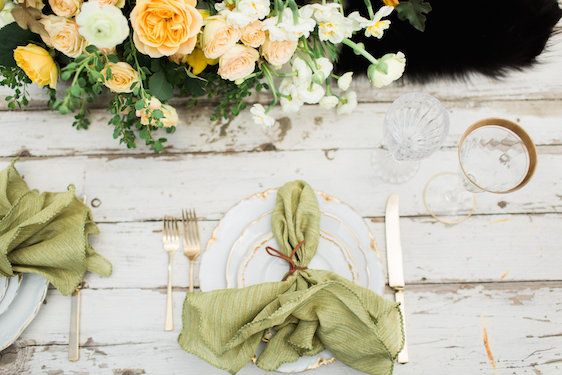 "We wanted to keep the rustic charm..."
"So we tried to incorporate as much of nature as possible."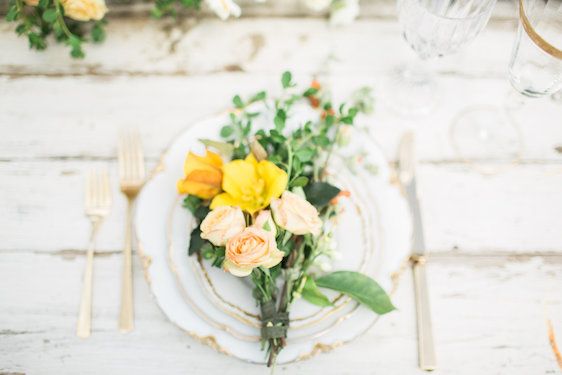 From rawhides to to farm tables and everything in between, this country vision is truly something special. Wouldn't you agree?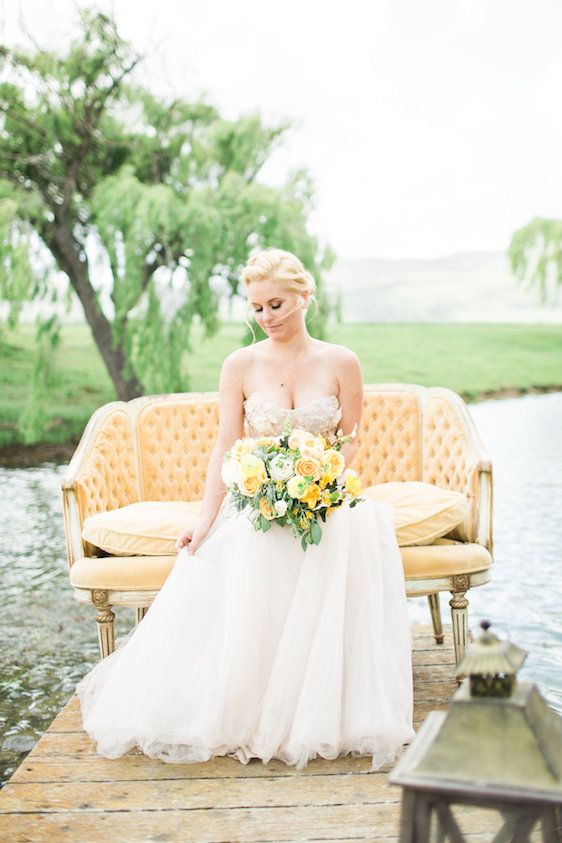 More from the designer, "as much as we love mason jars, we thought we would add a bit of romantic charm with these beautiful, crystal goblets."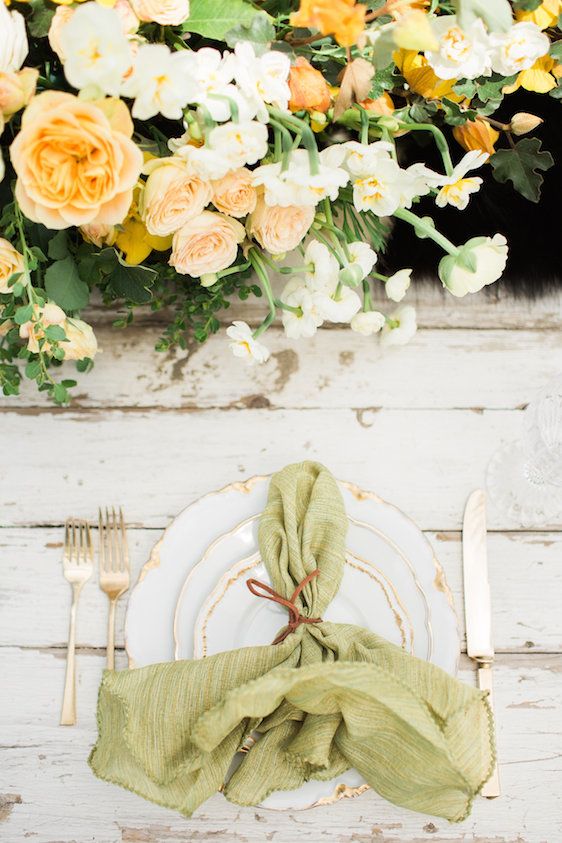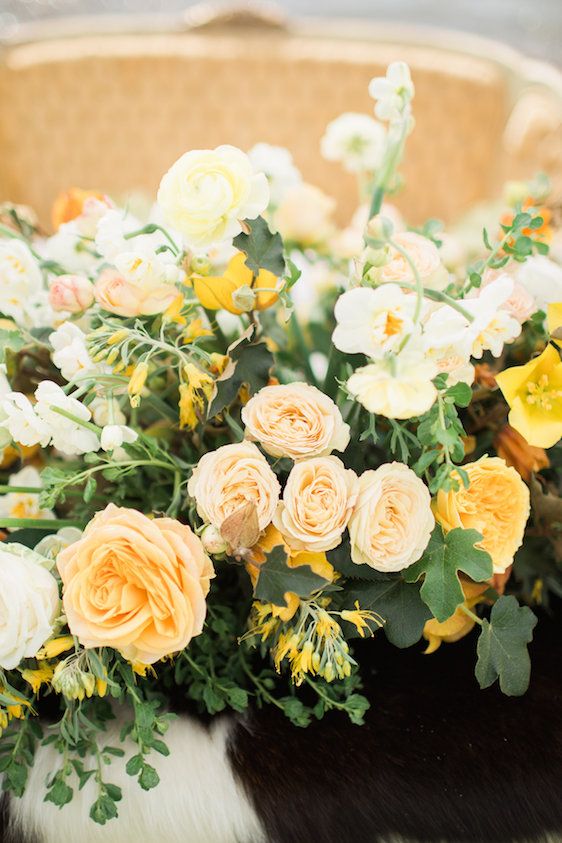 "We were also so inspired by the fact the location was a working horse ranch, that we wanted to take advantage of the hay, but not in your everyday.... additional seating kind of way."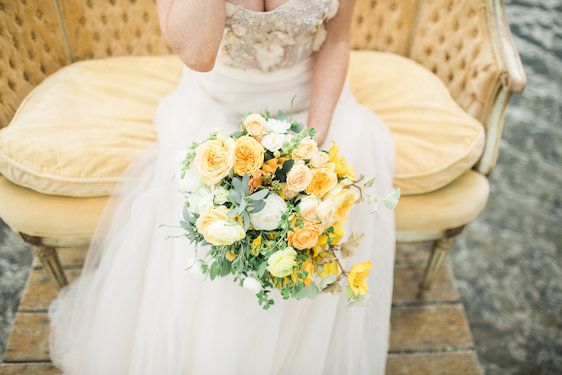 "We felt it was really important to take the rustic wedding, that everyone so dearly loves..."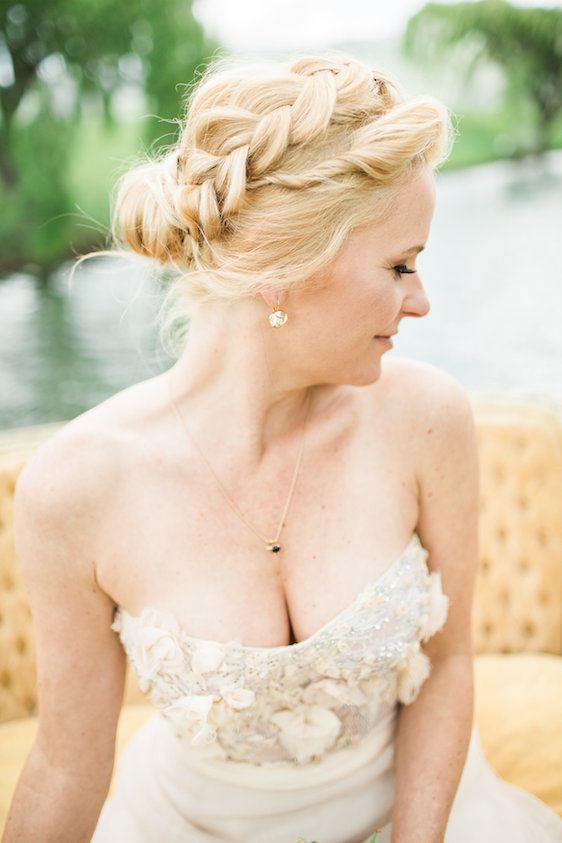 "...and showcase that it can be done in a classy, elegant way as well!"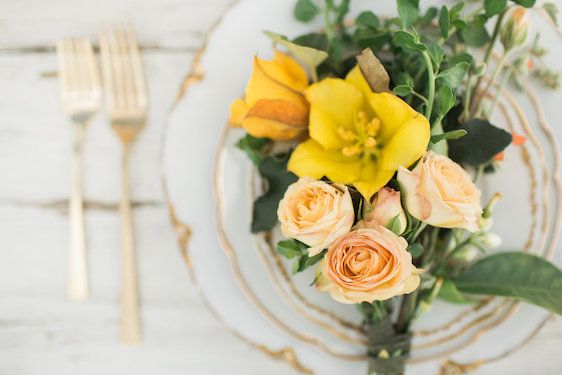 "The color palette with its mix of mustards, whites, blacks, blues and vivid greens were all my inspiration for this shoot."
"We got really lucky on location and had such a blast shooting outdoors."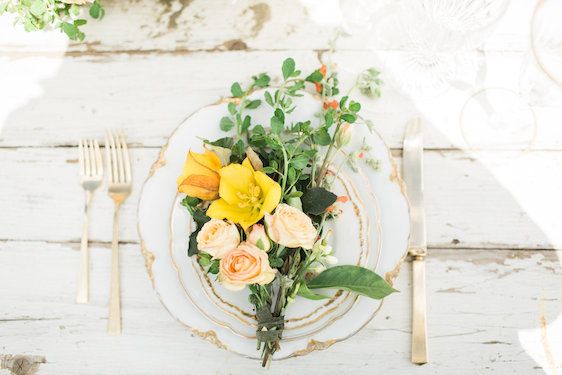 "The weather was perfect, and the rolling hills and romance of the wild horses really set the tone."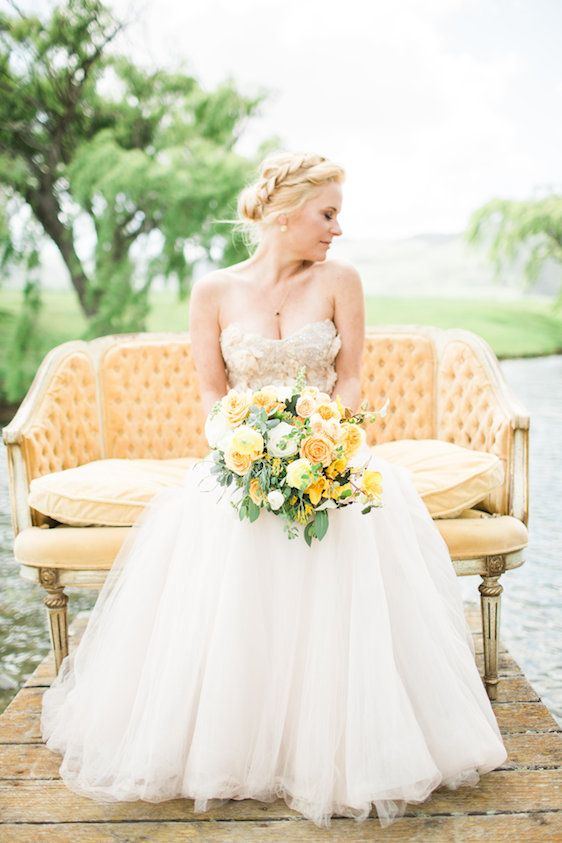 "I think it is important to be inspired with the already existing elegance that nature provides."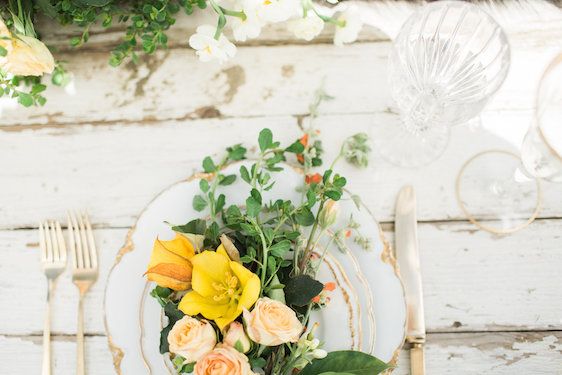 "A little extra florals, a bride in a pretty dress... and waalaa!"
Magic happened on this day, m'dears and I simply feel that I can't adequately put into words just how much I love this so...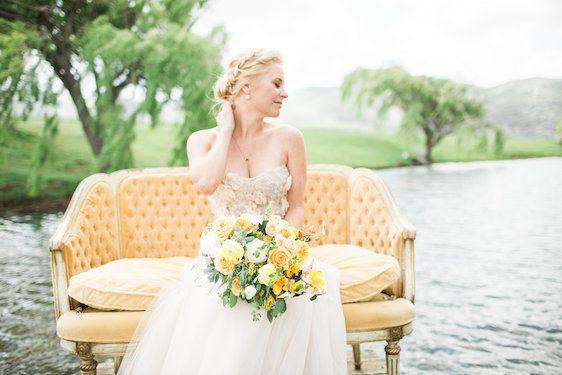 ... I'm going to let the images speak for themselves. Sound like a plan?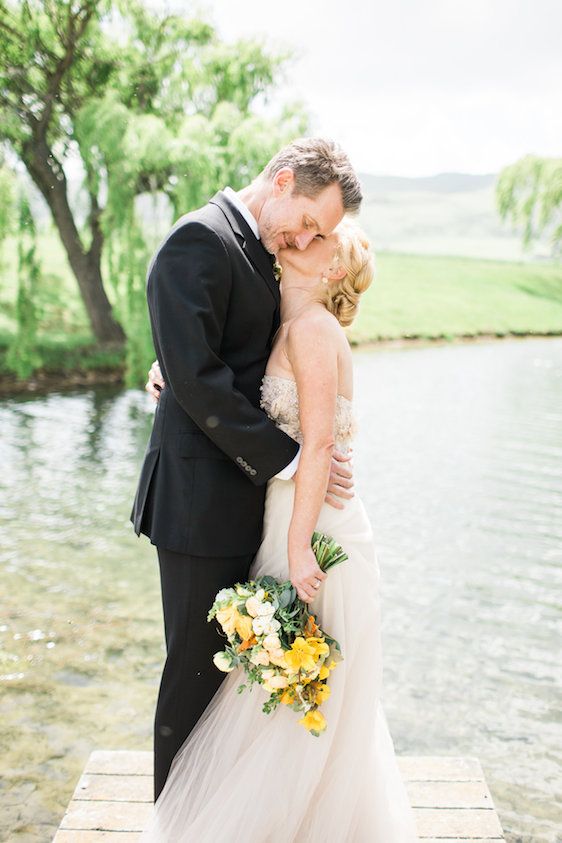 Things to be on the lookout include these amazing florals...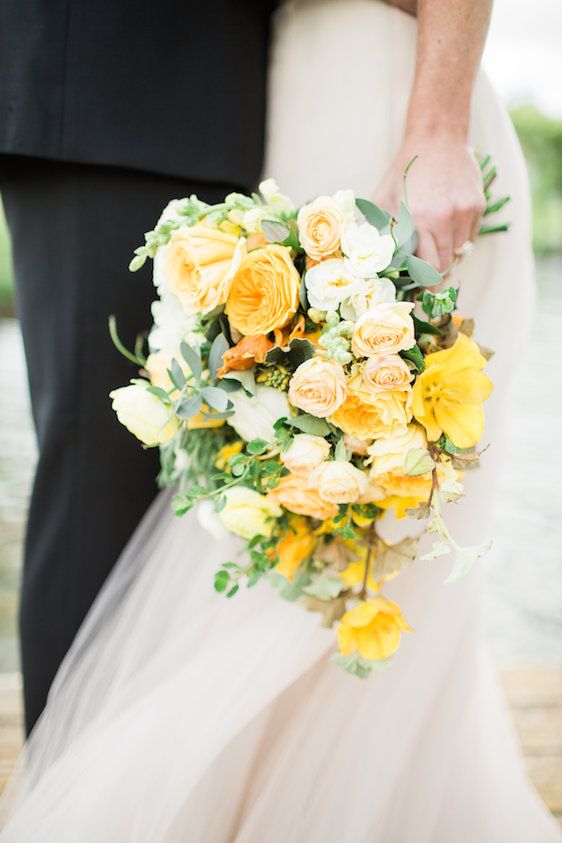 A landscape worthy of a postcard...
... place settings that capture that earthy simplicity that we've all grown to know and love...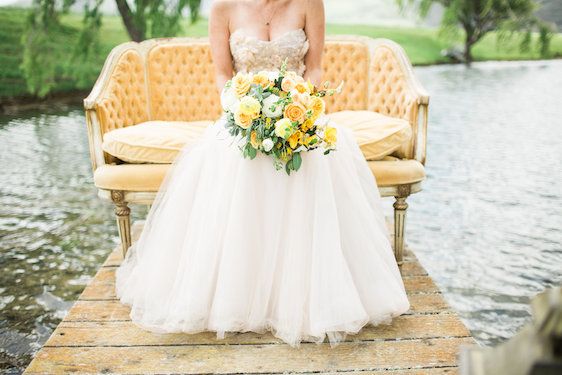 ...and the sweetest couple....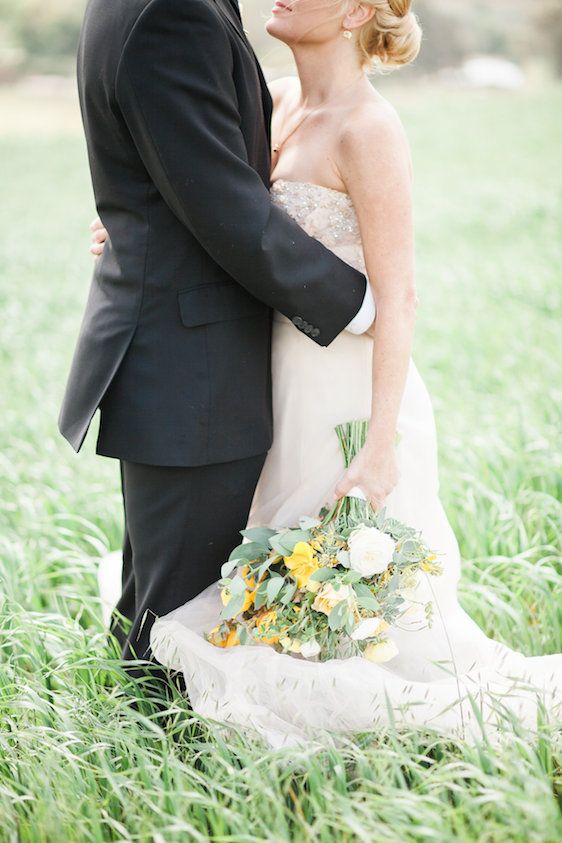 From the prettiest gown to the realest of emotions.... it all captured on this day....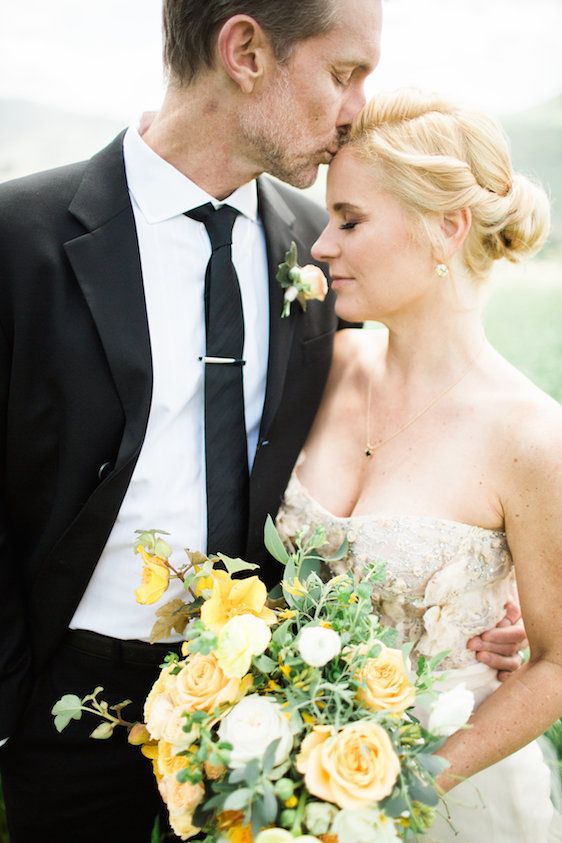 Let's take a scroll, shall we?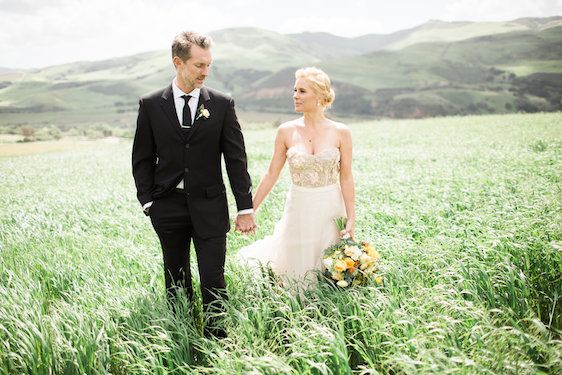 So absolutely swoon-worthy, if you ask me!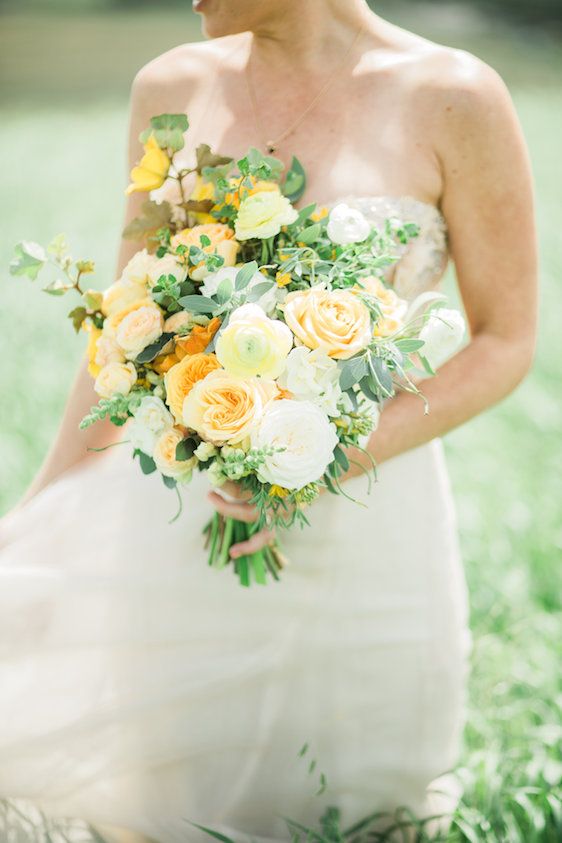 And this soft yellow and green palette? Yes, please!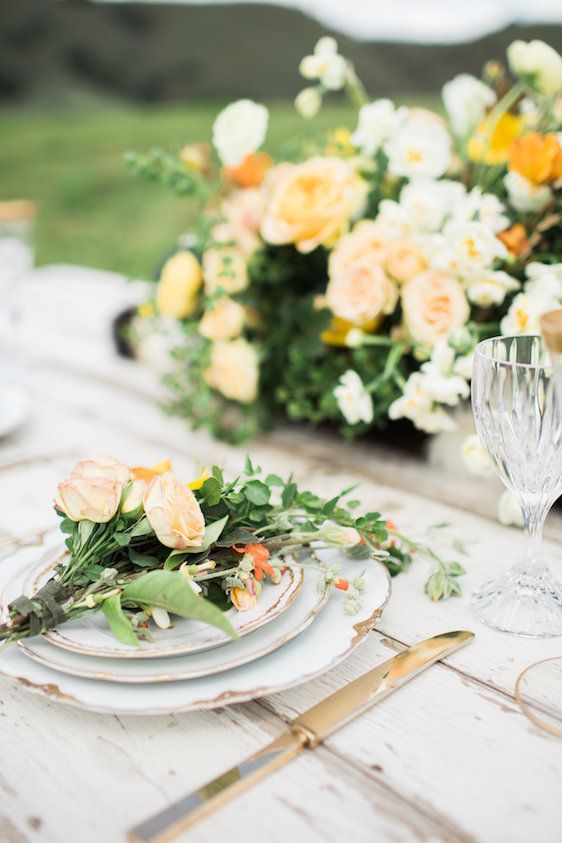 Oh, and who isn't loving the gold flatware?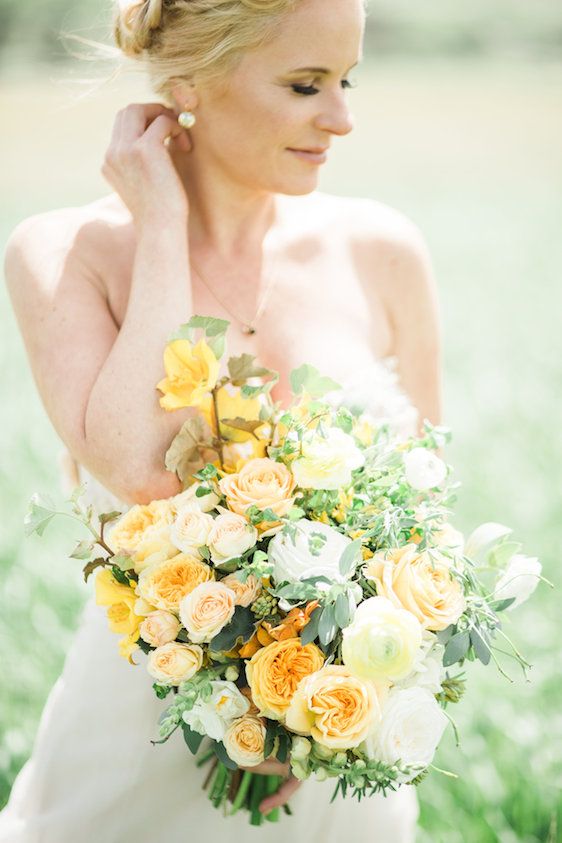 Lush, textural, and exquisite. That's how I'd describe these florals.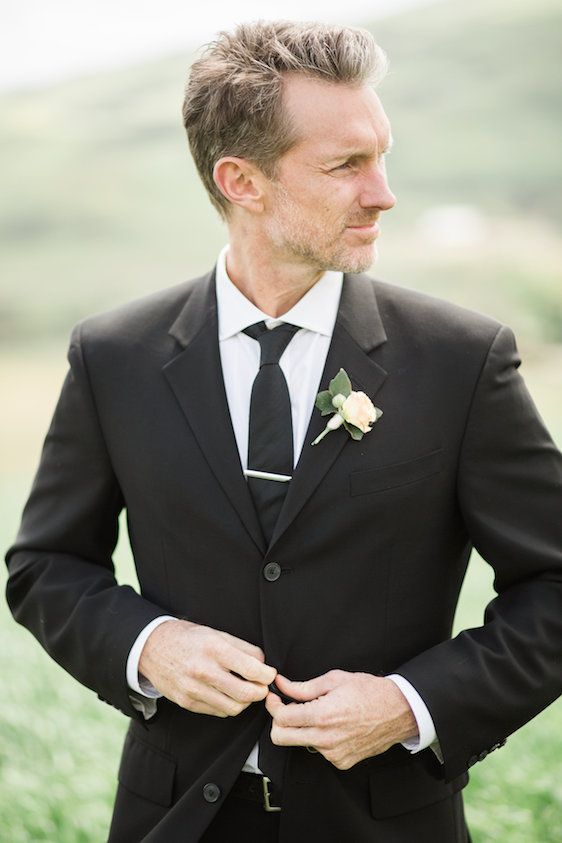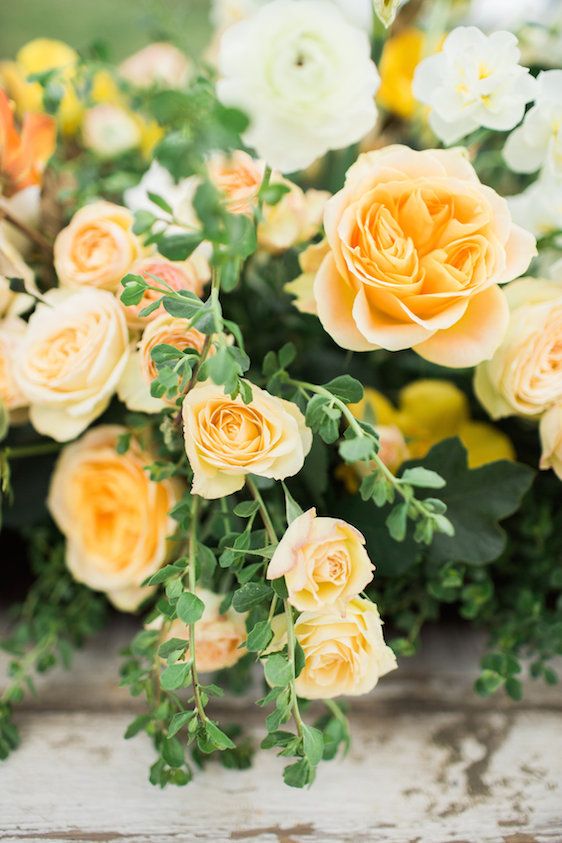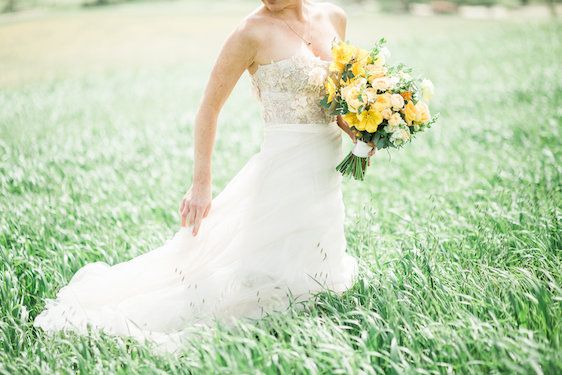 It was a day filled with the sweetest of kisses, and most heartfelt moments.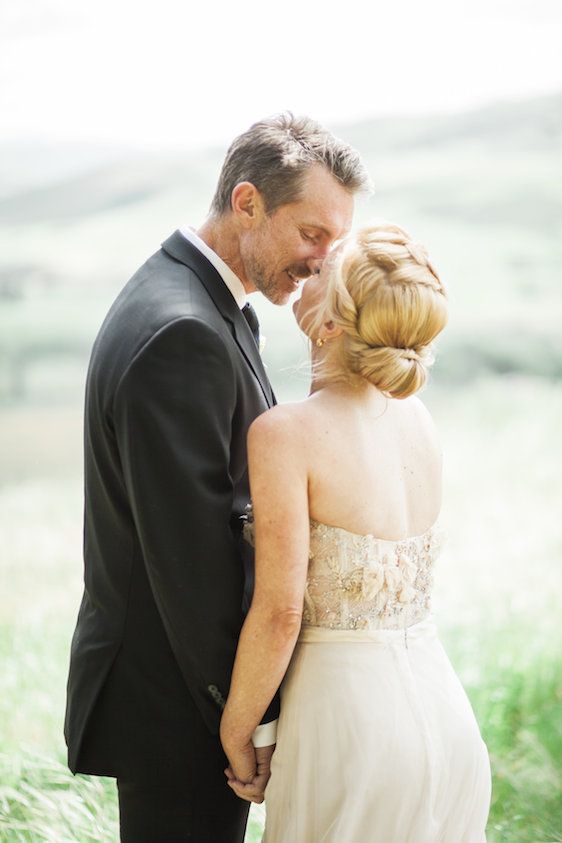 And how gorgeous was this gown? A sweetheart style neckline was both flattering and romantic.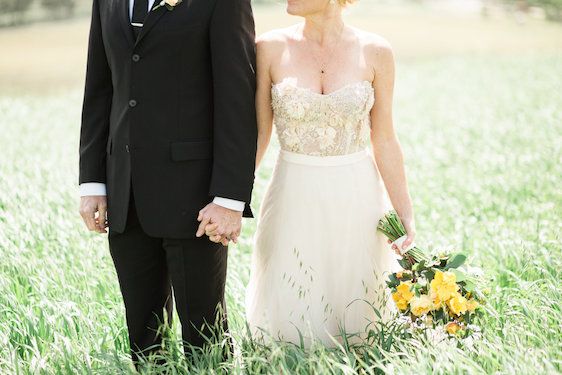 And who could resist this mix of roses, peonies, and ranunculus?
And this view? Swoon.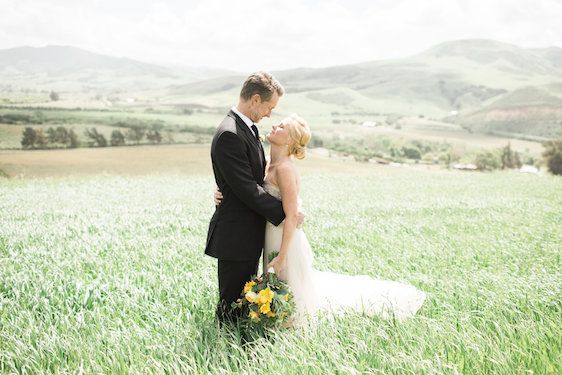 Bright, beautiful, and oh-so pretty!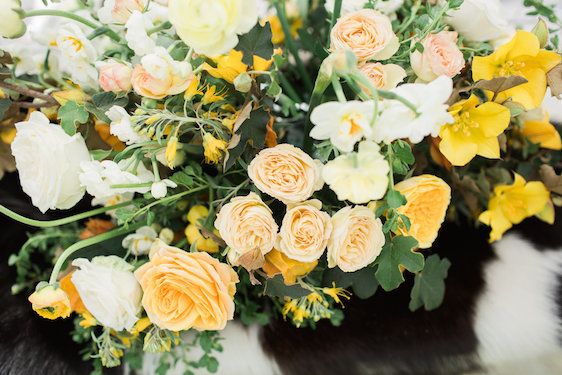 It's such dream scene.... And one that has me absolutely wishing for a wedding redo!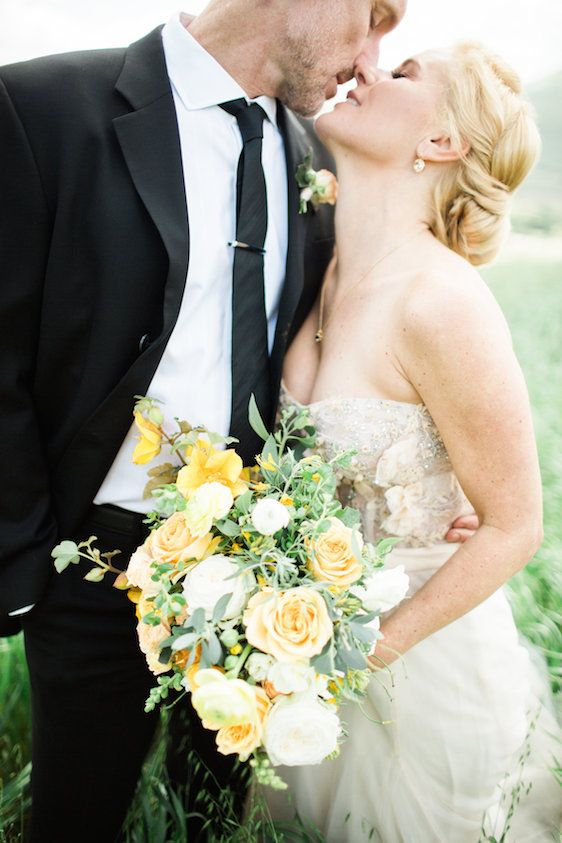 Oh, and can we just talk about how gorgeous this shot is?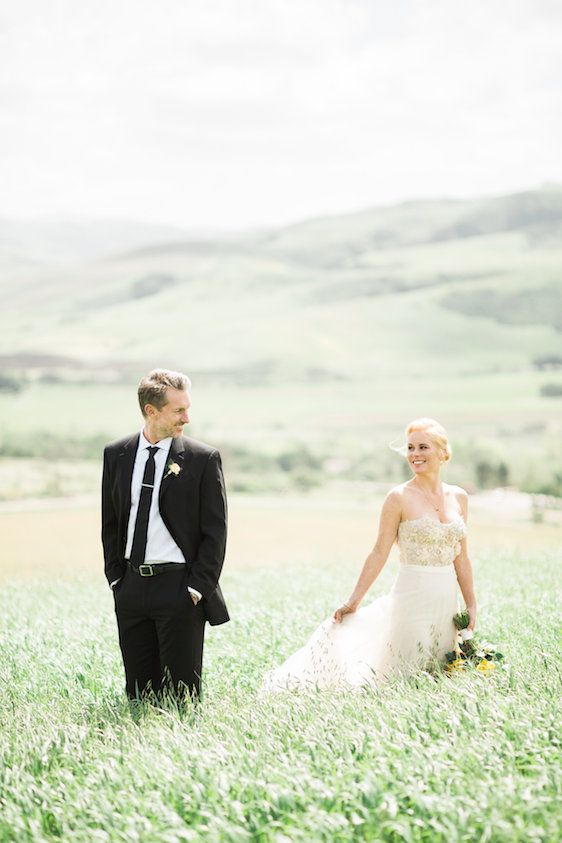 So dreamy, and absolutely pin-worthy.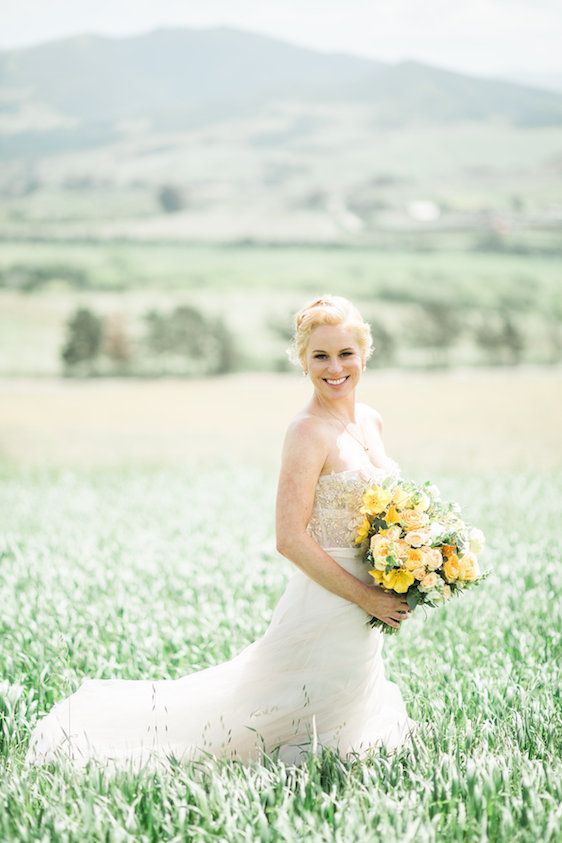 Speaking of pinning... That reminds me. I have some serious pinning to take care of.
Because images this gorgeous? They're about to inspire a pin-fest, I tell you!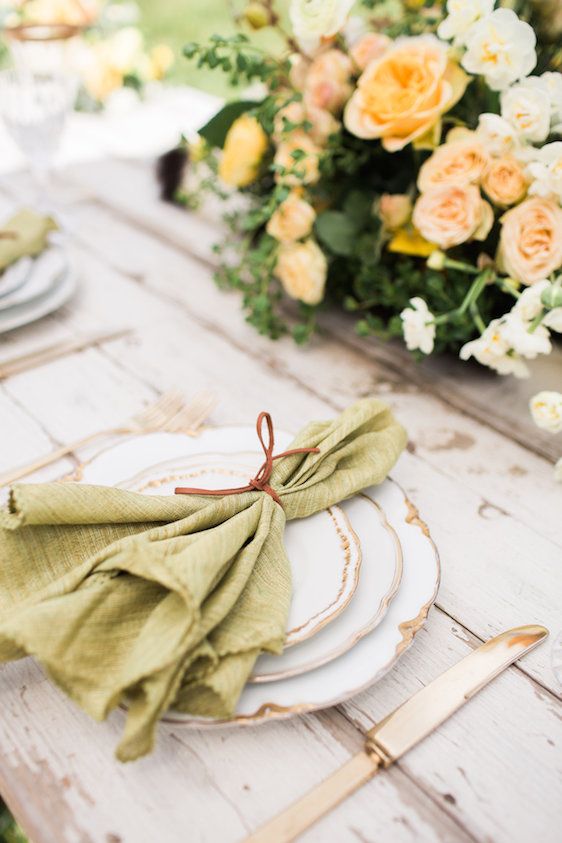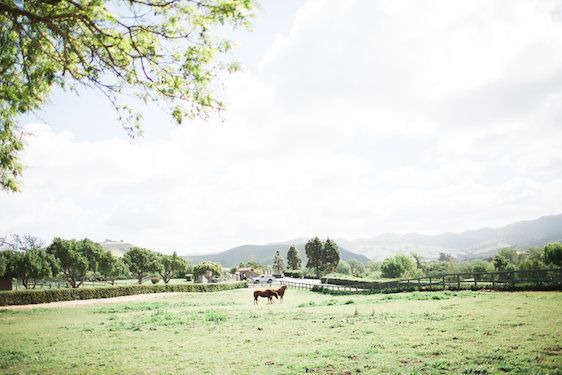 The soft sage napkins added a nice, earthy feel. And how gorgeous are these horses in the pasture?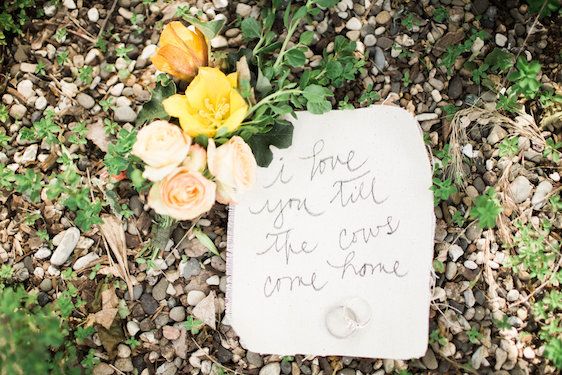 And oh my goodness. Is this not the cutest note?
Before they tied the knot, this couple took a stroll....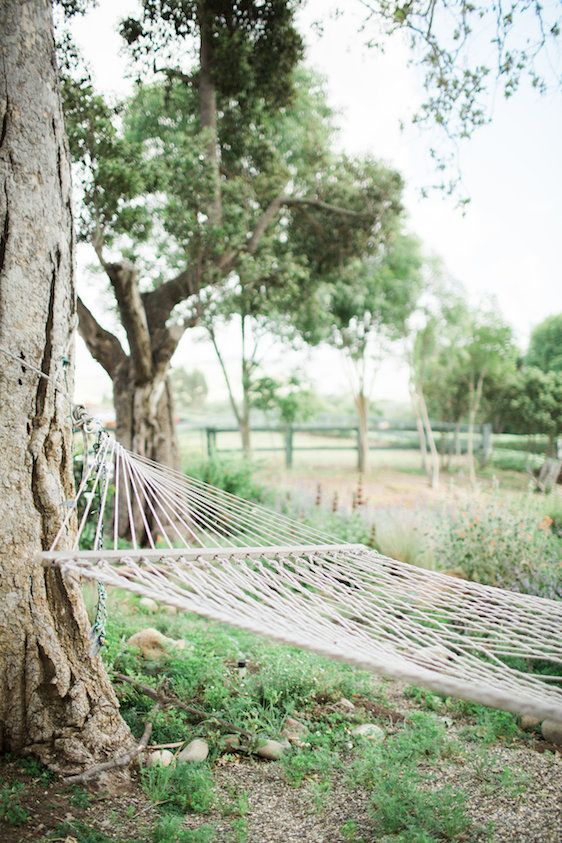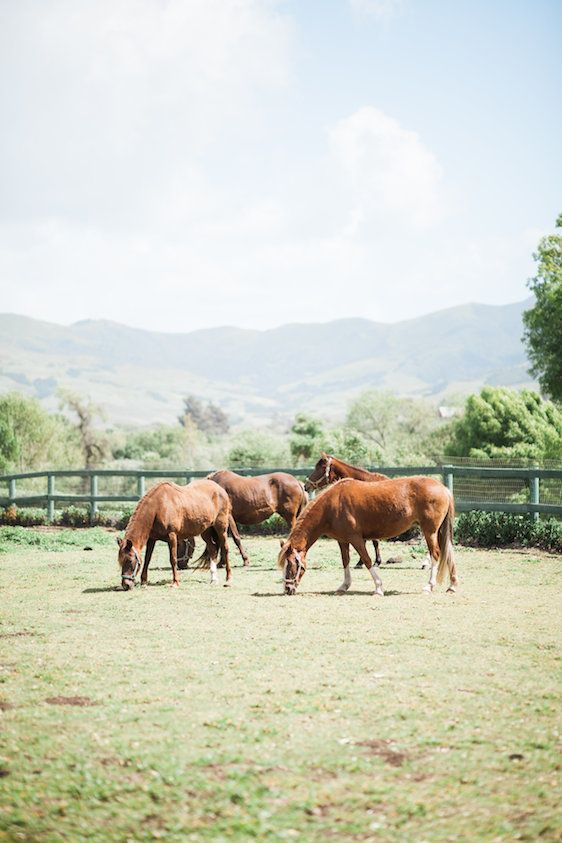 ... a little walk to take in the scenery.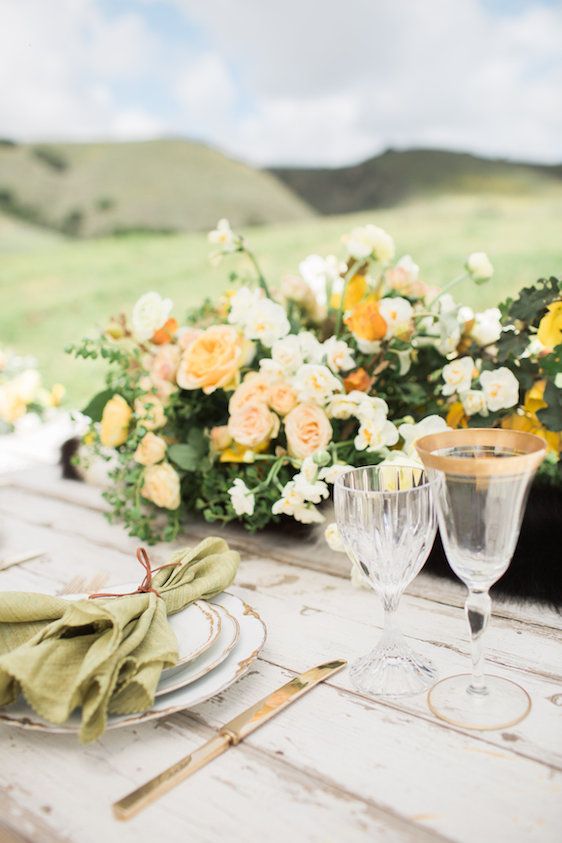 .... and oh my goodness! What a lovely scene it was.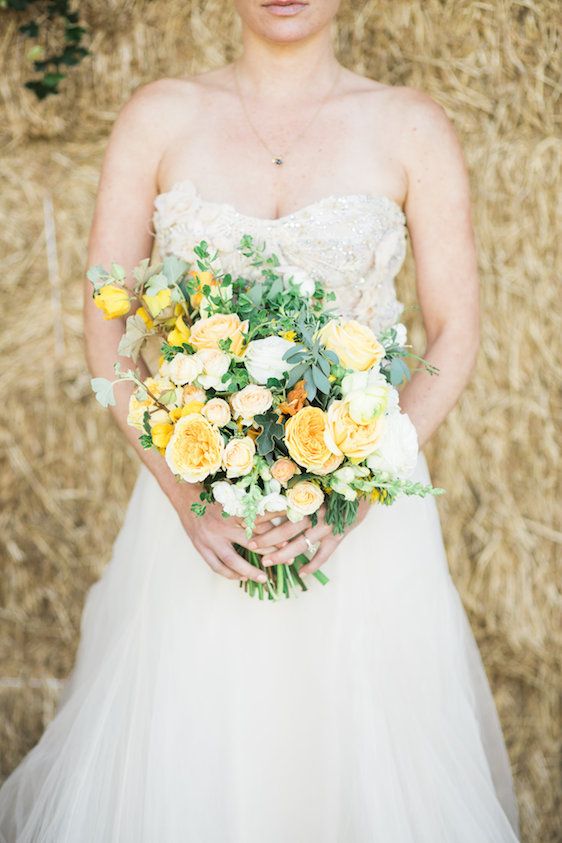 Blooms by

Forage Florals

continued to impress on this day!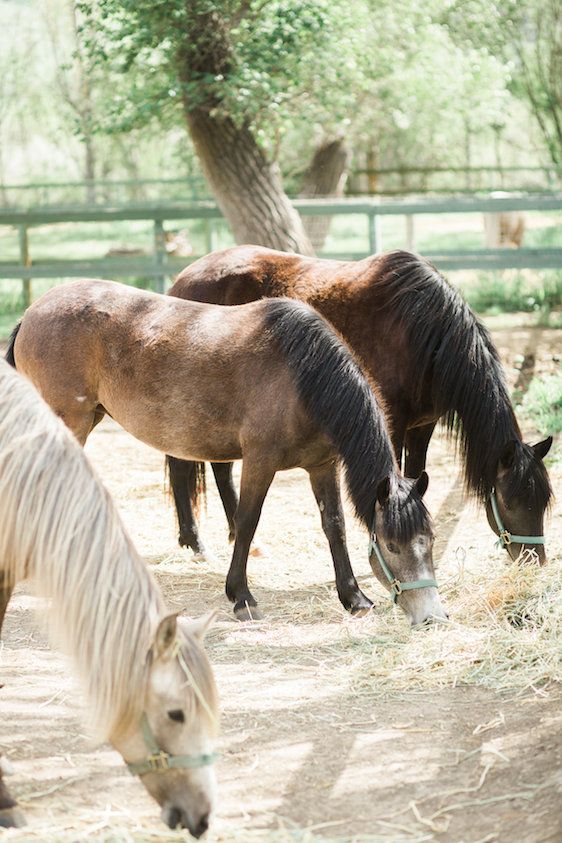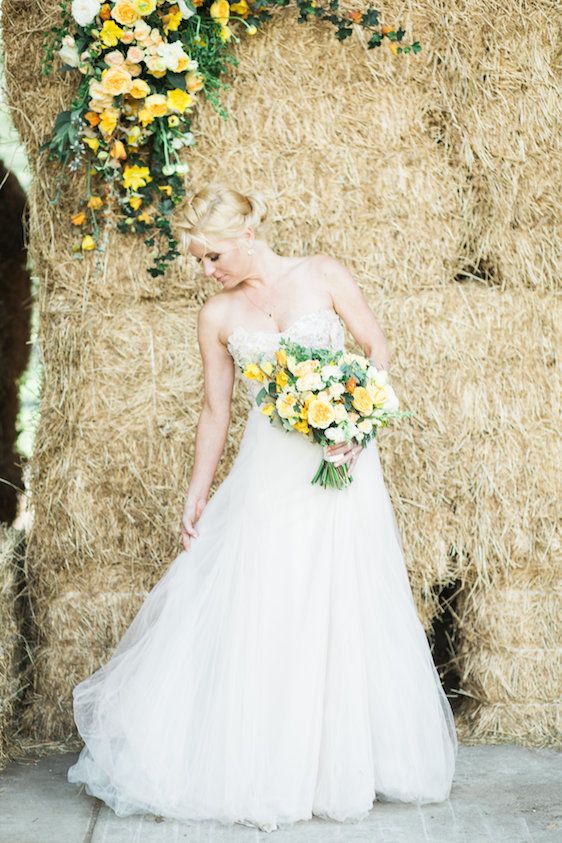 .... while a large stack of hay bales made for an unexpected textural backdrop.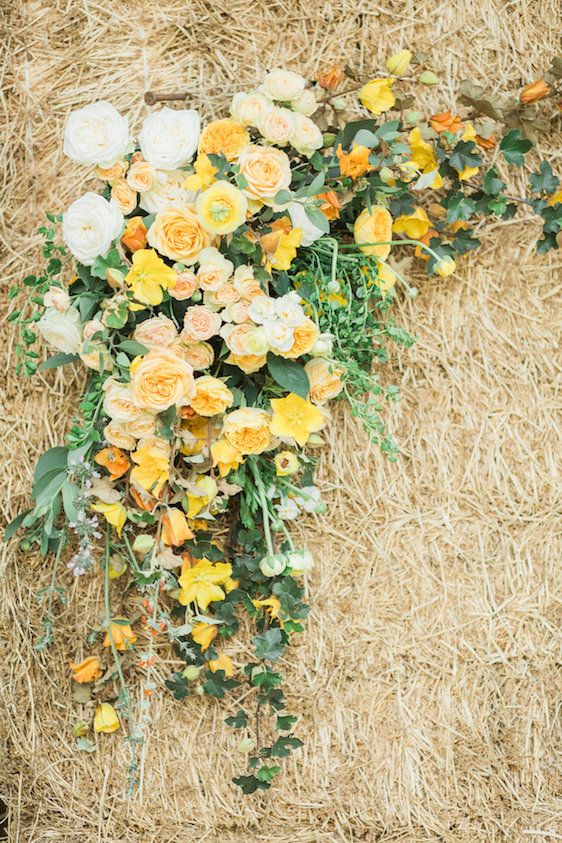 And what's not to love about this gorgeous floral install?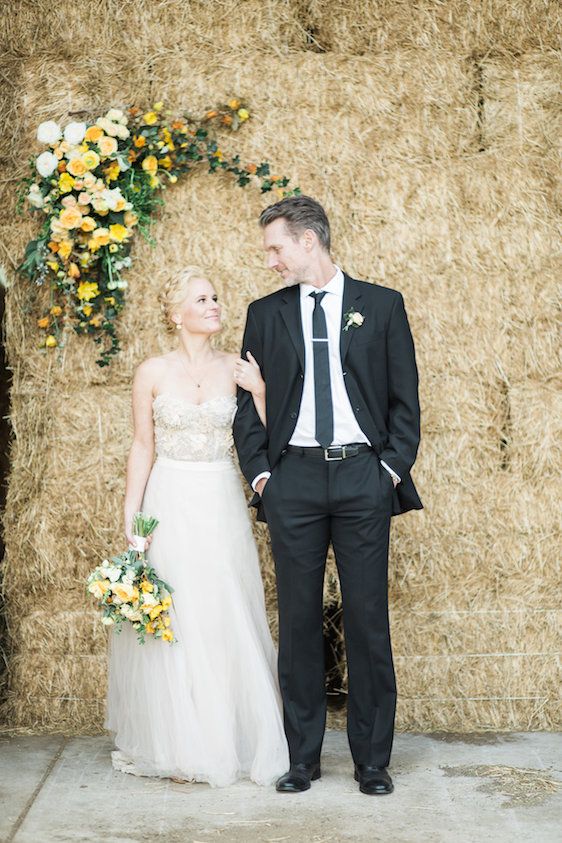 From the dress, to the bouquet, all the way to the romantic hairstyle...
.... our bride was looking so absolutely stunning on this day. And her smile?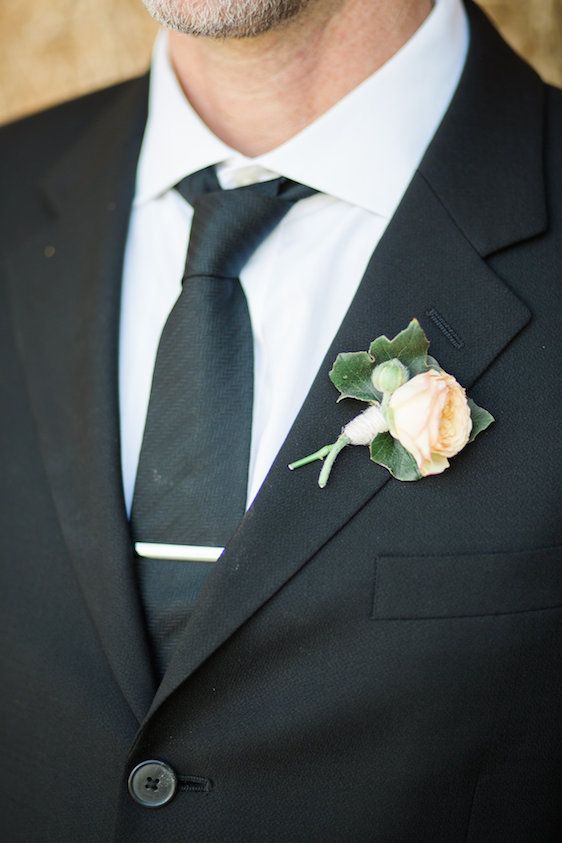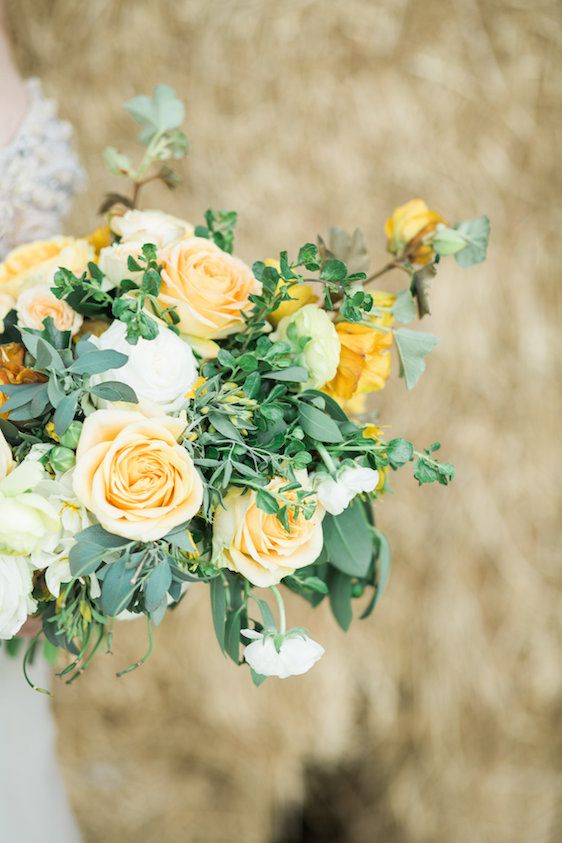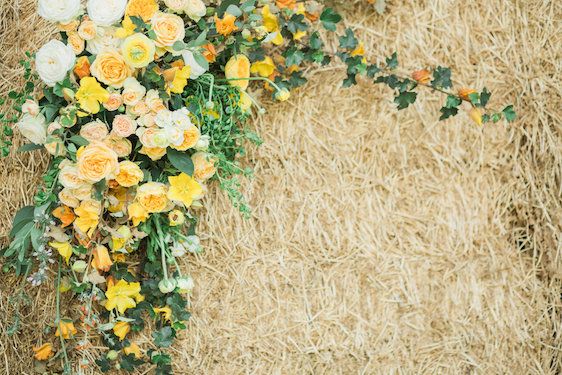 It could light up a room, I tell you! Details were plentiful.... And so were the smiles....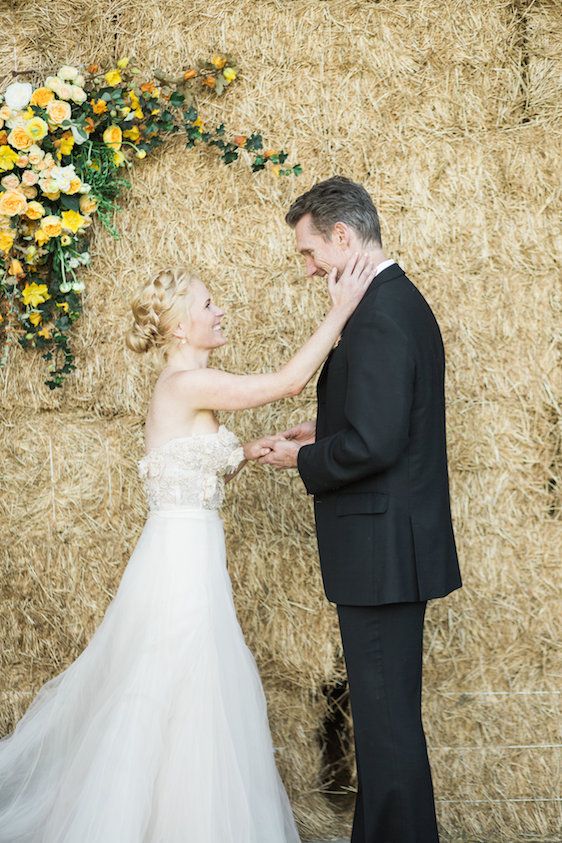 Oh, and did I mention the fact that there were cupcakes?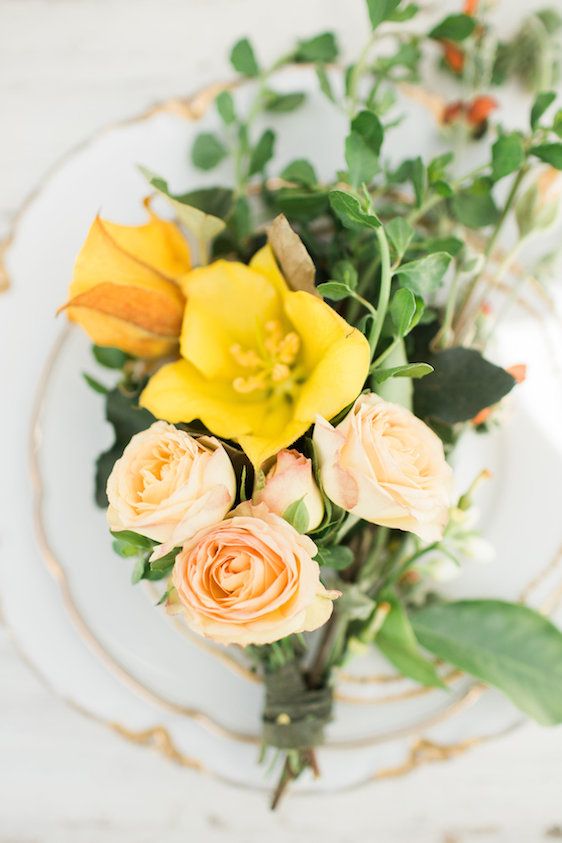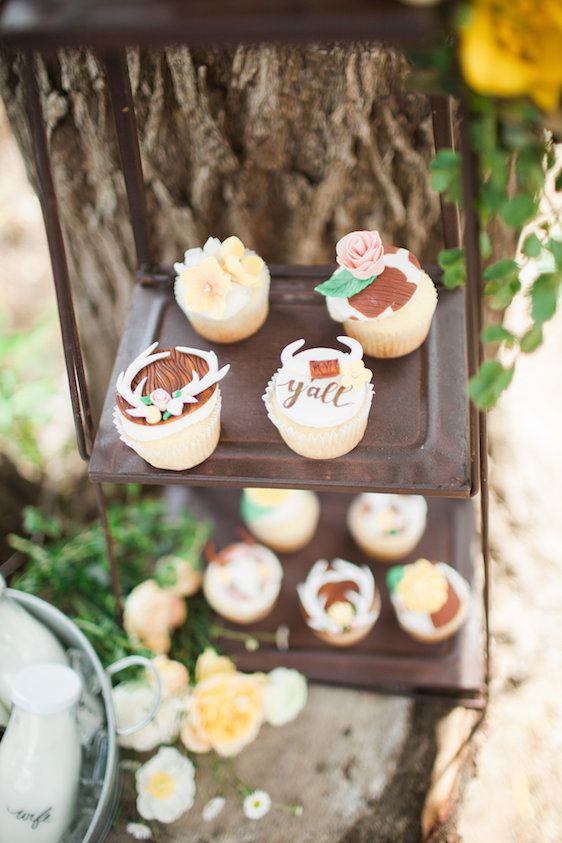 Cupcakes that said, "y'all?" So so cute.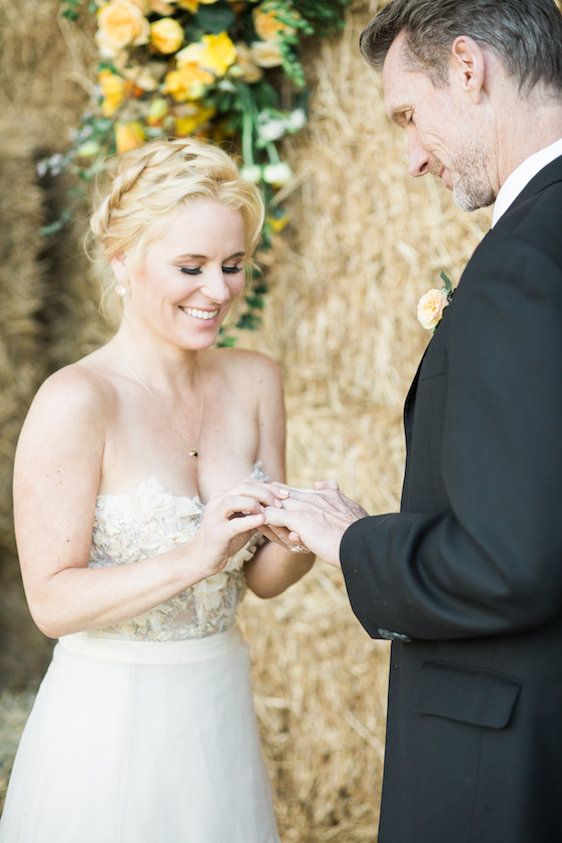 And these two? Goodness they're adorable!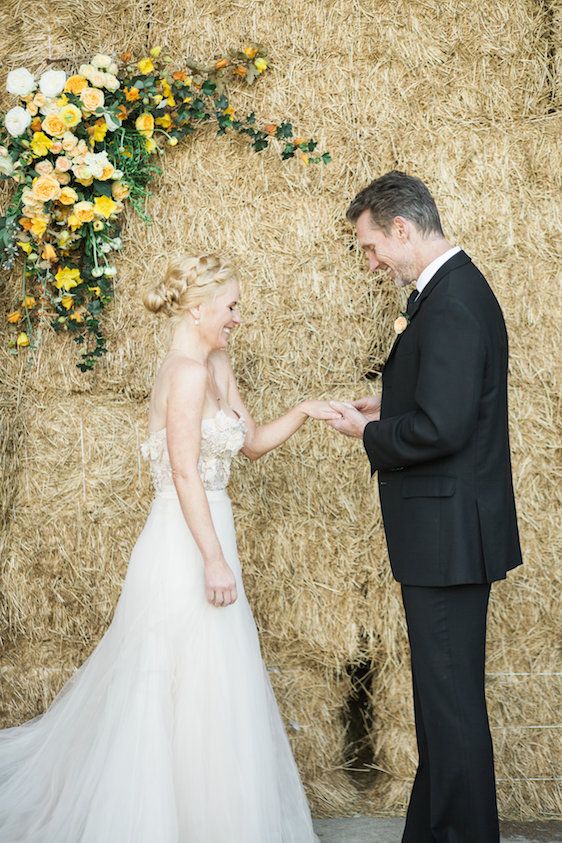 As the day unfolded, there was still so many beautiful moments to capture.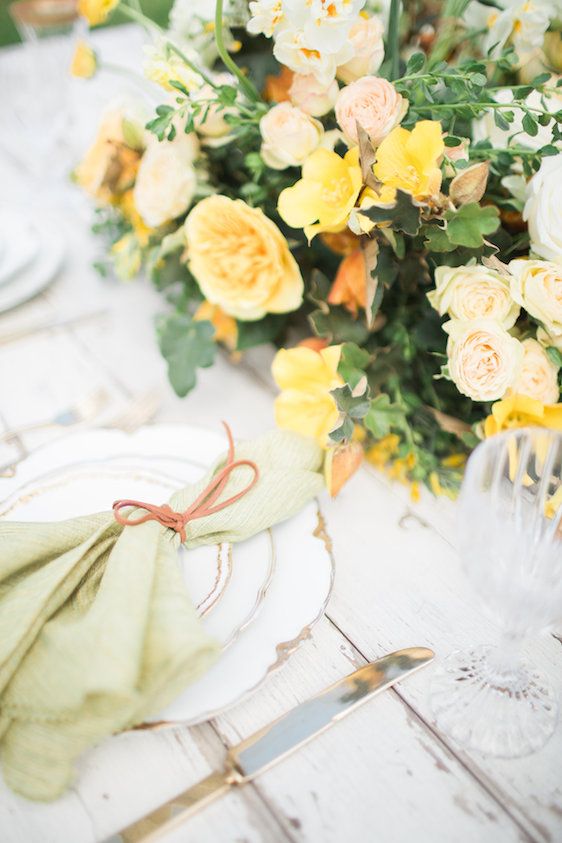 Like the "first kiss," as husband and wife...
...all the way to the tiniest of details....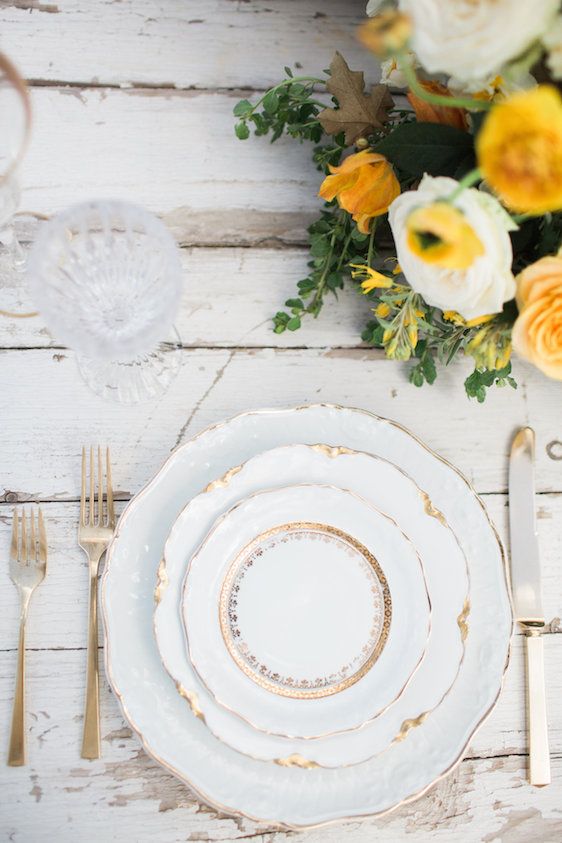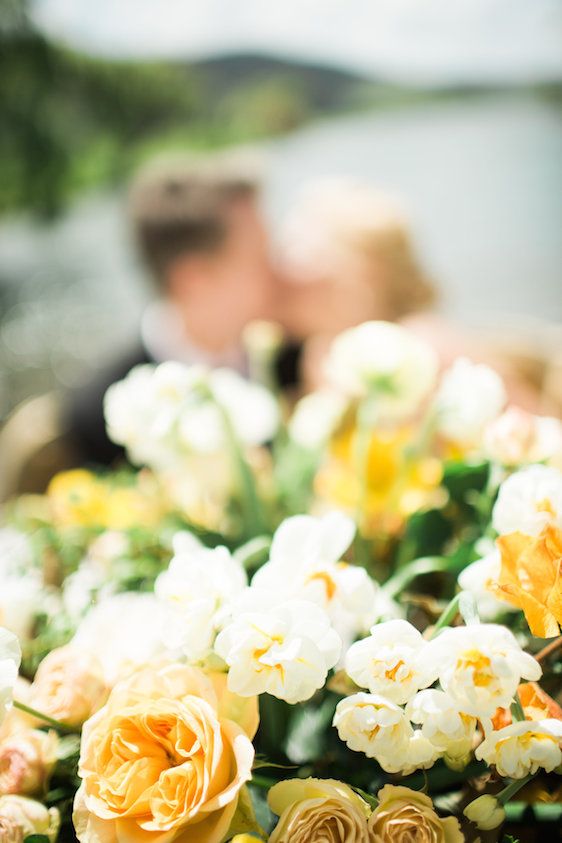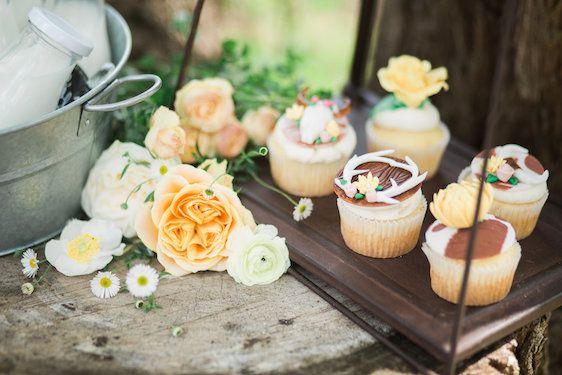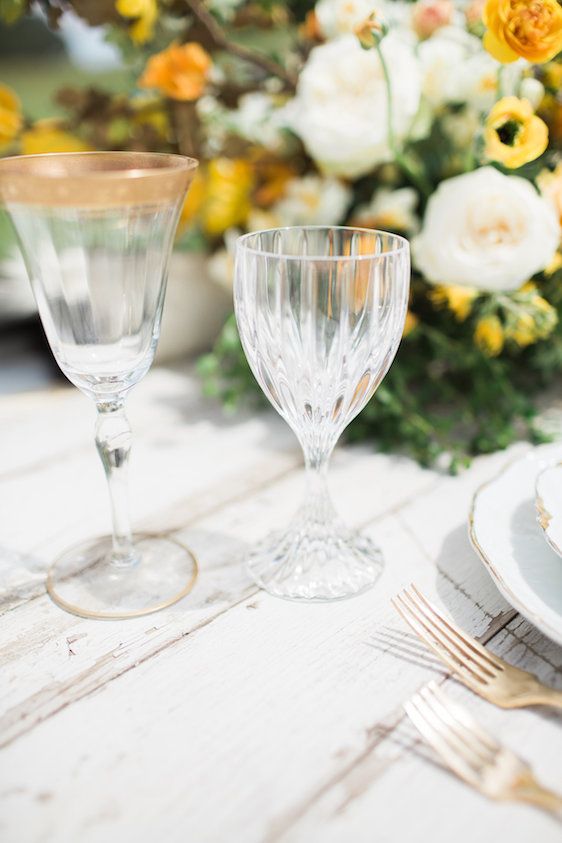 Like these sweet little cupcakes by

KT Cakes Cupcakes

!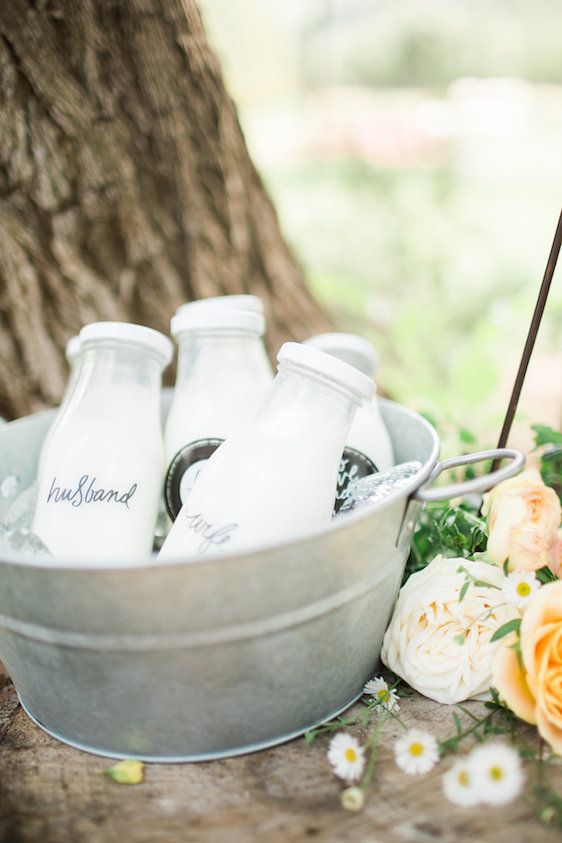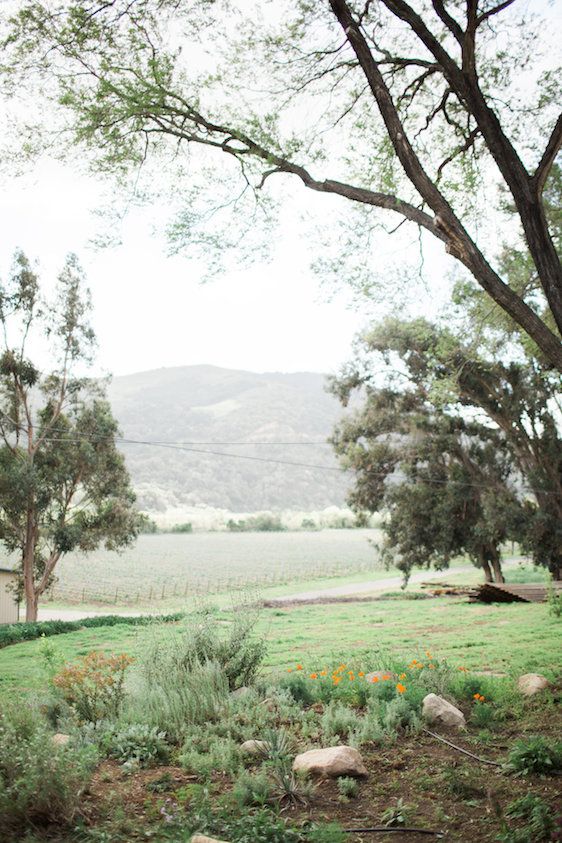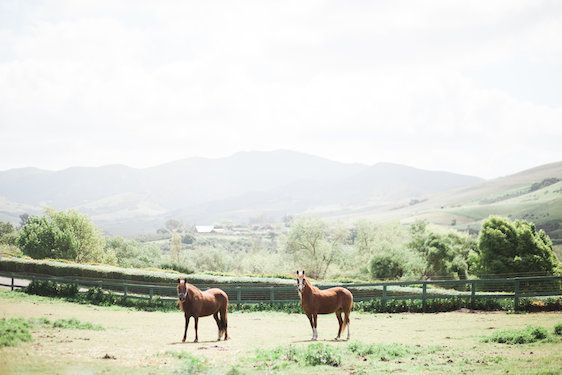 And what goes perfect with cupcakes? Milk, of course!
The prettiest of wild flowers were found on the grounds themselves...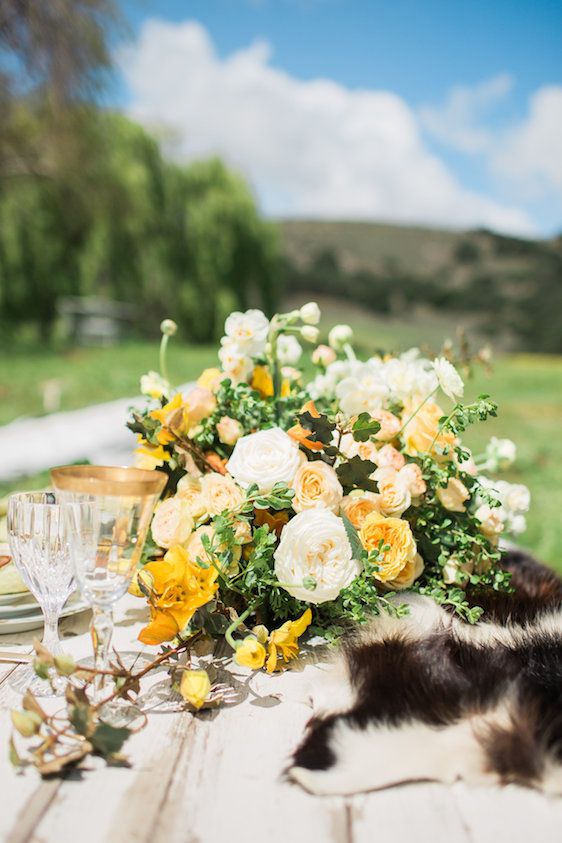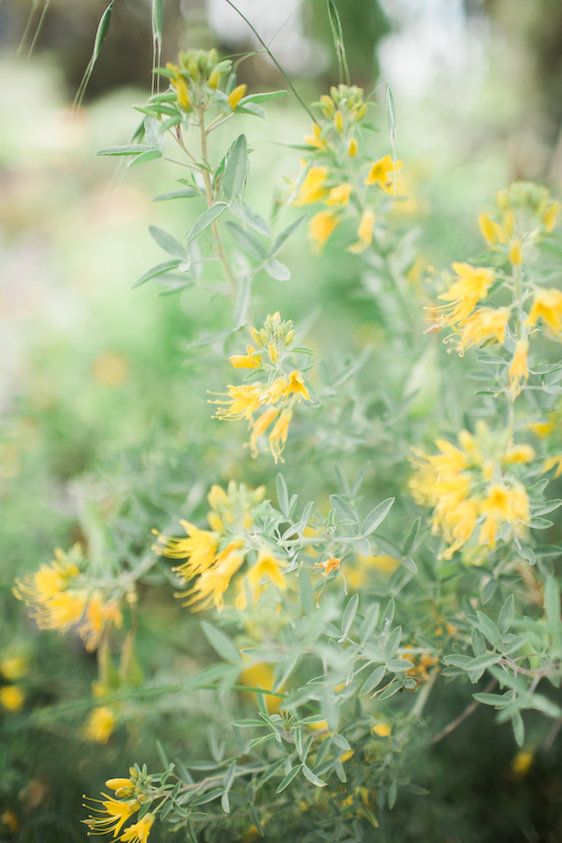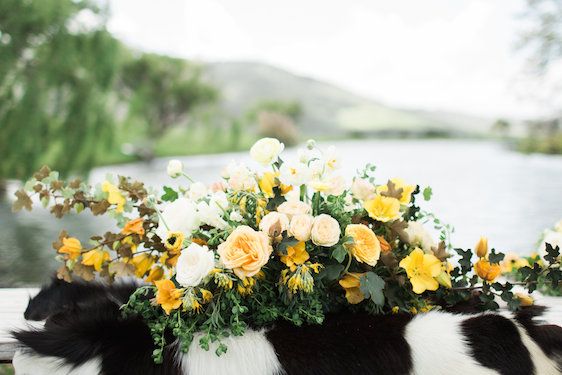 In this undeniably beautiful landscape... So beautiful in fact, that it's not surprising that it inspired this tabletop.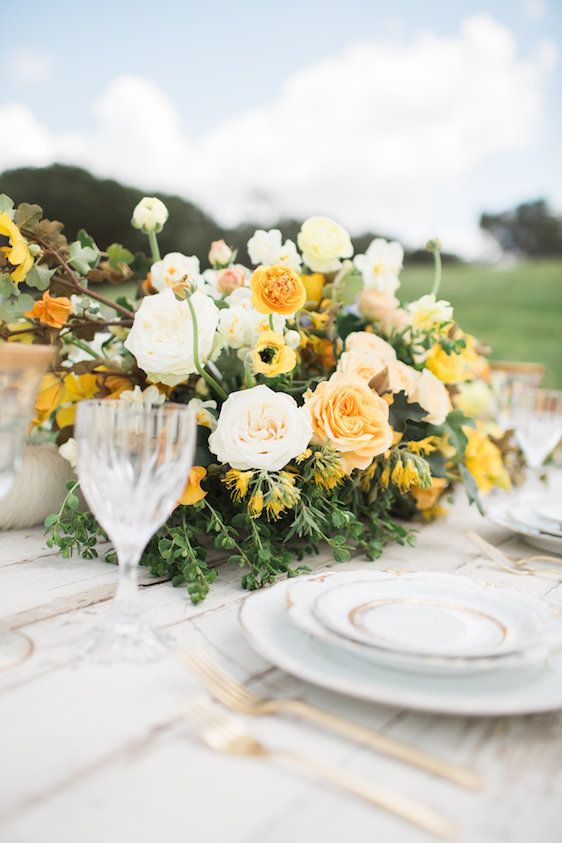 With this cheerful color palette in mind, this tablescape quickly took life with tabletop rentals from

Otis and Pearl

and furniture rentals by

Barn Reli

!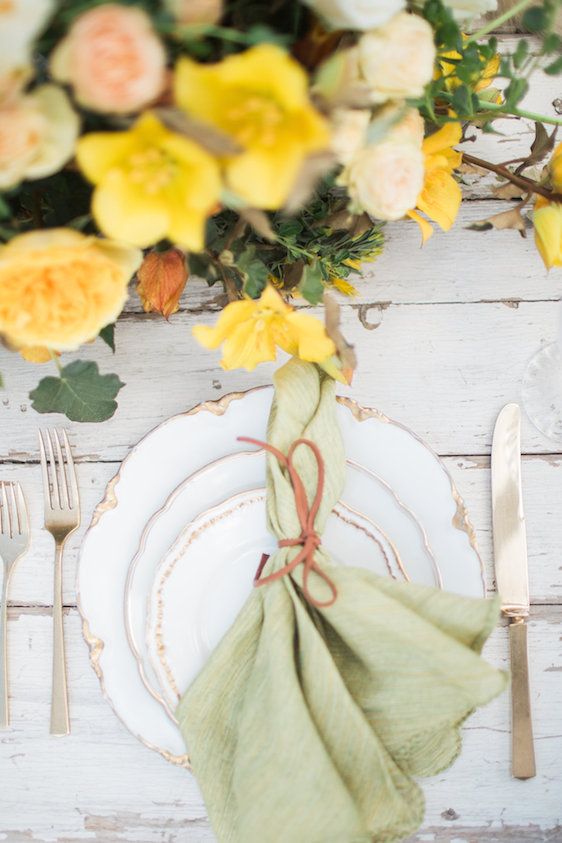 And what an amazing setup it was.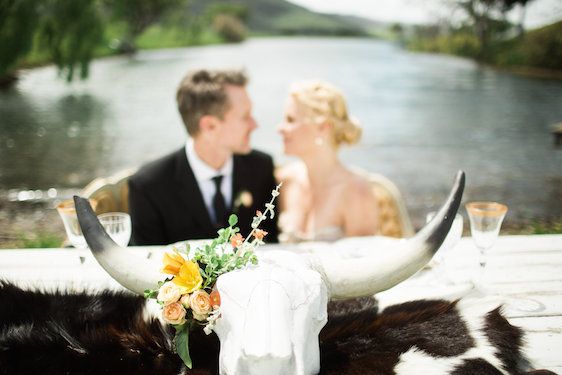 From rawhides to boho-inspired details like this bull's head...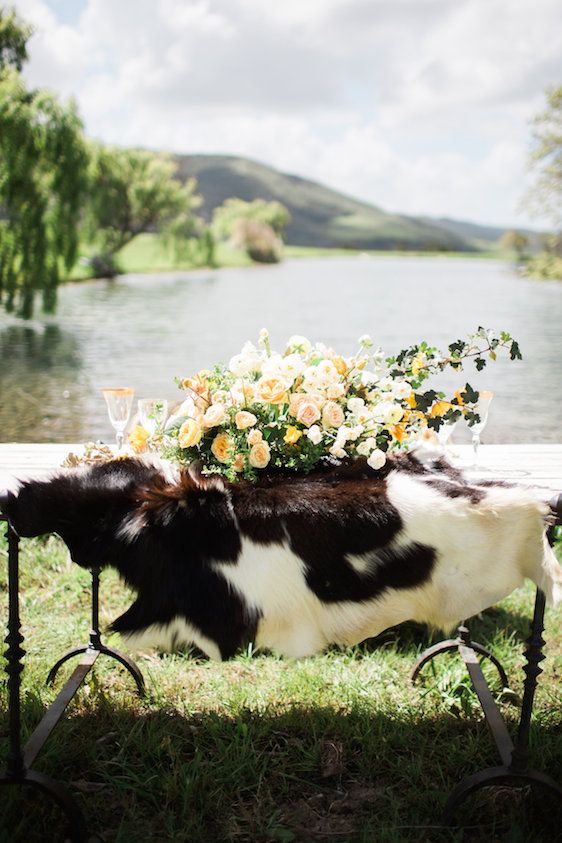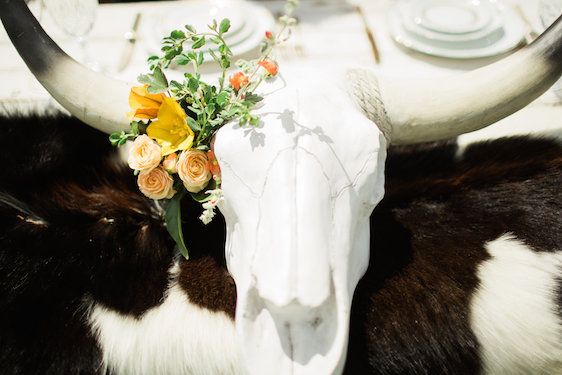 There's just so much to adore about this unique event design.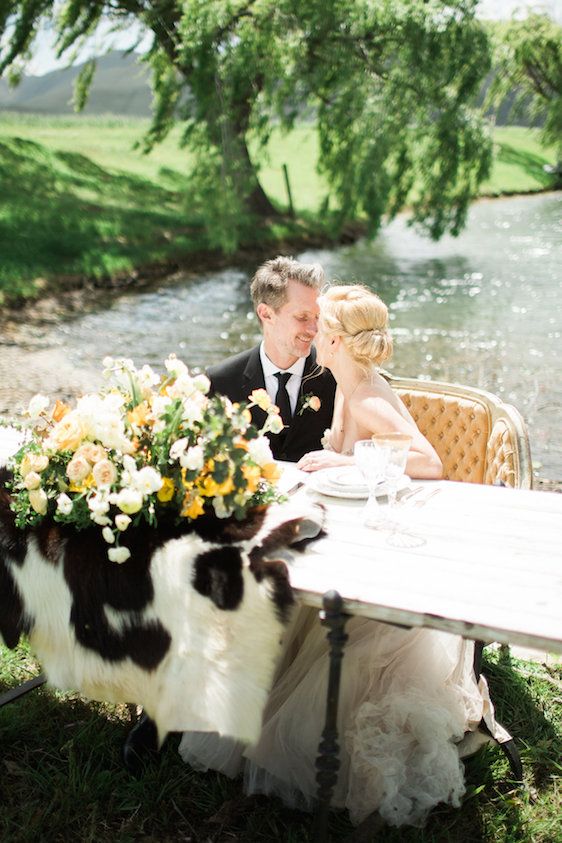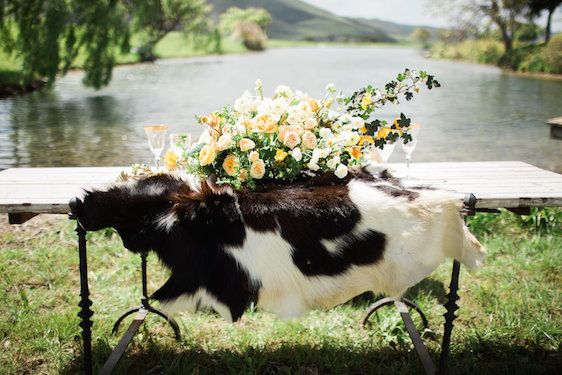 Such a creative and colorful approach...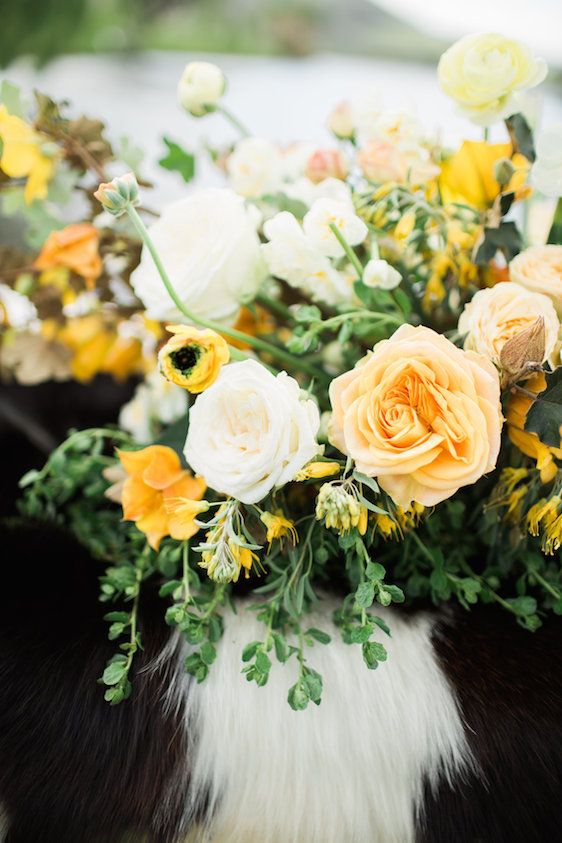 And these colors? I know we've discussed them, but I simply can't go without mentioning my obsession for them, just one last time.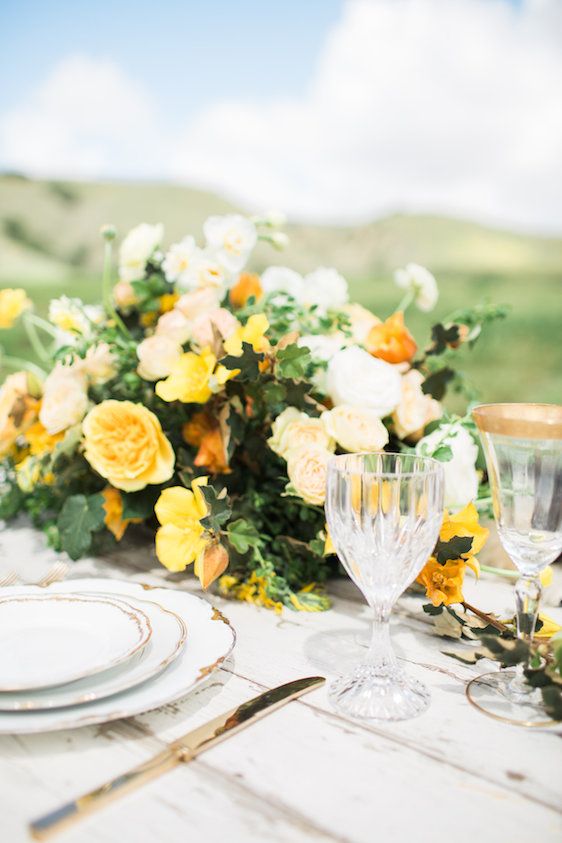 It's this soft mix that has me feeling so inspired.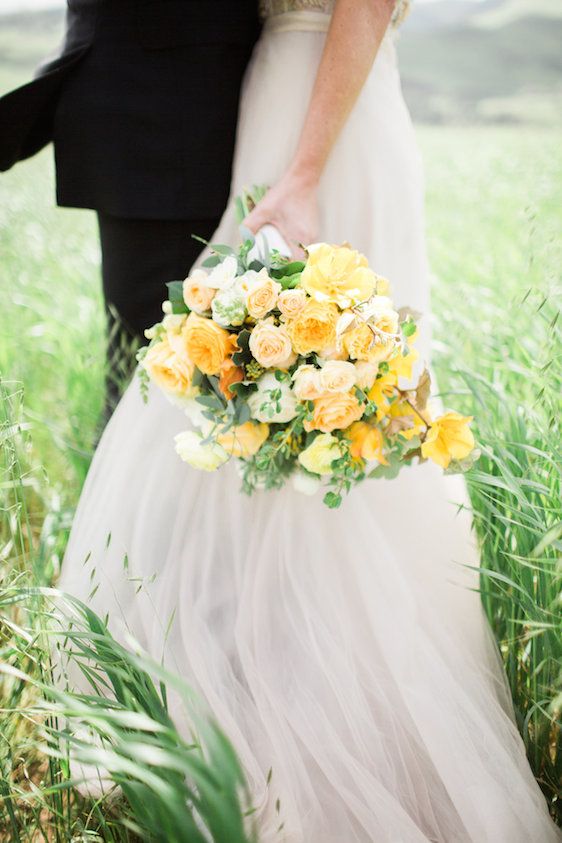 And how gorgeous was the sky on this day?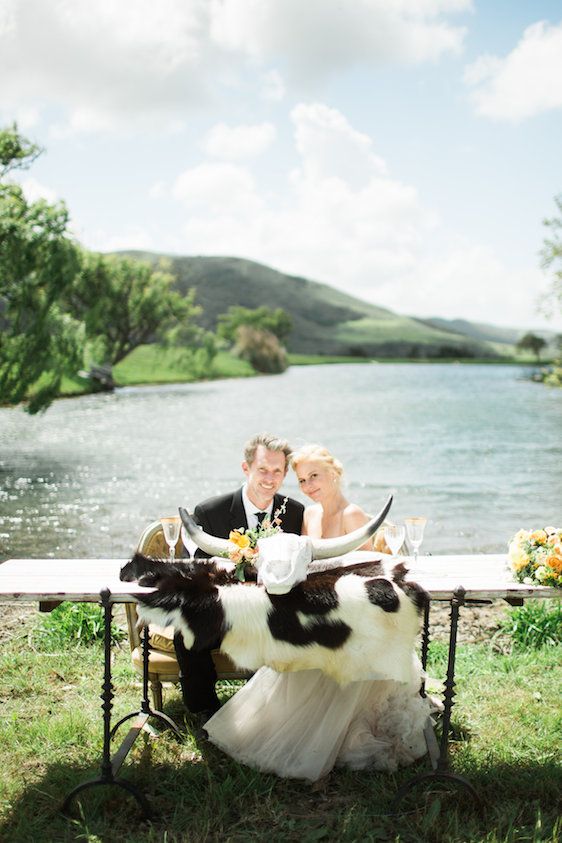 Such a sweet day. And I'm just living for how the wind picked up the bride's dress and gave it life.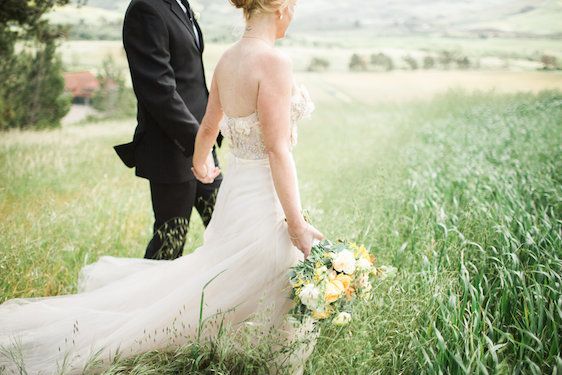 Big hugs to all of the talented pros that came together to make this one happen...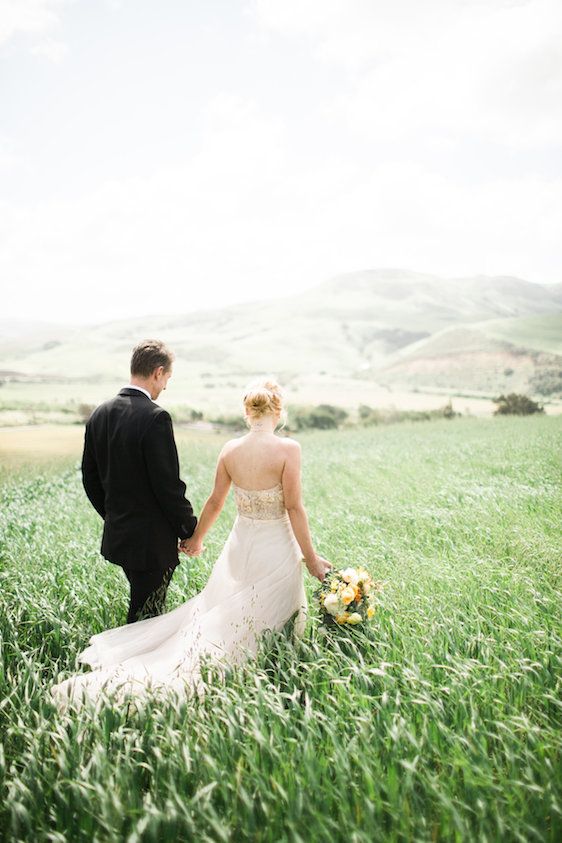 There's truly so much to appreciate about this vision, the location, the details...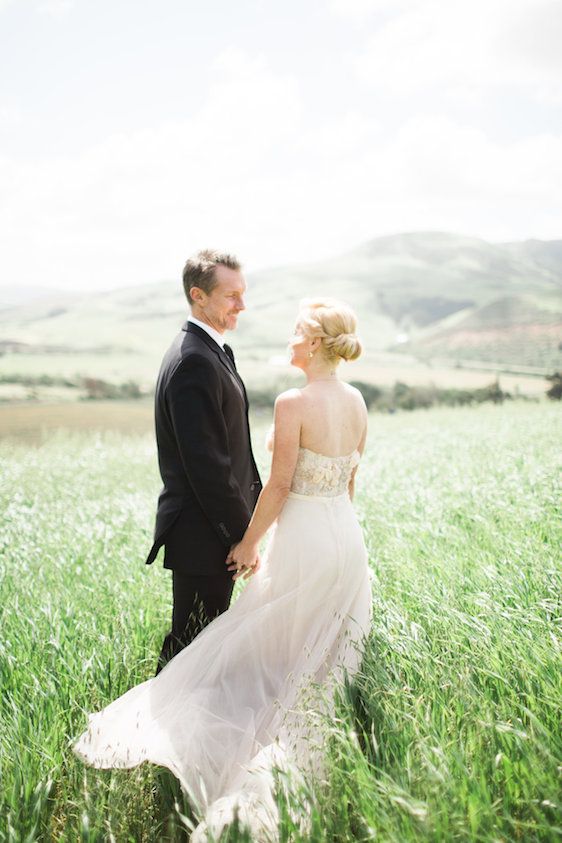 And I'm just thrilled to have the chance to share it!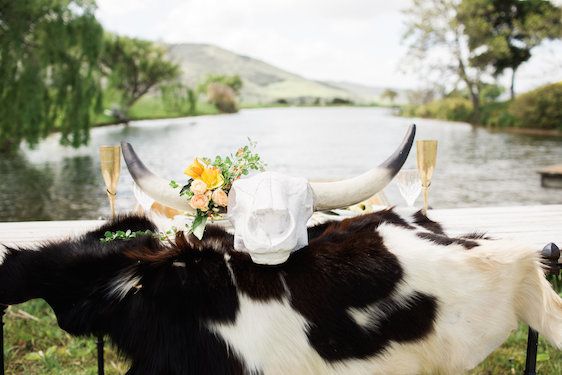 Romance was definitely in the air...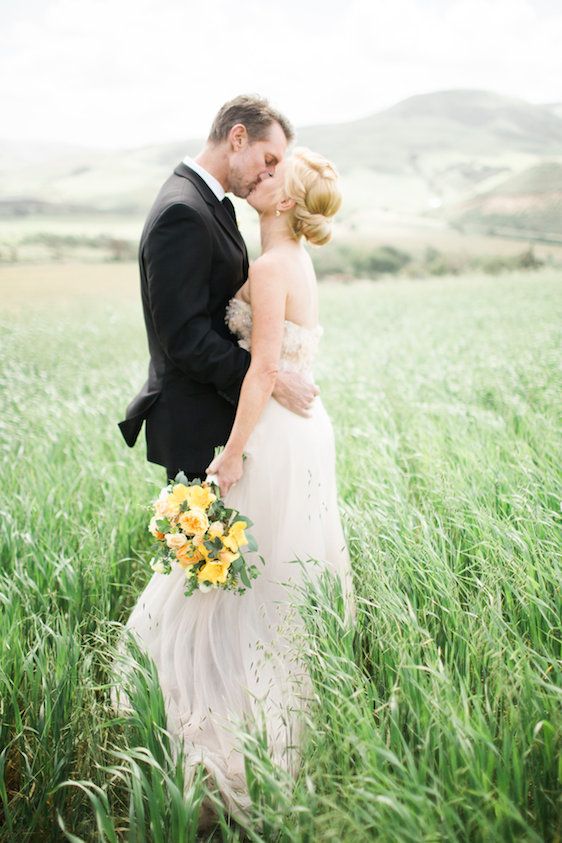 Now, I'm sorry, but you'll have to excuse me because I have some serious pinning to take care of. Care to join me?
Photography:

Brooke Borough Photography

// Event Coordination:

Wishbones & Whisky Events

// Florals:

Forage Florals

// Table Rentals:

Otis and Pearl

// Furniture rentals:

Barn Relic

// Hair:

All American Curls

// Cupcakes:

KT Cakes Cupcakes

// Makeup: Natalie Sophia
Share This: