Kenzie and Porter chose to be married in the beautiful LDS Salt Lake City Temple on a beautiful, warm day in July and lucky for us
Brooke Bakken Photography
was there to capture all of the happy and heartfelt moments.
The bride and groom got ready at the groom's grandparents house where they would also host their reception - and what a beautiful reception they had!
From the photographer, "Kenzie was all smiles while she prepped for the most amazing day and Porter was calm and collected knowing he was marrying the most incredible girl!"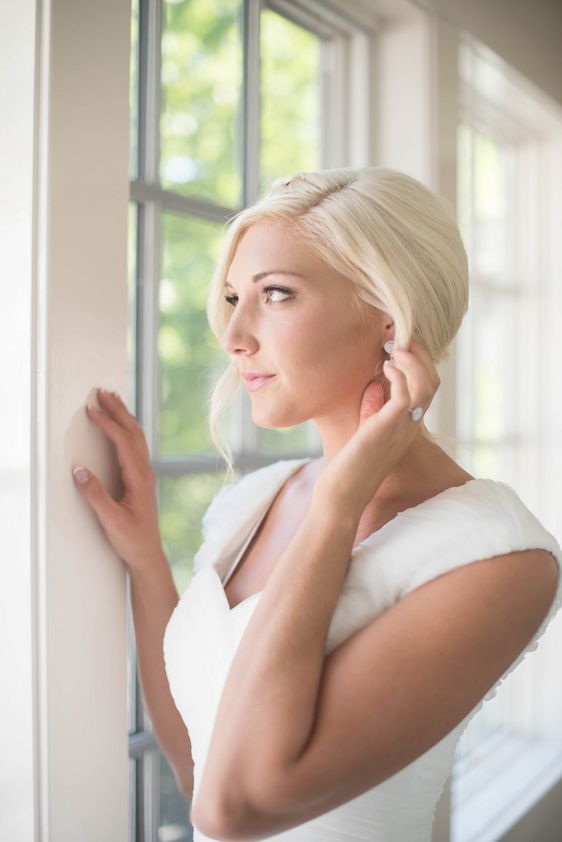 Getting ready for her wedding, Kenzie took her time and really soaked up the moment!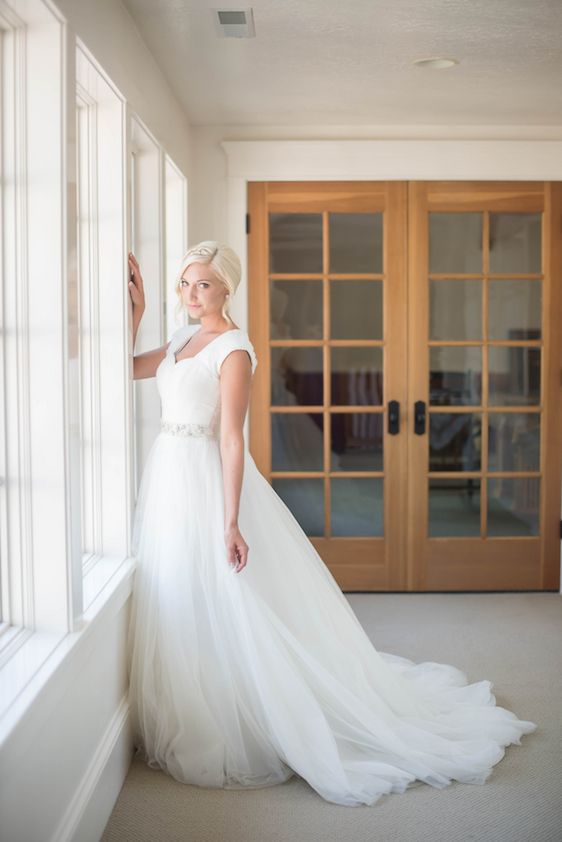 And this Cinderella style wedding gown? Swoon.
There really couldn't have been a more perfect dress!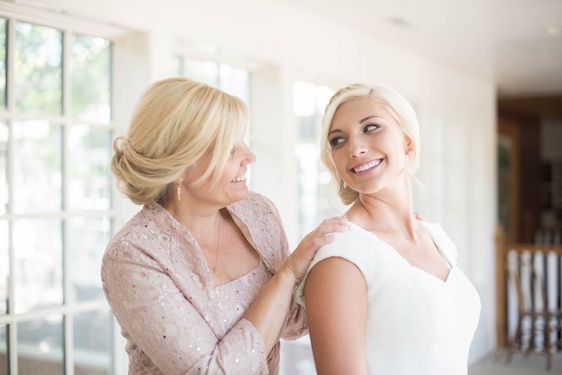 And how absolutely gorgeous is this button detailing on the back?
Sparkle drop earrings made the perfect compliment to this 'made-for-a-princess' wedding gown.
And what's not to love about the bride's braided hairstyle?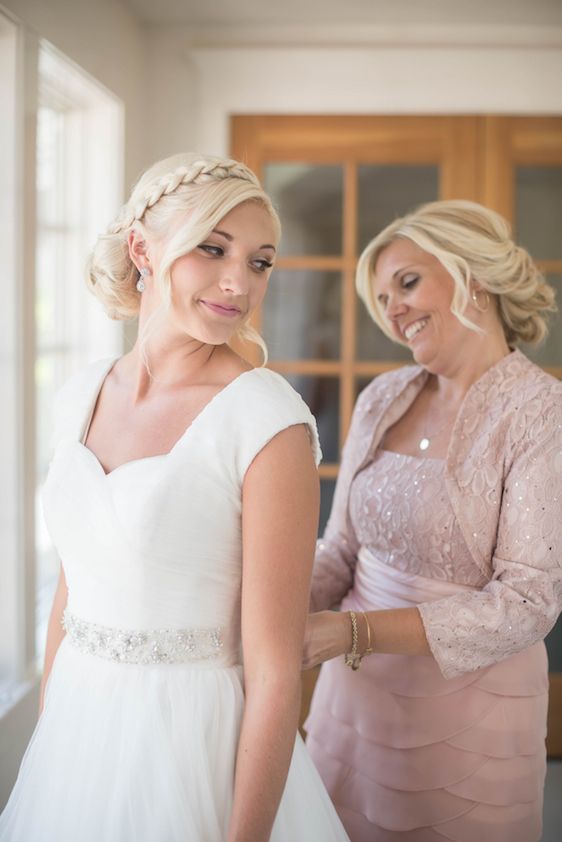 The Mother of the bride looked lovely as well in the prettiest shade of blush pink.
Once they were all dressed, it was time to head to the temple!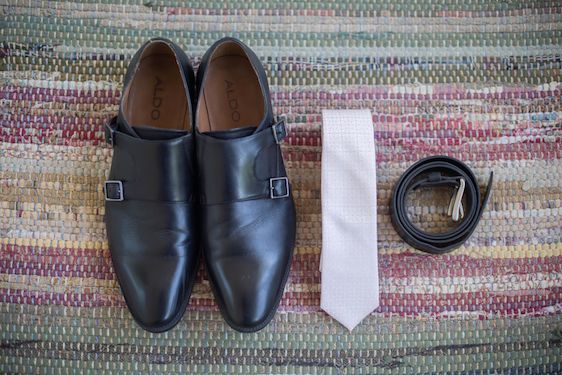 Dreamy doesn't even begin to describe this beauty of a gown.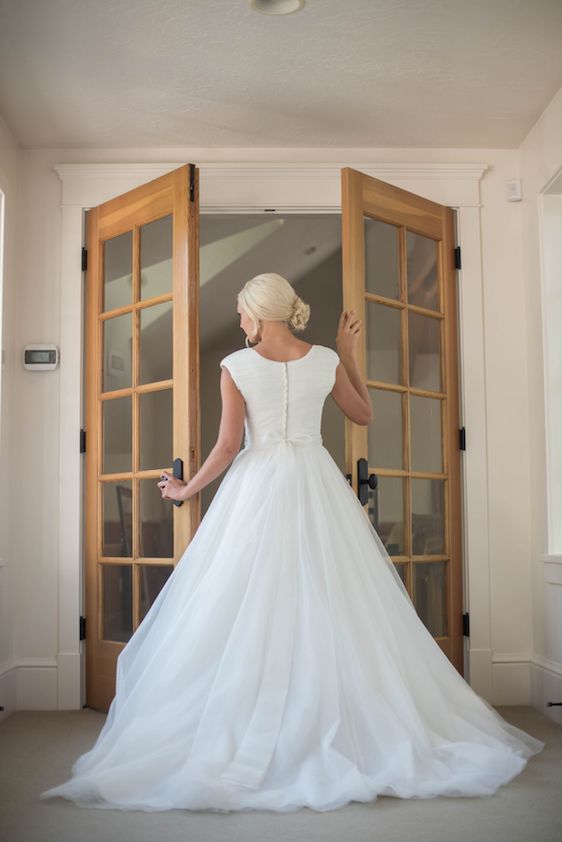 And how gorgeous is this crystal embellished belt?
The Salt Lake Temple looked extraordinarily stunning on this day.
Seeing their smiles as they exited the temple as husband and wife was nothing short of a fairytale.
So much happiness, so many hugs and tears of joy.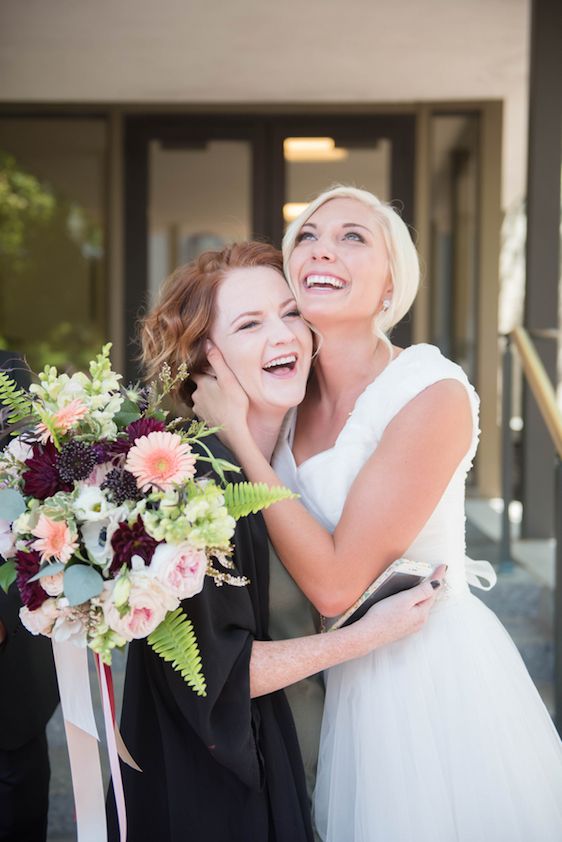 They were beaming from ear to ear and their friends and family were eager to hug and greet them as the new Mr. and Mrs. Jenkins.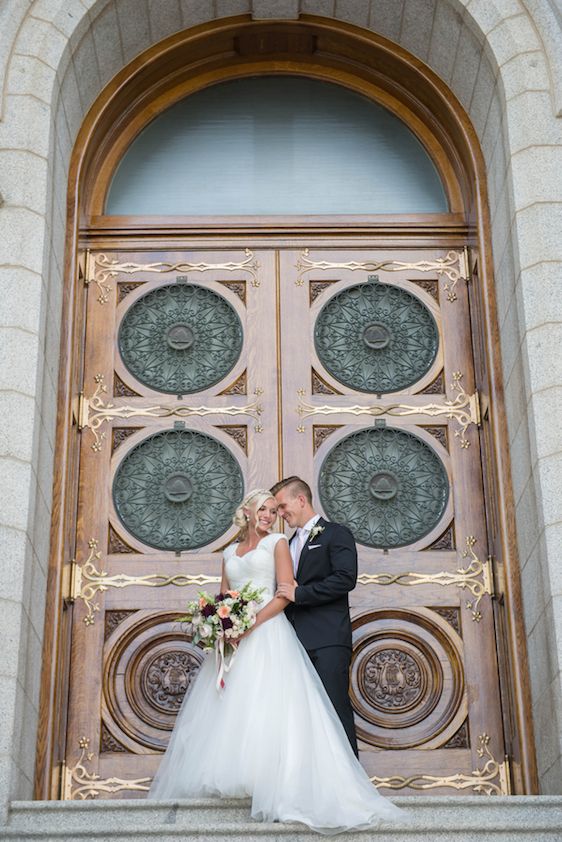 And what a beautiful couple they made!
Cheers to the newlyweds!
The rest of the day flowed with ease as they walked the temple grounds as newlyweds just basking in the love they had for one another.
Kenzie's bouquet consisted of a mix of mums, gerber daisies, roses, and peonies.
And how gorgeous are these cascading ribbons?
Her dress, that hairstyle, her bouquet... it all came together so beautifully.
And what's not to love about this staircase shot?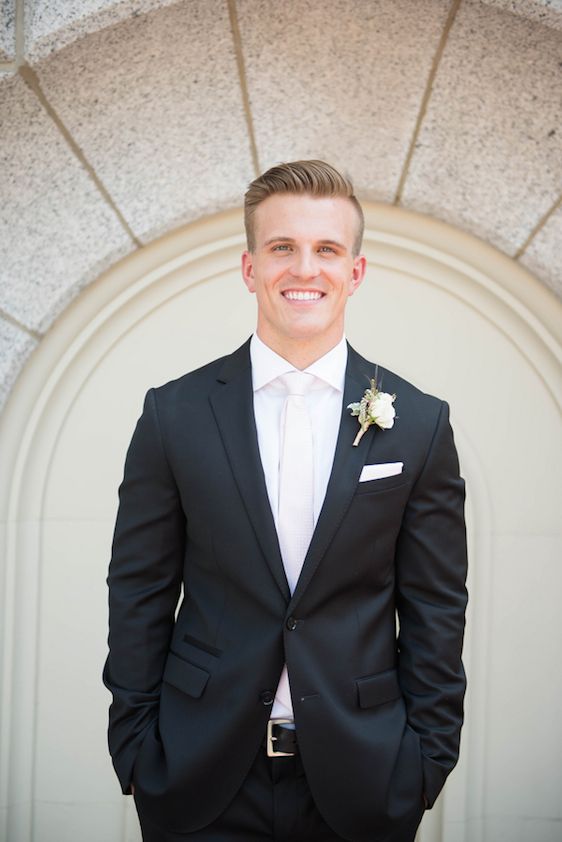 Porter was as happy as can be on this day.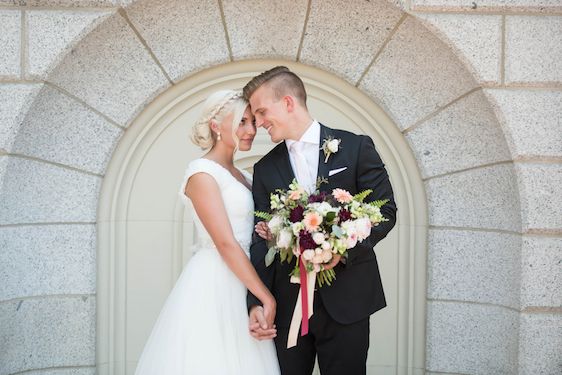 A gorgeous couple, indeed!
The grounds were so stunning and picturesque.
And how crazy-beautiful are these trees, you guys?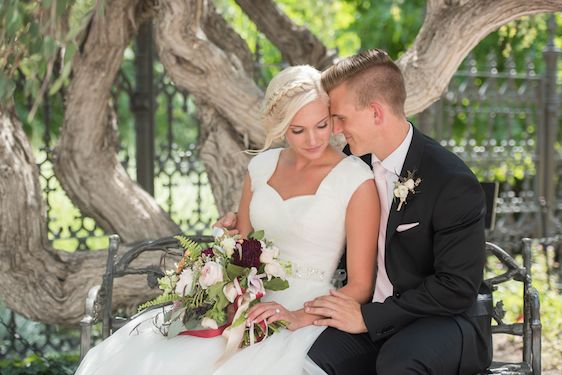 So many lovely moments captured...
But it was the love and commitment that mattered most here.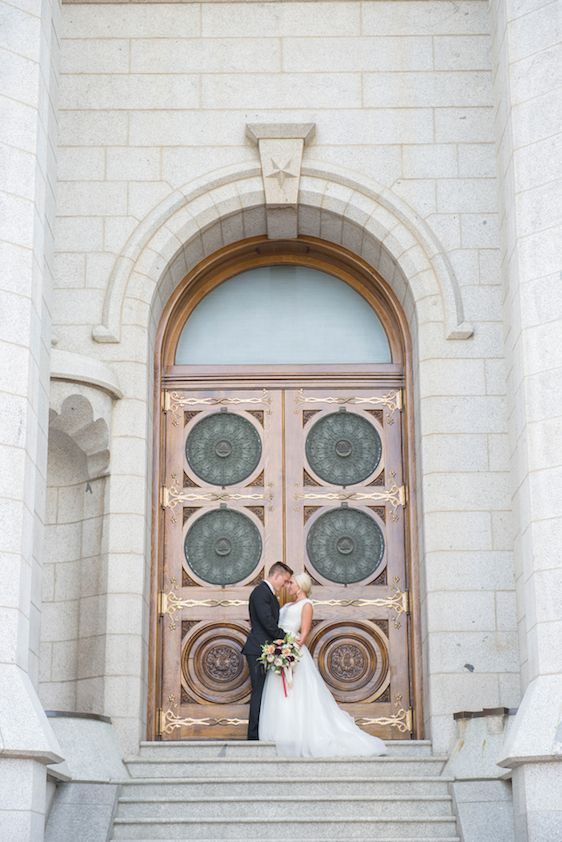 A close-up of Kenzie's hair and makeup which was so exquisite.
And how dreamy was this sweet scene?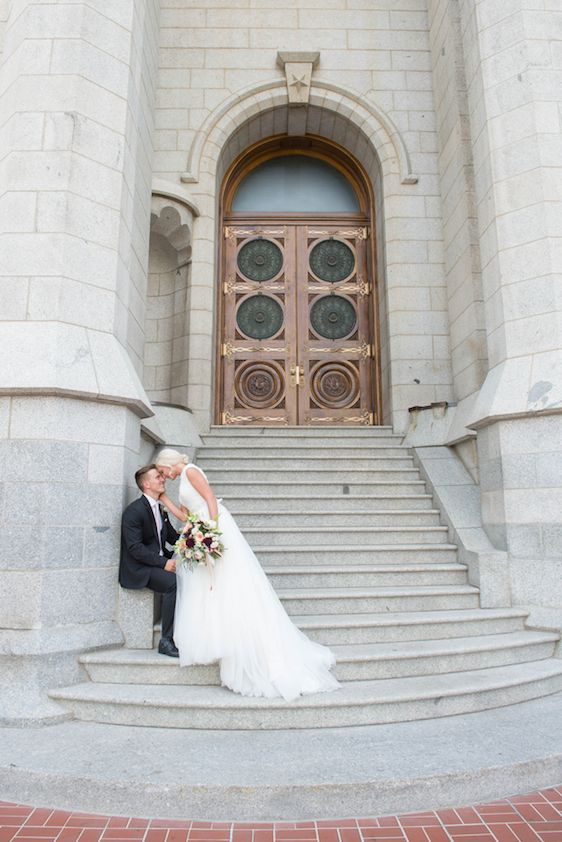 Gosh, I just love these two.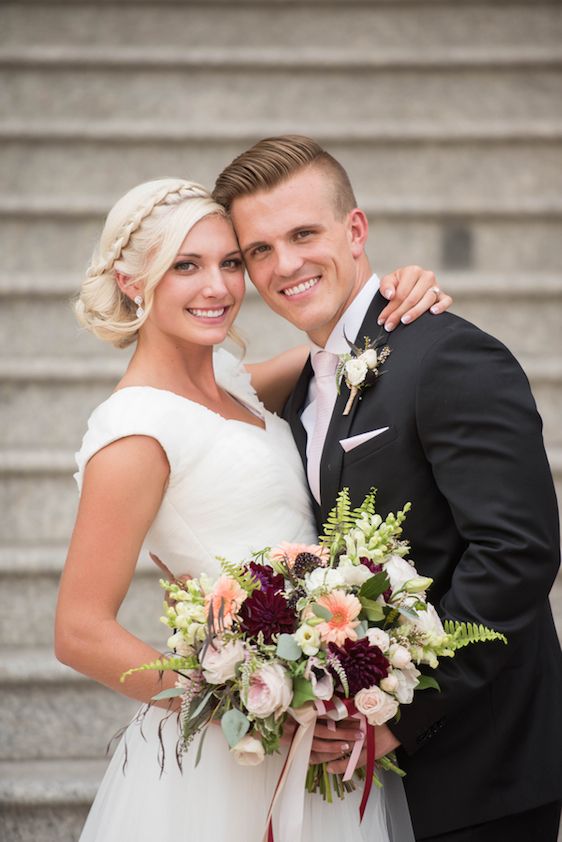 Such a beautiful promise to be together for eternity.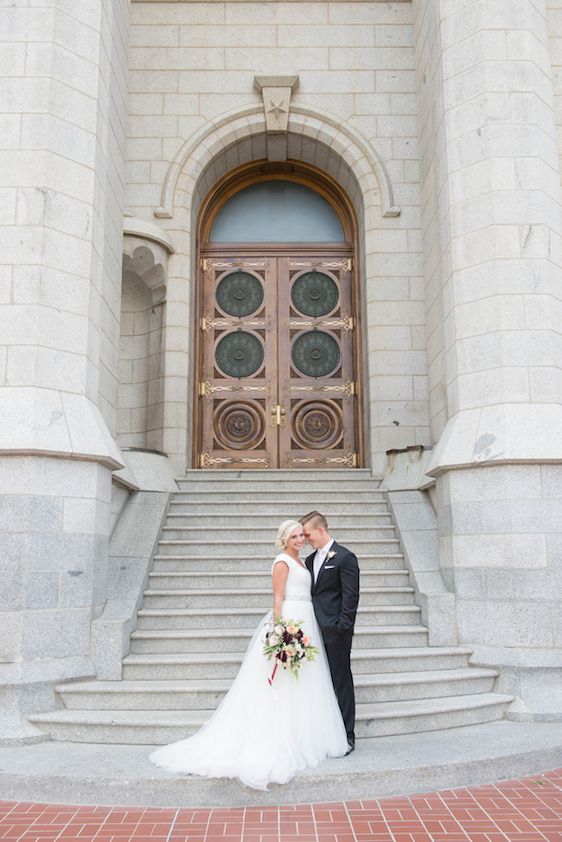 A close-up of this bouquet and all of the rich and romantic hues that were used.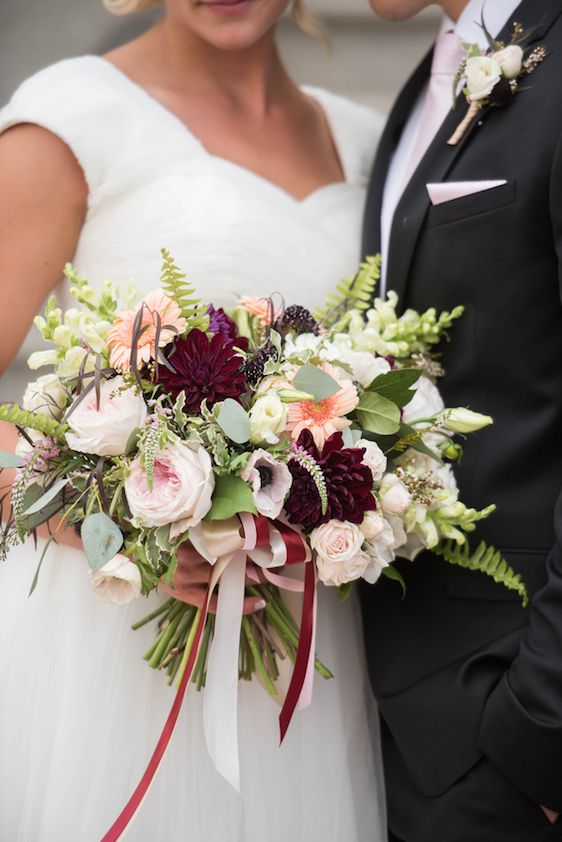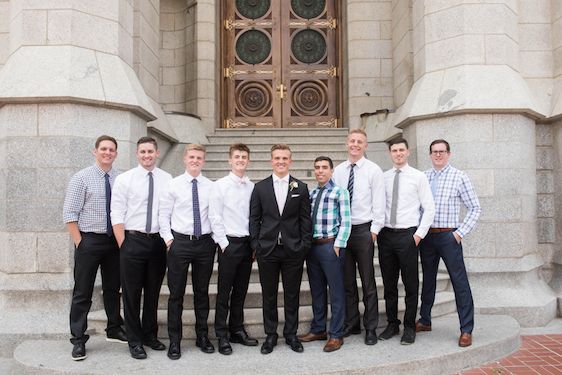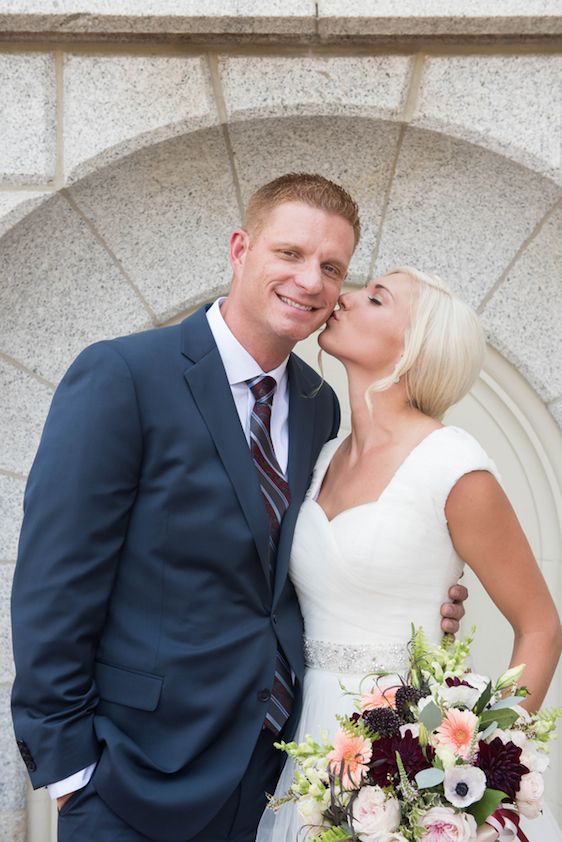 From the photographer, "Their smiles were contagious and watching them steal kisses, glances and sweet whispers makes you believe in true love!"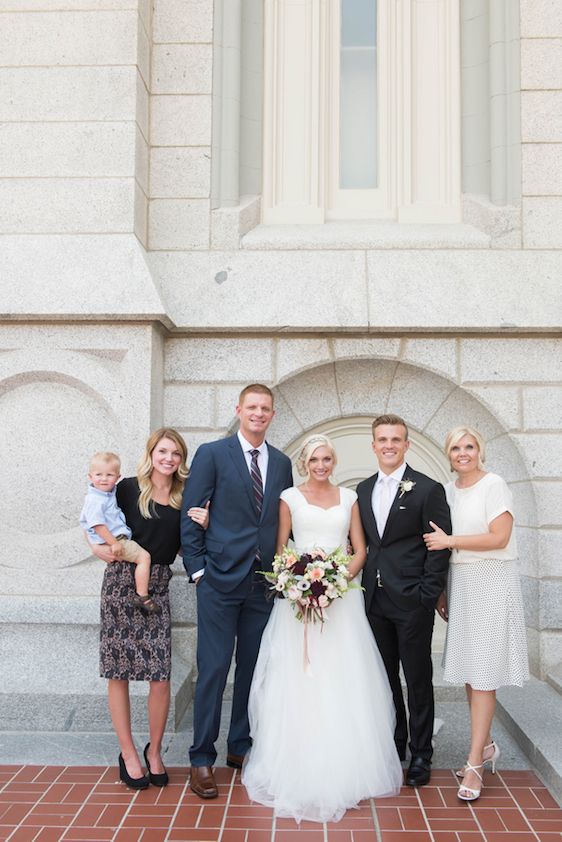 A beautiful family, a gorgeous couple, and the sweetest of promises made.
But before long, it was time to head to the reception!
But before they did so, the newlyweds stole a little more time alone...
Just relaxing under the shady trees.... enjoying their first moments of being husband and wife.
Did someone say cake?
Yes, please! Oh, and how cute were these groomsmen?
And this gorgeous group of ladies? Aw, I just love these shots!
Pretty plum details can be seen throughout with the use of these rich purple tones.
And what's not to love about this tulle skirt and tee shirt combination? Such a fun bridesmaid dress alternative, if you ask me!
A three tier cake with a golden confetti layer made such a lovely statement...
And I just love the peony accents, and the beautiful white cake stand.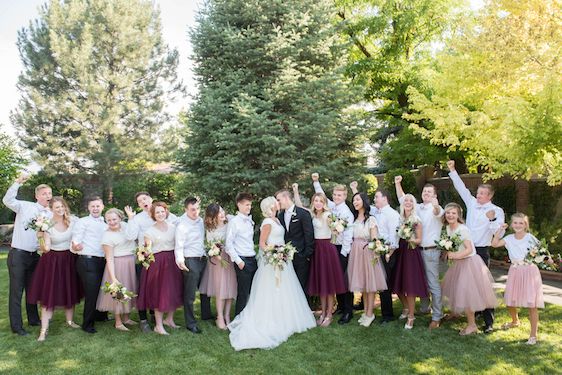 Hip, hip, hooray. It was a good day! And what a special one it was for the newlyweds!
And these lush, texture-filled blooms? Off to pin these right. this. second.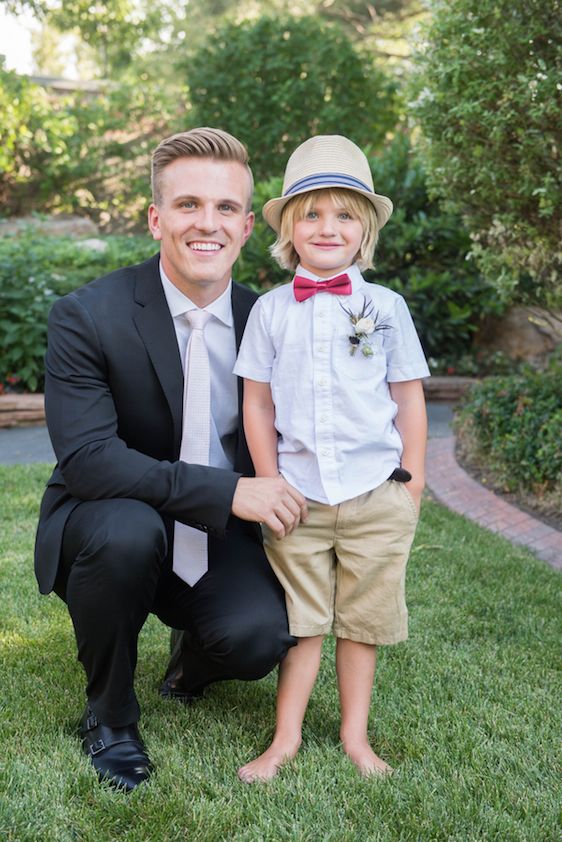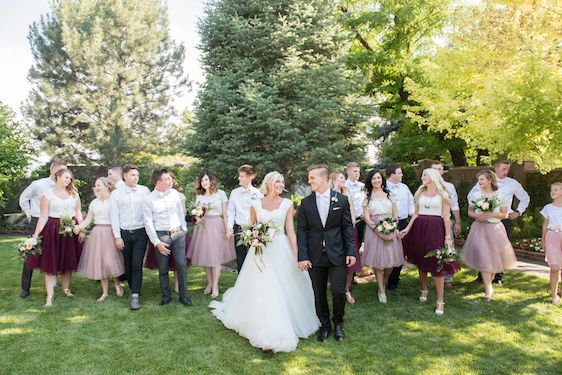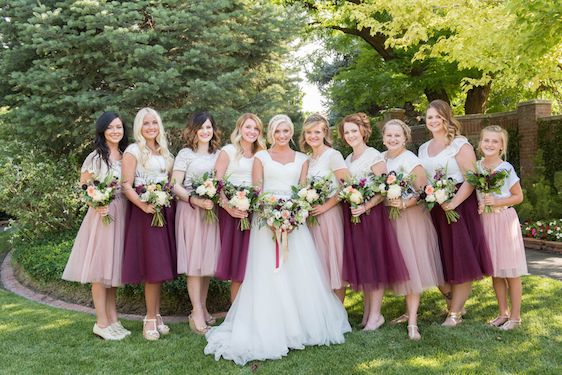 Each bridesmaid wore her own neutral shoes which made for a lovely mix!
And again this cake? Um, how absolutely pretty!
It was a celebration filled with love, and laughter, and all the stuff that really matters.
Lots of love to the newlyweds! And to

Brooke Bakken Photograph

y

, huge hugs and high fives! You did an amazing job capturing Kenzie and Porter's day!
Photography:
Brooke Bakken Photography
Share This: