Artistic, colorful, and so full of expression, today's styled shoot tells a story of love, and beauty. It's the kind of story that starts out surrounded by nature.
With coordination and styling by
Dashwood & Co.
and with fabulous florals by
Mibellarosa Designs
— there's no denying my love for this painterly scene and the way it unfolds, frame by frame.
Nib and Pixel
provided both the paper goods and the artistic direction for the shoot, and it's a good thing that
Sarah McKenzie Photography
was there to capture every artsy detail! Get ready for a whole lot of gorgeous!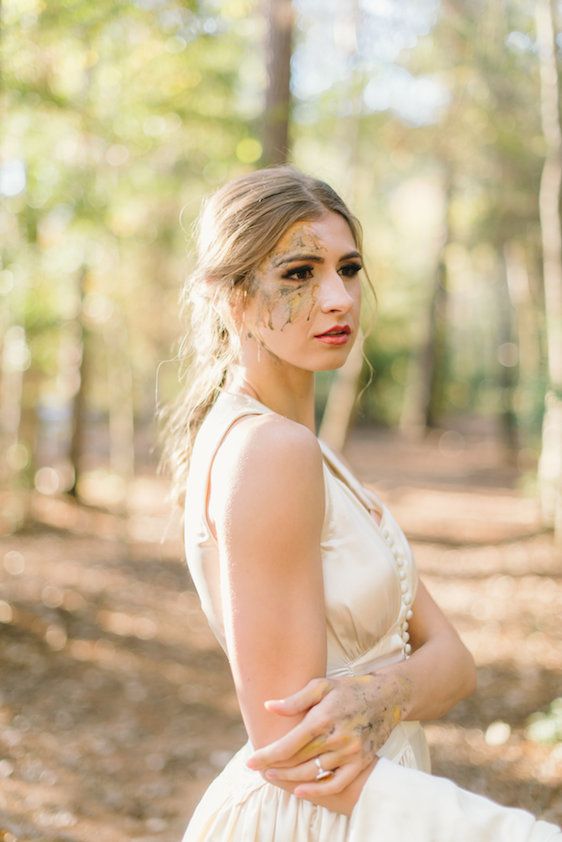 An artist was once quoted to say — "I love you beyond paint, beyond melodies, beyond words. And I hope you will always feel that, even when I'm not around to tell you so."
When I first saw this shoot, this quote came to mind in an instant.
Because, you see — a painting is a lot like love if you think about it...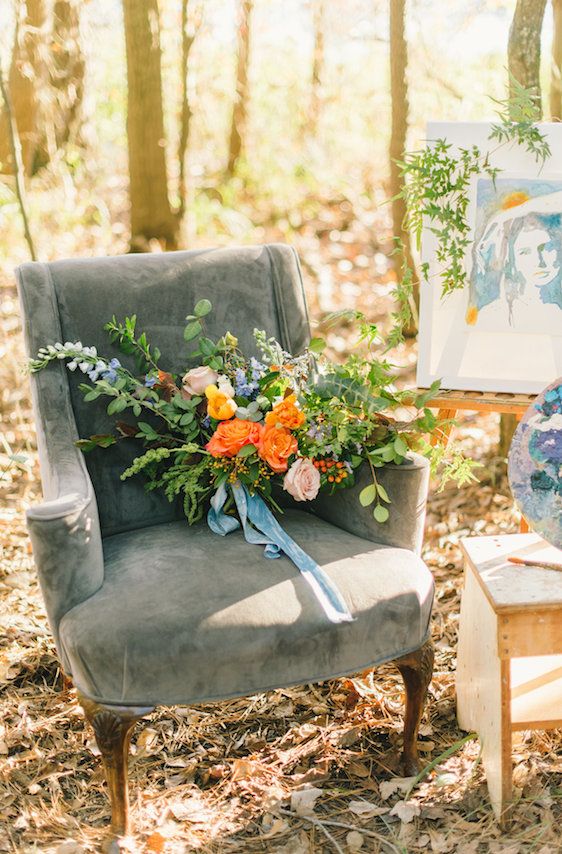 When you first sit down to paint a picture although you might have an idea of what the final portrait might look like....
...it's really does take some time before you can really begin to the the full picture...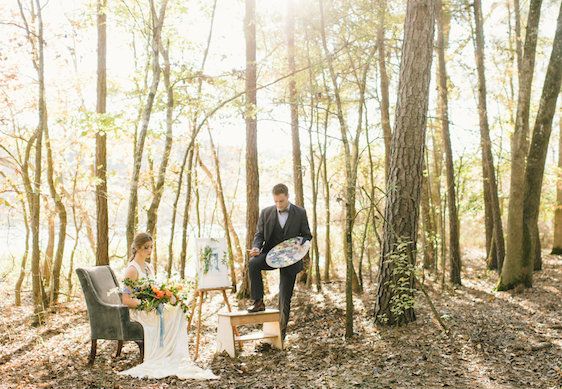 With a painting there is no erasing. You lay brushstrokes down on paper and watch it come to life.
You see, relationships are similar. You often start with a lot of hope in your heart and a blank slate...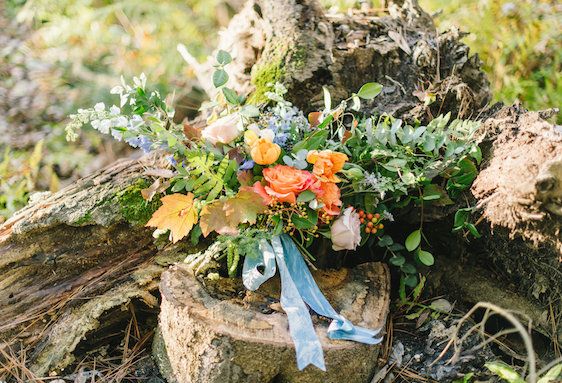 But it's not until you let your walls down that you can truly begin to let your love for one another flourish.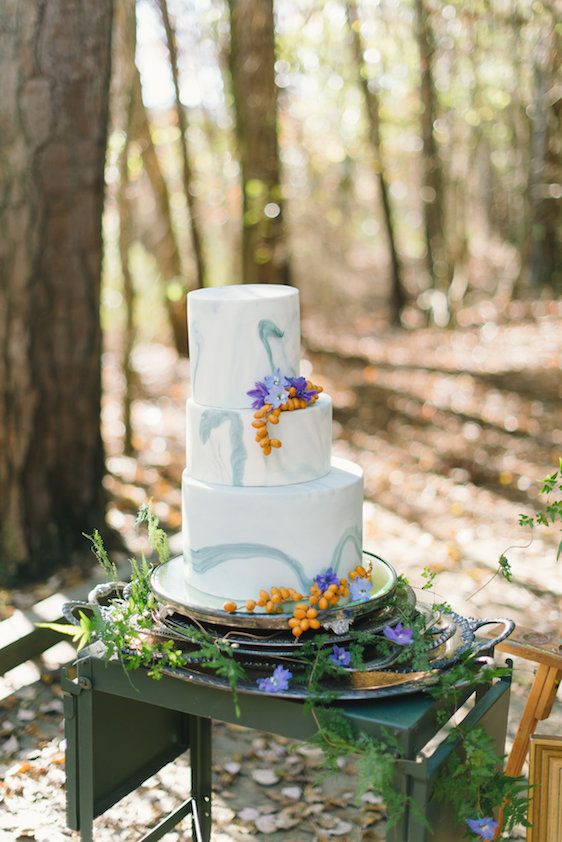 With painting there's fluidity, and and almost dream-like quality to it all....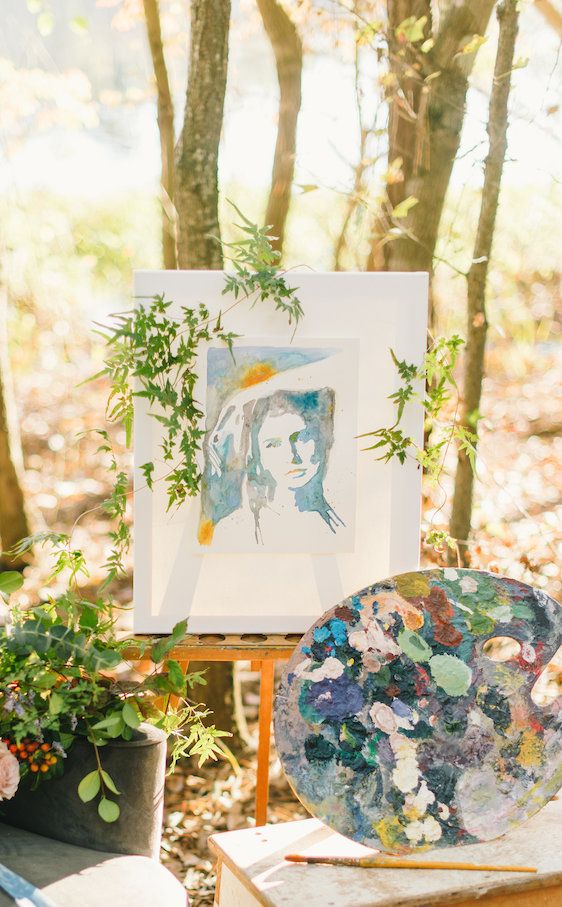 It is art — It is a work of art, always changing, always moving.
And I just so appreciate how this scene captures all of these emotions...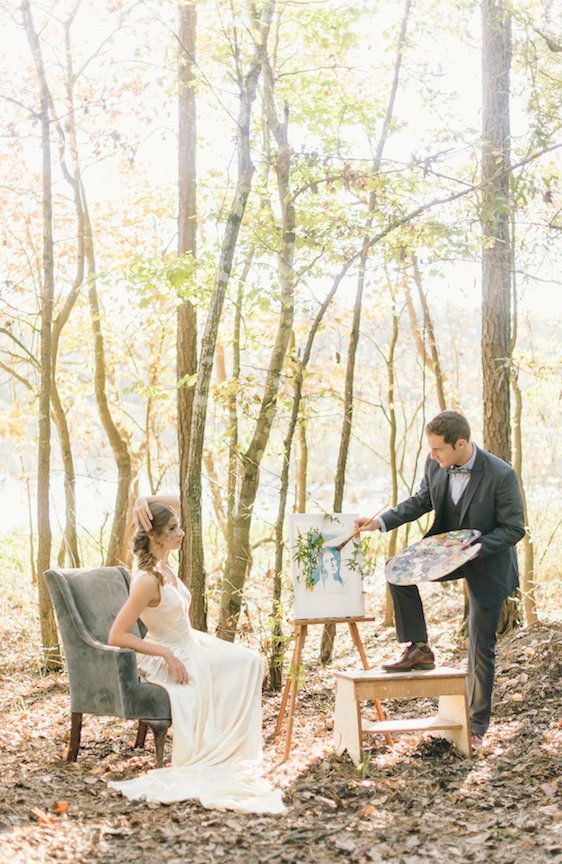 These florals by

Mibellarosa Designs

were so over-the-top exquisite.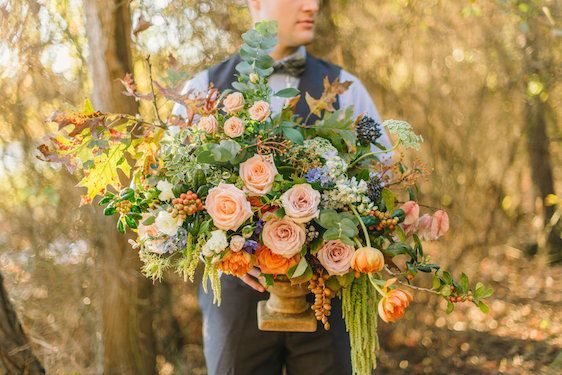 And make no mistake about it — this cake designed by Paper Flour Ink has my heart!
So absolutely pin-worthy, if you ask me!
Gorgeous, romantic, and oh-so sweet...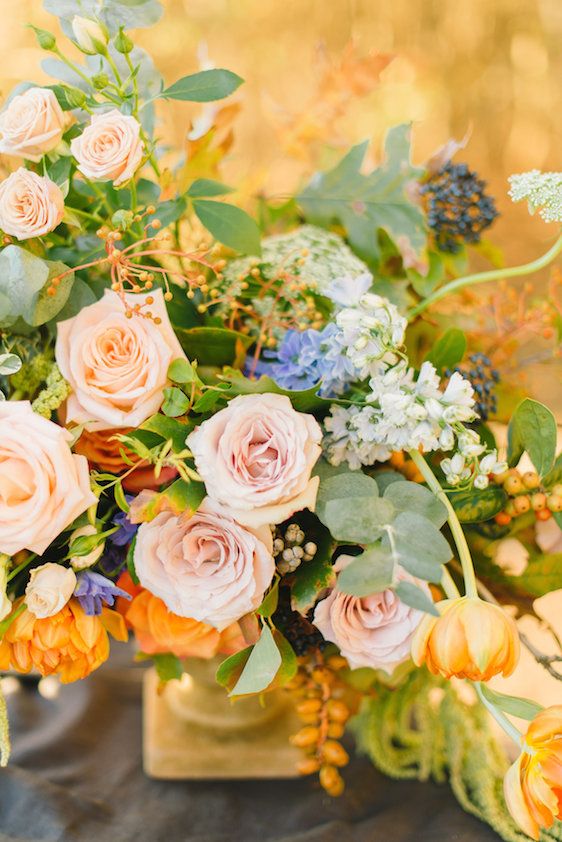 I personally just can't get enough of these colors and textures...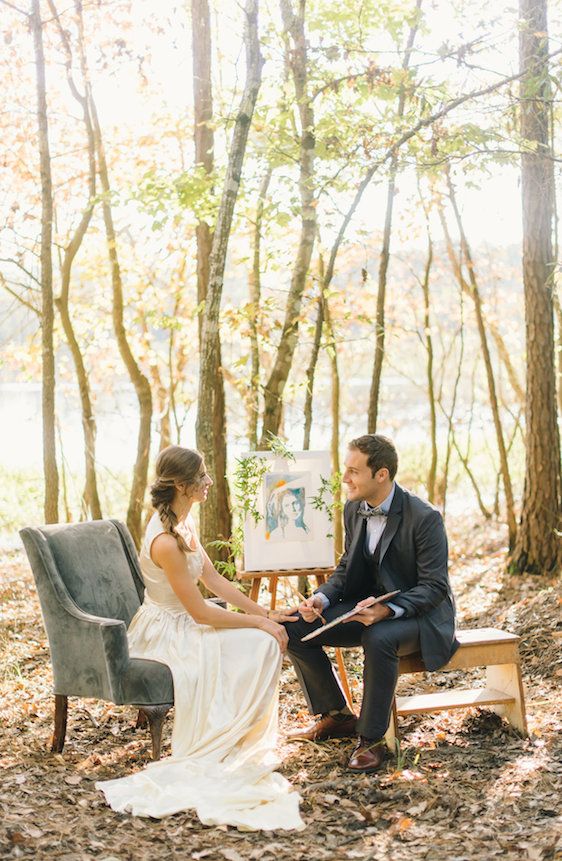 And this painterly effect that we're seeing on our bride's face?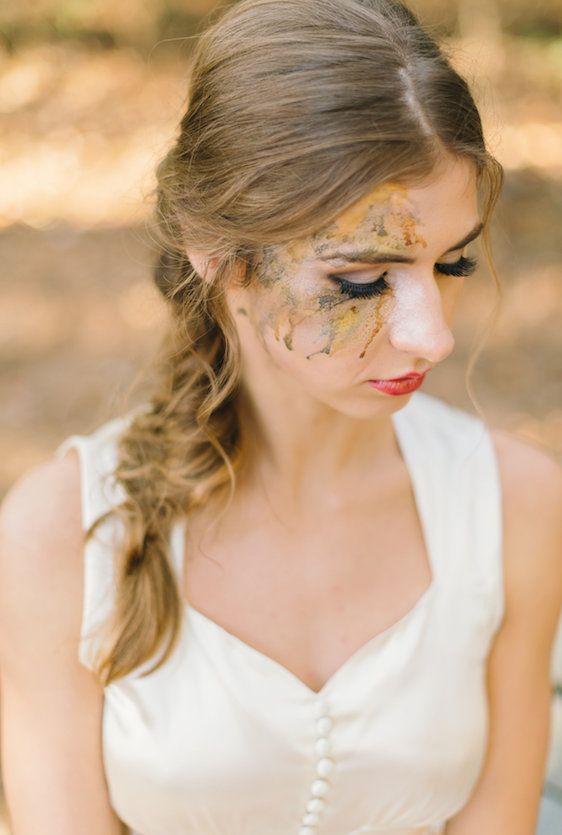 So beautiful, so enchanting — and even a bit haunting...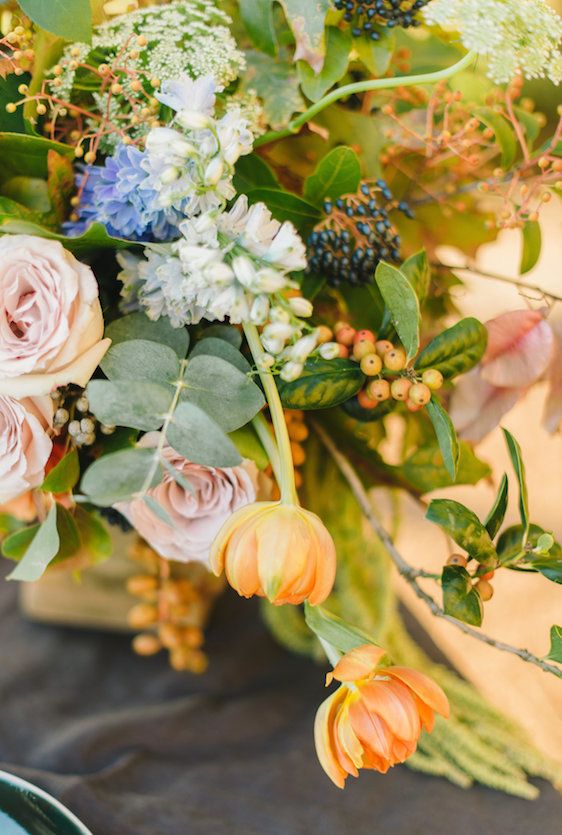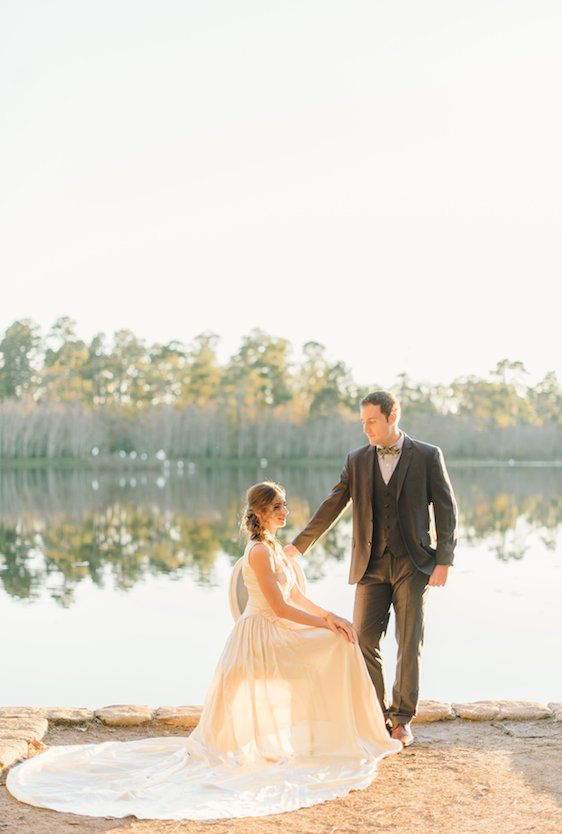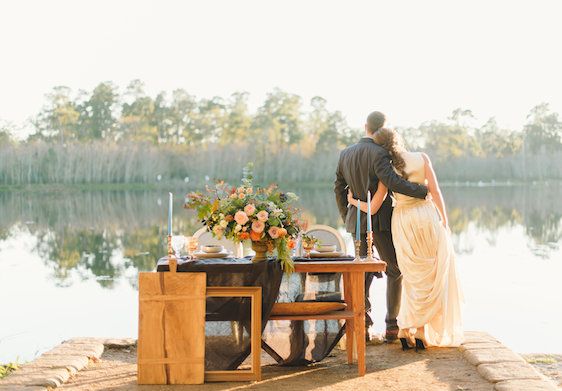 A gorgeous sweetheart table was set up for two...
Simple draping adds so much charm to this ornate arbor...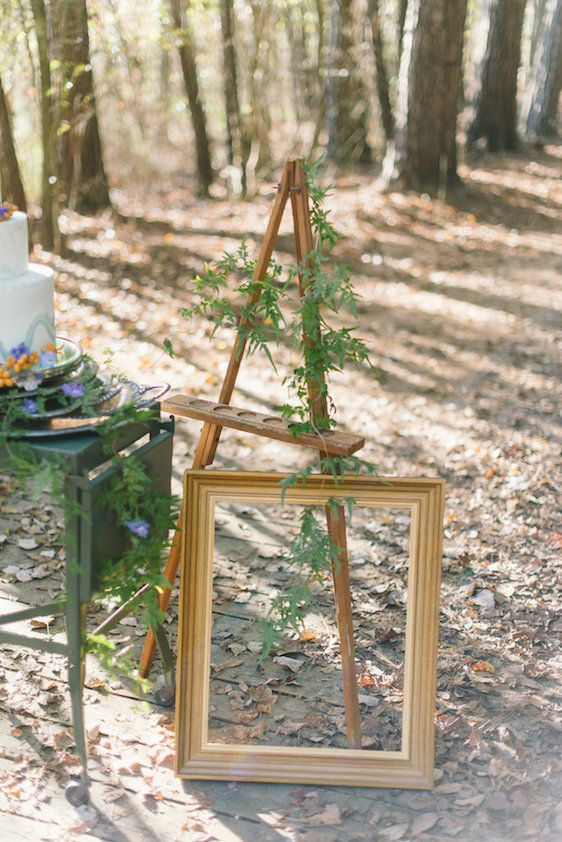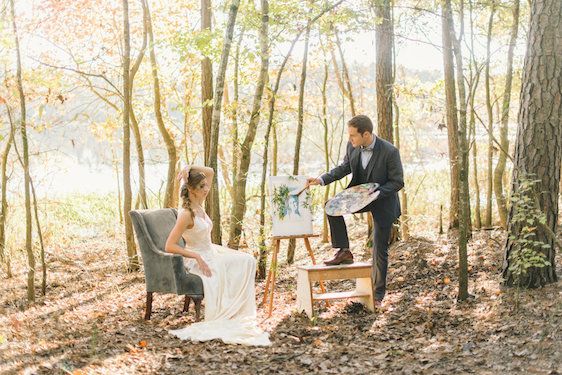 And just one look and it's easy to see how much heart went into these place settings!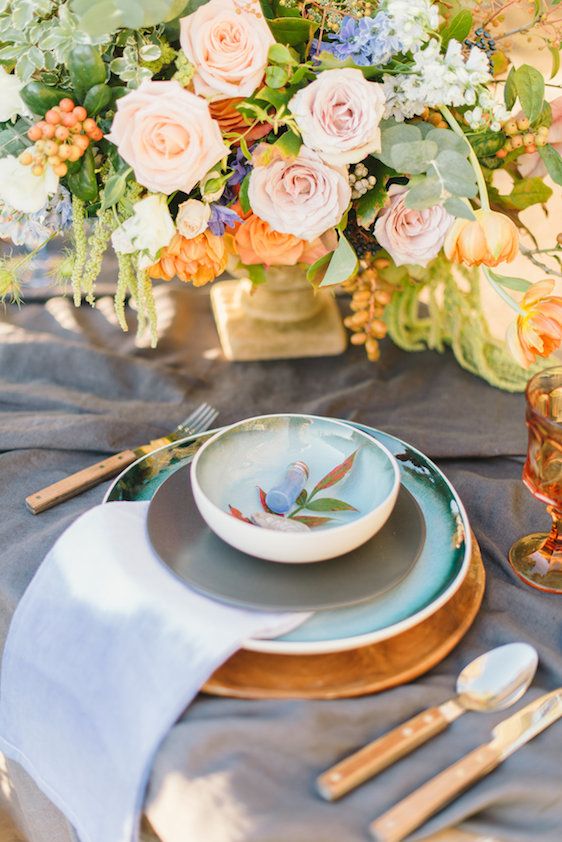 The layering is so divine with this charger, and these colorful plates and bowls...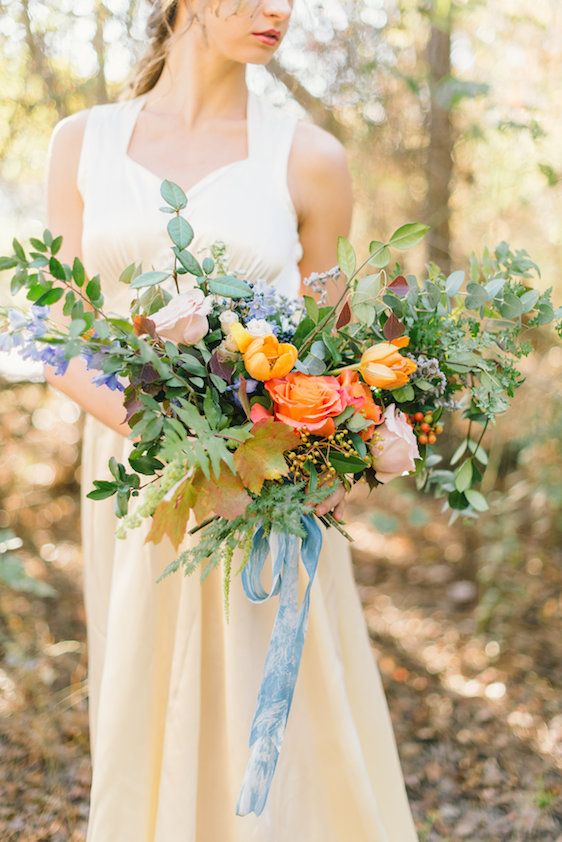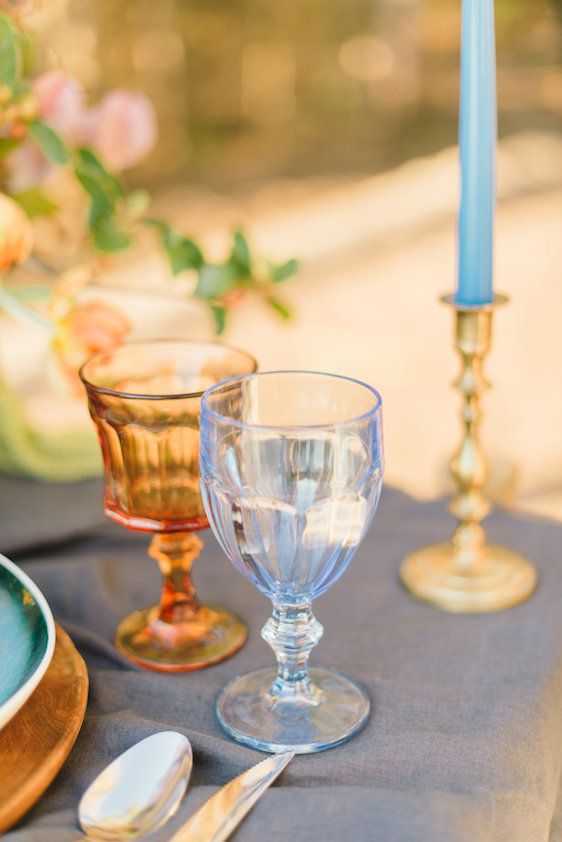 And the single leaf with the calligraphy on the rock? Obsessed.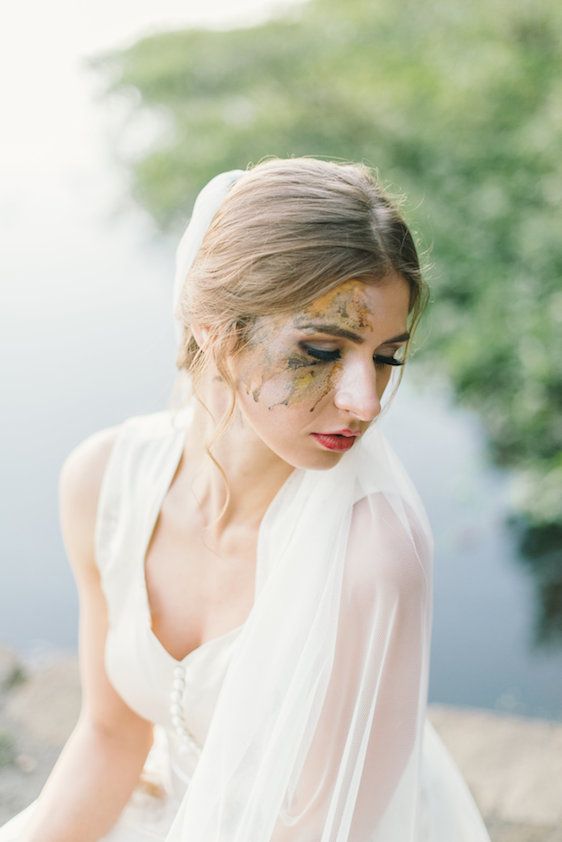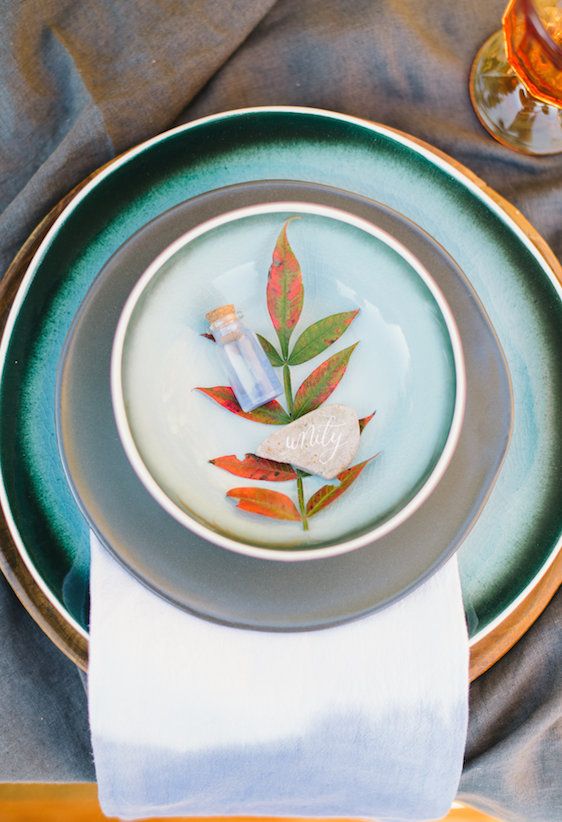 The little pops of color throughout truly are so full of colorful goodness!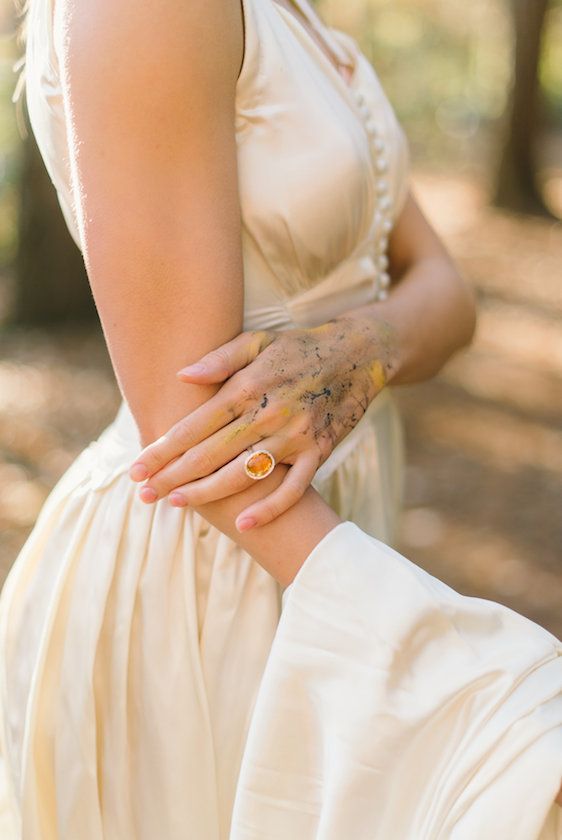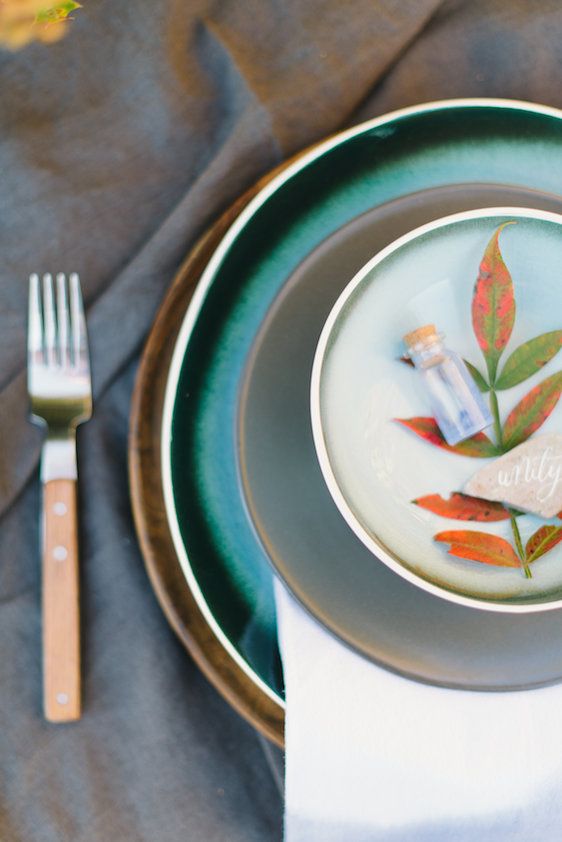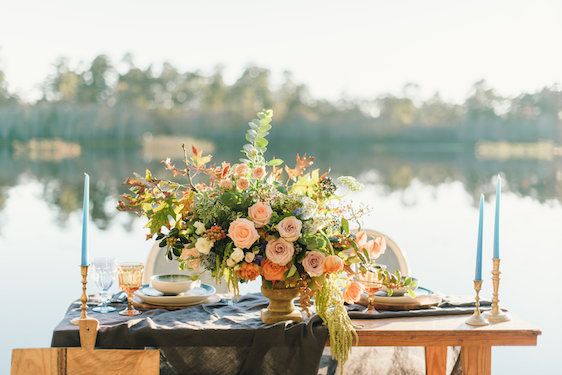 And I just love these blue taper candles...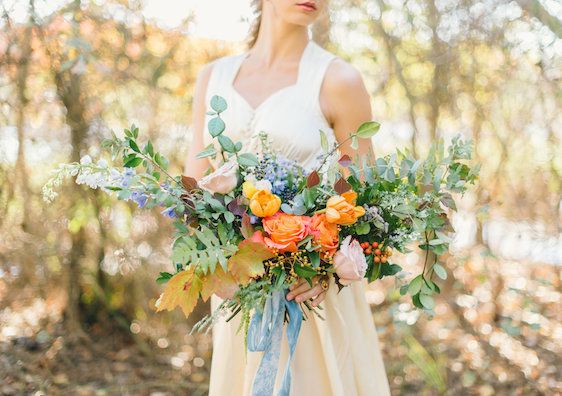 Blooms for days, m'dears. YESSSSS!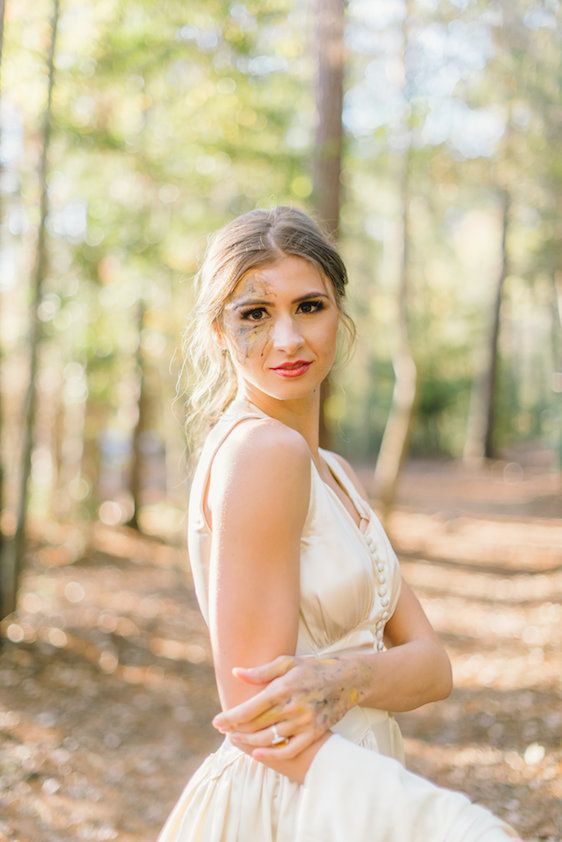 And this view? Swoon.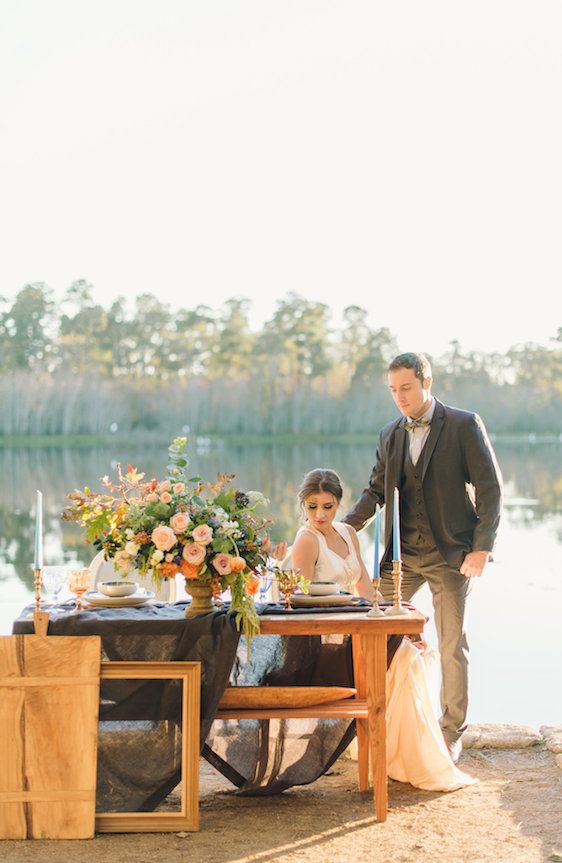 And how darling is our groom's bow tie?
This stationery suite and calligraphy have me feeling oh-so inspired!
And I just love these vintage stamps...
And can we just talk about how gorgeous this beautiful

Cheeky Vintage

wedding gown is?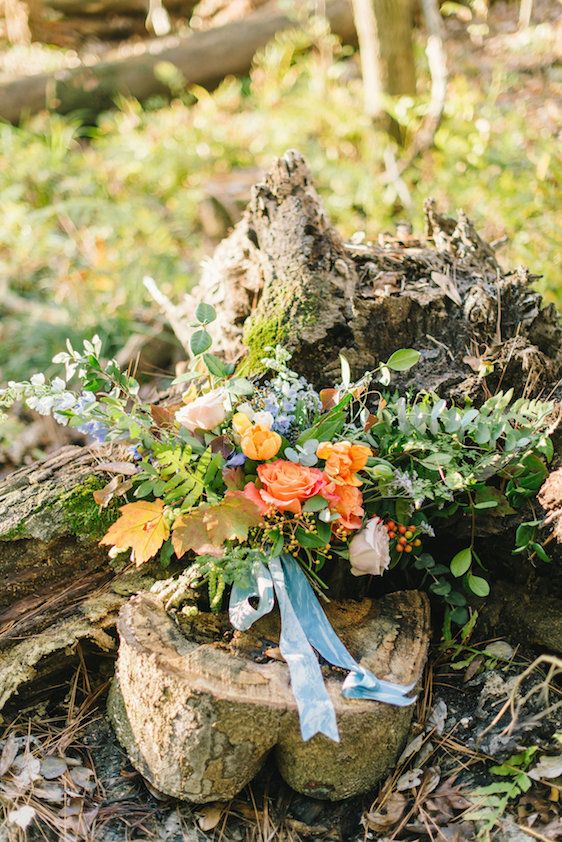 And this bridal bouquet? Ahhhh.
These painterly hues are seriously everything!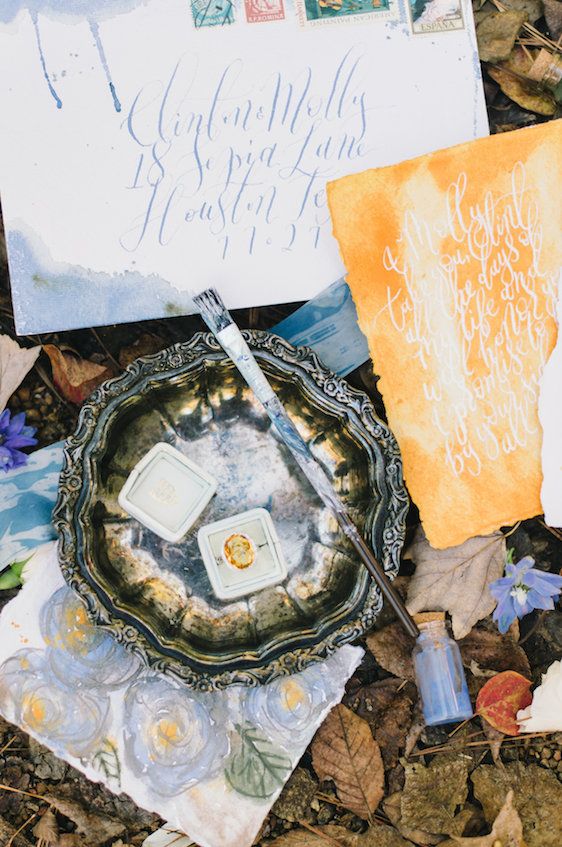 And of course I can't go without mentioning my love for this oval shaped ring by Brian Gavin Diamonds!
Obsessed doesn't even begin to describe my level of love for this shoot!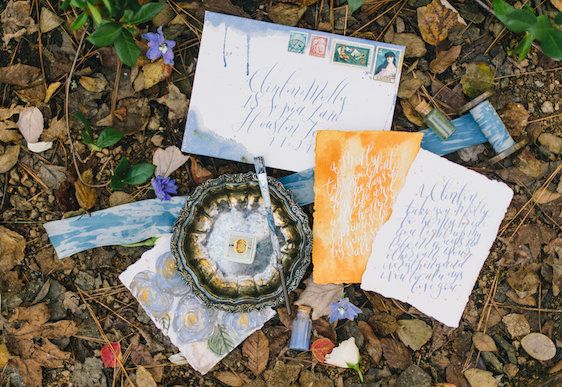 Because what's not to love?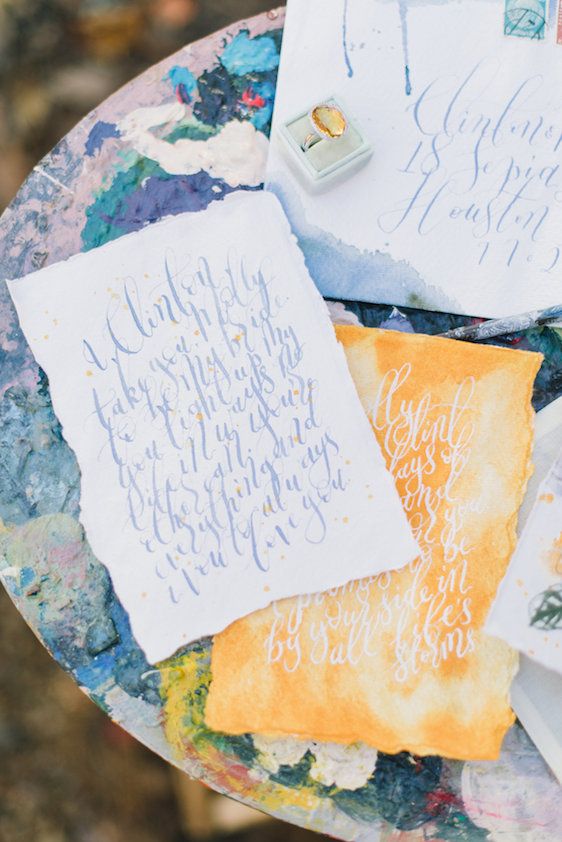 From this gorgeous gown ... to the amazing silk ribbons on the bouquet...
There's just so much to swoon over in this shoot.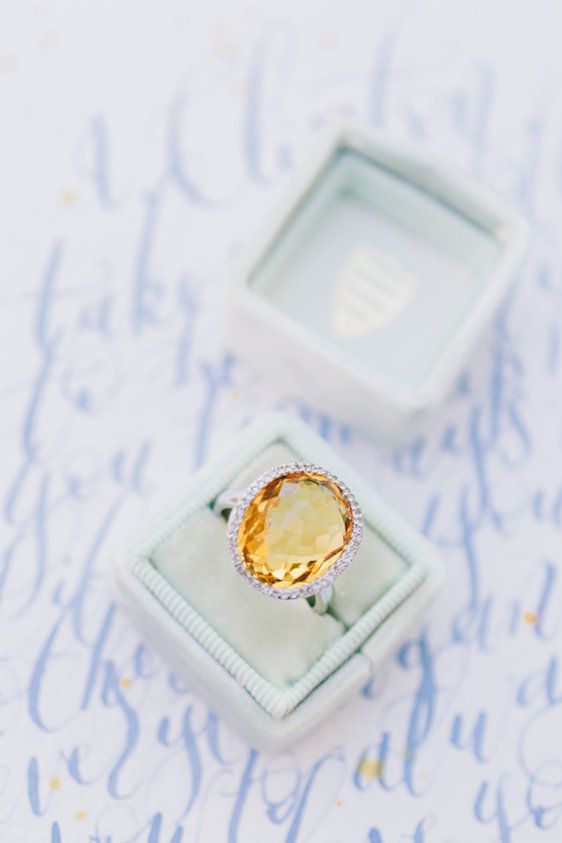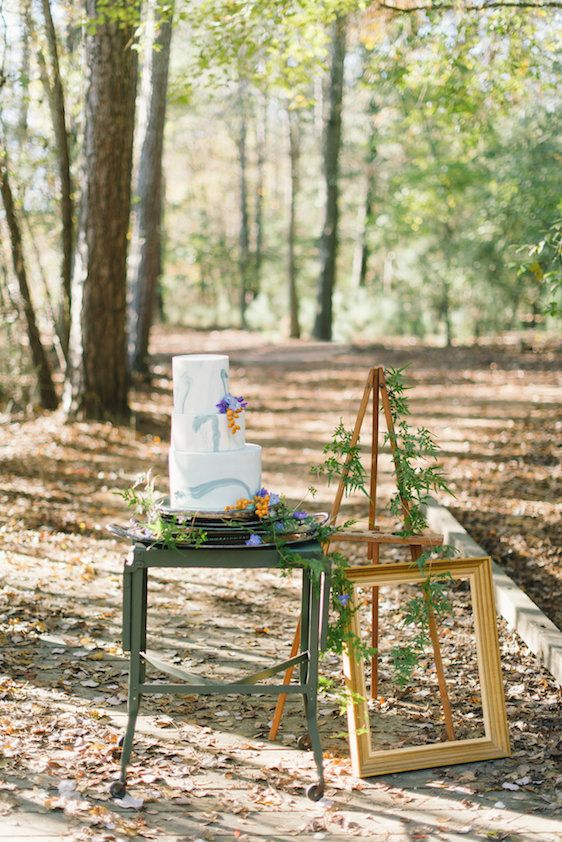 And I'm just thrilled to have the opportunity to share these colorful ideas with you!
Huge hugs and high fives all around to this incredibly talented team of wedding pros who came together to create this painterly vision.
I, for one, am feeling so absolutely inspired and I just know that I'm certainly not alone!
Photography:
Sarah McKenzie Photography
//
Coordination & Styling:

Dashwood & Co.

//
Florals:
Mibellarosa Designs
//
Artistic Direction & Paper Goods:

Nib and Pixel

// Vintage Rentals:

Recollection Vintage Rentals

// Cake:

Paper Flour Ink

// MUAH:

Butter Artistry

// Wardrobe Styling:

Nat King Couture

// Custom Watercolor Veil:

Aeva Wedding & Party

// Wedding Dress:

Cheeky Vintage

// Engagement Ring:

Brian Gavin Diamonds

// Female Model: Valentina Degtyar // Male Model: Jacob McPherson
Share This: