Get excited, color-lovers! Because today your daily dose of color is a gorgeous one. Looking for a unique and colorful theme for that upcoming bridal shower you're hosting or perhaps a fun activity to incorporate into a "Will you be my bridesmaid?" brunch?
Why not throw a watercolor painting party? Paintbrush in hand, a glass of fresh painting water and a palette of pretty colors before you... you know what I always say, right? Life is short. So why not celebrate colorfully!
Friend and fellow color-lover,
Kristy Rice for the Artful Life
feels the exact same way. And so imagine my excitement when I heard the news that she just created a gorgeous series of beautiful watercolor painting book for adults!
You guys! I'm just thrilled to bits to have the opportunity to share with you a little glimpse into this gorgeous book series, entitled
Painterly Days.
This painting party took place at

Whitewoods

and lucky for us Photography by Seneca was there to capture all of the pretty!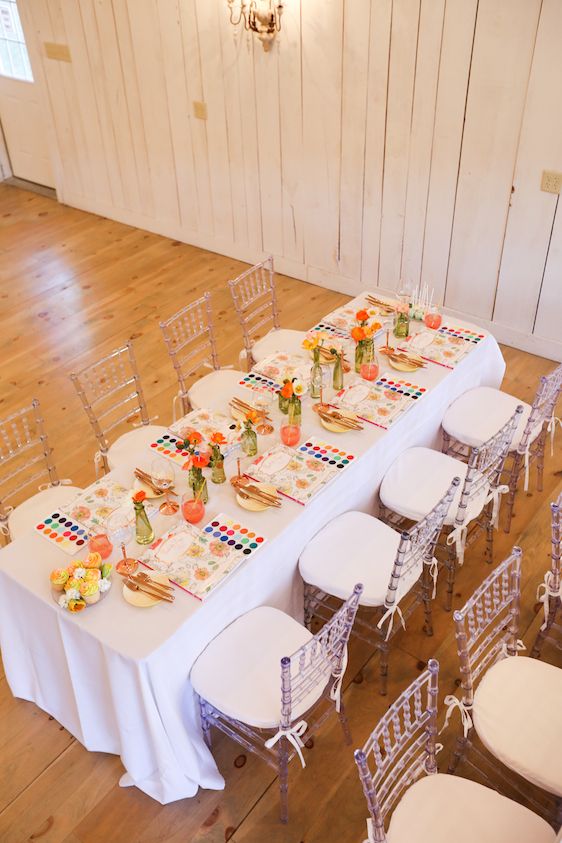 Crisp, white, tablecloths and ghost style chiavari chairs allowed these pretty palettes to really pop!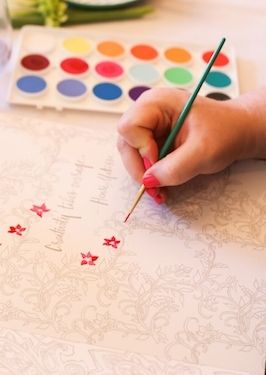 And what's not to love about these happy anemones styled by Ambiance Event Planning + Floral Designs?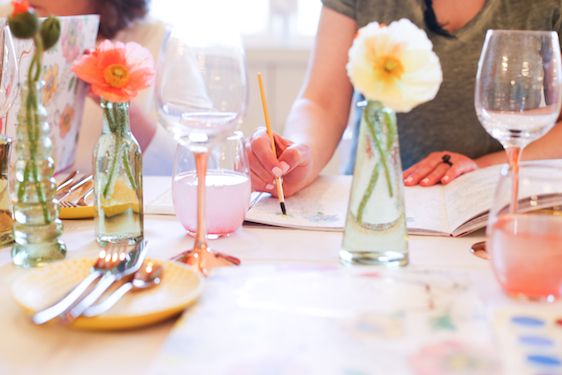 From the author, "The book series Painterly Days grew out of a strong need to share the power that art making holds for everyone."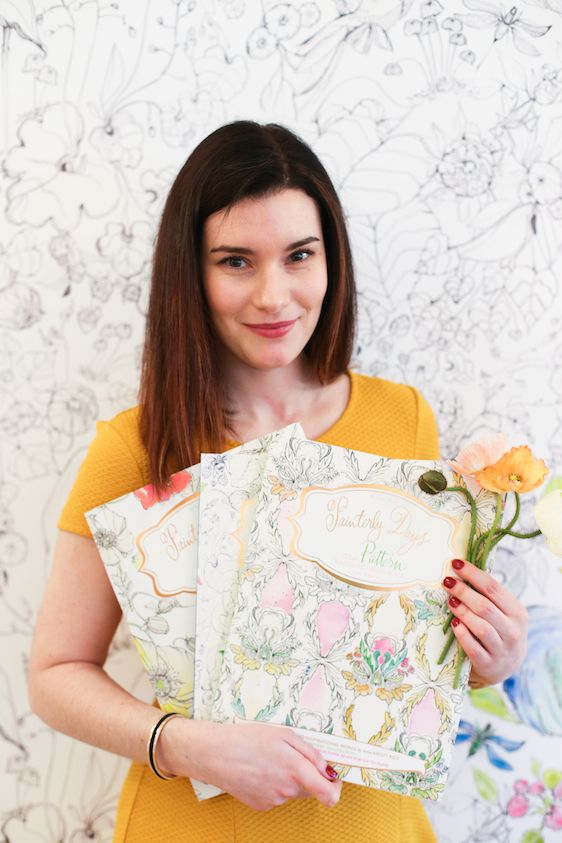 "Watercolor painting is waiting for the anxiety ridden entrepreneur whose nervous energy has taken over..."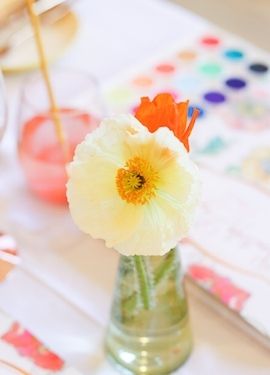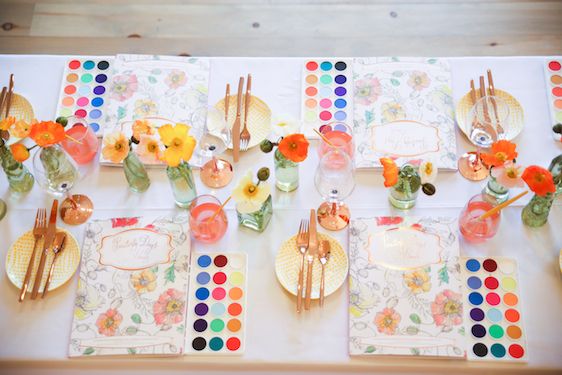 "Watercolor welcomes the tentative grandmother who has never picked up a brush..."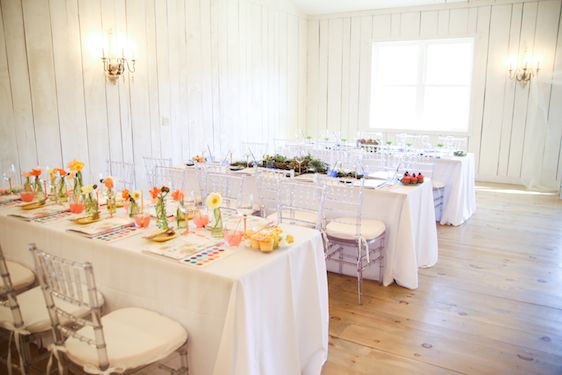 "Watercolor beckons to the college student who needs to clear their mind of the chaos."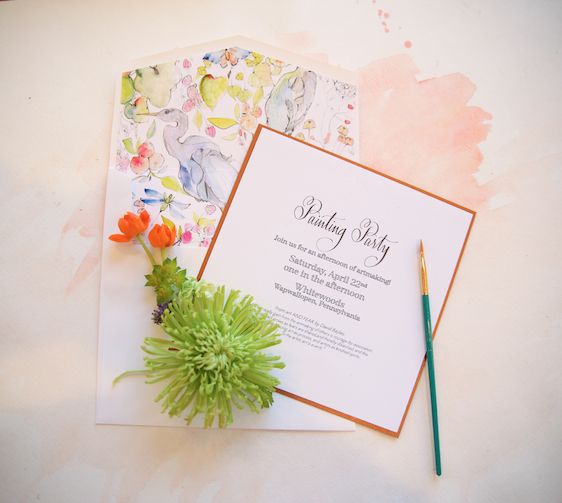 "Watercolor needs no fear. It's graceful tendencies and sheer touch allow even the most artistically timid an chance to experience its magic."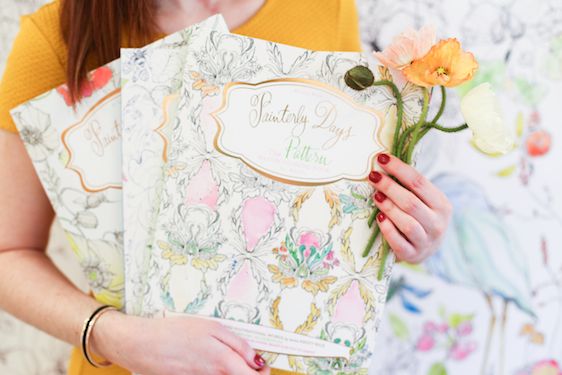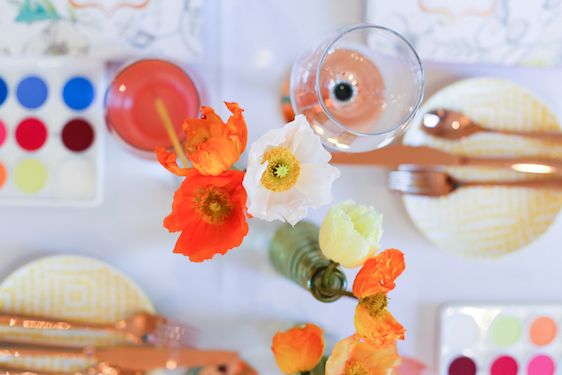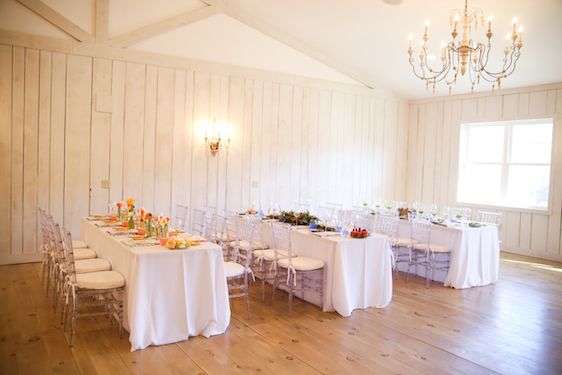 "Creating

#artforjoysake

are these books primary mission."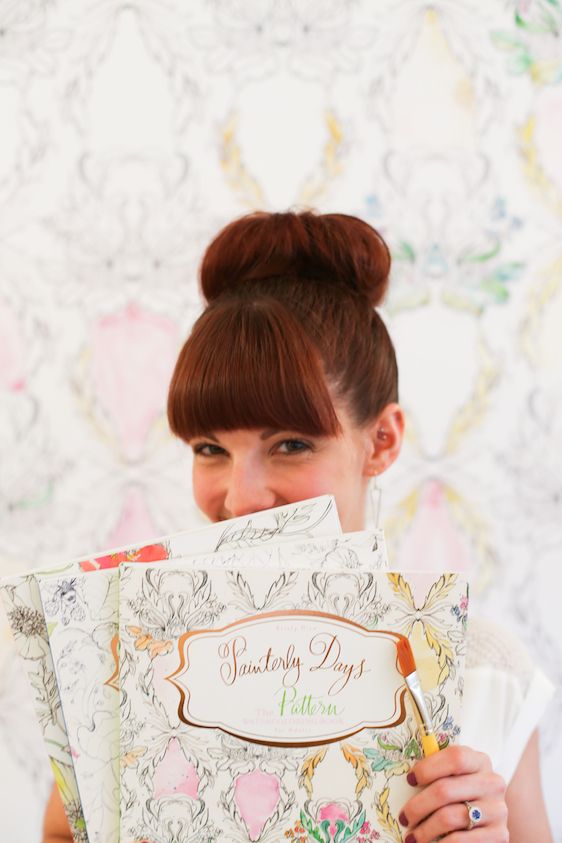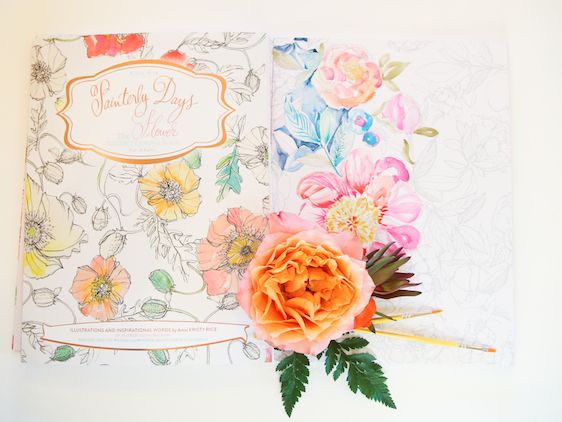 And just one look at these sweet smiles and it's easy to see that this mission has been a success!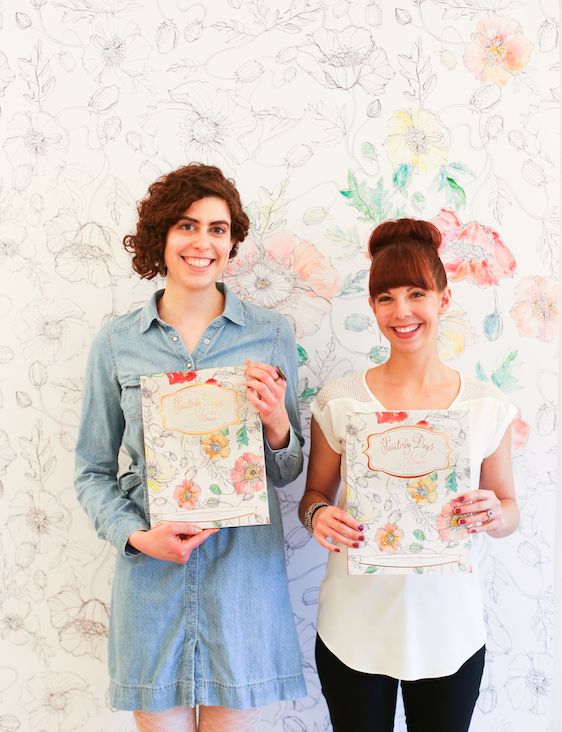 No sketching required, no intimidating blank page before you, just pretty artwork and pattern calling out to be filled with dripping color in your favorite hues.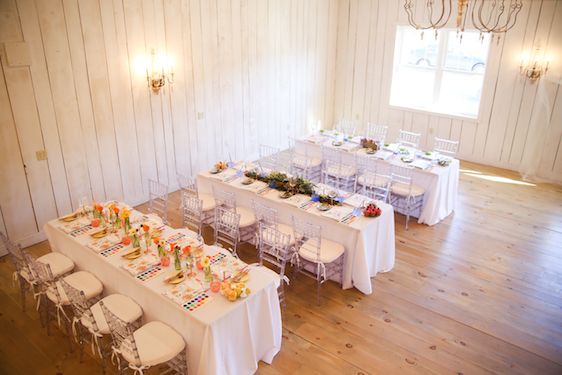 No fear here to be had, my friends! Just enthusiasm and a little spark of bravery...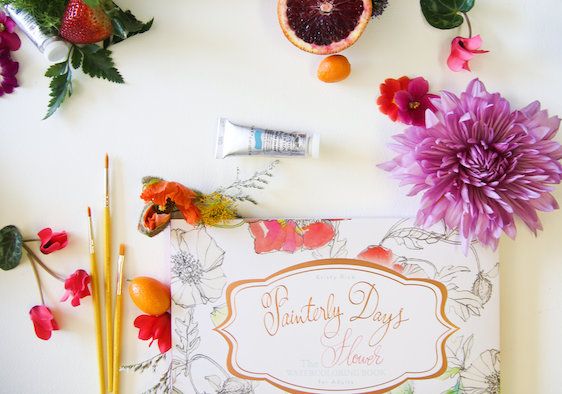 For it is when you allow that first leap to happen, that the magic really reveals itself...
Because, that my friends, is all that watercolor requires of you!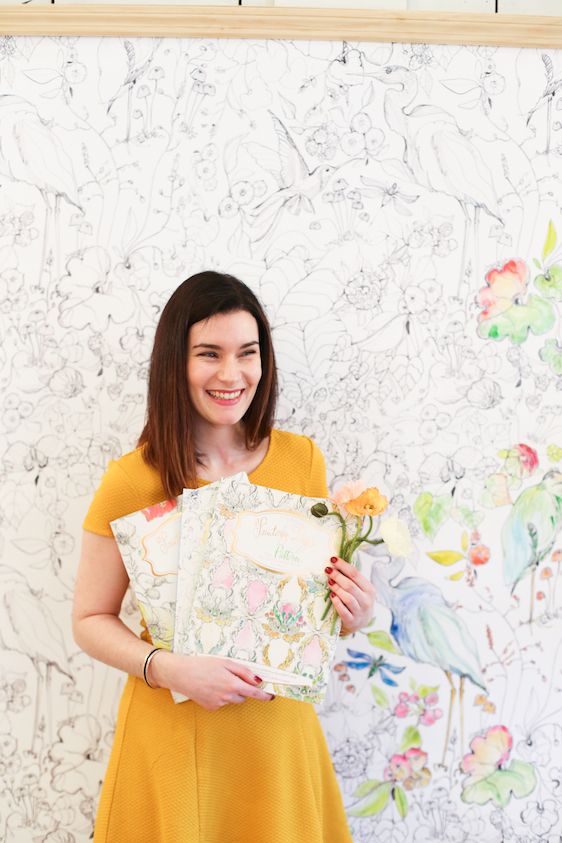 It's this beautiful celebration of color and artistic expression that I so appreciate...

It's also an invitation to express yourself and for that reason alone, I'm in love!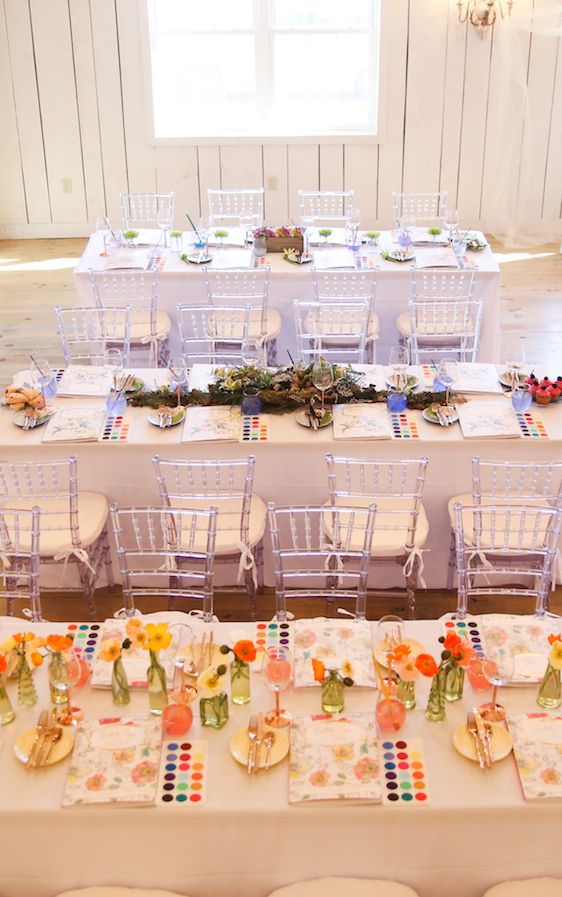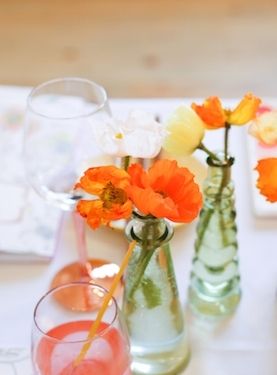 Kristy graciously sent me a copy of her new watercolor book a few weeks back & oh my goodness!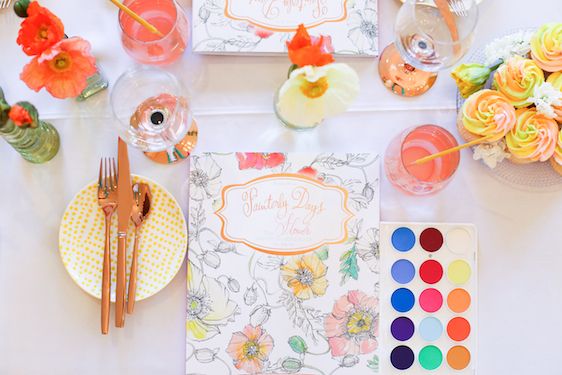 I'm just blown away by the gorgeousness of it all!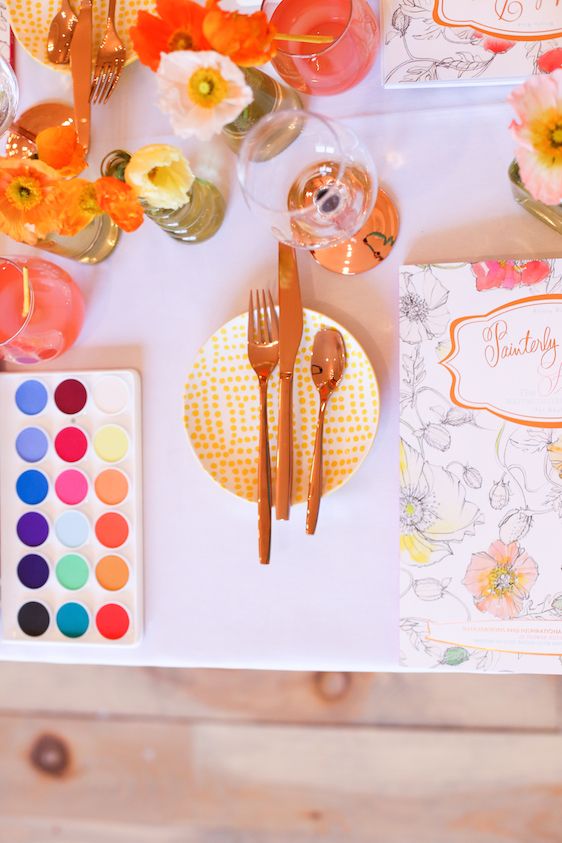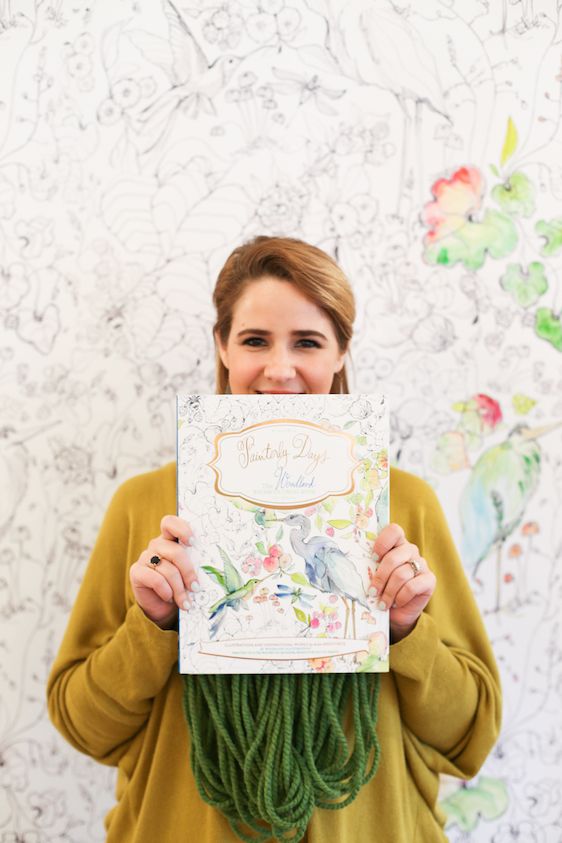 The illustrations are truly inspiring and just a couple of days ago I spent an entire afternoon painting to my heart's content!
Three different themes are highlighted including flower, woodland, and pattern...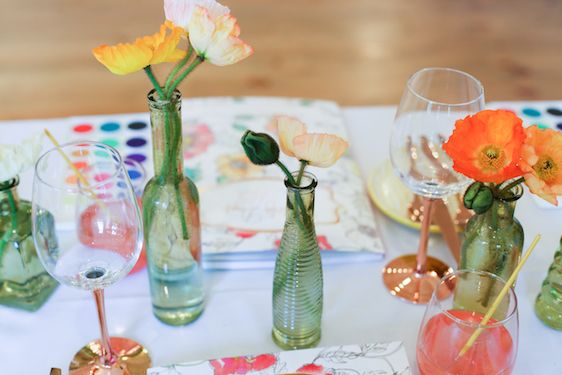 Starting off with 'flower,' (my personal favorite!) ... just one look and it's easy to see that so much heart went into the creation of these books.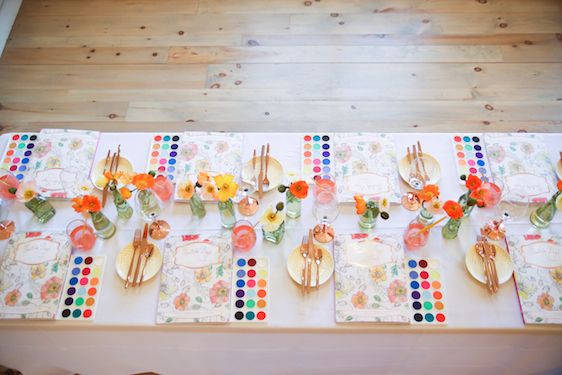 ...for this party, Kristy dreamt up three coordinating tablescapes to celebrate each of the styles...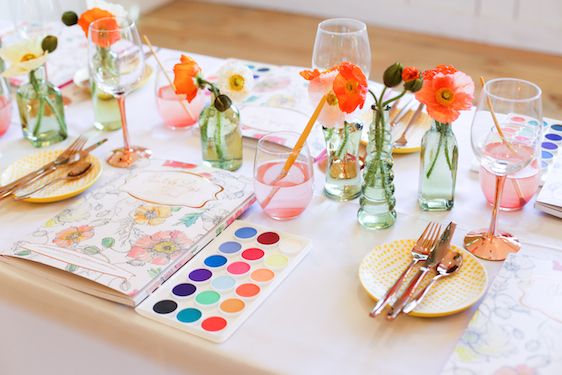 It's a series like no other! It's one that celebrates color, and expression, and the art for joy's sake!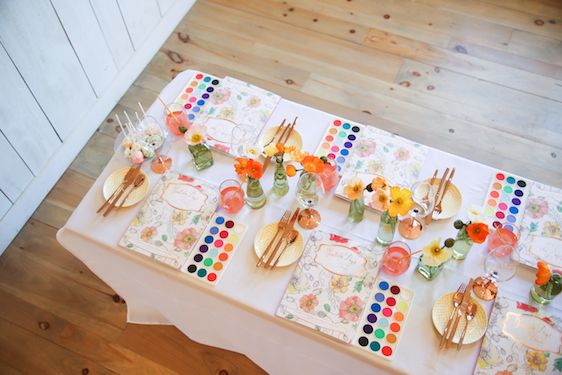 Because seriously? How fun and fabulous is this?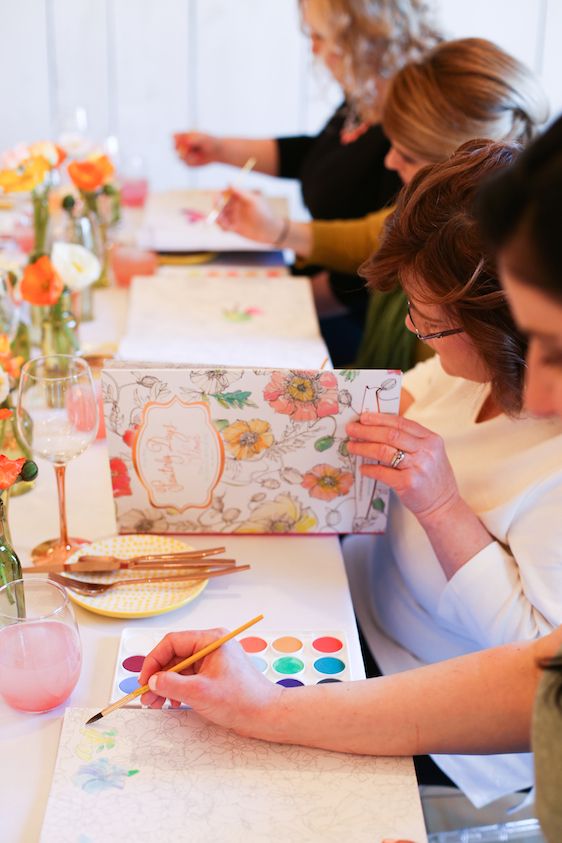 Pretty cake pops were whipped up in the prettiest shades by Whitewoods! So darling!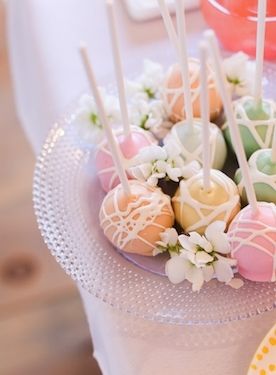 Oh, and no need to worry about trying to be perfect, m'dears!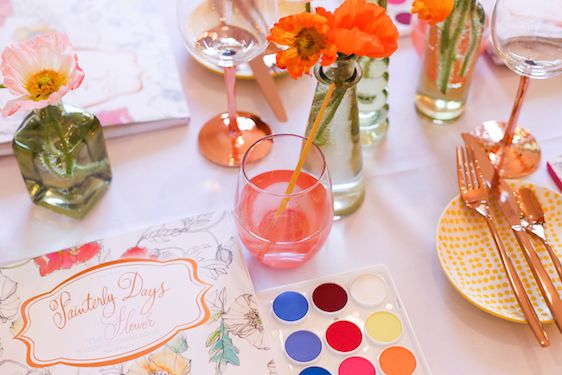 Just grab a brush and let your expression flow...
You'll be surprised by how addictive it really is!
Here we have a little glimpse into the book entitled "Woodland..."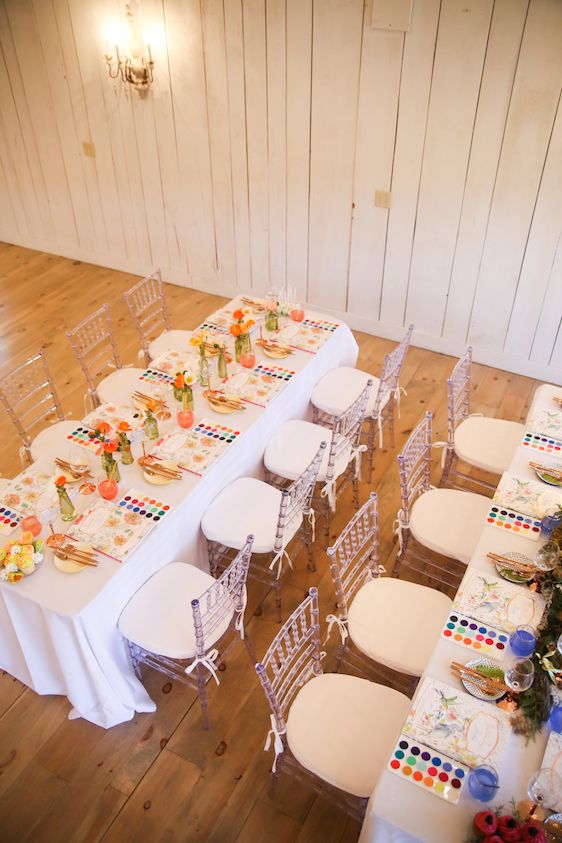 From hummingbirds to owls, this book celebrates the cutest little creatures!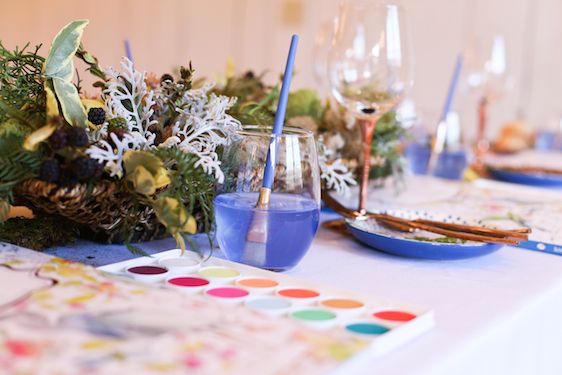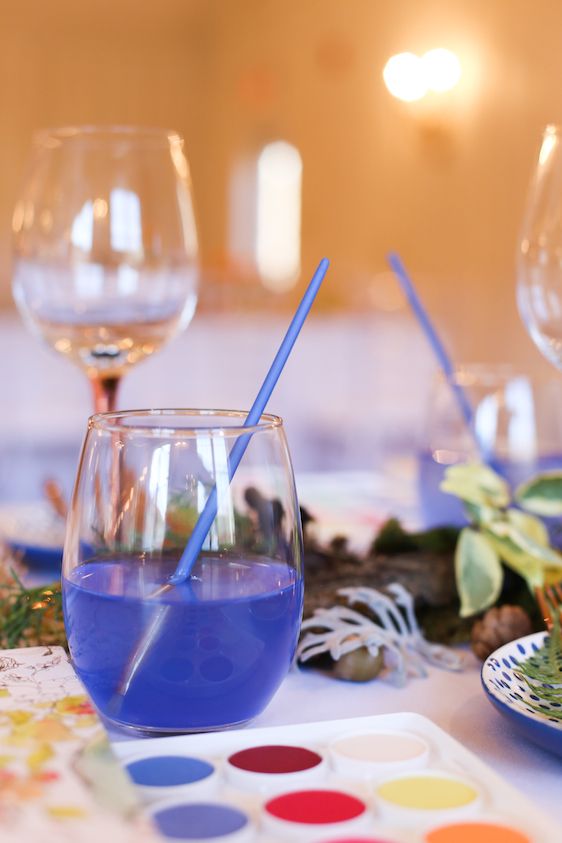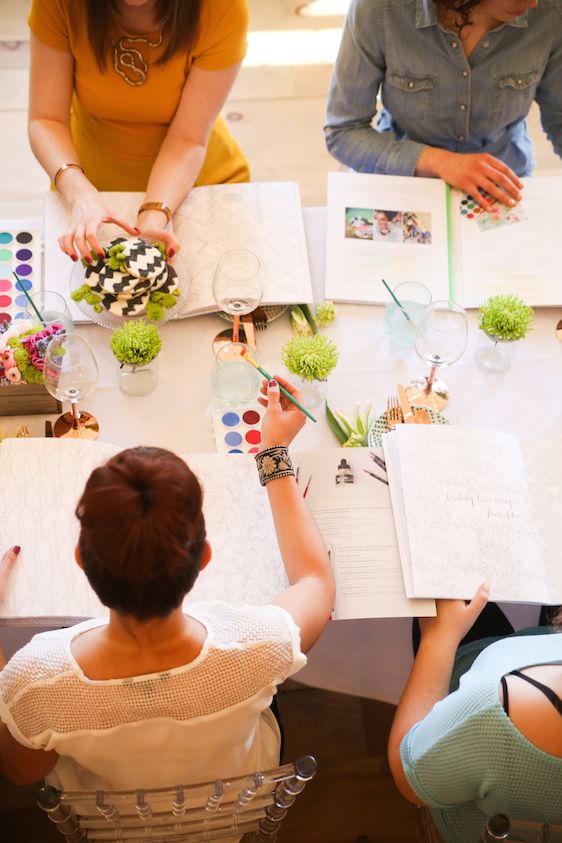 And how pretty is this tablescape? With these dreamy, blue tones?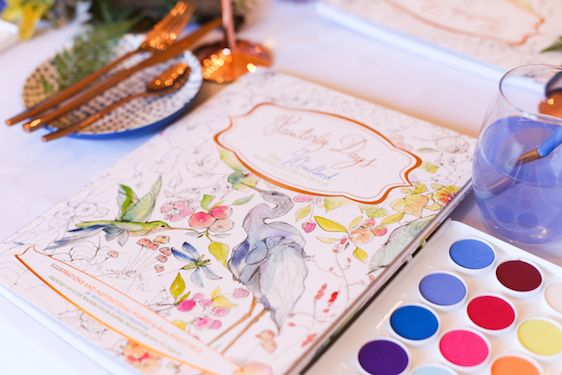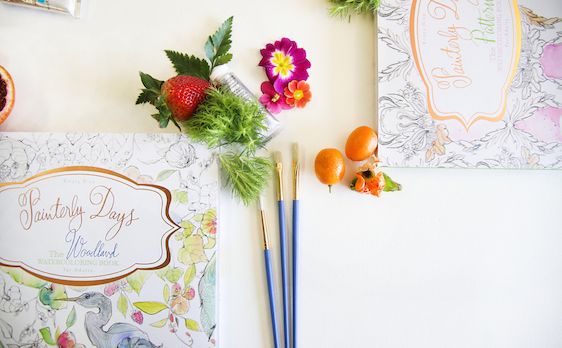 All the way to these darling blackberry topped cupcakes!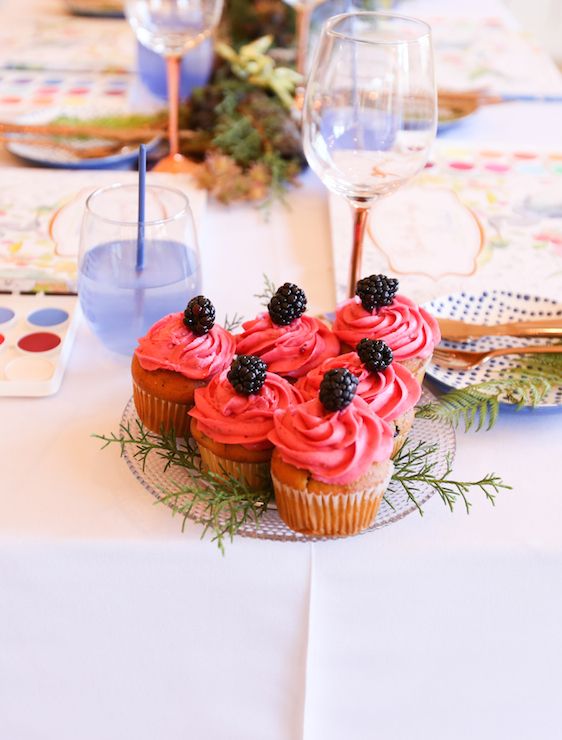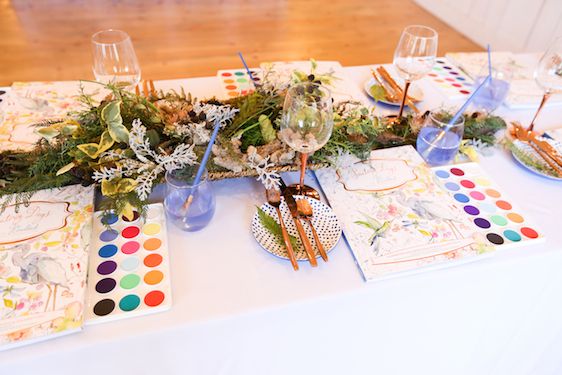 Such a beautiful way to spend an afternoon, if you ask me!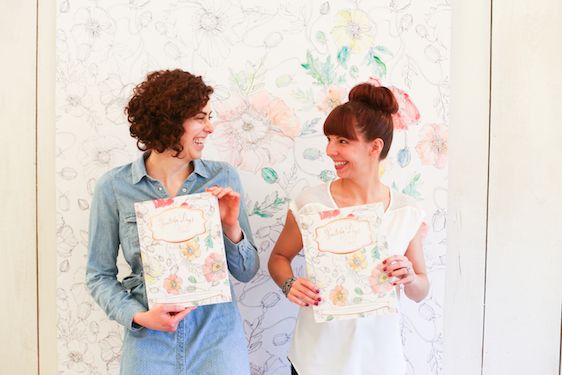 It's a celebration of love, and life, and art for the sake joy discovery...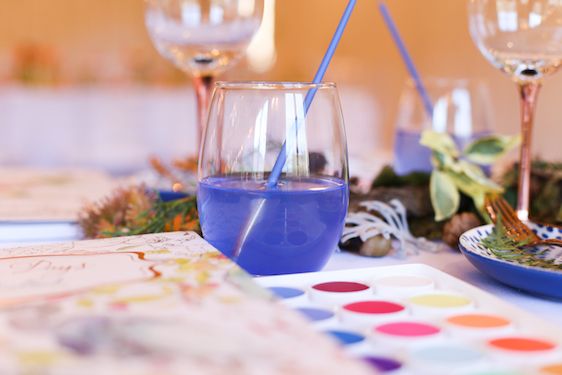 And I just can't get over how gorgeous these water cups look with the pigmented water!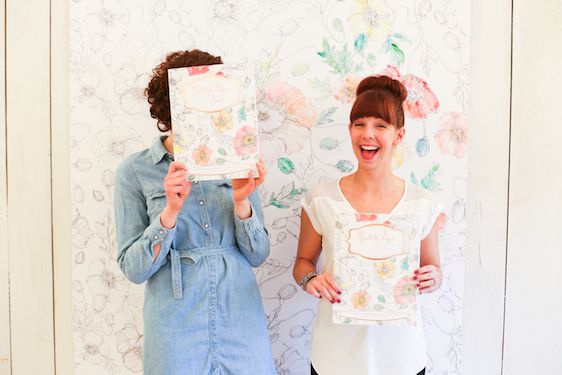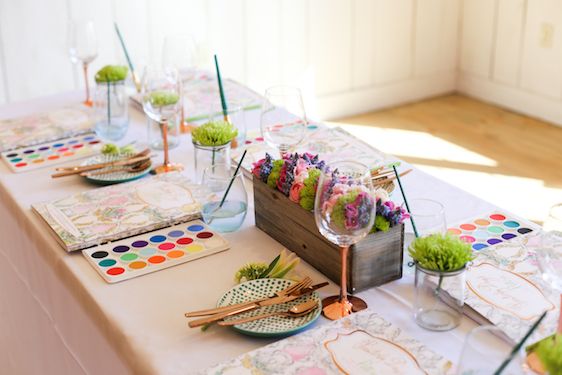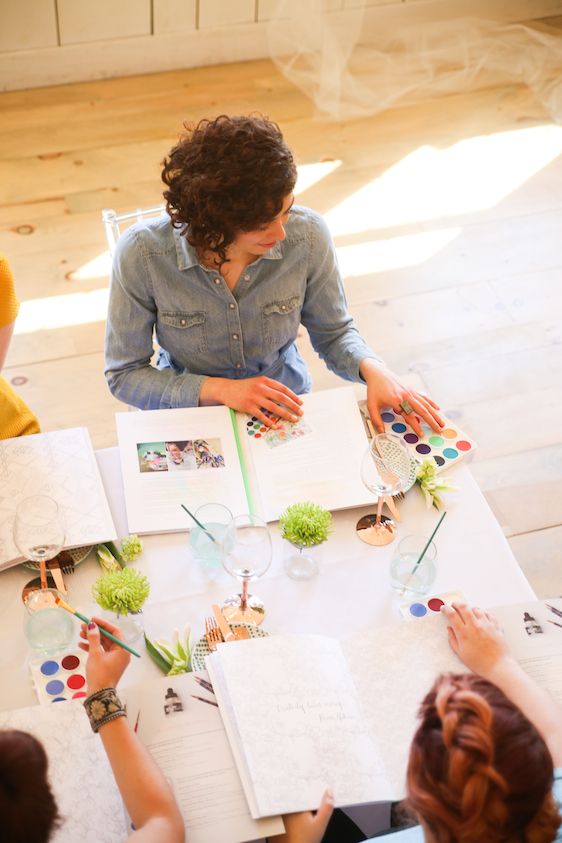 So what are you waiting for? Get in on the fun, I say!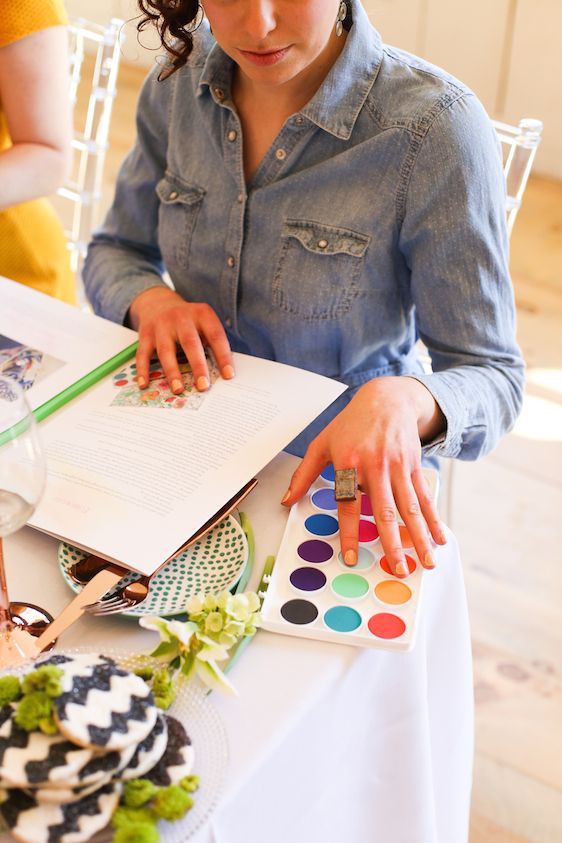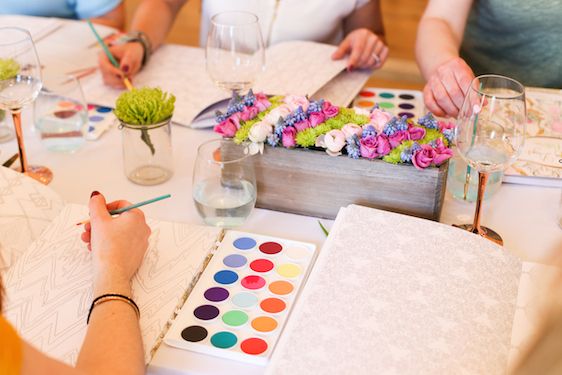 Grab your best gals and throw a party! Not only is painting therapy...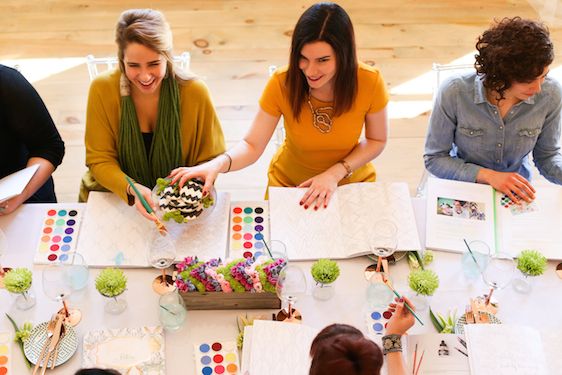 ... but have I mentioned how truly fun it is too?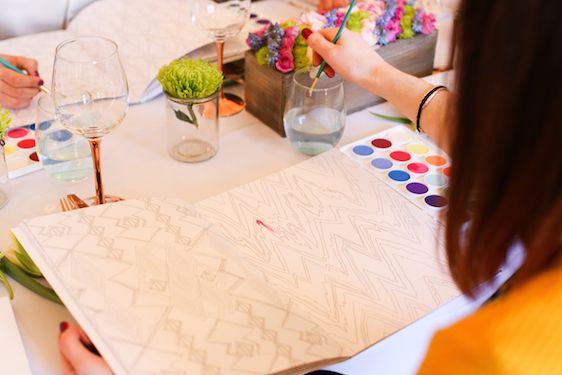 Make an afternoon out of it! Get inspired. Get creative. Be colorful.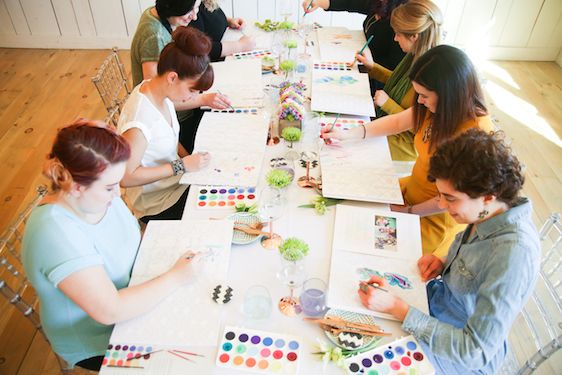 Plus don't miss this gorgeous glimpse into Painterly Days filmed by Josiah Grandfield!
Film by:
Josiah Grandfield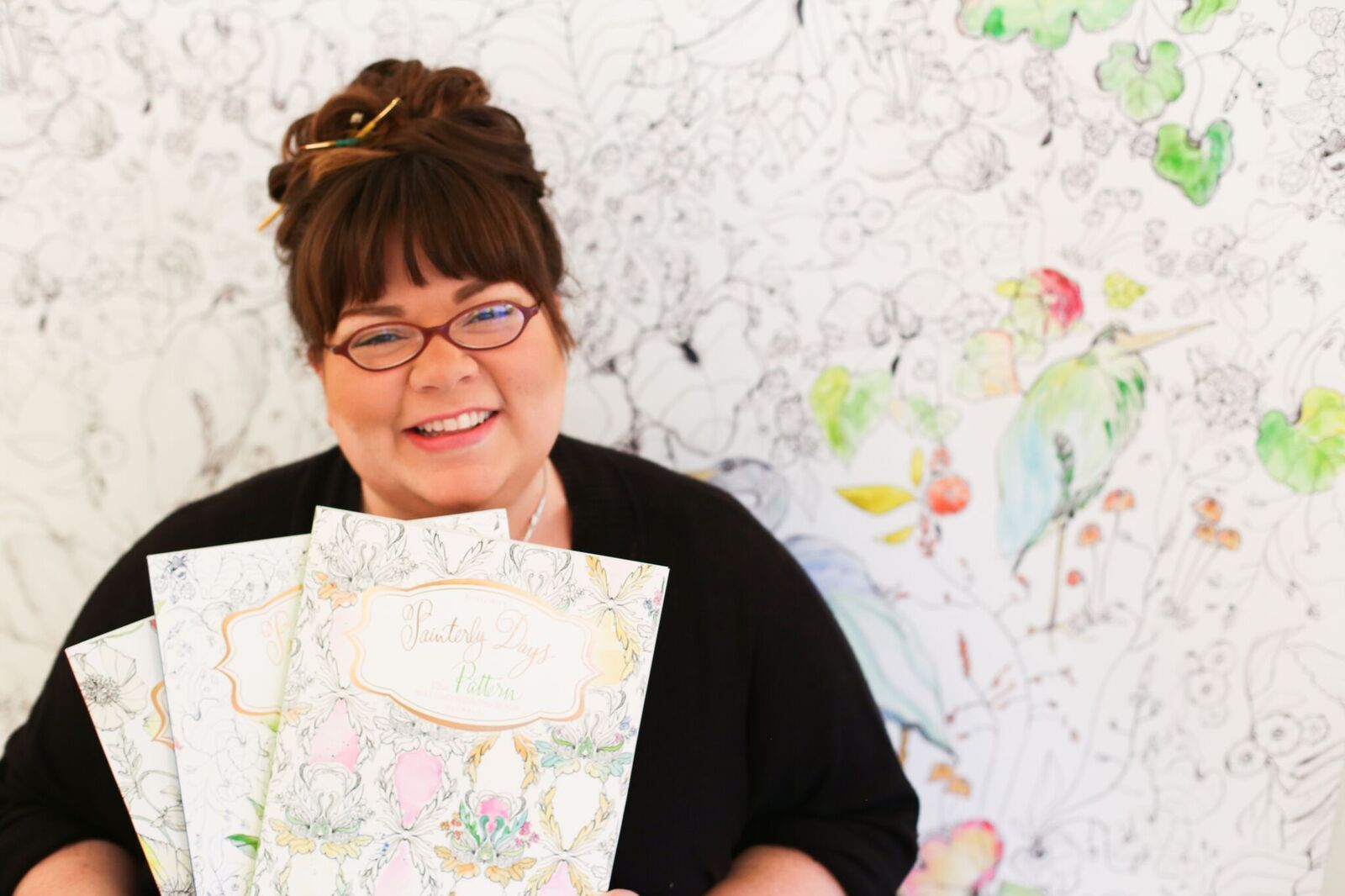 Author Kristy Rice
Oh my goodness, you guys! It's no secret that I have a long love affair with colorful party ideas, but this entire painting party concept takes that love to a whole new level for me.
Because I don't know about you, but I'm feeling instantly inspired to go pick up a paintbrush!

A BIG congrats goes out to

Kristy Rice on the launch of her new watercolor book series,

Painterly Days

!
Plus huge hugs and high fives to all the pros who came together to help bring this pretty party to life including the always fabulous,
Patchwork Planning and

Ambiance Event Planning + Floral Designs

for all of these gorgeous flowers!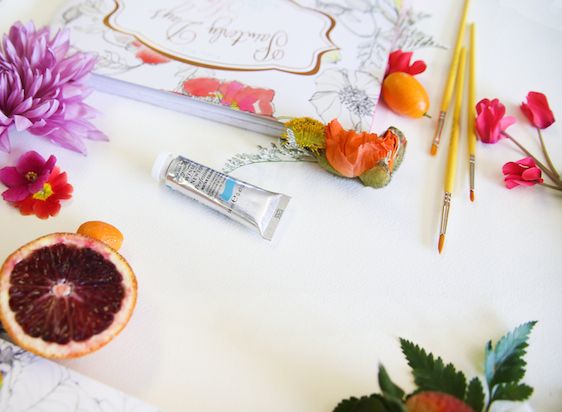 It's a GIVEAWAY!
Want a chance to win a book complete watercolor palette, and brush? Well, get excited because today's your lucky day! That's because I've teamed up with Kristy Rice to offer a very special giveaway for one lucky reader of The Perfect Palette.
To enter: Simply follow us on Instagram!
1) Follow The Perfect Palette here
2) AND additionally, be sure to also follow Kristy Rice of The Artful Life here!
3) And then after you've followed both of us followed us, be sure to leave us a comment on

this instagram photo

letting us know you've done so + tag a friend!
Easy peasy, am I right?
PS. Don't forget that you can purchase your very own watercolor book here! Giveaway ends on Friday, April 8th at 12:00 AM PST.

Kristy Rice
is a member of our guide.
Click here to see how to become a member.
Photography:

Photography by Seneca
//
Planning:

Patchwork Planning

// Floral Design:

Ambiance Event Planning + Floral Designs

//
Styling: Kristy Rice for

the Artful Life

//
Stationery:
Momental Designs
// Venue + Sweets:
Whitewoods
//
Hair:

Pebble's Hair Designs

//
Makeup:

Jo Gulvas

//
Dessert Plates:

Target

// Rose Gold Glasses:

Target

//
Books:

Schiffer Publishing

//
Linens:
Lavender Linens
// Film:
Josiah Grandfield
Share This: