I don't know about you, but here lately my love for this southwest style has been at an all time high! It's that boho meets desert chic vibe that we've all grown to love and I simply just cant get enough!




And so that's the reason I fell head over heels when I saw this gorgeous shoot pop up into my inbox! With event planning by Rachel Nelson of

Dear Bride

and florals by Vine & Petals —

you're in for quite the treat with this styled shoot captured by Rae Marshall Weddings!




Things to look out for include an array of antlers, succulents, and cacti galore! Oh, and did I mention a boho patterns and the colors? So many lovely details for this wild in love couple!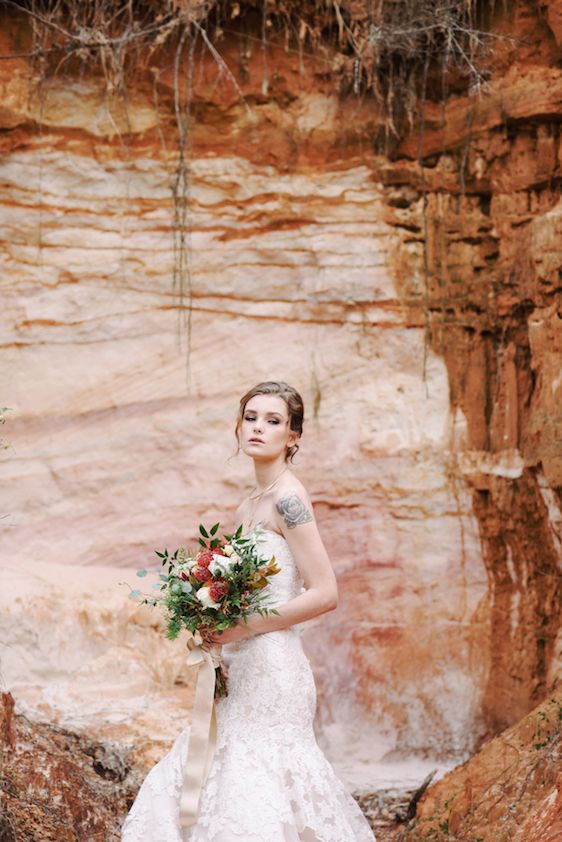 From the photographer, "We both live in the deep south and so we're no strangers to cowboy boots and sunflowers..."
"... and so our goal was to keep it from going in that direction and instead create a timeless Wild West feel in this incredible landscape of red clay soil."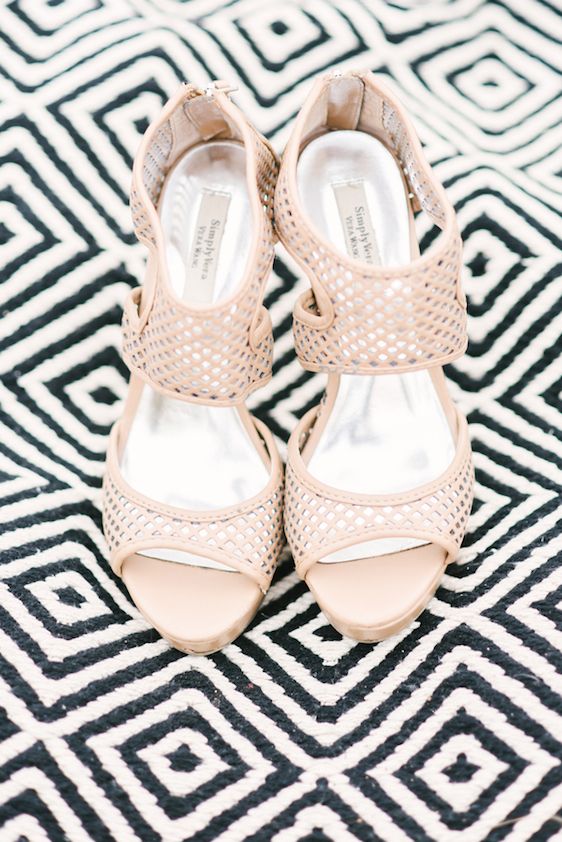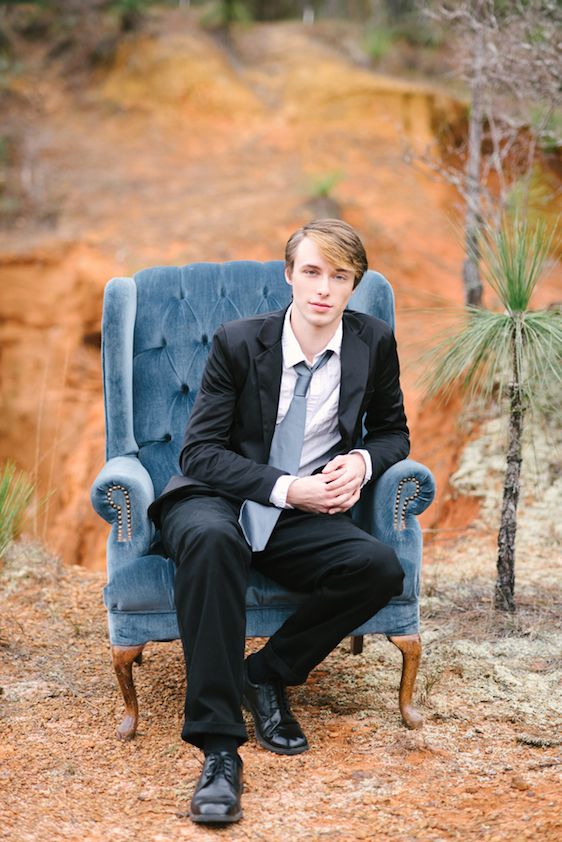 "My favorite detail was the wedding dress, with it's beige base color and the layers of lace to complete the look."
"I like to imagine Lana Del Rey singing "Ride" as the sun sets over the arch and they say "I do" before riding away into the desert."
Sounds absolutely dreamy to me!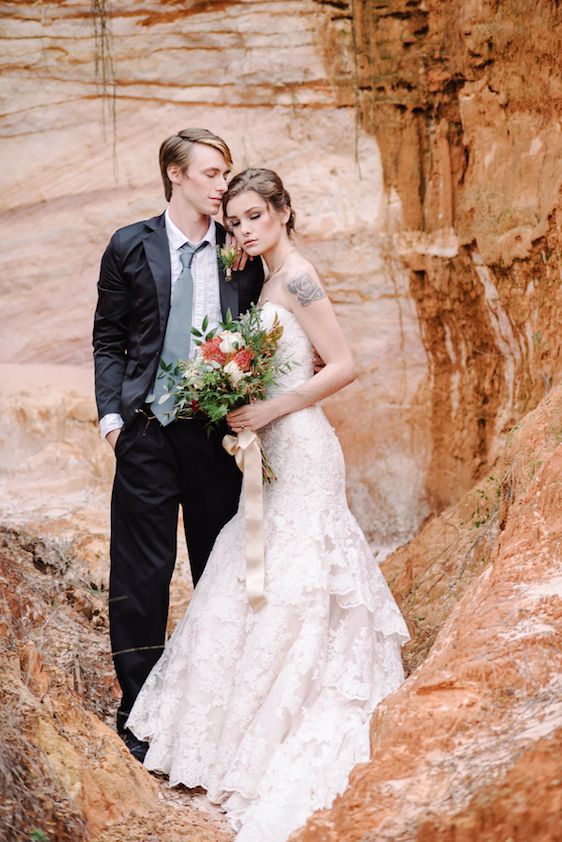 Plus can we just talk about my love for these fabulous florals by Vine & Petals?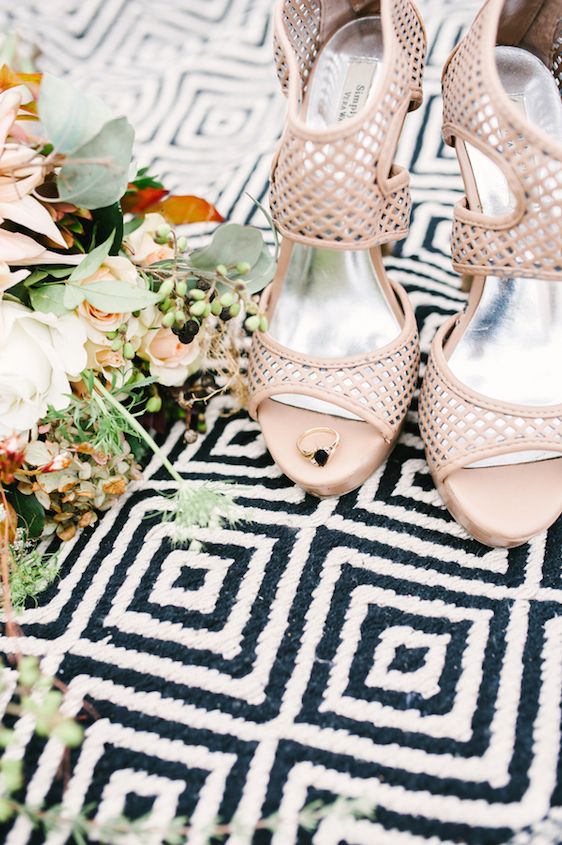 And these heels?! These can just go ahead and appear in my closet, please & thank you!
Because goodness! Between this gown and this amazing landscape...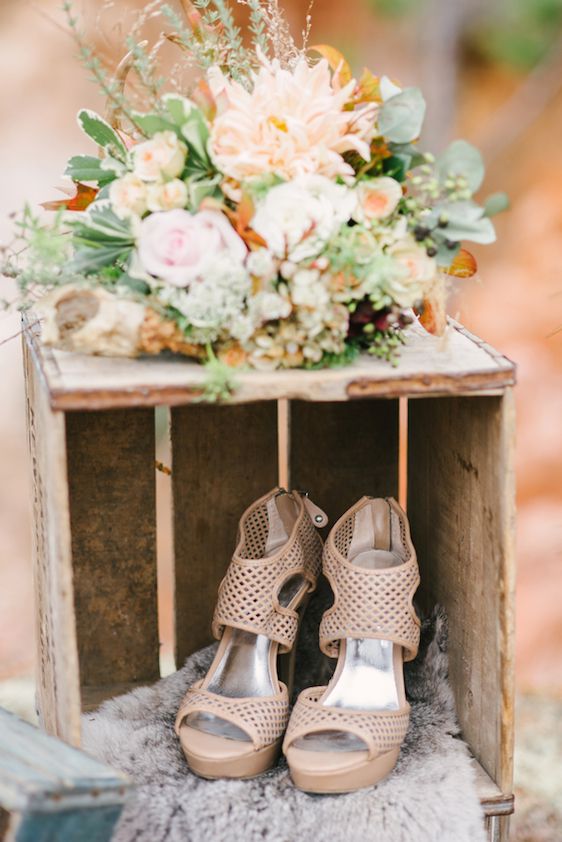 I think it's safe to say that I've fallen in love with everything about this!
There's just such a great western vibe going on here and so much gorgeousness to soak up!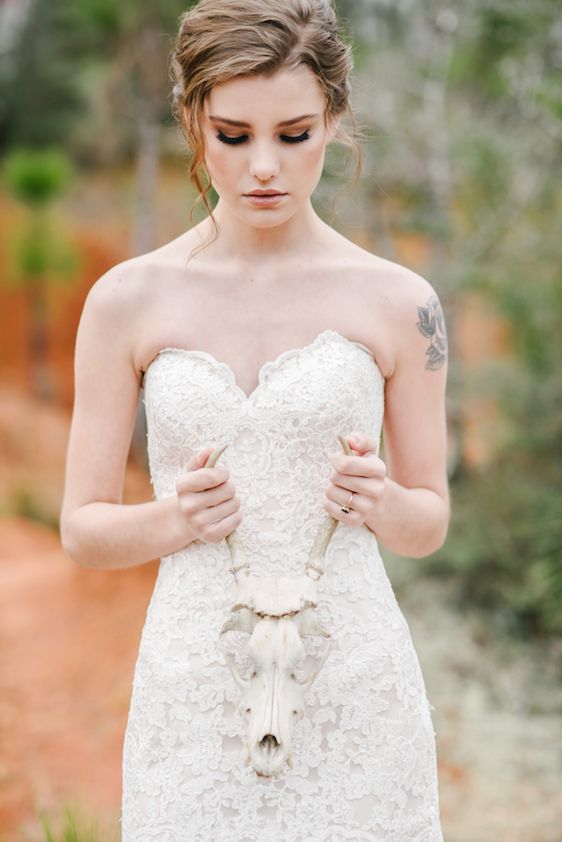 A stunning train, a dapper groom, and a locale this gorgeous? Where do I sign up?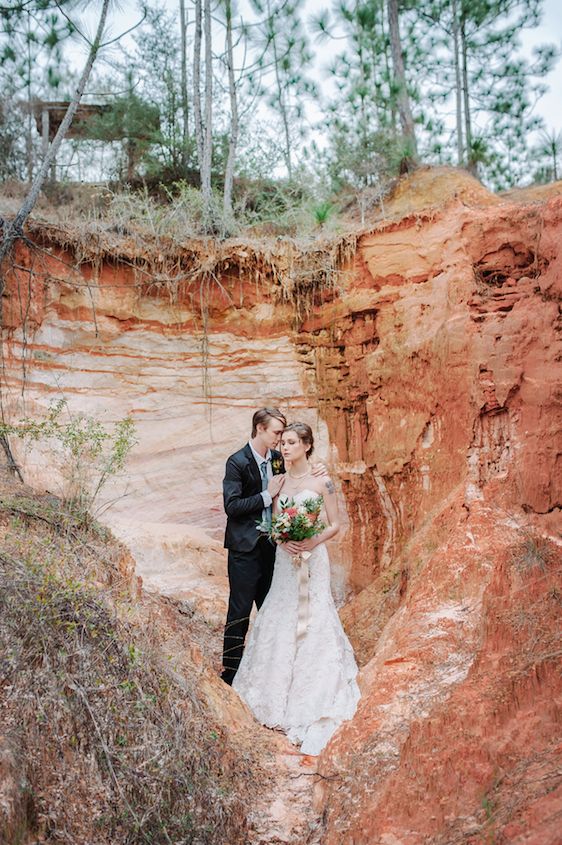 And with a spot as gorgeous as this one to exchange your lovely vows?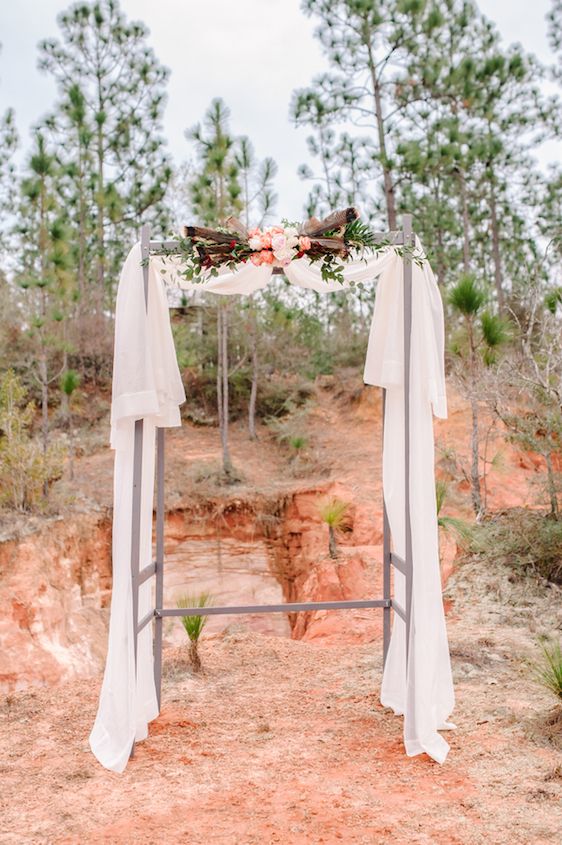 Yep! You guessed it! I'm obsessed!
Plus I can't go without mentioning my absolute obsession with this gorgeous table setup!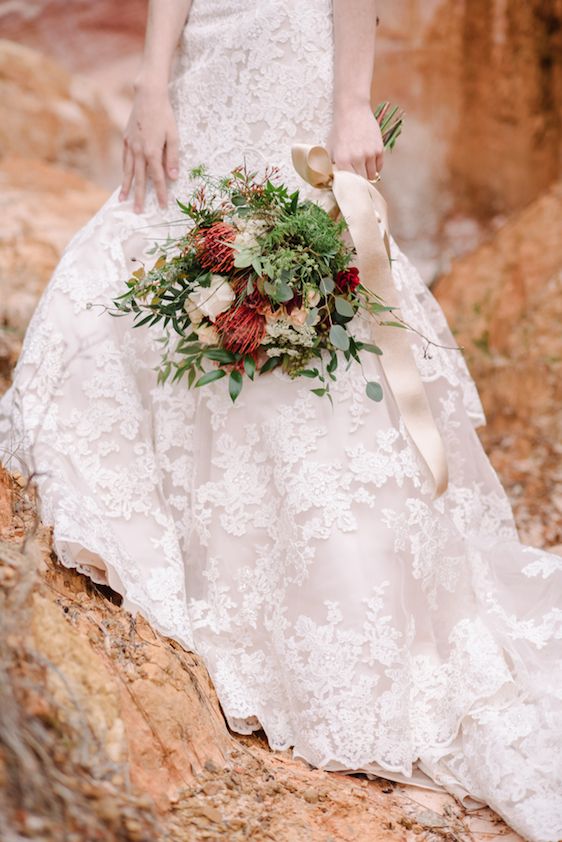 It's this mix of succulents, touches of gold, and a rustic table that make it so amazing!
And how about this for a wedding gown shot? So totally pin-worthy, if you ask me!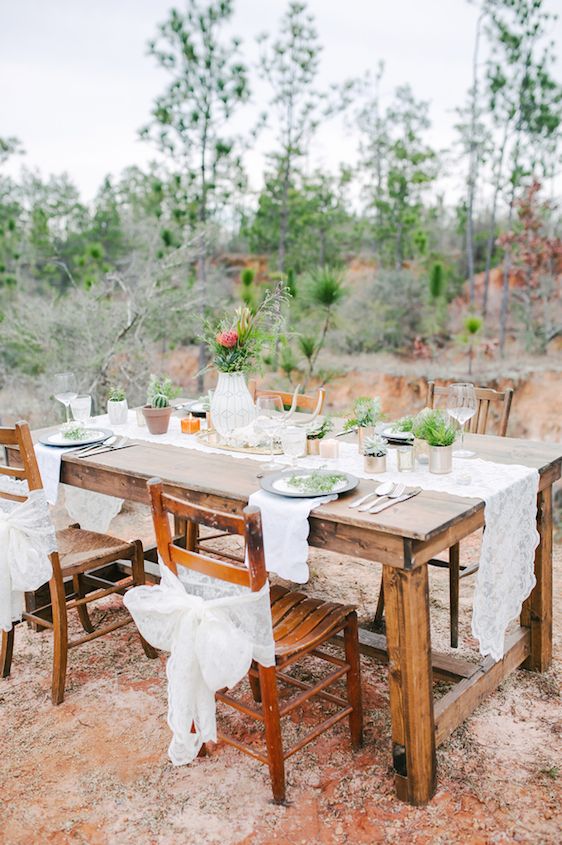 A simple lace runner was used to add elegance...
And what's not to love about these southwestern style vases, and that mirrored tray?
These tiny potted cacti are pretty much the cutest things I've ever seen...
And I really like the way the stylist wrapped these chairs with lace...
Unexpected details fill this shoot which make it even more amazing!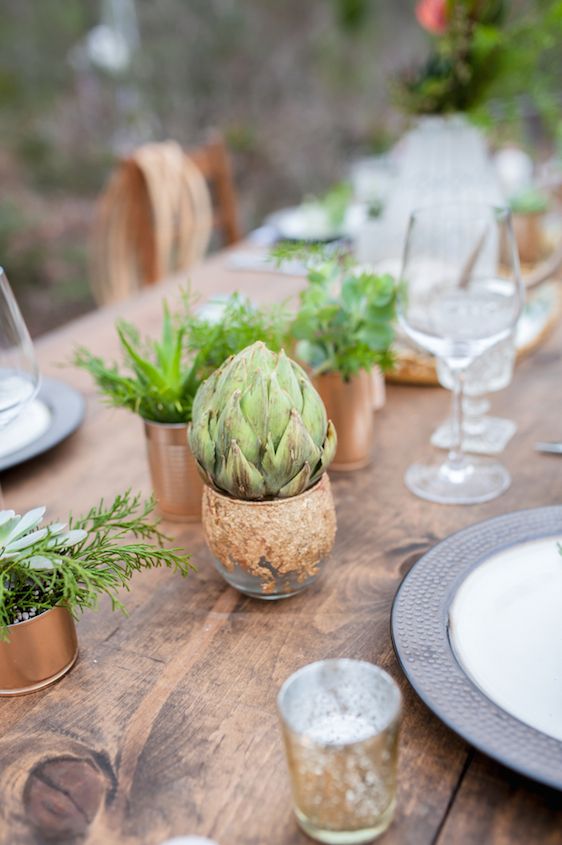 For instance, check out those artichokes!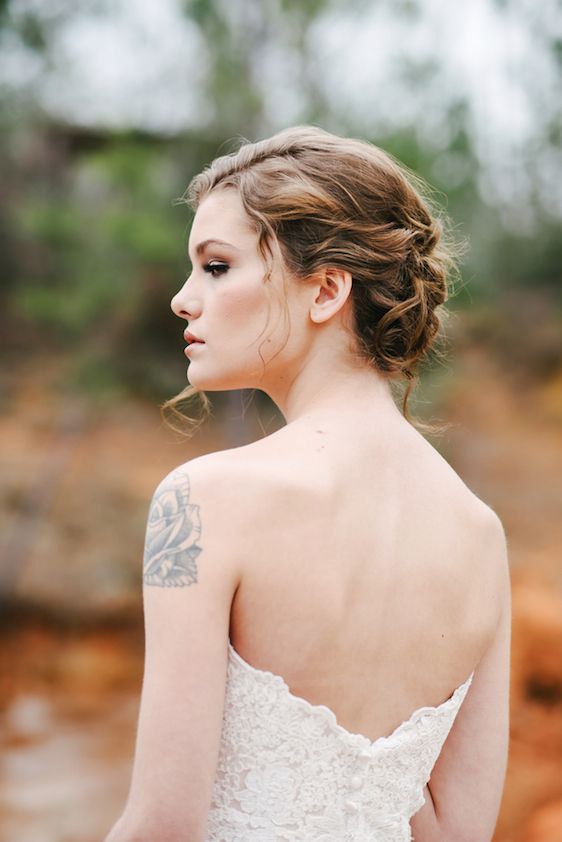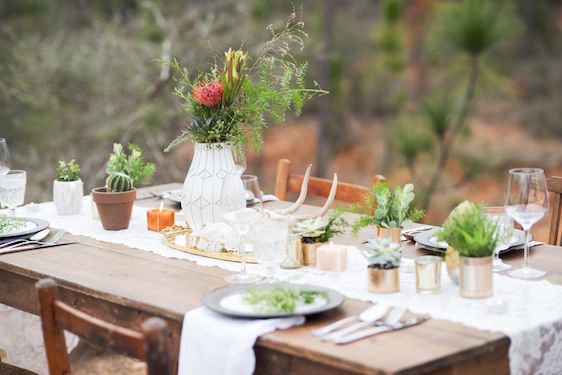 Greenery played a big role in adding that fresh and lively feel ...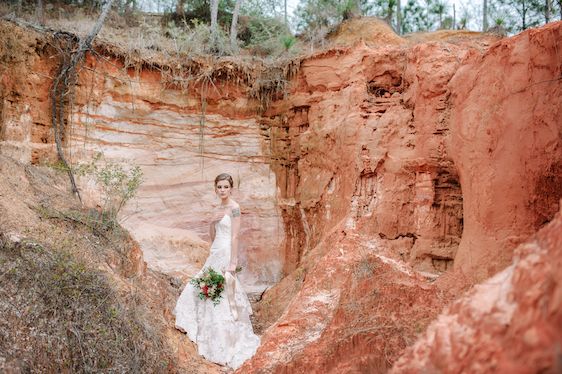 Oh, and have you taken a close look at the detailing on this gown?
Really loving the trumpet style here lately...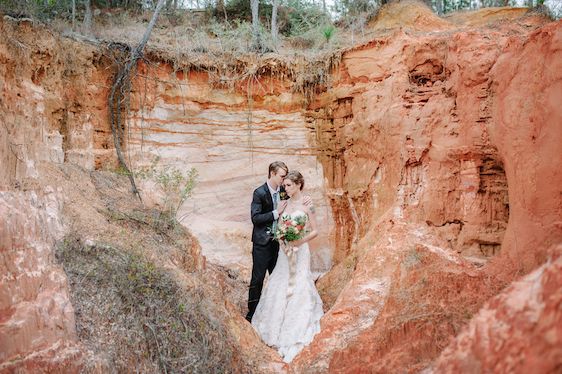 Oh, and how gorgeous are these feathers that we're seeing incorporated here?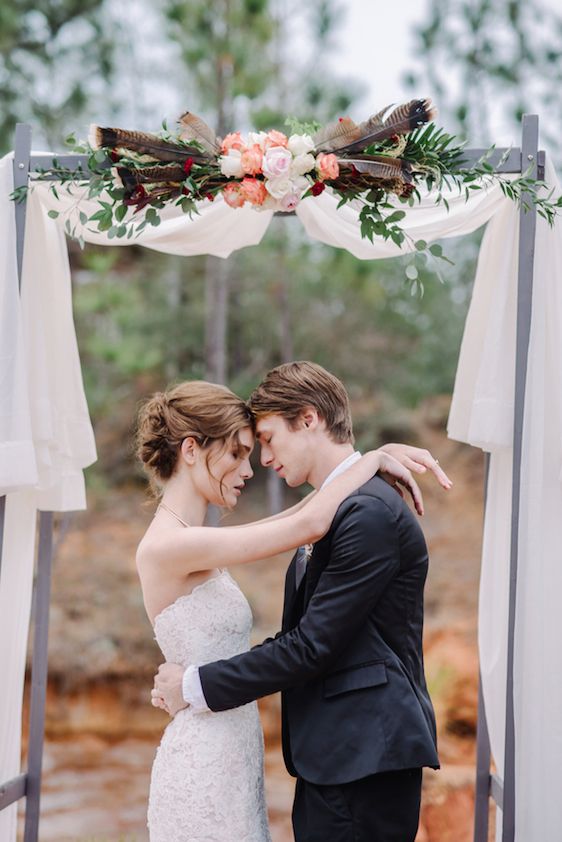 So simply exquisite and elegant too!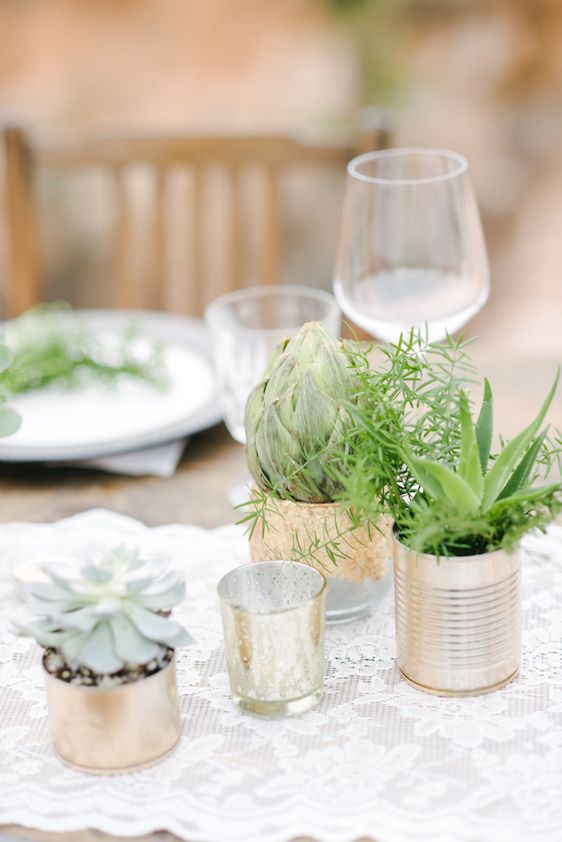 Ever seen a bride wear a western hat like this one?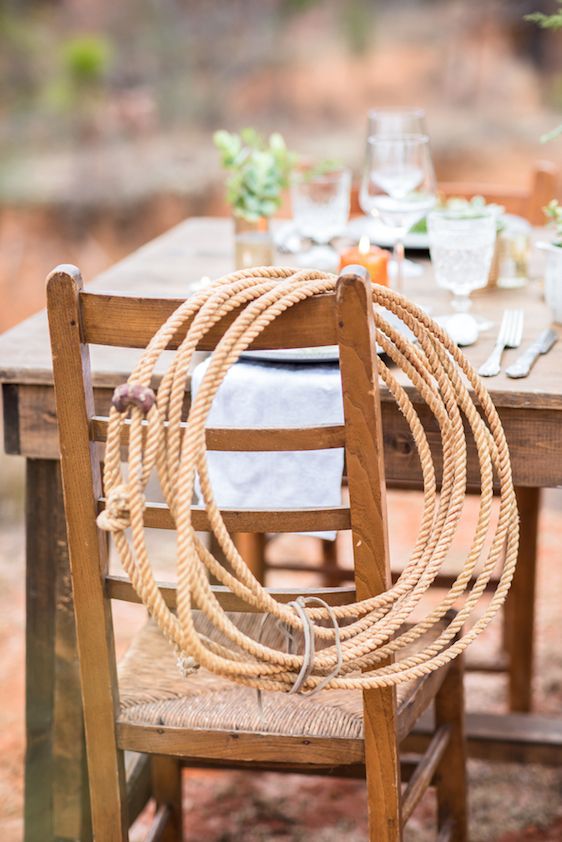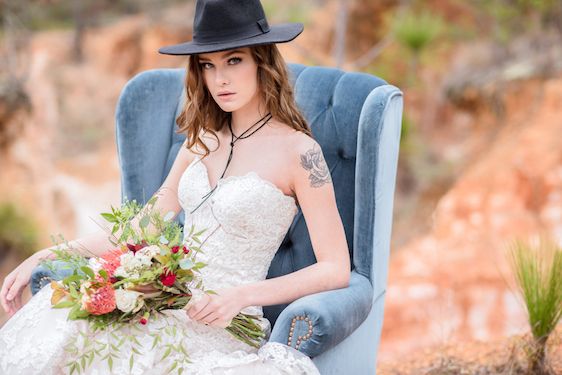 Nope! Me either! But I love it and there's no denying that she's absolutely killing this look!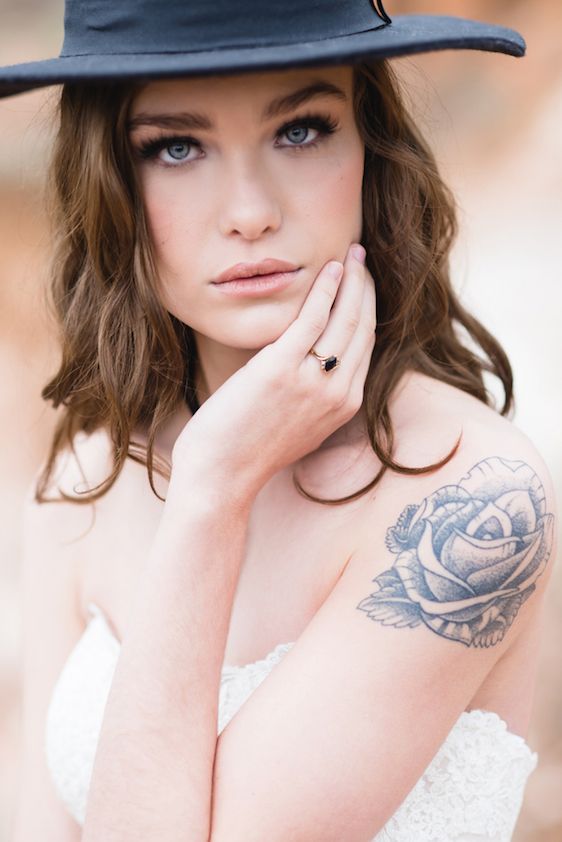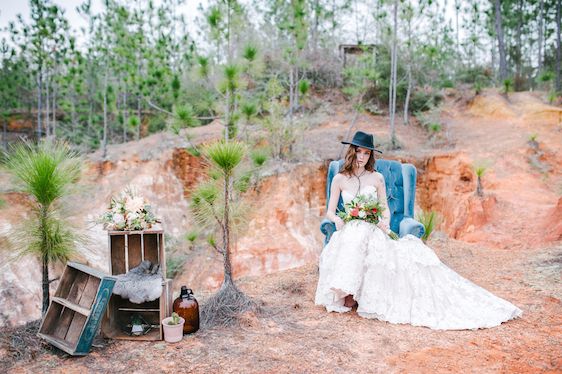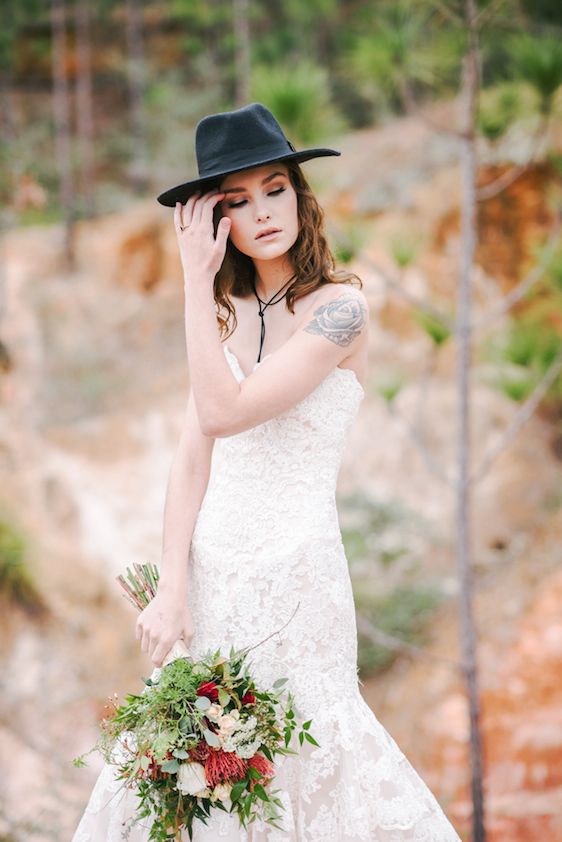 Smoky eyes and a natural lip give our bride-to-be an romantic look.
Such a chic style with the hat and dress combo...
And this dreamy cake designed by
Bonne Vie Specialty
is undeniably gorgeous!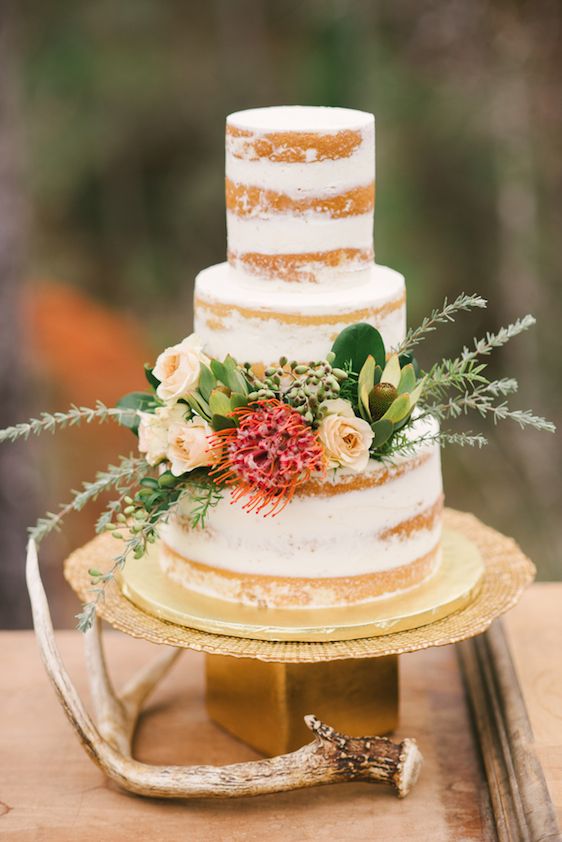 Gilded antlers are a really fitting decor element. YES, please!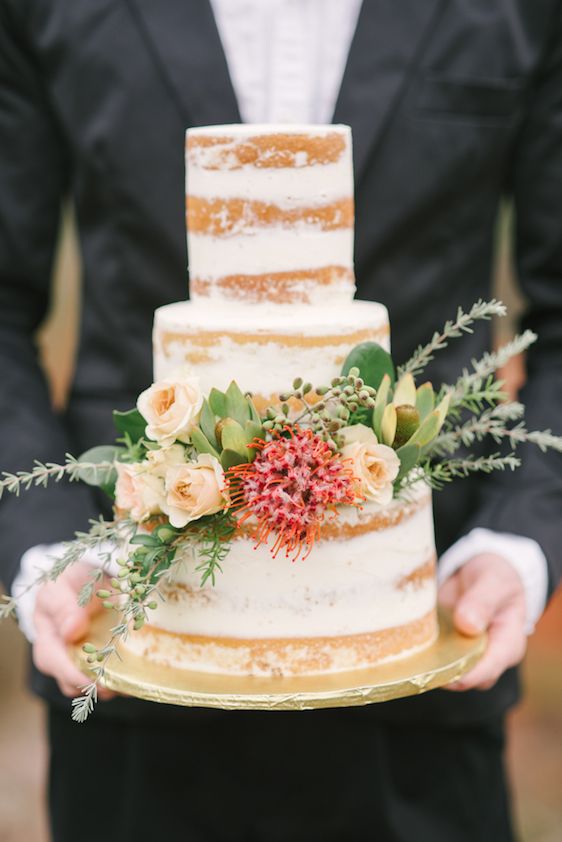 And seriously? This dessert display could not be any more lovely! Wouldn't you agree?
Vintage rentals by
Hemstitch Vintage
added such charm!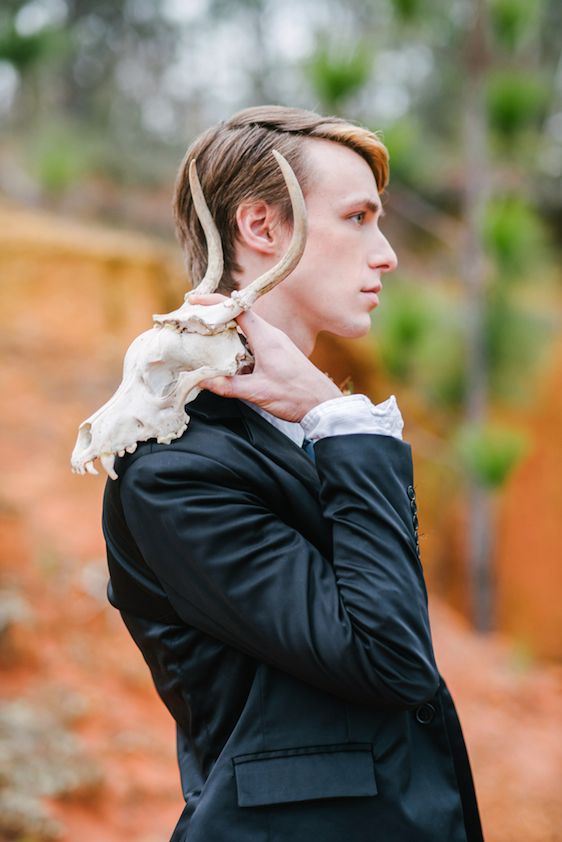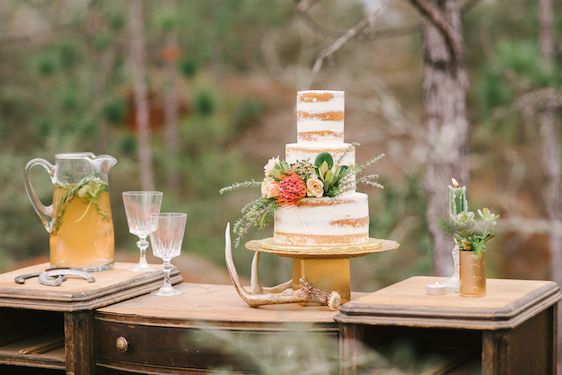 And these drippy green candles are the greatest accent...
Talk about a theme done right! Plus I just can't get over these amazing florals and this gorgeous bridal style! Such a talented group of wedding pros!
And would you believe that this was shot on location in Florida of all places? Okay, so maybe the red clay gave that away for those of you familiar with the South, but I for one am totally blown away by how well they channelled this western theme.
I really does feel like a very canyonous locale out in the wild, wild, west!
Share This: