Sterling and Rebecca's wedding day was truly a lovely one! With event design by
Hazel Weddings and Events
and photography by
Caroline Lima Photography
, get ready for greatness because this wedding is so full of love and laughter, and all of the stuff that truly matters!
From the photographer, "Photographing a couple's wedding is always an intimate and very touching experience for me. I cherish the responsibility of capturing once-in-a-lifetime moments…and I particularly love emotional ceremonies!"
"Sterling and Rebecca's wedding was truly a highlight for me this year, because they trusted me…all the way back to their engagement session…to help them make memories of a day that was full of so much tenderness, so much honesty and so much love."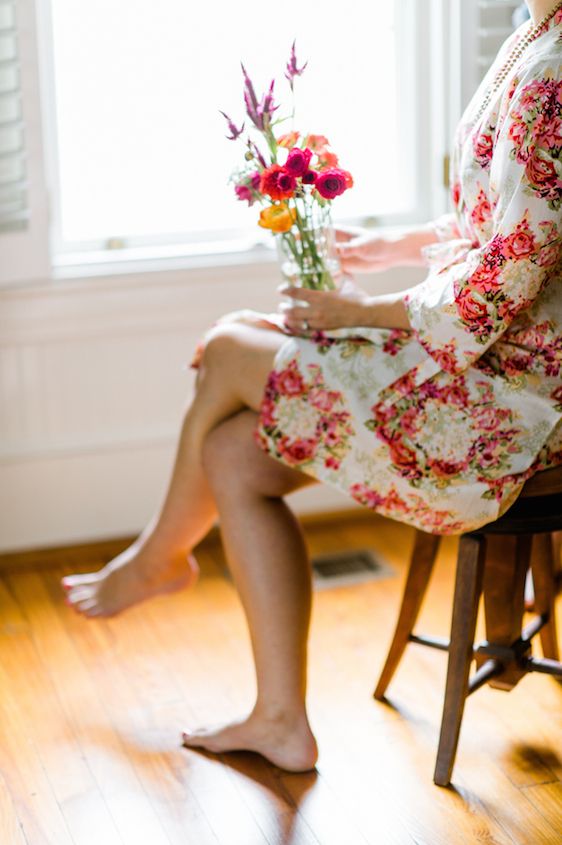 The wedding took place at the
Haywood Hall
in downtown Raleigh, North Carolina...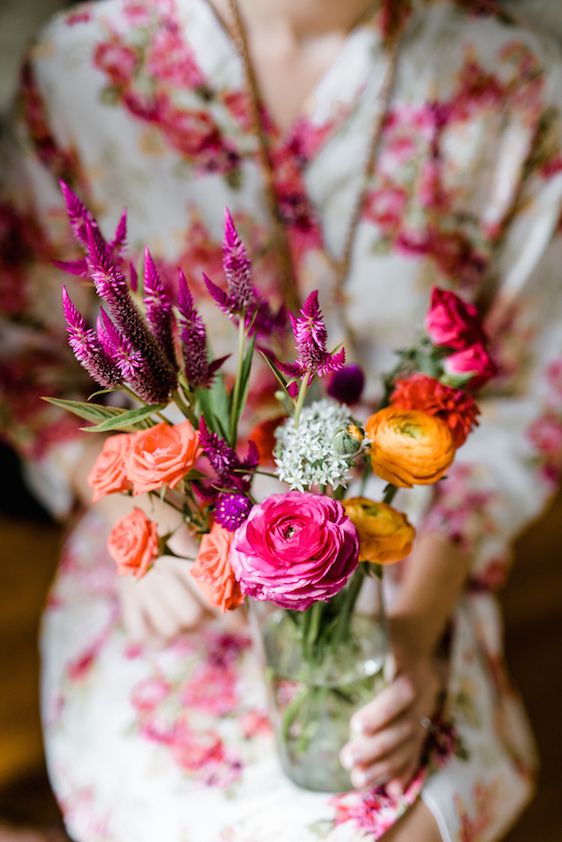 And oh my goodness! What a beautiful day it was...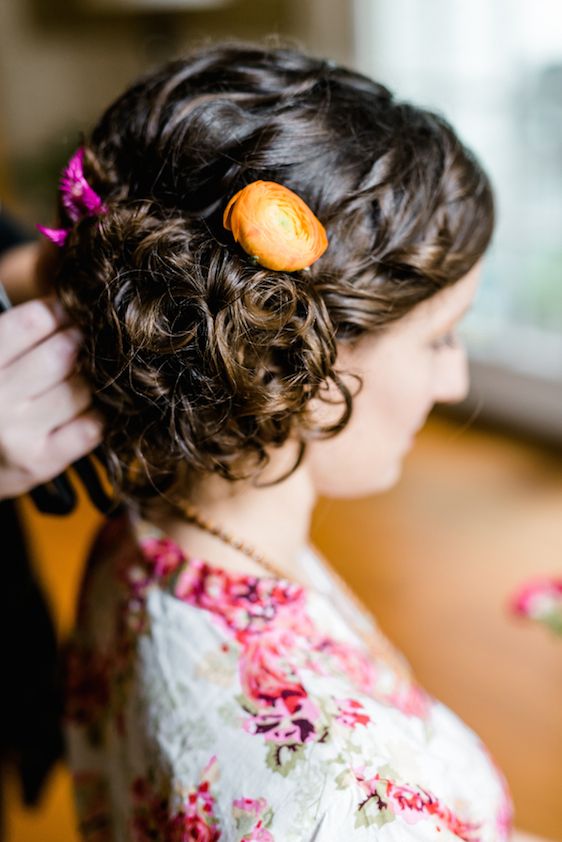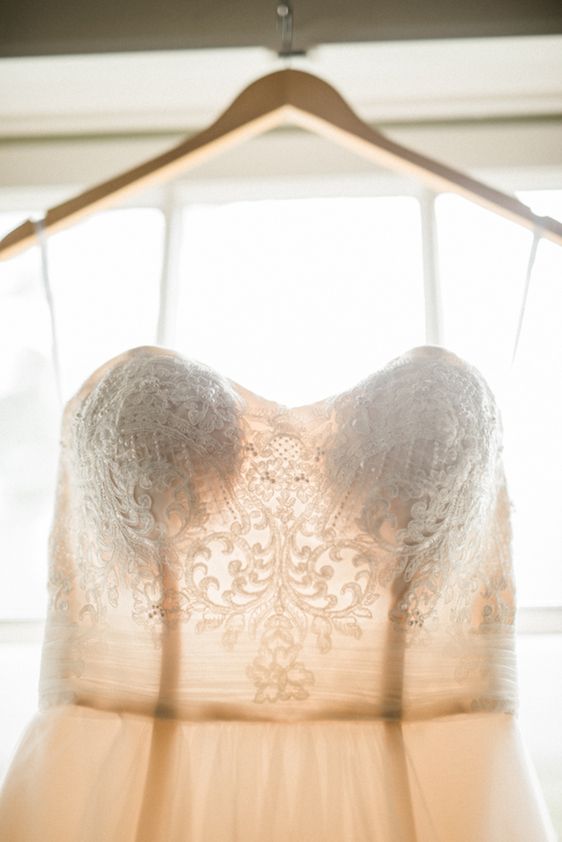 From this gown by
David's Bridal
— all the way to these beautiful getting-ready robes...
...I really do appreciate the simple elegance and timeless style.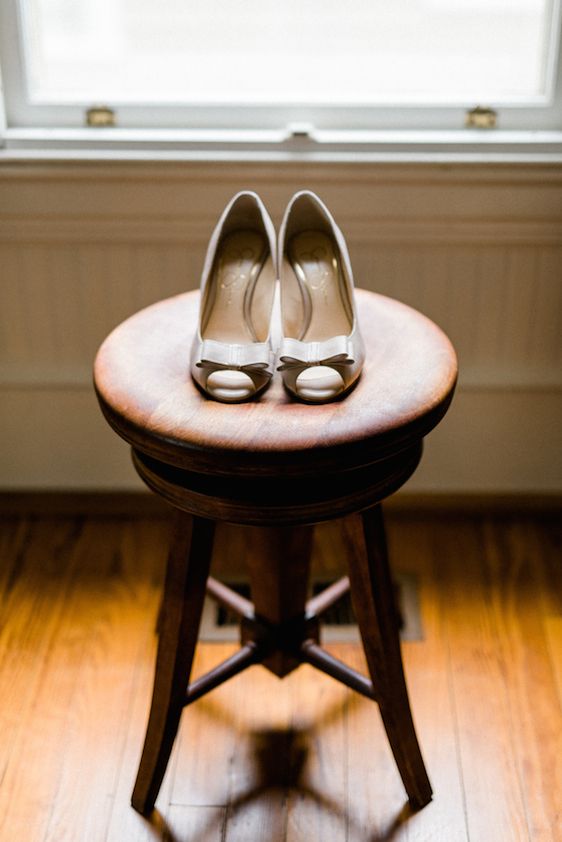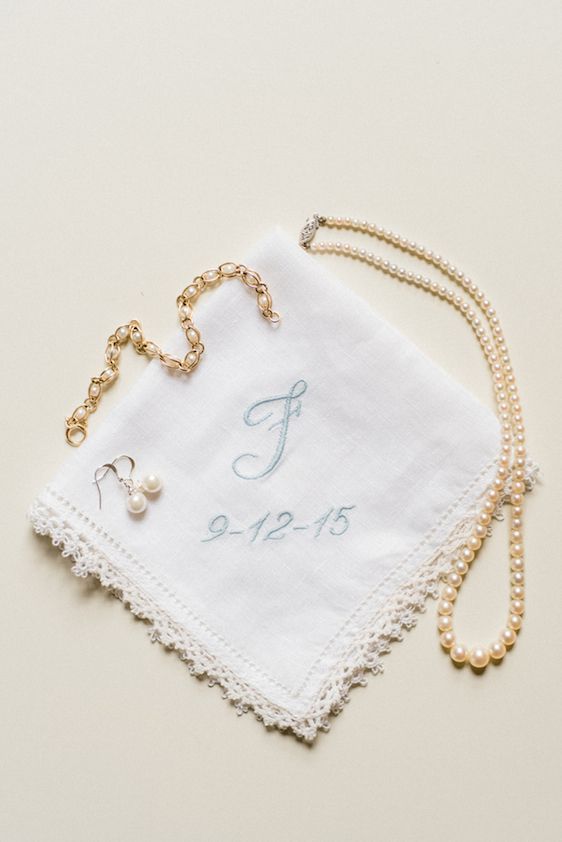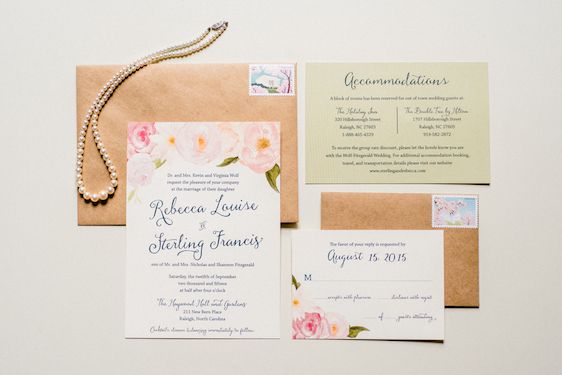 The lace on her handkerchief was from her great-great-great grandmother!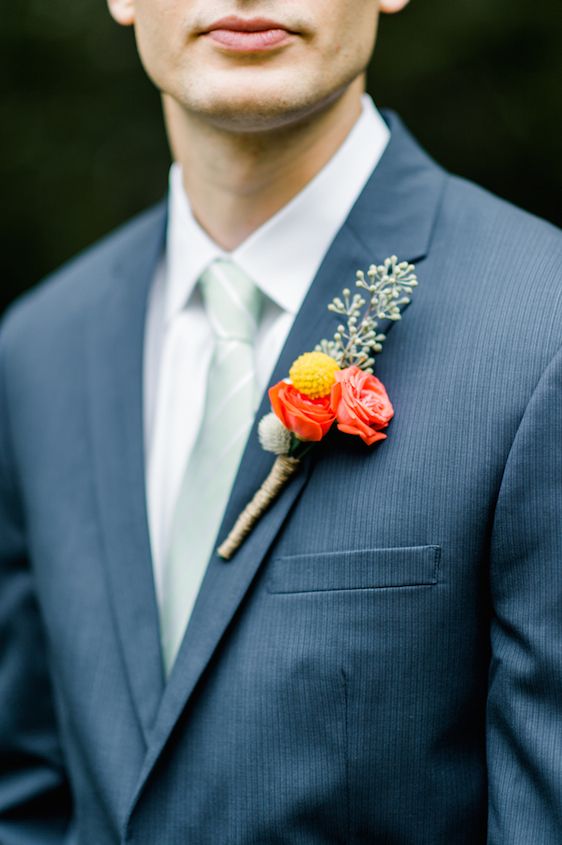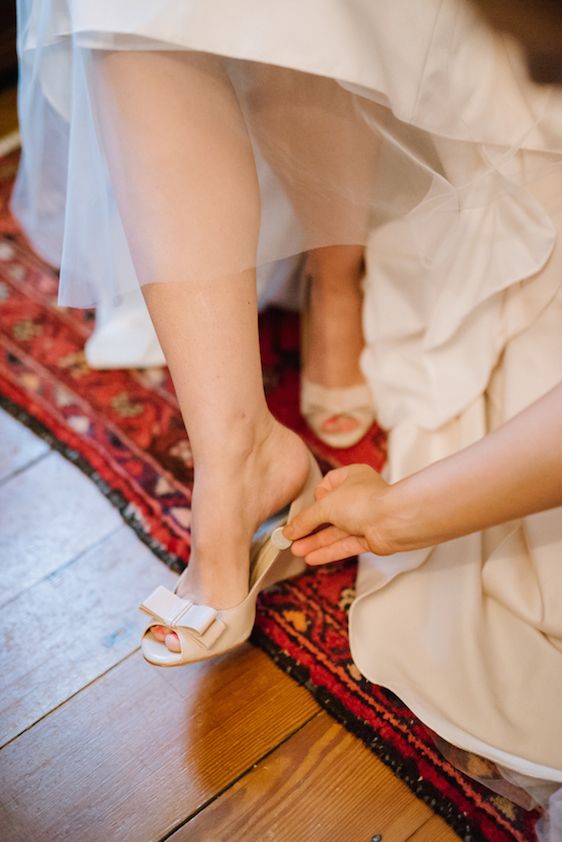 And these bouquets? Holy gorgeousness, you guys!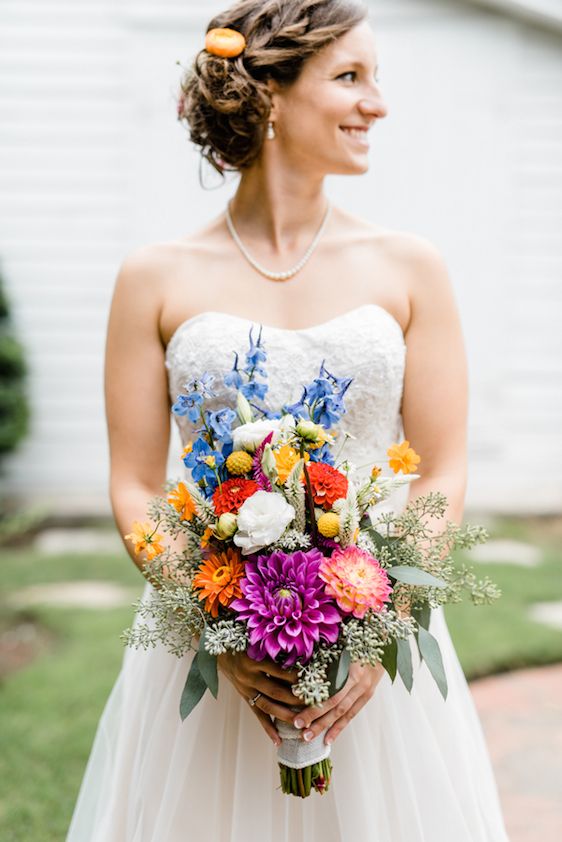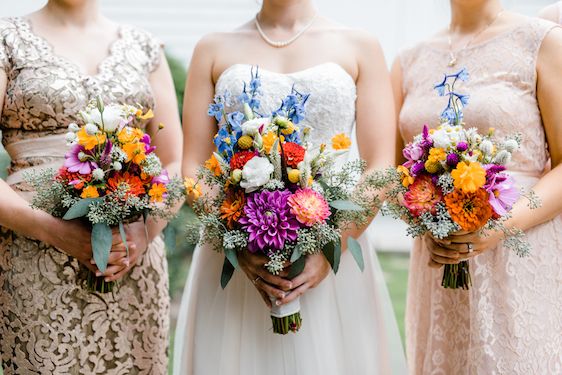 Really love this mix of neutrals and bright, bold color!
And how charming is this little ceremony spot? So gorgeous, ladies!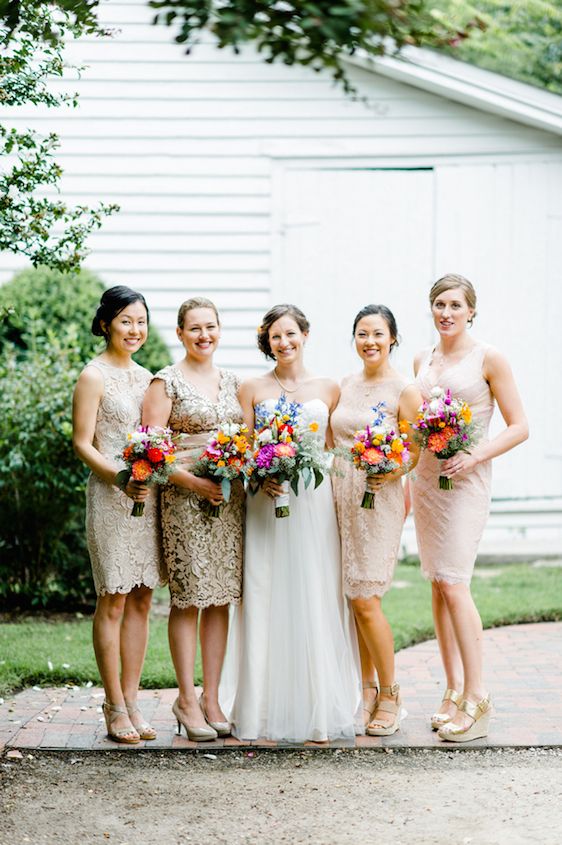 And the guys showed up looking dapper as well...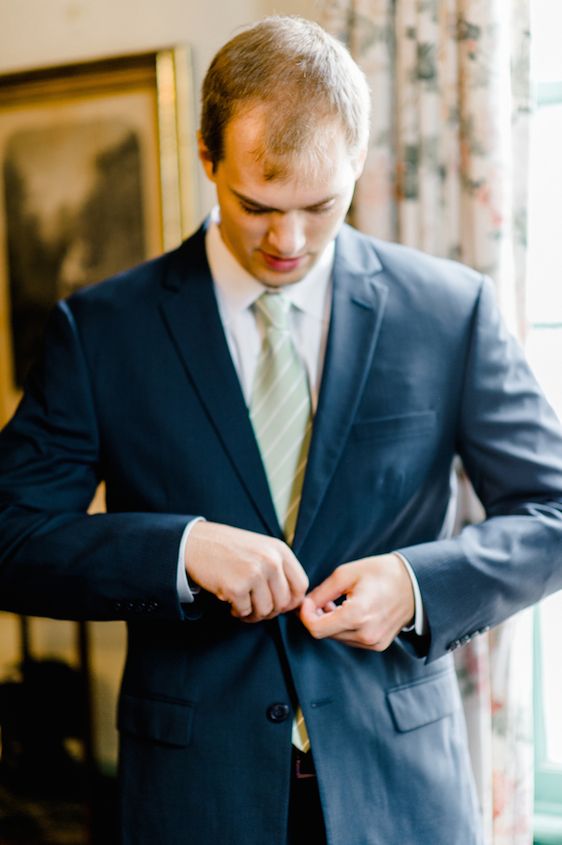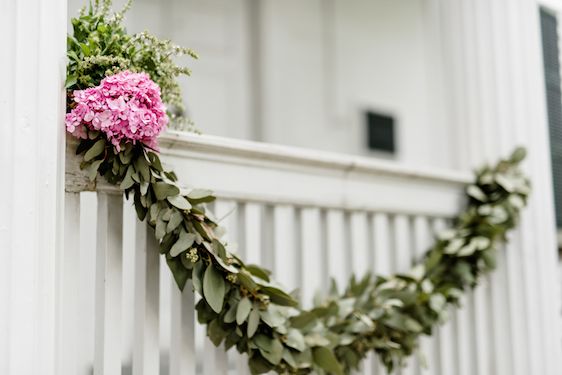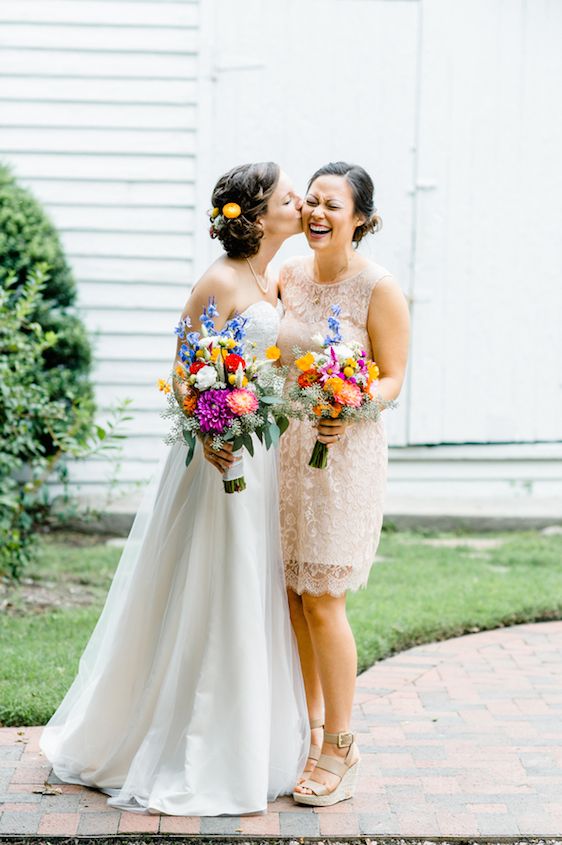 So many bright and beautiful pops of color throughout...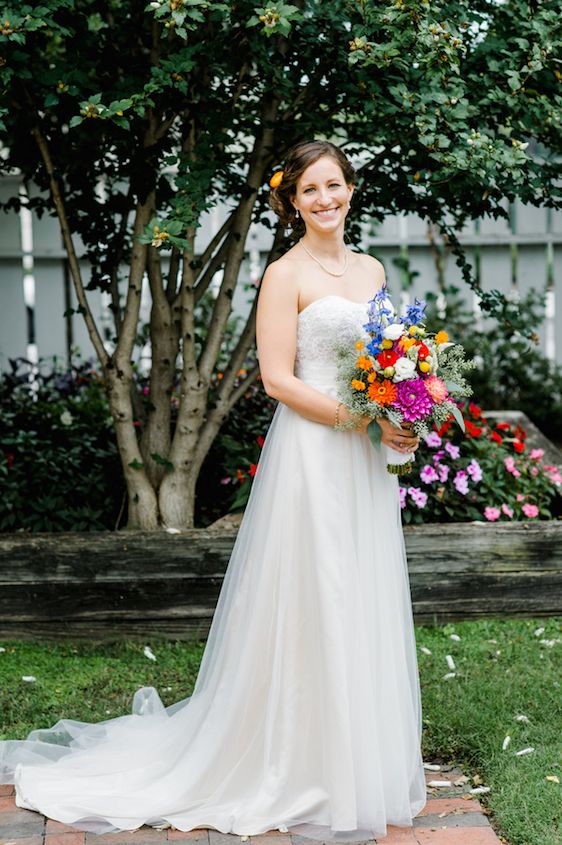 And I just love these beautiful blue napkins...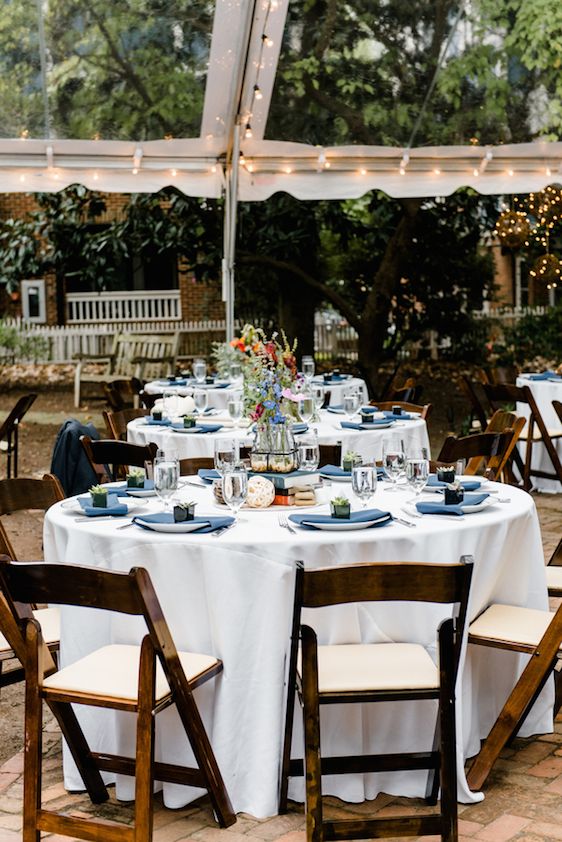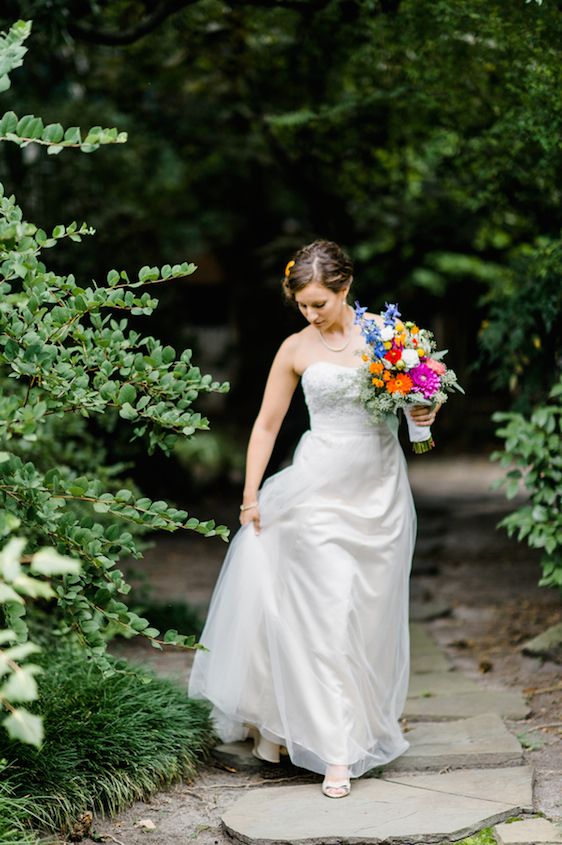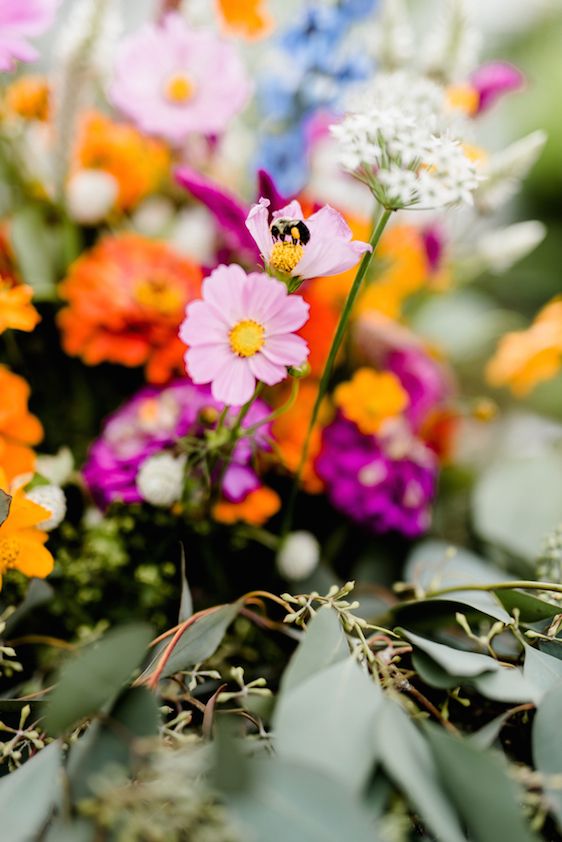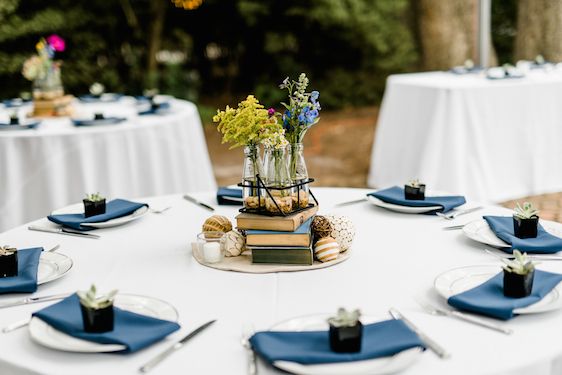 The reception set up was cute and casual with twinkly lights...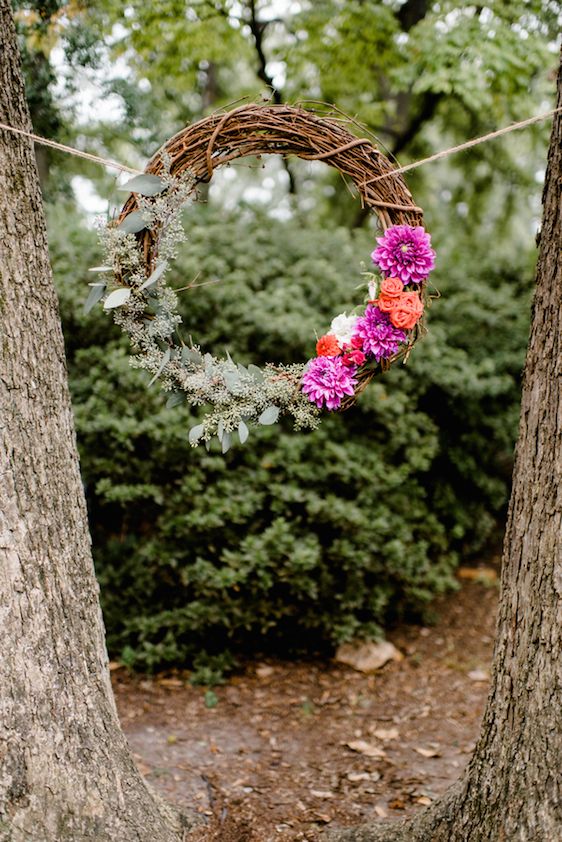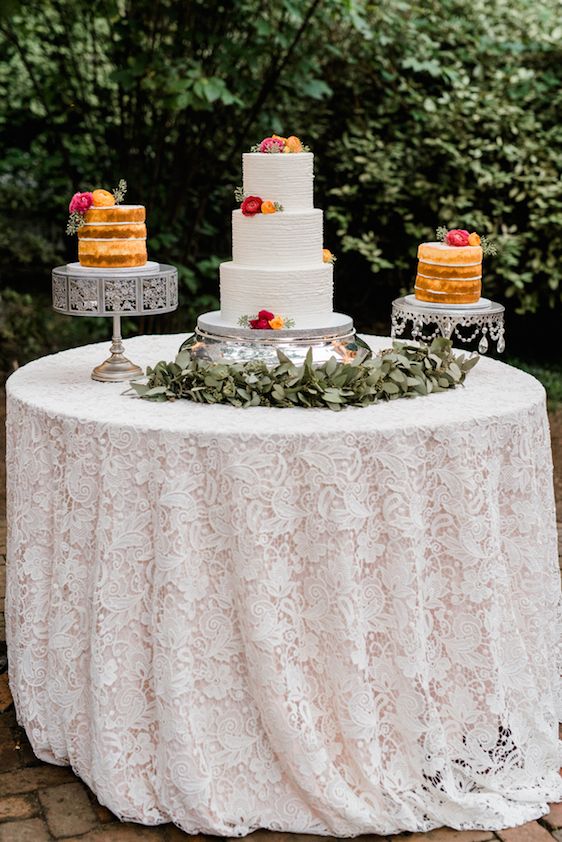 And how about this cake trio by
Artylicious Cakes
? love, love, love!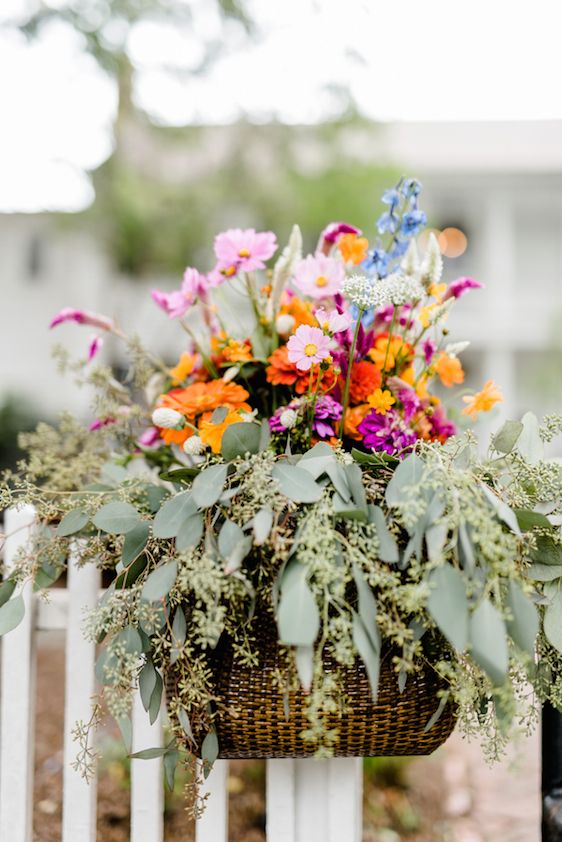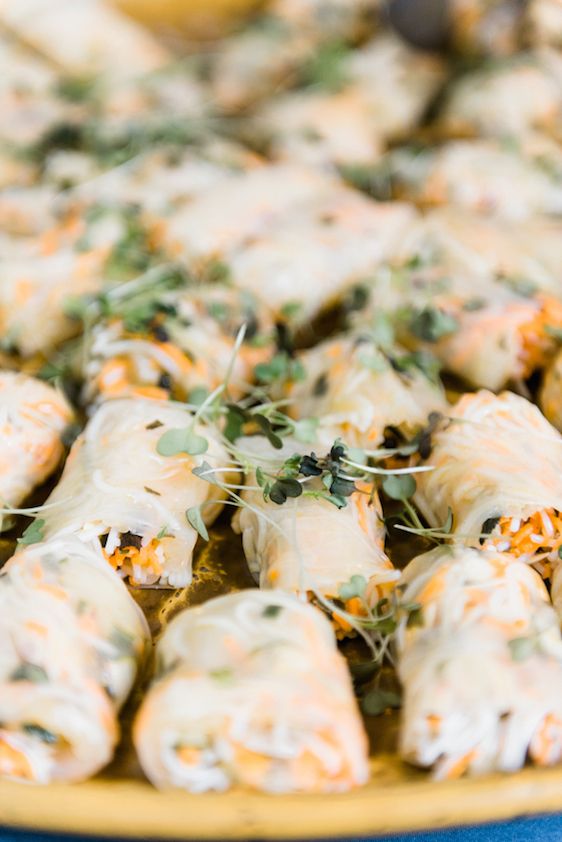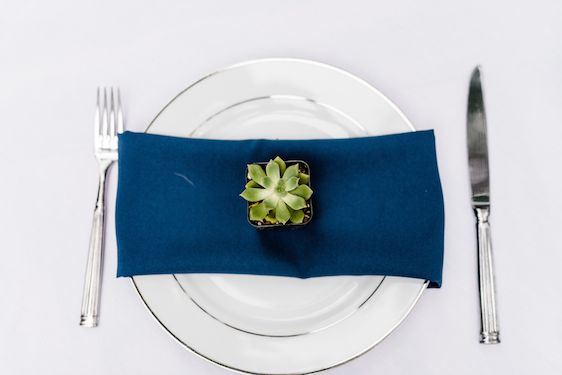 Family and friends gathered to celebrate...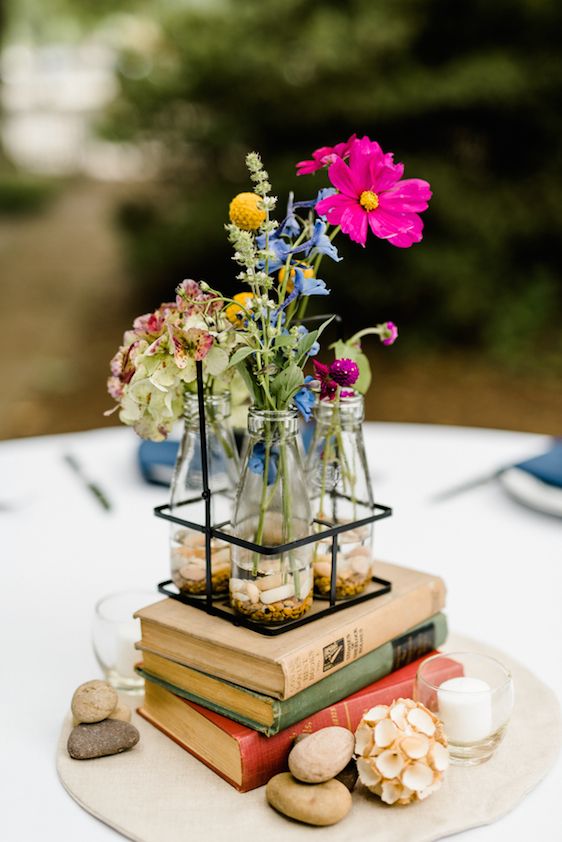 ...from the food to the flowers —
everything was so absolutely lovely.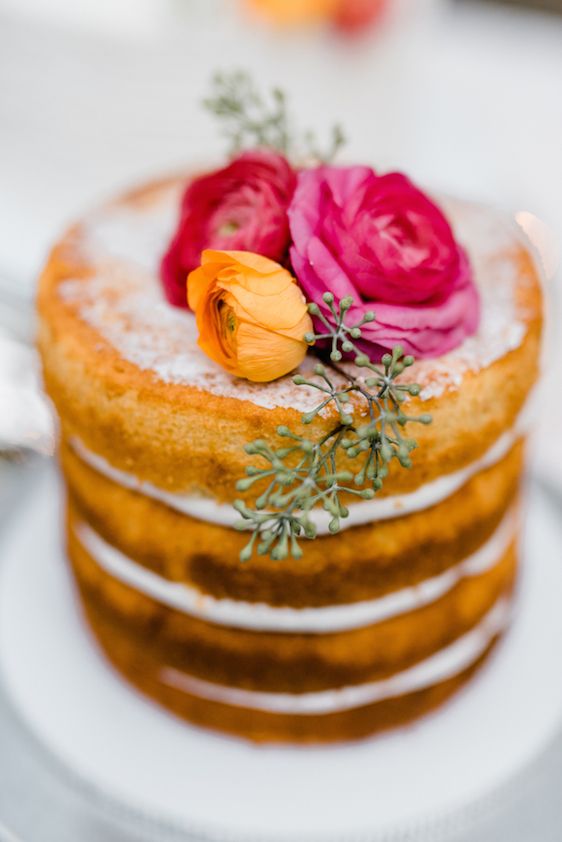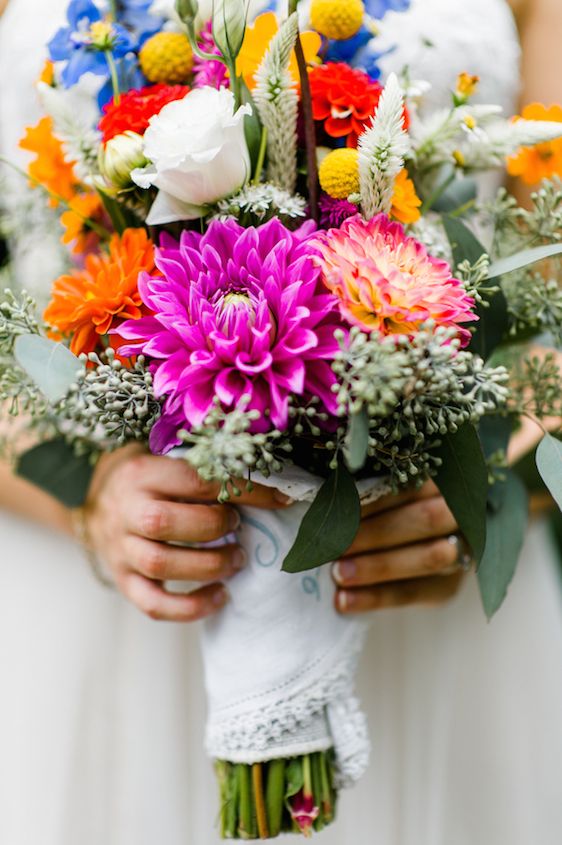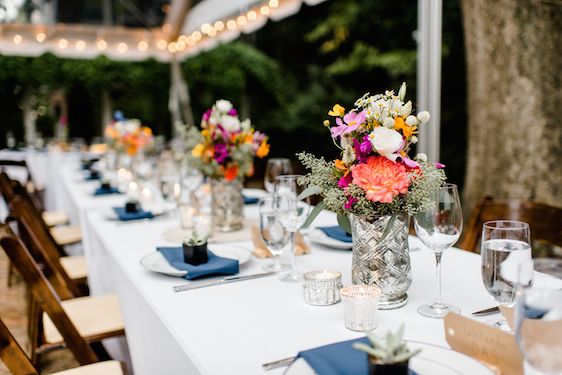 And I just love this simple, three tier cake accented by ranunculus...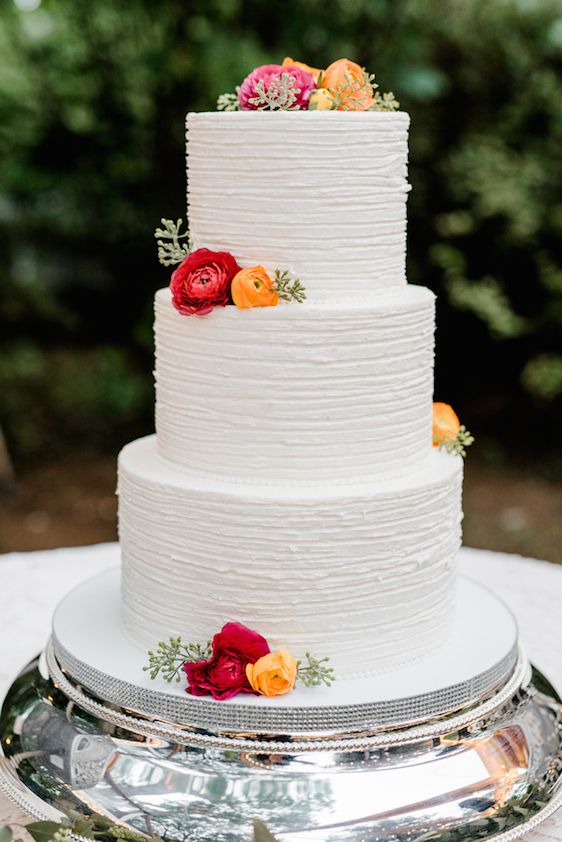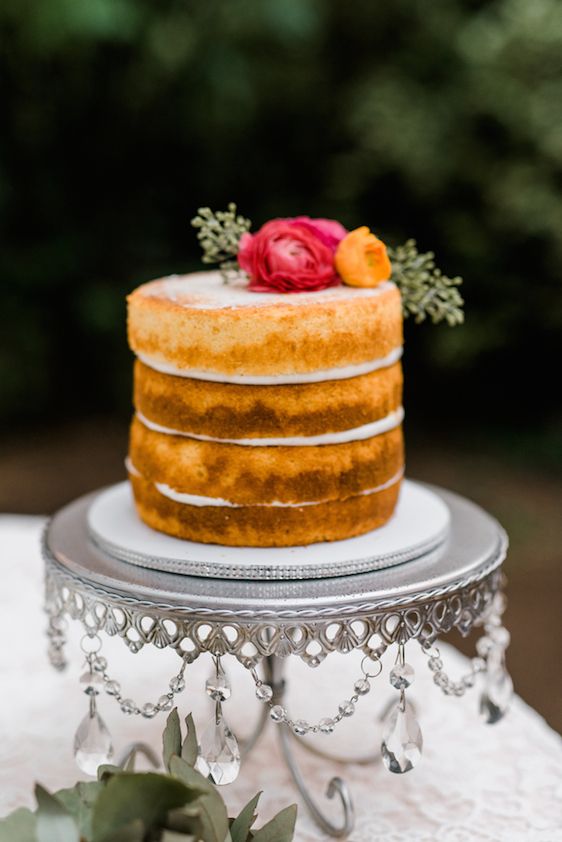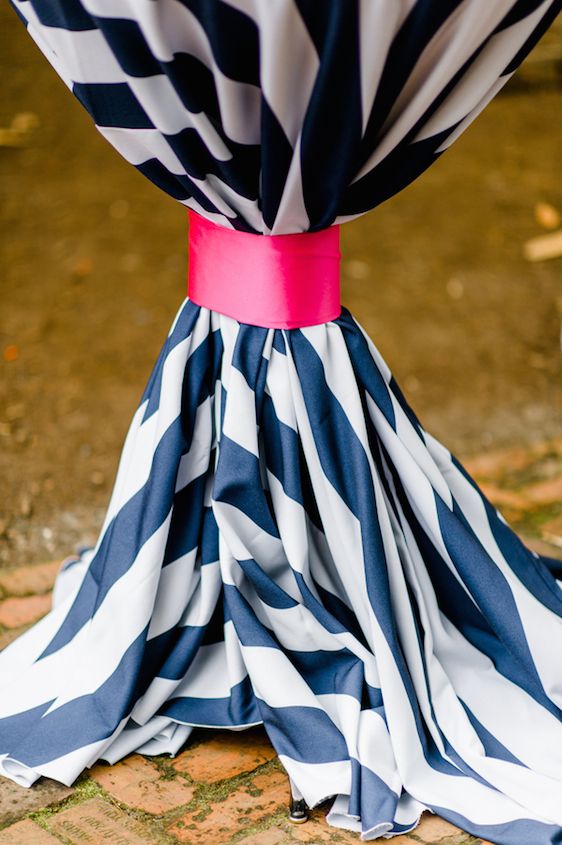 And can we just talk about how lovely these
bridesmaid dresses
are?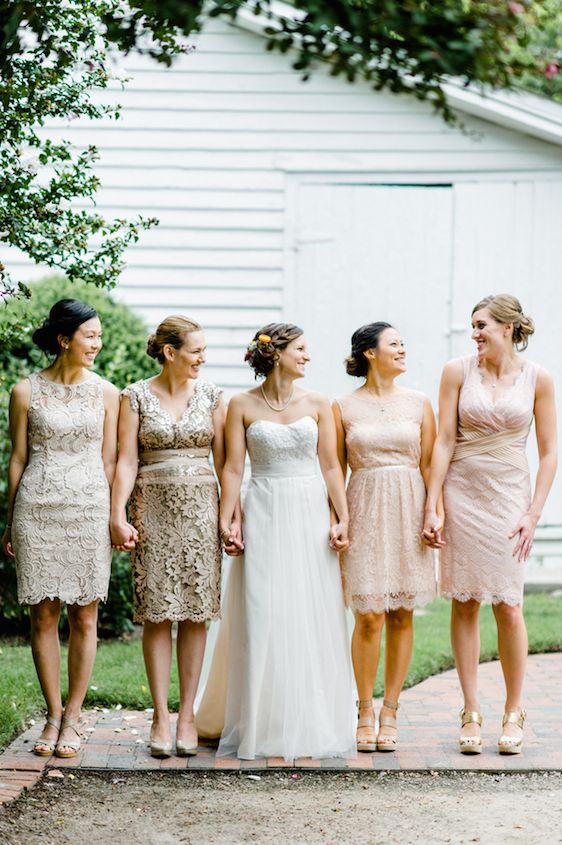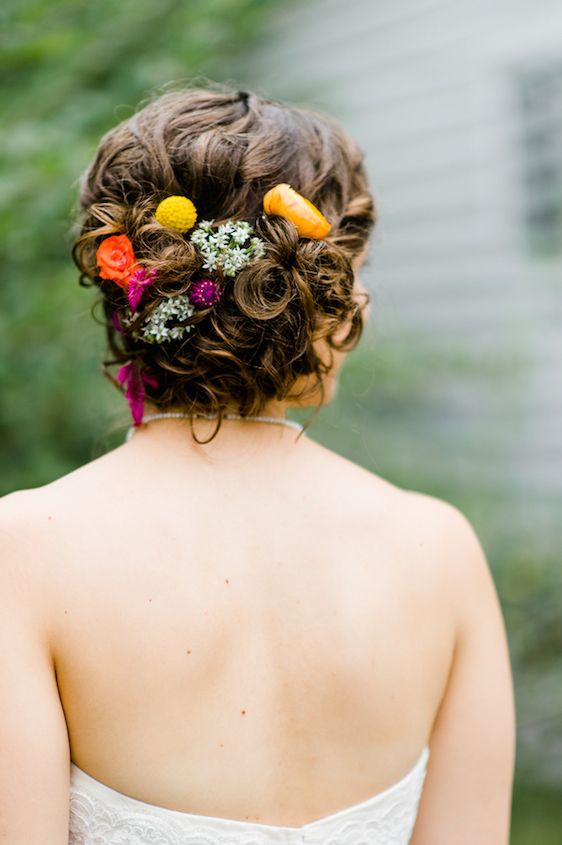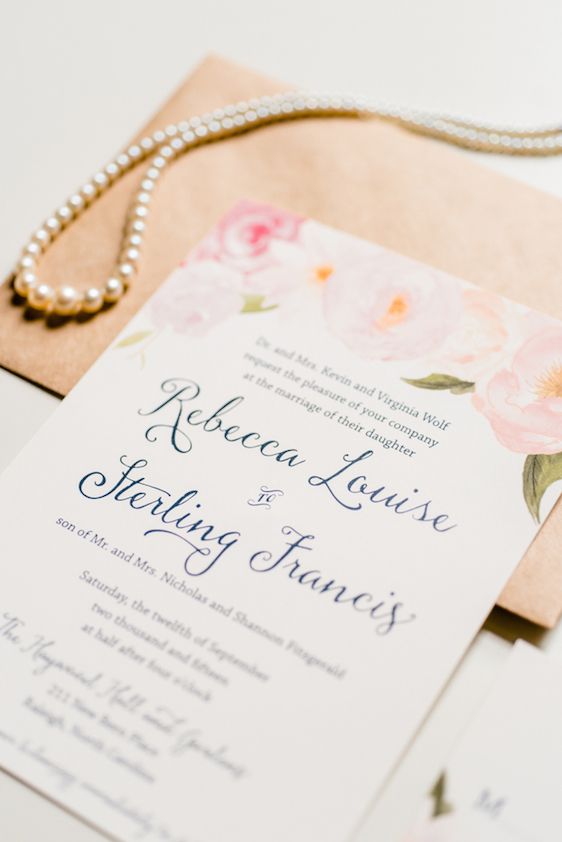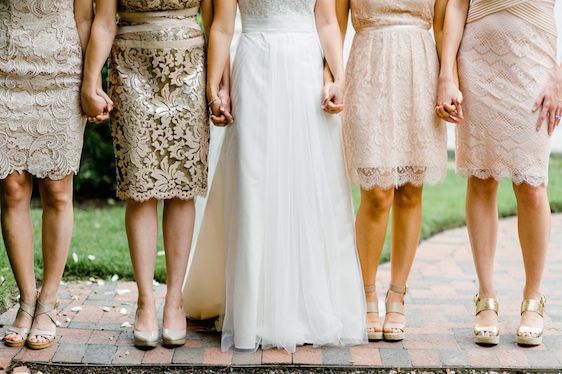 It's this mix of blush and champagne and ivory that really catches my eye...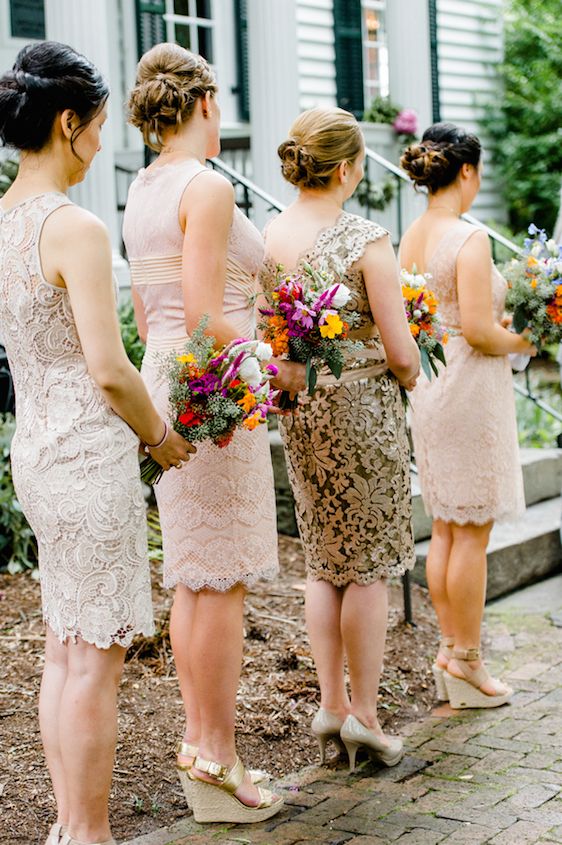 And again, these neutrals make the perfect backdrop for these bright blooms!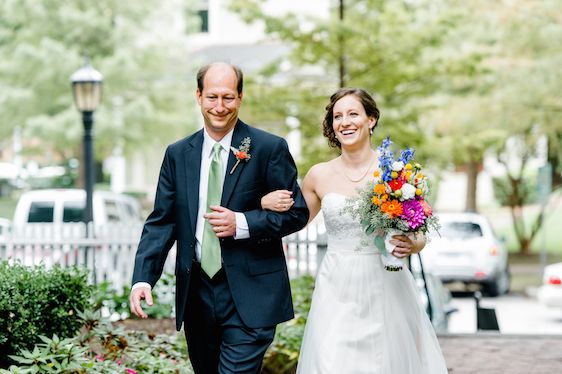 Rebecca and Sterling chose to do a Ring Warming Ceremony. The idea behind this is that each person at the wedding is truly special and integral to couple…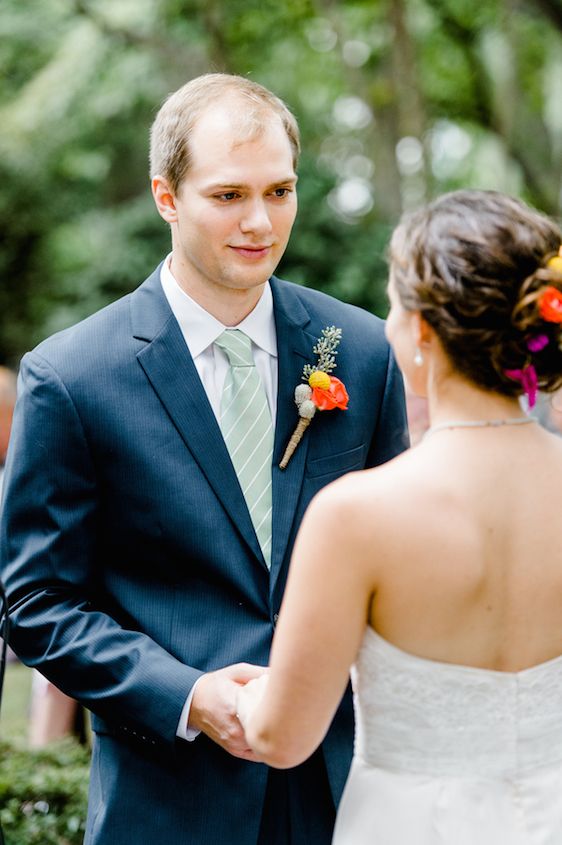 ...and by passing the rings through the crowd, guests and family have a chance to 'warm' them with love, blessings and well-wishes.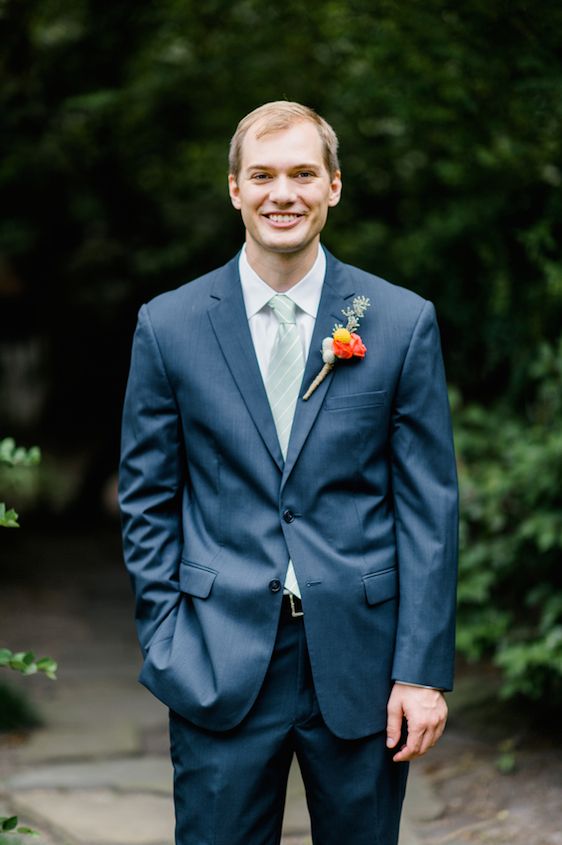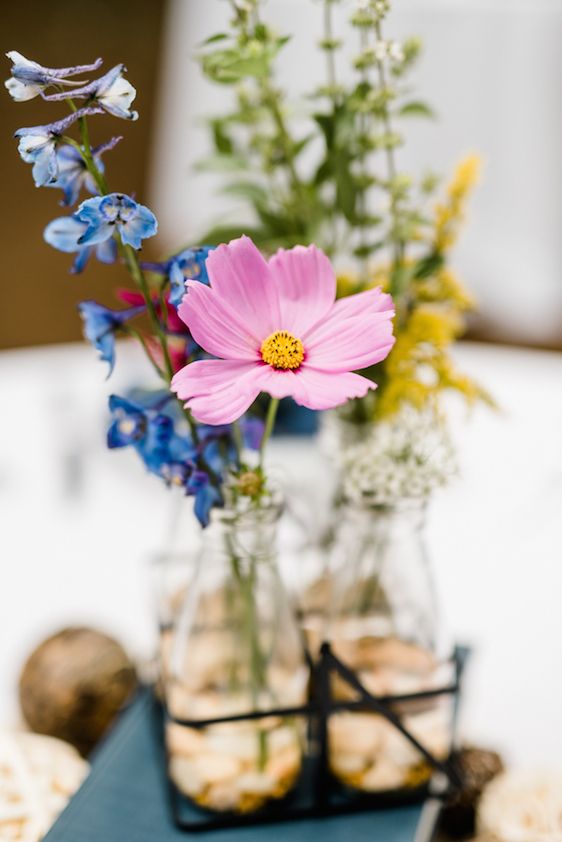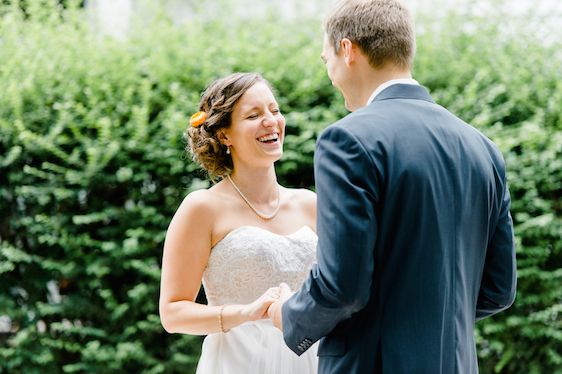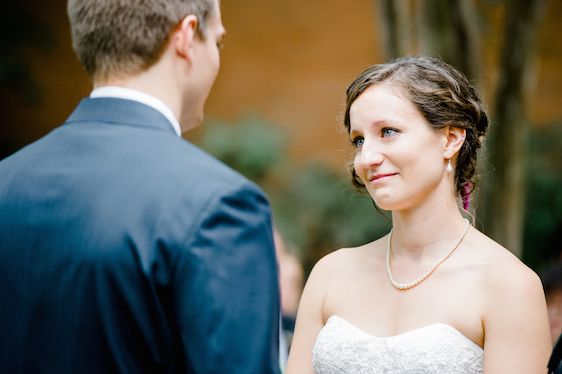 And you can clearly see how much it meant to Rebecca and Sterling!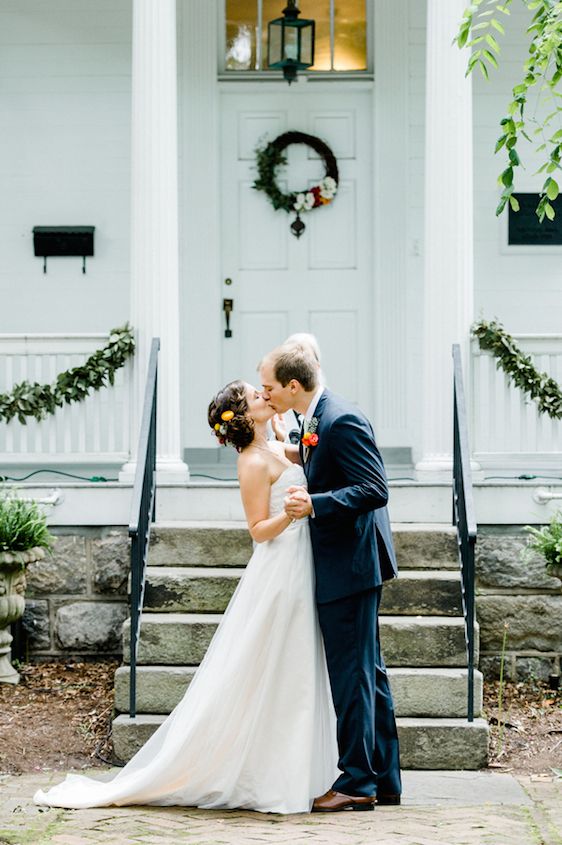 "Just Married," never looked so sweet!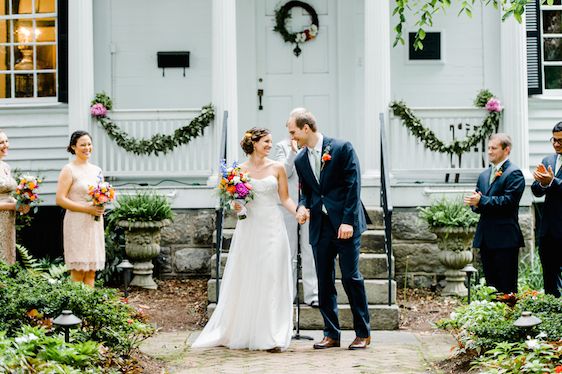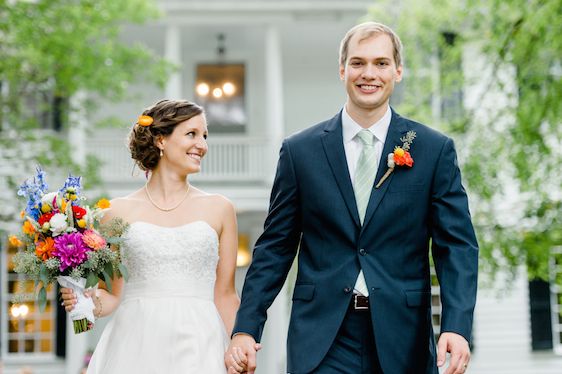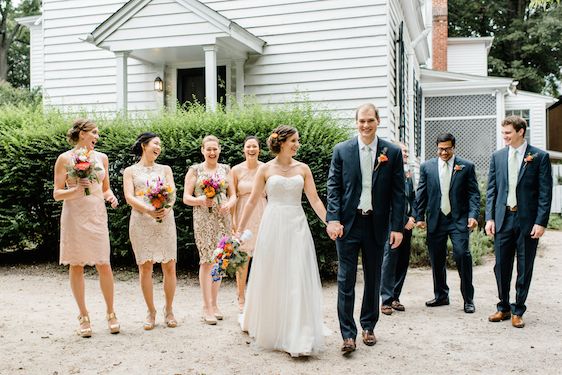 Such a good looking group, if you ask me!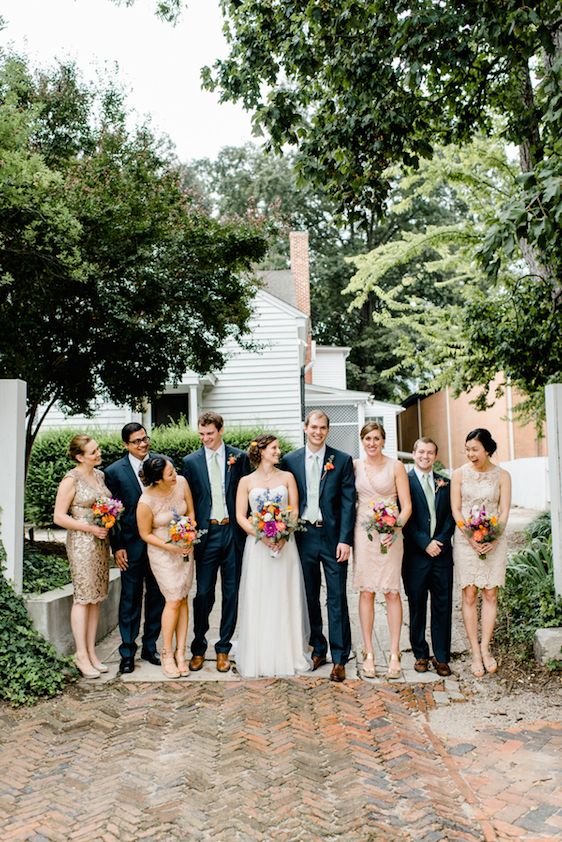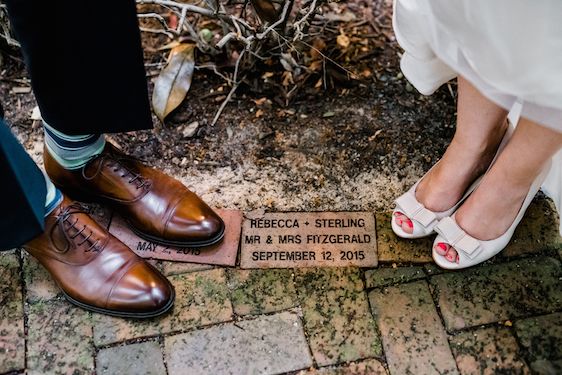 And how cute is this idea? Sweet kisses from the Mr. and Mrs.!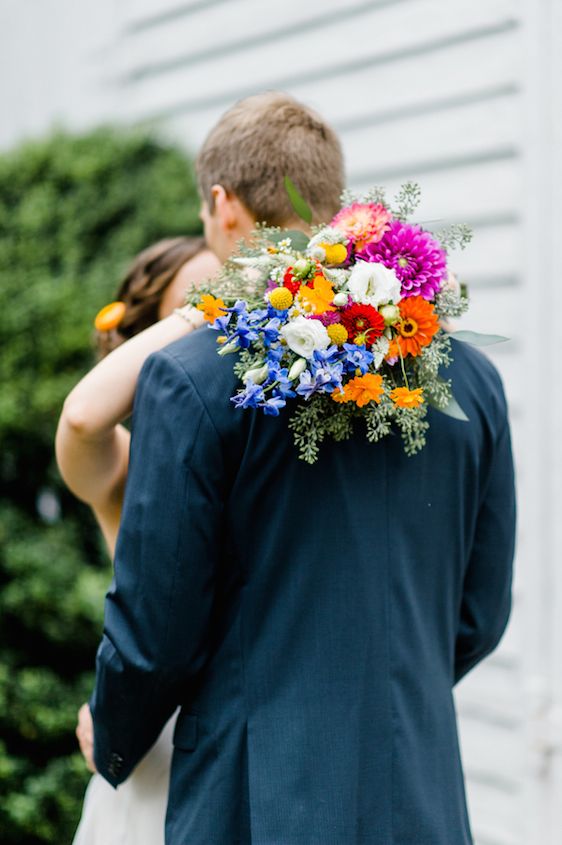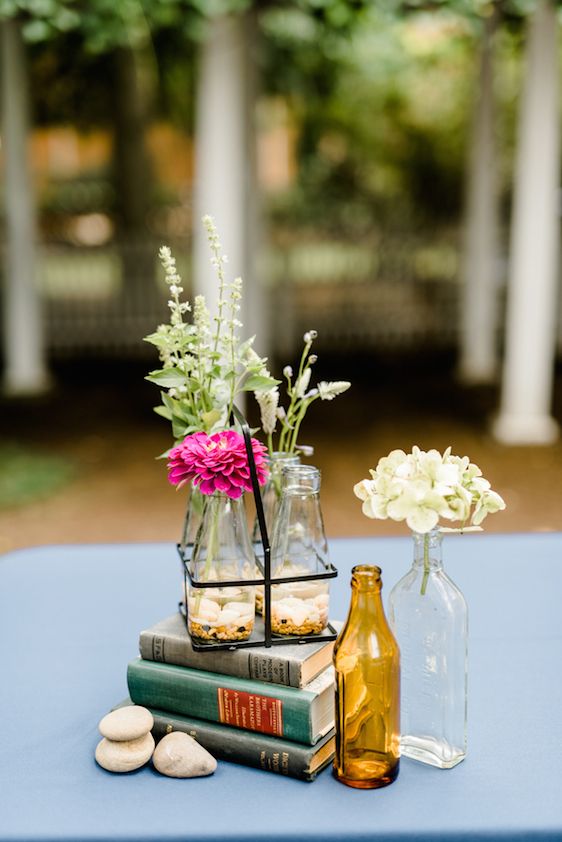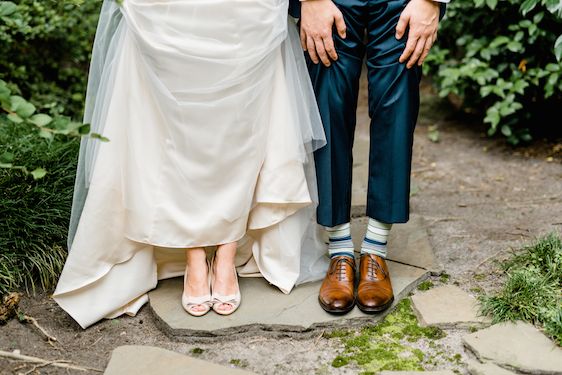 And this gown? Gah, it's just all so romantic!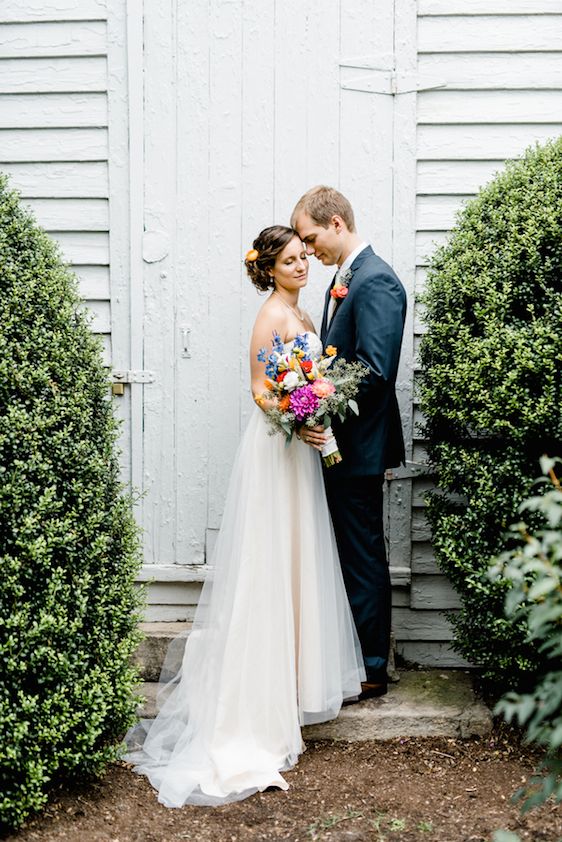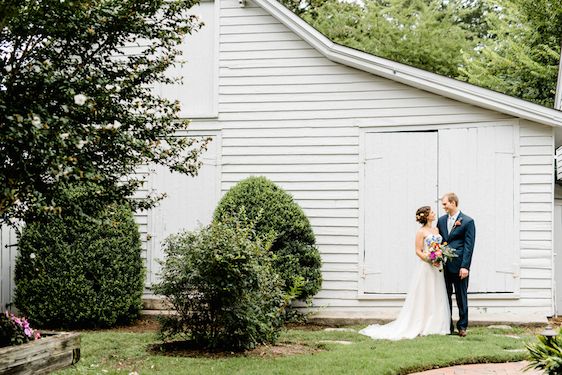 You can just feel the love!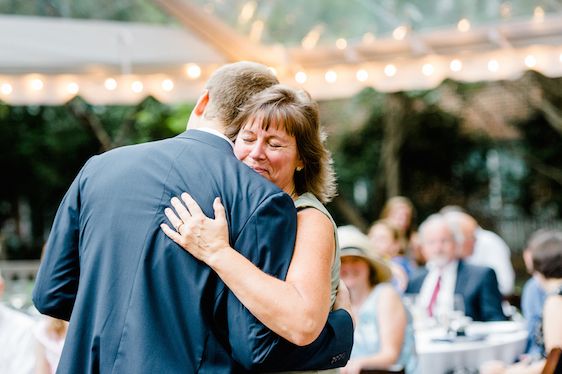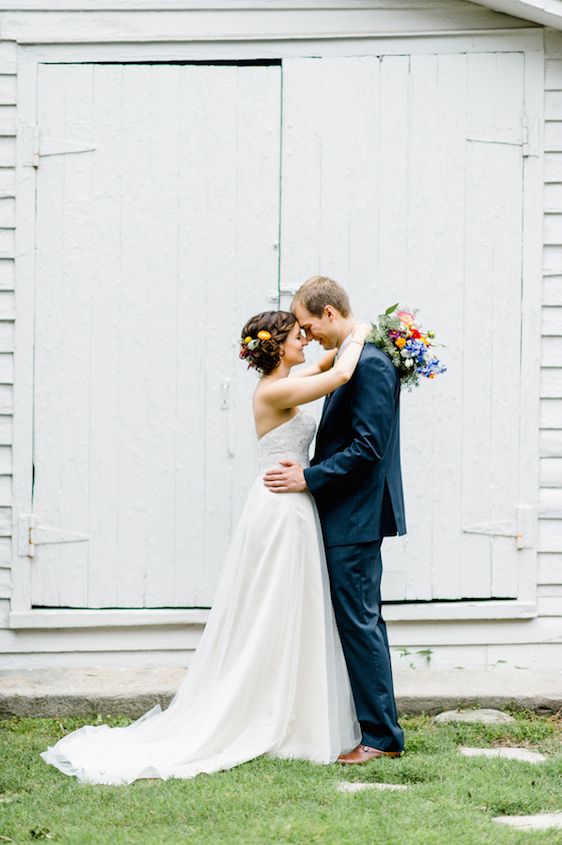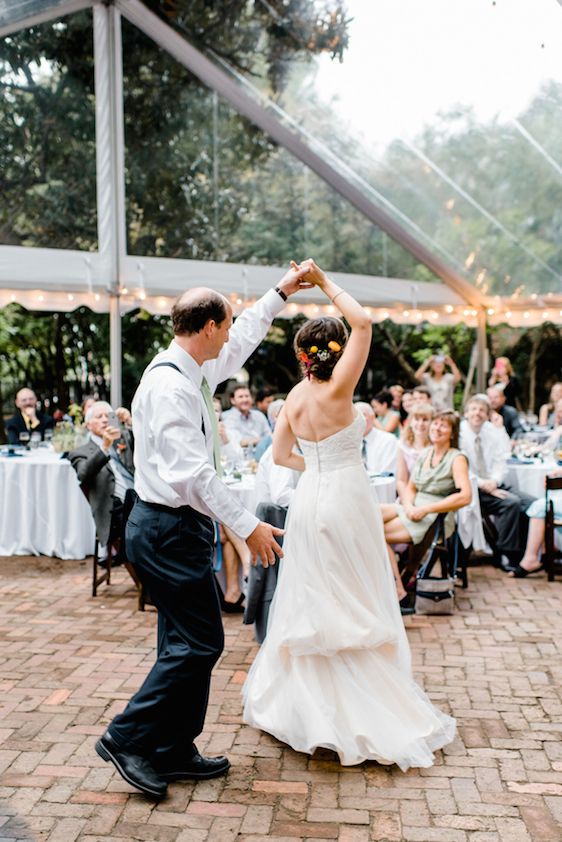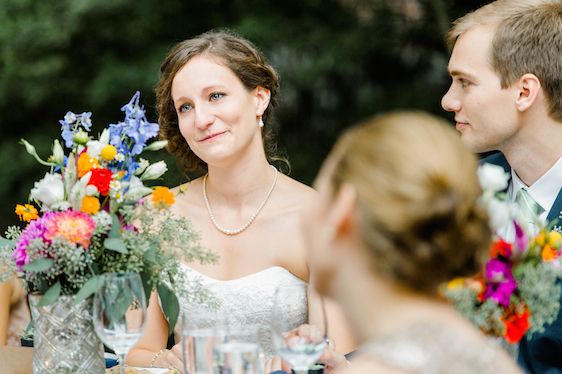 During his toast, Rebecca's Dad told a story about a 4-year-old girl with a big, generous heart and then, voice trembling and tears about to spill, he spoke to the groom: "Sterling, this is the kind of woman you are marrying."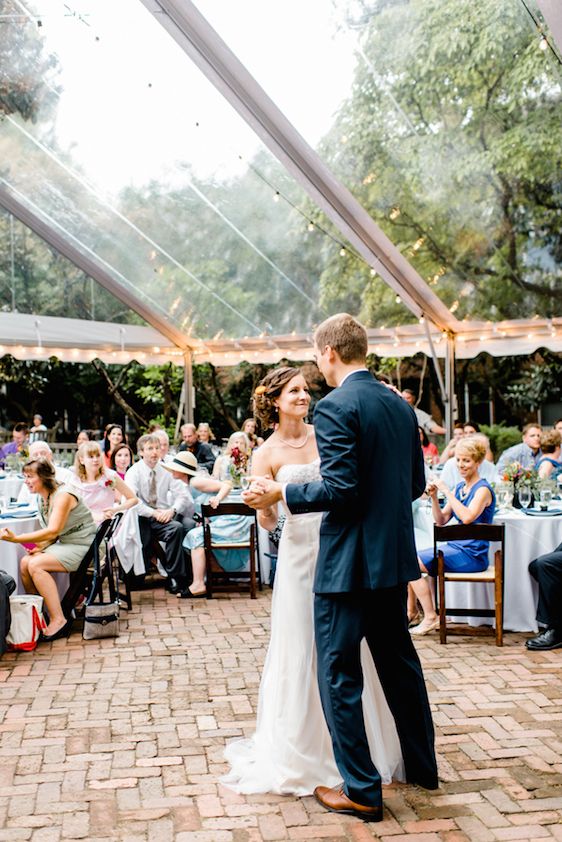 Yay! Cheers to the newlyweds!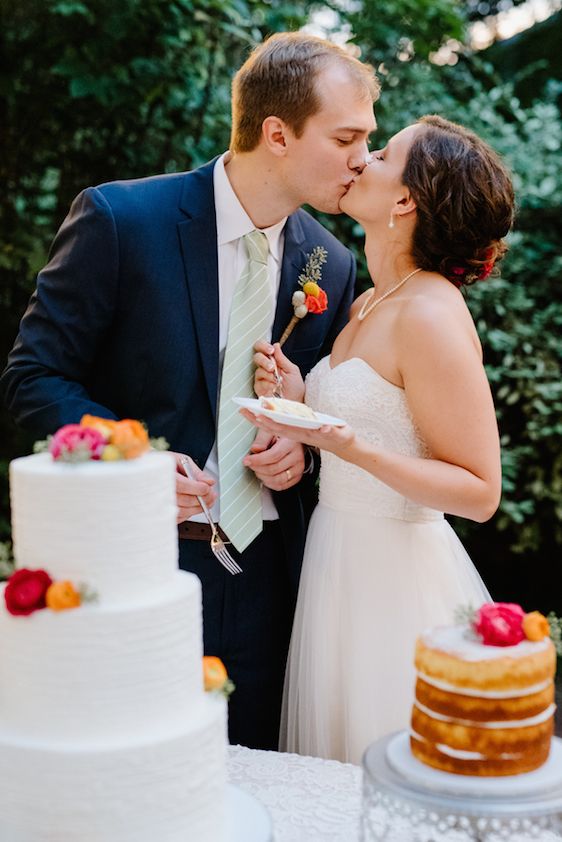 To quote the bride, Rebecca had this to say about Sterling, "He is supportive of my dreams and gives me the space to explore them." And what a rare thing that is to find! With it, I believe Rebecca captured something essential to true love and a happy marriage.
Here's to all the fabulous wedding pros who came together to make Sterling and Rebecca's day a beautiful one! You can really tell that so much heart went into making their dream day come true!
Share This: