Want to know what happens when
Color Pop Events
teams up with
Juli Vaughn Designs
to make wedding magic happen? All kinds of beautiful and wow-worthy moments, that's what!
Whyman Studios
captured it all so beautifully — and oh my goodness! A little insight from the design team, "New York is a city that undoubtedly embraces both 'edgy modern' and 'classic' equally when it comes to esthetics."
Make no mistake about it —
the design world in this city never sleeps! It's constantly updating and pushing forgotten trends aside!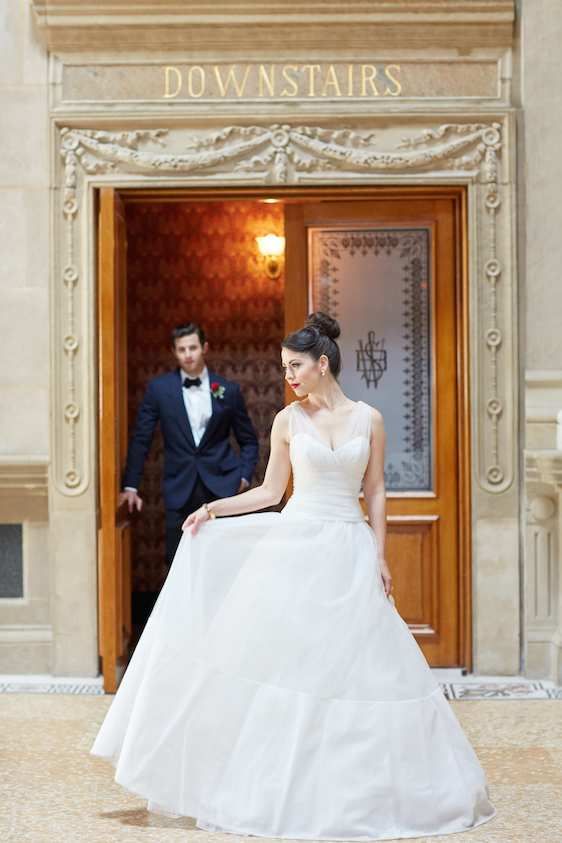 As you might imagine — bridal design houses that can withstand the ebb and flow in this city are few and far between.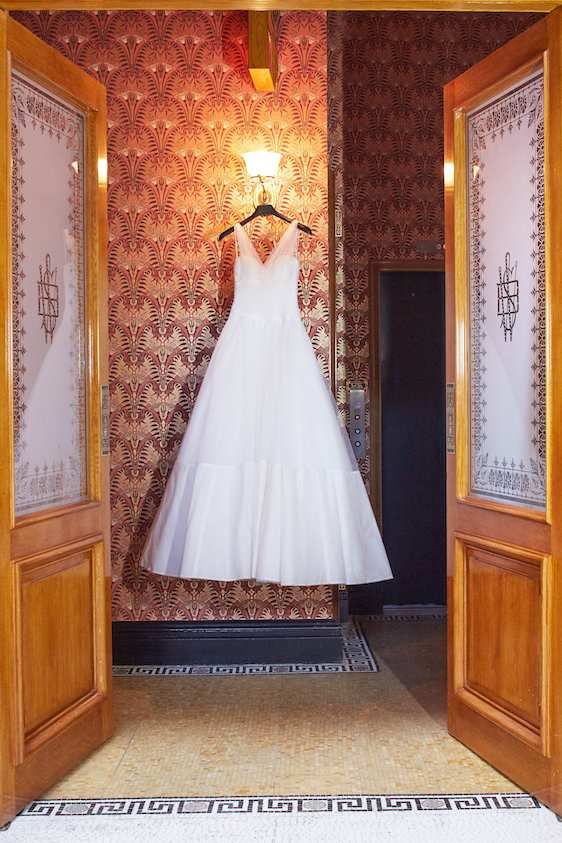 Amsale is one of those rare exceptions that appears fresh with each new collection yet holds onto it's classic design roots year after year.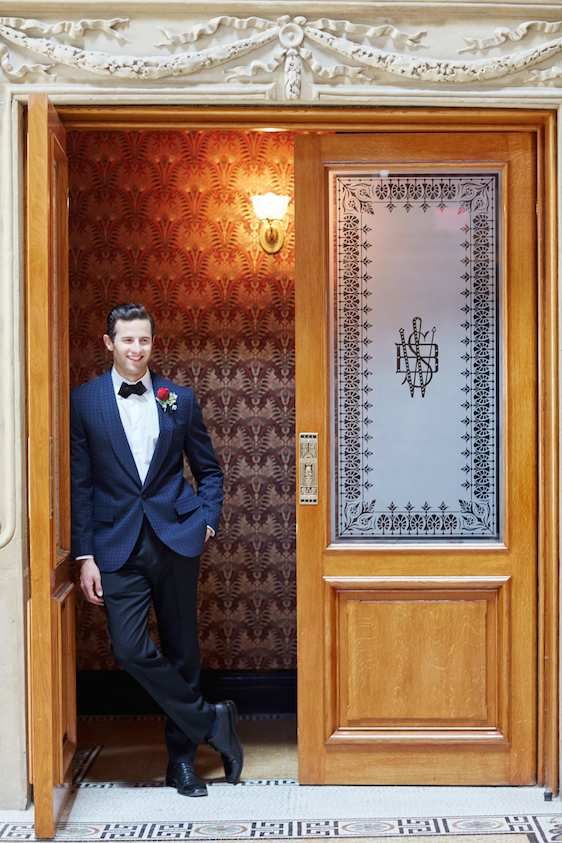 More from the design team, "...and so when coordinating this bridal inspiration shoot, it was important to us to capture this beautiful combination..."
"...of fresh, new design, and classic romantic beauty..."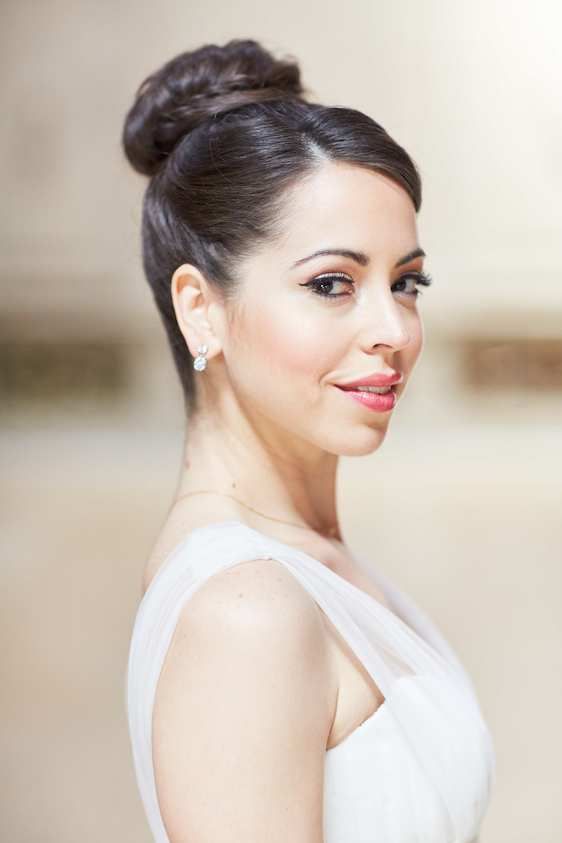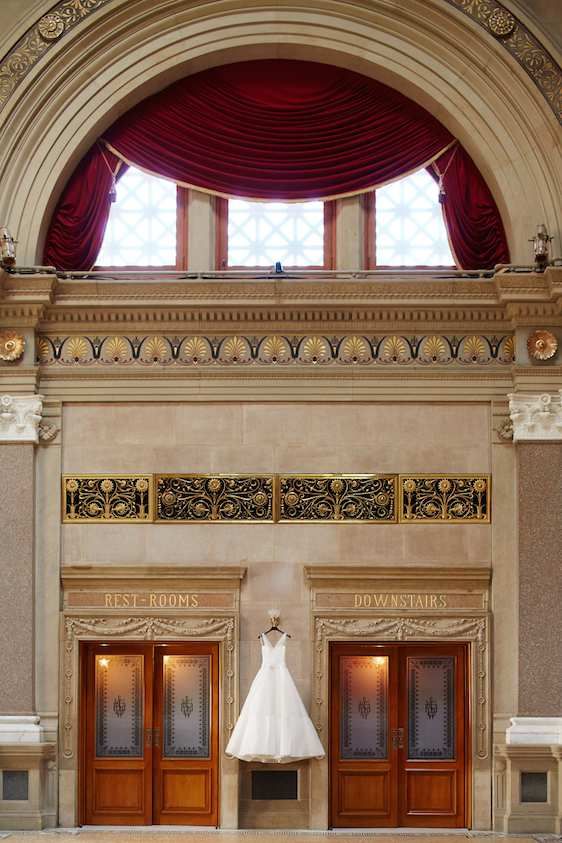 "From the moment we stepped into
Weylin B. Seymour's
for our first site visit, we were utterly taken with the space..."
"...it is a gem of a venue that simultaneously takes you back in time to when the building was a cavernous bank yet is updated with the latest tech baubles...."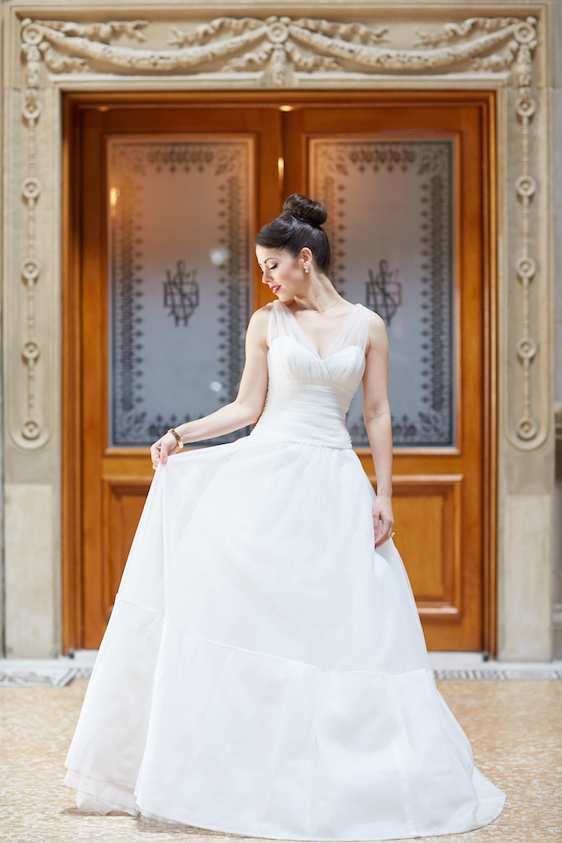 "...from the painted domed ceilings to the original vault details, it is breathtaking...."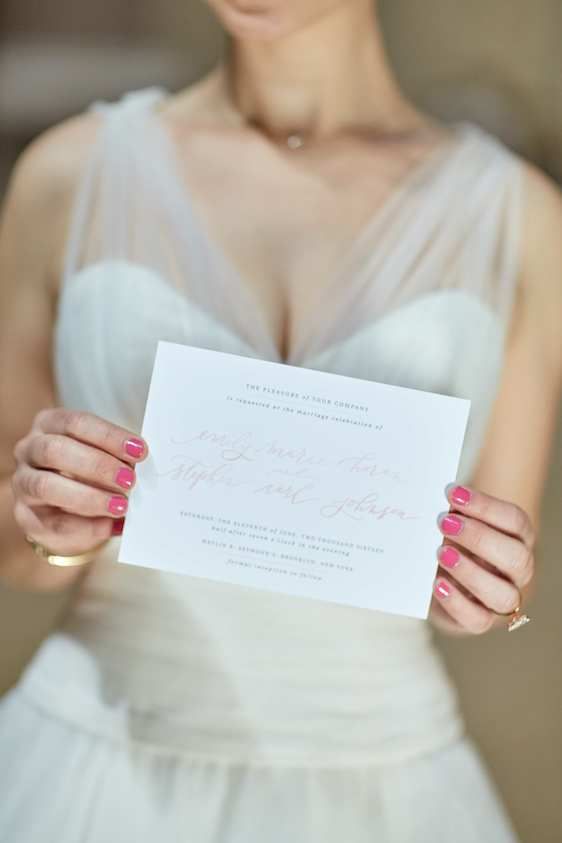 "...this shoot was designed starting with the wintery color palette found in the towering dome of ice blues, amber shades, and deep reds..."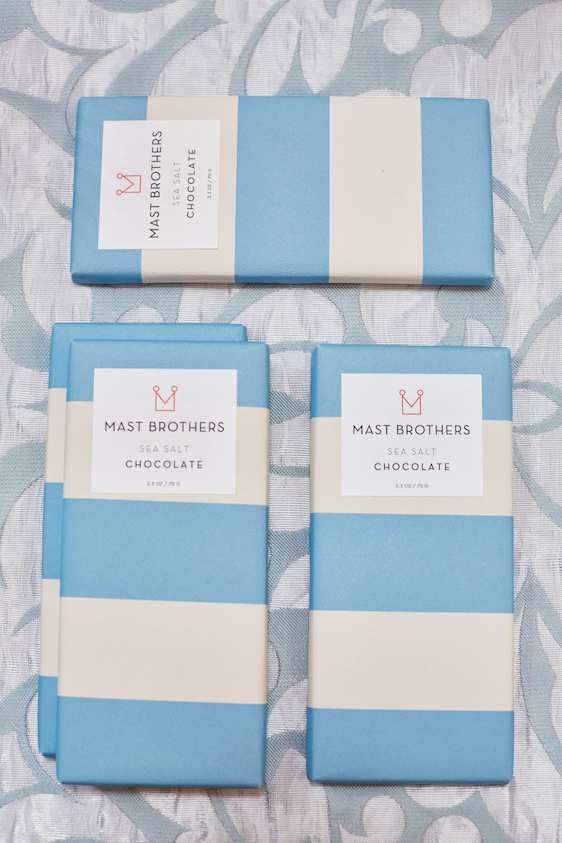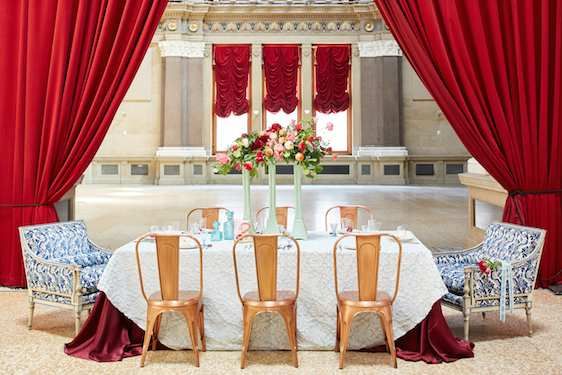 "...we also took a cue from all of the subtle details at the venue and made sure to have small details of our own; like the "something blue" heels worn by the bride..."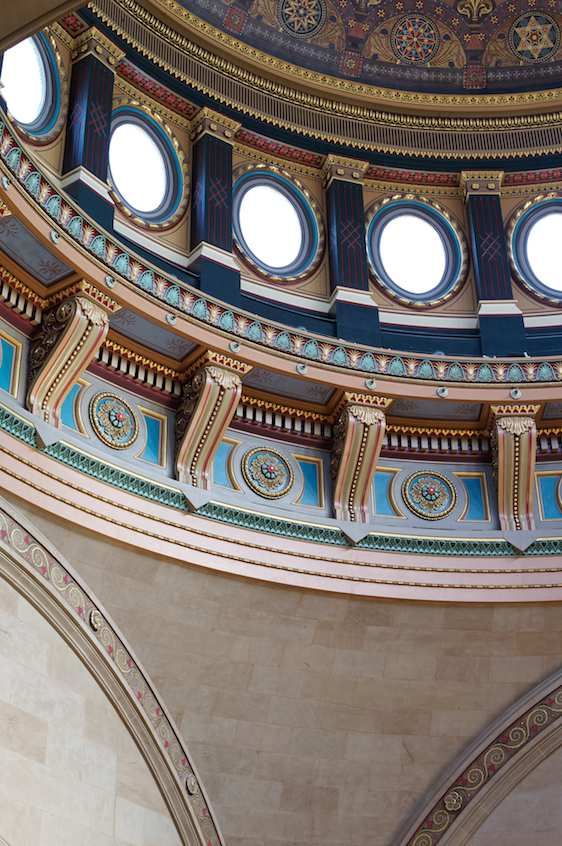 "...we even incorporated a whimsical ice cream sundae in coordinating colors..."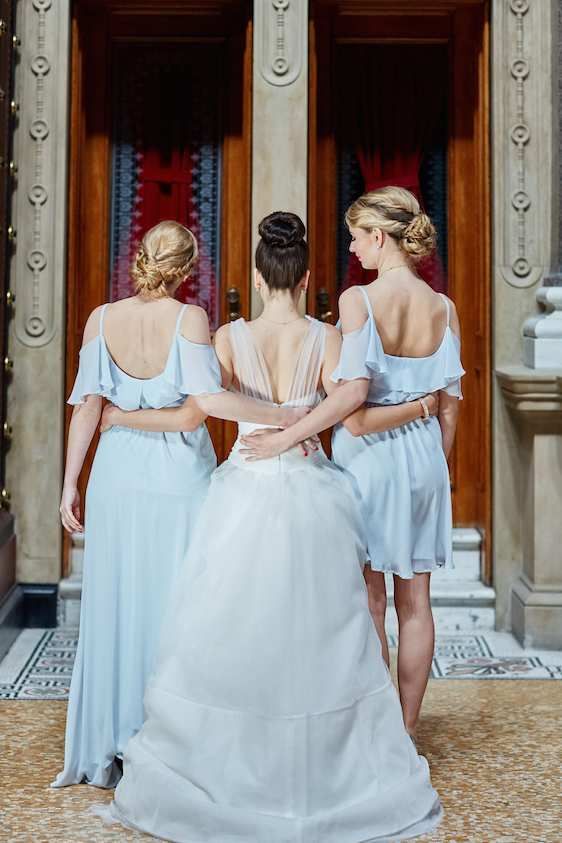 "...however, our favorite element, by far, had to be the "Soho" gown by Amsale."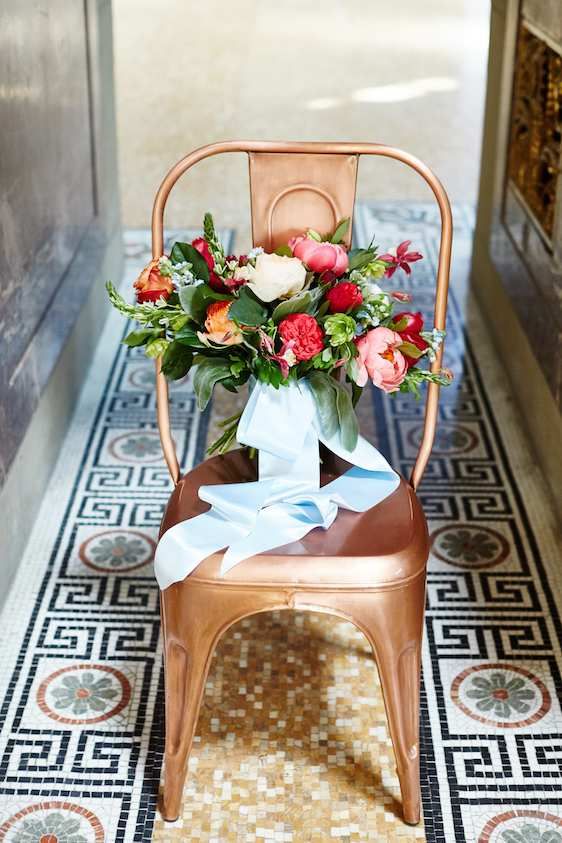 Isn't this gown a beauty? And these blooms? Peonies are my all time favorite!
A wide satin ribbon in robin's egg blue was used on the bridal bouquet...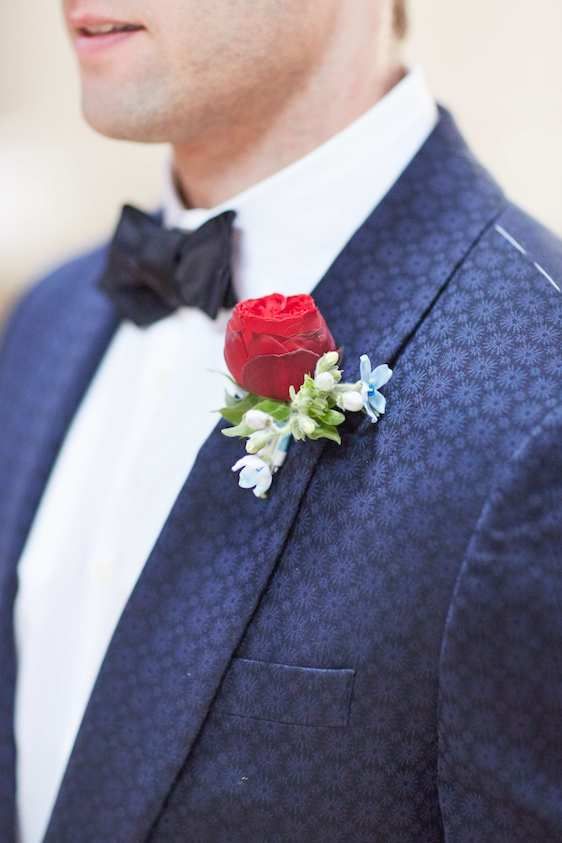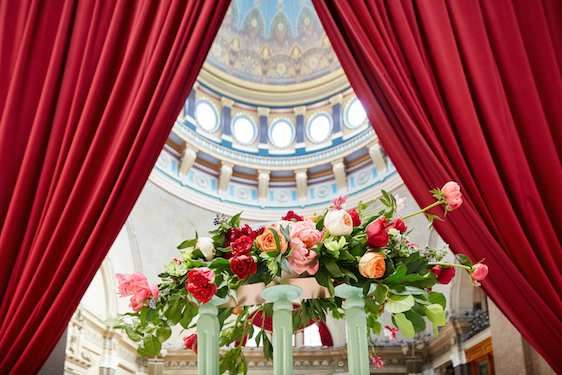 ...and coordinating blues were used throughout as seen on the linens by Nuage Designs.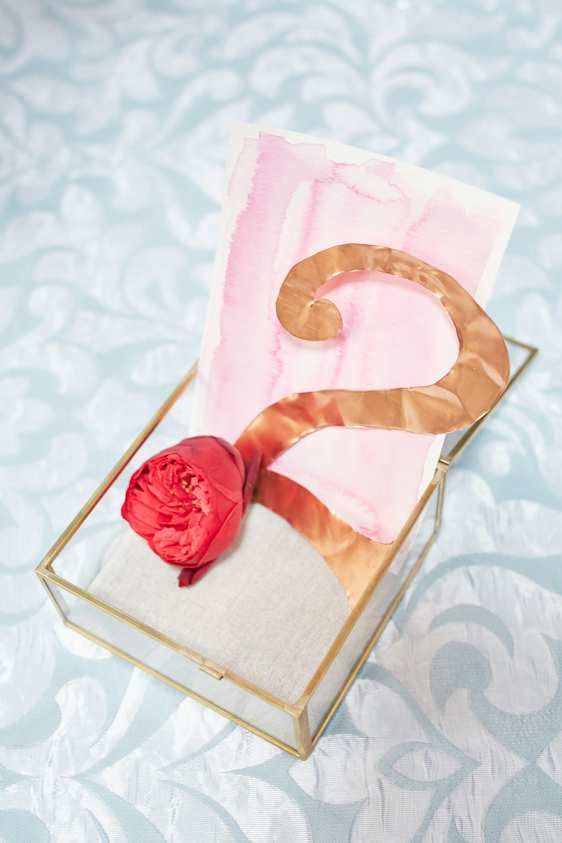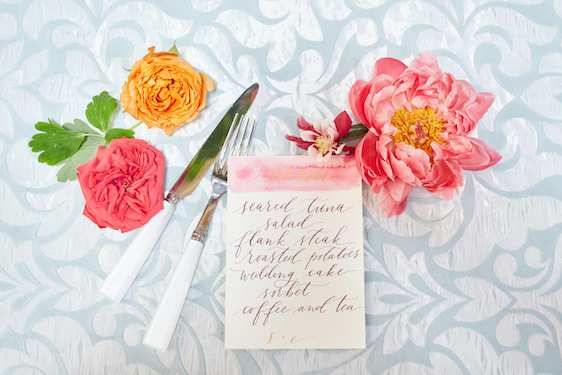 This mix of bold color with softer shades and metallics really is quite eye catching...
...and can we just talk about this place setting? And these copper chairs?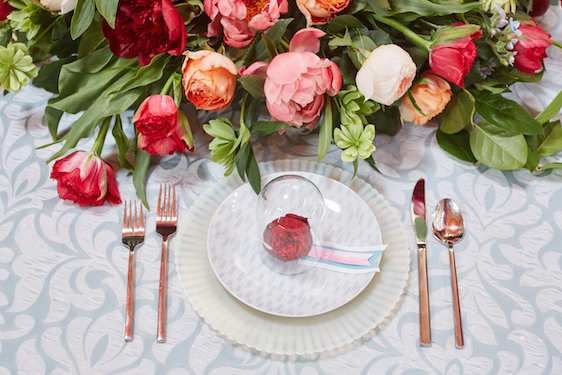 Stationery by Sincerely, Jackie was elegant, and sophisticated, and absolutely sweet...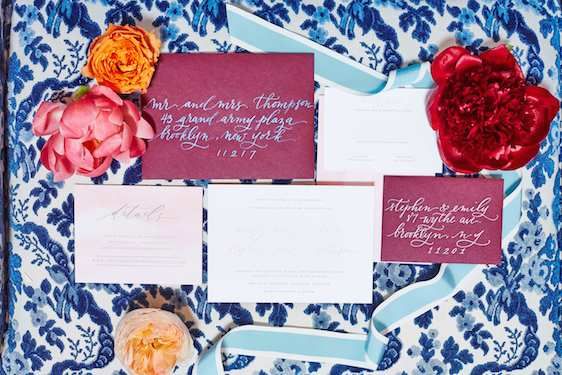 And again these blooms by Juli Vaughn Designs? Be still my heart!
Plus there's just no denying my love for these pretty patterns throughout.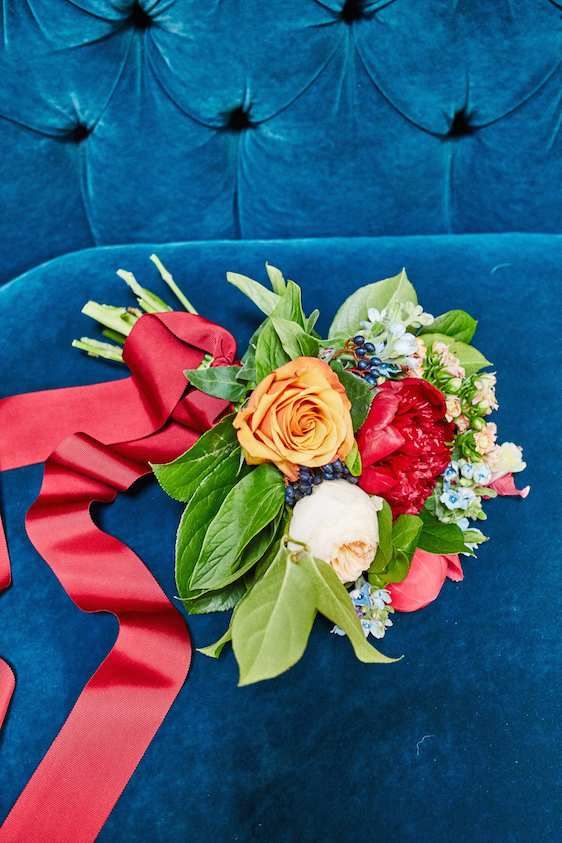 Oh, to be a guest at this wedding!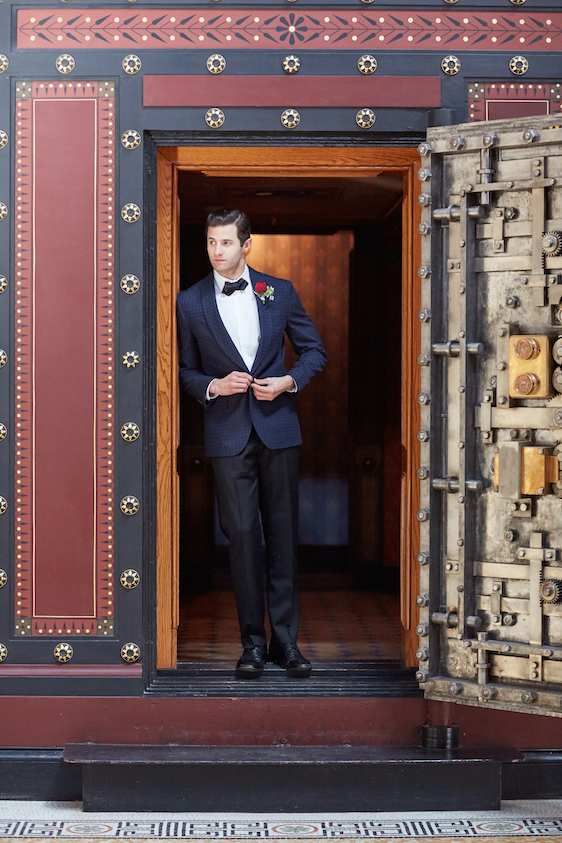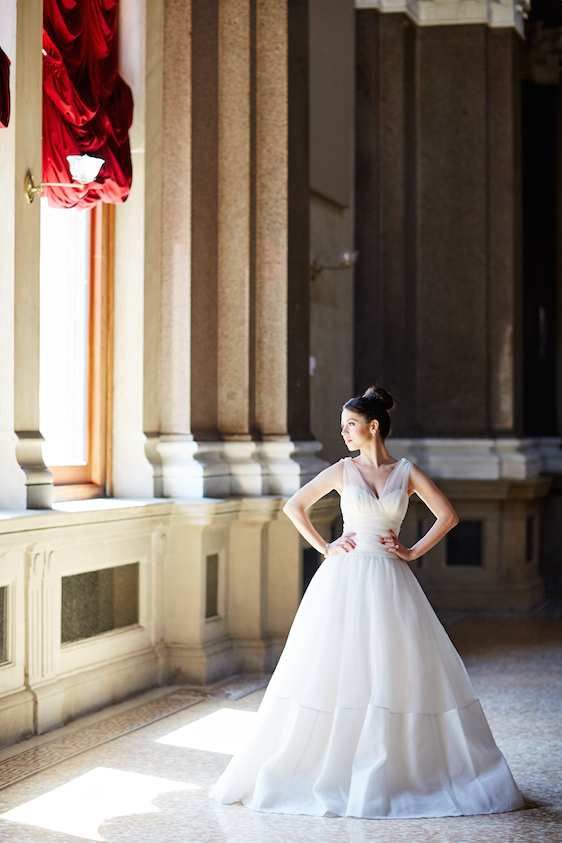 Nine Cakes (one of my all time faves) really outdid themselves with this beauty!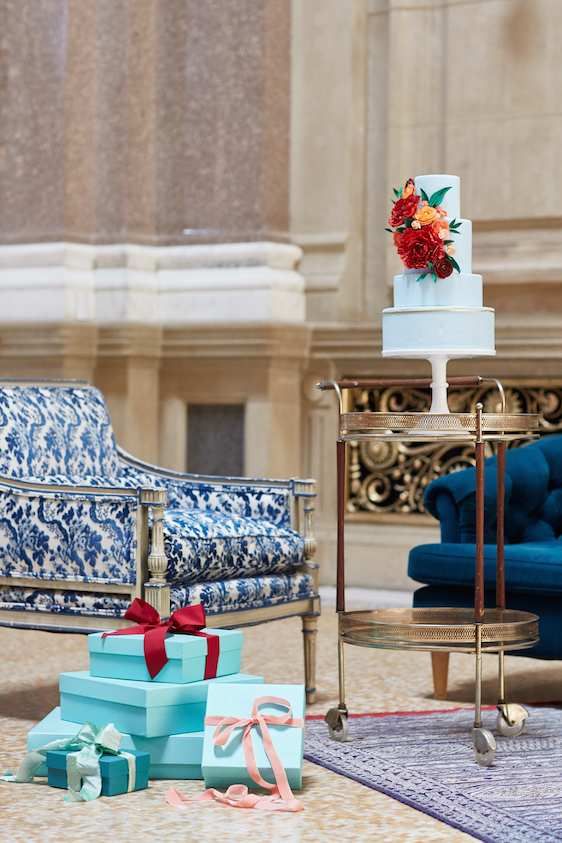 And I can't go without mentioning my adoration for this ceremony set up!
Striped fabric was mixed with florals, cascading ribbons, and copper piping...
And what a bold and beautiful statement it made!
Meanwhile... can we talk about how dapper our groom is looking here in j.crew?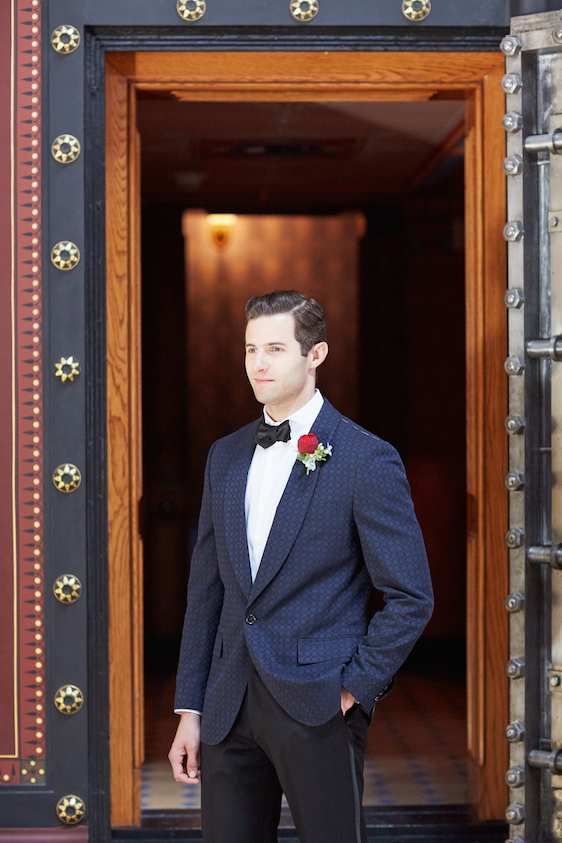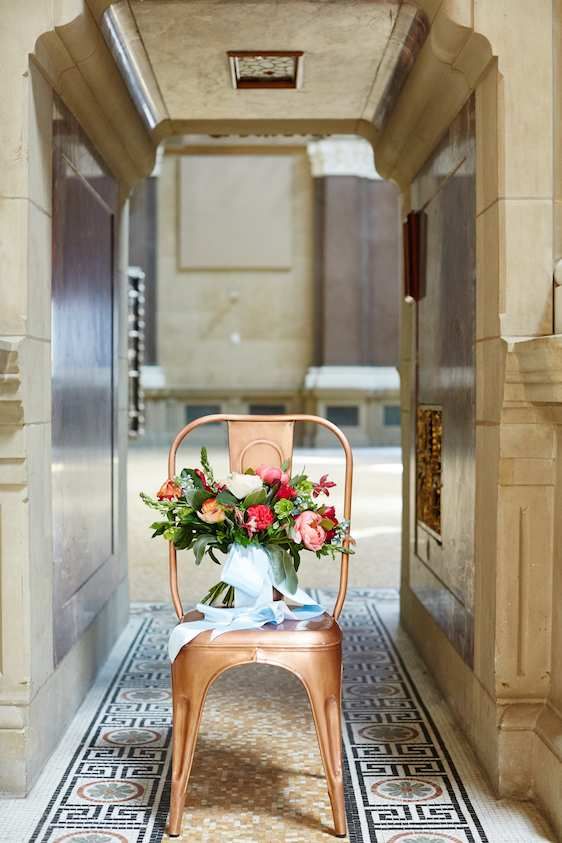 ...And what's not to love about this bridal style?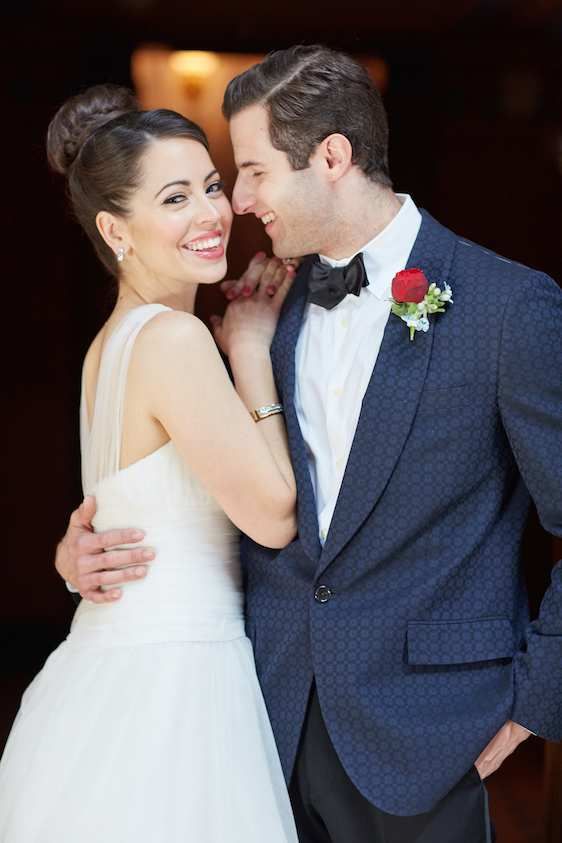 Susie Saltzman and Confetti by Annette provided the loveliest of jewels!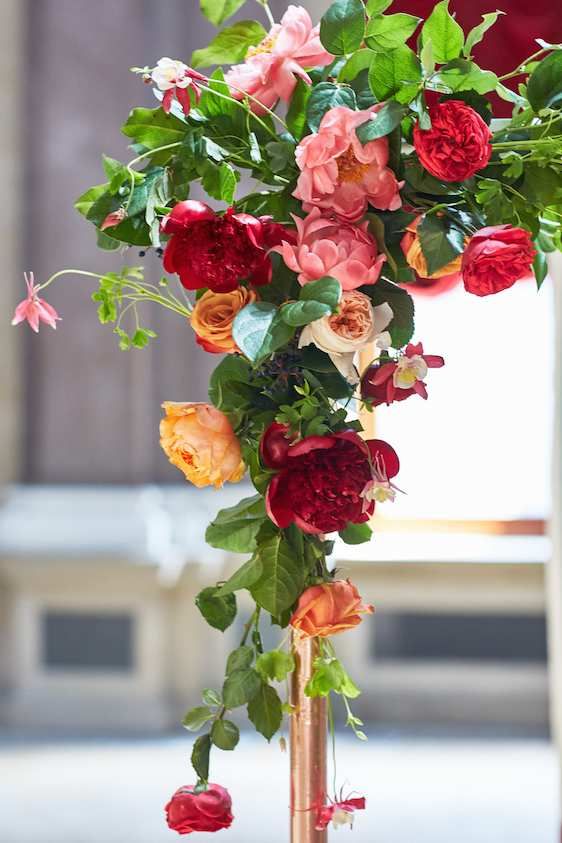 So much to love about this dreamy editorial... Wouldn't you agree?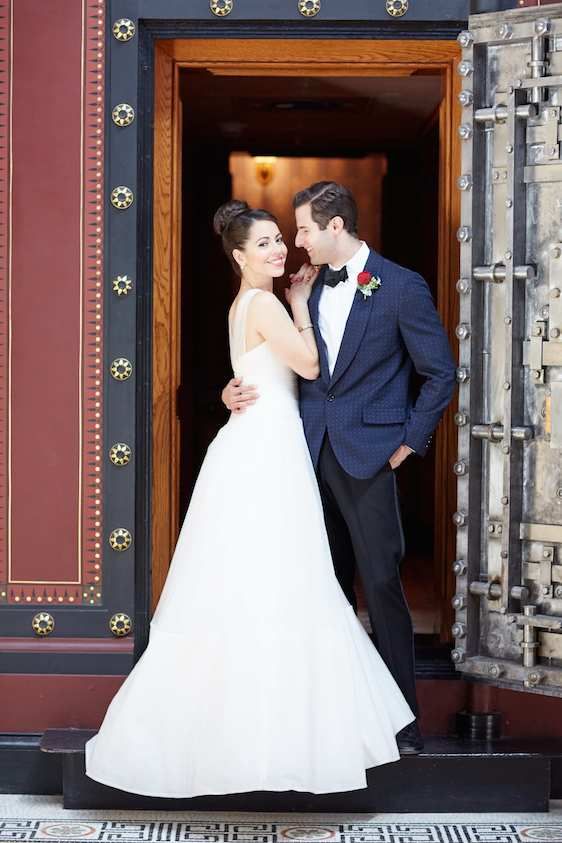 Juli Vaughn Designs and Color Pop Events really outdid themselves with the design! And lucky for us Whyman Studios was there to capture it all — and capture it they did! So beautiful, so elegant, so absolutely classic!
And this gown by Amsale? From what I've been told — there were actual gasps when the bride first stepped out of her dressing room and twirled — and I can see why!
It was an exquisite marrying of classic elegance and modern whimsy and New York City was the perfect place to make it happen! Lots of love to
all
the pros who came together to make this wedding inspiration come to life!
Color Pop Events
is a member of our guide
.
C

lick here to see how to become a member
Share This: