With a winter palette of snow white, gorgeous green, and vibrant berry, today's frosty wedding editorial captured by
Jenna Saint Martin Photo
and with floral design by
Bramble Floral Design
is absolutely breathtaking.
From the team, "For this editorial, we wanted to inspire brides to creatively rethink wedding gowns and bridesmaid dresses for winter weddings. Our aim was to show a bride-to-be that her gown can take on a magical, seasonal vibe just by making some wintery styling choices."
"We also wanted to encourage brides to use the natural elements surrounding them—items like evergreen sprigs, tree moss, birch bark, winter berries and found feathers—to achieve a truly special custom winter look."
Let's take a peek at this first bridal look in this series of four, shall we? It features a wedding gown and accessories by
The Nature of Isa
.
More to come. So stay tuned...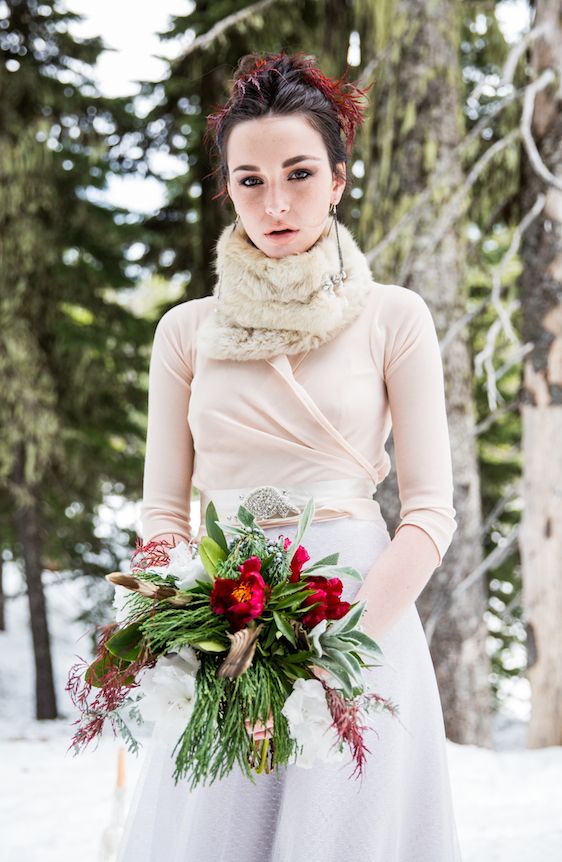 Isa's most versatile wedding gown is seen here paired with a knitted silk wrap and a cream fur collar with pearl details. So absolutely beautiful, if you ask me!
From the design team, "we wanted to depict decorative elements that any bride could borrow from, even if she's on a tight budget."
Allison from
Bramble Floral Design
created the stunning headpieces and bouquets using a combination of found winter foliage and traditionally-sourced materials.
These included juniper berries, dogwood, Japanese maple, dusty miller, red peony, chocolate eucalyptus, lamb's ear, and owl and hawk feathers.
Allison also utilized some plants Oregon is known for, like rhododendron and azalea, which added an impactful dose of native color.
These non-traditional elements combined to form lovely organic-looking arrangements that you're unlikely to see in the average florist's shop.
Bouquet wraps were created using birch bark or Pendelton wool, also sourced from Oregon...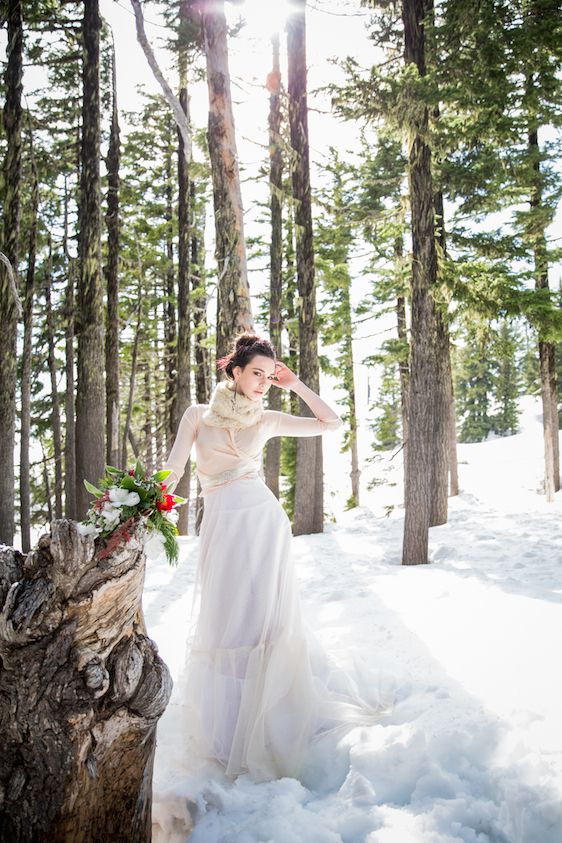 ... meanwhile sea-salt-caramel and chocolate macaroons continued the color theme.
From the design team, "To incorporate color we used marble-topped tables, green glass, vintage pewter containers, birch stands, antique burgundy velvet, and dusty mauve ribbon..."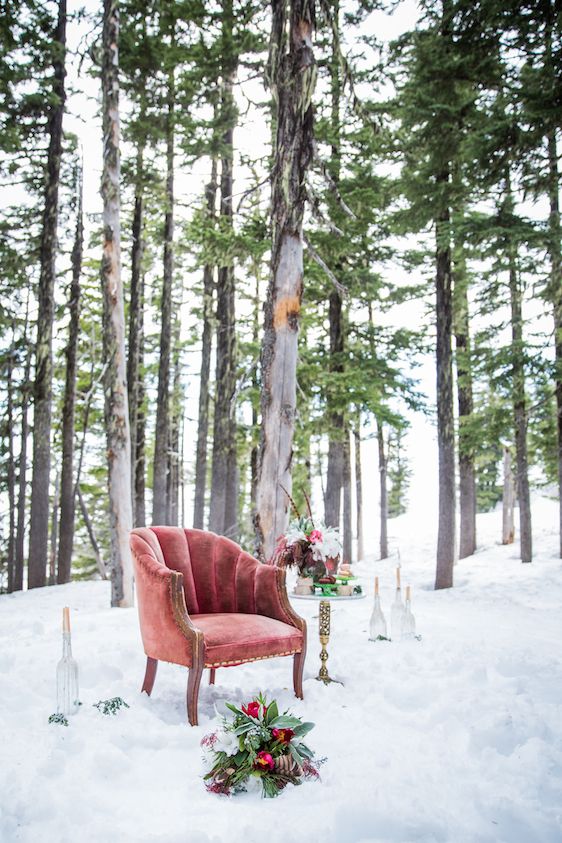 "...Meanwhile brass candlesticks and drippy candles in wine bottles added a touch of romance to the scene."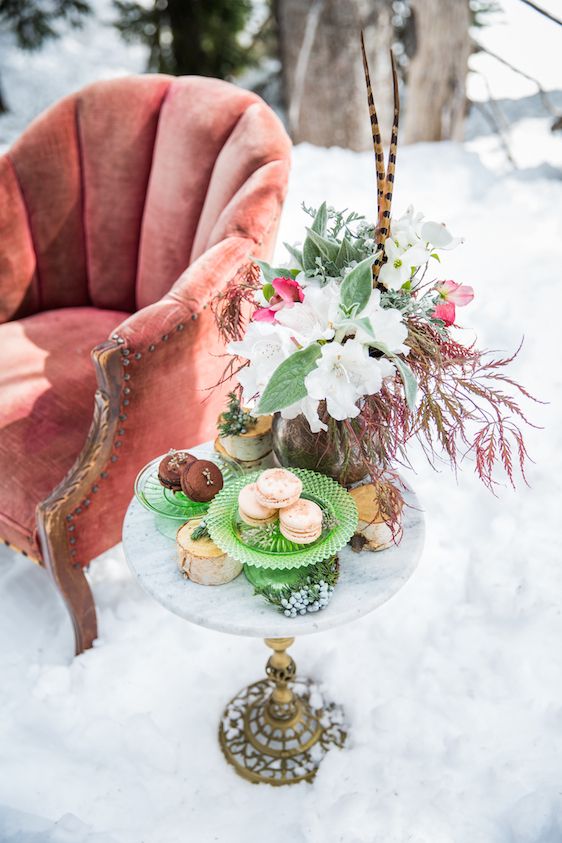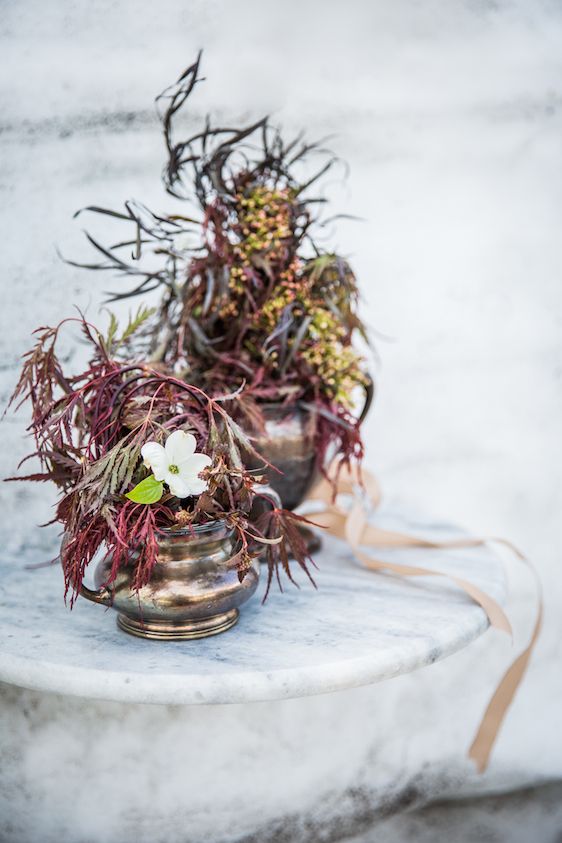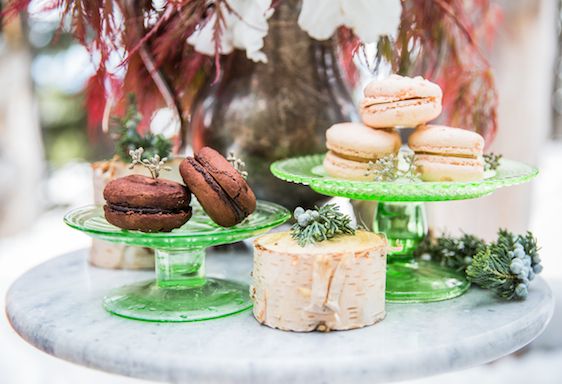 Sprigs of juniper berries served as accents throughout.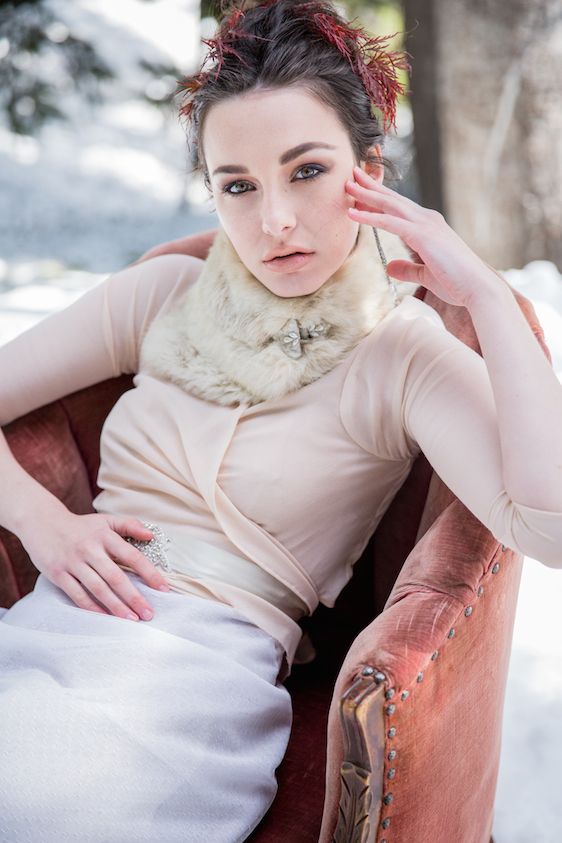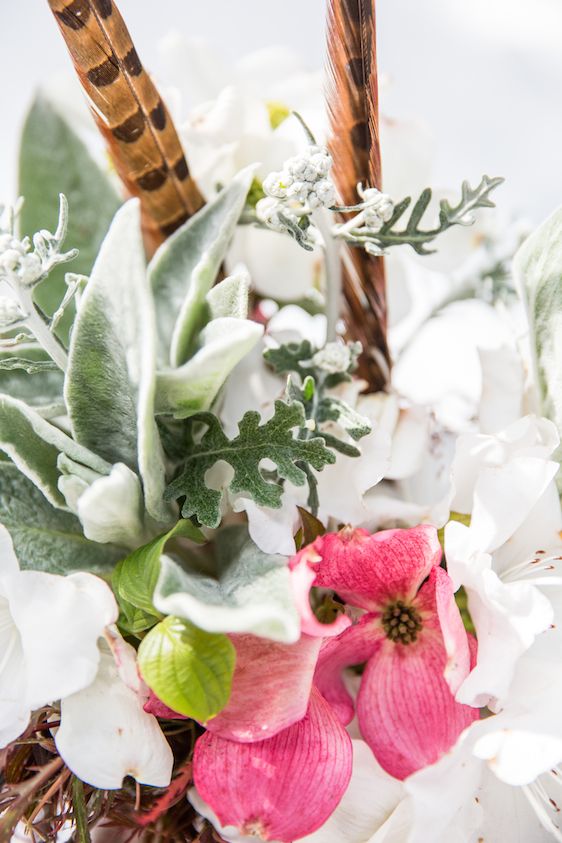 And what winter bride doesn't need a pair of snow boots to wear under her dress?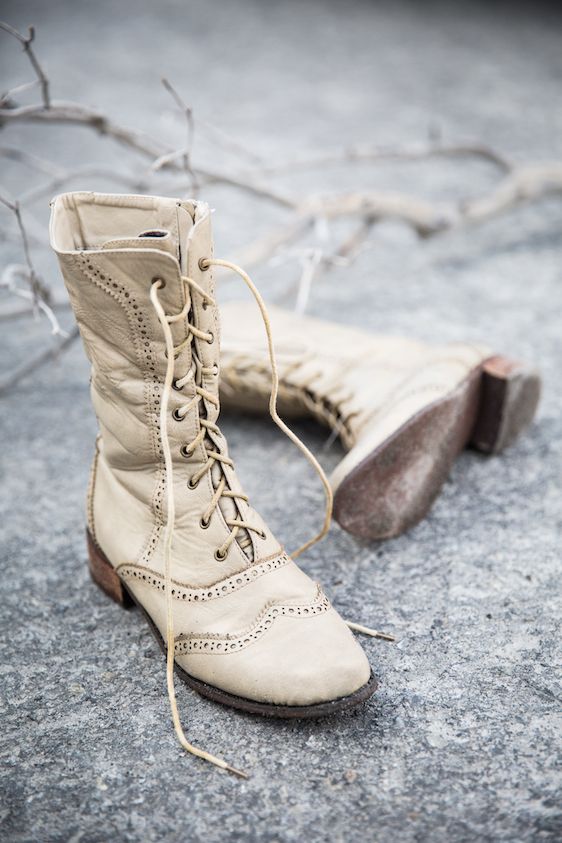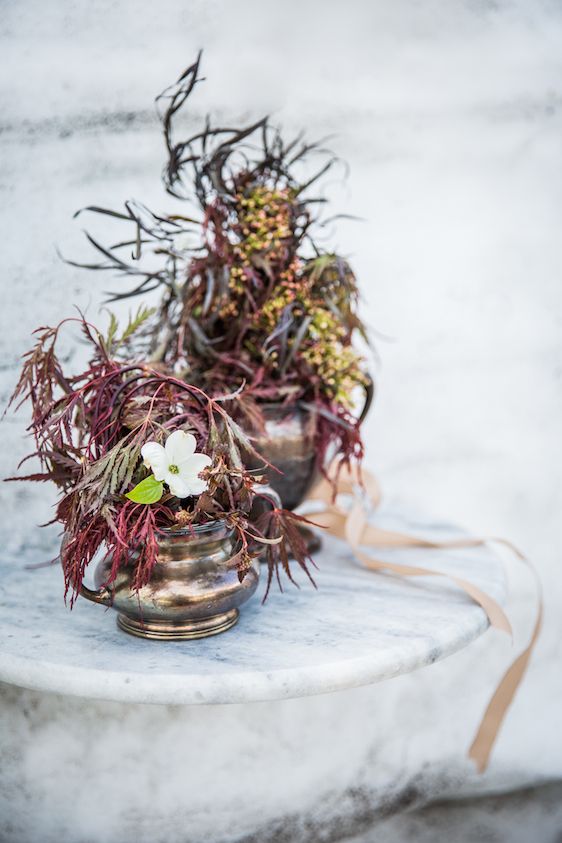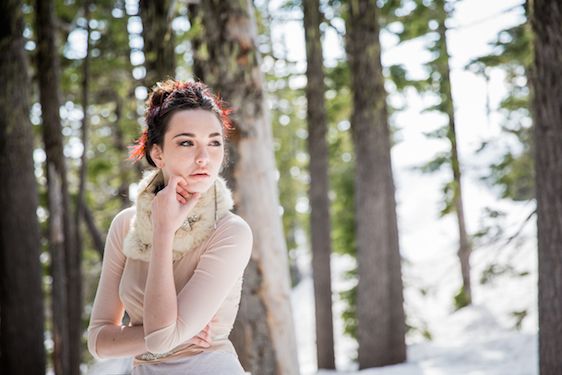 It's a look that exudes a certain edginess, a certain romance, and a certain uniqueness...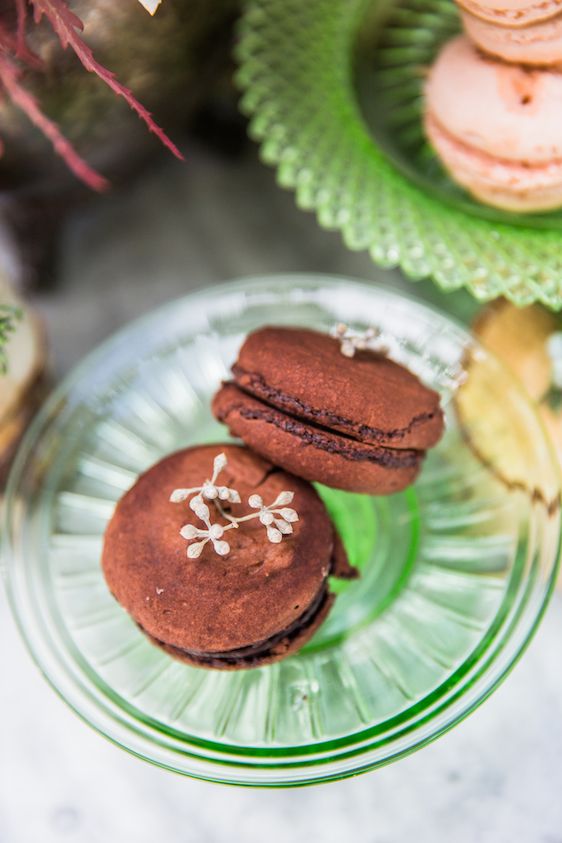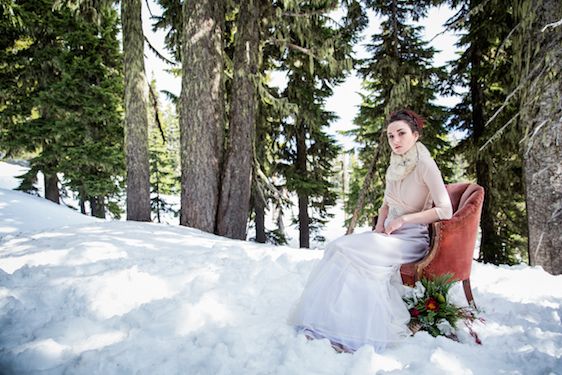 And it's clearly a look that I'd love to see more of...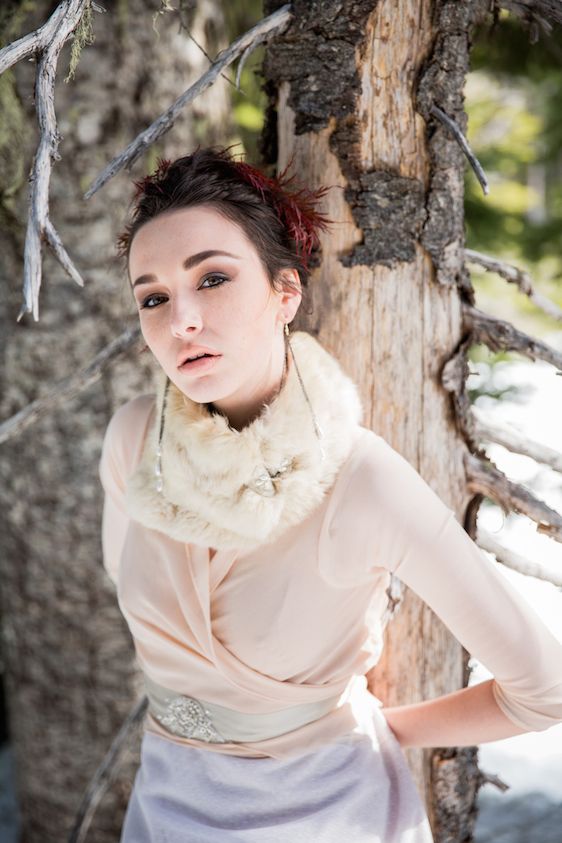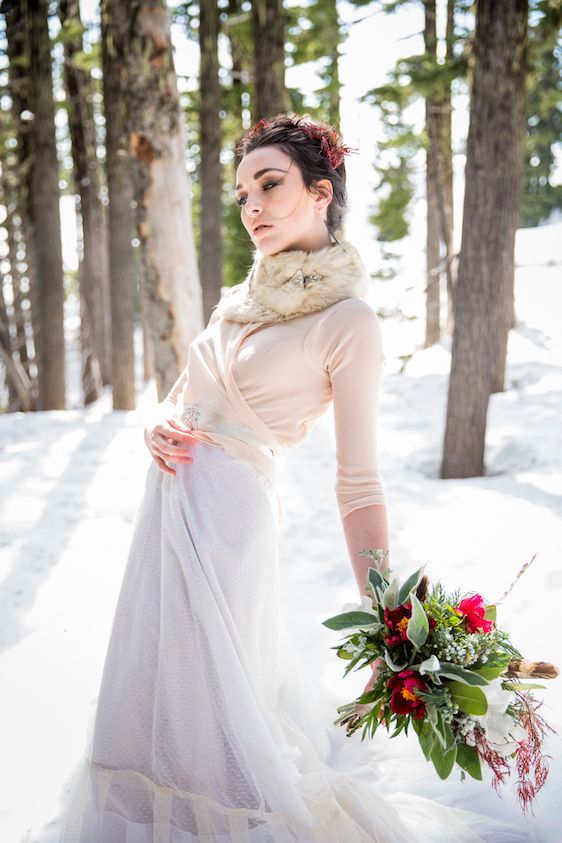 \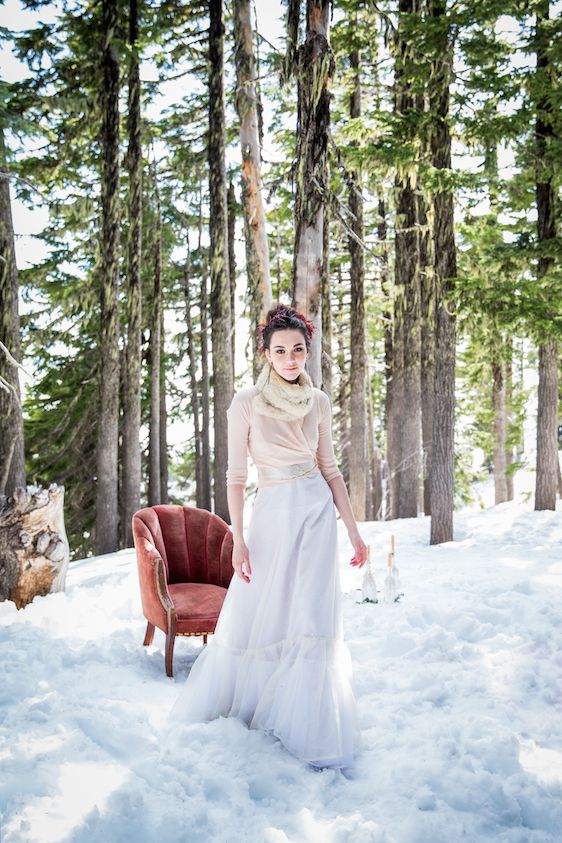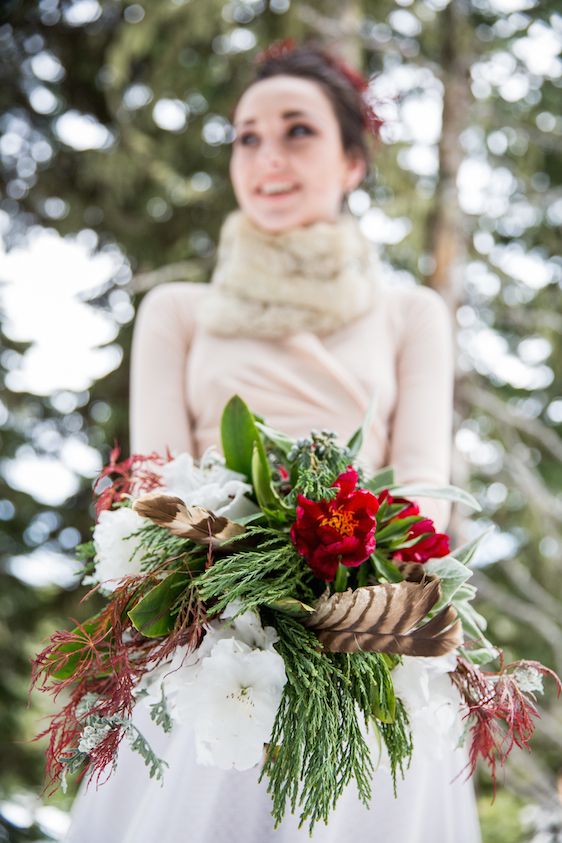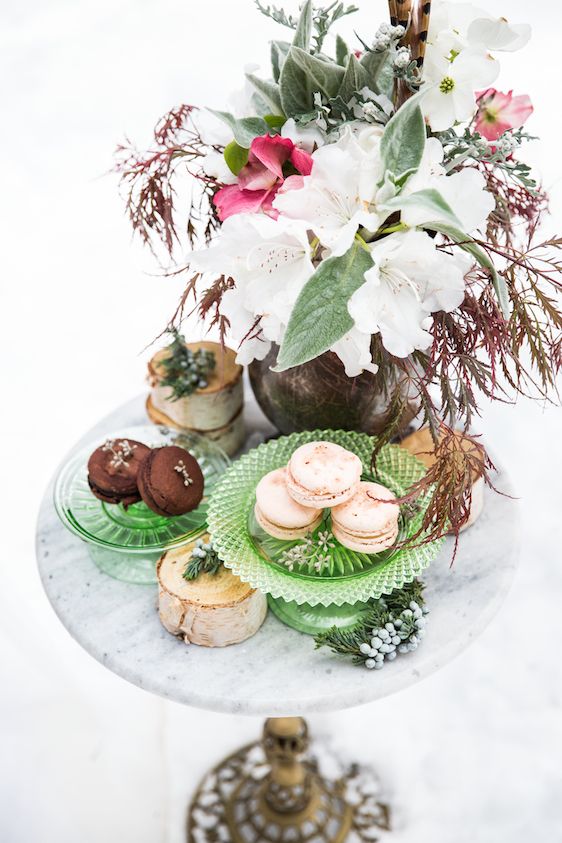 The dessert stands were made by epoxying thrifted plates and candlesticks together, and the birch stands were made by sawing a birch branch into segments.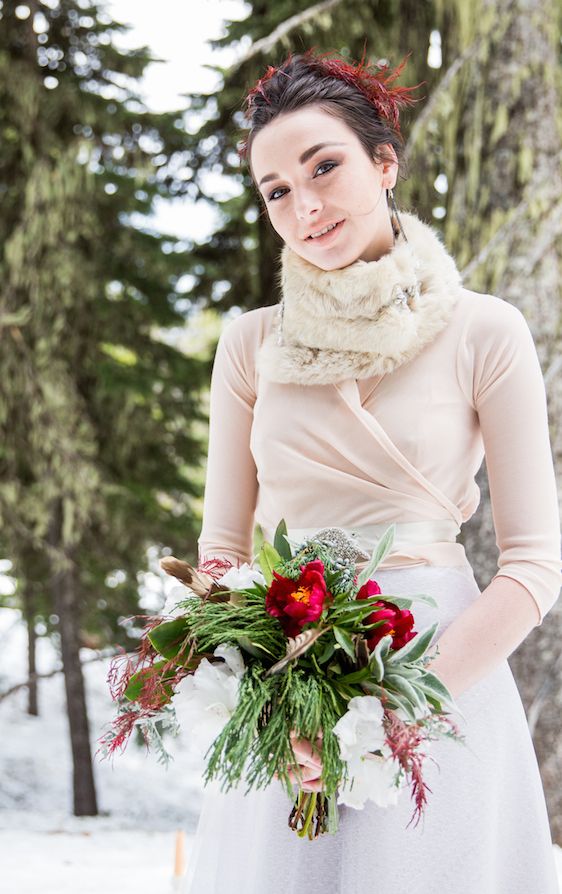 So much to love about the simple details that were incorporated into this wintry landscape...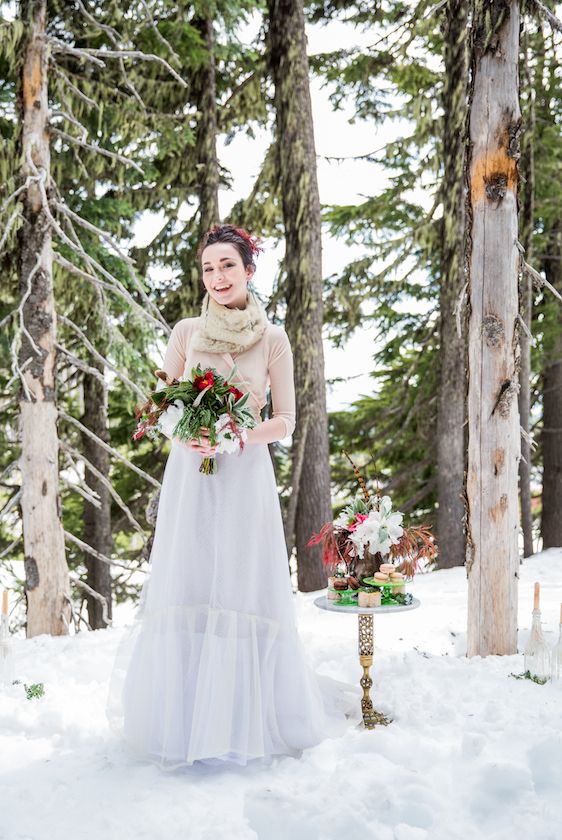 From these lush and lovely bouquets, to this incredibly unique and creative bridal ensemble, make no mistake about it...
This is the stuff that Winter wedding dreams are made of, you guys!
Plus can we just talk about how wonderfully captured this all is?

Jenna Saint Martin

gracefully navigated through the snow of the Oregon mountains and what an amazing job she did!
She clearly has a knack for creative art direction, and I just love how she worked with the model to showcase this bridal look in a fun and inspiring way while carefully capturing the breathtaking scenery that surrounded them.
Lots of love to all the pros who took part in this one. It's truly inspirational. Oh, and did I mention, dreamy? And romantic? And oh-so pretty? Yep, it's pretty safe to say that I'm in love...
Share This: