Today we're so excited to introduce to you one of our newest sponsors,
Fifty Flowers
! DIY Brides, take notice!
Fifty Flowers
originated with the idea that fresh cut flowers from the growers could be delivered directly to your doorstep, saving a lot of money and time. Brides and event planners come to
FiftyFlowers.com
for the variety of wholesale flowers available, excellent customer service, wedding flower inspirations and the trustworthiness of a company that has professionally delivered flowers for
30,000 wedding events.
Now, that's a lot of weddings!
With offices in California and Ecuador, the
FiftyFlowers
team works diligently to deliver the freshest flowers available on the market. What we love about
Fifty Flowers
is that their team is completely focused on DIY Weddings, and enabling brides to save 75% on their wedding flower budget. Can you imagine saving that much money?
DIY Brides order bulk flowers to be delivered 2 or 3 days before their event, and make a game plan to have the flowers prepared and arranged. Wedding flowers can be complex and elaborate, or they can be simple and elegant. DIY is the biggest trend in weddings, and flowers are a great area to show your creativity and style.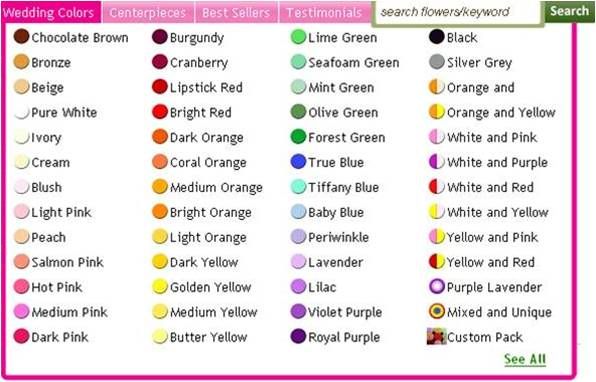 Of course don't go it alone, we recommend that you recruit your family and friends to help with the arrangements, bouquets, table centerpieces and flower decorations. So what are you waiting for? Show
Fifty Flowers
some love and get your creative selves over to their site and start dreaming of all the ways you can arrange the florals for your wedding. Oh, and did I mention they have every color imaginable? Well, they do! I'm beyond impressed by their color offerings!
You Might Also Like...

Share This: