Imagine being whisked away to a beautiful european style greenhouse filled with the prettiest, most colorful blooms and a tablescape sprinkled with thoughtful details galore? Hello, wedding fantasy of our dreams.
Then, just when you think it can't get any better — the loveliest, most radiant couple waltzes in with the bride wearing a gown that's to die for and a smile to match? That's the sort of fairytale inspired magic that unfolded on this day, you guys! And we're still pinching ourselves over the fact that we got a front row seat to all of this beauty.
That's because we were actually here to see this dream scene unfold! Captured beautifully by McDonald Video and Photography, these images are from the Styled Shoots Across America Conference that we recently had the chance to attend.
And oh. my. goodness! Heather Benge Events and her team pulled out all the stops! There were beautiful vignettes around each and every corner, jaw-dropping florals from CeCe Designs LLC, Intrigue Designs, and Thorne and Thistle, and the most gorgeous gowns from Enaura Bridal.
The theme for this scene was French countryside and according to CeCe Designs LLC, she really wanted to "evoke a French provincial feel but with a modern day twist. The greenhouses of Europe provided the initial inspiration."
The venue, 2400 on the River, was nothing short of spectacular with it's european style architecture and beautiful riverside location...
...while a stunning invitation suite from Brown Fox Creative truly set the tone for this upscale, detail-filled day.
A four tier cake by A Joy Cakes was sophisticated, modern, and perfectly pretty sitting on top of this elegant cake stand.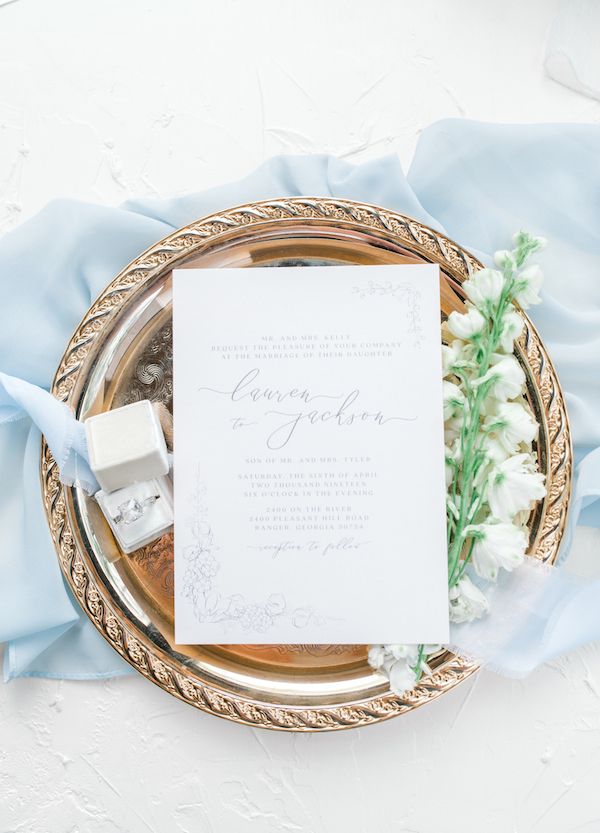 And the blooms? Oh, the blooms. CeCe Designs LLC does not disappoint! What a show-stopping design this was. Cece told us that she used ranunculus, coral charm peonies, garden roses, snapdragons, spray roses, and sierra sunset.
And we'd by lying if we said we weren't obsessing over all of this greenery, the birdhouse details, these ornate candle holders, and this stunning light-filled space.
This install with its ombre of blooms truly left us with our jaws on the floor. The way it ranges from purples to fuchsia to coral and blush and then gradually moves into peach, ivory and white. Pure perfection!
Decor and furniture from Milieu Decor truly helped to set the scene on this day. From the table to the chairs and the dinnerware, no detail was left untouched.
Oh, and this hanging chandelier? What a statement-making centerpiece this was. Because we can't think of anything better than blooms hanging from the ceiling.
Terrariums with florals inside, gold rimmed glassware, vintage books, and pink candlesticks also added to the overall design.

While bridal beauty was so on point with hair by Bilgah Moka and makeup by Makeup by Sarah Lord. We're loving the florals tucked into her updo, and this bright, berry stained lip color.
And who isn't loving this trio of wedding cakes? Yes, A Joy Cakes didn't stop at one cake on this day! It was a parade of pretties worthy of all the heart eyes.
Because this modern cake with it's floral work between tiers? Wow! Can't say we've seen anything quite like it. Creativity was everywhere on this day.
Now, you're going to have to excuse us while we pin every single gorgeous moment of this shoot. Care to join us?


McDonald Video and Photography, CeCe Designs LLC, Heather Benge Events, and Intrigue Designs are members of our wedding pro collective! Click here to see how to become a member.
Host: Styled Shoots Across America

Share This: