What happens when a talented team of wedding pros gather together with a shared vision of 'gorgeous,' in mind? Oh, you know — all kinds of dreamy gorgeousness. That's what!
And get this, you guys — We were literally here at
2400 on the River
on this day to see all of this beauty come to life.
McDonald Video and Photography
lovingly takes us back and lets us experience the
Styled Shoots Across America Conference
all over again with each and every one of these stunning captures.
As for the design? Heather Benge Events and her team did not miss a beat. There was impeccable wedding day looks everywhere we looked featuring, the biggest, most beautiful blooms from Intrigue Designs, CeCe Designs LLC, and Thorne and Thistle. And these colors? Oh, the colors!
From the Intrigue Designs, "as a wedding florist, "Abundance" is my style. When choosing blooms I first look at the colors and the textures pairing soft tones with a hint of deep tones to bring out the best in each bloom..."
"...once the color story is in place, I move on to quantities and this is where "Abundance" comes into play. I want to bring in as many blooms as possible within the limits that have been set."
A gorgeous custom invitation suite from Brown Fox Creative encompassed all the things that this scene was: beauty, sophistication and elegance.
One of the standouts from this day was the creative utilization of a bar cart within the tabletop centerpiece itself. What an incredibly unique look! Definitely a trend you're sure to see more of this year!
Peachtree Tents and Milieu Decor helped set the scene for romance with their furniture rental pieces and tabletop settings.
And as for the locale? The scenes at 2400 on the River were the kind that instantly made you feel as if you had left the country and you were standing amidst some european town.
More from
Intrigue Designs
..."because I'm able to be very selective with my bloom choices, this allows me to get better wholesale pricing when shipping blooms in large quantities. Which means... My designs can have even more blooms than I had planned for."
"For this design I started with the beautiful "Shimmer" rose grown in Ecuador. This rose has a tender peach tone and has been known to open as large as a grapefruit."
"This rose became the focal for the install. From there I needed a bloom that would fill space so that the design on the gazebo stood out against the intricate metal work. The scale of the design had to be just right to highlight the already powerful lines in the gazebo."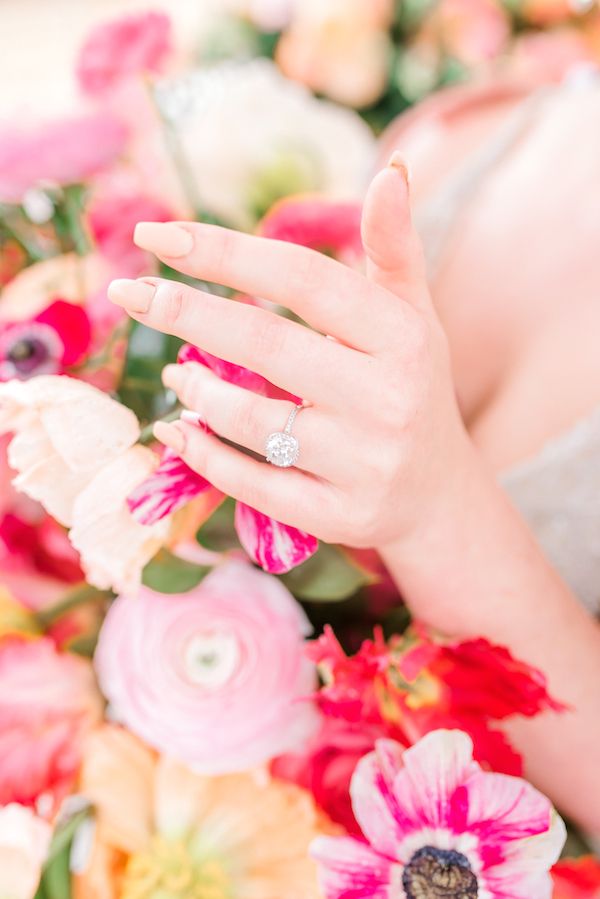 "The challenge here was I needed a flower with a lot of coverage at a minimal price. Hydrangea was my first choice, but, it would give too much fill and would overtake the beauty of the rose. It was also far too expensive to get the quantity I would need. So, I looked to flowers that I do not use often."
"I looked to a flower that I see in the grocery story in those cheap arrangements paired with a couple Rose's and babysbreath. I chose Alstomeria as it had the largest presentation of blooms for the lowest dollar."
"I used this common flower to create my base accenting it with a few accent greens to add volume to the design. This base was the perfect setting to add in those massive Shimmer Rose's that started the entire design."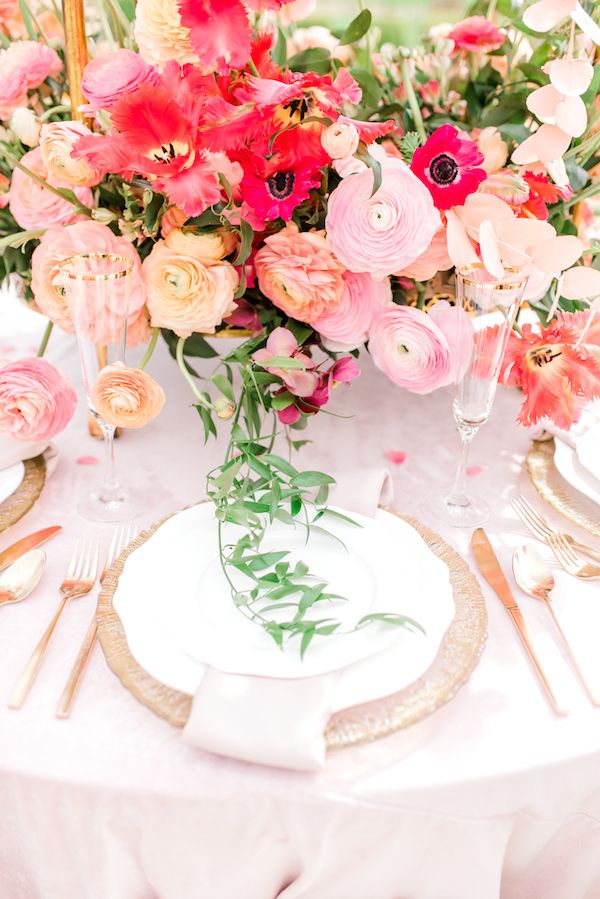 "When it came time to design the centerpiece I took direction from the wedding planner "
Heather Benge Events
." She had asked for a 2 tier design and I ran with the idea."
"The design started with the base of blooms right at eye level so that the guests could easily see across the table and have a conversation framed out by the most beautiful Italian Ranunculus."
"The second tier mimicked the first, starting with a base of the Alstromeria I had used in the gazebo install and adding in the dramatic Italian Ranunculus, over sized French Tulips and the most peculiar painted Eucalyptus I have ever had the luxury of designing with."
"Together, these two tiers created a presentation that was both stunning and functional for wedding day."
"The bouquet was the crowning jewel of the entire design. Measuring just over 5ft in length — this bouquet was designed to be a conversation piece!"
"The Ranunculus that played a leading role in the centerpiece quickly became the focal of the bouquet accented by the French Tulips and layers of greens to give the elongated "Intrigue Style" shape its natural curve."
"When asked what the secret to creating mind blowing beautiful weddings is I always say, "start with the planner," and Heather Benge Events is one of those planners that blows your mind every time!"
"...My hands may have created these series of designs, but, without the inspiration of the planner this design would have taken a much different path."
Another standout from this day comes to us from floral designer,
CeCe Designs LLC
. A vintage car filled with organic blooms galore? Um where do we sign up? Talk about a show-stopper!
...while a four tier cake by A Joy Cakes was everything you'd want in a cake: clean lines, organic touches, marbled finish...
From
Heather Benge Events
, "One of my favorite parts of the
Styled Shoots Across America Conference
is the amazing wedding inspirational shoots that we have. It's a perfect opportunity for professionals to flex their creative muscles and design in a way that is beyond visually striking."
More from
Heather Benge Events
, "this particular shoot features bold and beautiful blooms in the most perfect coral, red and shades of pink, a ceremony gazebo decked out like you've never seen, a double decker centerpiece (... psst, get ready this trend is about to be all the rage!) and of course fashion inspo that is sure to make you swoon!"

McDonald Video and Photography
,
Heather Benge Events
,
Intrigue Designs
and
CeCe Designs LLC
are members of our wedding vendor directory!
Click here to see how to become a member
.
Photography:
McDonald Video and Photography
Host:
Styled Shoots Across America
Share This: