With concept and photography by
Alyssa Ryan Photography
and floral design by
Moelleux Events
—
today's romantic Bohemian inspired wedding shoot has all of our faves included: A groom with suspenders, a desert landscape with cacti galore, and a wedding cake that will leave you feeling oh-so inspired! Oh, and did we mention the plethora of big, beautiful blooms we're seeing here?
From the photographer, "It's always been a photographic goal of mine since the beginning of 2017 to create my own styled shoot. How hard could that be, I thought? Mad props to all of you amazing coordinators and planners!"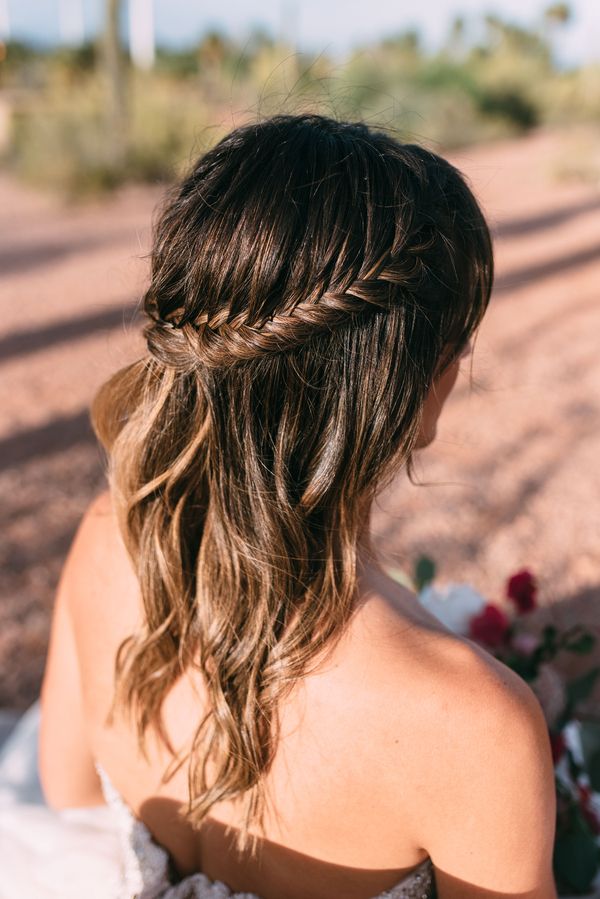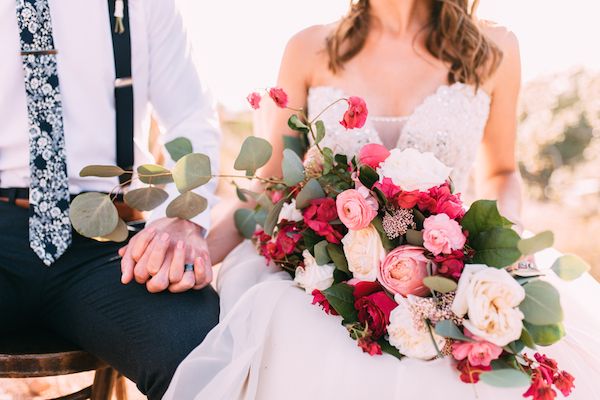 "I didn't underestimate the amount of planning I needed to do — I knew there would be a lot!"
"...but perhaps maybe I just wasn't as prepared as I thought because this was my first one and didn't know what to expect! But I honestly loved it!"
"It was a bit tough managing everything on top of my full-time desk job too but I felt so productive and happy to get working towards this."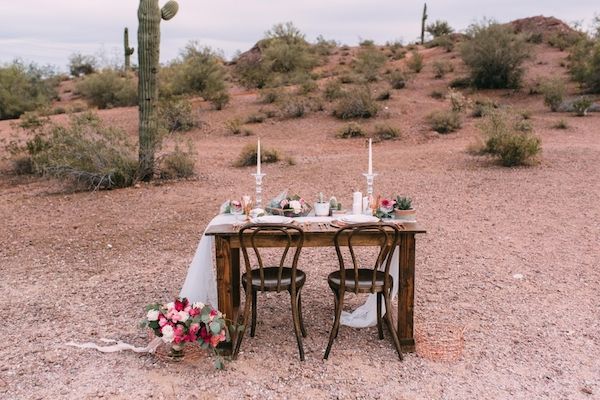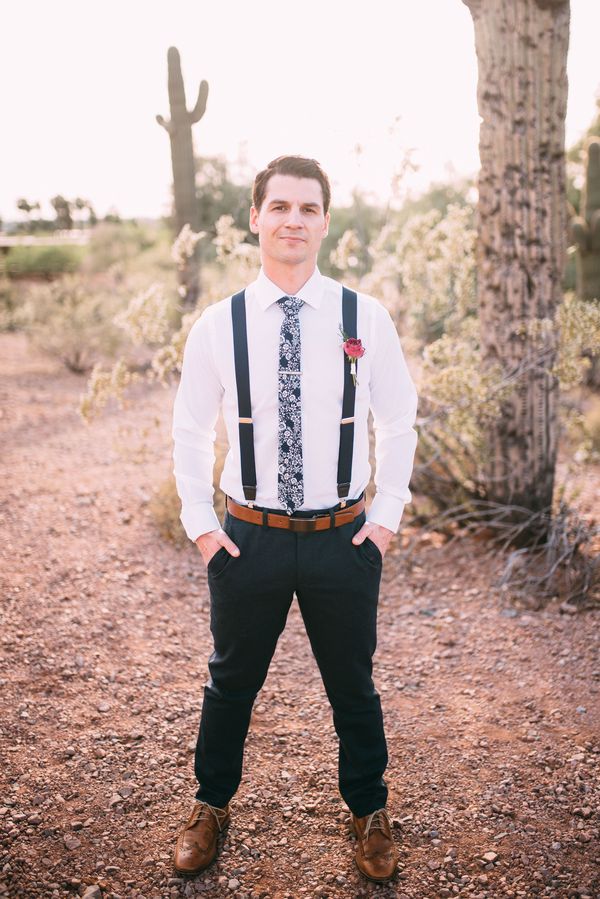 Alright stop, and go ahead and pin this wedding bouquet! You know you want to! Oh, and this gown! Gah! Such a beauty if you ask us! Maggie Sottero does it again!
"I explained to our vendor team what I was envisioning, and I was thrilled to receive so many "yes!" replies!"
"In my opinion, blush tones are here to stay in the wedding space and will never go out of style."
"Especially for spring and summer. However, I knew I wanted to use another accent hue and texture that wasn't gold."
"Copper came to me after seeing these
terrariums from a TJ Maxx
! They were the perfect fit for this design and totally captured the look and feel I was envisioning."
"... so I just took that inspiration from it and ran with it. One of my favorite copper pieces are the concrete potted cactus plants from
Crooked Cactus
."
"They are so full of texture and weight and are just so cute that I feel they really brought the tablescape together."
"Fun story, the cake you see here (designed by the ever-so-talented
Serendipity Sweets xo
), took a dive into the desert dirt!"
Like, majorly! It was such a windy day and it being a dummy cake made of Styrofoam, it literally picked up with the wind and fell off the table!"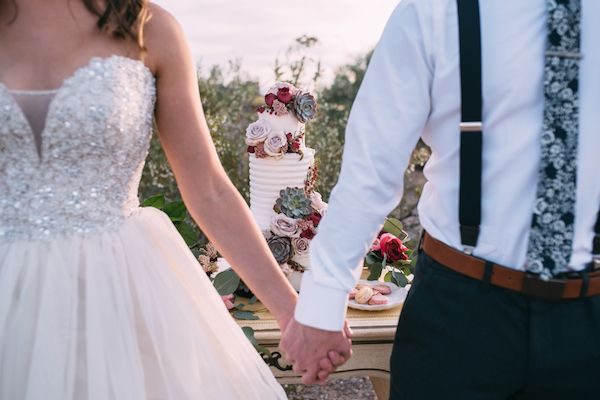 "Luckily, Alissa from Serendipity Sweets xo was still there and just jumped to help fix it! She literally whipped out her palette knife from her back pocket and started reconstructing the icing on the spot."
"Melissa from
Moelleux Events
had extra blooms with her and the two of them, never meeting each other before, worked together seamlessly!"
"They made it look new in no time! I love my friendors and this friendly AZ creative community."
"Our bride and groom couple are a real life couple happily married for 8 years and with two beautiful kids."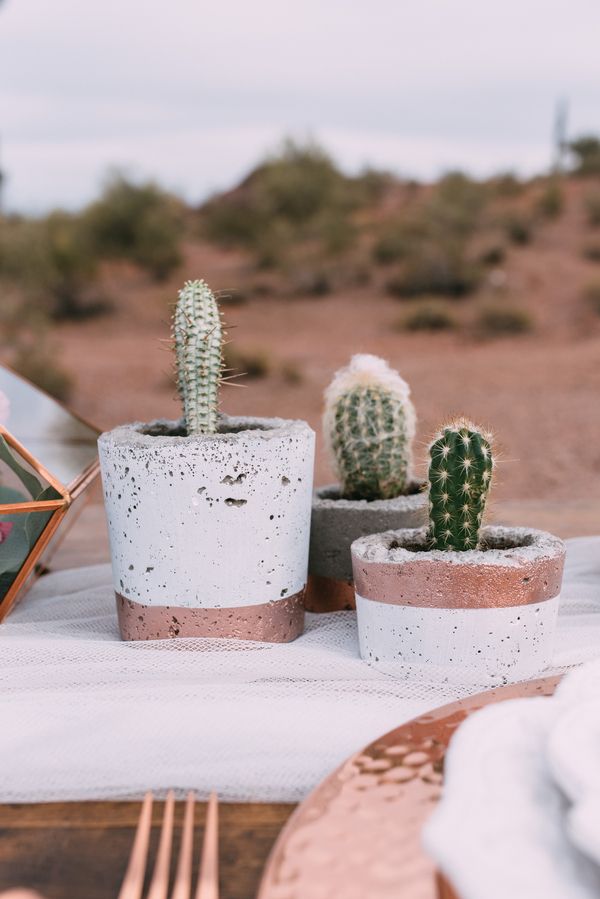 "They both had a great time re-living a wedding experience like this as they usually take anniversary photos every year for themselves."
"I love how this brunette couple gives such an earthy and grounded love in the desert surrounding."
"The pink chair and white french dresser both came from my mother-in-law and provided the perfect setting for the details."
A mix bougainvillea, ranunculus, o'hara garden roses and eucalyptus greenery were used for the wedding bouquet and floral arrangements.
Cacti, and copper, and color galore? Swooning something serious over this chic desert tablescape, you guys!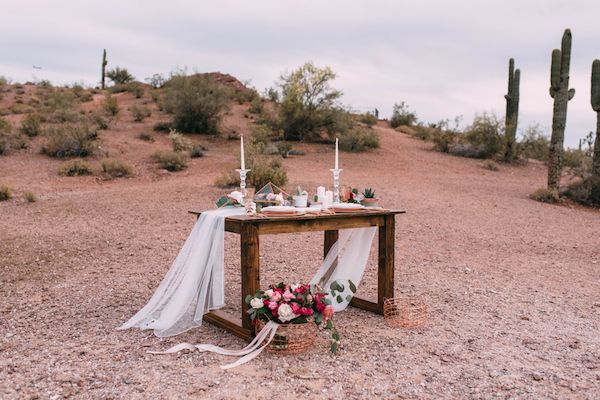 More from the photographer, "Oh, and those macarons from Decadent Macaron?"
"So totally to die for! And taste so so good too. Drooling just thinking about them."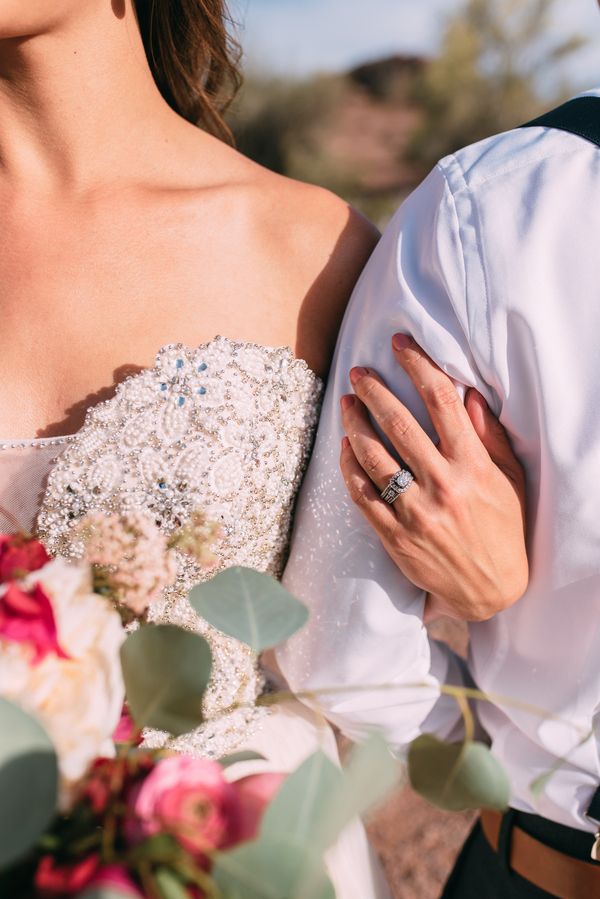 A sweetheart style wedding gown designed by Maggie Sottero from Brilliant Bridal was the perfect choice for this beautiful shoot.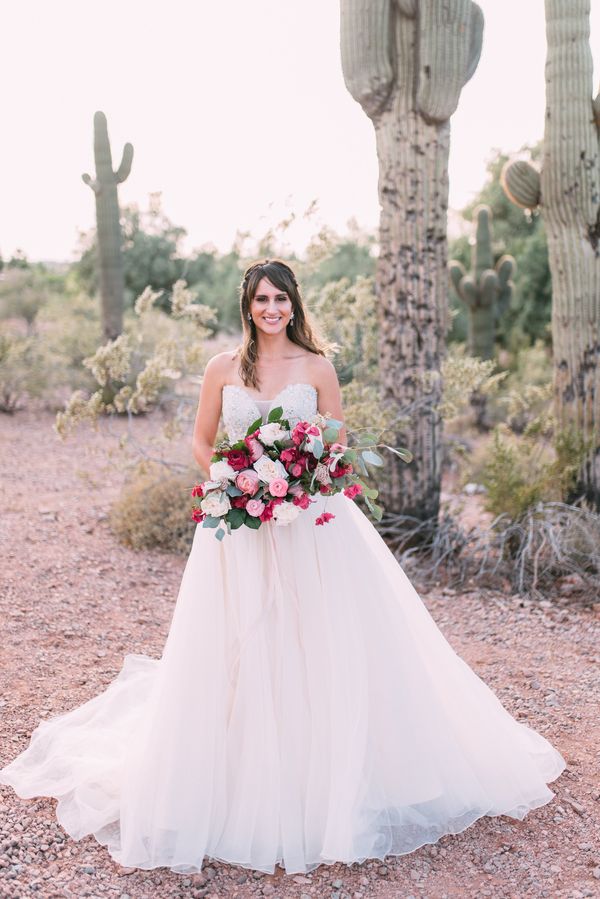 And oh. my. goodness! These gorgeous dishes, and these hammered chargers from The Confetti Studio are so absolutely beautiful.
Copper flatware and depression glassware also from The Confetti Studio, give this place setting some extra character.
And we love how these florals are almost spilling out of these geometric terrariums.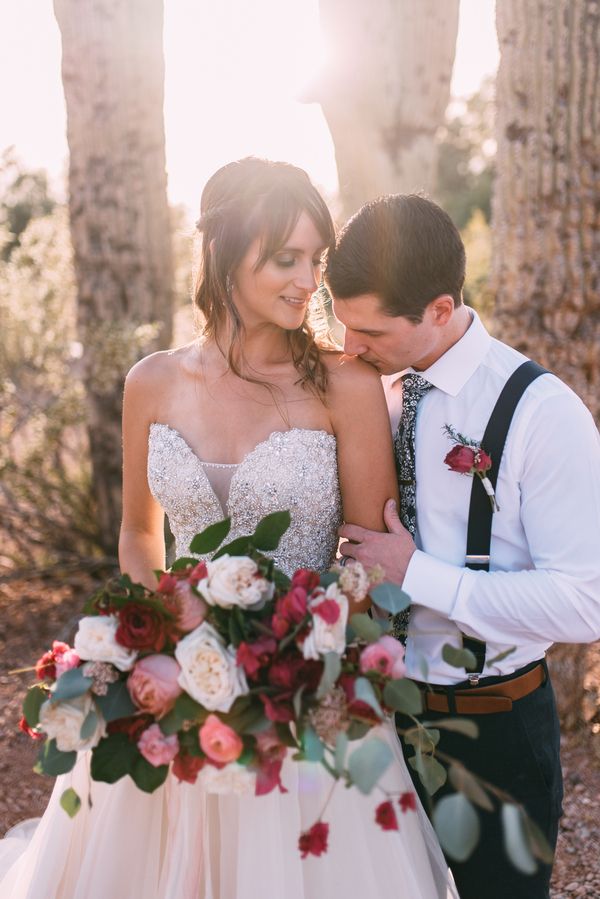 Hair and makeup by Harley Ann Artistry was so over the top gorgeous!
And can we all just take a look at the groom's suspenders and agree that this is a trend that needs to stay?
More from the photographer, "...planning my first shoot was such an awesome feeling. And seeing my ideas and visions brought to life was all kinds of magical..."
"...but the truth is, I couldn't have done it without this awesome team. Like, no way in heck! I am so grateful for their time and expertise that they so happily contributed and trusted my vision during the process."
Cheers to all of these talented wedding pros who make magic happen on this day. Now excuse us, because we have some serious pinning to do! Care to
join us
?
Concept & Photography: Alyssa Ryan Photography // Floral Design: Moelleux Events // Bakery: Serendipity Sweets xo // Rentals: The Confetti Studio // Specialty Foods: Decadent Macaron // Hand Dyed Bouquet Ribbons: Of the Earth // Makeup & Hair Styling: Harley Ann Artistry // Dress Store: Brilliant Bridal // Suspenders: Amazon // Copper Terrariums: TJ Maxx // Potted Cactus Plants: Crooked Cactus // Model: 8th and Arrow
Share This: