It's National Donut Day, you guys! So you know what that means, right? Go grab a donut, a cup of coffee, and get ready to feast your eyes on the ultimate donut day wedding inspiration from our friends over at
Kalm Kitchen
and
Hannah Berry Flowers
.
Captured beautifully by
Marianne Taylor
, we dare you to try to get through this editorial without googling "Free donuts in (insert your city) for
#NationalDonutDay
." Because whether you love
Krispey Kreme
or
Dunkin Donuts
or a specialty mom n' pop corner store — one thing is for sure, donuts are kind of the best thing ever. Like ever, ever!
Plus if you haven't noticed, they're trending big time for weddings!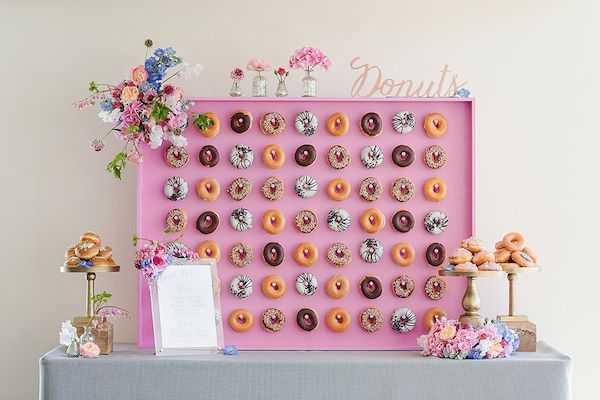 And this darling DIY display is evidence of just that! From the team, "Floral designer,
Hannah Berry Flowers
wanted to put together an inspiration shoot that was colorful and a bit outside the box."
"The idea was to create four different looks that could be interpreted as the changing seasons, and would showcase the work of the 4 vendors she got involved."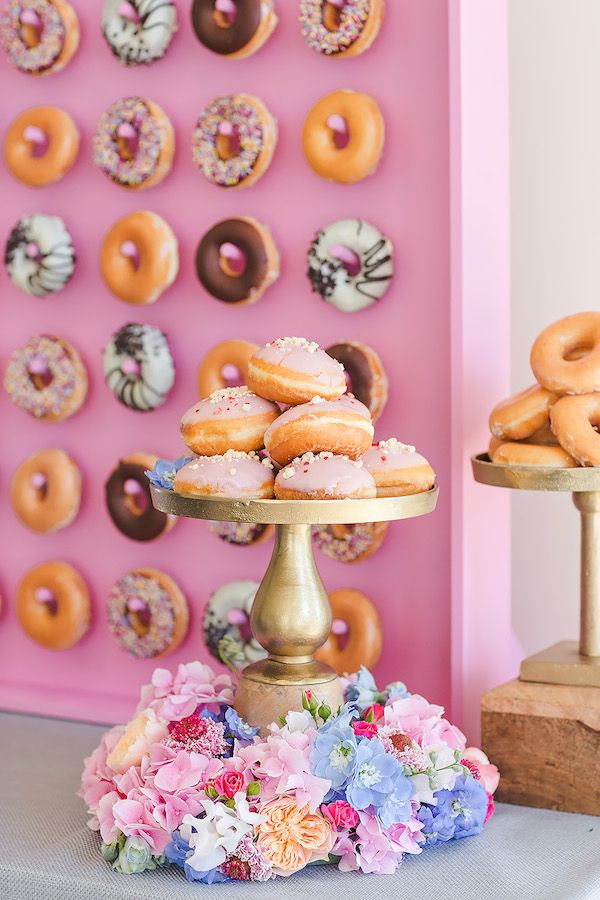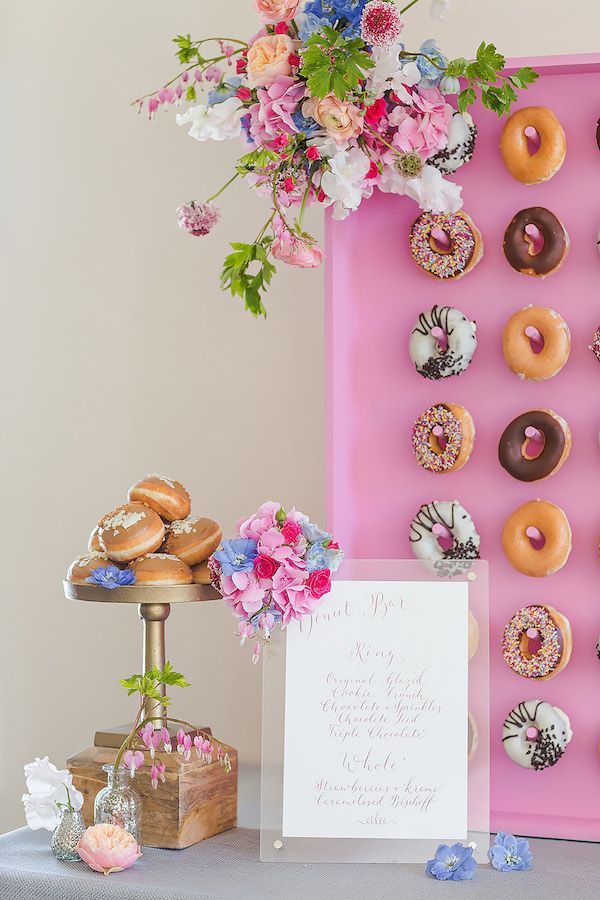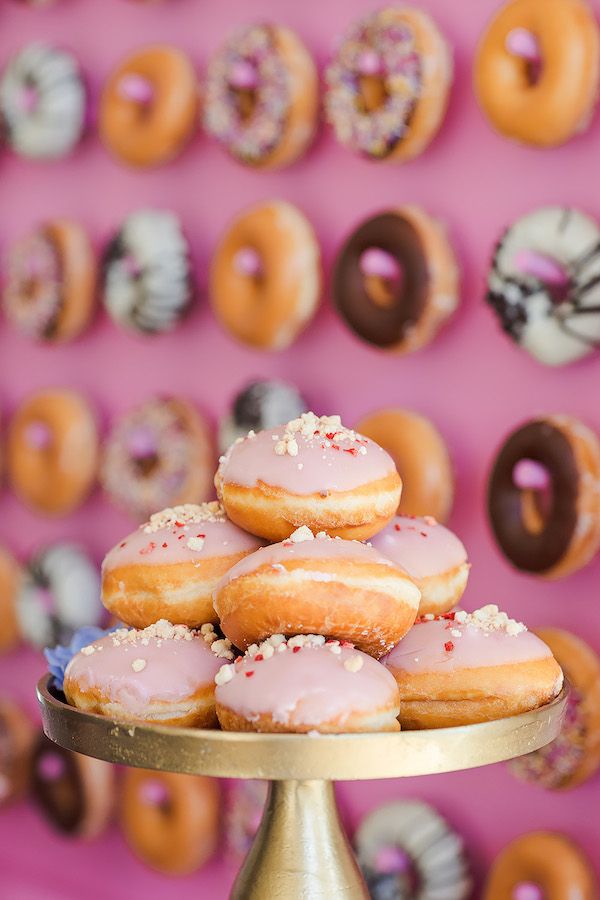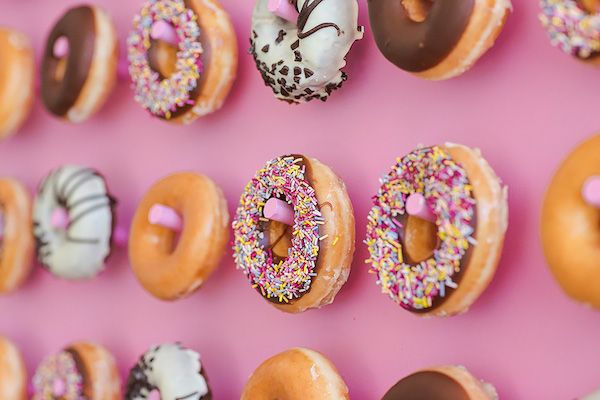 "I love experimenting with new creative ideas and what better way to do so than to collaborate with a team of like-minded vendors..."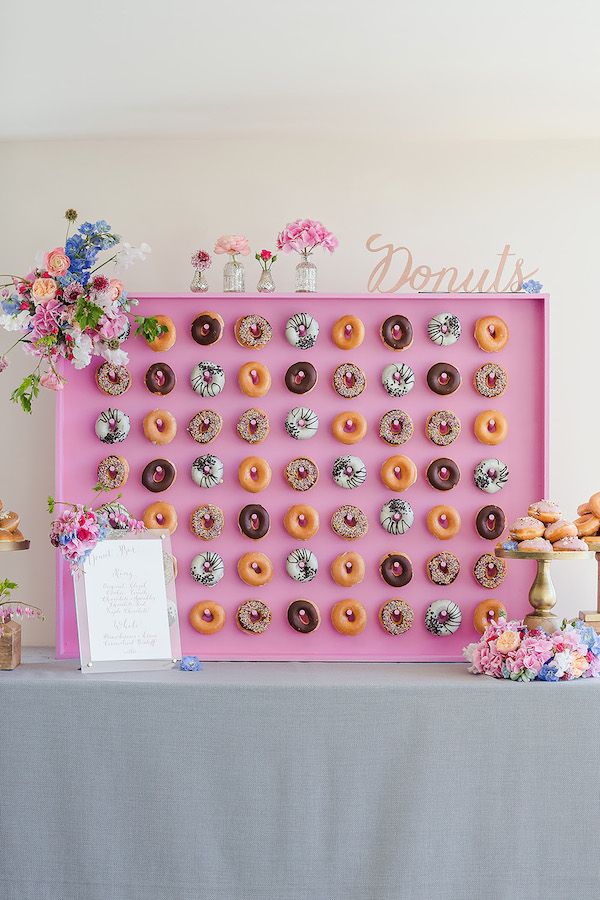 "We love experimenting with colours, and textures and new concepts, and created this in order to hopefully inspire couples to think creatively when it comes to their wedding experience."
"
Kalm Kitchen
, designed this 'donut wall' which served as a starting point for this station."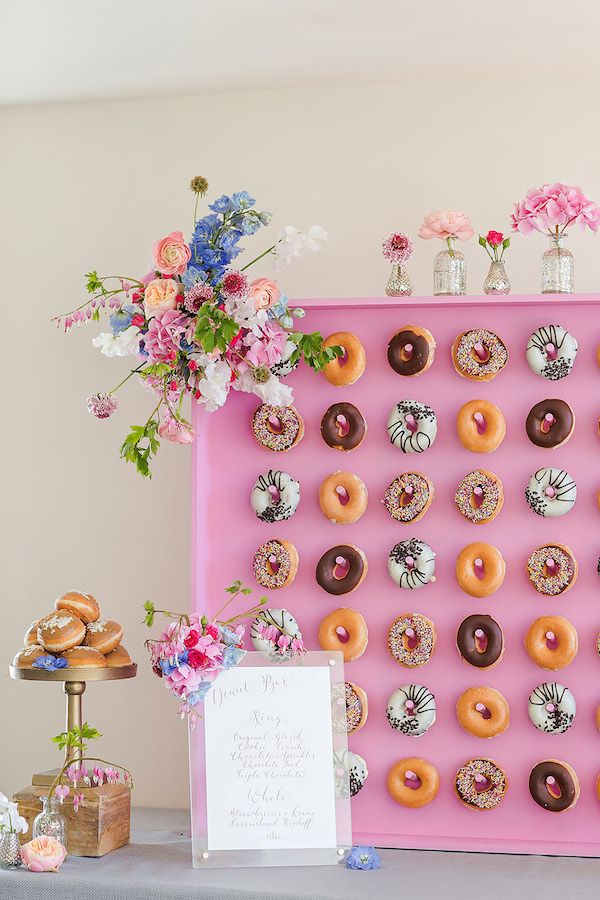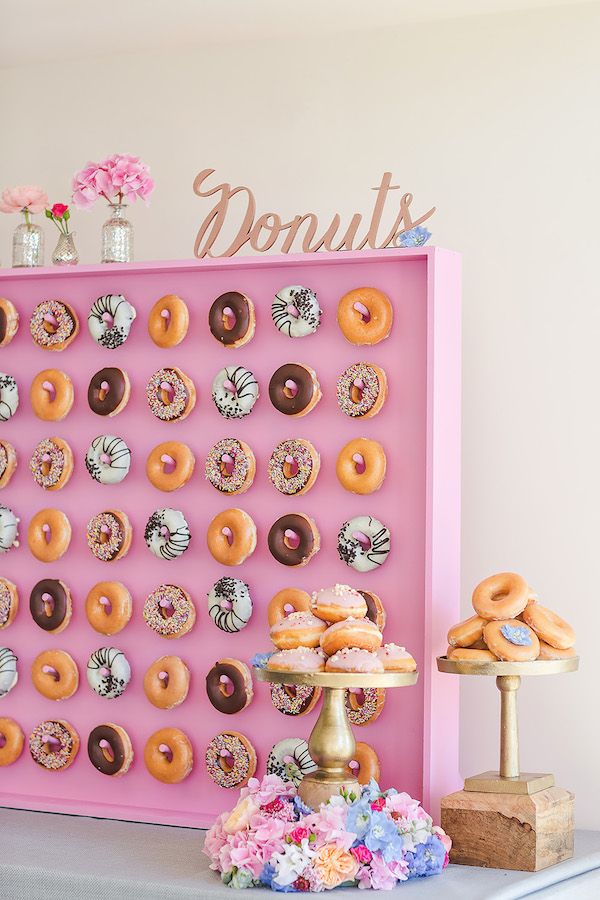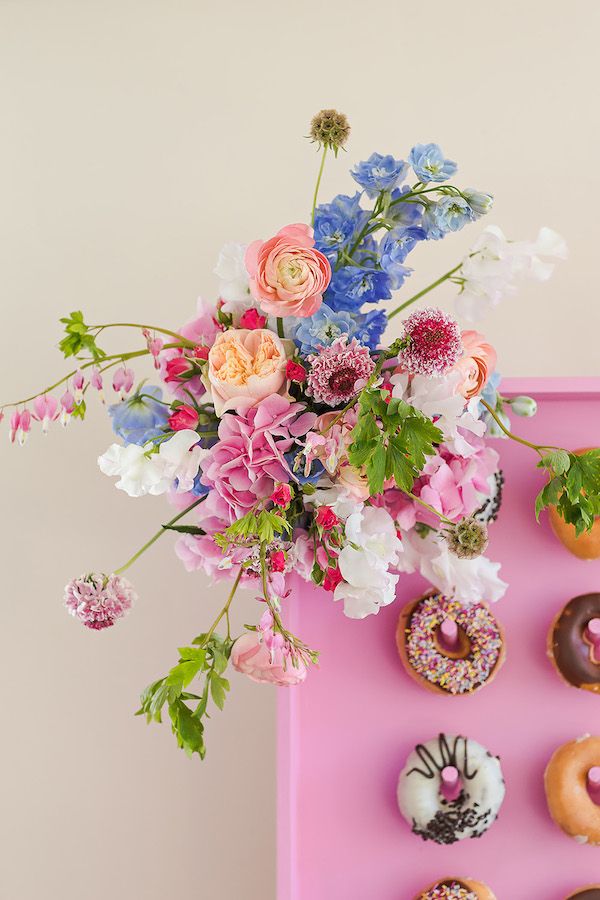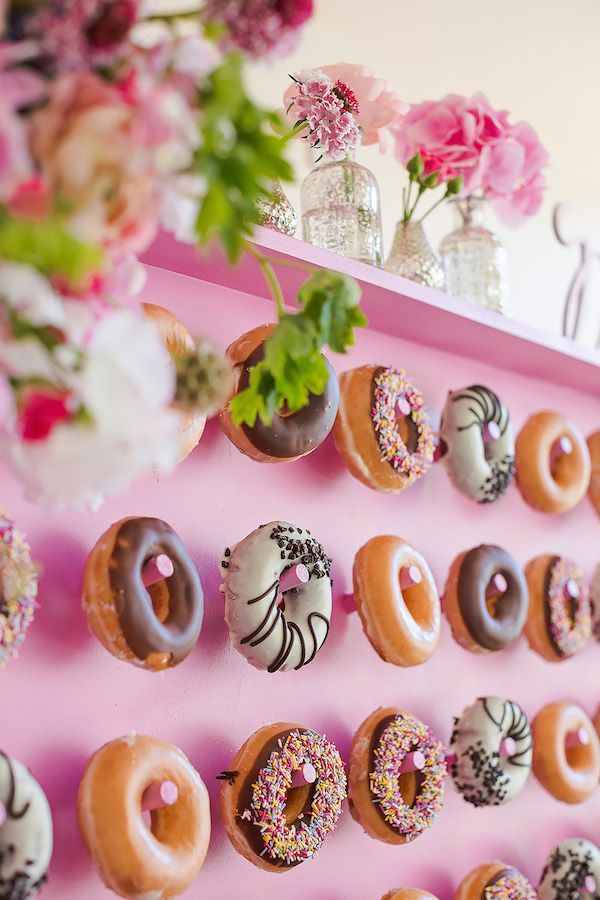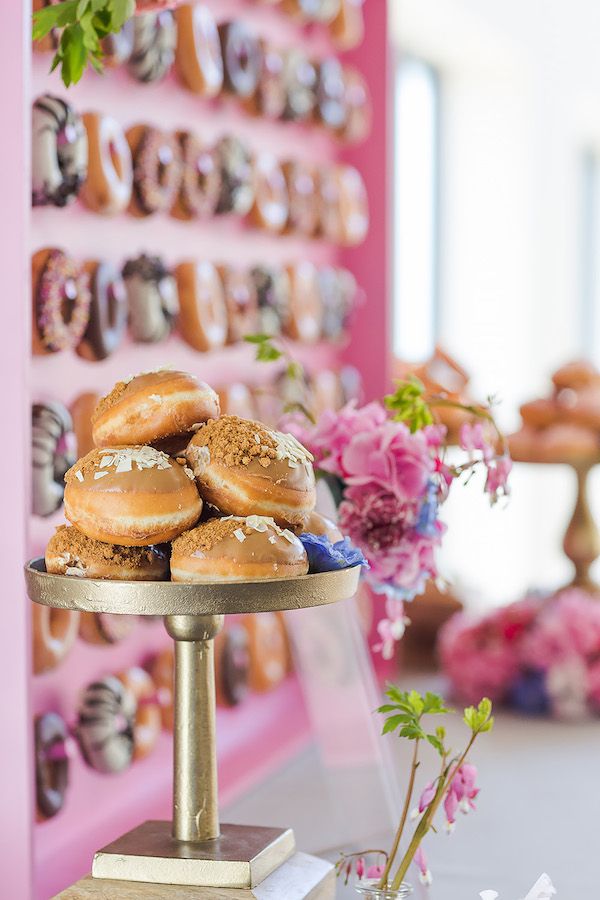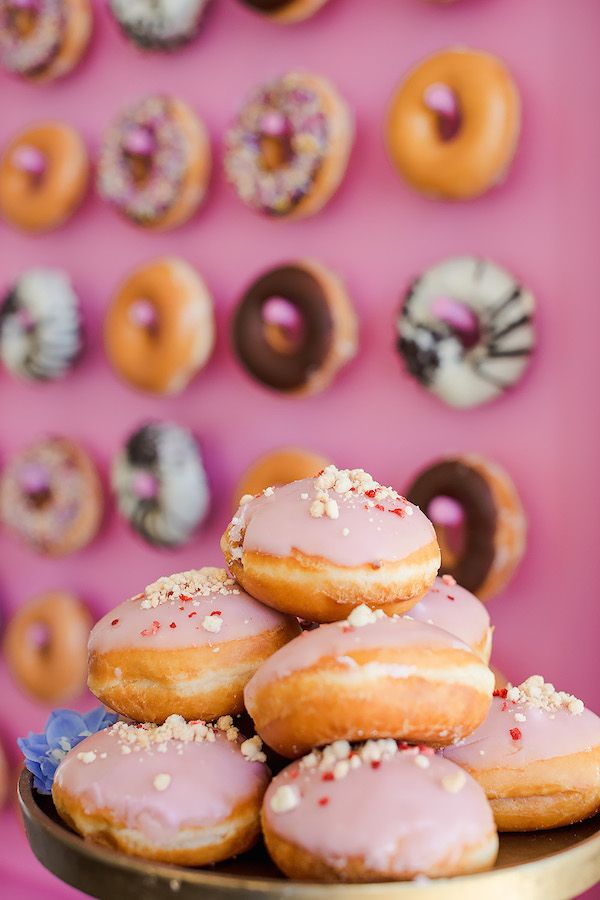 "The minute I thought of donuts the entire concept screamed colour and 'hundreds and thousands' sprinkles..."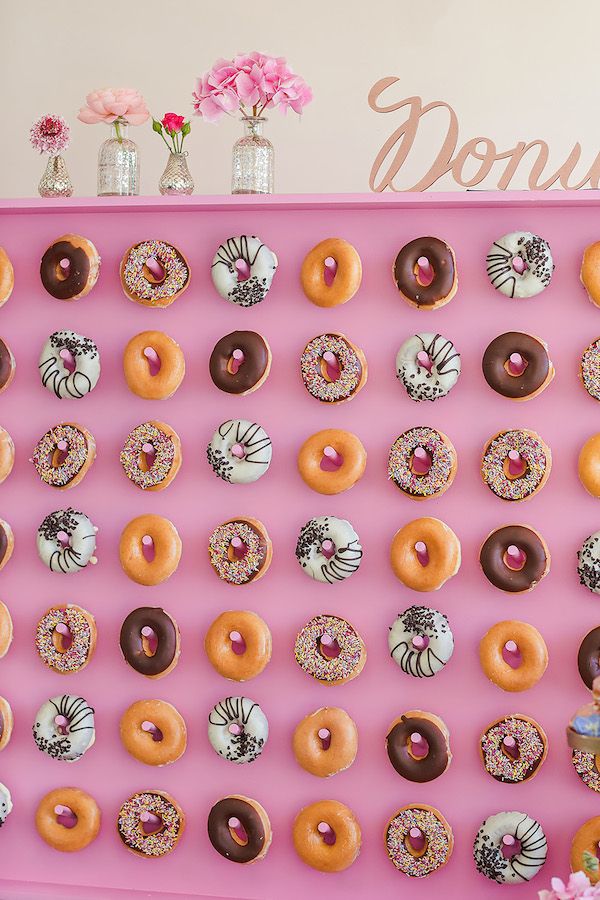 "...so I thought it would be a great opportunity to use really organic soft flowers with pops or bright colour to create impact."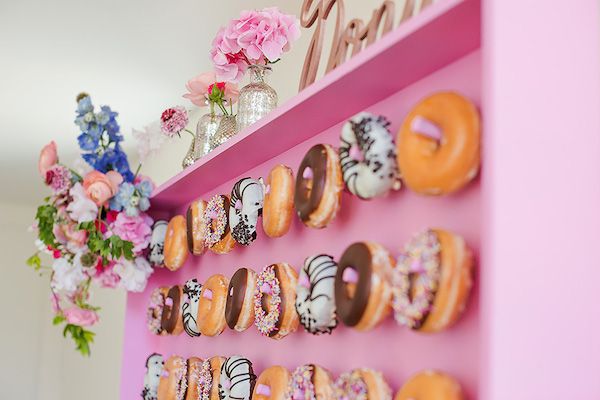 "Photographer, Marianne Taylor, then had the idea to paint the wall bright pink in order to really amp up the candy factor. And the results are pretty mouthwatering, if we do say so ourselves!"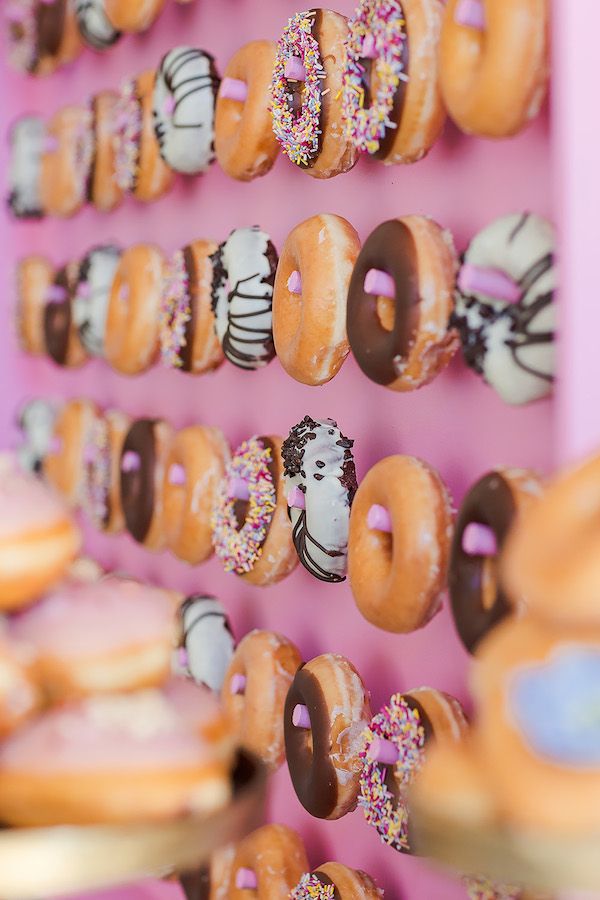 And what a gorgeous visual impact it does make with that bubble gum pink backdrop.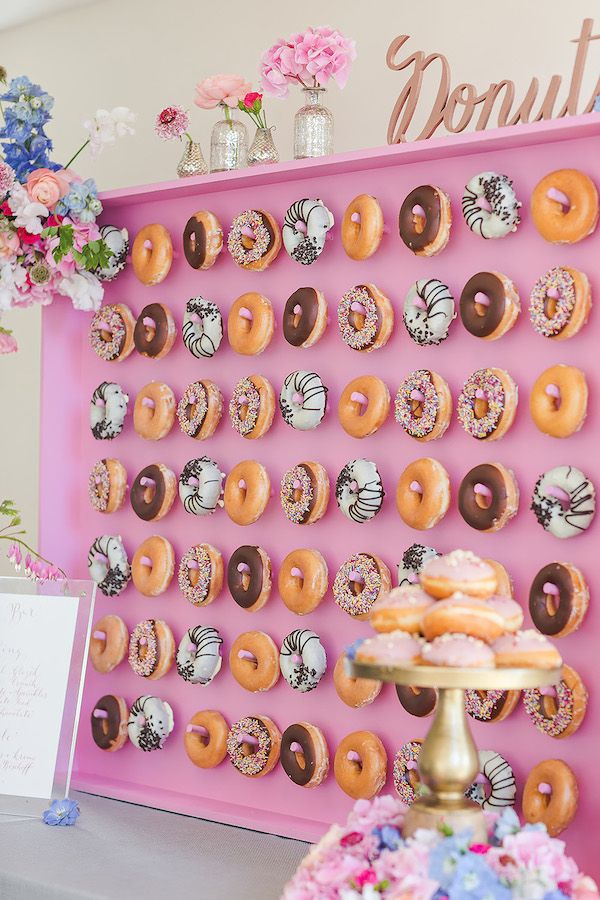 The donuts themselves were like little works of art! Some glazed, some with drizzle frosting and some loaded up with sprinkles.
So many pretty donuts, so little time. Decisions, decisions, m'dears! We think one thing is for sure, whichever you choose it's sure to be tasty!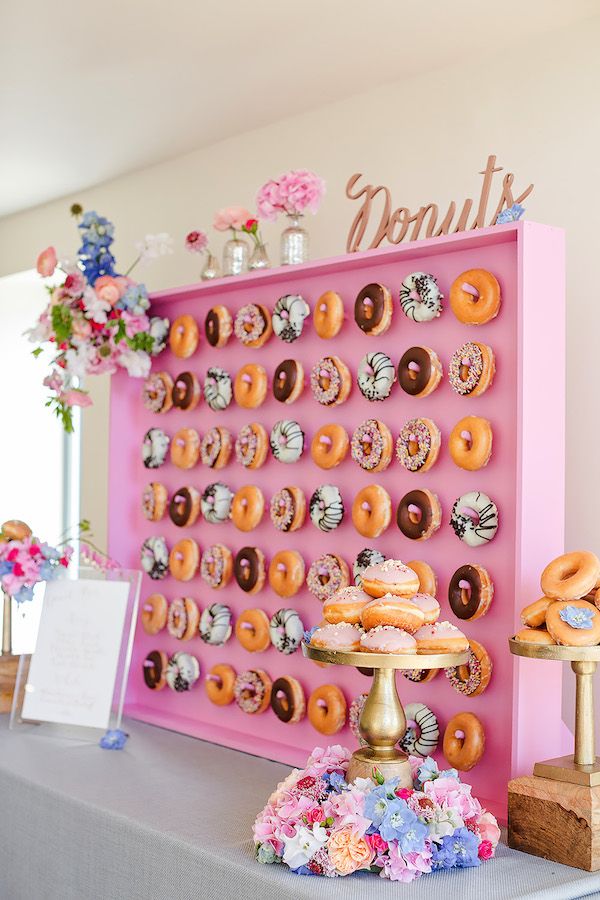 But we're going to lie, we're thinking we might have to sample every. single. one.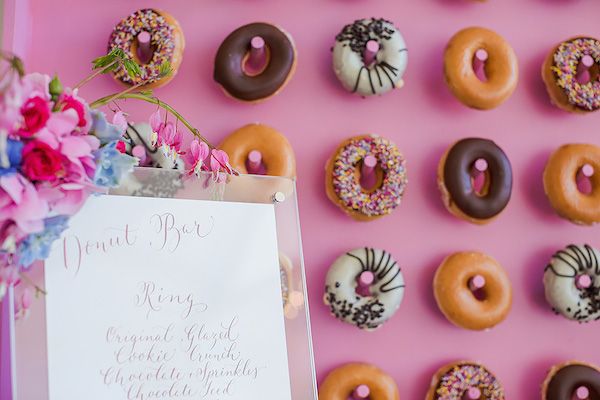 Don't worry, we'll share! Want to know how we like to eat our donuts?
Well, if coffee isn't available then we'll "settle," for a tall cold glass of milk.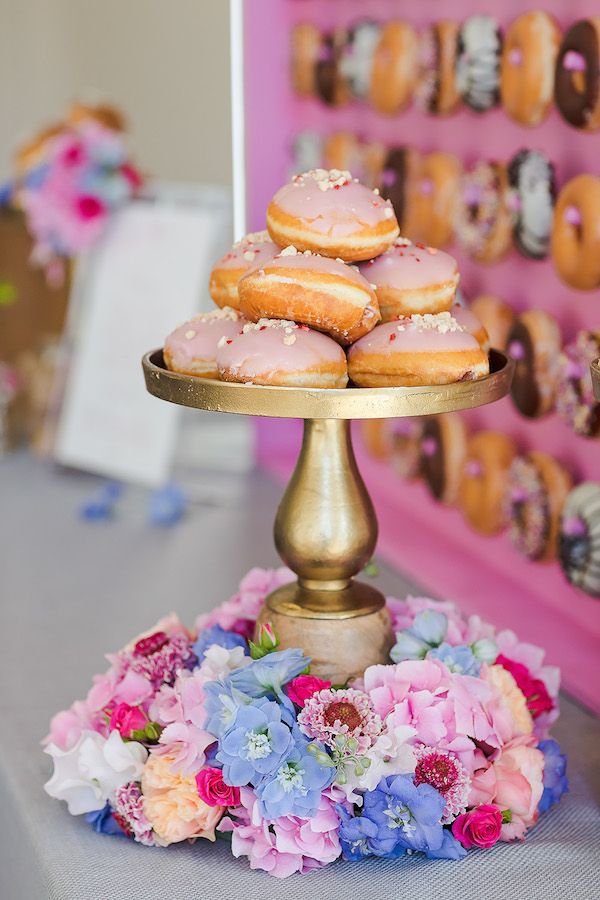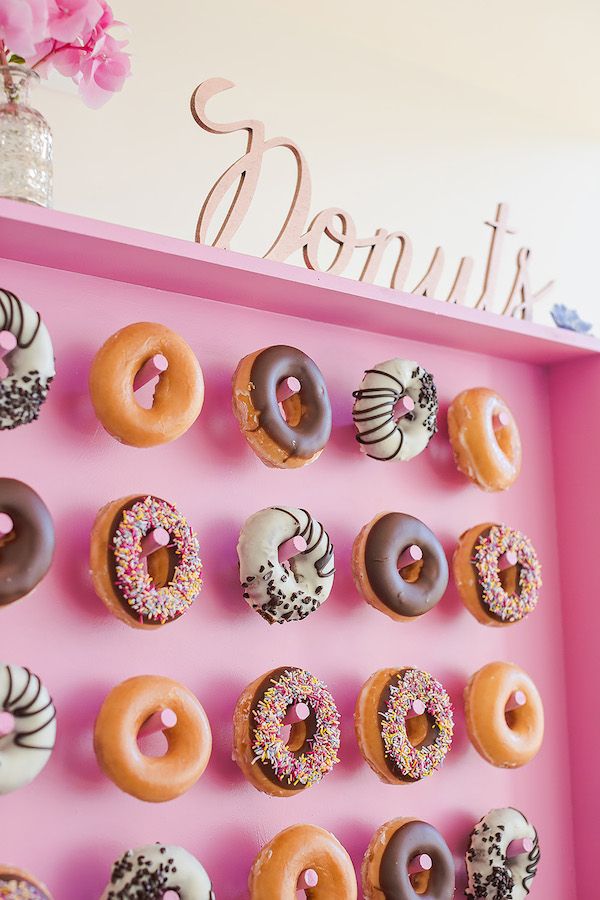 So unique, so creative, so absolutely fabulous. And the fun factor? Off the charts!
And just look at all of the flavors they had to choose from! Ahhhh!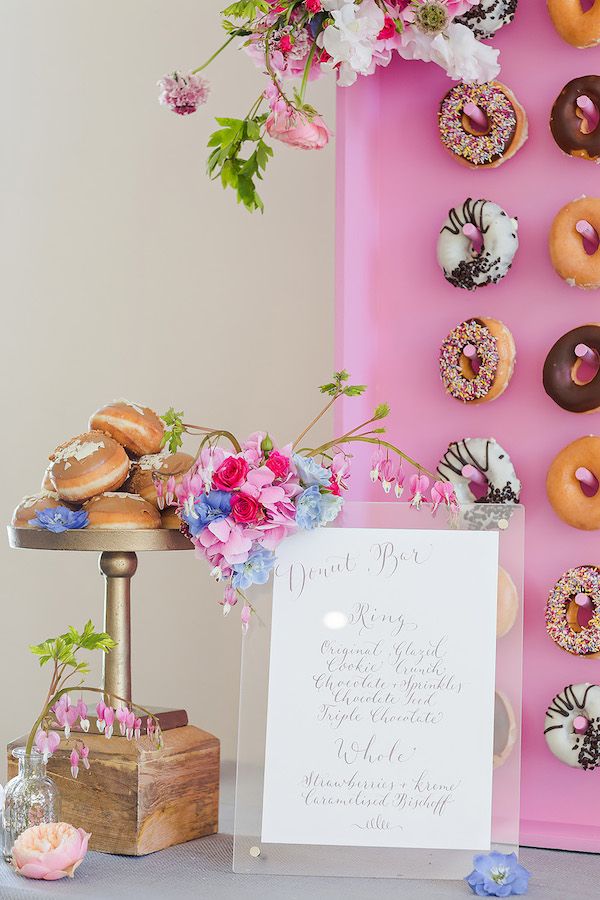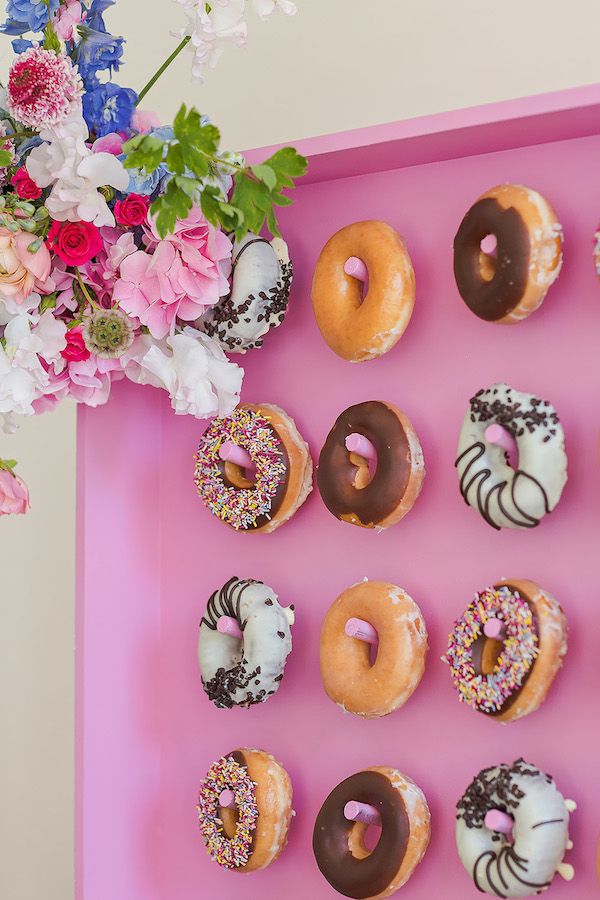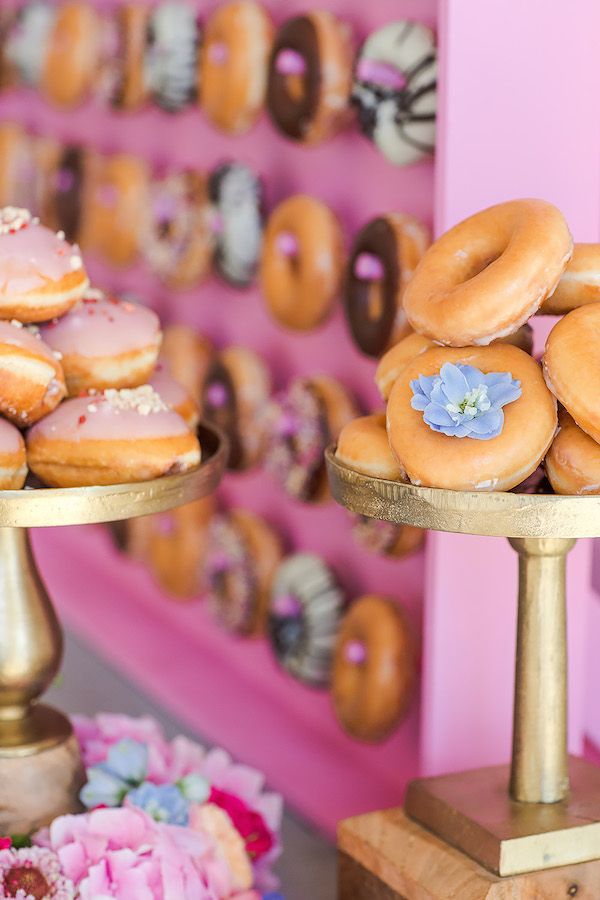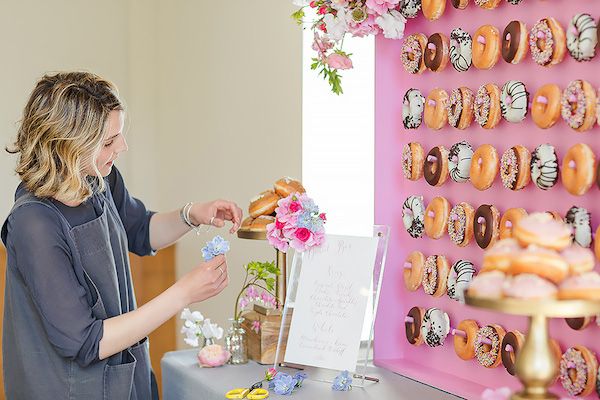 A behind the scenes shot of floral designer Hannah Berry Flowers shows the work in progress!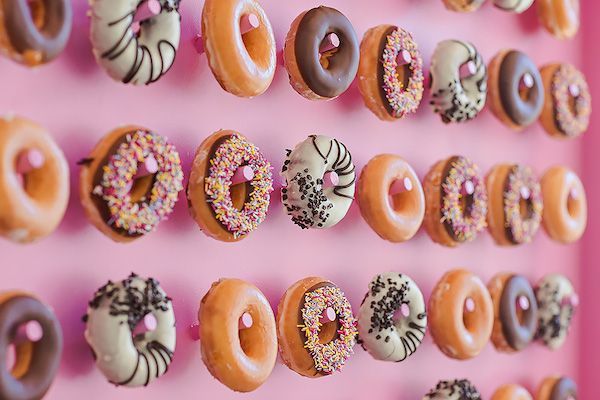 And the result? Pure donut perfection.
A beautiful display that's filled with feel good vibes, and surely an idea that will have your guests talking!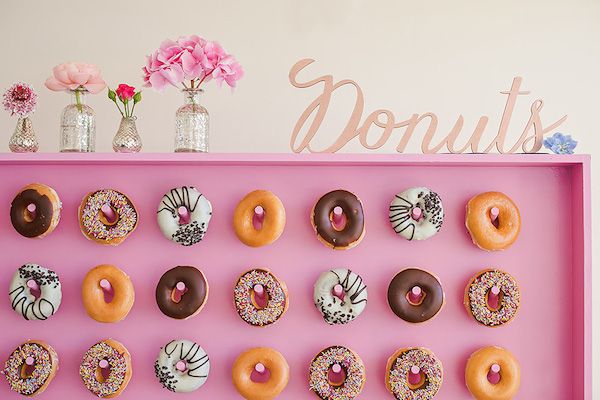 Cheers, to all of our donut-loving friends out there! Wherever you are, whatever you're doing today — Perhaps consider treating yourself to something tasty! Like a darling donut (or two).
Oh, and if you do decide to partake in the fun be sure to hop over to instagram to share with the hashtag #NationalDonutDay! Don't have a donut to share? Feel free to share these (with credits to us and the vendors who made it happen of course!)
PS. Find free donuts in your area by clicking here.
Share This: