What's gray and yellow and filled to the brim with feel good vibes? Say hello to today's wedding inspiration shoot out of Arizona! With vibrant and breathtaking florals by
The Wildflower AZ
, and planning and event design by
Blossoms & Grace
, today's shoot is seriously so fresh and inspiring!
And with
Anna Phillips Photography
behind the lens? Let's just say we're in for real treat today, m'dears! Things to be on the lookout for! Hanging table displays created by
Vintage Rusticity
for the sweetheart and cake tables, a lovely two piece wedding look, and a charming coffee bar!
The
Rusty Ranch
is a wonderfully enticing Arizona gem in the desert, with an abundance of trees and acres of grass. It is open, yet intimate and flooded with light.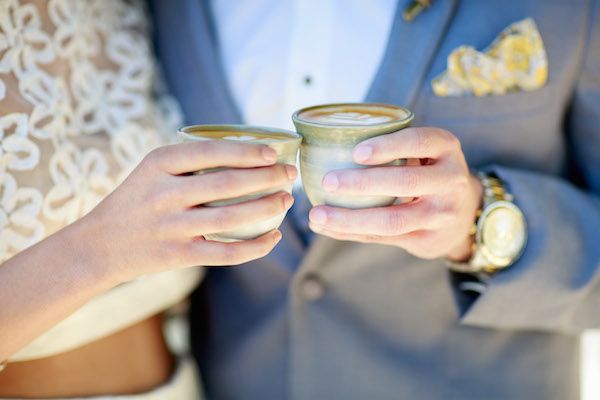 From the photographer, "Instead of the usual cocktail hour, we added in a twist with a barista staffed coffee station, creating delicious custom concoctions."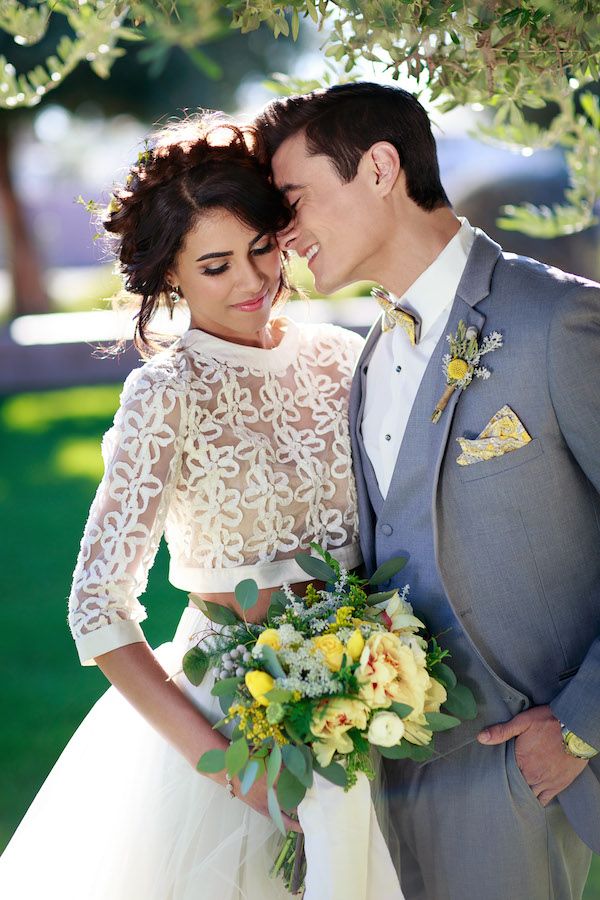 "
Vintage Rusticity
provided the curated props, along with the rustic hanging sweetheart and cake tables."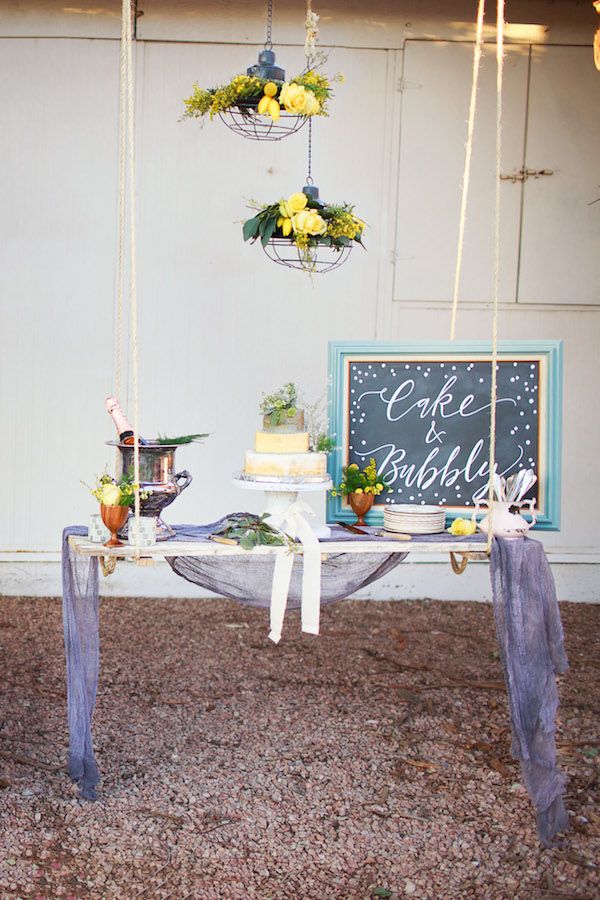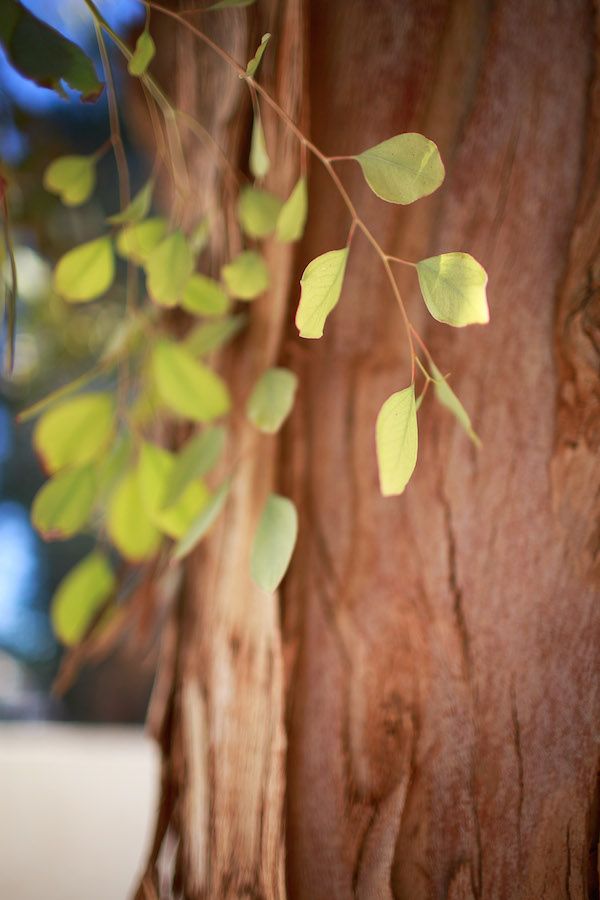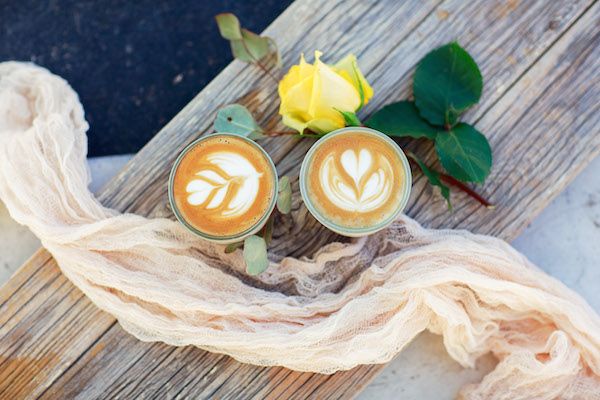 "Our handsome model, David, was totally debonair in a gray retro inspired three-piece suit by
Celebrity Tux & Tails
."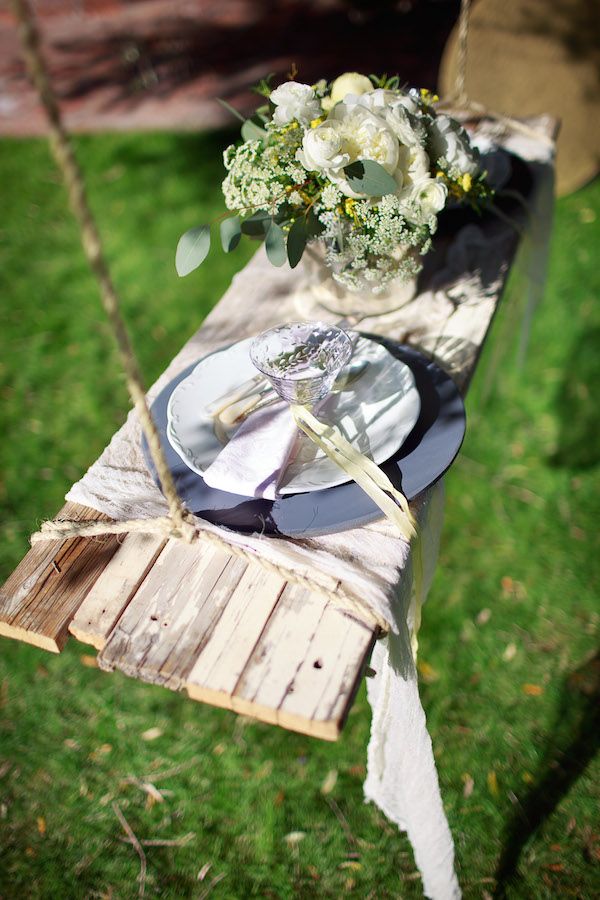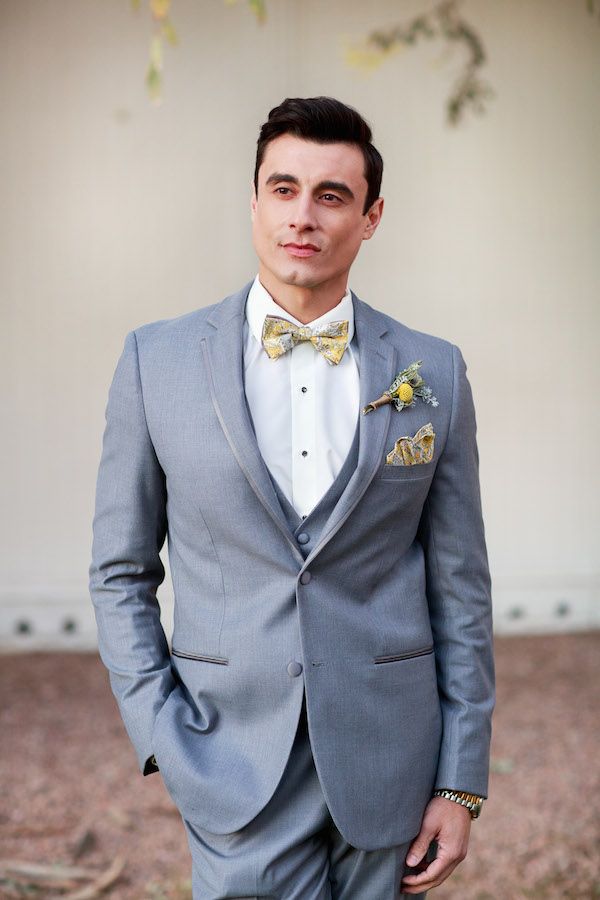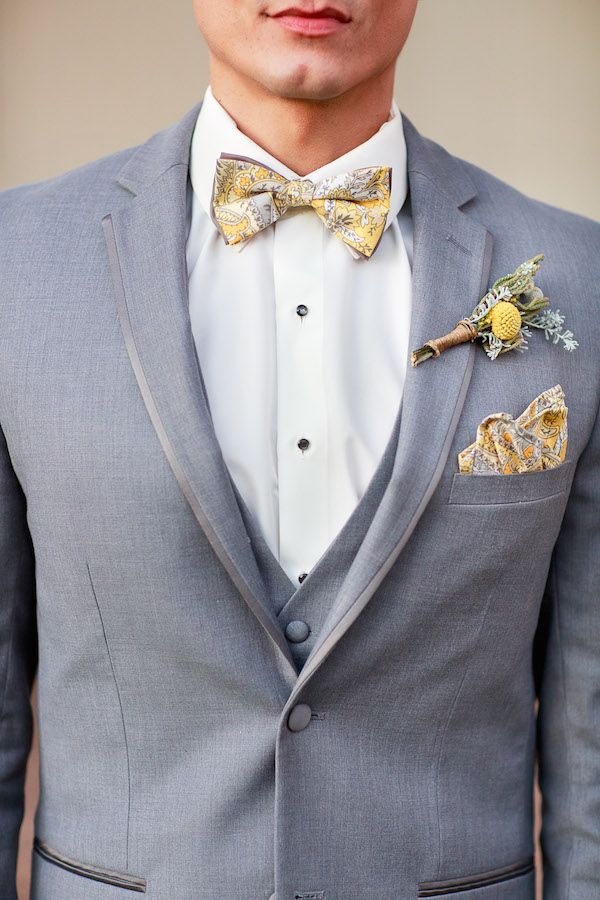 "The yellow paisley bow tie and pocket square added a hip and charming touch to his dapper look. The earthy boutonniere perfected his overall harmonious look."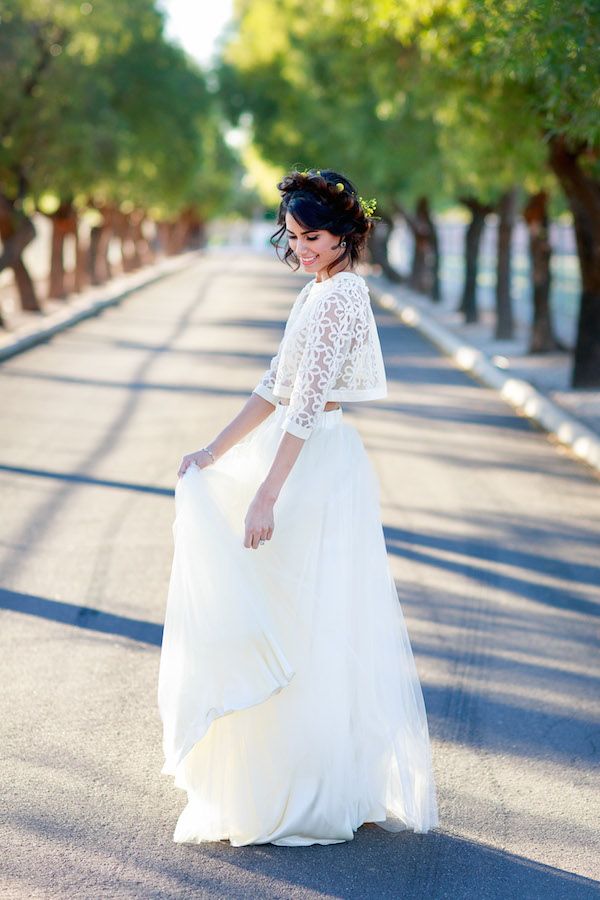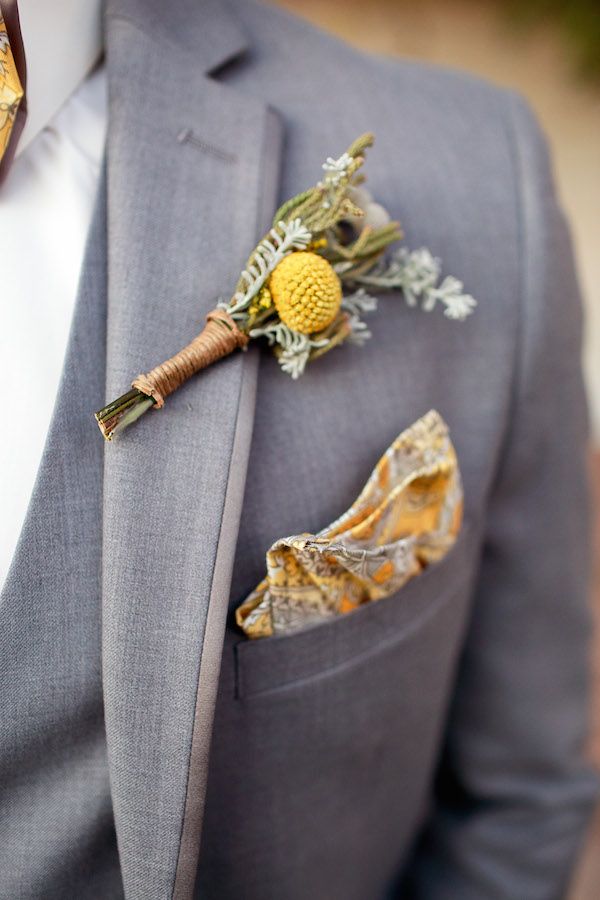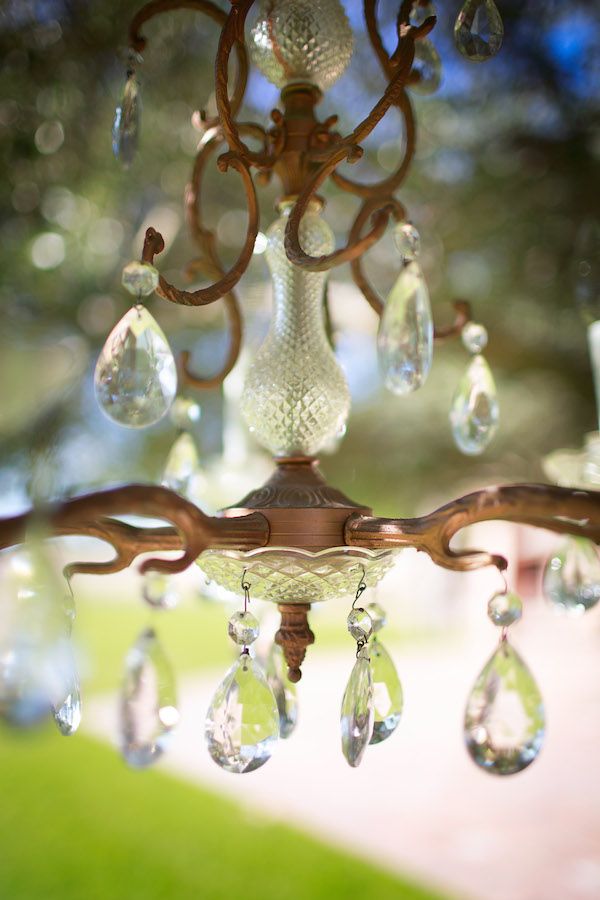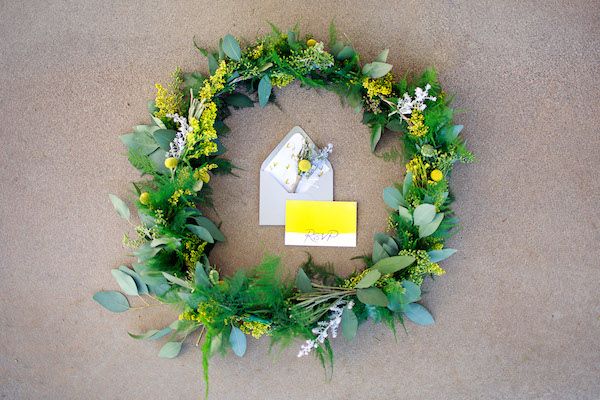 "Bianca, our elegant and beautiful bride wore an original, modern romantic gown by
SJ Collection
."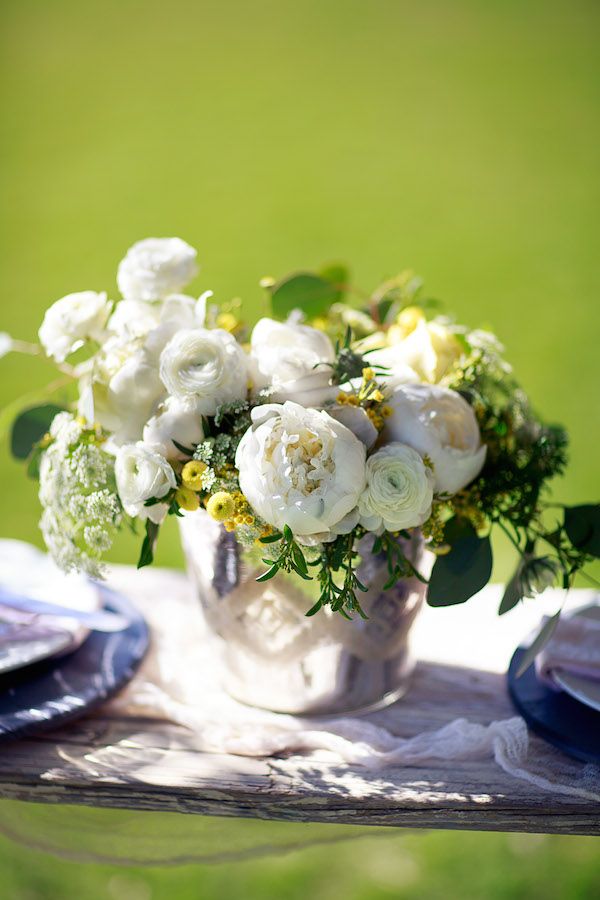 "New trend alert! The custom coffee station staffed by professional baristas created a buzz as a hip and delish alternative to cocktail hour."
"Handcrafted lattes were provided by Silent Flight Coffee..."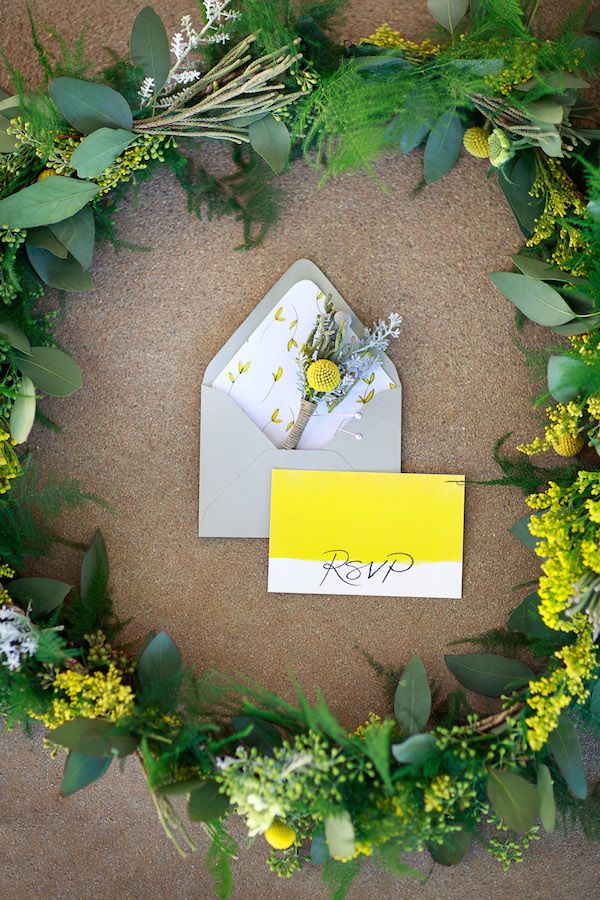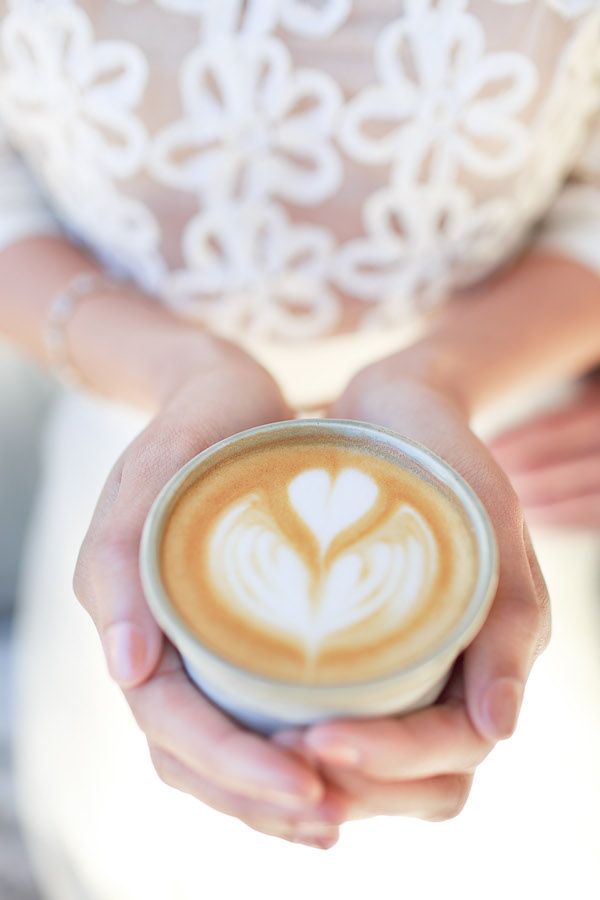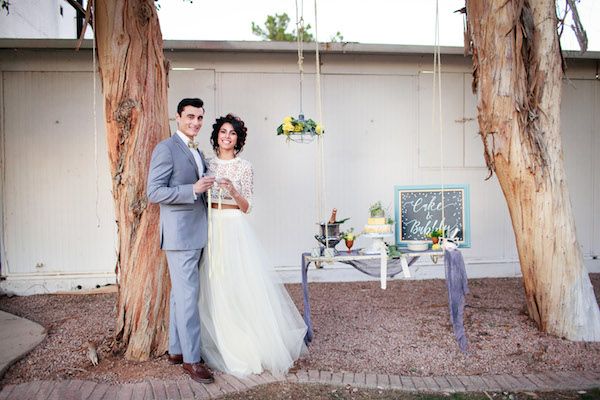 "...who make their own lavender simple syrup, among other natural flavors, to add delight and surprise to their delicious frothy cups of espresso art."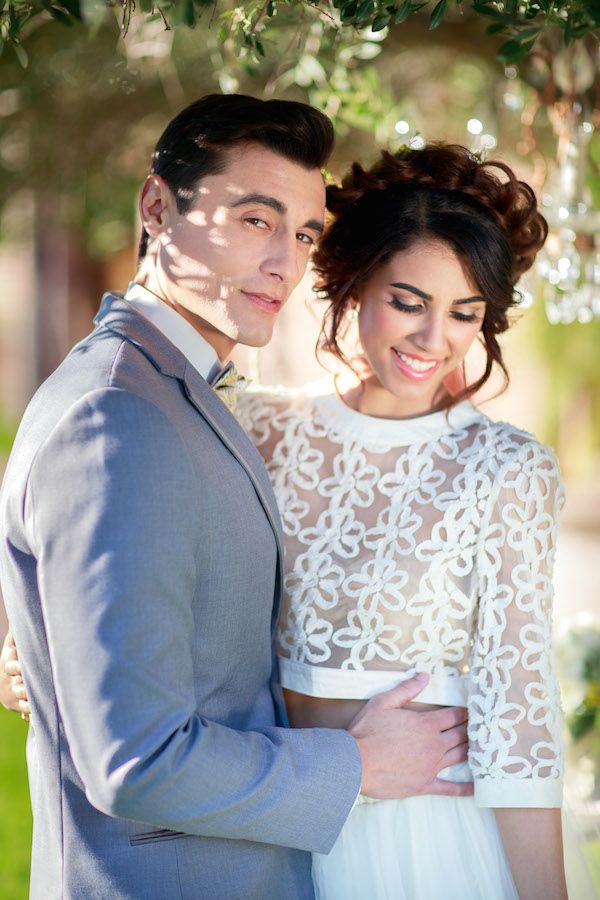 "With creamy ivory mounds of tulle and a midriff lace top, Bianca was a gorgeous sight. The intricate hairstyle details gave our bride a regal feel."
"Her stylish coiffure was set off by bright and lovely florals provided by
The Wildflower AZ
and flawless makeup by
Oh Makeup
. She was all set to be a glowing bride."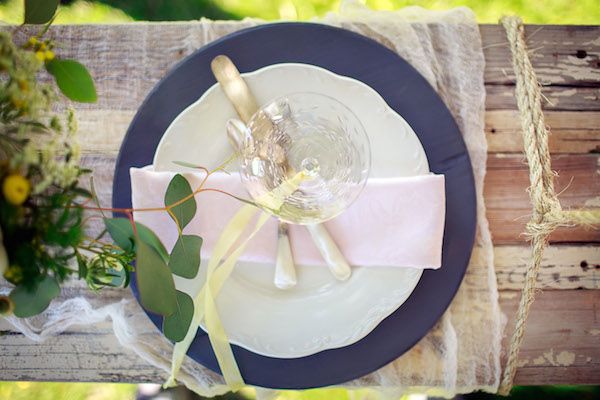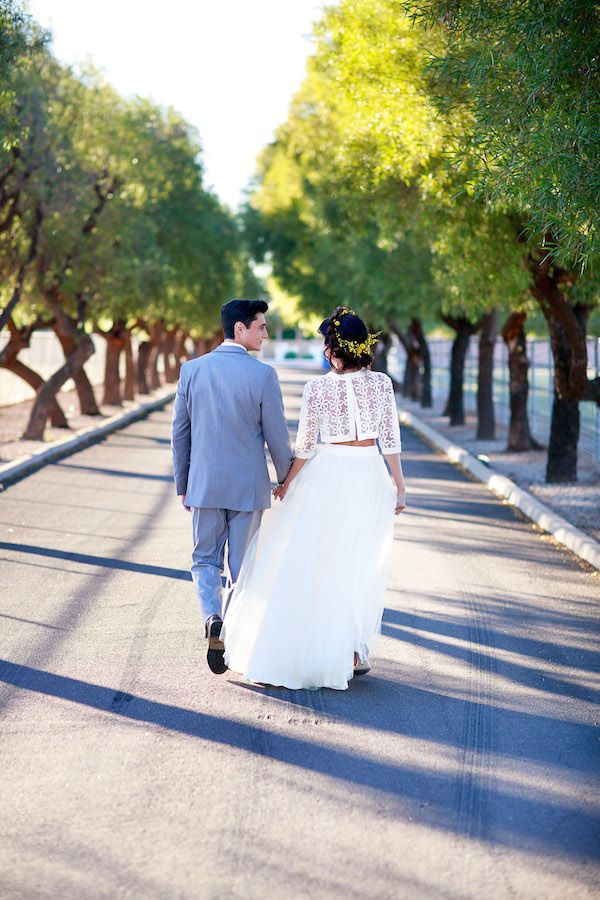 "The custom watercolor stationary design from
Paige Poppe
created anticipation and excitement, infusing a modern twist to the whimsical setting of the rustic venue."
"The vibrant stationery suite featured luminous yellows, soft grays and touches of sweet hand drawn florals."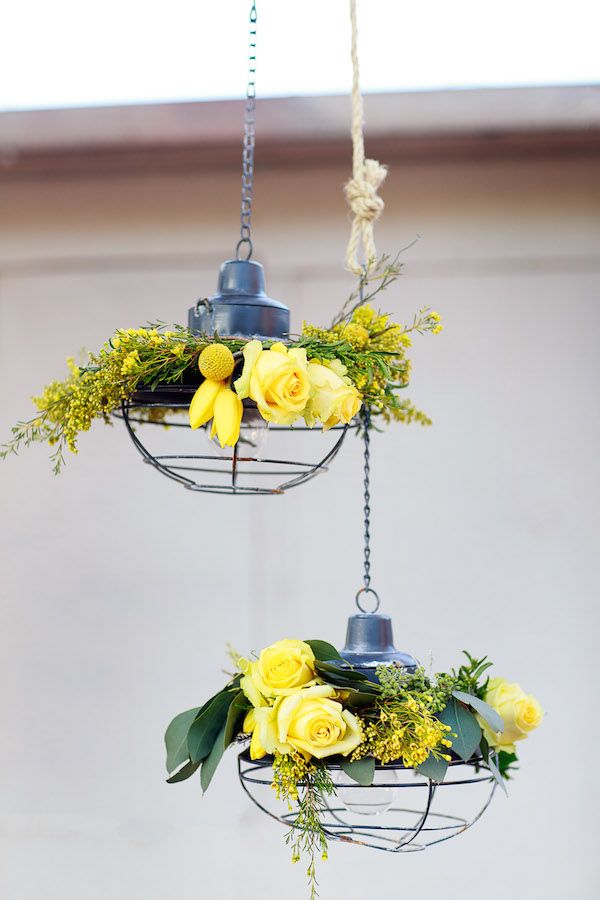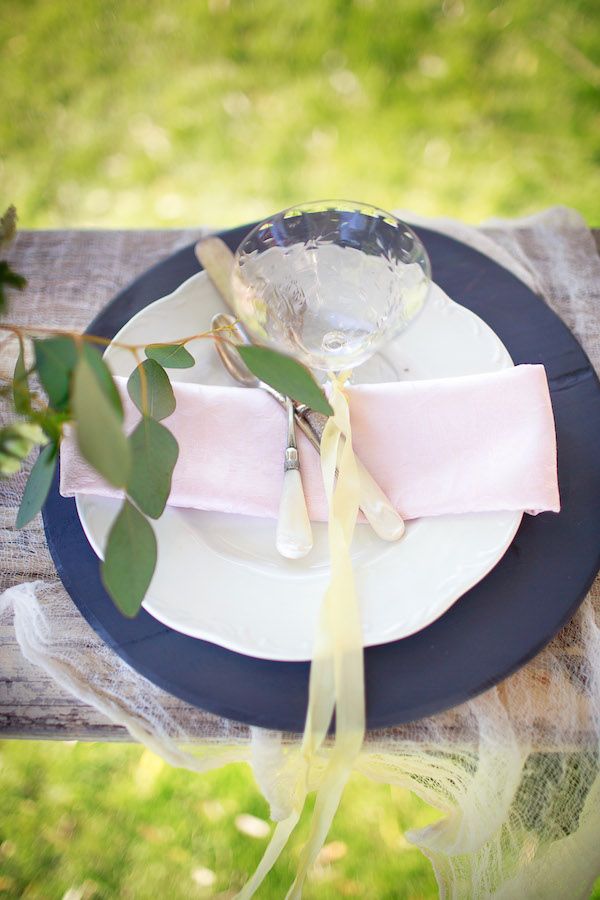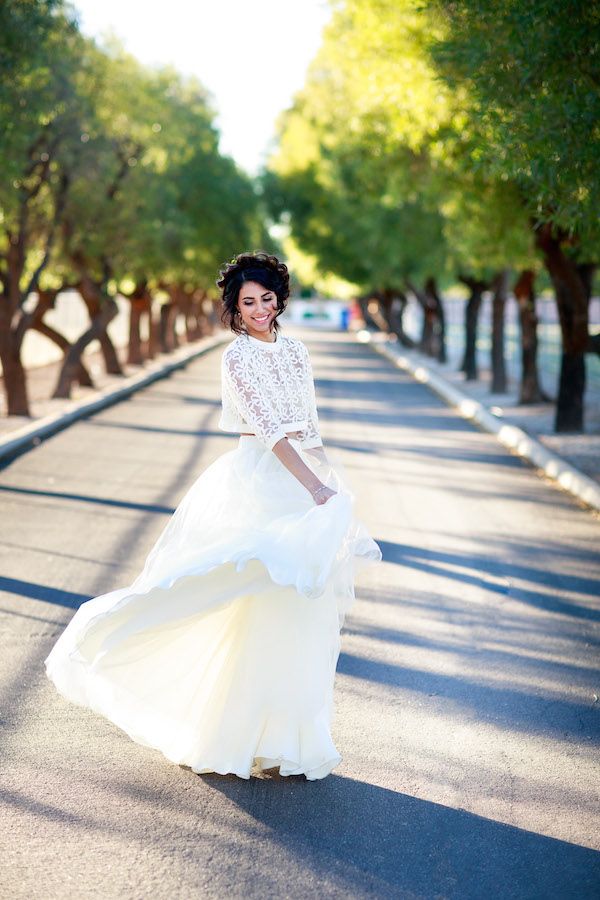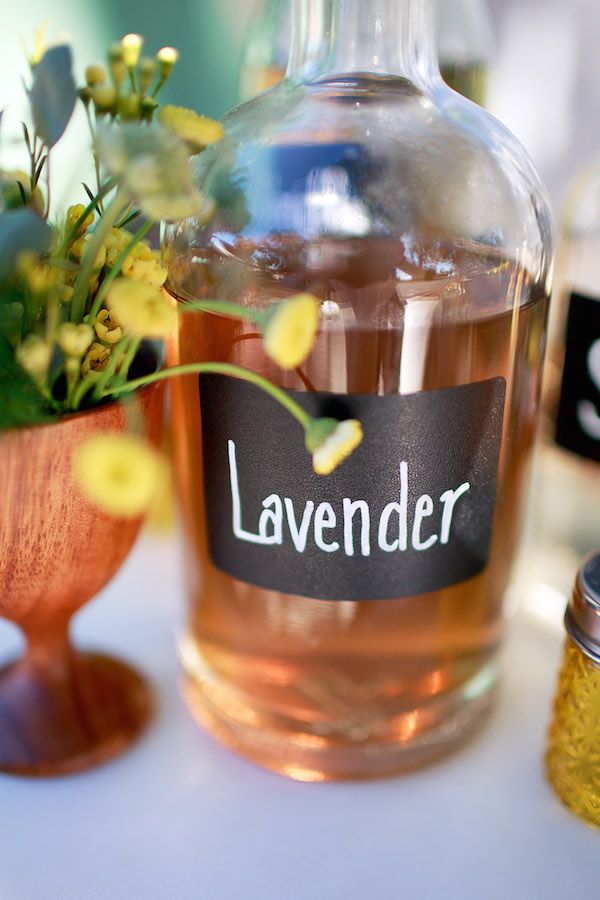 "
They Call Me Spindles
skillfully wrote the "guests" names in cool calligraphy."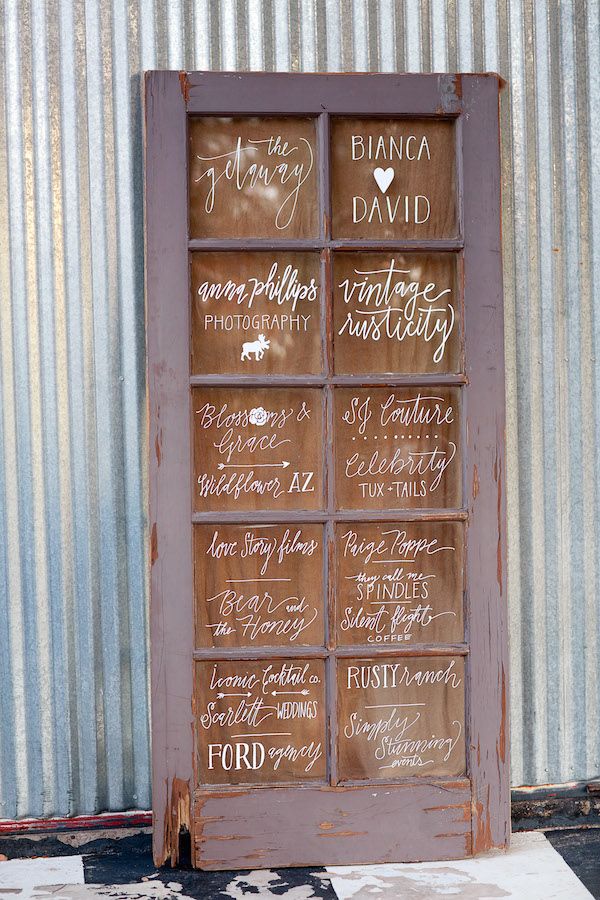 From the photographer, "Our amazing and talented team of vendors brought together by, Blossoms & Grace, who planned and coordinated the shoot, were displayed as wedding guest on a Vintage French door."
"The design was perfected with the final touch of fresh greenery decorated in a wreath hanging over the door for a splash of color."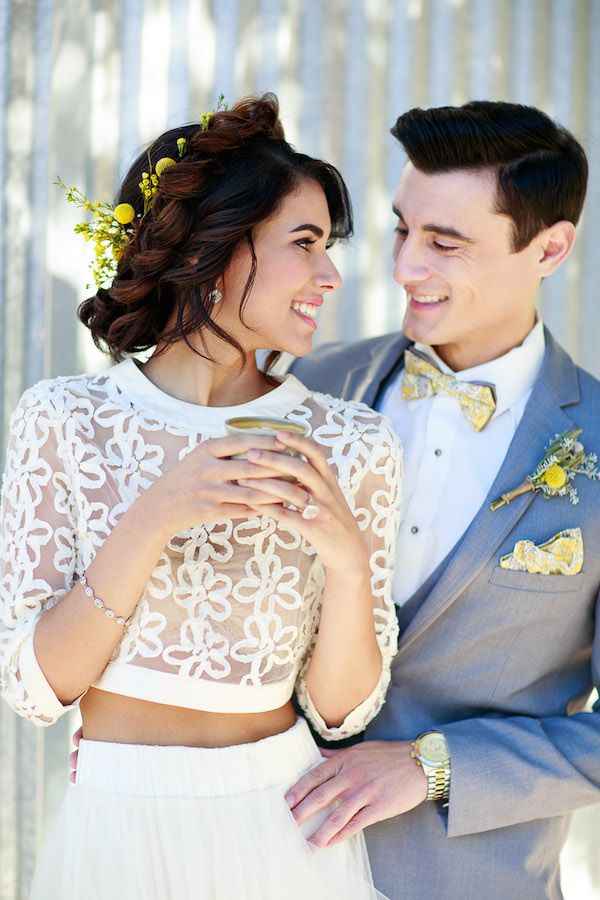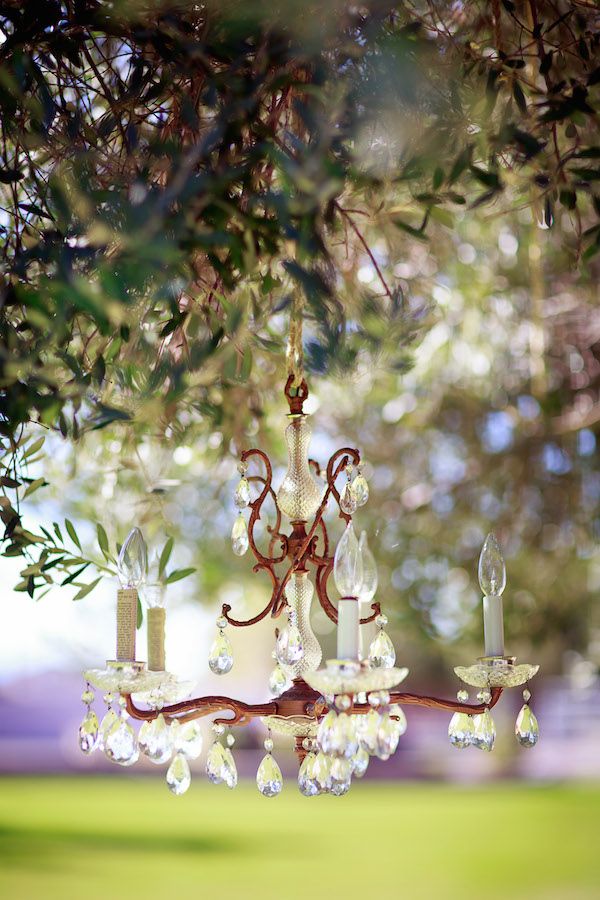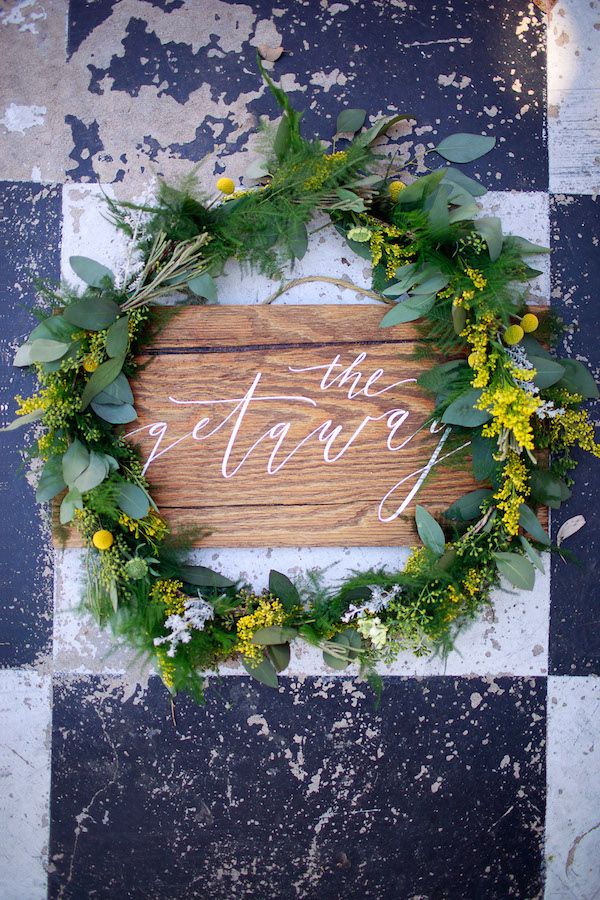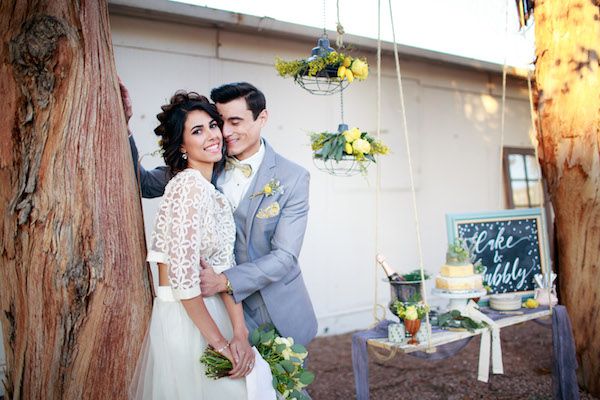 "
Bear and The Honey
's geometrically shaped cake dusted in gold was a chic centerpiece to the vintage service ware."
"Gorgeous yellow floral wreaths draped over industrial lamps floated above our unexpected hanging cake table."
"They Call Me Spindles created a stylish sign that added a fun invite for guests to come imbibe in cake and champagne."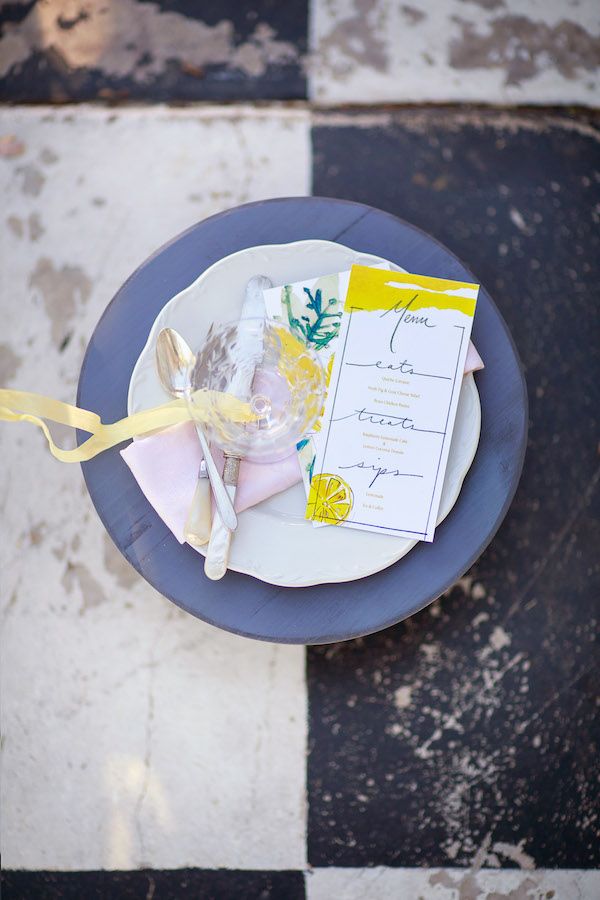 "The exquisitely crafted bouquet was tastefully designed to tie in with the beauty of the season."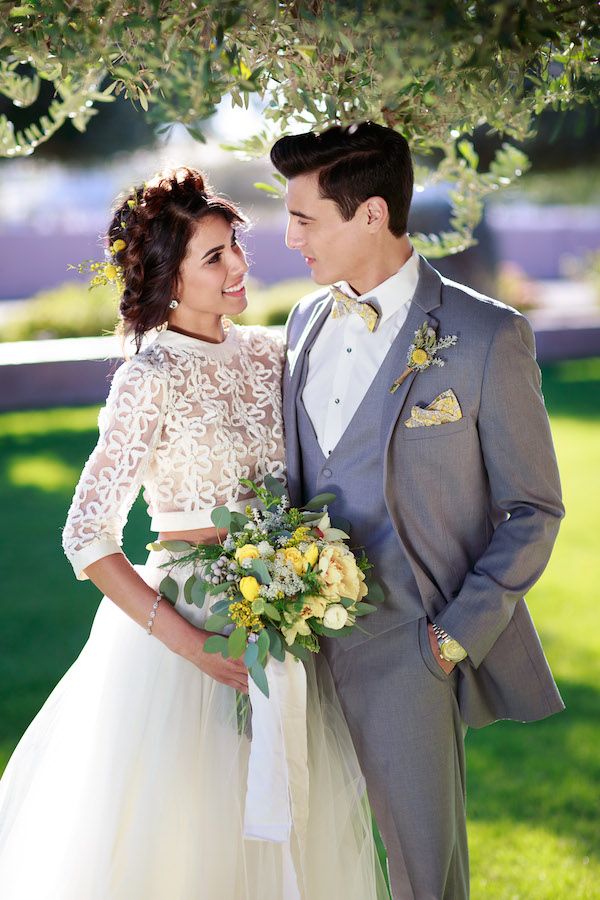 "An eye-catching mix of buttery yellow peonies, brilliant yellow roses and tulips..."
"... as well as a blend of gorgeous textured greenery plus subtle pops of creamy white ranunculus, this bouquet was simply breathtaking."
"The mood was of pure romance. A nontraditional rustic sweetheart table was hung from a majestic olive tree, along with a vintage crystal chandelier that sparkled in the Arizona sunlight."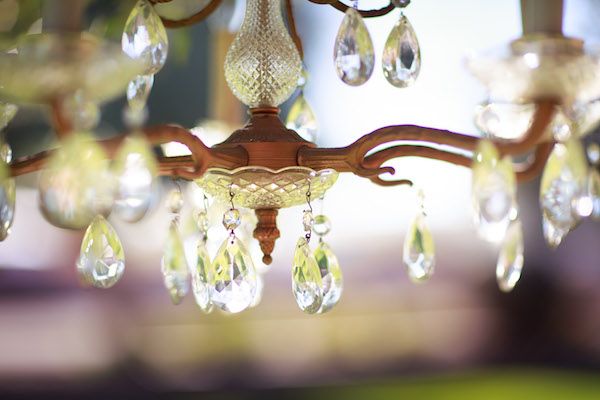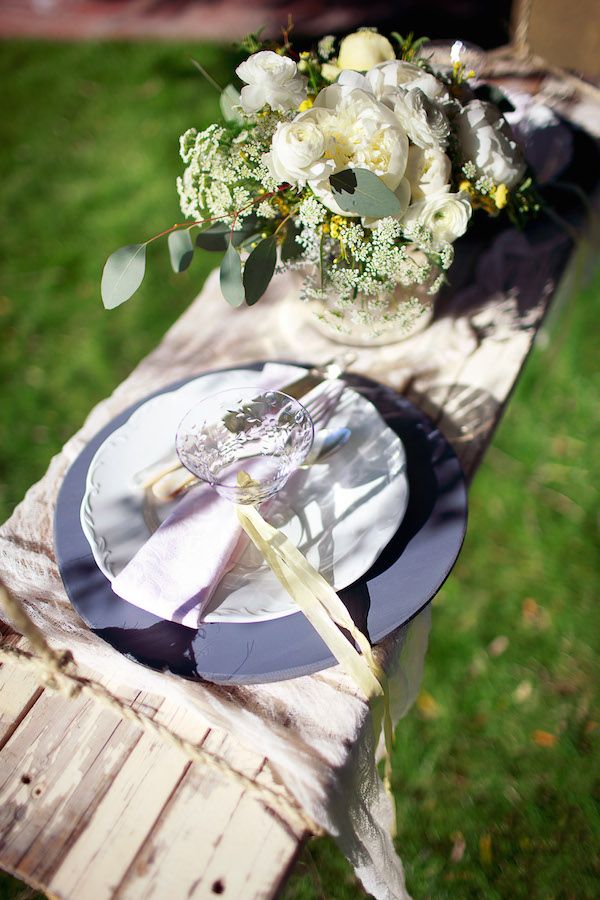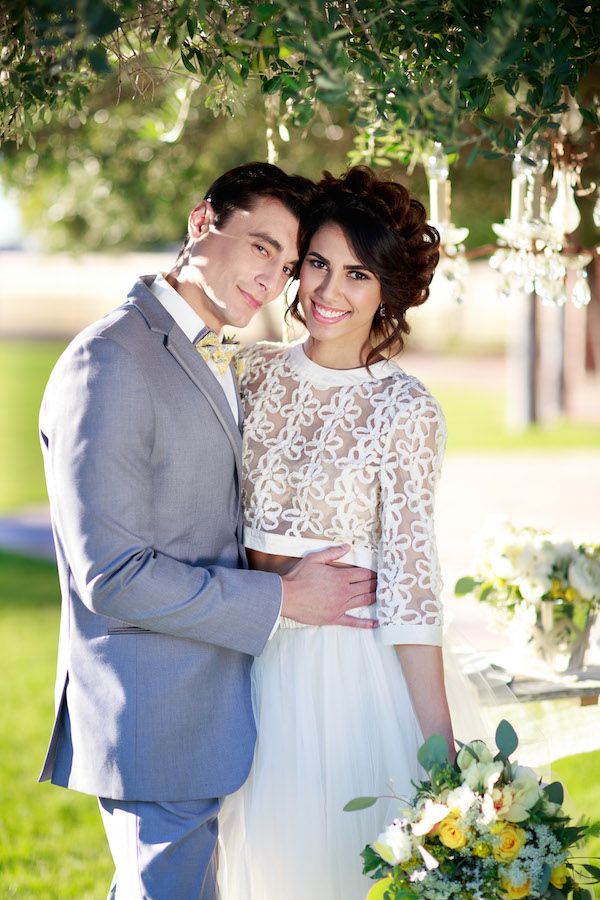 "The sophisticated combination of smoke gray wood chargers, white ironstone, blush pink linen napkins and etched crystal champagne coupes created a classic setting."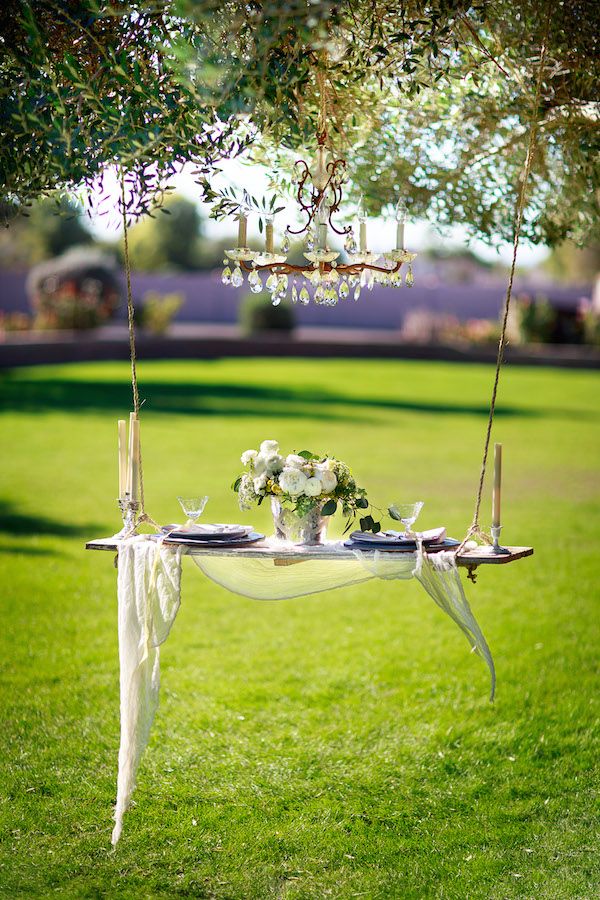 "The decadent and luscious centerpiece full of pump ivory peonies and ranunculus with vivid yellow accents added the right organic and elegant composition as an essential element of this unique table."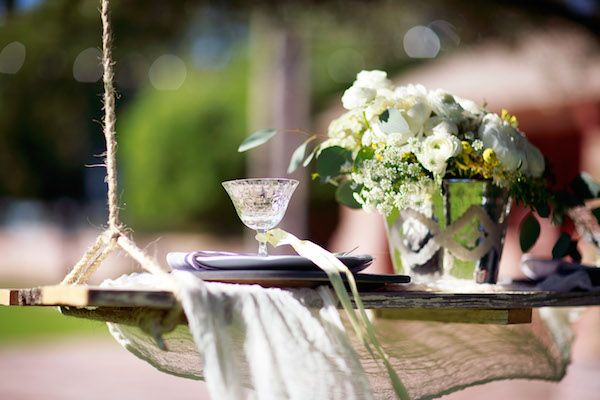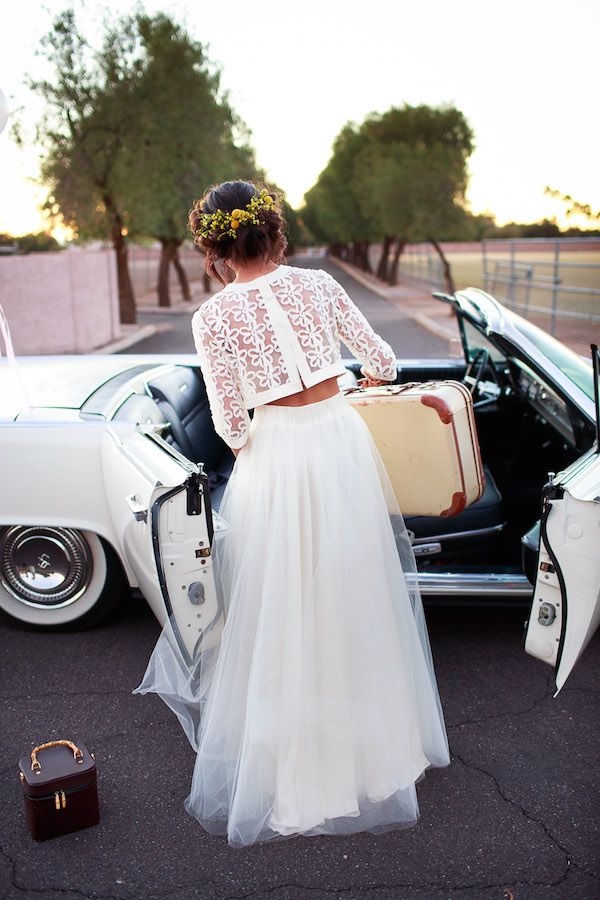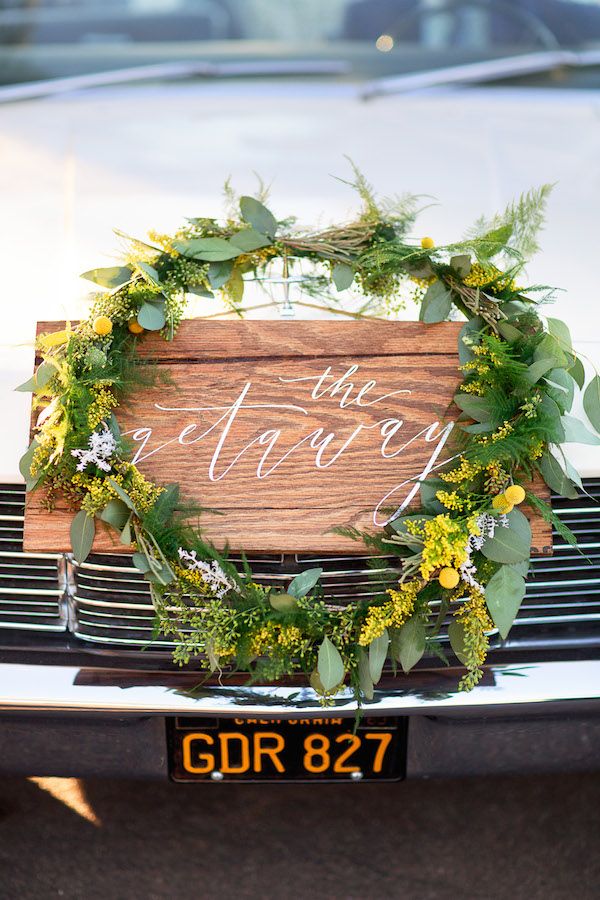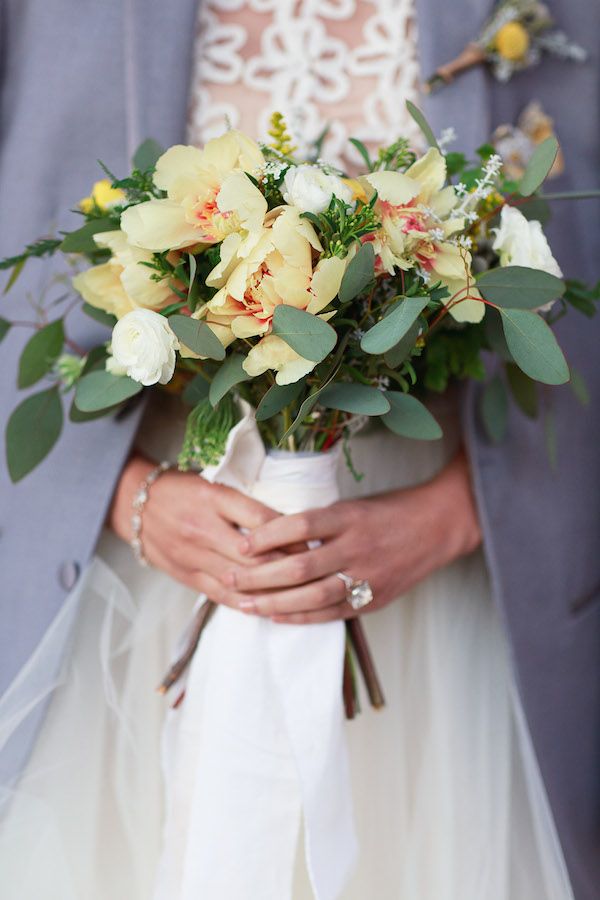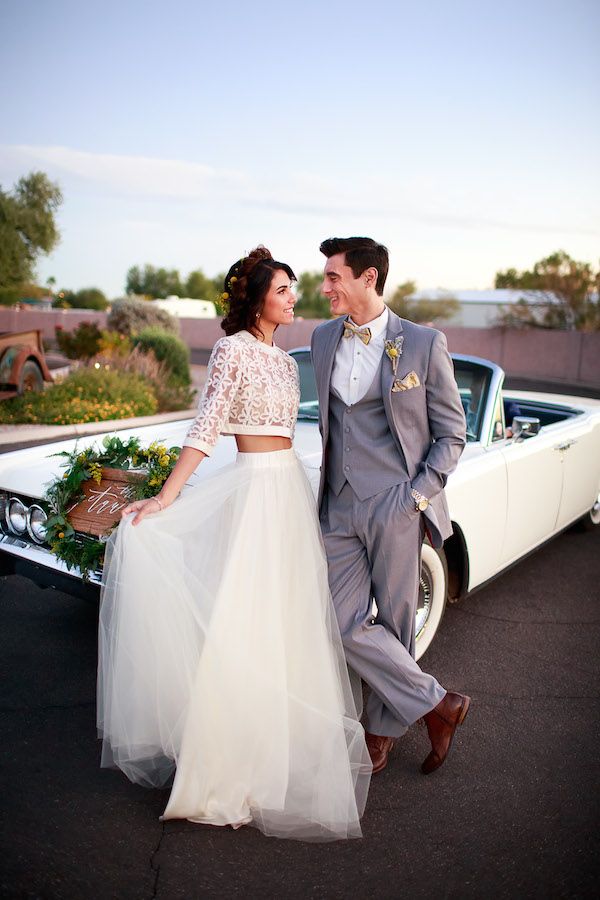 "With a divine tree-lined driveway, this venue provided the perfectly dream setting for "The Getaway" styled shoot."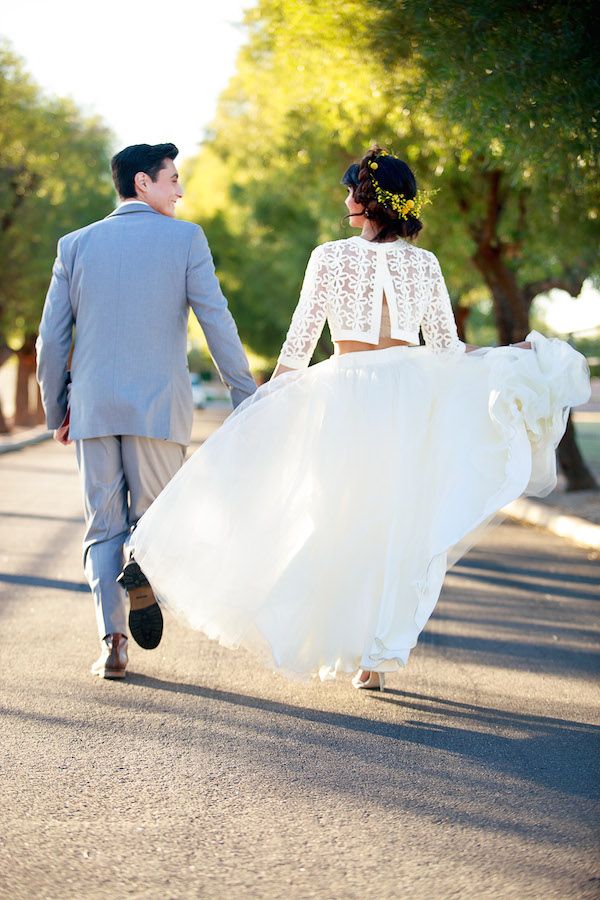 "The highlight of our styled shoot was the pristine vintage white convertible '65 Lincoln Continental! What a showstopper, provided by Rusty Ranch."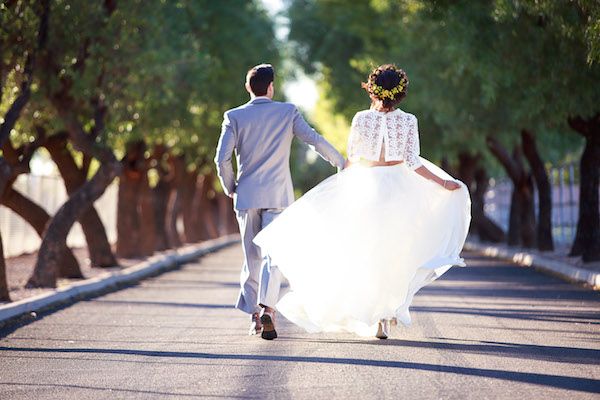 "The love-struck bride and groom drove off with vintage suitcases loaded in the car, along with a honeymoon picnic basket..."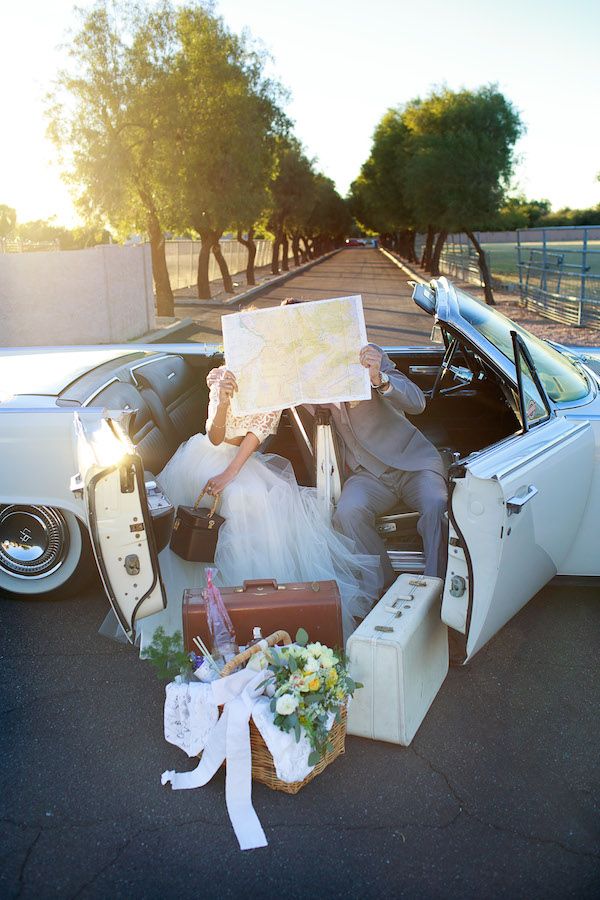 "...which included homemade cocktail mixer lemonades by
Iconic Cocktail - Co.
, a bottle of champagne and a map to guide them on to their honeymoon destination.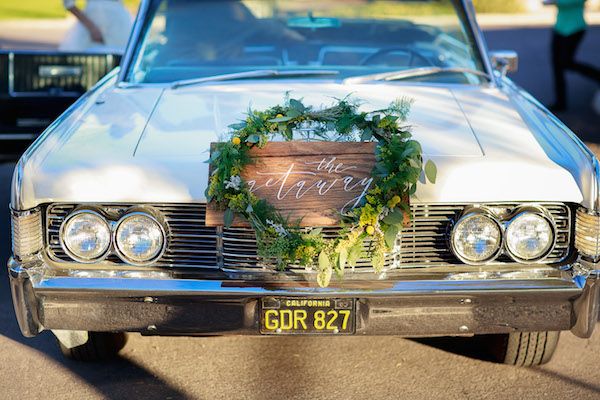 Don't miss this beautiful wedding film that captures the beauty of this day by
Love Story Films
! Oh. my. goodness! We're so in love with this fabulous fete! We so appreciate the bride's exquisitely modern romantic gown, the stylishly suited groom, and the charmingly trendy wedding cake.

And who could resist this rustic, yet surprisingly lush, desert venue? Such a perfect backdrop for this chic mix of vintage industrial vignettes. The perfect marriage of styles, if you ask us!
Share This: