Modern, colorful, and oh-so-chic, today's styled shoot out of Utah is the kind that will leave you feeling oh-so-inspired and filled the brim with feel good vibes! With event design by
Perfect Statement
and florals by
Sax Romney
- get ready for gorgeous, because this creative shoot is a total must-see! And lucky for us
Claire Marika Photography
to capture it all!
From the design team, "When the new
The Falls at Trolley Square
opened in downtown Salt Lake City, we couldn't wait to get in there and design!"
"The past few years Salt Lake has really been upping the city vibes and Trolley Square is it's own little slice of city chic magic."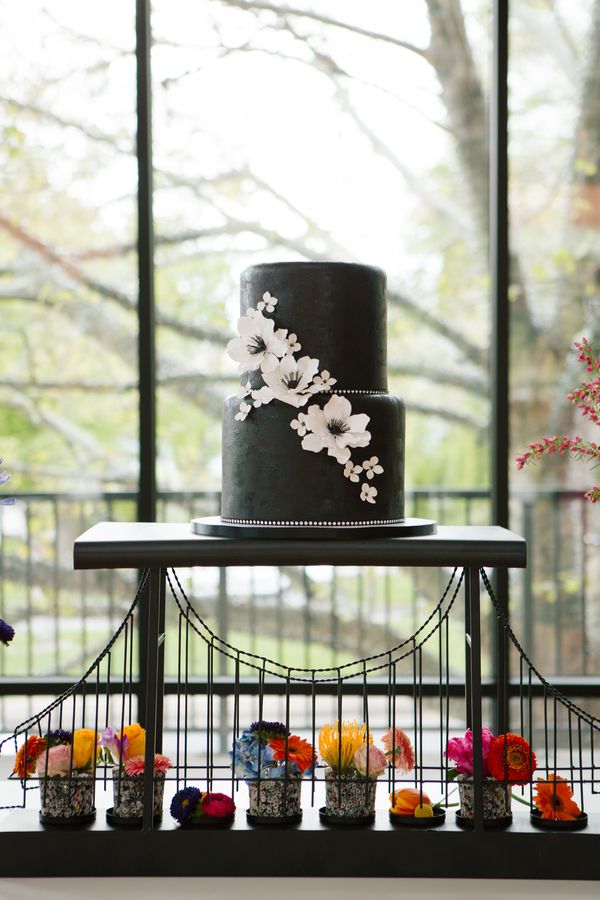 "This inspired us to design something that had the heart of a big city."
"Think art gallery, black and white, chic patterns, bright pops of color, a cake propped on top of a bridge, and a dress that would stop New York City traffic in a jaw dropping instant!"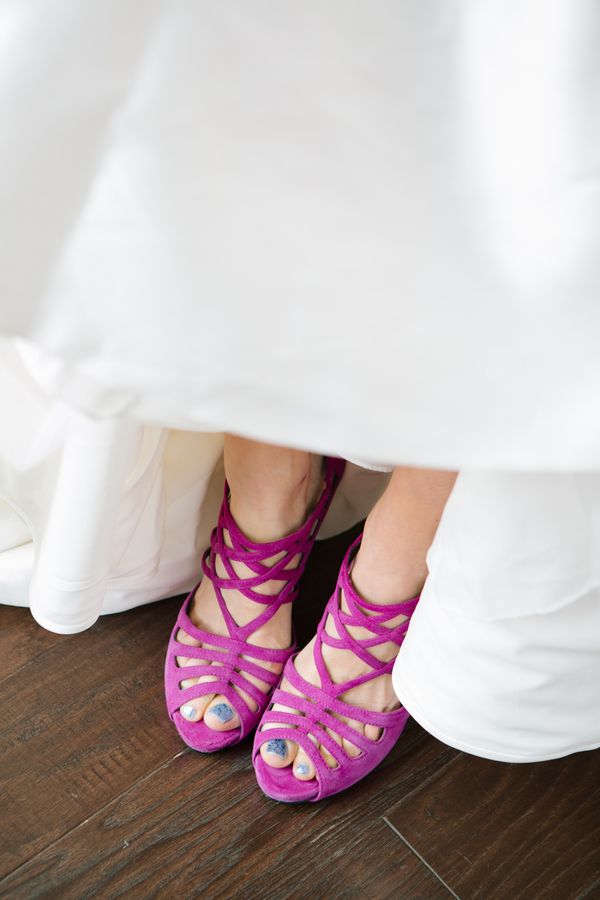 "Designer Megan Chytraus used cityscapes as inspiration for the design. She wanted to keep it edgy yet romantic."
And what a chic and edgy design it was!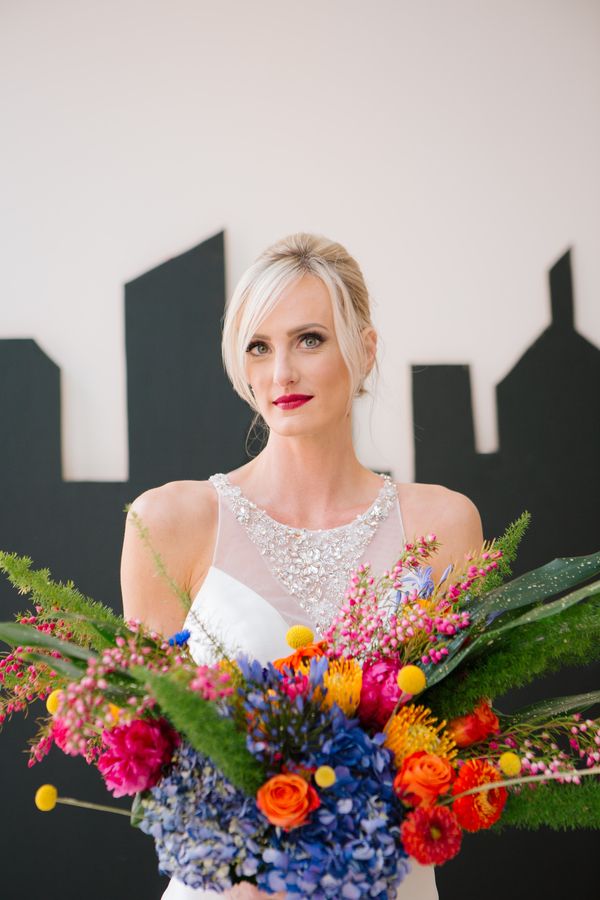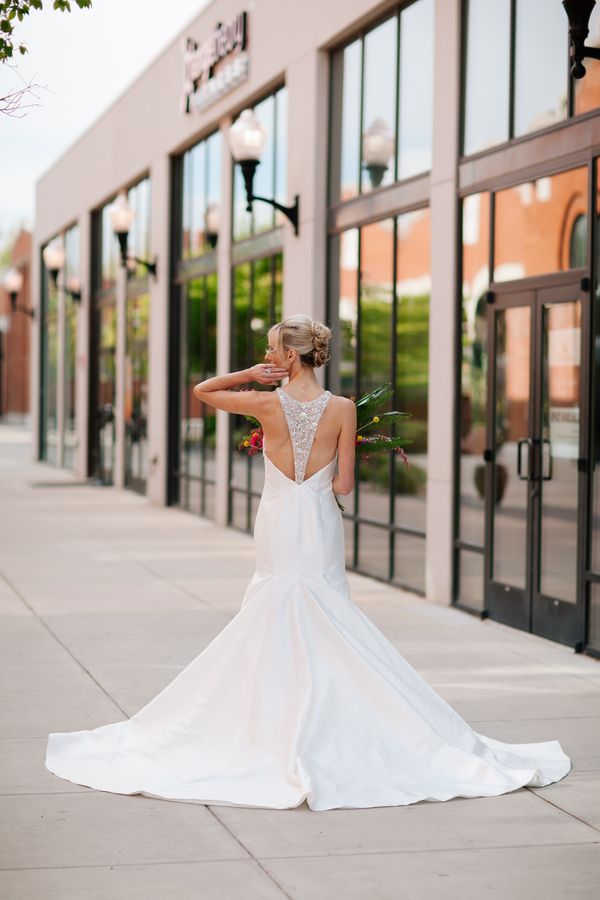 Oh. my. gorgeous! This bouquet is so full of color! Stop what you're doing and pin it, this instant!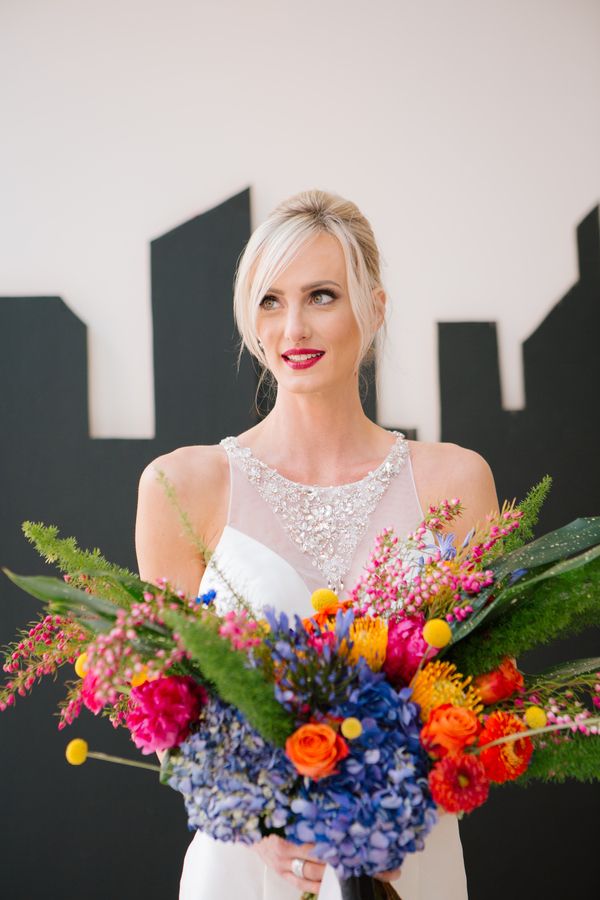 Oh, and can we just pause for a moment to talk about this chic cake design by
Carrie's Cakes
?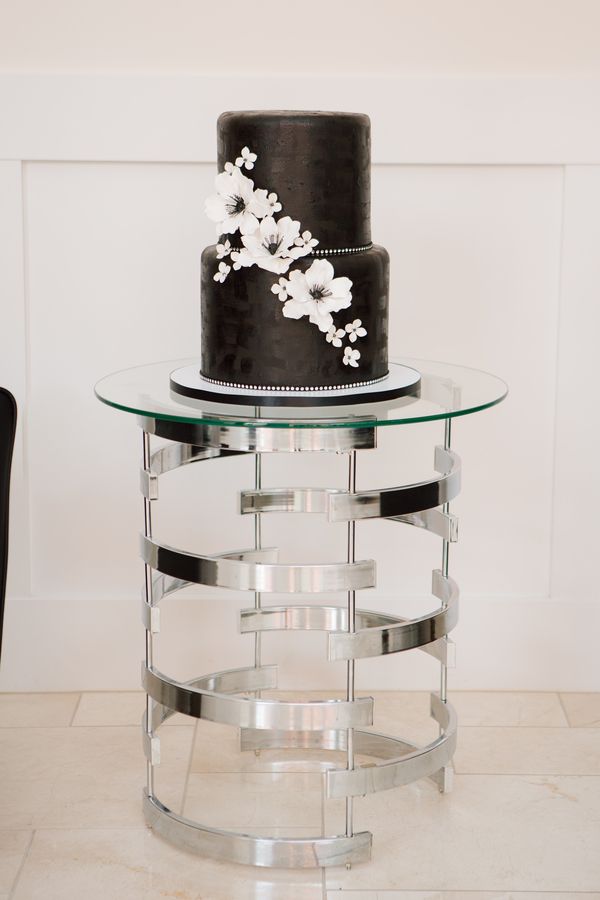 love, love, love! Plus we really are liking this chic cityscape silhouette backdrop.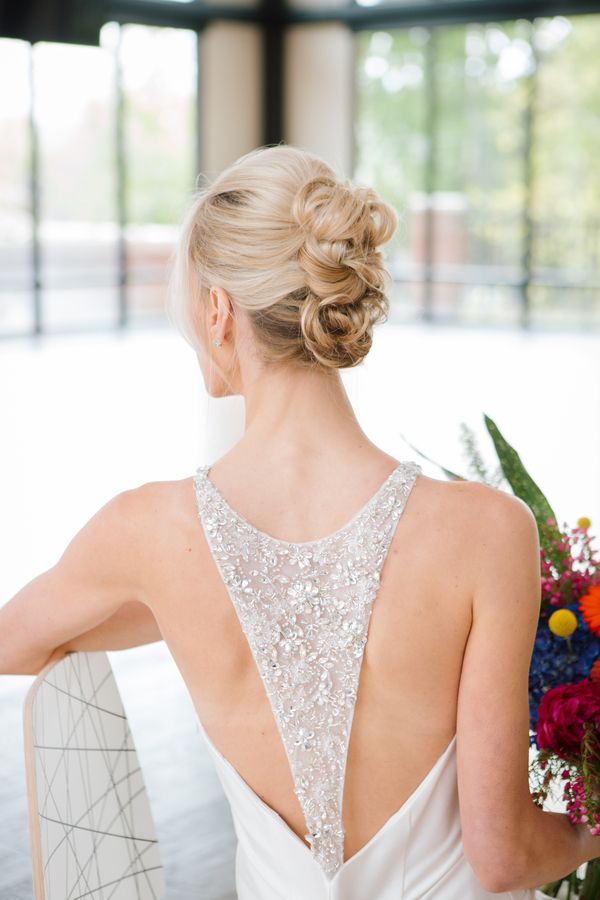 Such a bold design, and yet done so beautifully. We're loving the boho feel and the uniqueness of all of these details.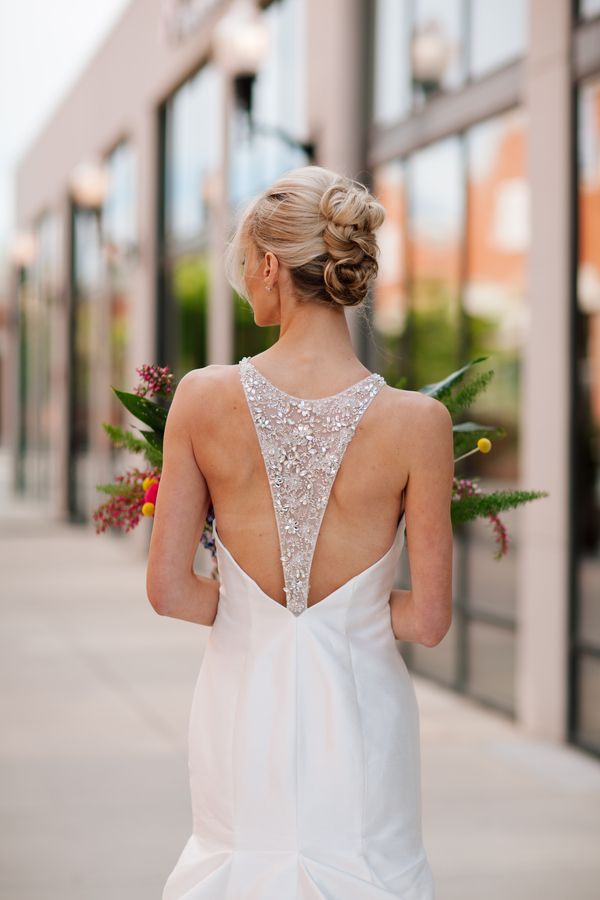 Versa Artistry
did an amazing job with hair and makeup.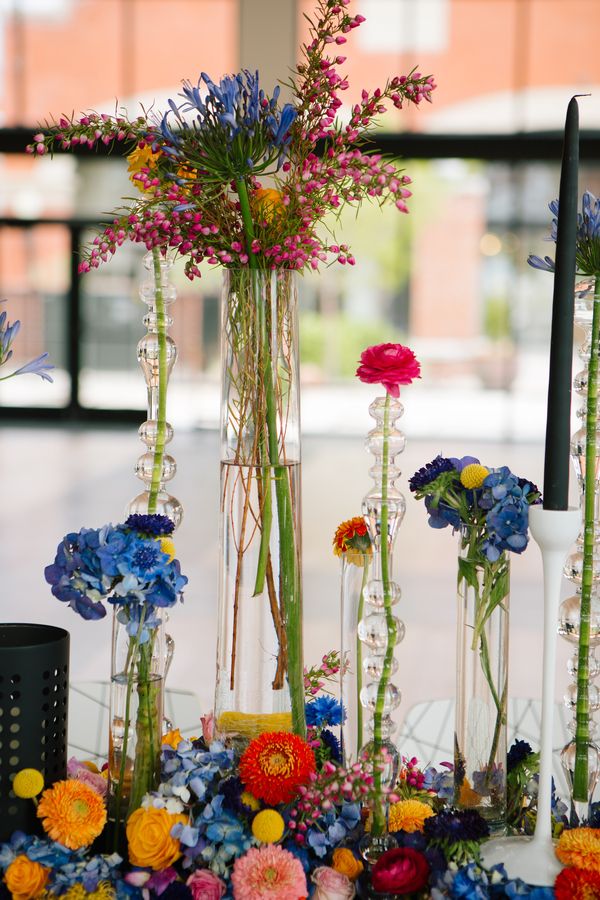 And this creative centerpiece? Yes! We love these unique vases! Such a feast for the eyes.
And how perfect-for-this-shoot is this invitation suite?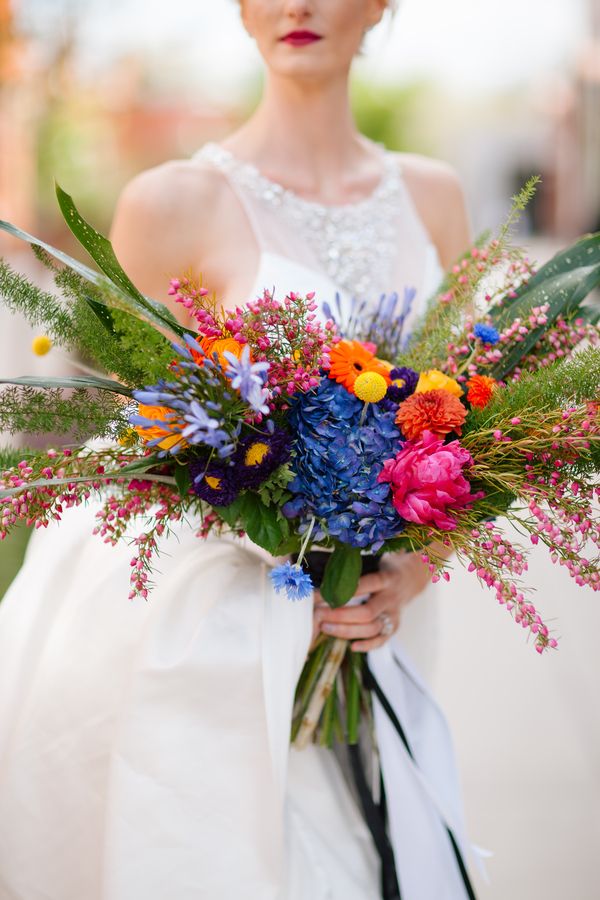 Falling so in love with each and every detail. But these chairs? These chairs take the cake!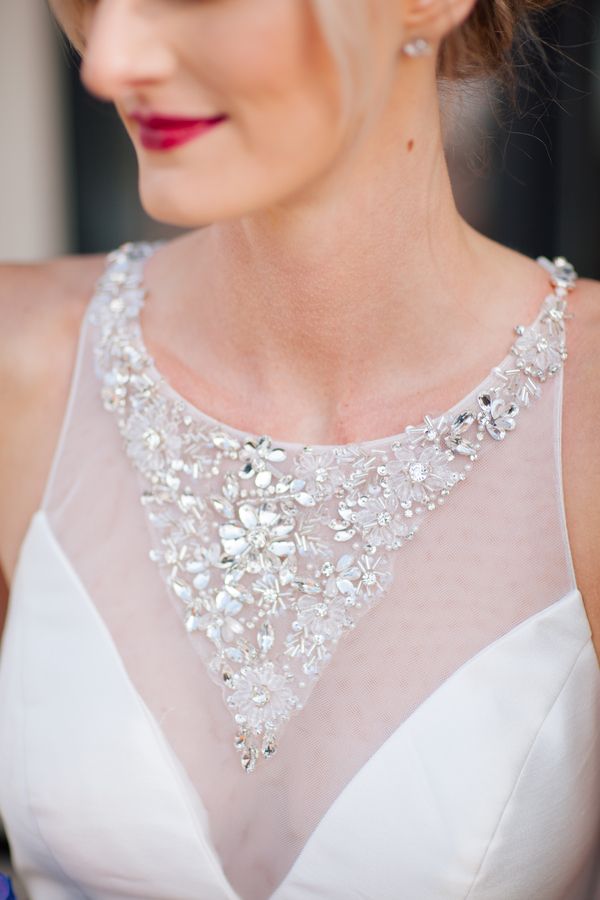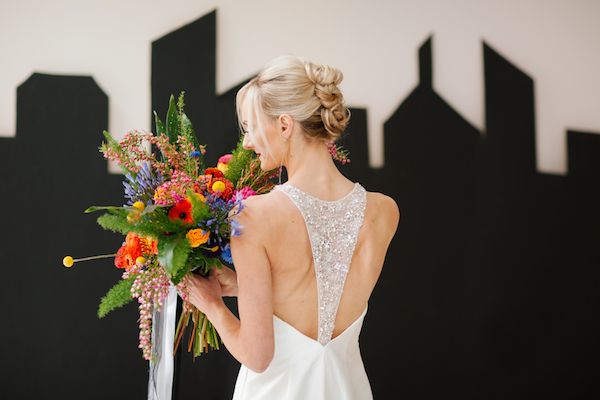 So much geometric goodness and we really like these primary colors with the vivid reds, deep blues and happy yellows.
Fun elements such as the patterned chairs and black flatware really added a unique twist and made a bold statement.
Really, really liking this stunning gown with it's trumpet silhouette.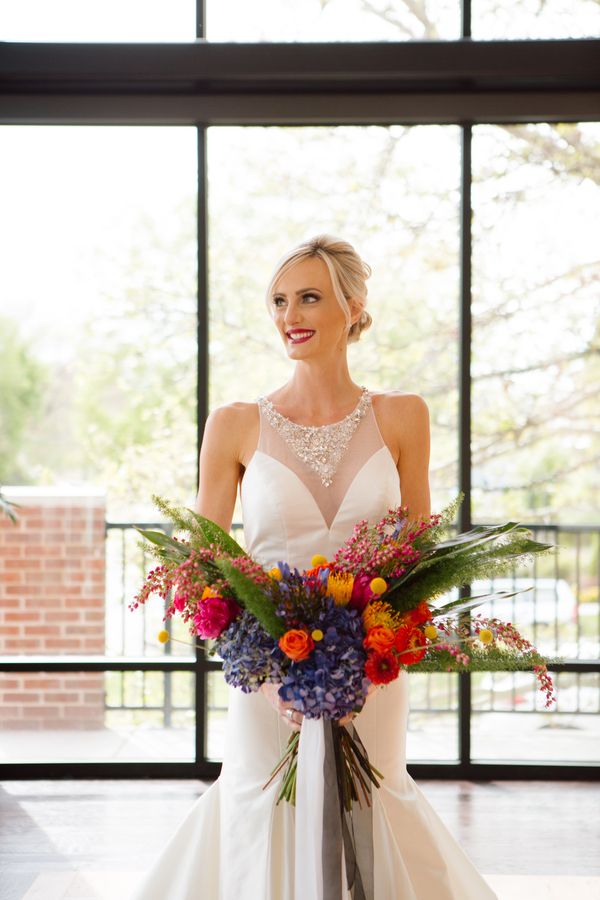 And oh. my. goodness! These place settings. Yes!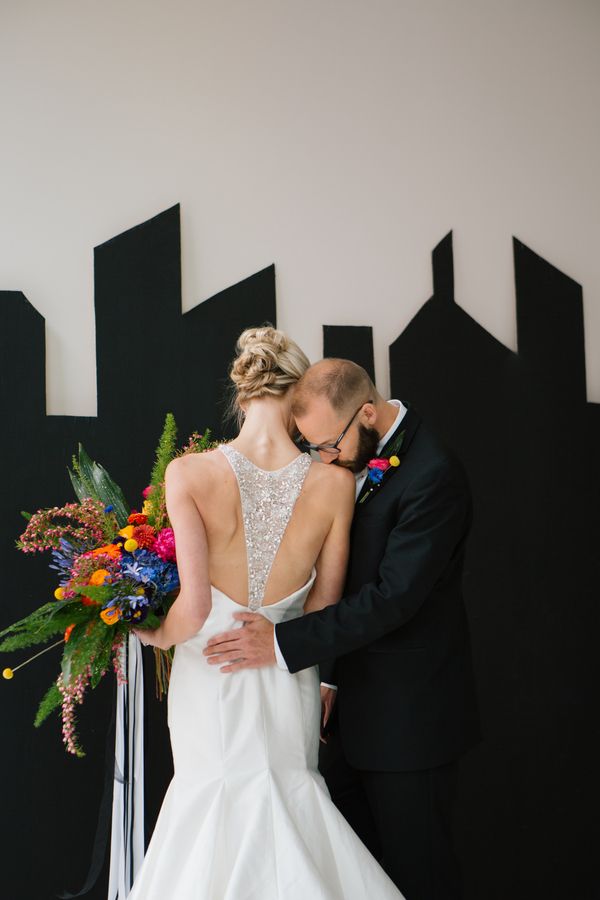 And there's really nothing we're not loving about this art gallery inspired seating chart!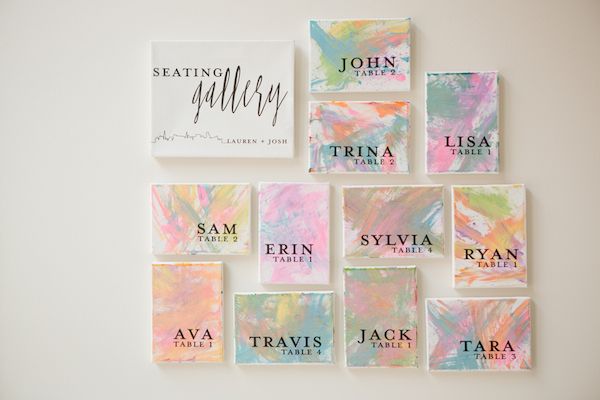 Hand painted paint splattered canvases with guests names and table numbers were hung on the well, adding the perfect pop of color in the modern white space.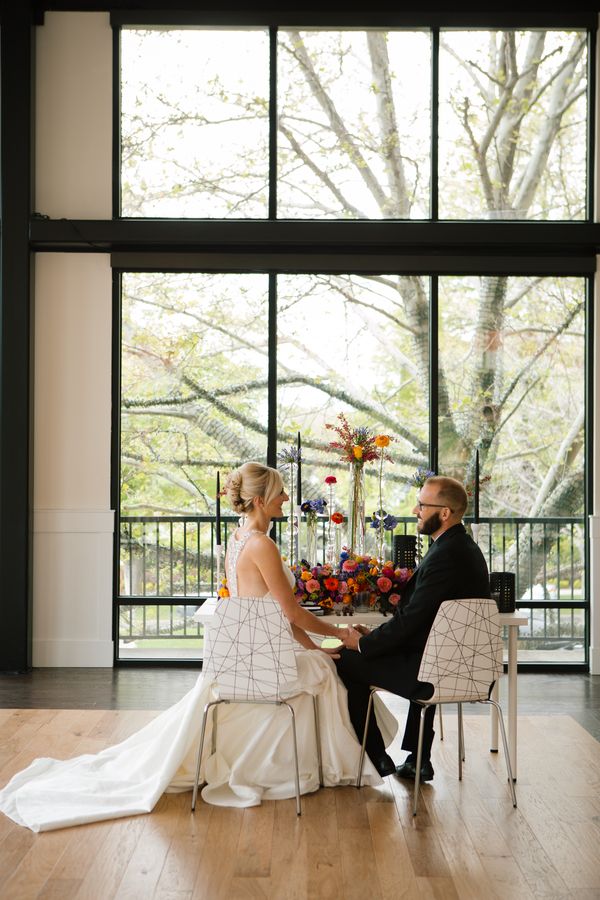 Add that to the massive cityscape backdrop that was cut out by Megan herself and the space was filled with fun elements that underlined the overall concept.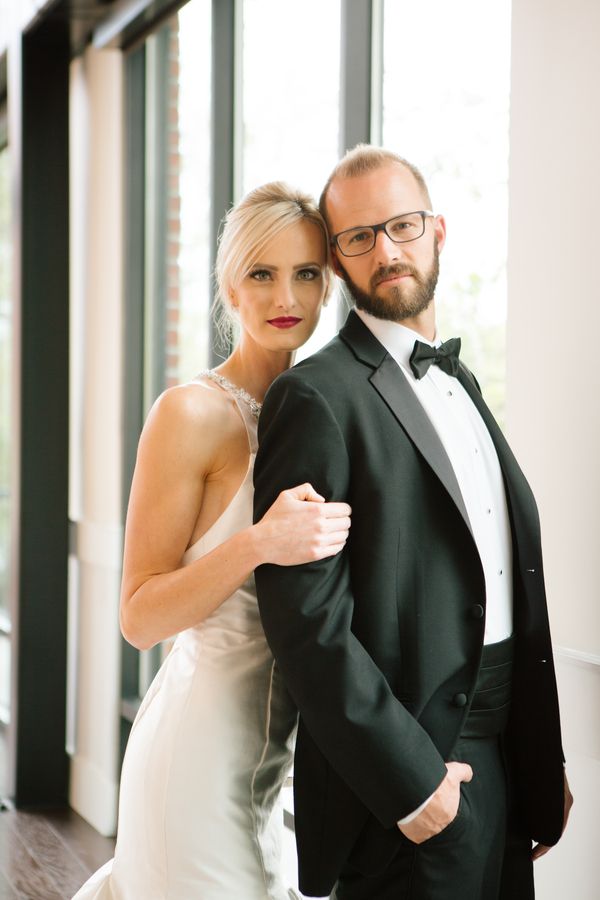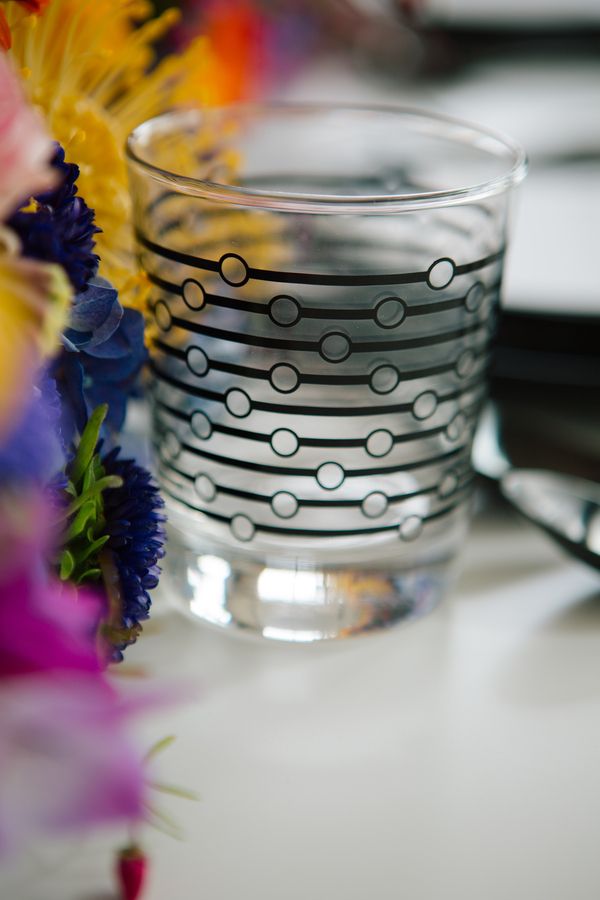 And Wow! What a fabulously chic setting this is. And of course a bow tie was in order. Complete with a tuxedo to boot! Wow!
The black and white are the perfect contrast to these bold colors.
Sax Romney worked with her to create layers and levels of flowers to resemble the skyline of the city.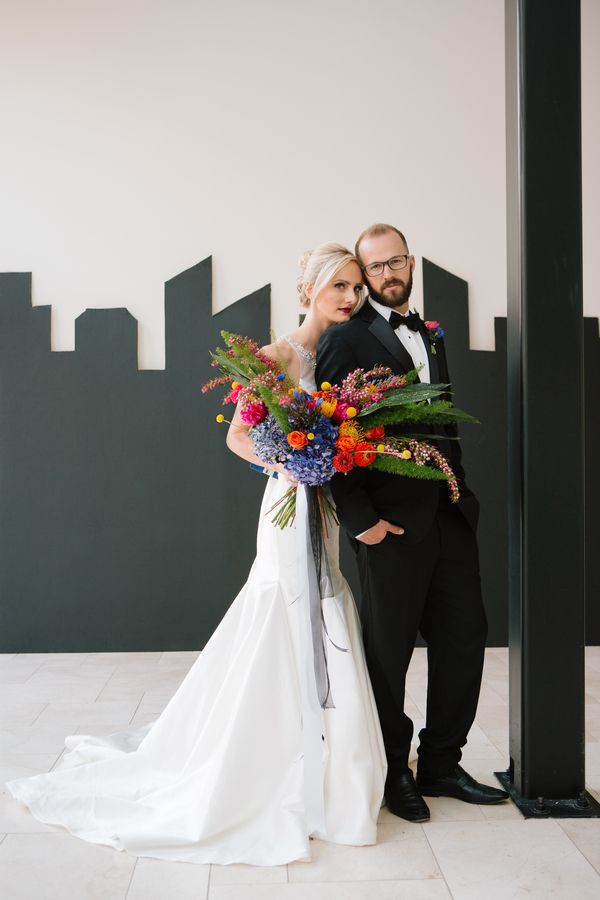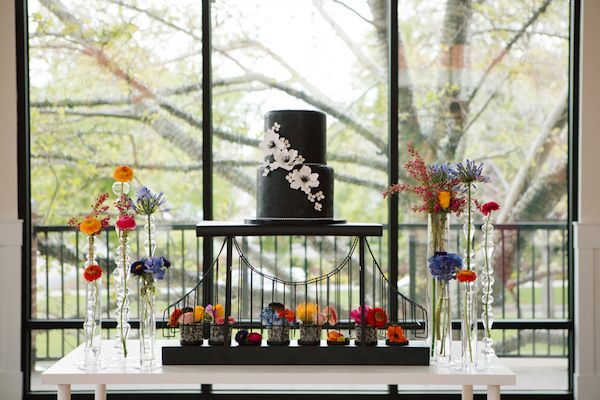 Add in some black tapered candles against pristine white candle sticks and you have the dramatic contrast that screams high fashion NYC.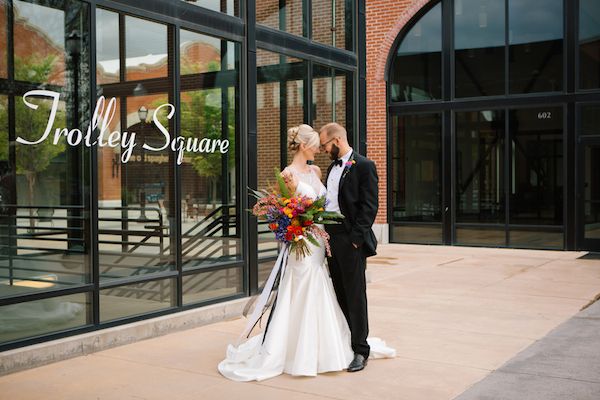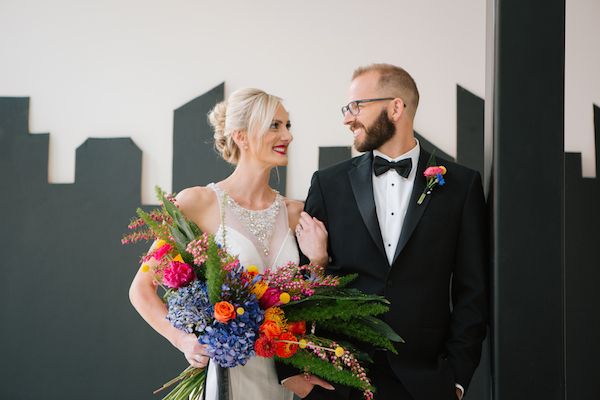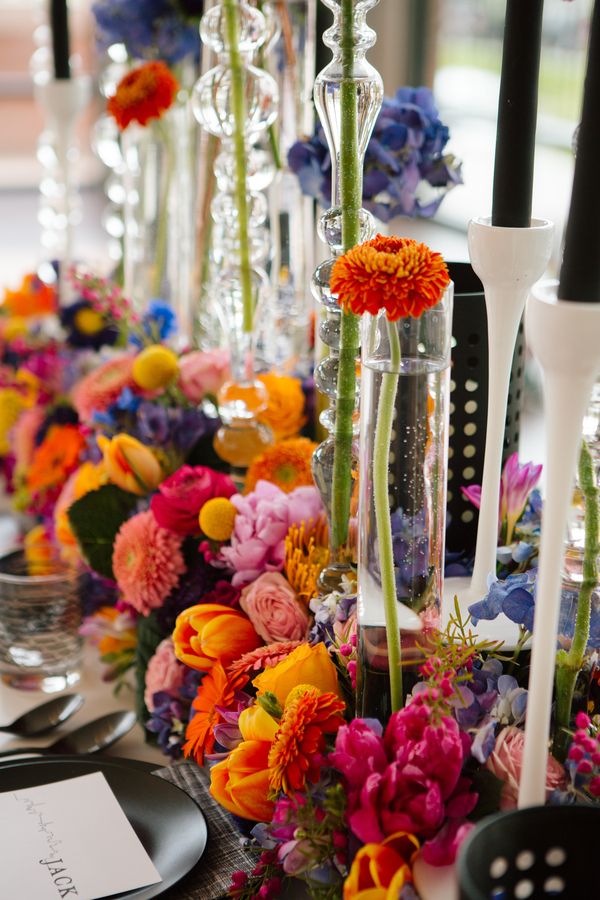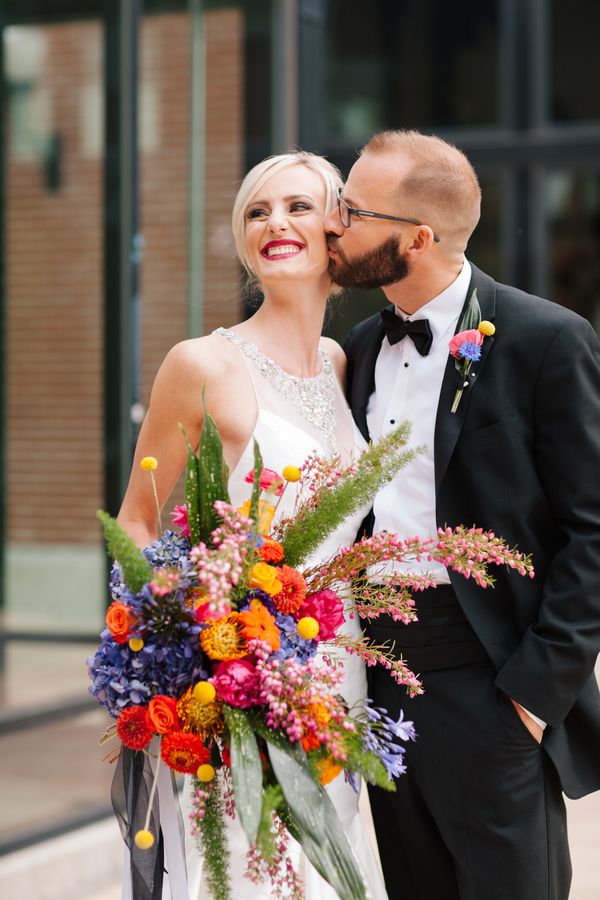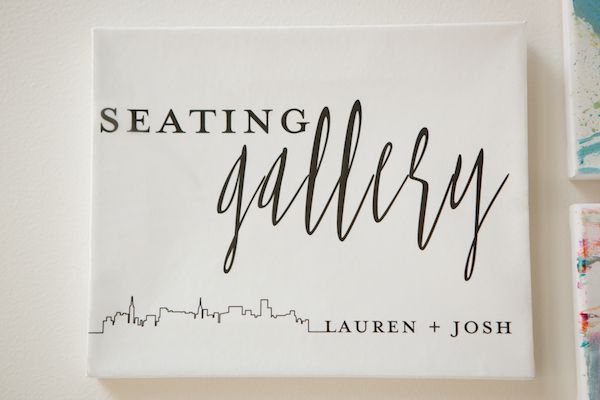 We told you that this wedding shoot was a total must-see! Such a colorful and vivid display and we're simply obsessed with all of these ultra-chic details.
Photography: Claire Marika Photography // Event Design: Perfect Statement // Floral Design: Sax Romney // Venue: The Falls at Trolley Square // Tuxedo and Mens Attire: The Ritz Tuxedos // Makeup Artist: Versa Artistry // Cake Design: Carrie's Cakes // Dress Store: Mary's Bridal //
Share This: