The HBO series Game of Thrones has become a pop-culture phenomenon that has captivated viewers worldwide. And rightfully so! The passion-filled world of Westeros, dreamt up by author George R. R. Martin, is one that you can easily lose yourself in.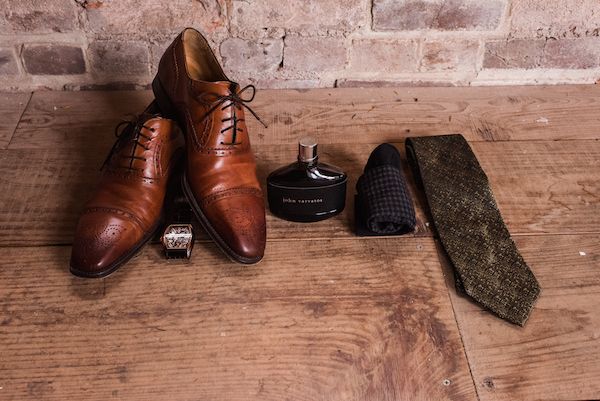 Plus did we mention that cinematographer,
Thuis Studios
, was there to create an amazing film? Scroll to the end to see the video and get ready for gorgeous!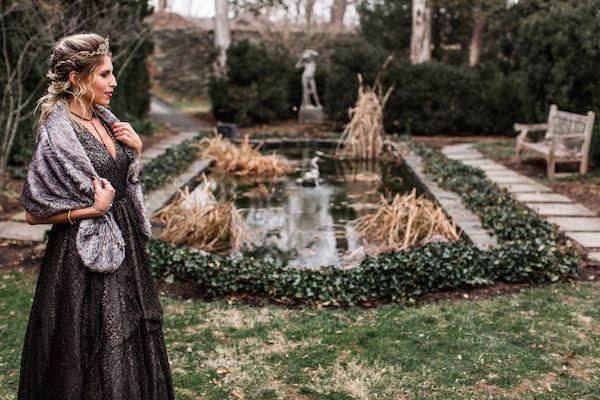 Because today's fantasy based shoot is something out of this world.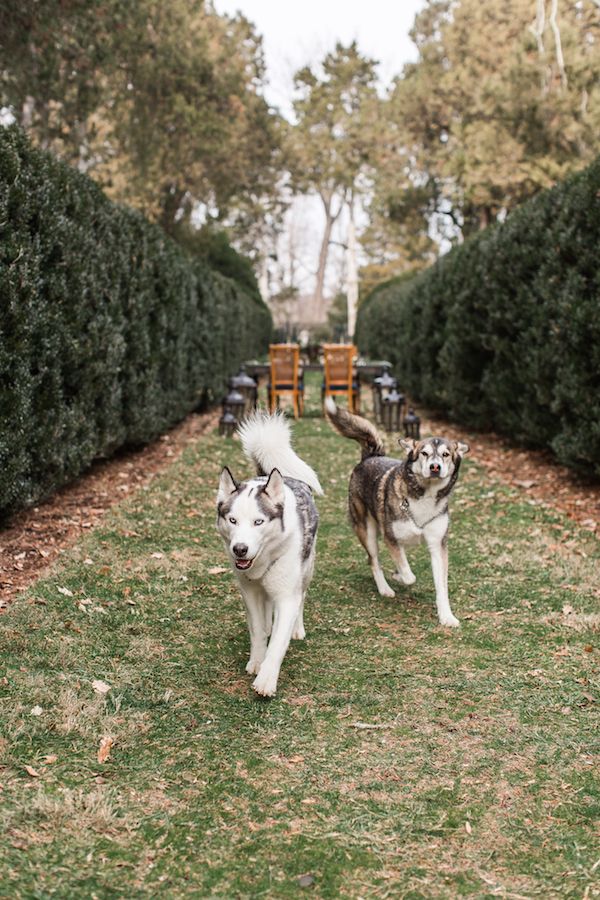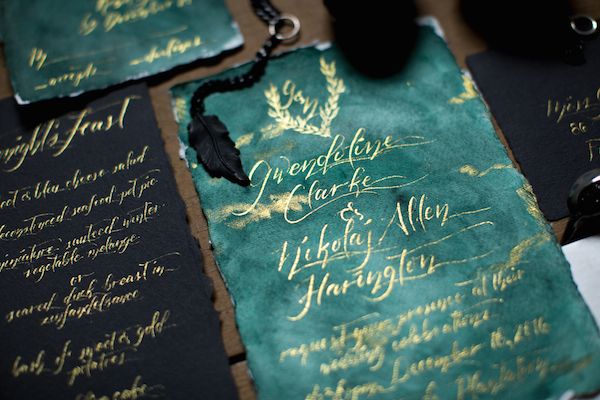 It's a place where the dark meets the mysterious! And we don't know about you, but just one look at this shoot and we're feeling absolutely inspired!
And while it's true, the stories are often full of deceit and violence, the extravagant nature of this world of kings and queens (and even dragons too), makes for a visual experience like no other.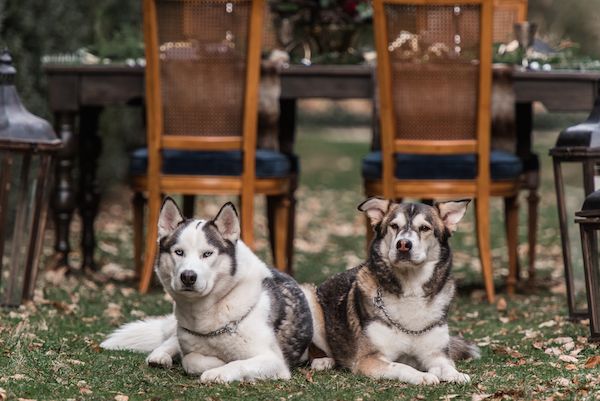 Jonathan, of
Gonzalez J. Photography & Design Studio
, had a great time working with
Novaes Photography
to capture the incredible artisanship of all the talented vendors that partnered on this project!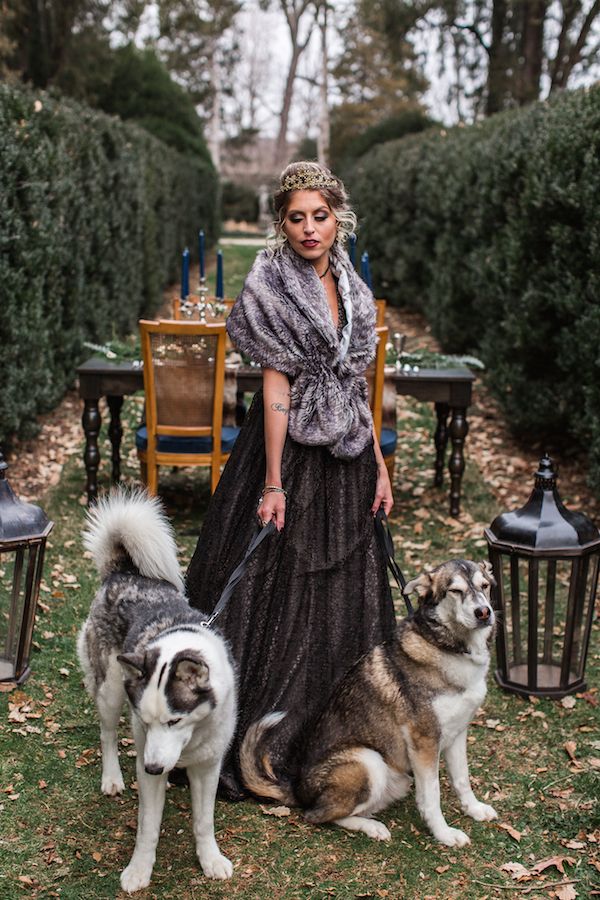 From
Thuis Studios
, "Our four-person team creatively filmed with an eye towards inviting the viewer to share this special place and the unveiling of stunning creations by the cake and floral designers."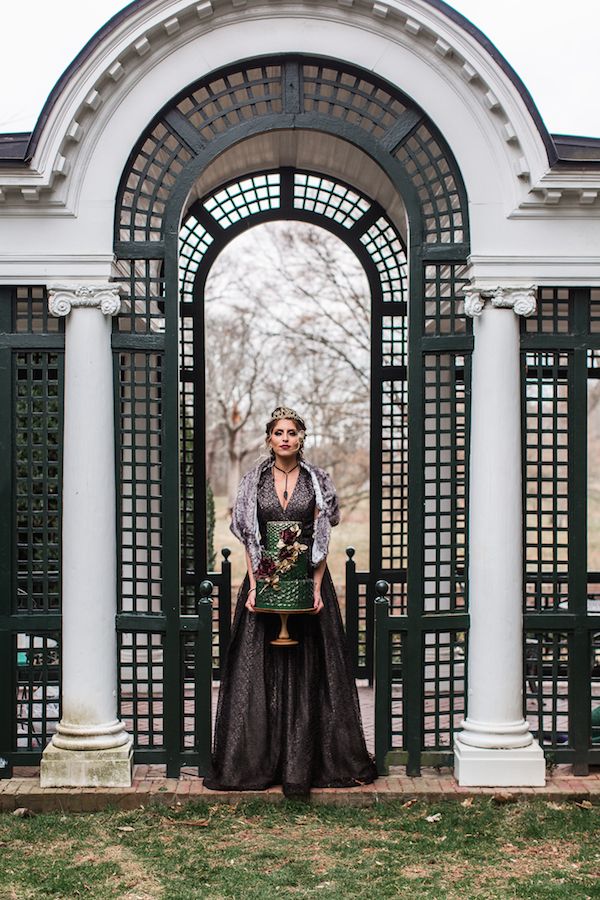 "Every choice
Thuis Studios
made was to set and support scenes for this magnificent Game-of-Thrones-inspired wedding."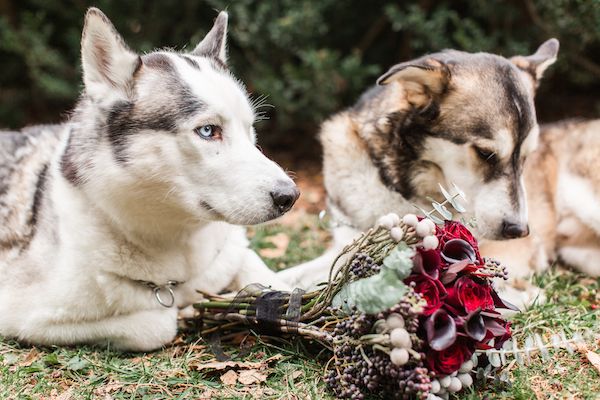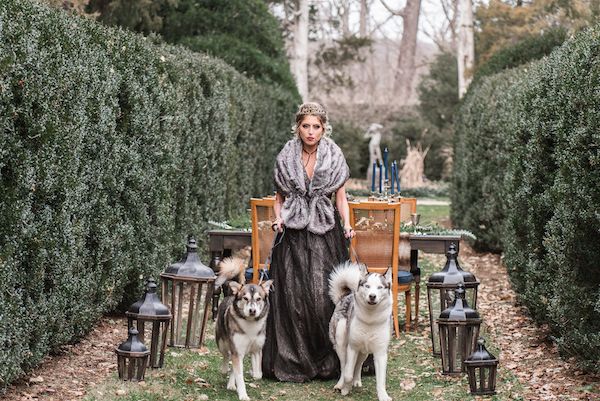 "Since we love to use texture and natural elements, a gnarled tree upon which to hang a black lace dress and centuries-old..."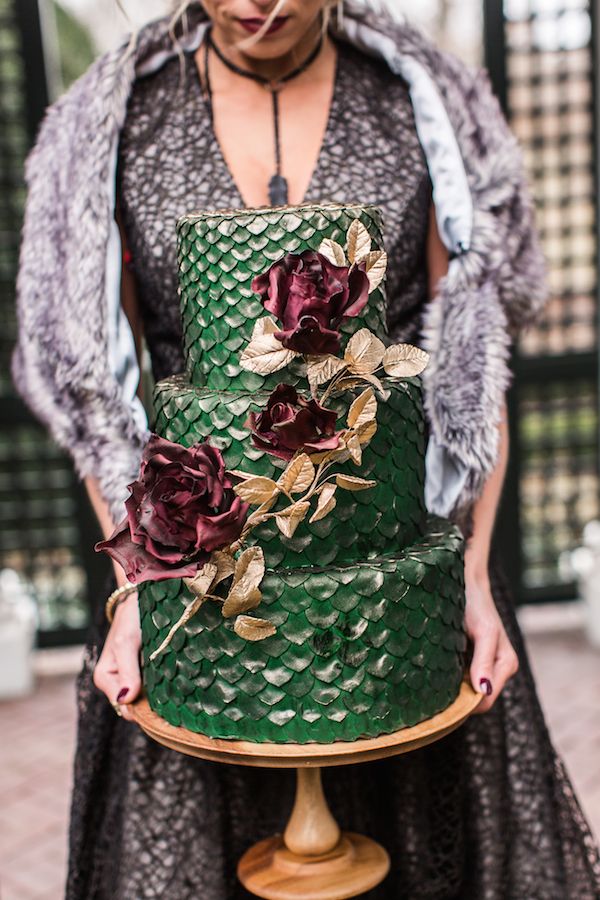 "... wide-plank wooden floor boards to feature bridal jewelry and impeccably crafted stationery were perfection!"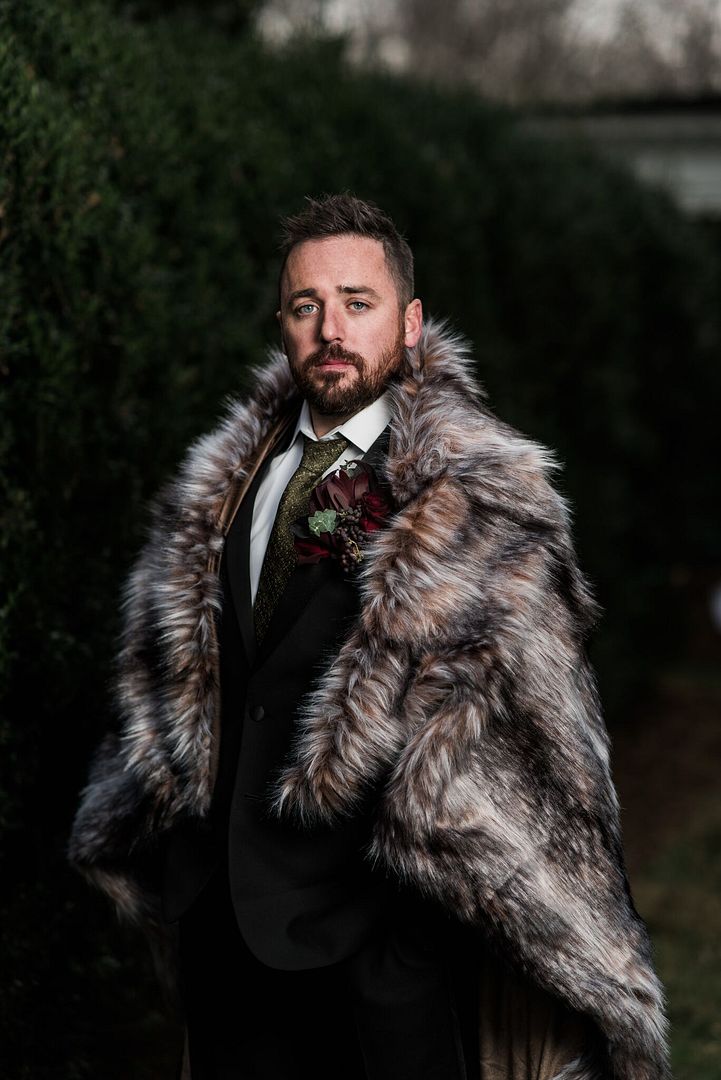 "And because we're not beyond looking for and pinching unique items to showcase magnificent details, the modern-with-an-old-feel chandelier to display the groom's griffin cuff links was a great find."
"Our bride and groom were filmed from afar and intimately close using beautiful lighting, mysterious shadows..."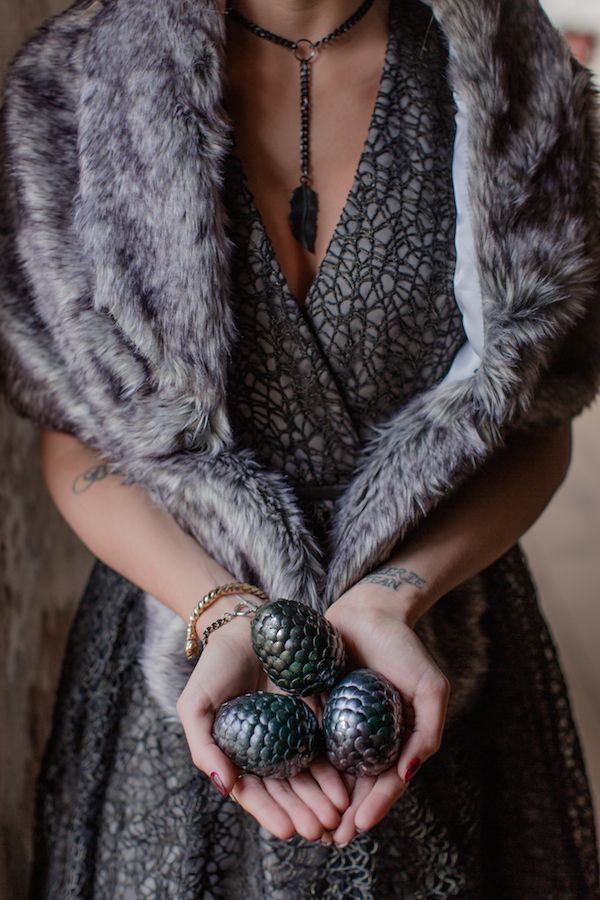 "...incorporating slow motion and multiple camera angles to highlight every detail upon them, as well as to expose their individual attributes and the palpable passion when they were together."
"No film is complete without music, and our selection bolstered the otherworldly experience and enchanting intensity between the couple."
From
Vintage Veils, LLC
, "Creating hair and makeup for this Game of Thrones Styled Shoot was nothing short of an incredible experience."
"The phenomenal and brave styling that takes place on the show fed us full of mythical, medieval inspiration."
"Naturally, we wanted to honor the queen of dragons by intertwining differently styled and sized braiding into the hair styling."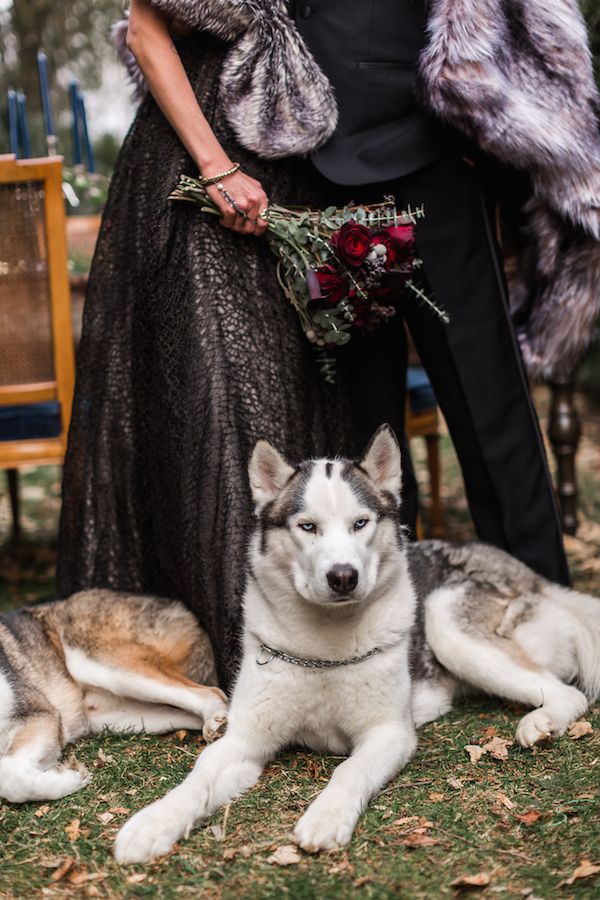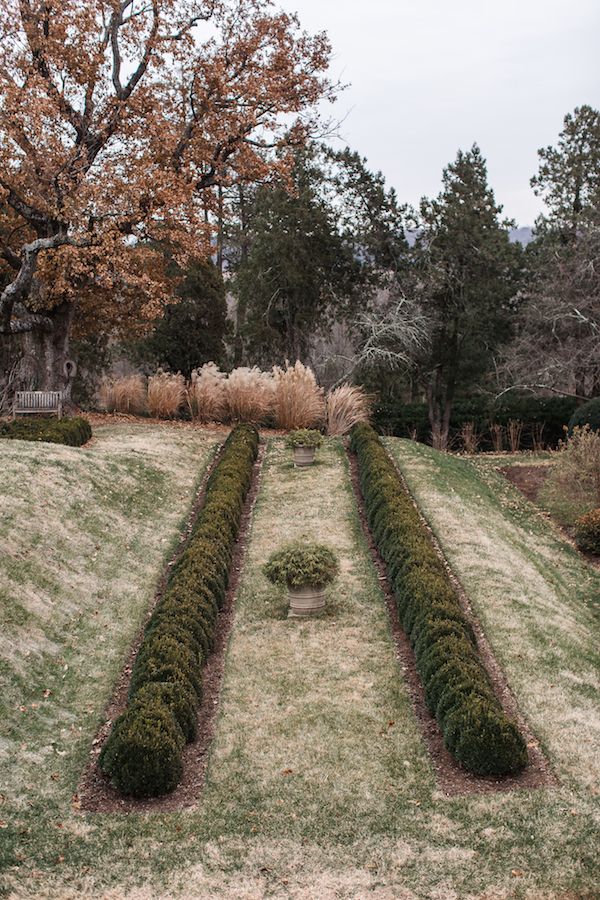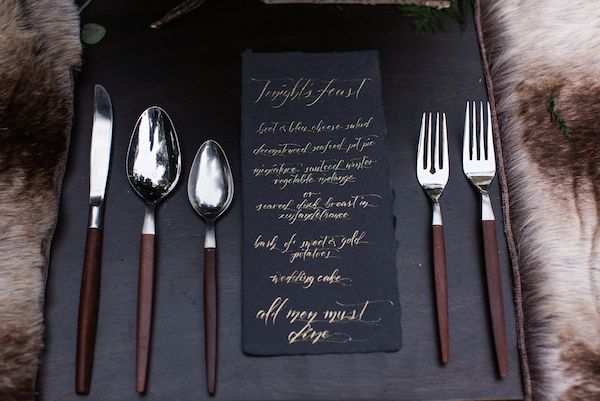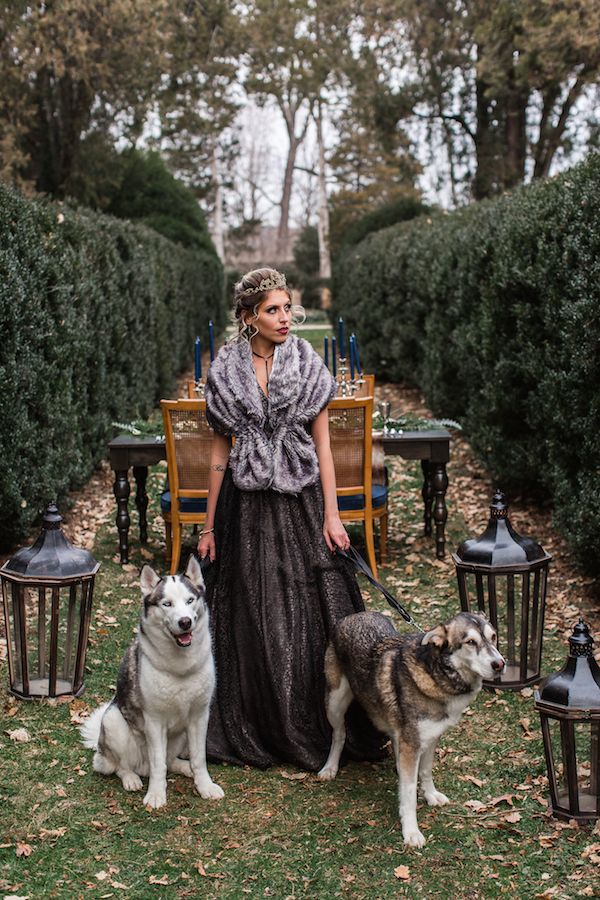 "Braids and twists were pulled loosely and layered to build the illusion of one cohesive piece."
"While keeping the hair rustic, the style was adorned with an opulent gold crown made by Atzi bridal, fit for a fierce Royal!"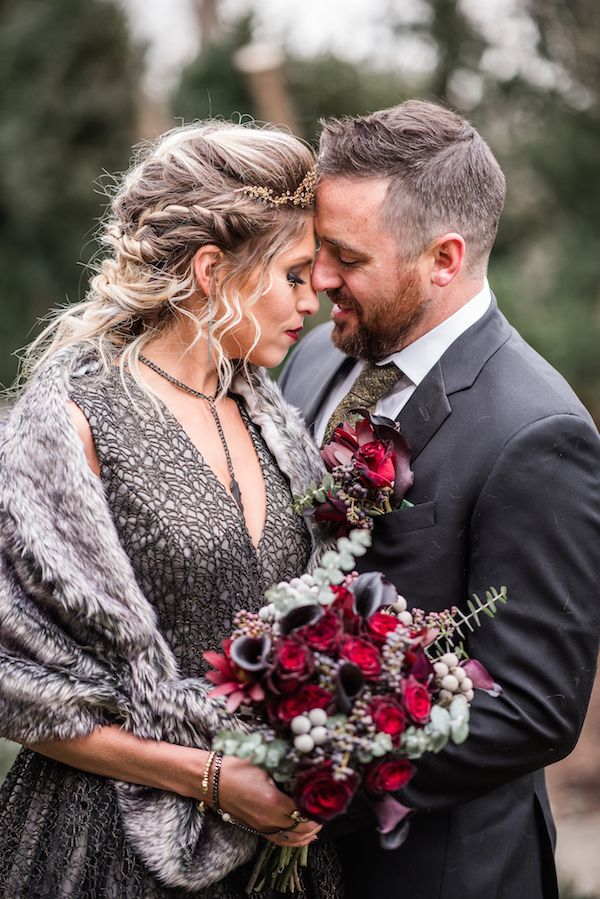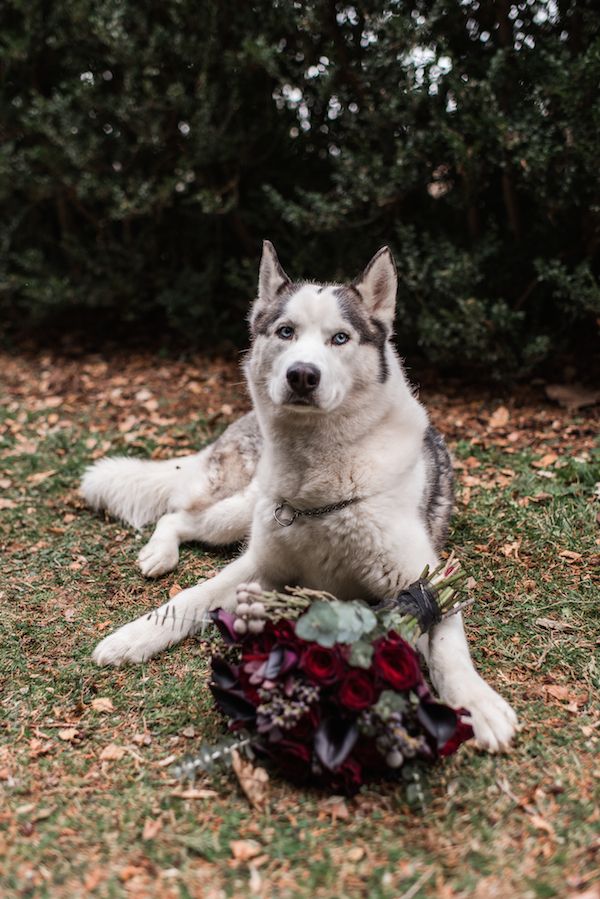 "The makeup needed to be prominent amongst all of the rich details in this shoot. So, the eyes were painted in bold tones of charcoal and slate, with pops of bronze on the eyelids."
"Luxurious, wispy lashes and deep liners were also added to eyes to bring them front and center in each and every photo..."
"...and the lips were stained in Crimson to really enhance the scarlet florals in the elegant bouquets."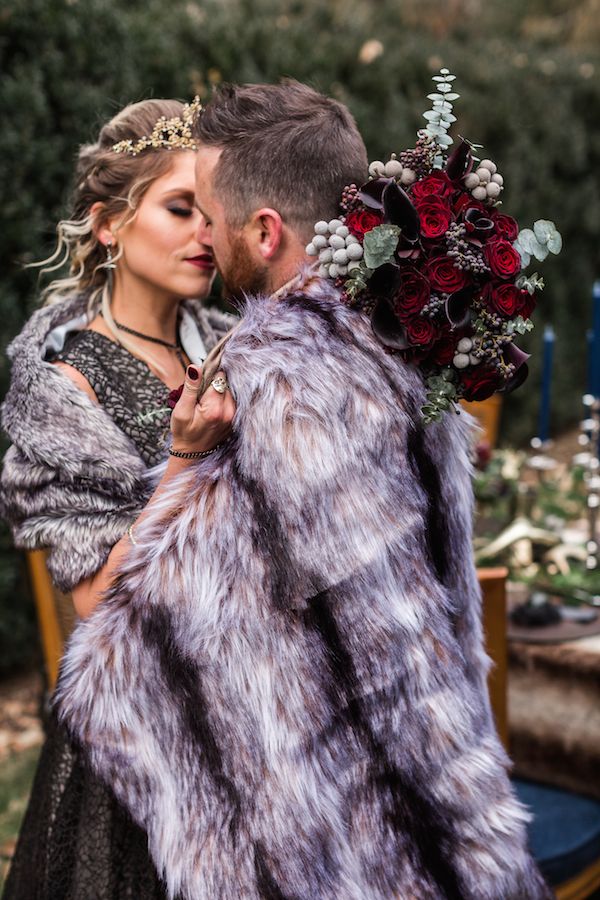 Each scale was individually cut from sugar paste and applied by hand before being painted with food coloring to evoke the texture of a dragon egg on a traditional three-tier shape.
A branch of dark red sugar roses with gold sugar leaves adorns the front of the cake.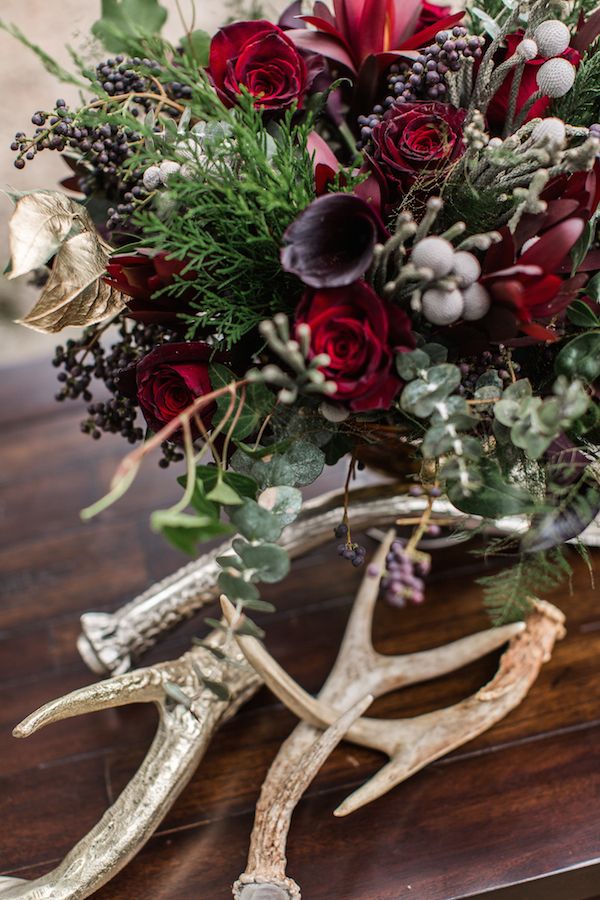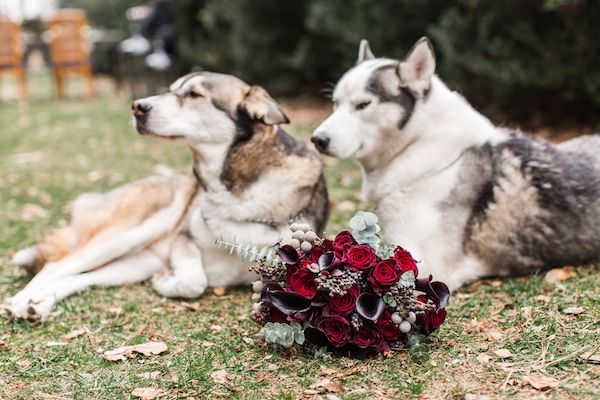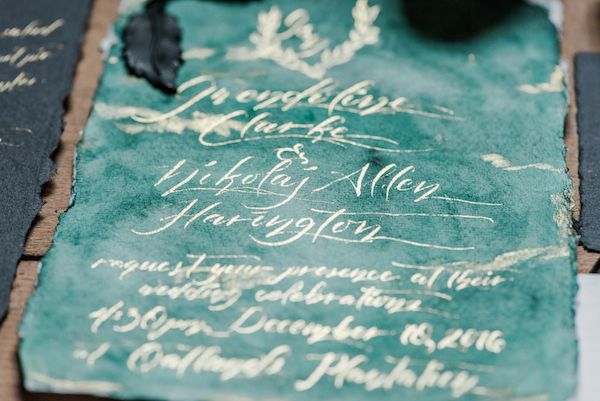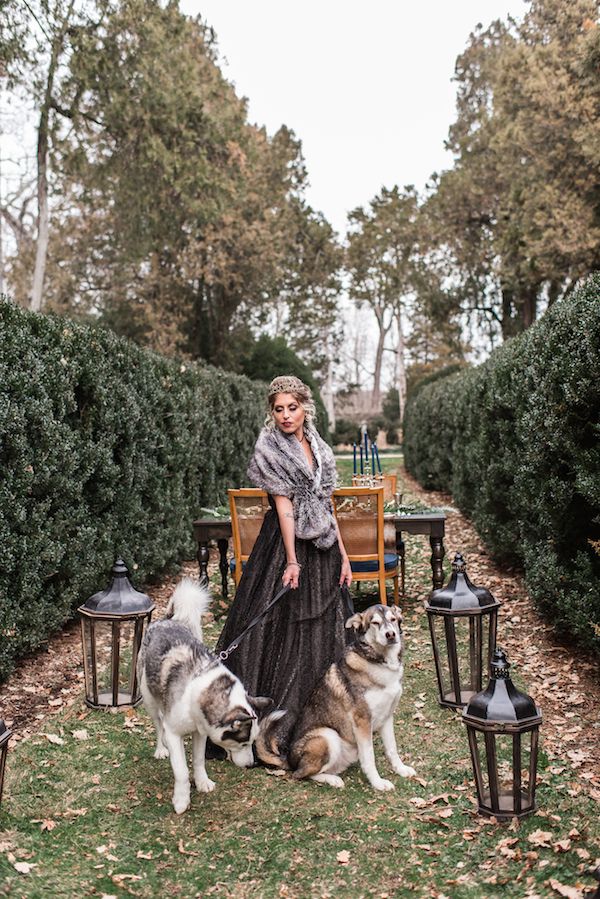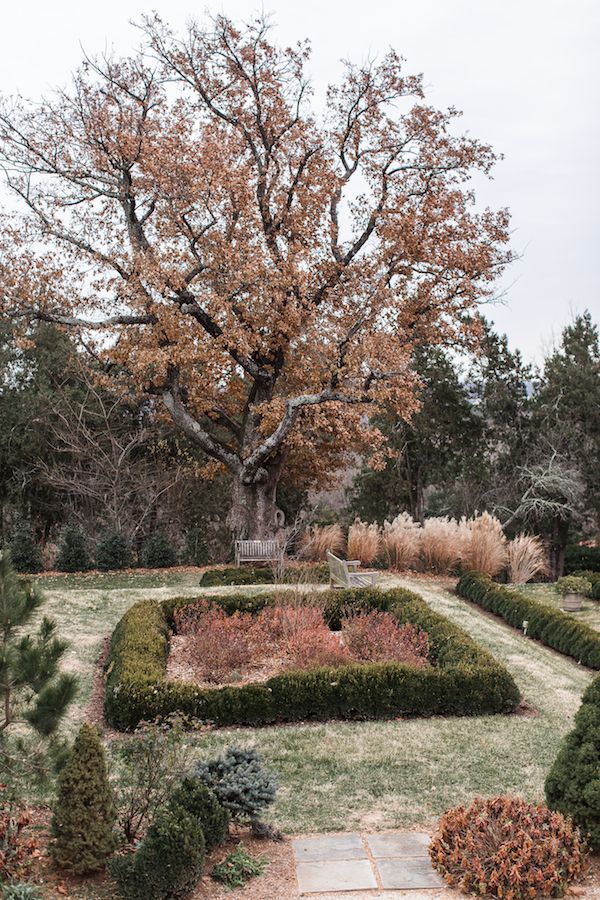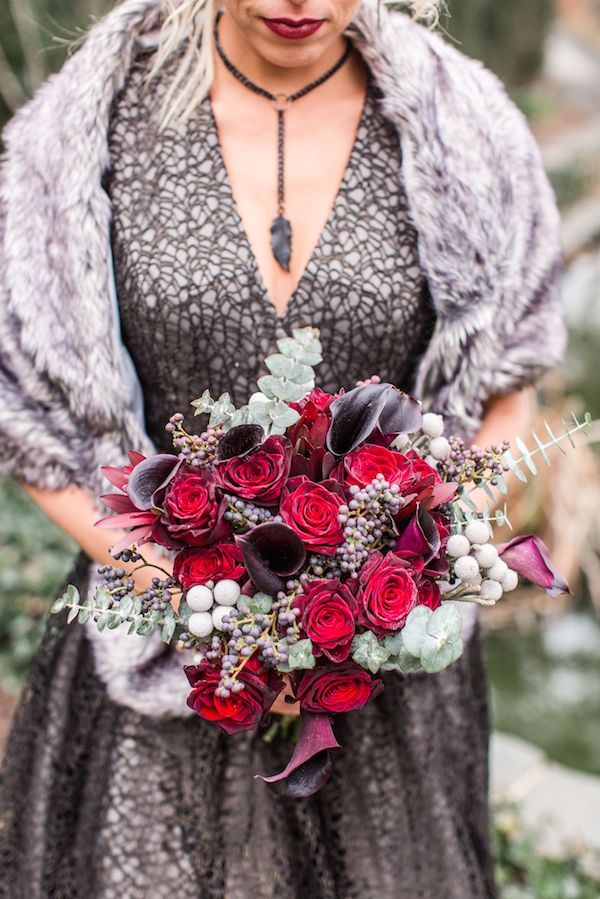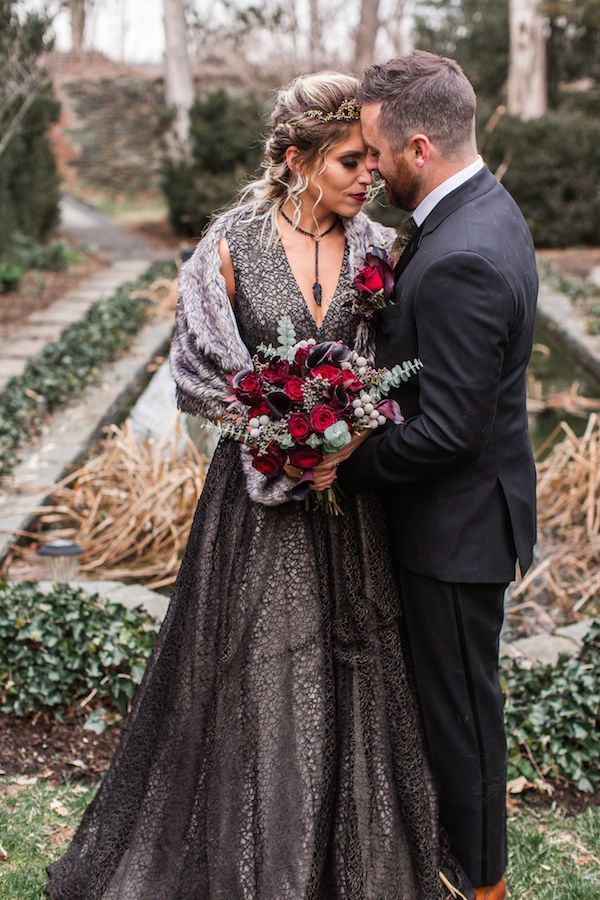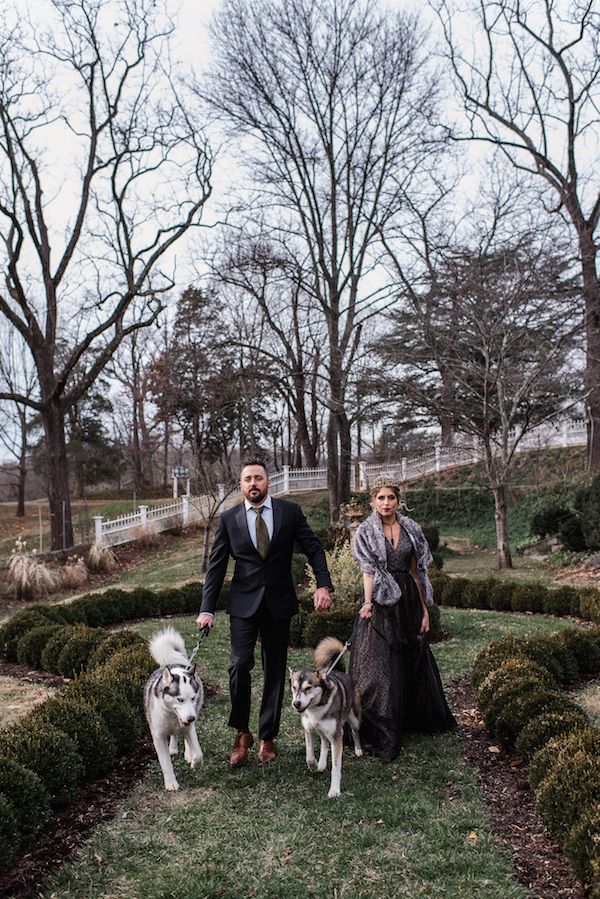 A charcoal, texture filled wedding dress from Rent the Runway really helped set the mood.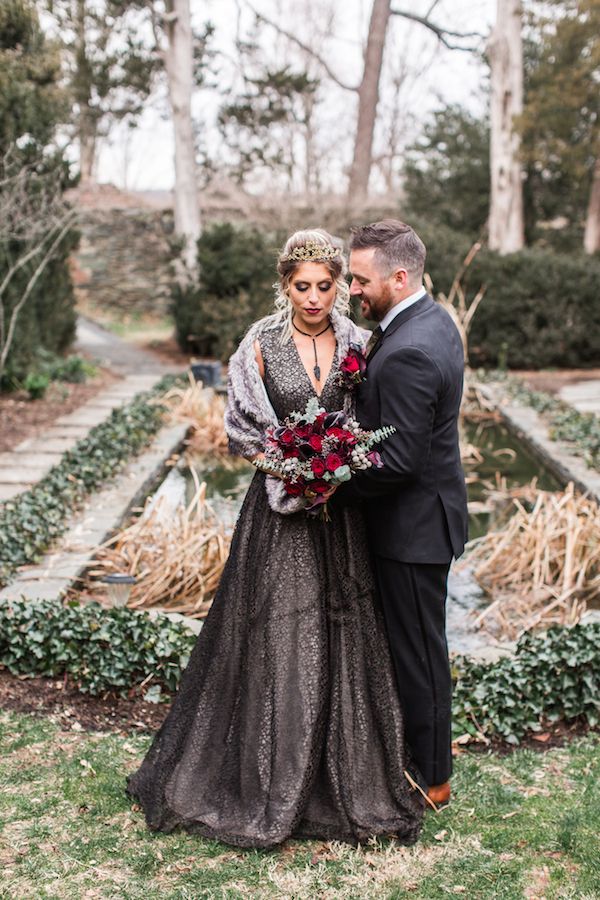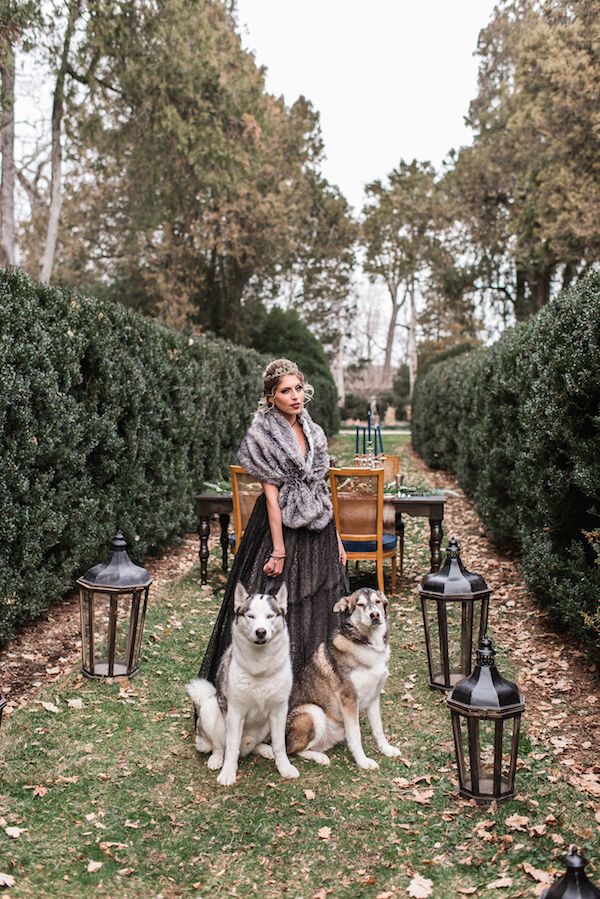 And artist
Brittany Branson
(a self-admitted nerd herself) wanted to pay tribute to the moody and audacious world of Game of Thrones through her art with a custom backdrop.
With bold, abstract roses "bleeding" into a background of deep merlot and black-ice blue (and a few pops of gold-leaf fit for a Queen)...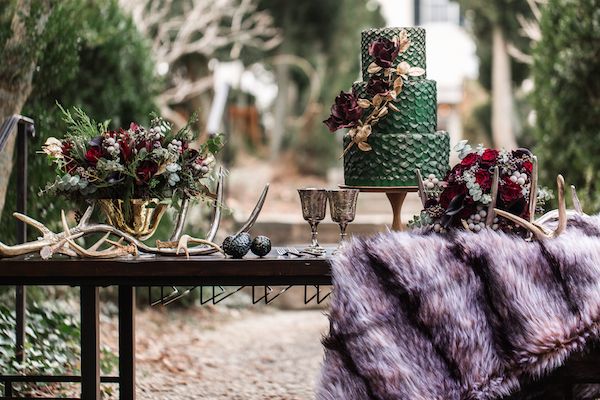 ...the backdrop brought rich color to a wintery outdoors and provided the model couple with unique background scenery for photographs plucked straight from The North.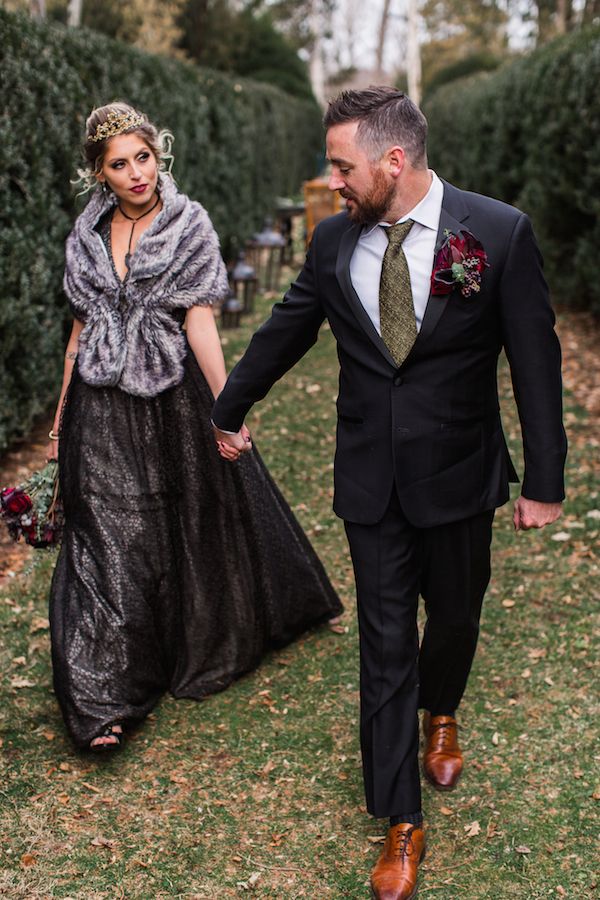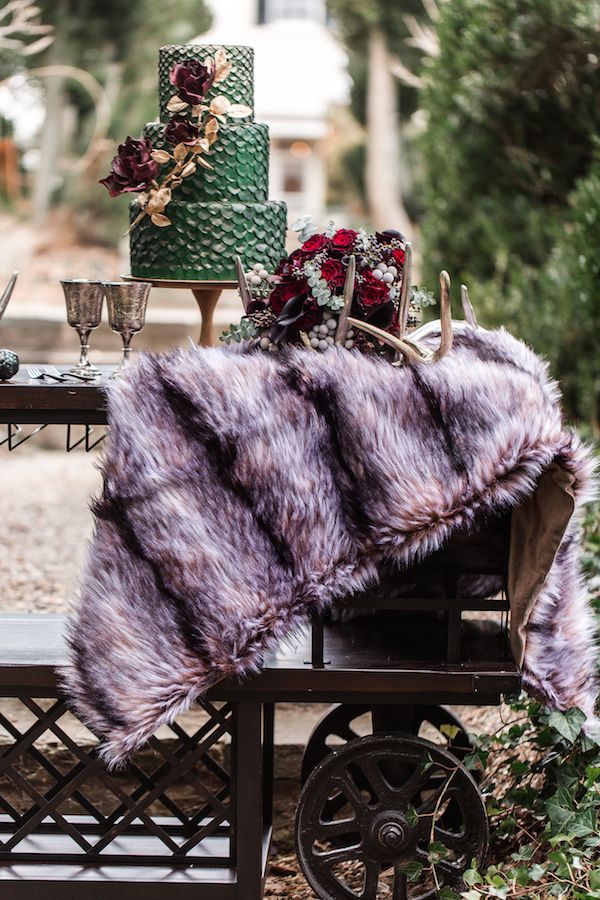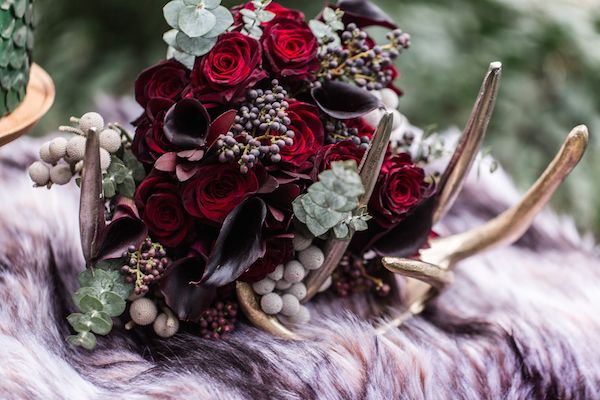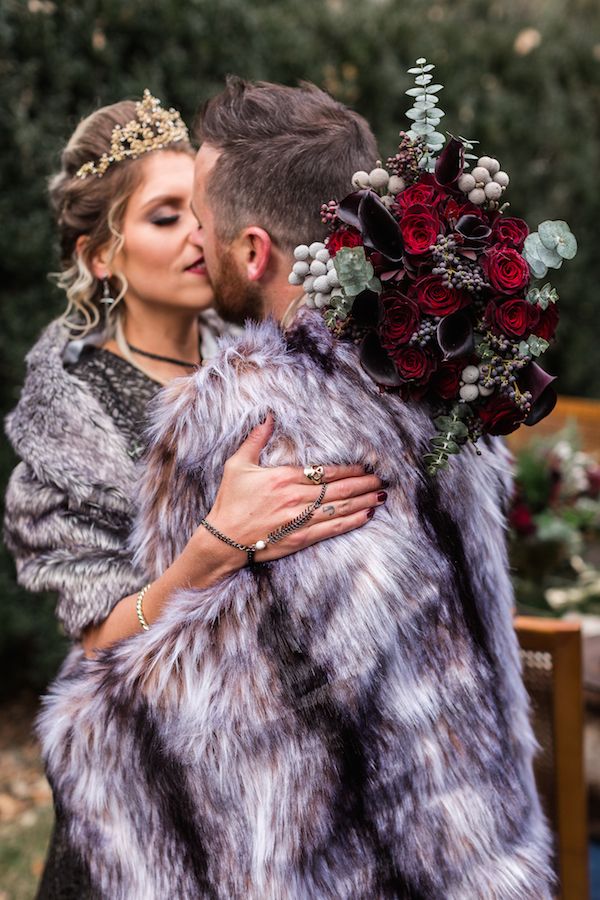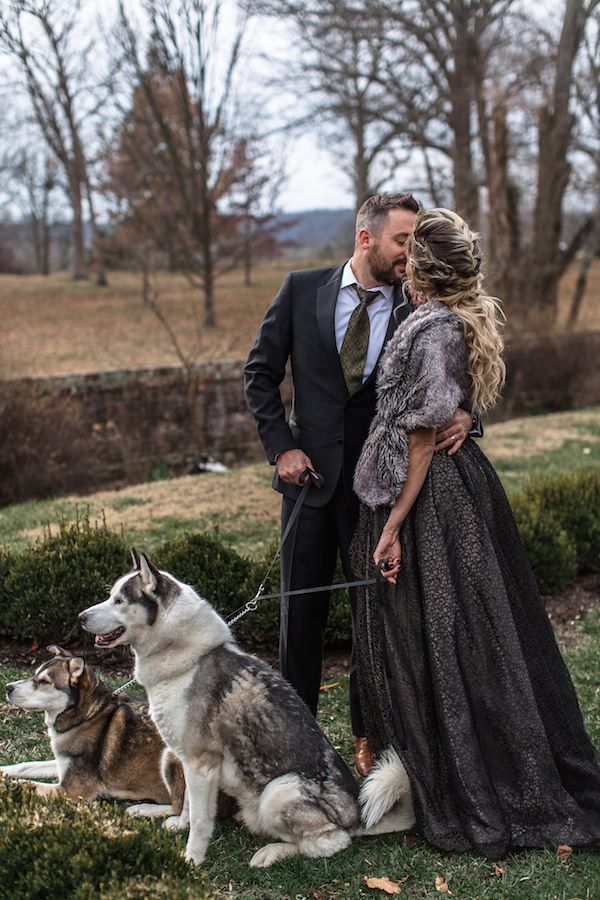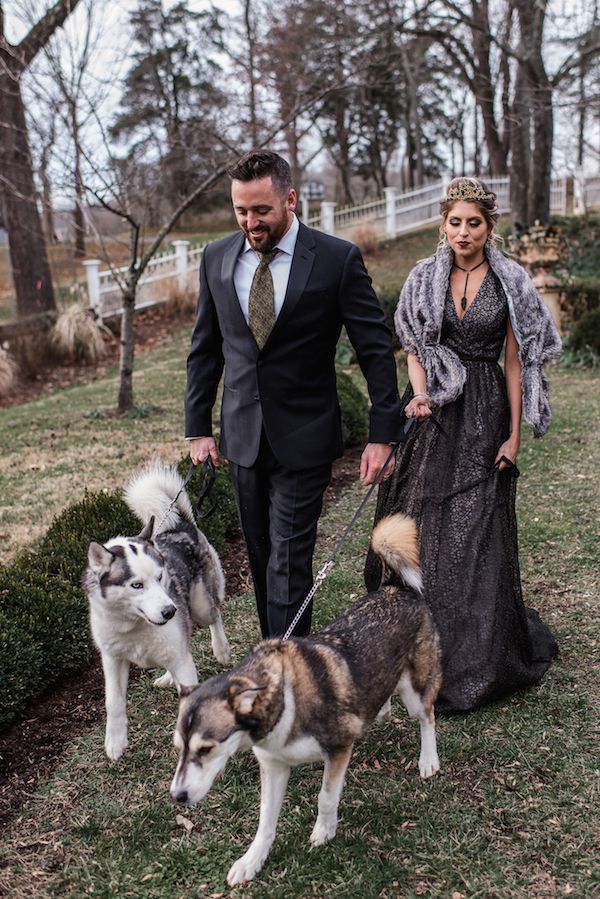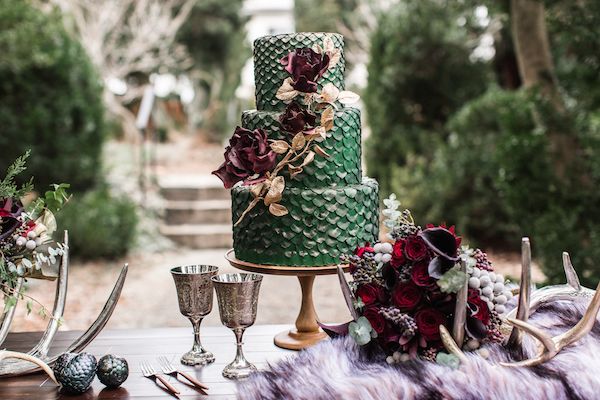 Sparrow Jewelry
in downtown Annapolis, MD provided unique one of a kind jewelry that enhanced the rustic yet edgy vibe of the creative shoot.
The backdrop was completely hand and finger painted, and also features a branch encircling the couple as an homage to the Weirwood trees in Westeros...
...under which many sacred ceremonies, including marriages, are performed! The pieces provided were dark, moody and simultaneously elegant.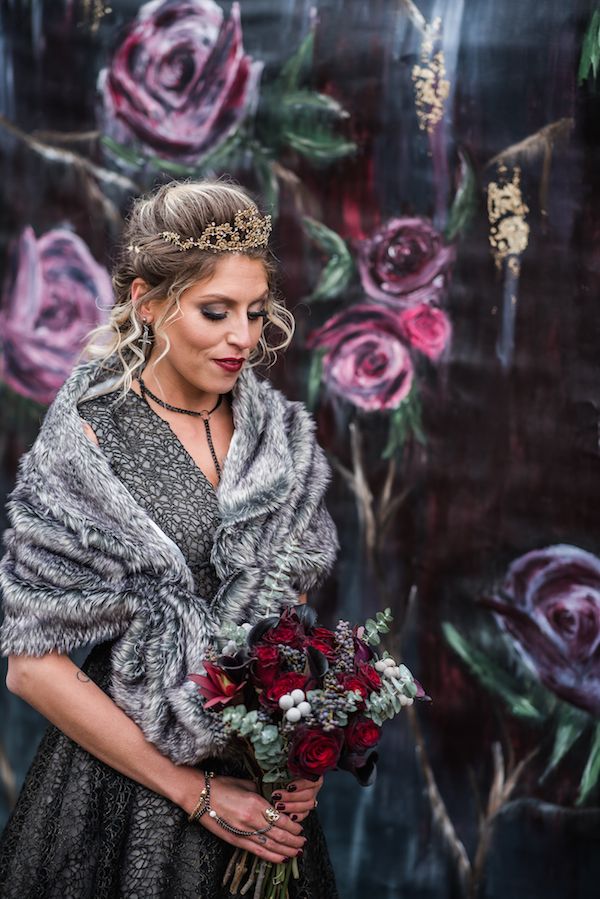 Snakes, skulls, diamonds, chokers and hand chains were used to compliment the Game of Thrones theme and an elegant, moody gray diamond engagement ring was the standout feature.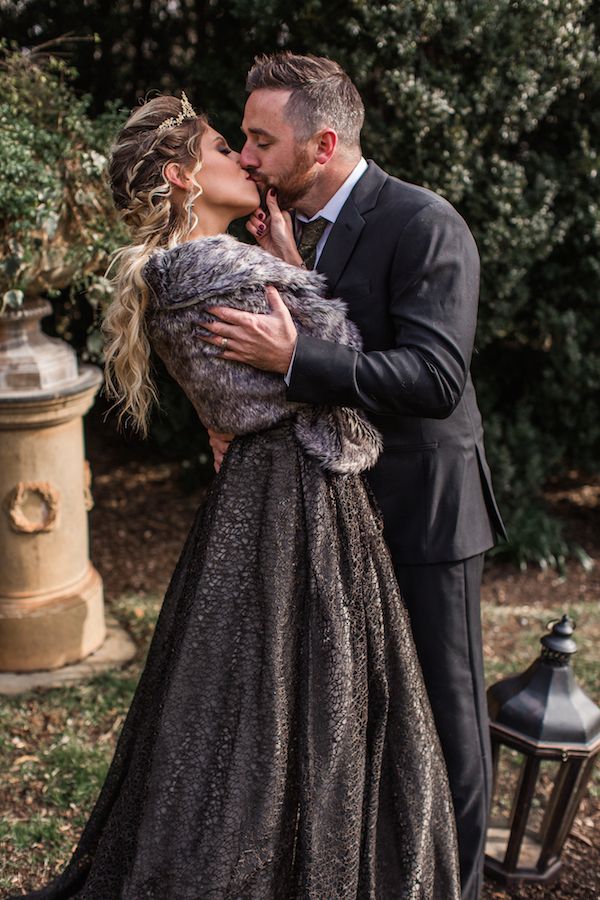 A skull ring in 14k gold and a lace ring was added to create additional texture and fun to the design.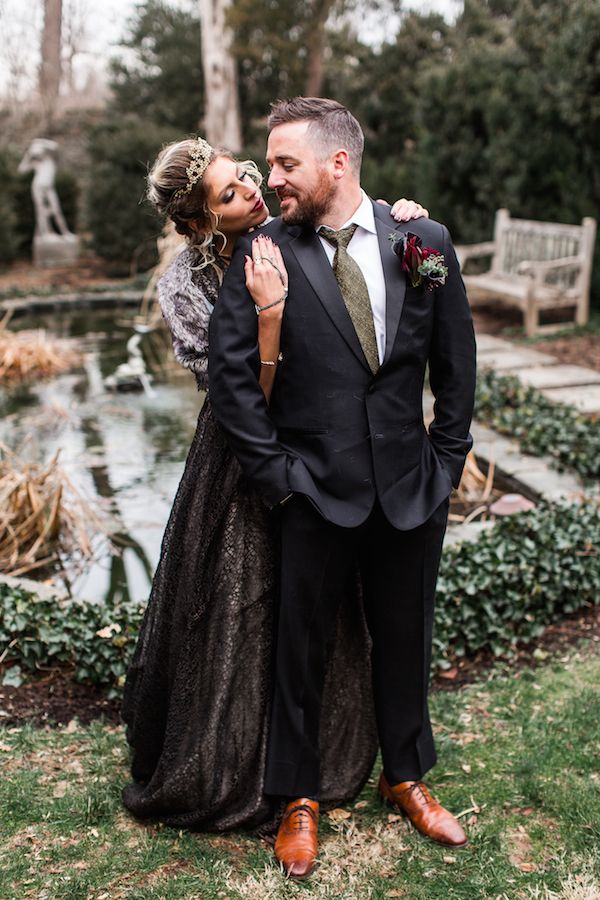 The wedding jewelry provided by Sparrow Jewelry created the perfect blend of old world mystique and modern elegance that is the answer to today's modern (and edgy) bride and Groom.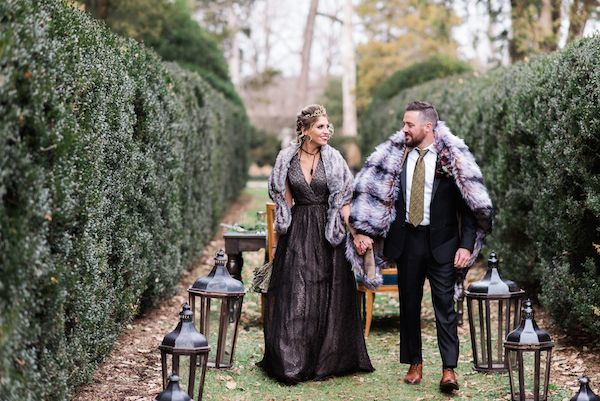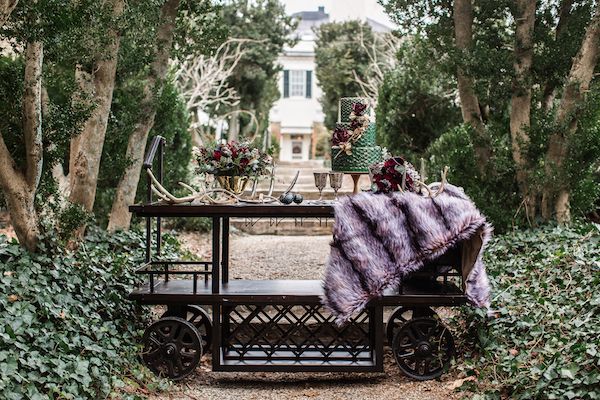 There is so much to be inspired by, from the ridiculously pretty floral design + styling by
Travis Floral Design
to the amazing cake by
Catherine George Cakes
!
White Glove Rentals
, Items Provided: Wooden Table, Blue padded dining chairs, Antlers, Candleholders, Vintage cart, Silverware
Want to see more from this dreamy, full of drama, styled shoot? Don't miss this behind-the-scenes look from
Thuis Studios
!
Styled Wedding Project | Inspired by Game of Thrones
from
Thuis Studios
Huge hugs and high fives to this dream team of wedding artists for sharing this wonderful wedding inspiration with us today! Who here is a big fan of Game of Thrones?
Share This: