Captured beautifully by
Tara Peach
and with event styling by
Pandore Event Group
, today's dark and moody styled shoot will have you feeling inspired in oh, you know, about .3 seconds flat! It's that good!
Passionate Blooms
outdid themselves with these lush florals at
The Laurel Packing House
and we couldn't be more obsessed with these dreamy rentals by
Blushing Pear
.
From the design team, "My clients are typically creative and bold, and I love that! And so for this elopement inspired shoot we went with an edgy and untraditional bride in mind."
"This shoot was a portrayal of a bride anxiously waiting for her groom to elope. They have been planning this for months, but she's unsure if he'll show."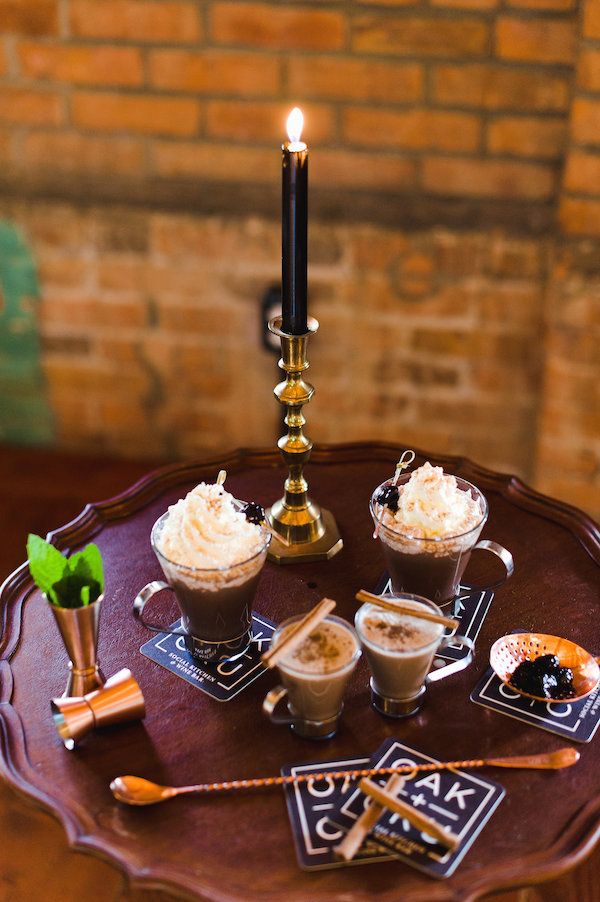 "The excitement, the doubt and the emotion were beautifully captured by Tara Peach."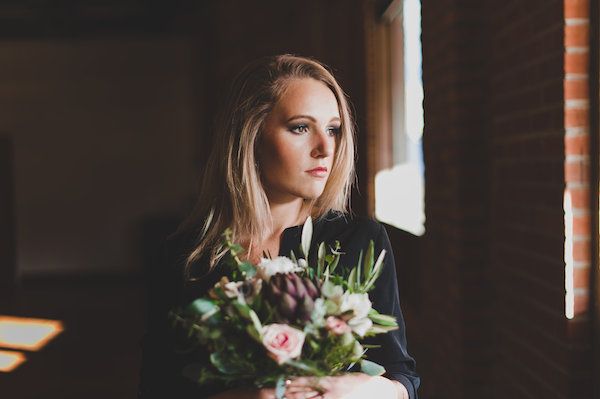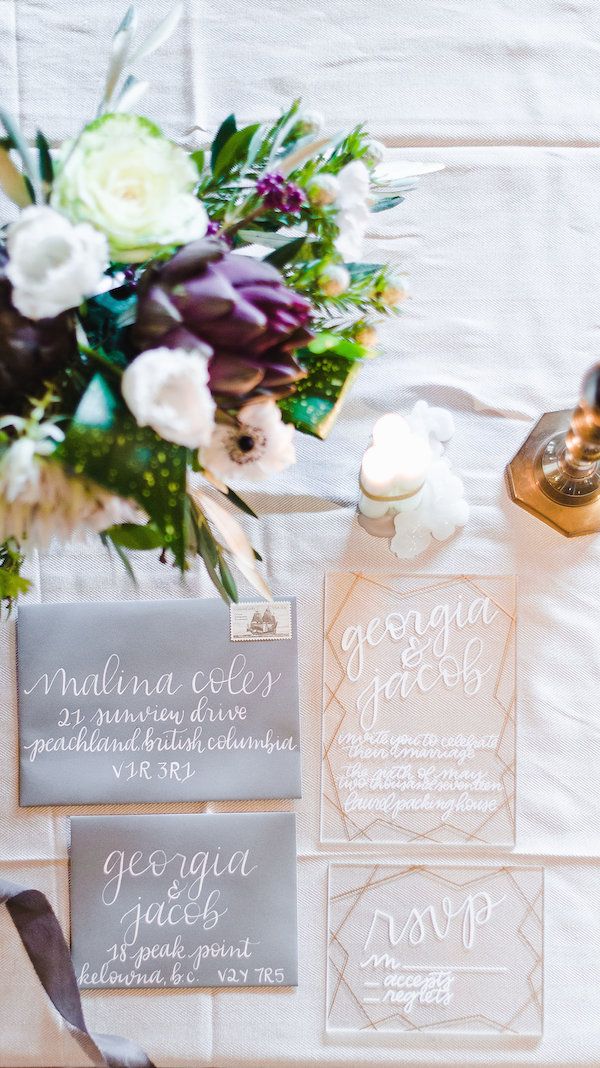 "Working with an industrial venue, I wanted the pictures to be moody but still romantic."
Stationery by
Wolf & Wander Calligraphy
was created to coordinate with the look.
.. we're obsessed with all of the handlettered details and the use of this acrylic material.
One of the stand out details was this interesting leafy install.
We love how the exposed brick contrasted with the white linens, the dark wood tones, and the beautiful place settings.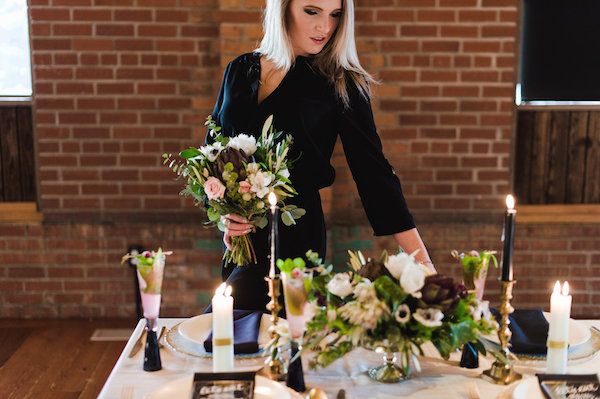 Hair and makeup by Amana Beauty was effortless and so full of beauty.
And how about this lovely display of cupcakes and candlelight?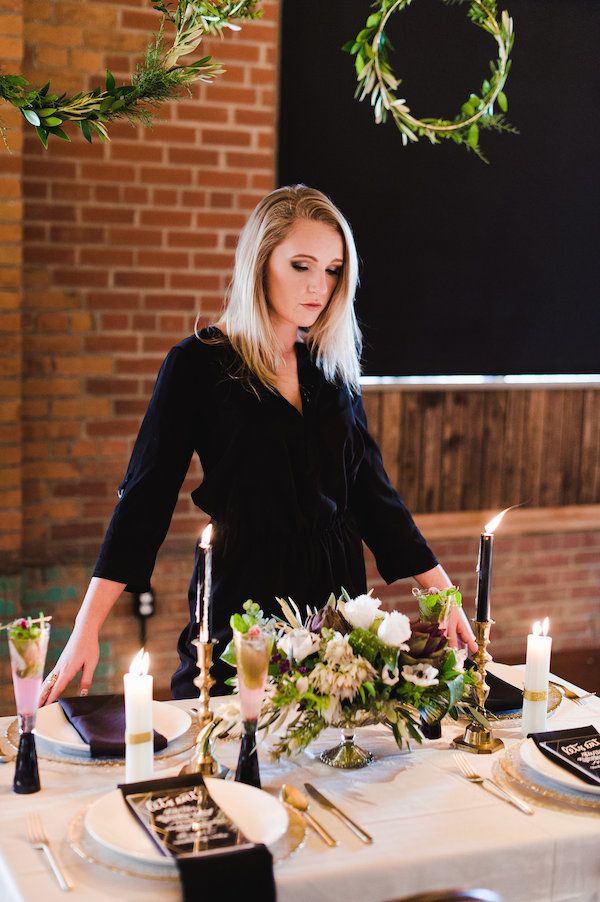 So super pretty, if you ask us!
We love these custom menus with the hand lettered details.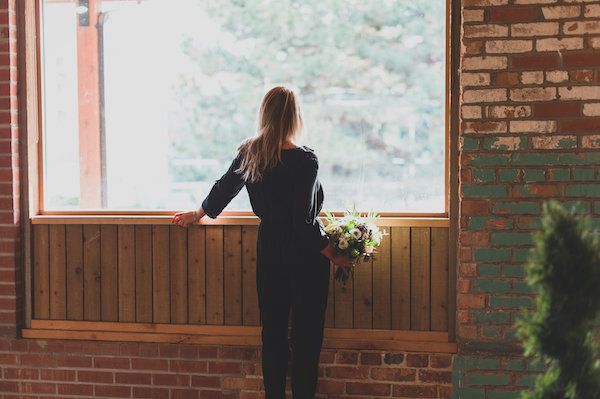 And what's not to love about this mix of blooms which includes artichokes and anemones.
Swoon. We're simply smitten, you guys!
And how great is the bride's all black outfit and cream heels?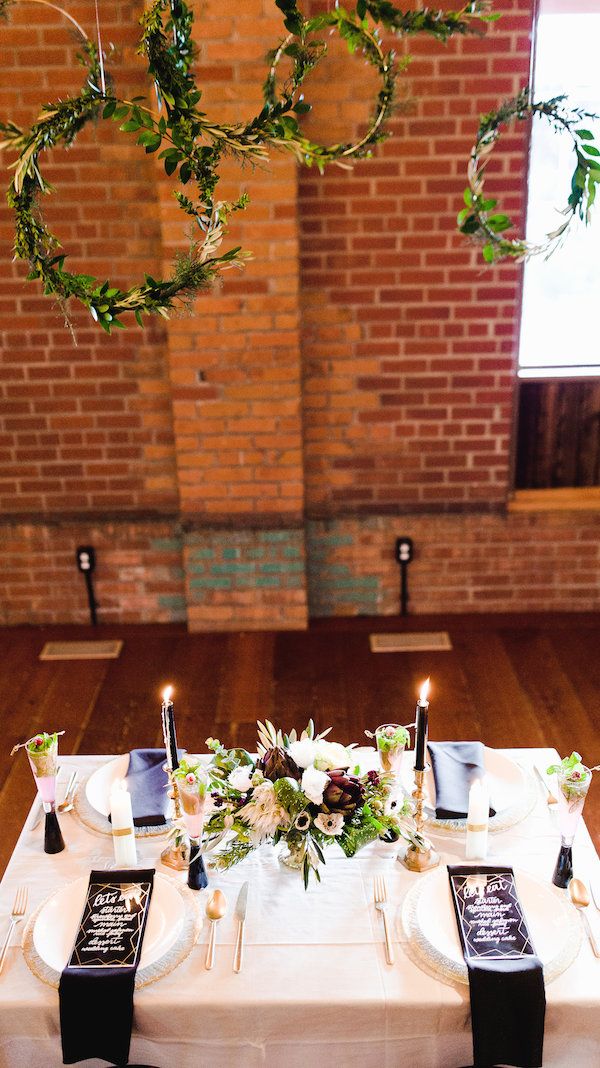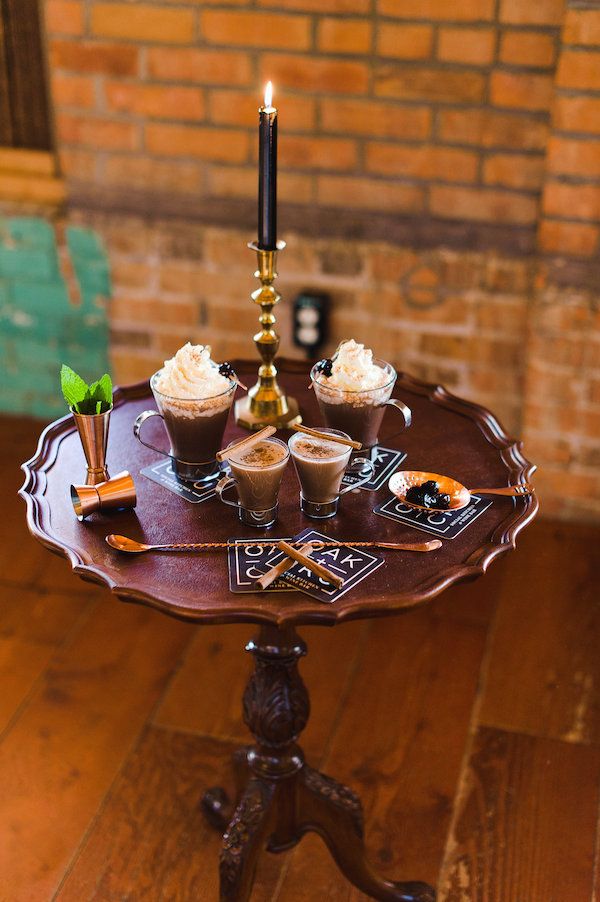 Really loving these geometric details and this frosted gold plate charger is everything.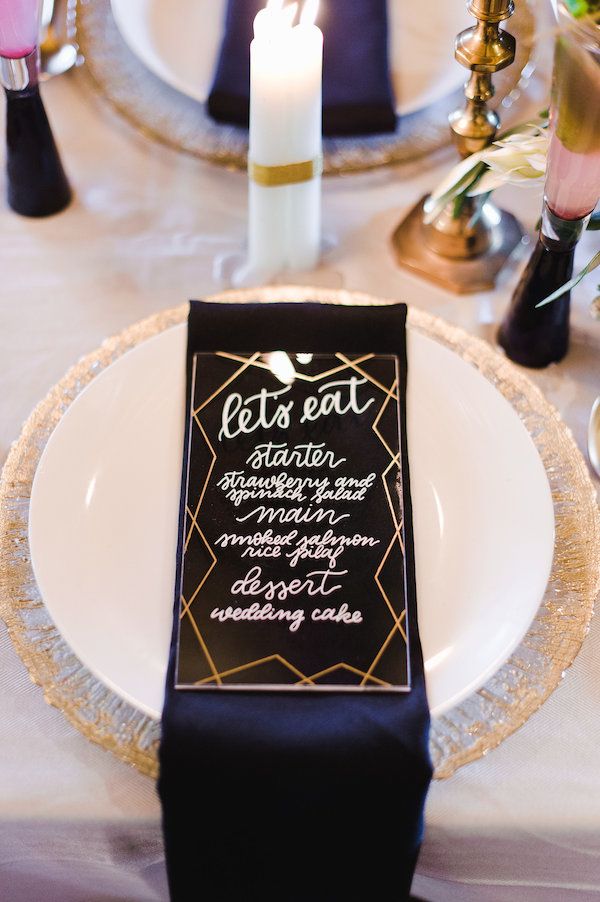 Wouldn't you agree? Oh, and can we just talk about this gorgeous light-filled venue?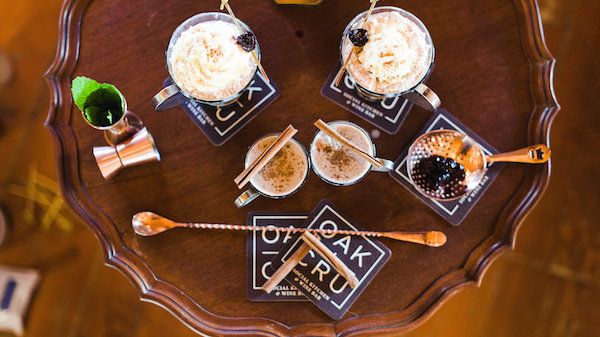 Also obsessed with these gorgeous jet black candles.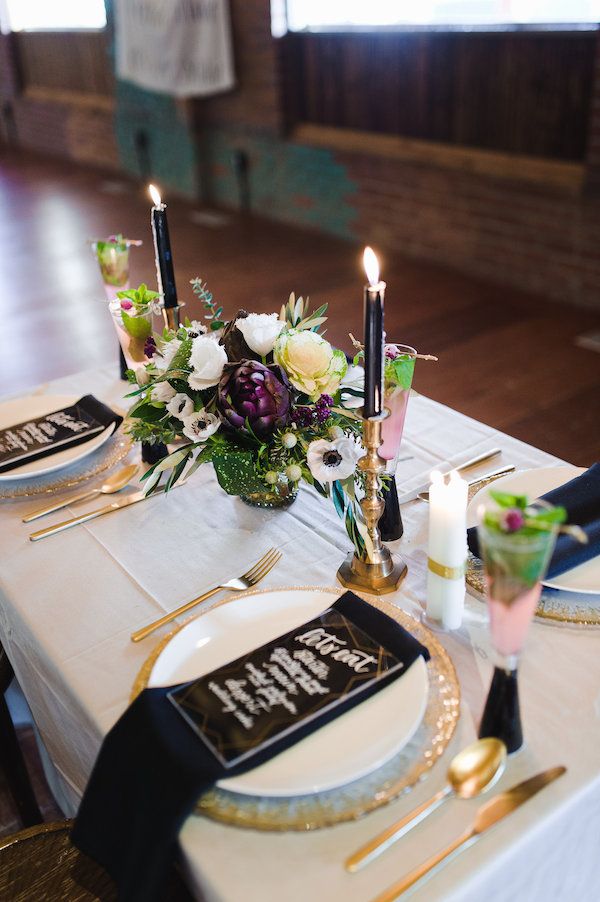 It's a look that includes purple tones, antique gold, lavender and black.
And what a gorgeous setup they had!
More from the team, "It was important to me that the dark hues paired with gold and metallics colours, while avoiding it having a ''New Year's Eve'' feel."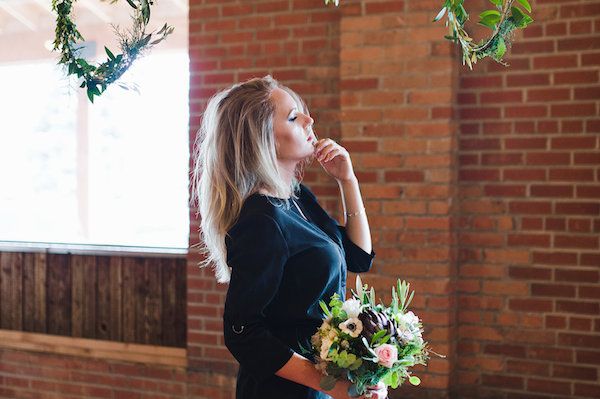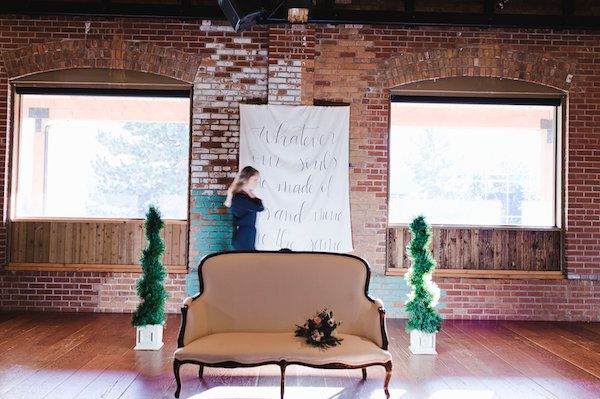 Cocktail by Stephanie Bobey were so artfully designed!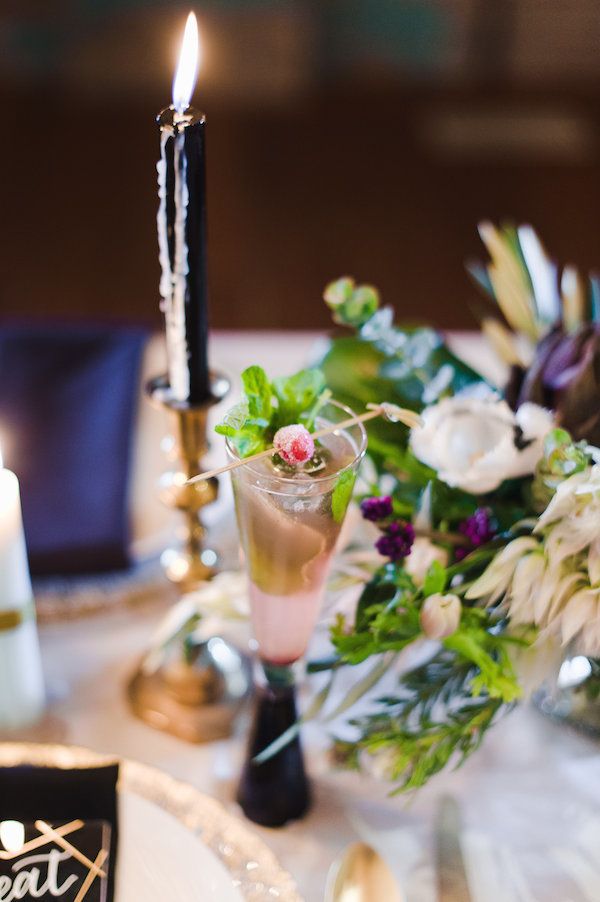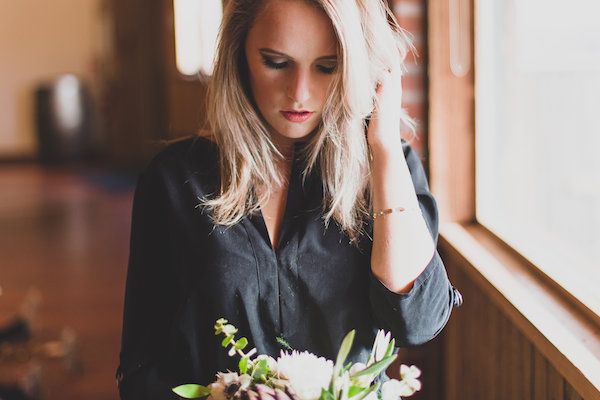 love, love, love! What a fresh design approach to an elopement.
Huge hugs and high fives to this talented team of wedding vendors! We are blown away by the creativity here and we can't wait to go on a pin-fest with this beauty of a shoot!
Photography: Tara Peach // Event Styling: Pandore Event Group // Floral Design: Passionate Blooms // Venue: The Laurel Packing House // Decor Rentals: Blushing Pear // Stationery: Wolf & Wander Calligraphy // Cocktails: Stephanie Bobey // Hair & Makeup: Amana Beauty // Nails: RAW Esthetics //
Share This: