Newly engaged and beginning to think about where to register? Guys! This is a total no-brainer! We have one word for you!
Bloomingdale's
.
Not only do they have the top brands including Lenox and All-Clad (two of our personal favorites) but they also have the prettiest dinnerware. Still on the hunt for the perfect china pattern? My advice? Hop over to
Bloomingdales.com
and start your very own game of 'This or That!'

Not familiar with this game I speak of? Here let me show you! 'This or That,' is all about finding two items that you absolutely love and doing a side by side comparison.
I recently had a chance to sit down and play my own little game! And for me, it came down to these two china patterns (both from
kate spade new york
, of course!).
Sometimes it's simply a matter of esthetics. Could be a color choice or a size choice or a pattern choice. And sometimes you'll have to look a little more carefully at the different features to make your best decision.
Rose Park 5-Piece Place Setting // Macrame Placemat // Malmo Gold 5 Piece Flatware Set
It was a battle of the beauties! Between Rose Park Dinnerware (pictured above) and the Larabee Road Gold Dinnerware set (pictured below).
And I'm not gonna lie! I don't even think that I can pick a winner at this point. They were both sooo pretty! The Larabee Road Gold Dinnerware set features 24K gold polka dots which gives the set a playful touch of luxe.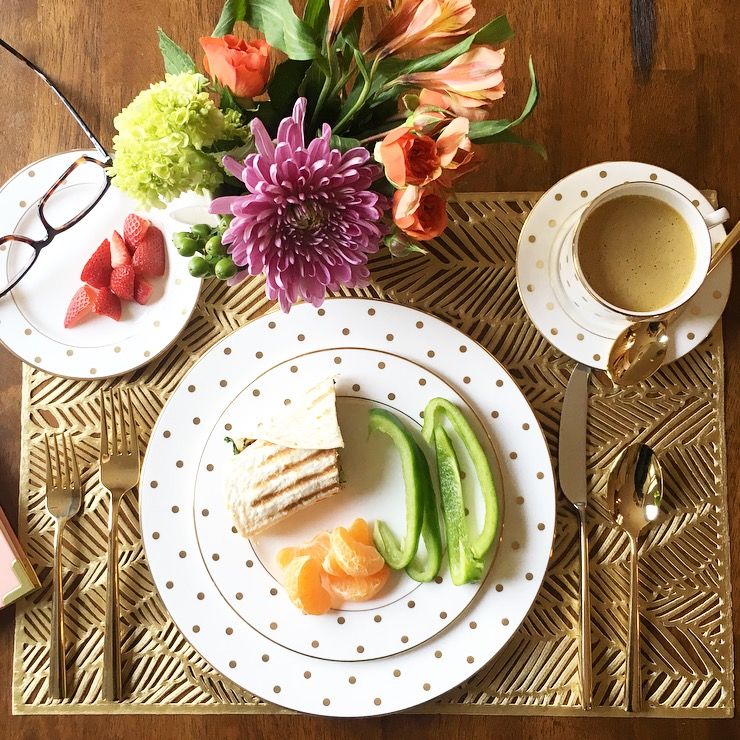 Larabee Road Gold 5-Piece Place Setting // Drift Printed Placemat // Malmo Gold 5 Piece Flatware Set
And when it comes to the
Rose Park Dinnerware
set, everything's coming up roses in this classically styled china collection featuring painterly roses, black trim, and sleek metallic edges. Swoon.
Are you imagining the possibilities? I sure am. Want to know the best part? That would be the fact that they're both only
$139 for a 5 piece place setting
. Definitely on the more affordable side, if you ask me!
Also, I can't go without mentioning my love for the Lenox brand policies! For instance, did you know that Lenox certifies that their products are covered by the Lenox Replacement Policy for breakage that may occur due to normal use?

Yep, it's true! Simply complete register your products online and Lenox will replace at one-half its suggested retail price at time of replacement! And if an item is defective? Lenox will replace the item at no cost to you.


Sounds like a win-win to me! And definitely, a policy that won my heart back when we were thinking of which china set to register for. Not only did we want it to be gorgeous, but for us, this was a lifetime purchase that we didn't intend to make again!
So having these policies in place really swayed us towards the
Lenox brands
which also includes two of our favorite designers
kate spade new york
and
Marchesa
!
So what are you waiting for? Start your own registering and begin the oh-so-fun process of narrowing down exactly what you'll register for!
Share This: