Cue the confetti, you guys! Because 2017 is officially here! Wahoo! Here's hoping that you celebrated in style with a bottle of your best bubbly, a sparkly party dress, and a sweetie to kiss at midnight!
Still in the mood to celebrate? Good news! It's not too late! Especially if you have a new sparkly accessory sitting pretty on that left ring finger of yours. Recently engaged? Congrats and welcome! We're so excited that you found us! Also exciting? That would be the fact that
Kate Rose Creative Group
stopped by to share an engagement party that doubles as a New Year's soirée!
Bouquets Floral Design
worked their magic with these lush blooms which feature magnolia leaves throughout. And lucky for us?
Shelly Taylor Photography
was there to capture all of the magic.
From the design team, "When designing this shoot, we wanted to bring in the glam with sequins and lots of them!"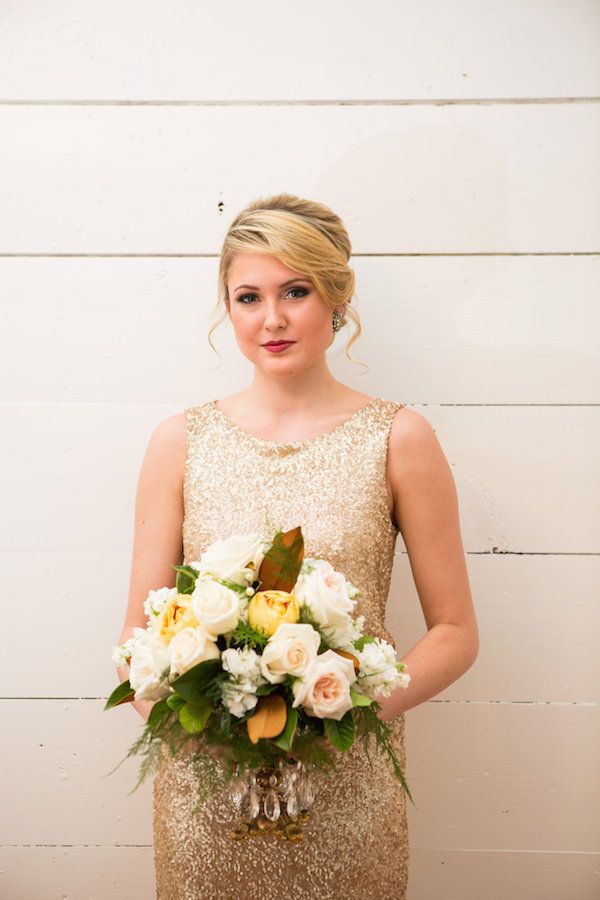 "At Kate Rose Creative Group we love to mix modern and traditional details and in this case it really added something special to the shoot."
"In addition to the lovebirds, there was also a furry friend who joined the party!"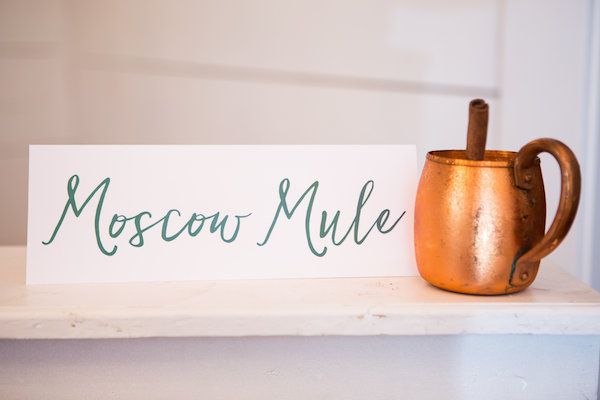 And what a sweet pup he was! More from the designer, "the florals were a Wintry mix which really fit nicely with the theme and of course hot toddies were on the menu!"
Never heard of a hot toddy, before? Say it isn't so! Read on for our favorite recipe!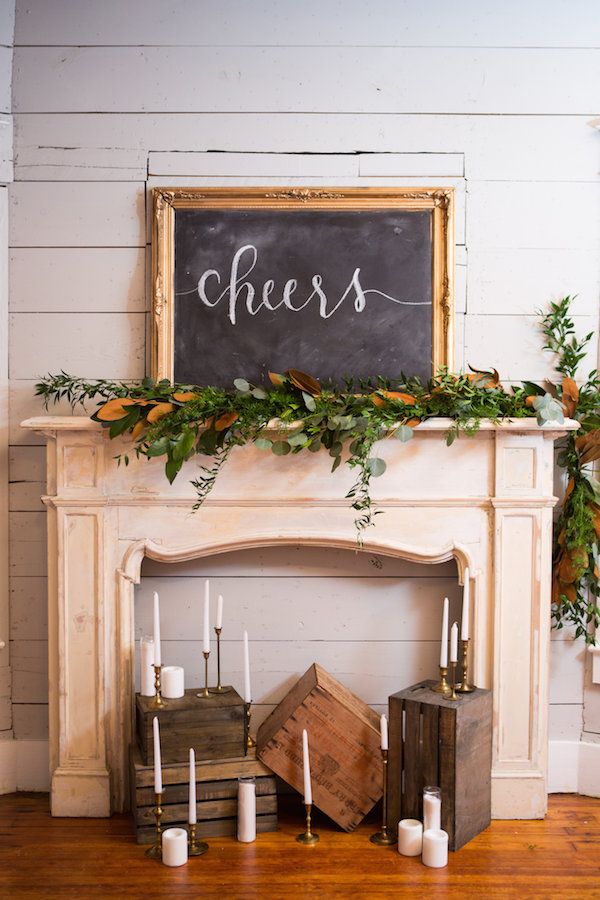 Lily's Cakes whipped up a one tiered, salted caramel chocolate cake which was the perfect dessert for this sweet and intimate party.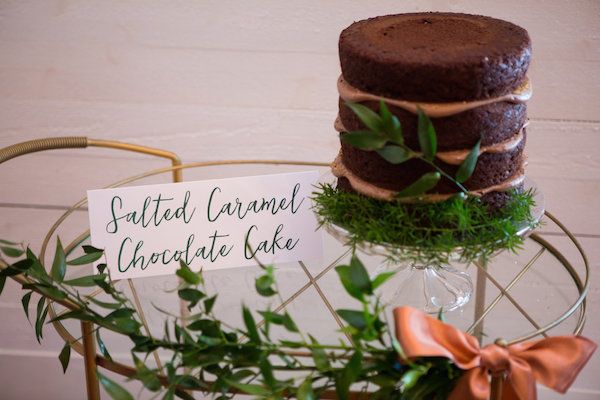 ...and how great is this striped bow tie?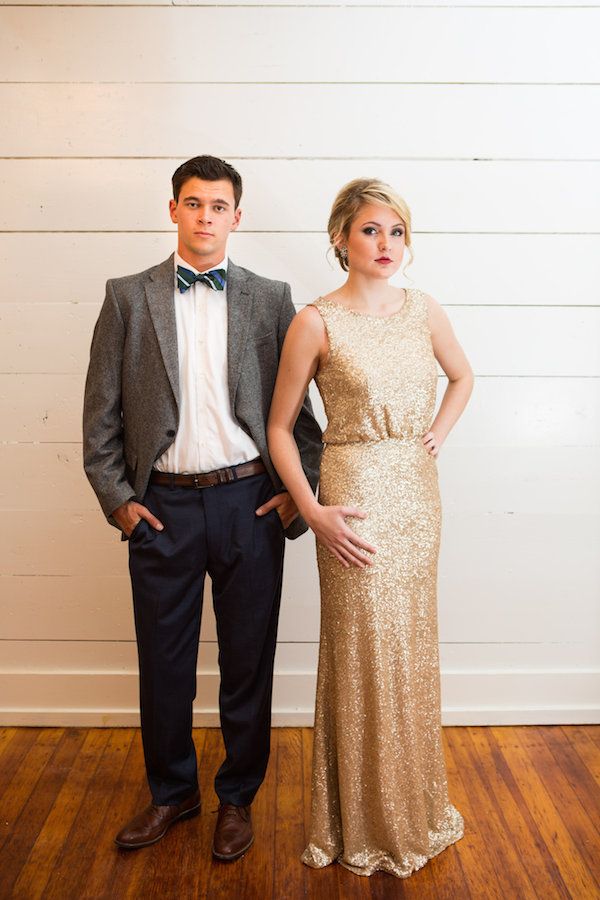 ... the lovebirds were the perfect mix of dashing and dazzling.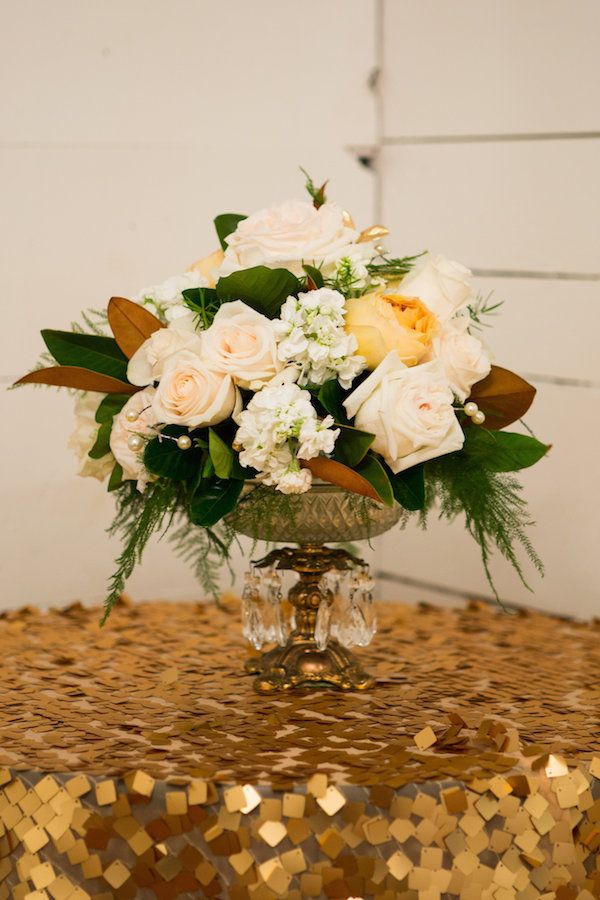 And of course you know there had to be candlelight!
Celebratory moments like this one filled the evening. And as expected there was many toasts made!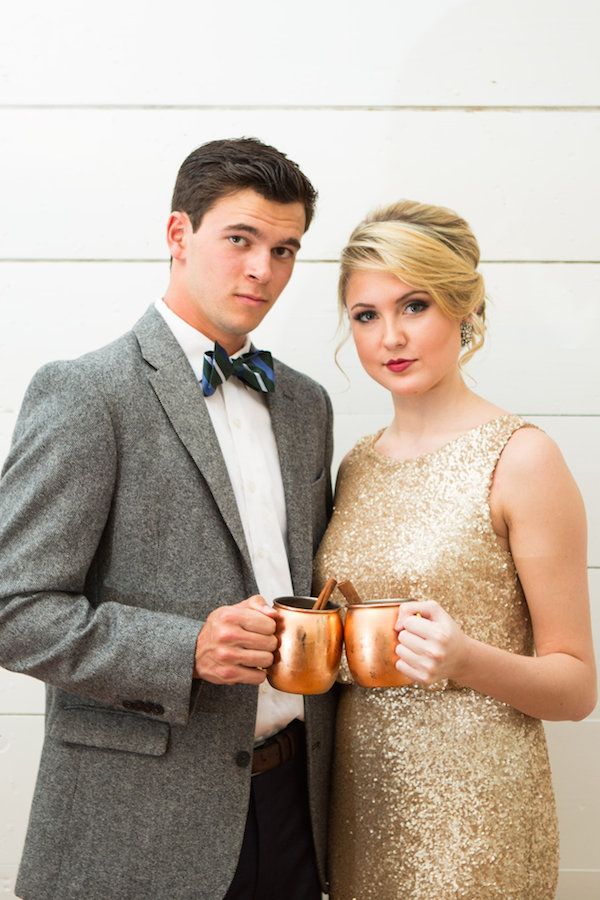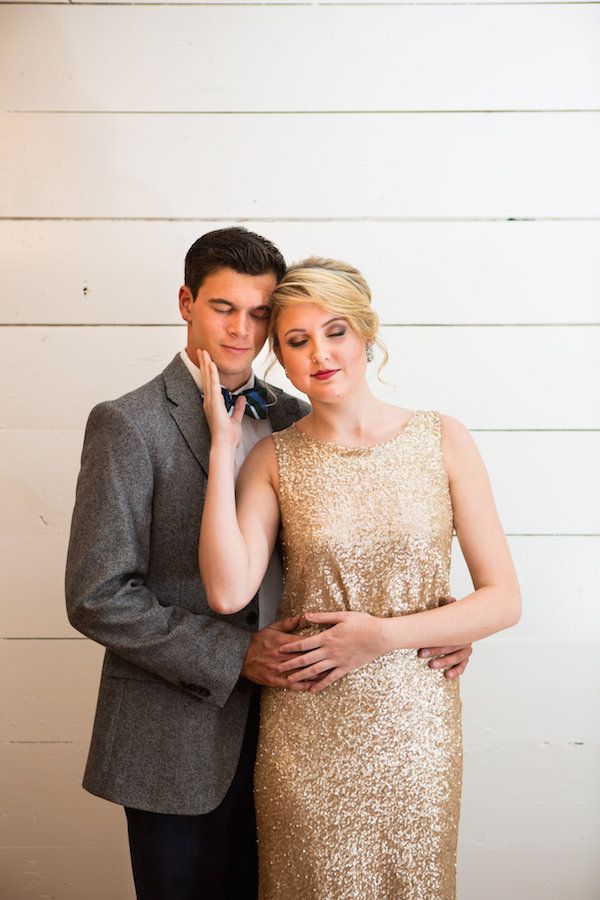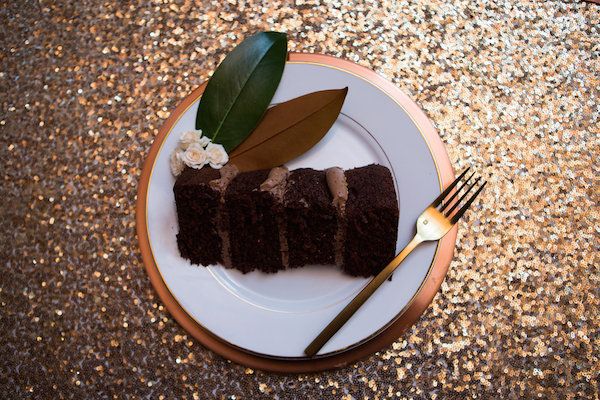 And can we just talk about how much we're loving these Moscow Mules? And these shimmery sequins?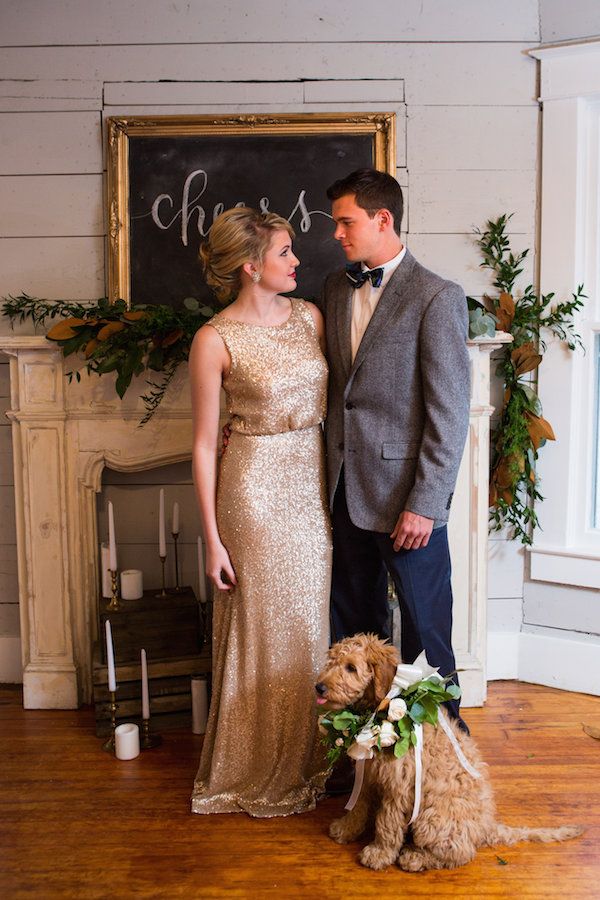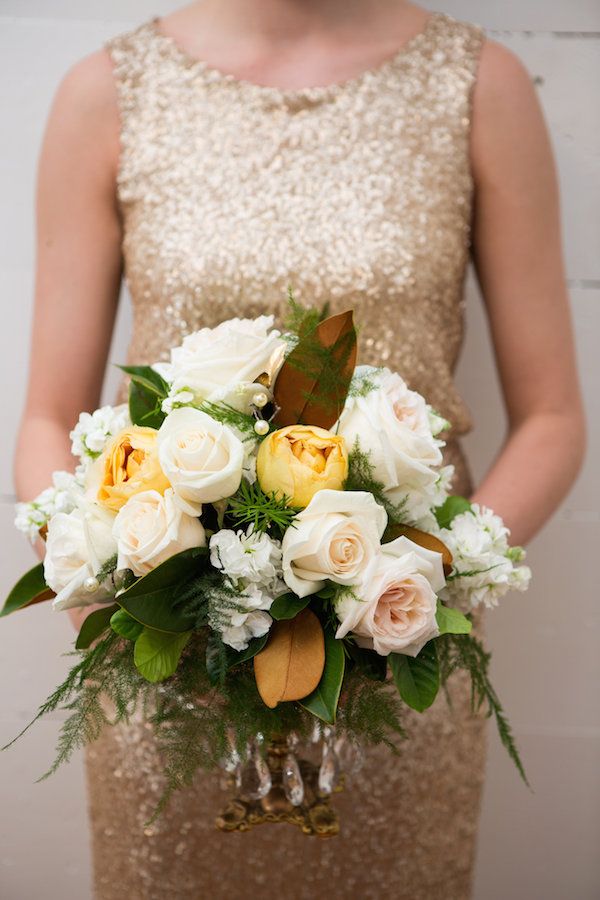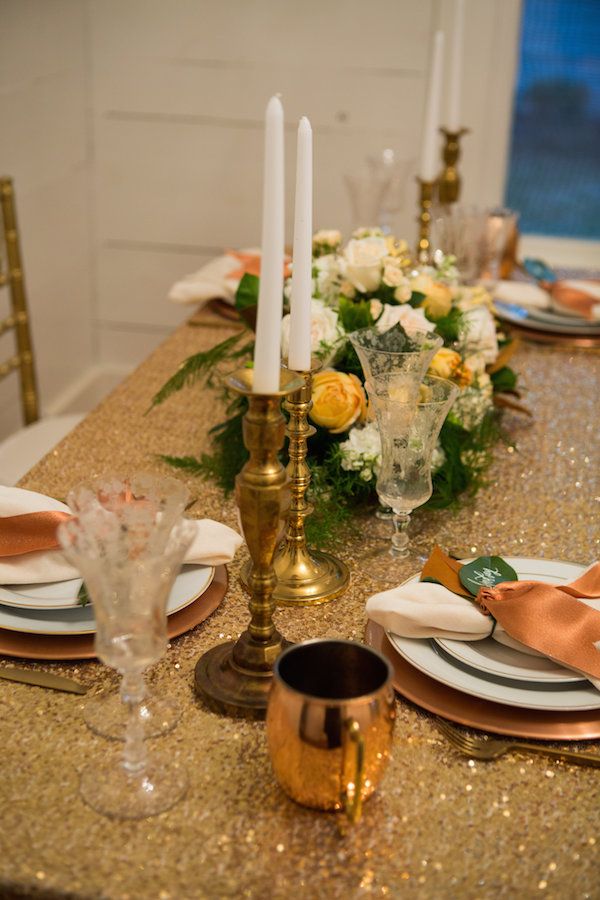 Hair and makeup by Be. YOU.tiful Salon was so soft and natural.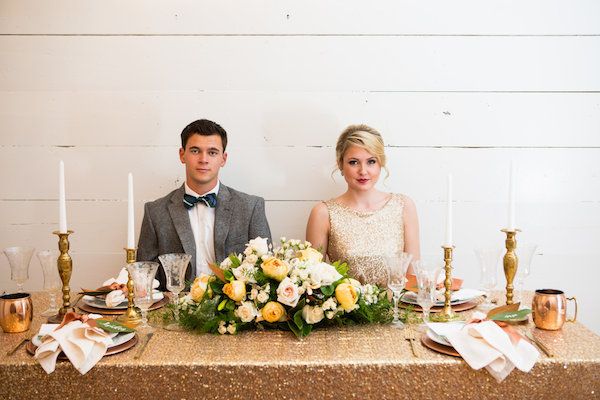 And these two? What a beautiful couple they make!
Sophisticated, elegant, and all kinds of pretty...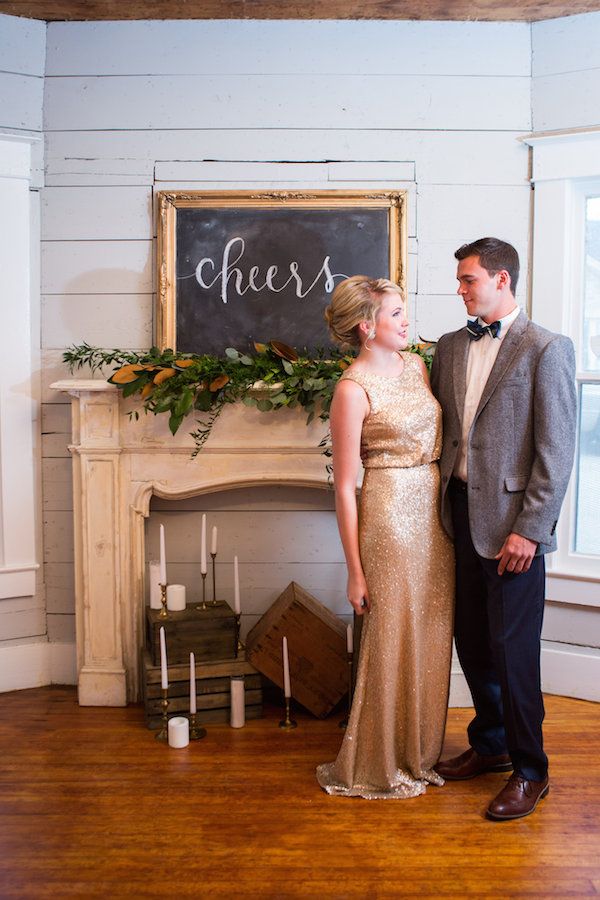 ... this is the stuff that holiday parties are made of.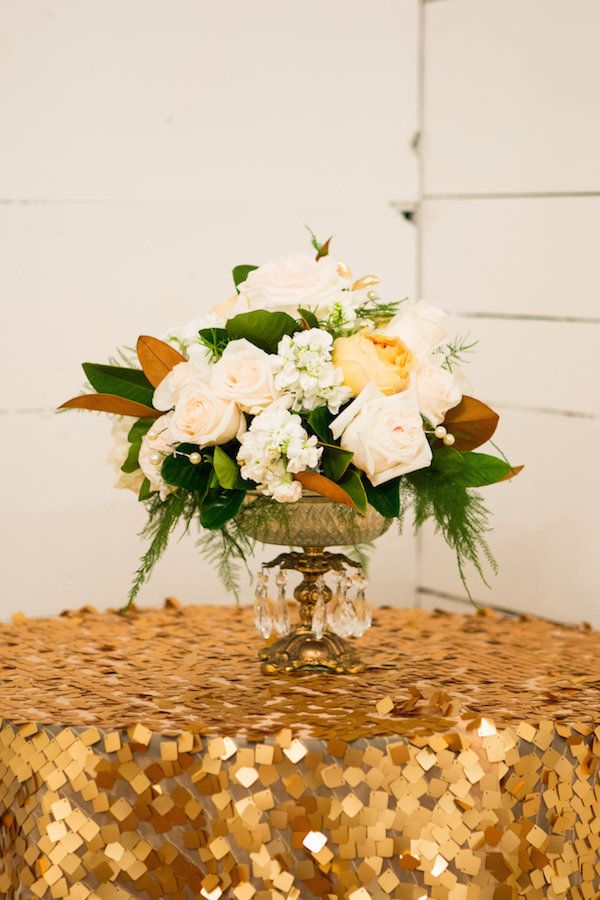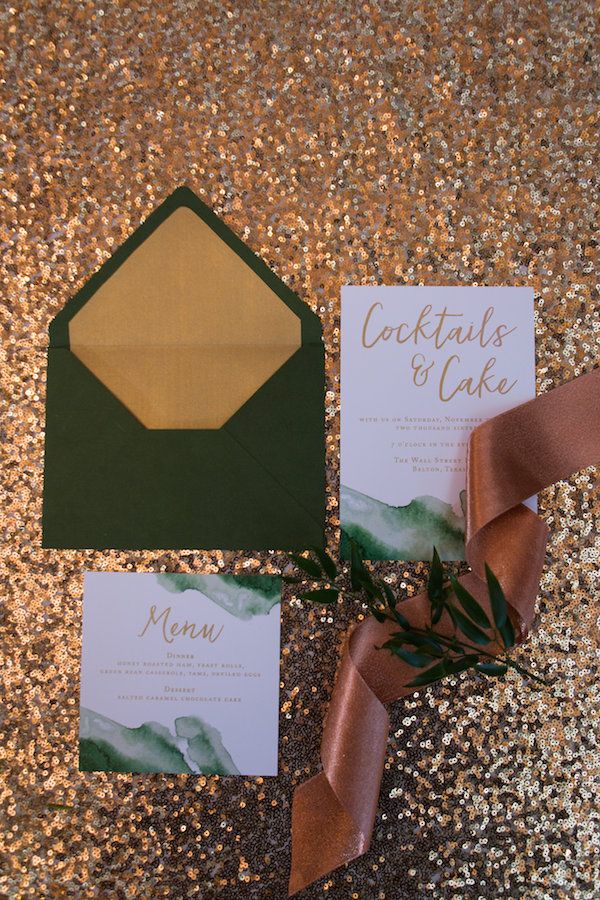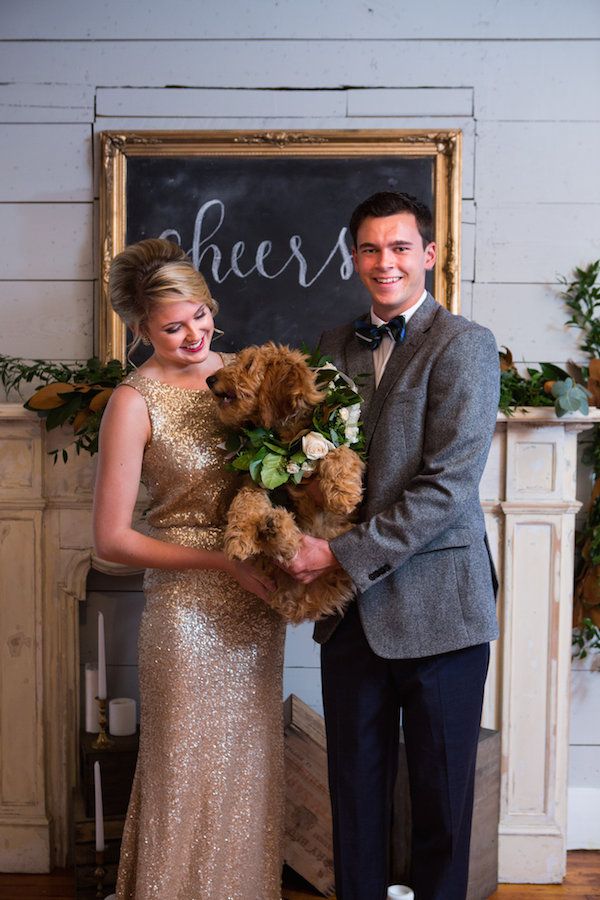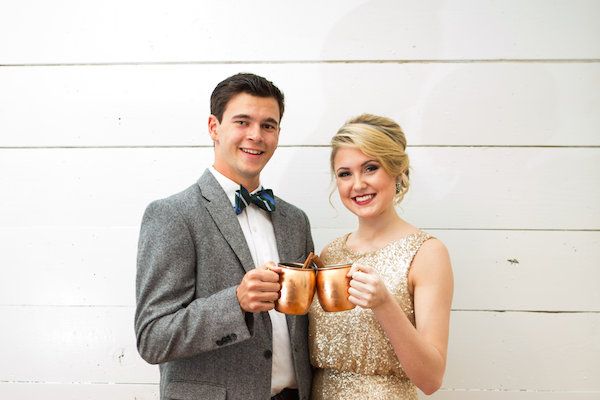 Gorgeous doesn't even begin to describe it all!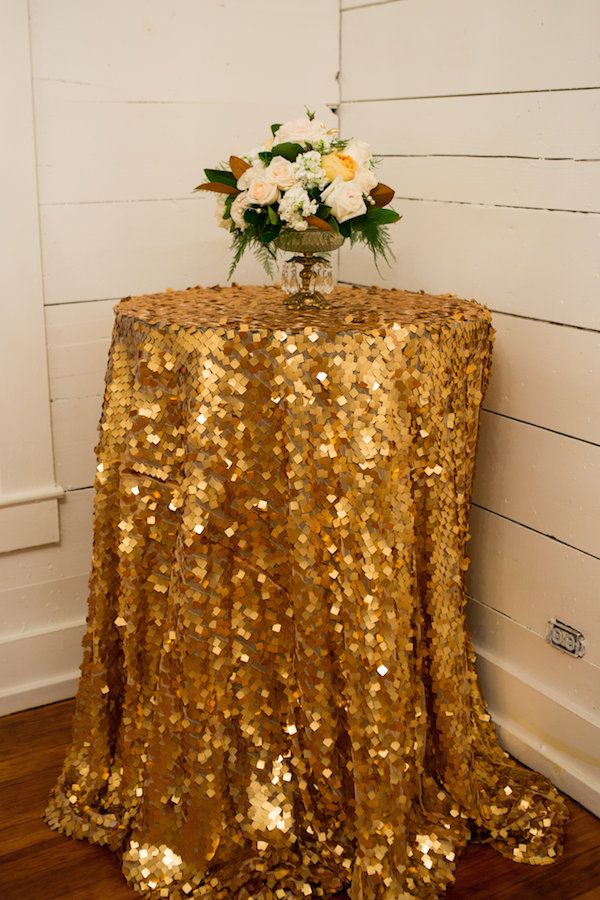 More from the designer, "One of my favorite parts of the shoot was the place cards which featured calligraphy inscribe on the magnolia leaves compliments of H.R.letter co."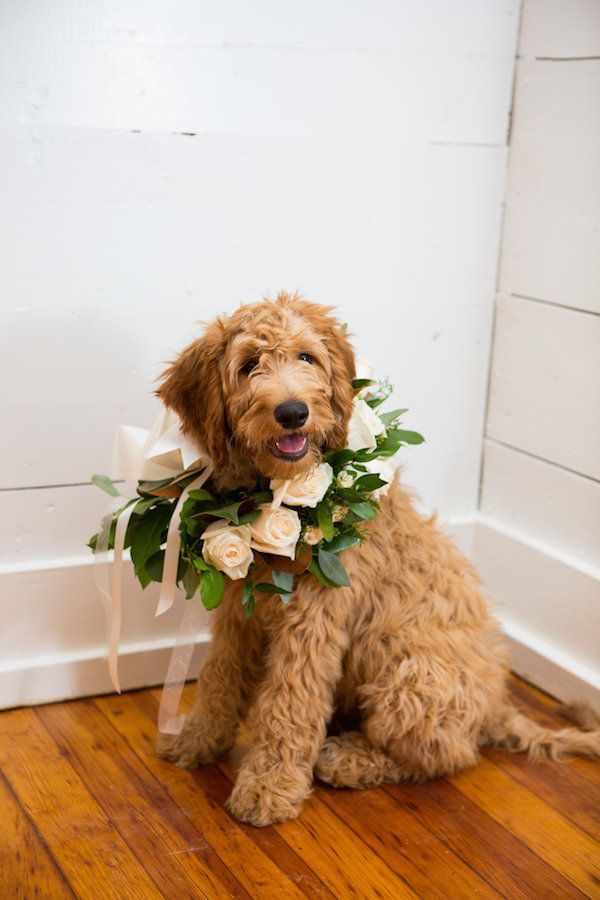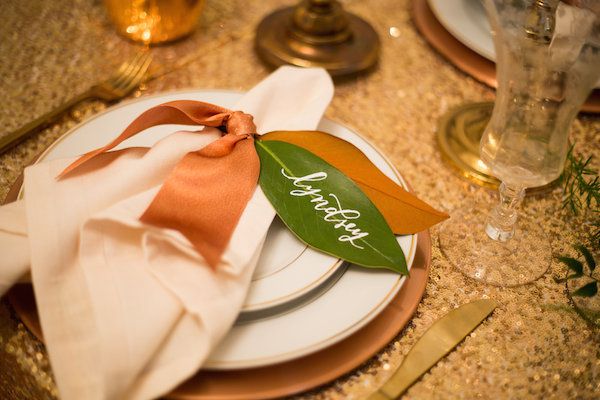 Rentals by Monarch Event Rentals helped set the scene so nicely for this fun and festive affair.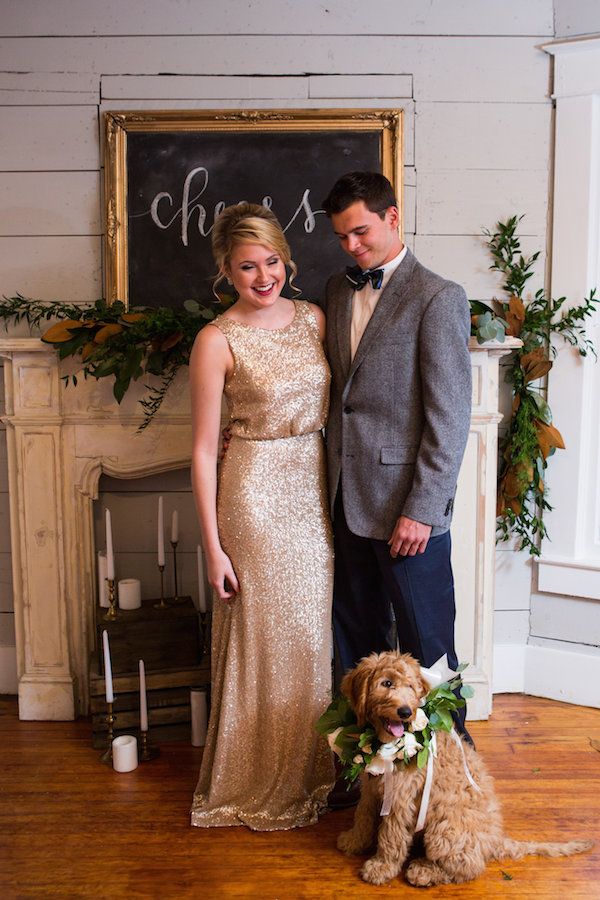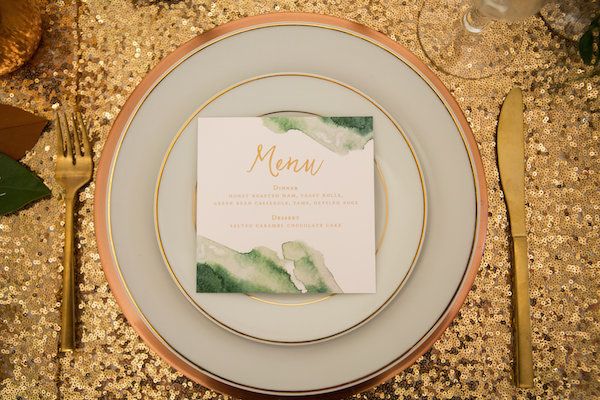 And who could resist these watercolor inspired menus by Hanna Braud Design?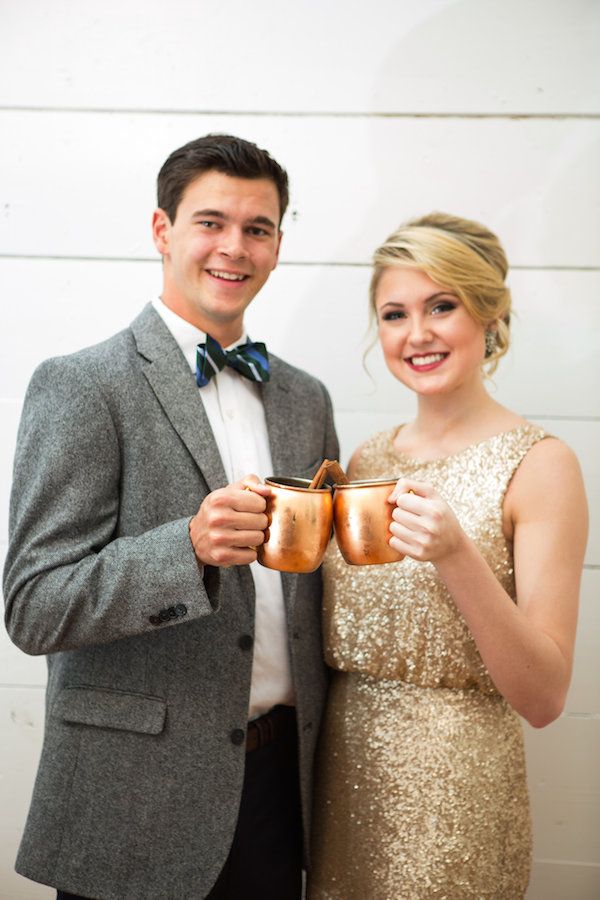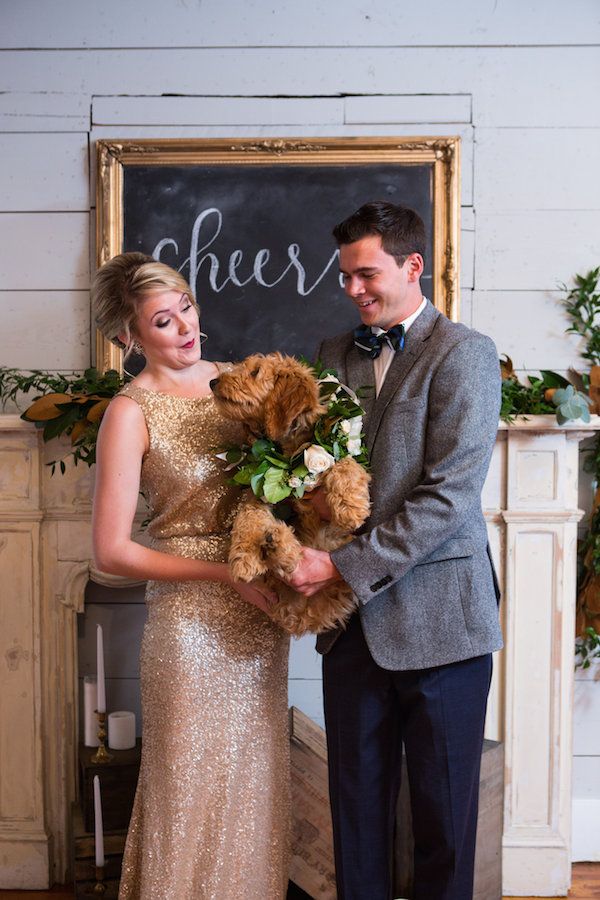 Cheers to the new year! And huge hugs and high fives to this talented group of Texas wedding pros who brought this sweet soirée to life!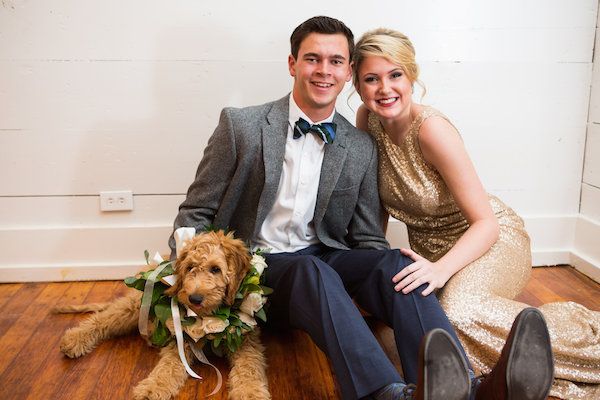 Photography: Shelly Taylor Photography // Event Design & Styling: Kate Rose Creative Group // Floral Design: Bouquets Floral Design // Bridal Salon: Georgio's Bridal //
Stationery: Hanna Braud Design // Venue: Wall Street Place // Cake: Lily's Cakes // Rentals: Monarch Event Rentals // Hair & Makeup: Be. YOU.tiful Salon // Calligraphy: H.R.letter co // Models: Preston Rosebrock, Mary Kate Janek
Oh, and as promised... here's our favorite hot toddy recipe! Warm, subtly spiced, perfectly sweet, slightly tart. And super boozy? What more could you ask for in a cocktail? Serves 6! Prep time: 45 mins, Cook time: 15 mins, Total time: 1 hour
SPICED CINNAMON BOURBON HOT TODDY
Ingredients
SPICED CINNAMON MAPLE SIMPLE SYRUP
○ 1 cup maple syrup
○ 1 cup water
○ 1 dried red chili pepper
○ 1/2 tsp red pepper flake
○ 2 cinnamon sticks
HOT TODDY
○ 1/2 lemon, juiced
○ 3-4 Tbsp spiced maple simple syrup
○ 2 ounces (4 Tbsp) bourbon (rye or traditional)
○ Hot water to fill
○ Lemon wedge + cinnamon stick for garnish
Instructions
○ Add maple syrup, water, cinnamon sticks, chili, and red pepper flakes to a small saucepan and bring to a boil over high heat. Reduce heat to low and simmer for 5 minutes. Then remove from heat and let steep for 30 minutes - 1 hour (or longer). Strain and pour into a glass jar for serving.
○ To make a single toddy, add the juice of half a lemon, 3-4 Tbsp Chili Cinnamon Maple Simple Syrup, 2 ounces bourbon, and hot water to top (use less water for a stronger drink, more water for a weaker drink).
○ Garnish with another cinnamon stick and lemon slice or wedge and serve. The longer it steeps the stronger the cinnamon, lemon flavor becomes.
○ Repeat for more drinks or make a large batch to serve a crowd by simply multiplying ingredients by number of drinks you need.
Share This: