Dreaming of a wedding in Jamaica? Well, what are you waiting for? Grab your passports and a fruity cocktail, because today's destination wedding at
RIU Ocho Rios
sure is a beautiful one. Oh, and did I mention how creative today's couple is? Yep! If you're a DIY lover, then you're going to really appreciate all of the thought that went into this beautiful wedding captured by
Be Photography.
Speaking of DIYs, let's hear a little bit from the bride herself, "As individuals, we have always been crafty in different aspects. But planning a wedding together really took our creativity to a whole other level."
"We wanted everything about our wedding to be original and personal, so we decided to DIY everything."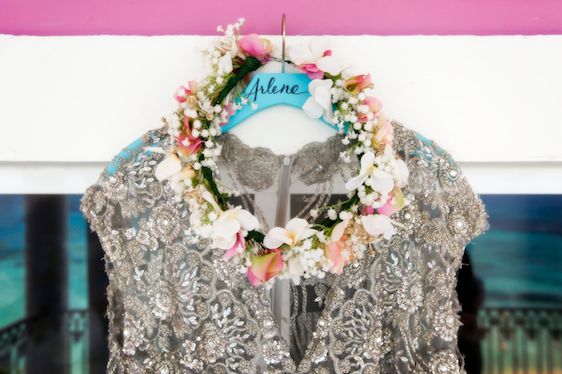 "I couldn't find any save the dates that I liked so I made them myself."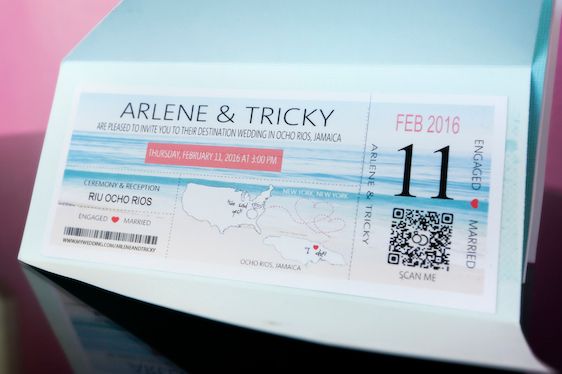 "I cut the invitations to look like suitcases so when you opened it, it would make you imagine yourself going on vacation."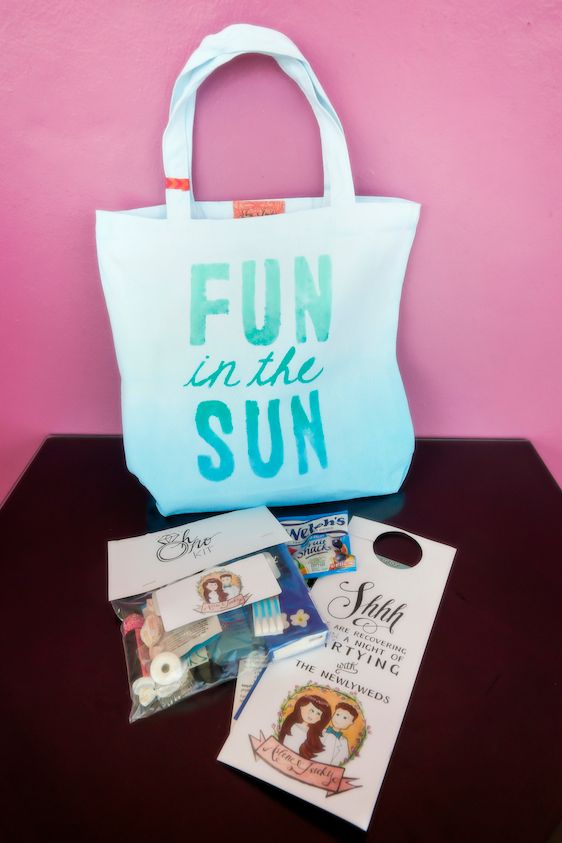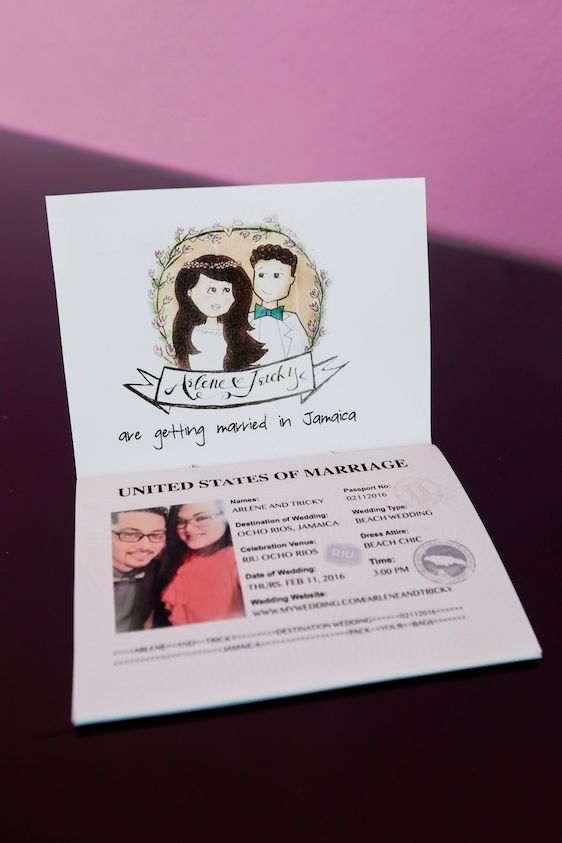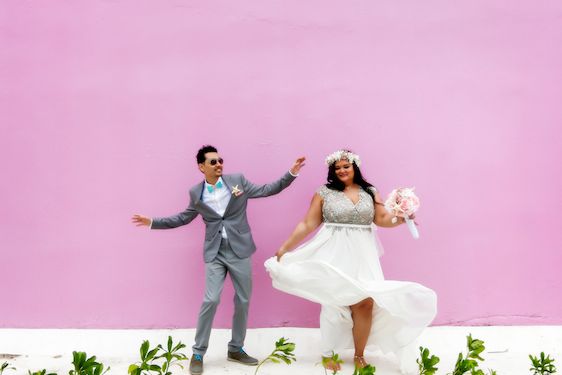 Yay for destination weddings, I say!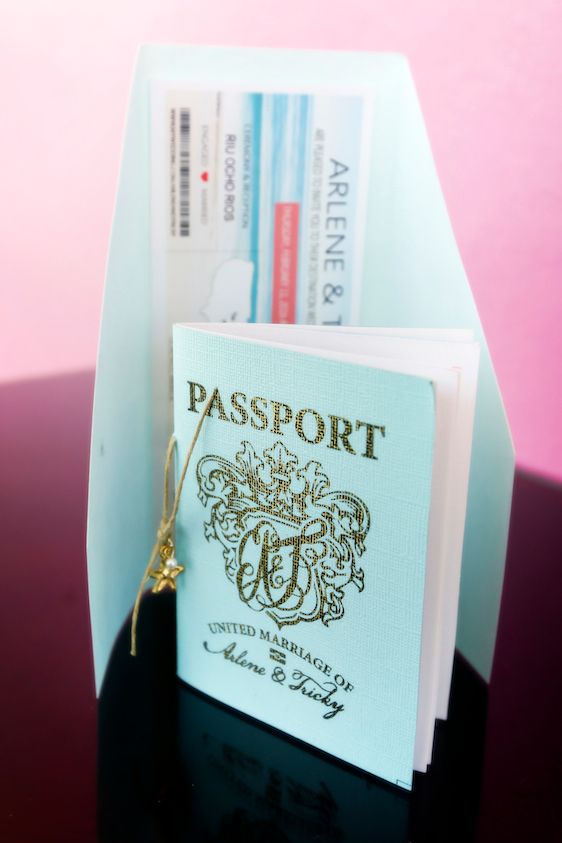 "All the handwriting, cartoon drawings, and cover logo was drawn by me and I even did our own gold foiling and Tricky assembled the pages and hand sewed the passport."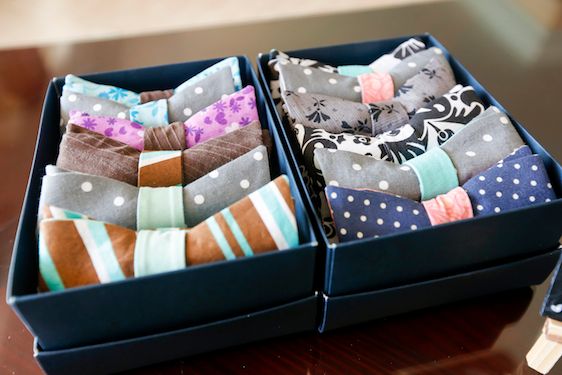 "Every single bow tie was handmade by Tricky. He made bow ties for all the groomsmen and all our guests. Oh, and he also made all of the suspenders"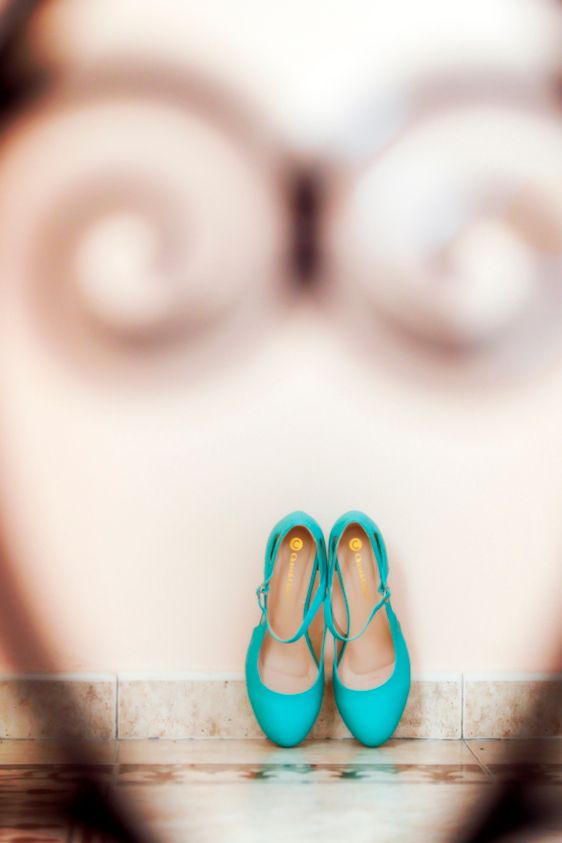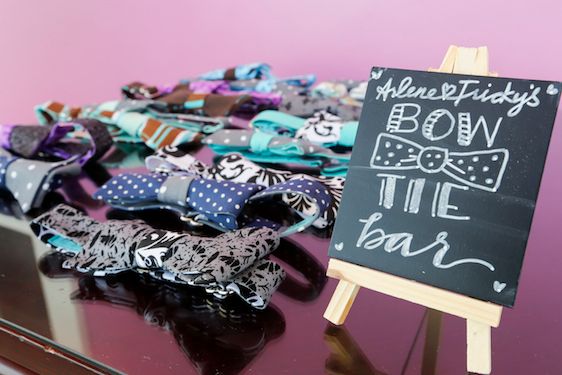 "We came up with the concept of a Bow Tie Bar. Tricky sewed a ton of bow ties for our guests and I made the "bow tie," sign. Every tie was unique in its own style, no two were alike."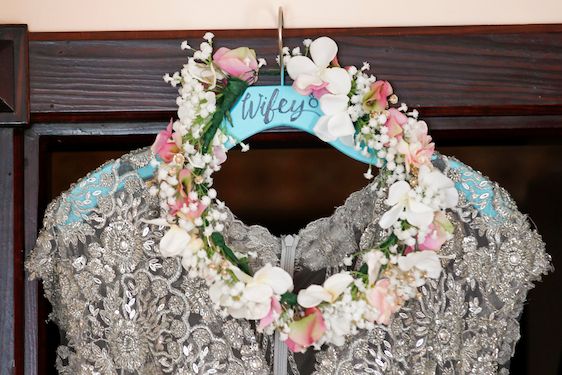 "We laid them out on the table next to the welcome bags during our welcome dinner (day before the wedding) and we let our guests pick out their own bow tie and bag. Everyone really enjoyed it."
"Floral crowns. I used to be a Hawaiian hula dancer and we used to have to make our own floral crowns. Making these took me back to my hula dancing days."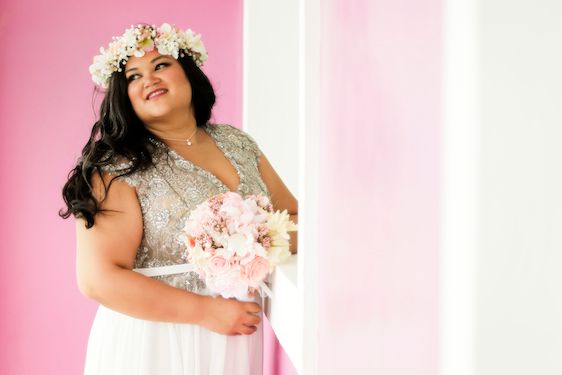 And these lovely hangers? "A clothing store was giving away wooden hangers so I took a few, painted them and hand painted the girl's names on each hanger." So cute!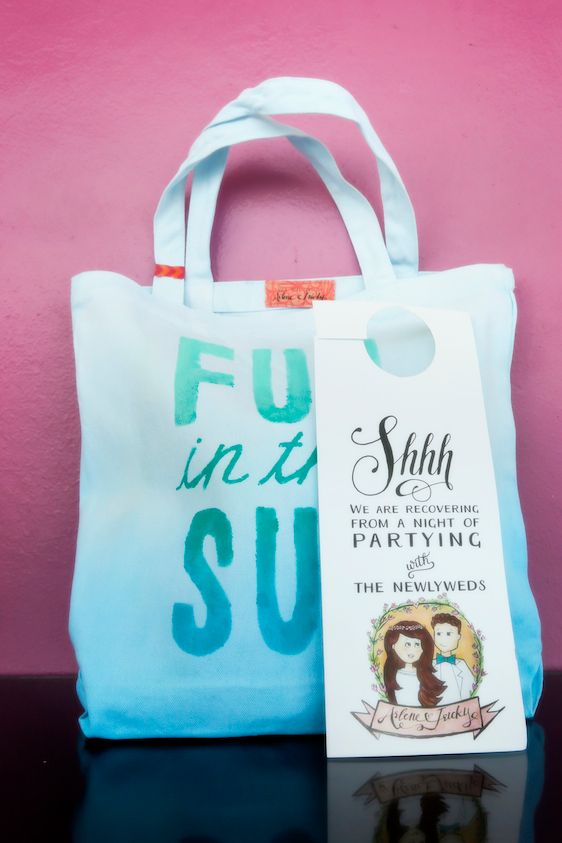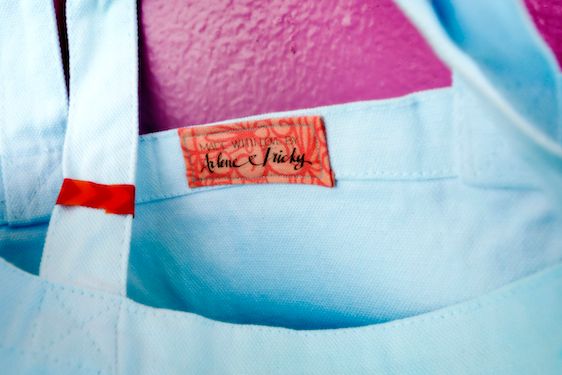 "We created custom welcome bags for our guests and I hand, ombre dip-dyed each tote bag and custom printed "fun in the sun"; with my own writing."
"We gave everyone their welcome bags the day before the wedding during our welcome dinner with a personalized thank you note."
"Another fun story? Our Cake Topper! Would you believe that I actually made it the day before our wedding in our hotel room on a tiny nightstand table in less than 2 hours?"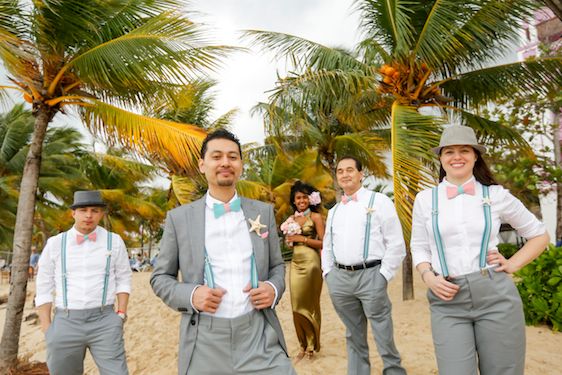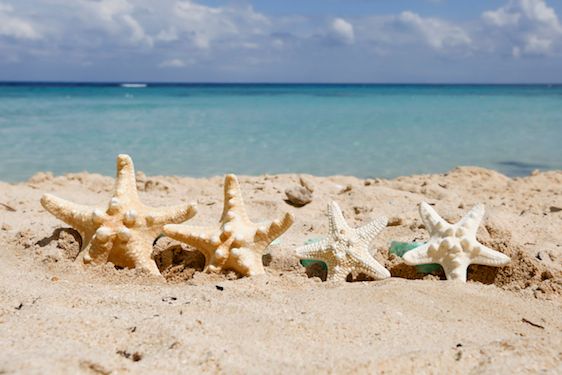 "Plans for our original topper fell through so 3 hours before our flight, I grabbed whatever random things I could find around the house."
"2 ping pong balls, some chopsticks, a glue gun, and leftover fabric scraps from our DIY bow ties and a white bed sheet. (Yes, you read that right, a bed sheet). I think it turned out pretty cute!"
"We got married in Ocho Rios, Jamaica and since it's the Caribbean, the chance of rain is always unpredictable."
"The morning of the wedding, it had been pouring rain so hard that even our coordinator suggested that our dream beach wedding may have to be moved indoors."
"The possible changes had even worried our guests. But for whatever reason, while everyone was worried, Tricky and I were not."
"We were confident that everything would work out just fine and remained positive the entire time. We did not allow the rain, to "rain on our parade."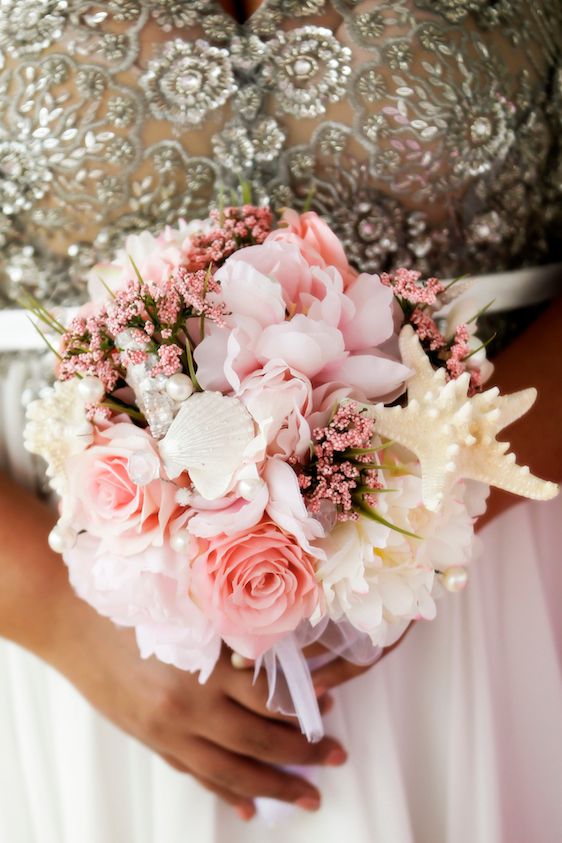 "The moment we both walked out to the beach...the dark black rain clouds separated and the rain stopped. The sun shined bright and all you can hear was the ocean waves and the birds chirping."

"Once our ceremony and outdoor pictures were completed and we moved indoors to our reception, it started to pour heavy rain again. It was as if the rain only paused momentarily, just for us."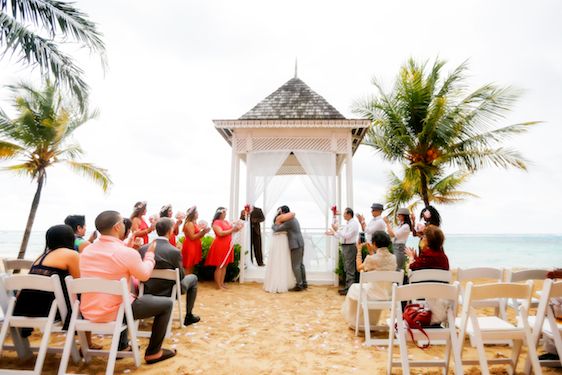 "But it turned out, not only was it the wrong person, Tricky lived in New York and I lived in California. After the mistake, we still remained friends."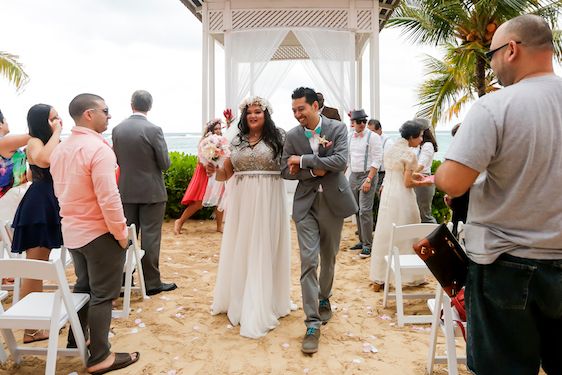 "We were never attracted to each other from the very beginning and even had conversations with each other about how we would never date one another because we were "not each other's type" and also because we lived across the country.
"As we got older, Tricky would go out on dates and call me to tell me about how horrible they went."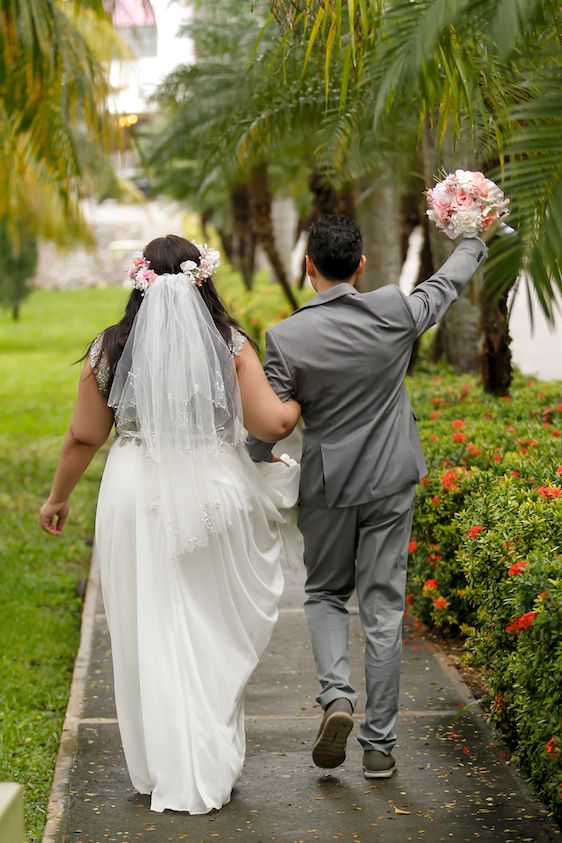 "Then I would go through my bad breakups with past boyfriends and he would be the one to console me and let me cry it out to him over he phone."
"...that later Tricky said to me, "I started to realize that I was a fool for not seeing how special you are." It was then that we started looking at each other in a different set of eyes and took a chance in love."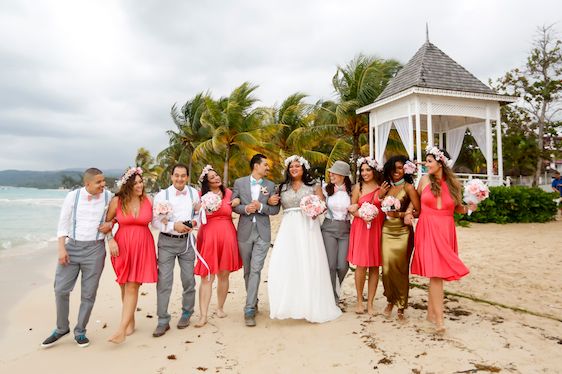 "I moved from California to New York to start our lives together...and here we are now...happily married."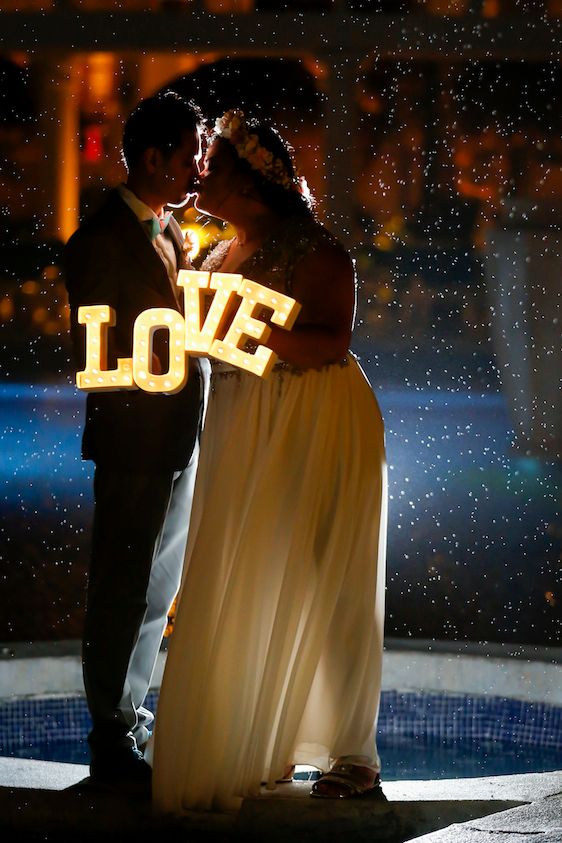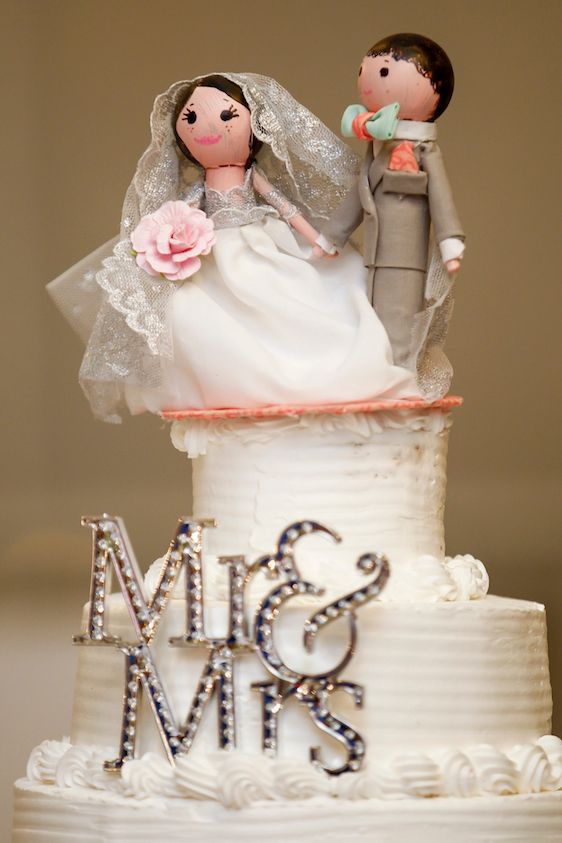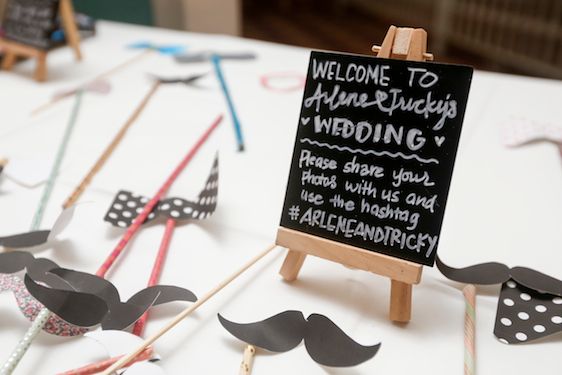 "How we got engaged? Actually, Tricky never proposed to me before we decided to get married. As a matter of fact, I remember one day when he introduced me to his family members and said, "this is my fiancee Arlene" and I looked at him and was like "Fiancee?"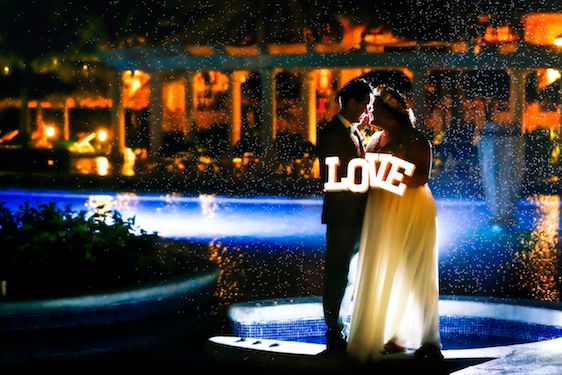 "He said he already knew he wanted to marry me. I was happy with that answer and knew I too wanted to marry him."
"Then on the day before the wedding we had a welcome dinner. Since we had a destination wedding, he told me he wanted to say a "thank you" speech to everyone who traveled so far. So right before his speech, I remember him being extremely nervous and shaky."
"I thought maybe he was just having stage fright, so I started giving him a pep talk telling him to relax, to breathe, and that everything will be okay. As he started his speech, he began thanking everyone for traveling so far, then he turned to me and said he could not marry me until he did things right."

"It was then that he got down on his knee and proposed to me in front of our closest family and friends. I was completely shocked and could not stop crying. I had never expected it in a million years and it was one of my happiest days of my life."
Share This: