With colorful event design by
Pop + Fizz
and the loveliest of florals by
Birds of a Feather Weddings + Events,
today's styled shoot is so full of beauty and creativity and lucky for us
Tangie Renee Photography
was there to capture it all!
Get ready for sweetness overload + a couple of recipes for the yummiest. breakfast. ever. From the design team, "for this shoot, we channeled airy boho vibes and incorporated them into a rustic chic setting."
"Our color scheme focuses on marsala with notes of blush and gold surrounded by leafy greens."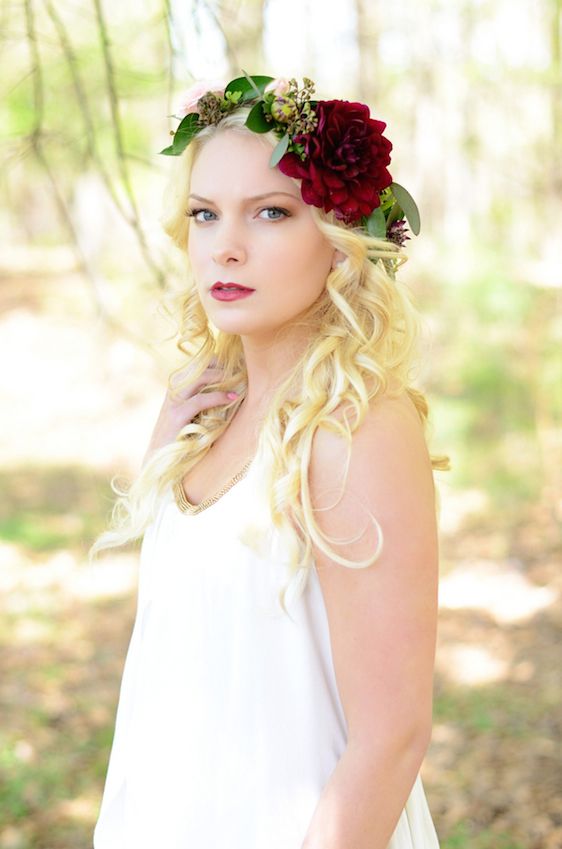 Swoon. Let's take a look-see, shall we?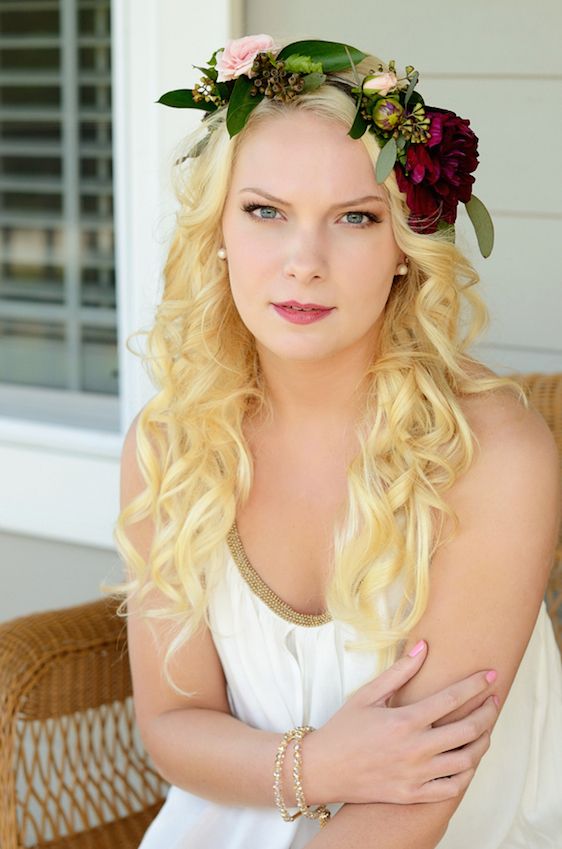 Because how gorgeous are these two?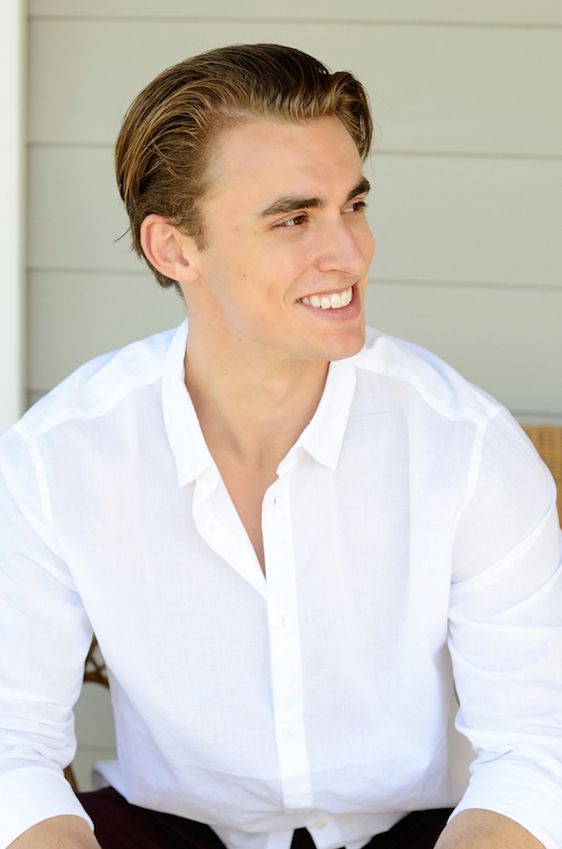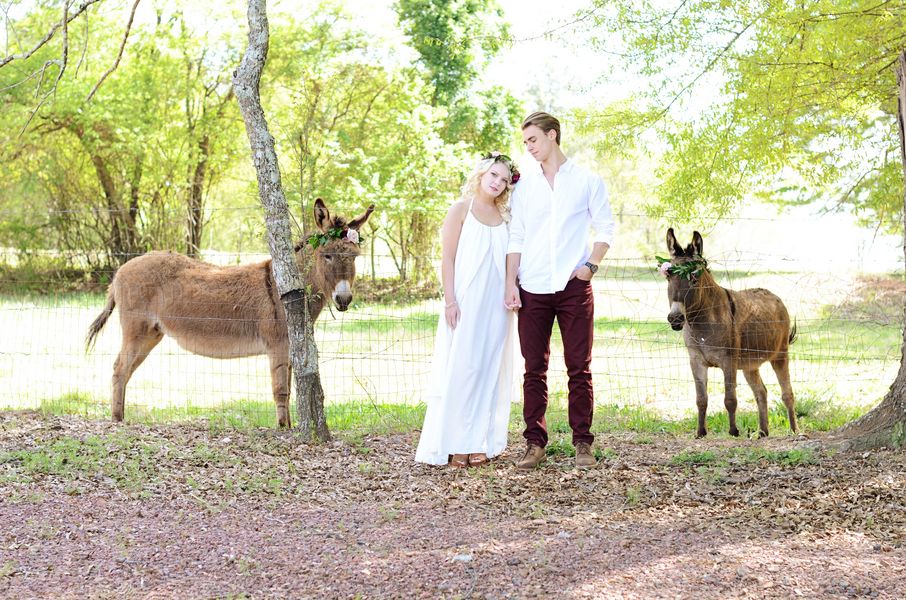 Because what's not to love about this serene setting at
The Barn at Oak Manor?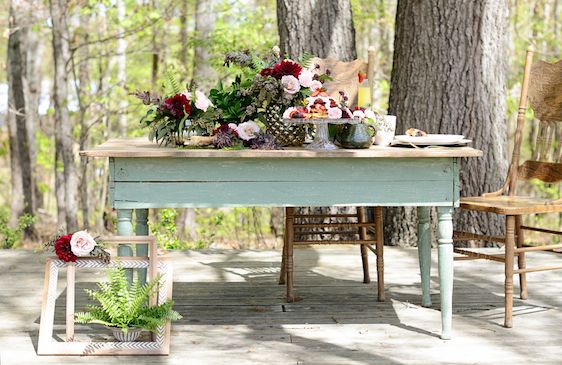 Coffee for two couldn't be sweeter...
And how beautiful is this woodland setting?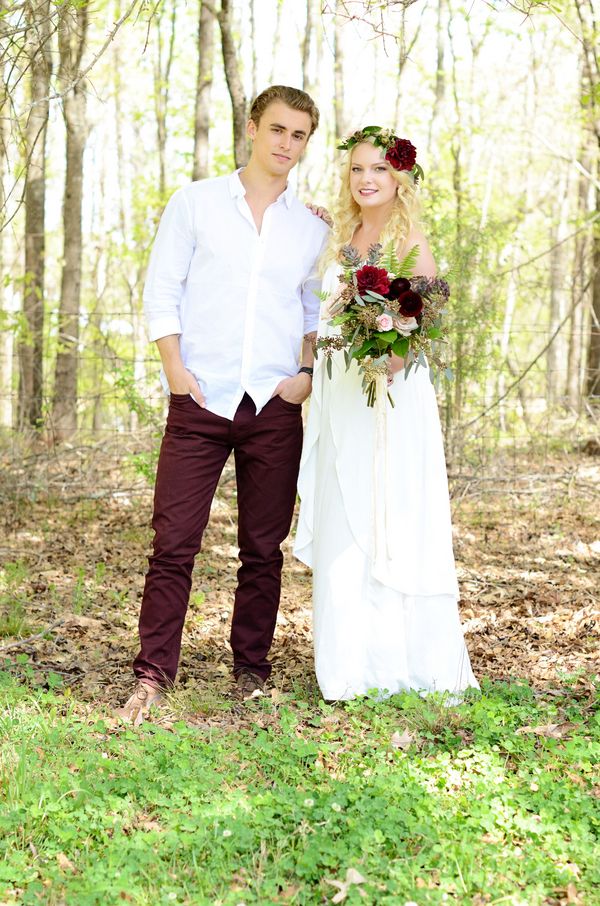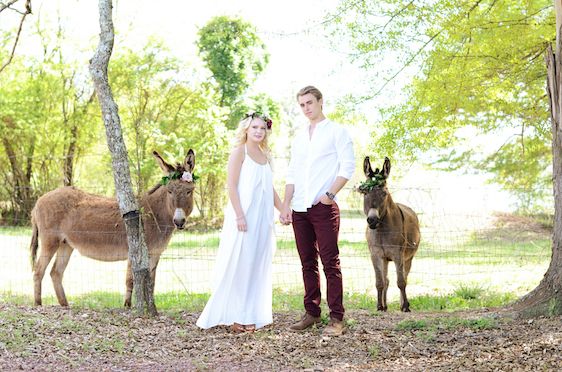 A couple of donkeys made their cameos in this sweet portrait shot.
And how gorgeous is this floral crown?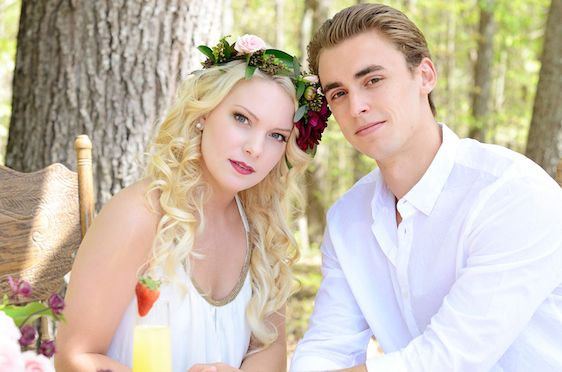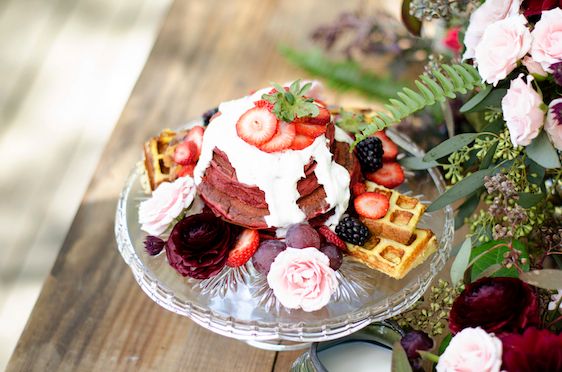 Want to know what goes best with coffee?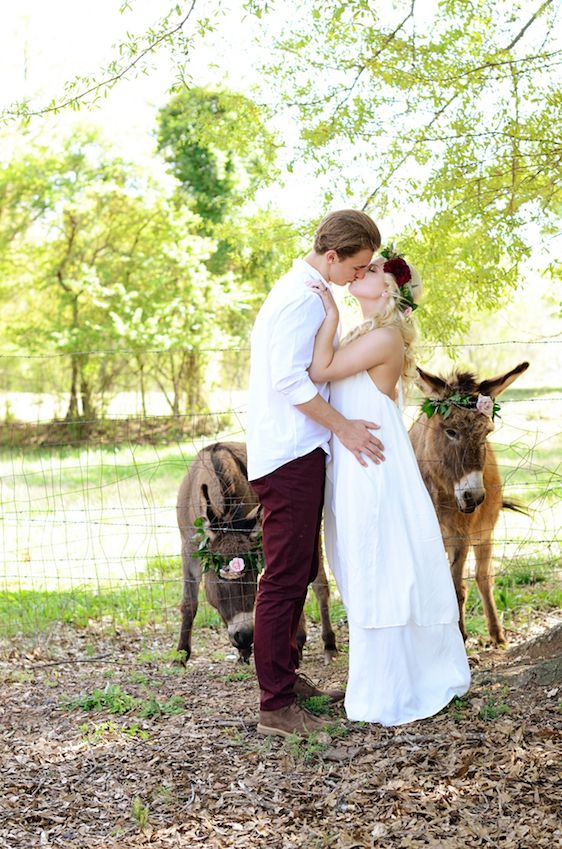 Red velvet pancakes and french toast waffles. Of course!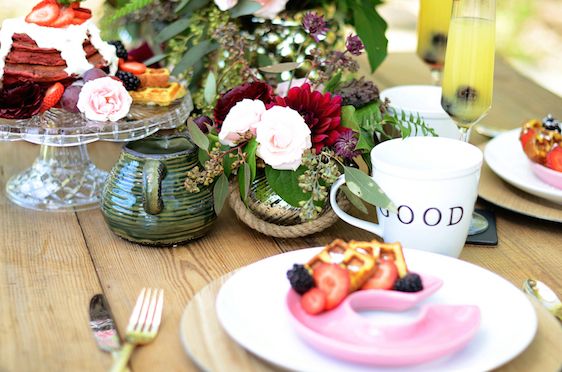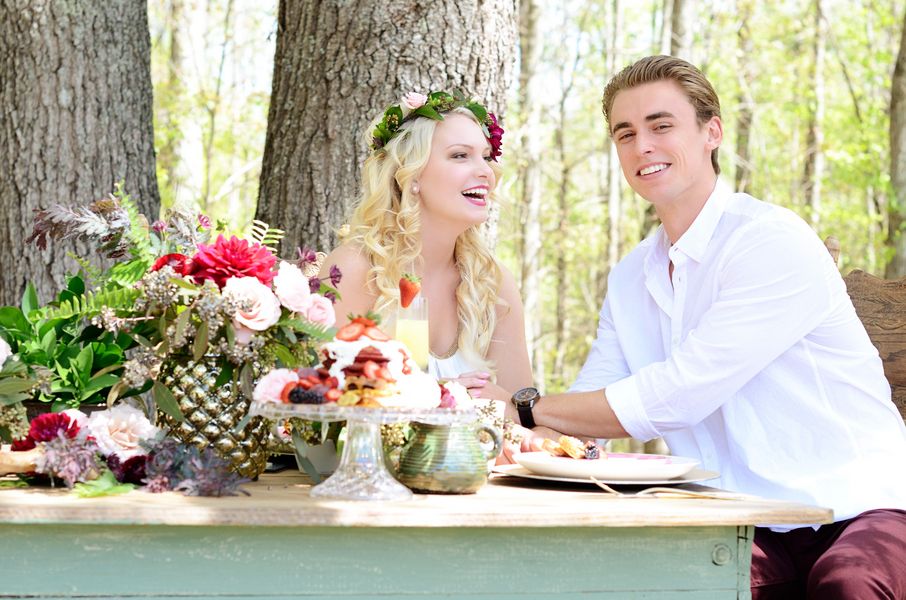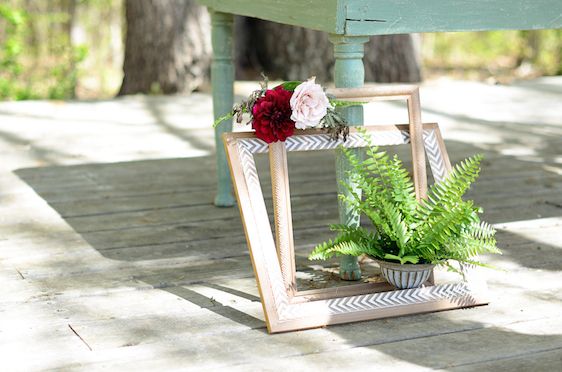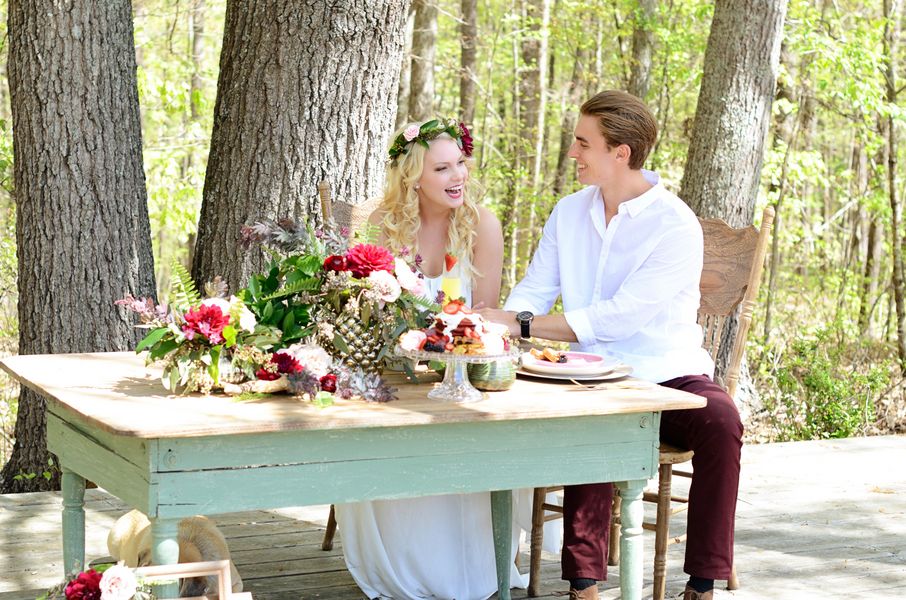 Looks delish. Am I right?
Cheers to this gorgeous engagement shoot!
Oh, and you didn't think I'd leave you without sharing the recipes for these fab breakfast items? Did you? Here you go! Enjoy!
Red Velvet Pancakes Ingredients:
Cream Cheese Glaze
• 1 4 oz. package cream cheese, at room temp • 1 cup confectioners' sugar, sifted
• 1 tbsp. whole milk (or more if needed) • 1 tsp. pure vanilla extract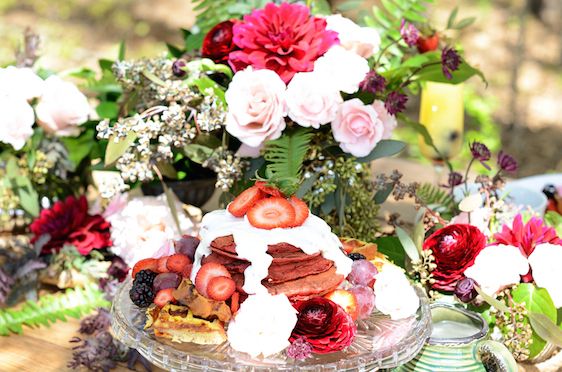 Red Velvet Pancakes
• ¼ cup melted butter • ¼ cup milk • 1 ½ cups all purpose flour • 2 tbsp. unsweetened cocoa powder • 2 tsp. baking powder • 1 tsp. salt • 2 large eggs • 3 tbsp. sugar • 1 cup buttermilk • 2 tsps. red food coloring • 1 tsp. pure vanilla extract • 1 tsp. distilled white vinegar • 1 tsp. butter
• Beat cream cheese, confectioners' sugar, and 1 tsp. vanilla extract in a bowl until smooth. Thin with 1 tablespoon milk or more as needed to achieve a pourable consistency. Set aside.
• Whisk flour, white sugar, baking powder, cocoa powder and salt together in a bowl until evenly combined and set aside. Beat eggs in a separate mixing bowl until smooth.
• Whisk in ¼ cup milk with the buttermilk, 1 tsp. vanilla extract, vinegar and food coloring. Stir in the flour mixture until moistened.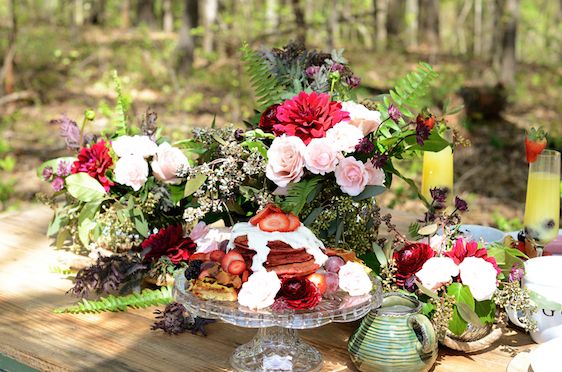 • Drizzle in the melted butter and stir until butter has blended and only small lumps of flour remain. • Melt 1 tsp. butter in a pan over medium-low heat then spray lightly with oil.
• Pour batter in ¼- cupfuls onto the heated pan. Cook until bubbles form and the edges are dry.
• Flip and cook until browned on opposite side. Repeat with remaining batter. To serve, drizzle the cream cheese on top of the pancakes.
French Toast Waffles
Ingredients:
• 1 ½ cups milk
• 3 tbsp. sugar
• 1 tsp. pure vanilla extract
• Dash of salt
• 5 large eggs
• 4 slices bread of choice (we recommend sourdough)
• Melted unsalted butter (to brush on waffle iron)
• Maple syrup + confectioners sugar (for topping)
Step by Step...
• Preheat a waffle iron to medium-high. Preheat the oven to 200 degrees F (to keep cooked waffles warm). Whisk together milk, sugar, vanilla, salt and eggs in a bowl.
• Soak a piece of bread in the mixture for 2 minutes per side. Lightly brush the top and bottom of the waffle iron with butter. Place the soaked bread on the waffle iron and close gently (don't push down).
• Cook until golden brown and dry underneath when you lift a corner, 5 to 6 minutes. Keep the warm in the oven or covered with foil on a plate. Repeat with the remaining bread.
Photography:

Tangie Renee Photography

// Event Planning:

Pop + Fizz

// Floral Design:

Birds of a Feather Weddings + Events

// Hair Styling:

Angelika Marie

// Model: Click Models // Equipment Rentals:

Rent the Prop

// Event Venue:

The Barn at Oak Manor

//
Share This: