The rolling golden hills of California in the fall set the scene for this elegant and down-to-earth shoot with event design by
Ariana Batz
and floral design by
Michelle Lywood
!
Reinstein Ranch
proved to be the perfect place to bring these inspiring ideas to life with it's endless pastures rolling up towards a clear blue sky. Captured beautifully by wedding photographer,
Jeff Brummett
this is the stuff that wedding dreams are made of, you guys!
The itself landscape inspired the color palette for the shoot — hints of dusty blue and sunset-hued flowers in coral, salmon, and yellow stood out beautifully against the gold velvet of the hills.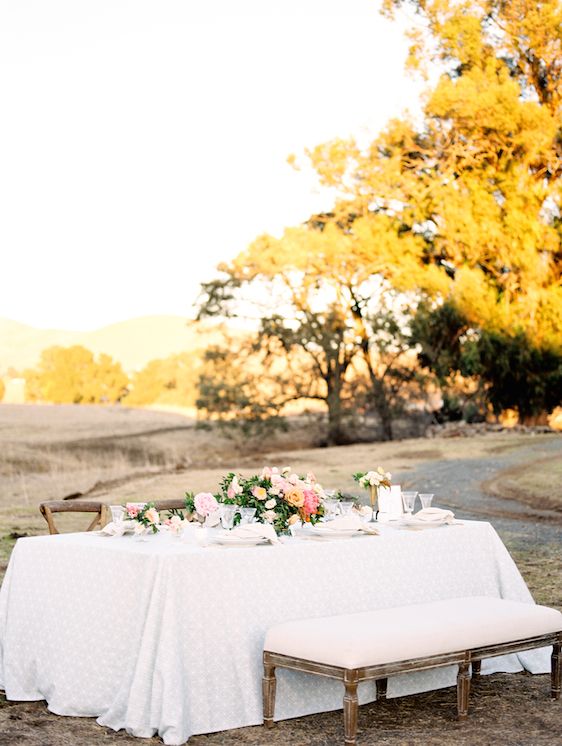 The original concept came from marrying the rustic sophistication of Ralph Lauren with the rugged beauty of a California ranch.
Hints of the brand's preppy origin can be seen in the modern geometric print of the grand Kings Table, set with earthenware and gold-dipped marble details to tie in the natural setting.
And this gold flatware and gorgeous stationery? love it!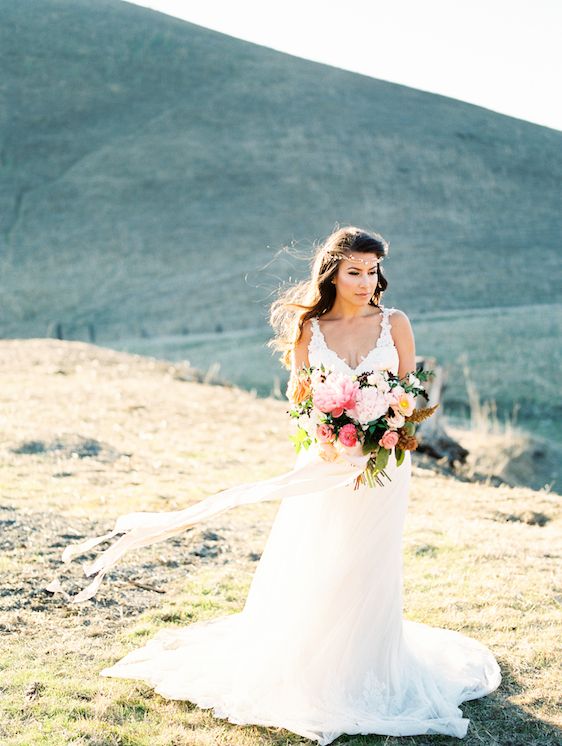 The golden leaves made for the prettiest contrast!
Meanwhile, floral designer Michelle Lywood added rich color to the table with late-summer roses and peonies nestled among trailing vines...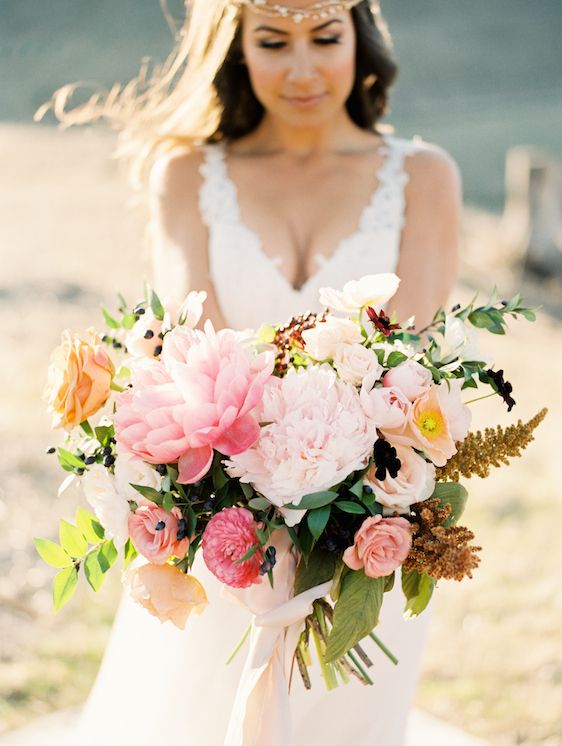 ...set on chic blue and white patterned linens and hemstitched napkins from

Napa Valley Linens

, along with luxe place settings from

Bright Event Rentals

, and elegant furniture from

Pleasanton Rentals

.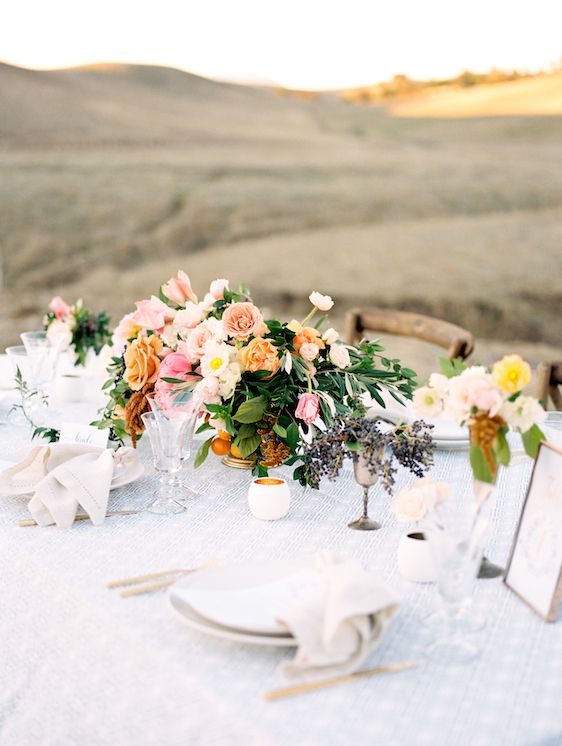 The copper lanterns added a really sweet and charming touch...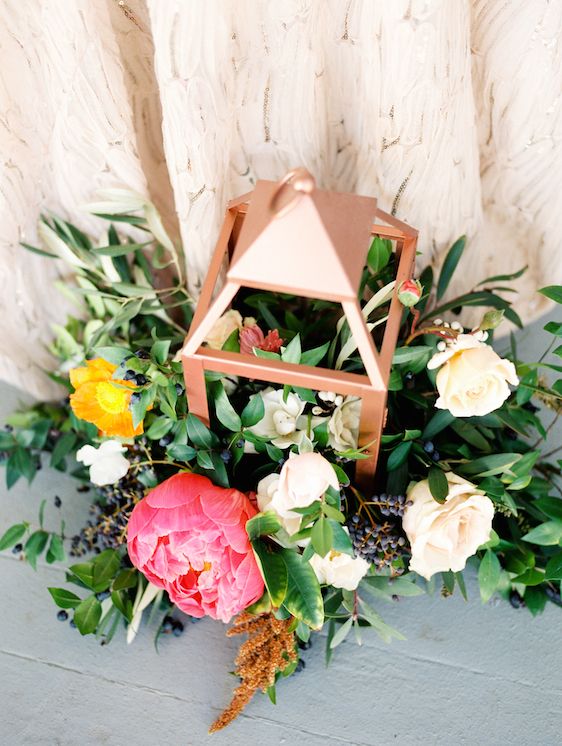 A calligraphy style font was used for the place cards.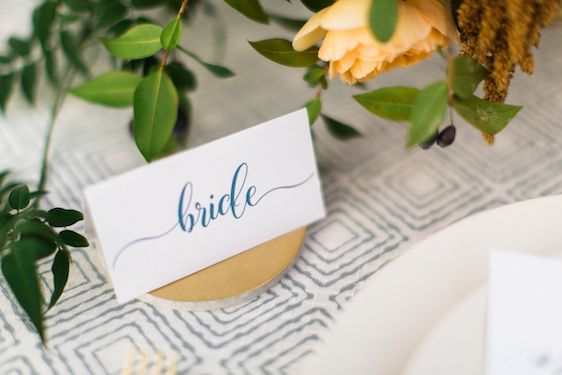 And what's not to love about these coral charm peonies?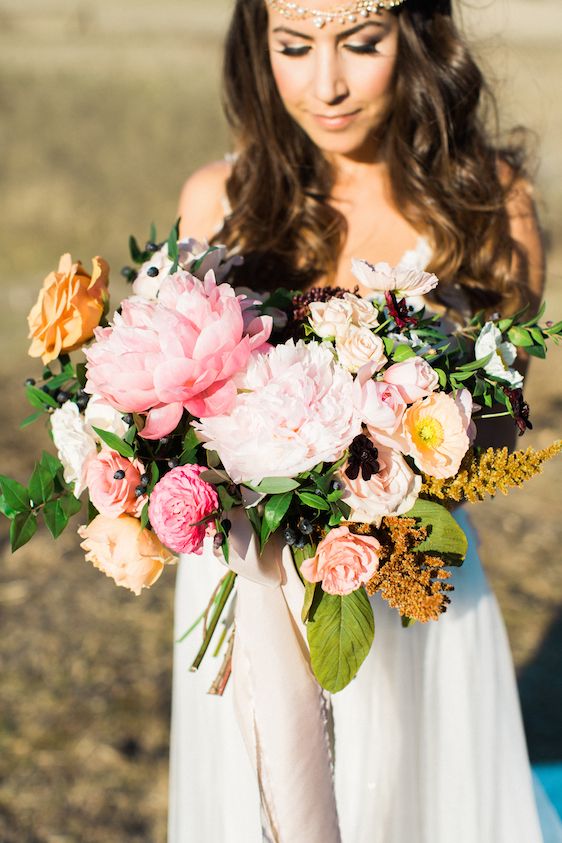 And this bouquet? Swoon. Plus I'm loving how they mixed in poppies, ranunculus and roses!
There's just something so absolutely ethereal and whimsical about this capture...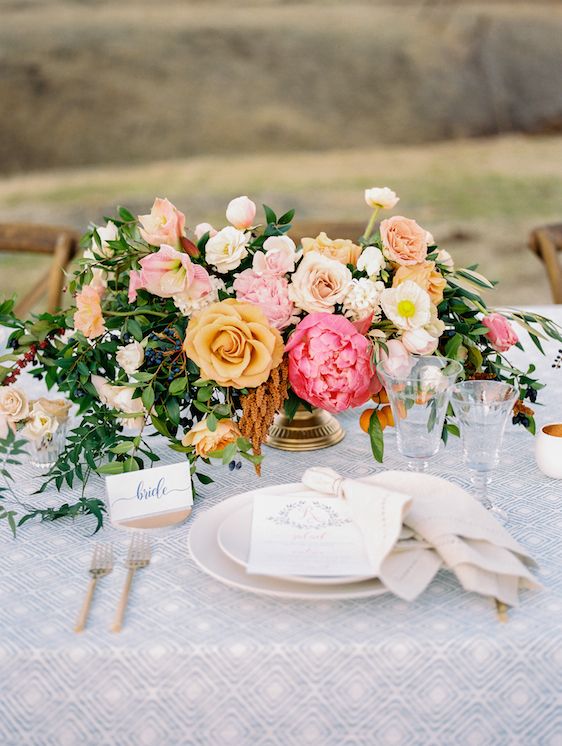 And how perfect is this table scape with these lush florals and patterned linens?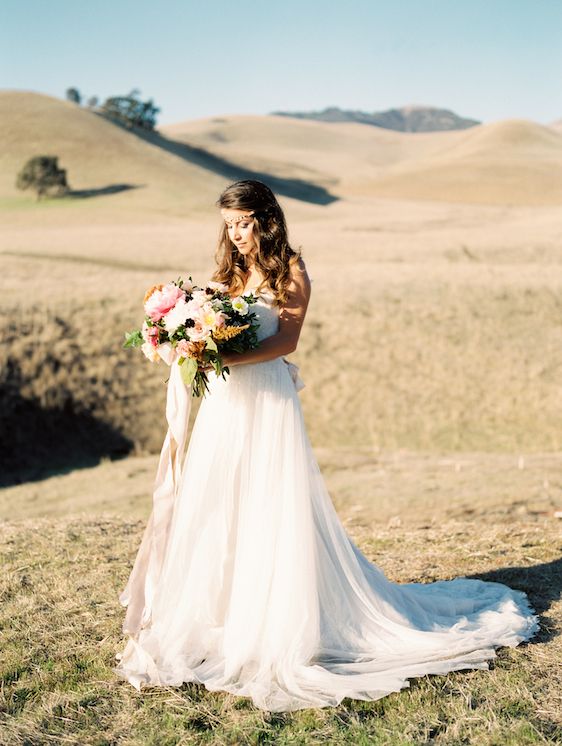 This wedding gown though? So dreamy.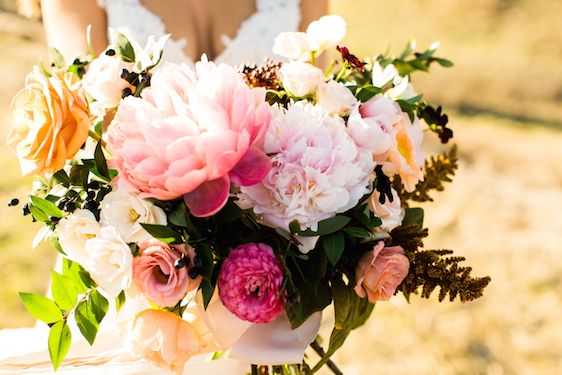 And I'm just so obsessed with this boho-style bridal headpiece.
So so dreamy, indeed! Wouldn't you agree?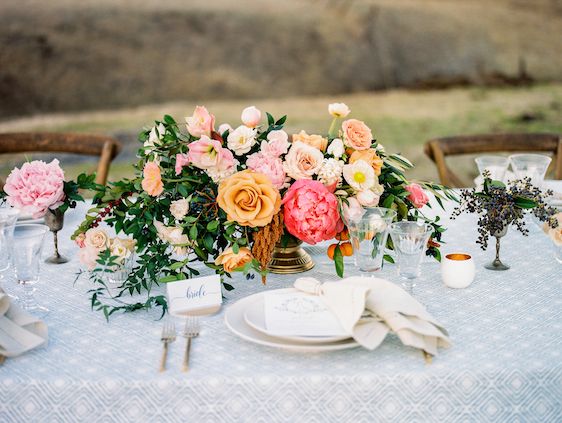 The wedding dress was designed by

Alvina Valenta

and what an exquisite beauty it is!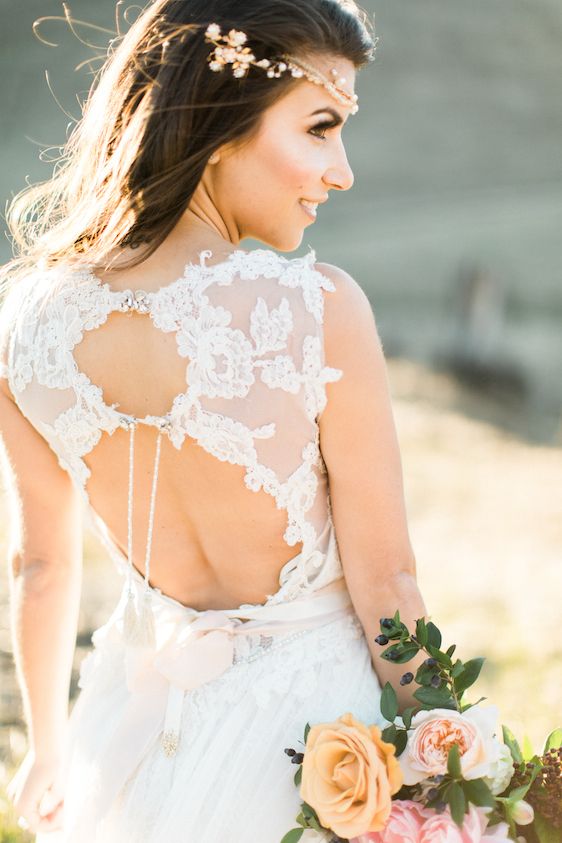 And I just love this intricate back detailing...
And chair swag this pretty? Where do I sign up?
So lovely with these pretty pops of pink and yellow...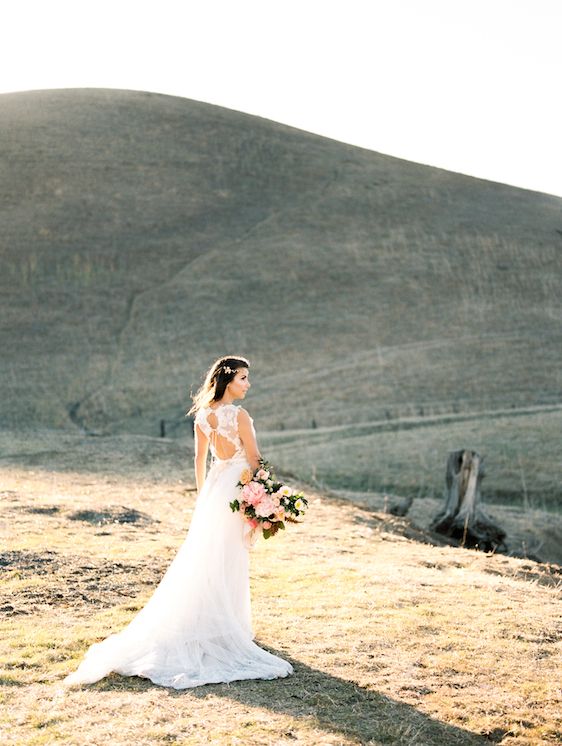 Absolutely a perfect palette for either Spring or Summer....
And I just love the incorporate of these fun patterns!
Oh, and did someone ay cinnamon cake with harvest ale?
Um yes, please!
I personally love any centerpiece that incorporates candlelight and these take the cake!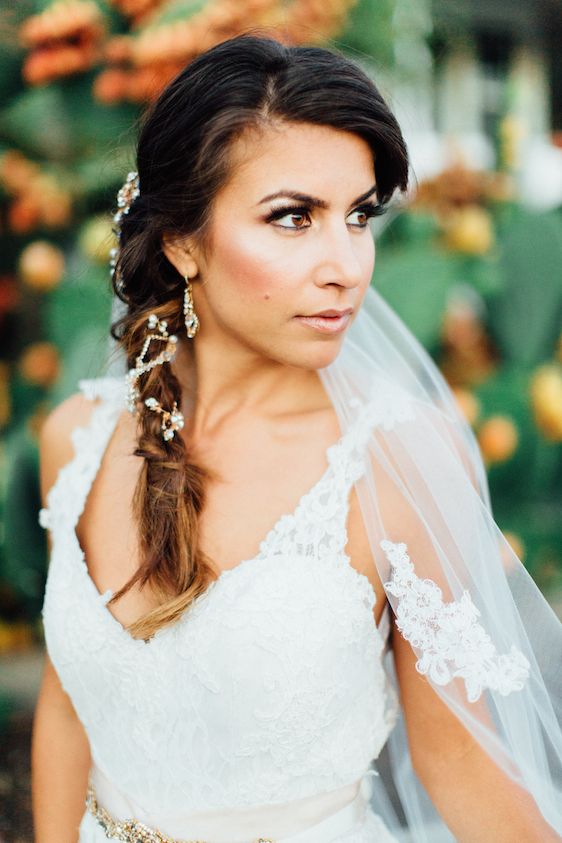 And this veil? Truly timeless in every sense of the word.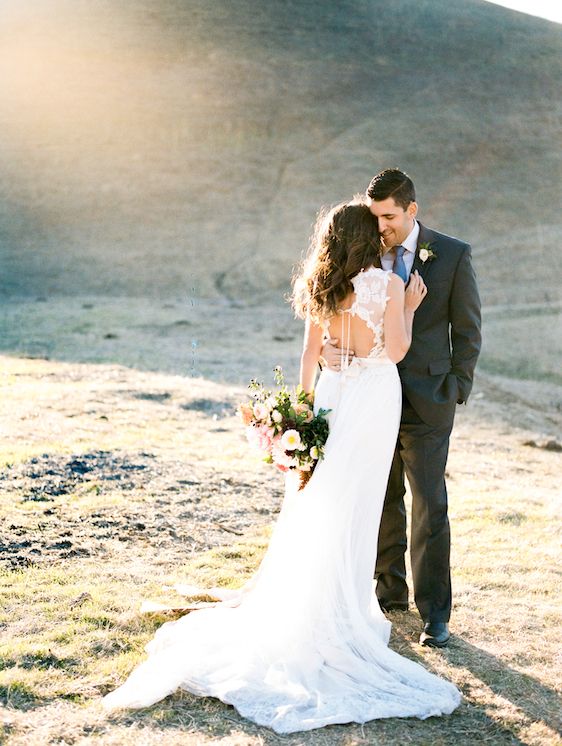 A simple, one tier cake captured the simple elegance that they aimed to evoke.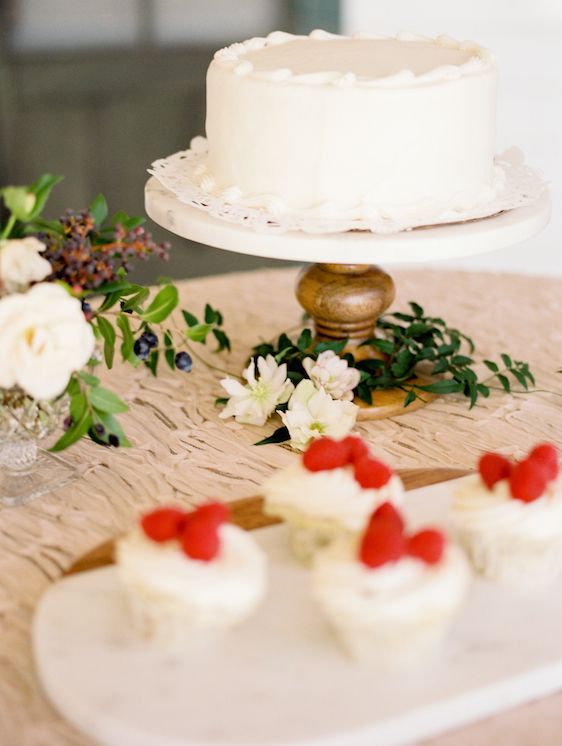 And what about this gorgeous, golden hour light?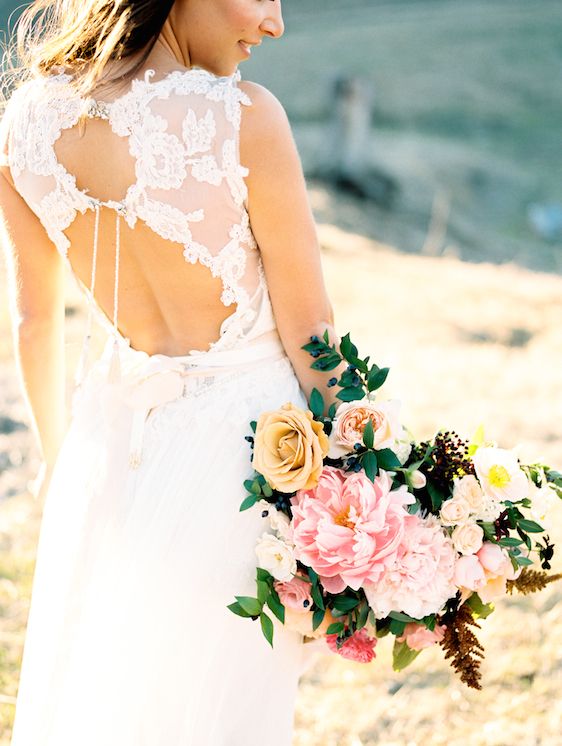 And a beautiful horse on top of it all? I couldn't think of a sweeter send off idea!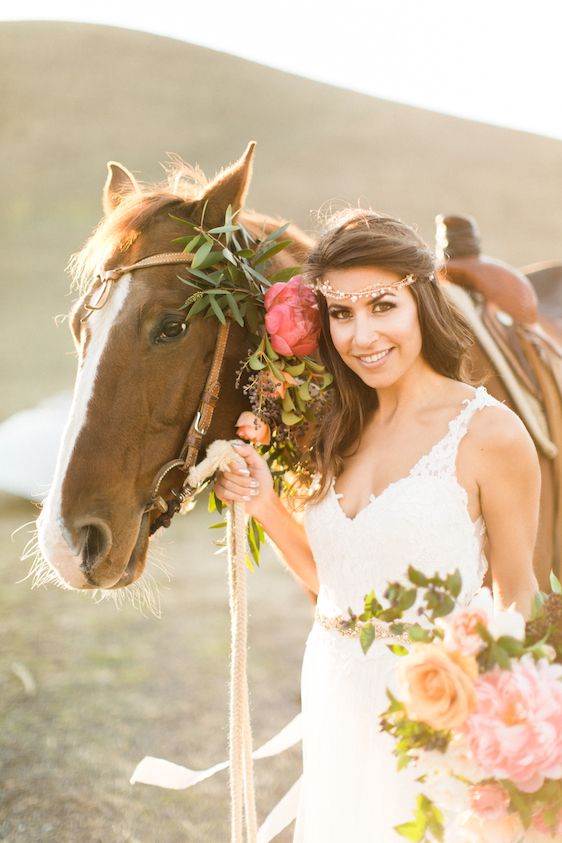 Because nothing says fairytale wedding quite like riding off in the sunset.
A closeup of these blooms? Yes! I am absolutely living for this shot!
And how gorgeous are these rolling hills in contrast!
Sweetness overload and so much to swoon over...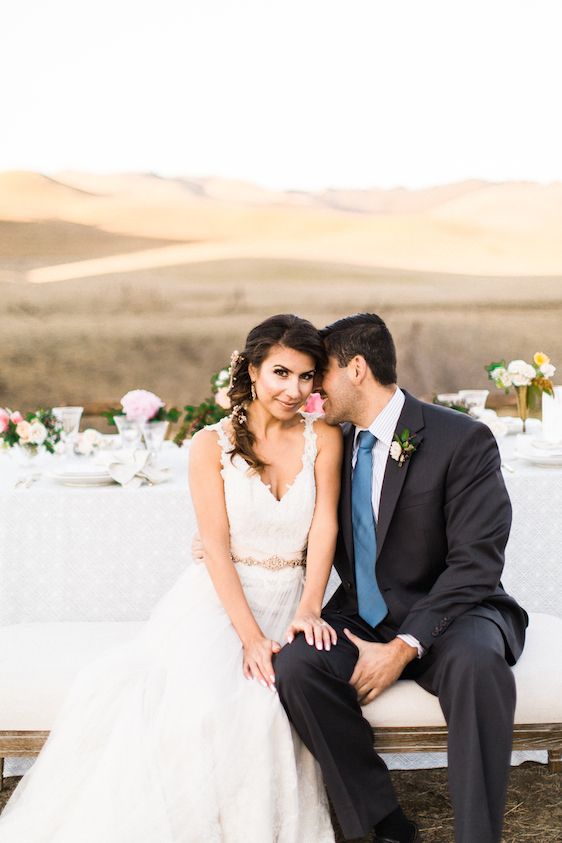 Oh, and can we just pause for a second and talk about this gorgeous, horse mane swag?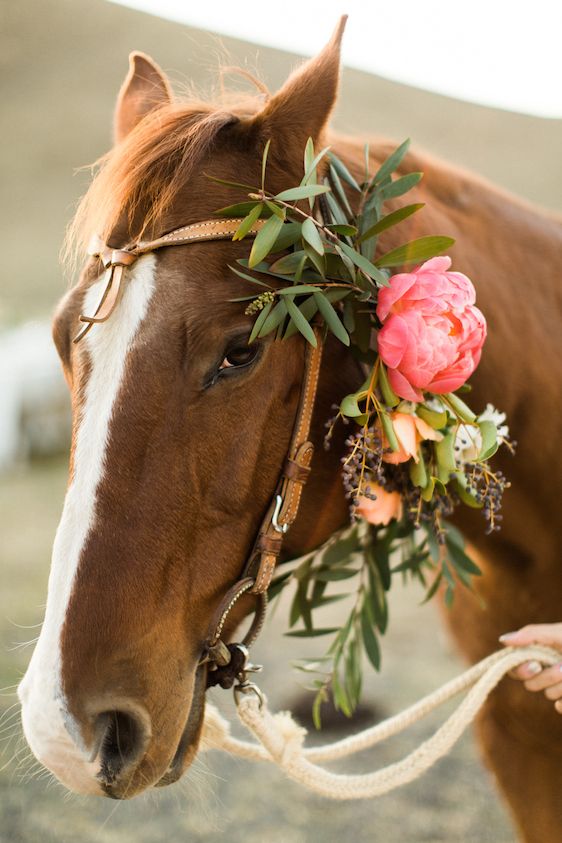 So super pretty, if you ask me!
And pink peonies? They'll always be a favorite of mine!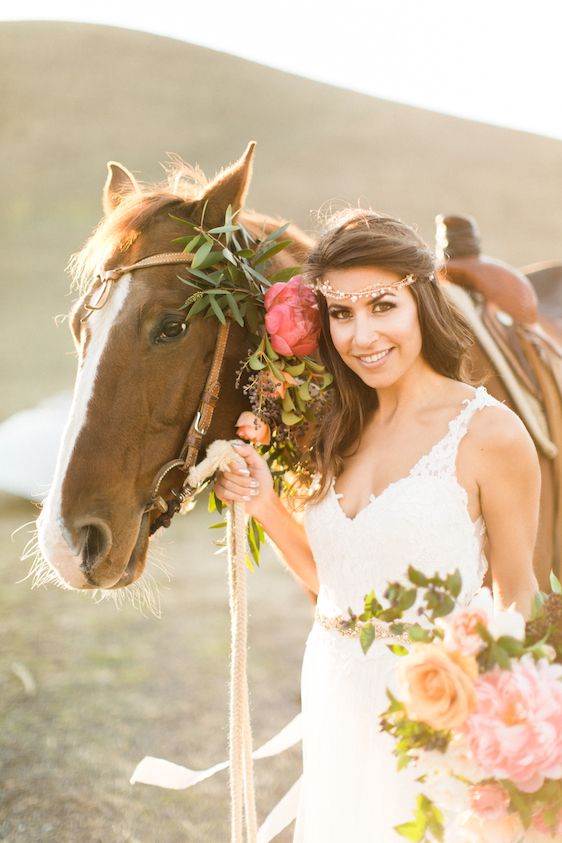 A simple, and sophisticated floral swag was created for the chair backs...
So totally picturesque and full of beauty.
And this shot? So beautifully captured, and what a wonderful landscape they had to work with for a backdrop.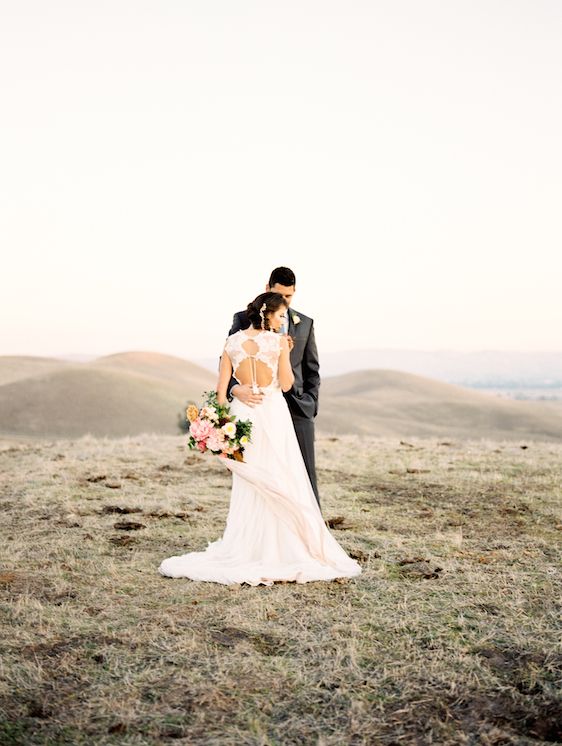 Berries and little pops of red can be seen throughout which added a fun pop of color.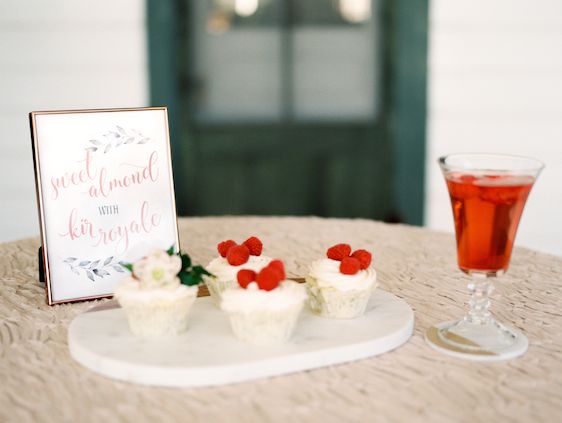 And a close up of these florals and tabletops reveal the prettiest of textures.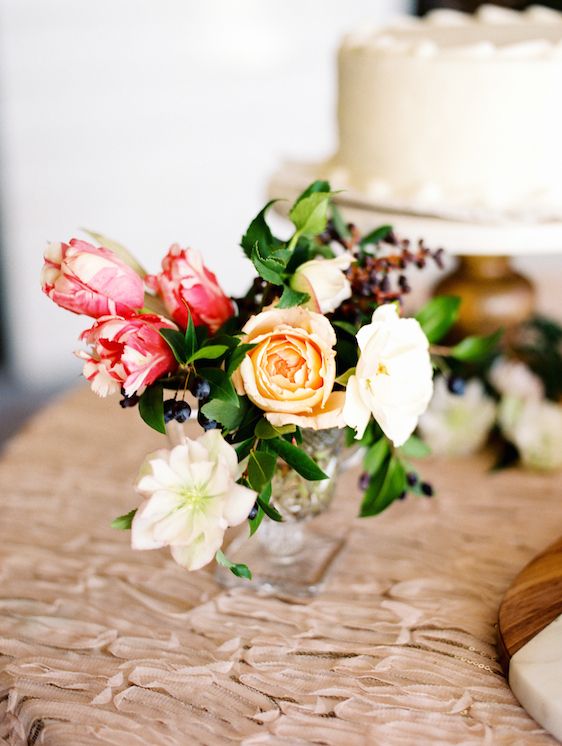 Pecan tarts and whiskey maple cider was also on the menu...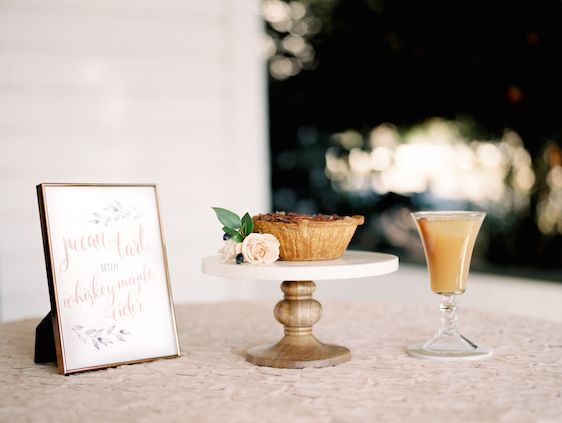 I'll take one of each, please and thank you!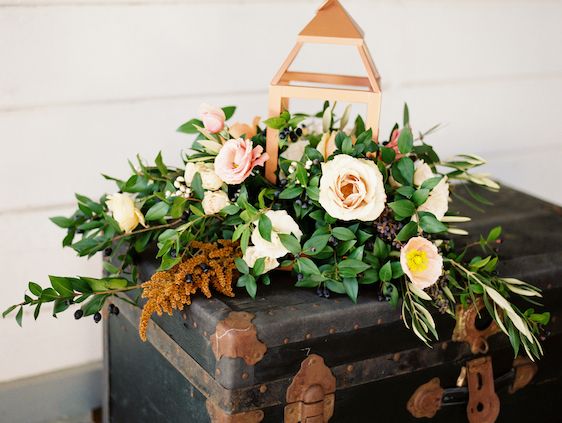 So super pretty, if you ask me!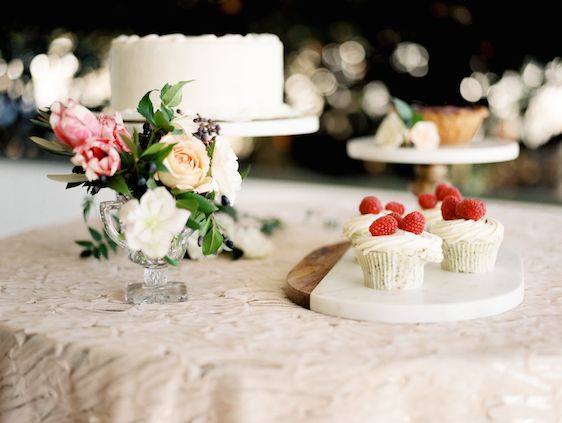 Cake and desserts were beautifully displayed on a round tabletop.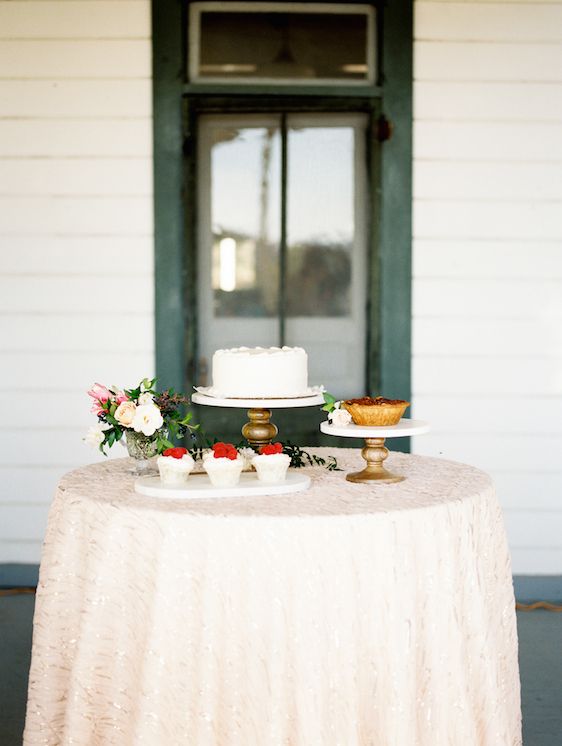 Aren't these just adorable?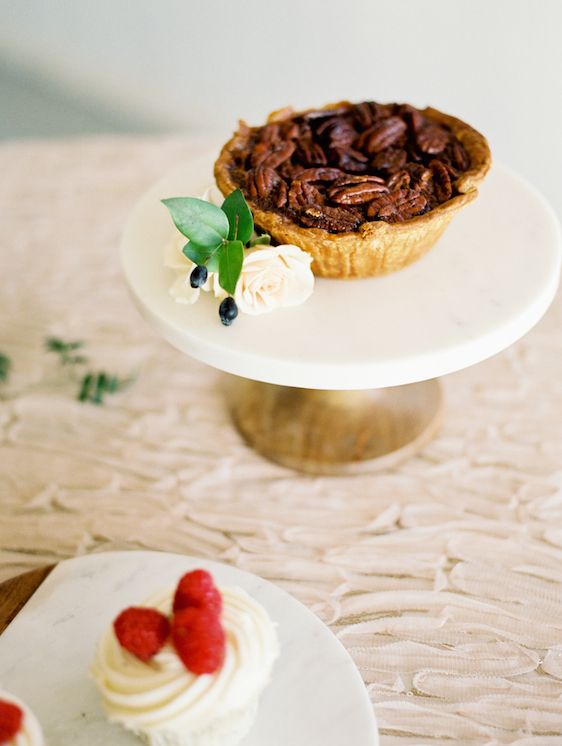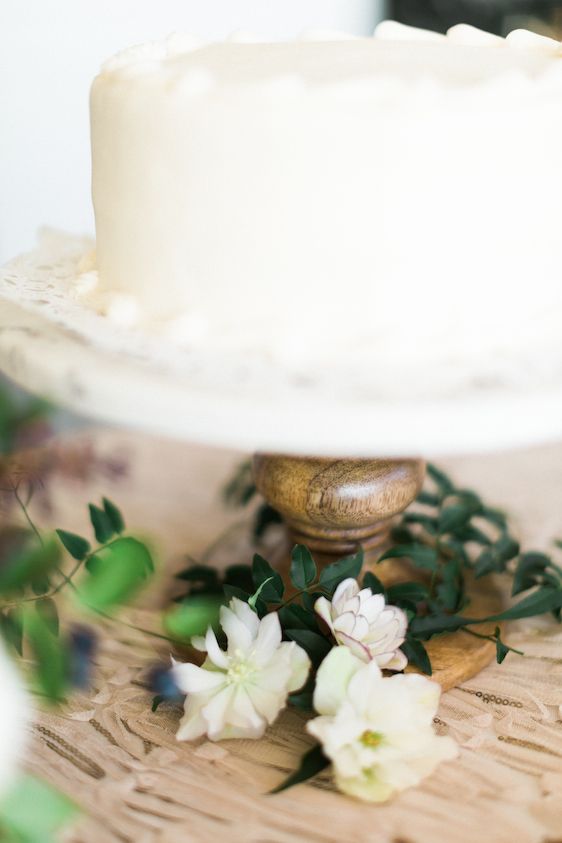 So much to love here, but I simply can't get enough of these rose gold details.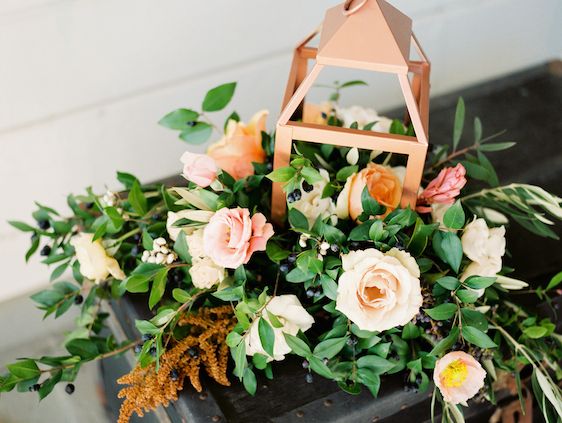 And this dreamy veil? Wow. I'm going to definitely have to pin this one.
Sweet simplicity was the name of the game for this gorgeous setup.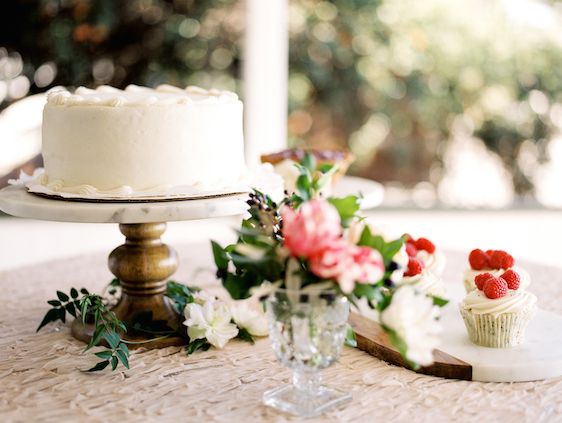 And a sweet kiss underneath the veil? Always a cute idea.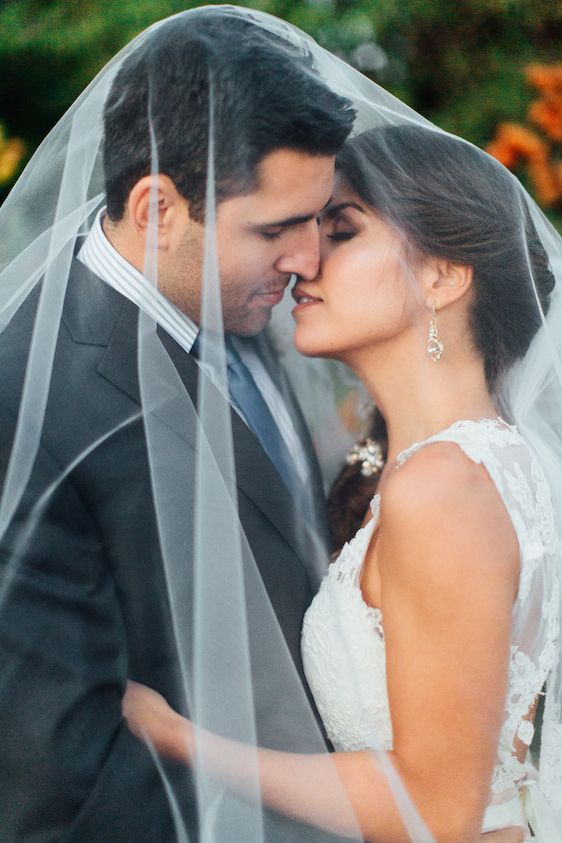 Oh, and can we just talk about these pretty cake plates?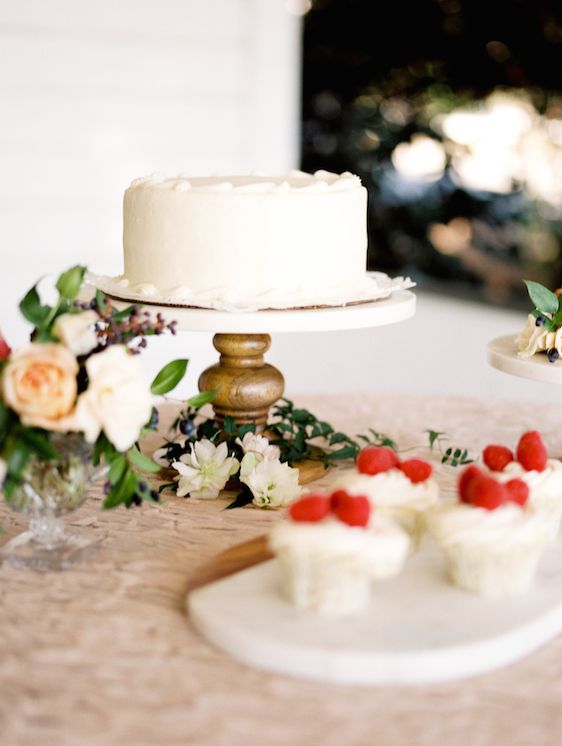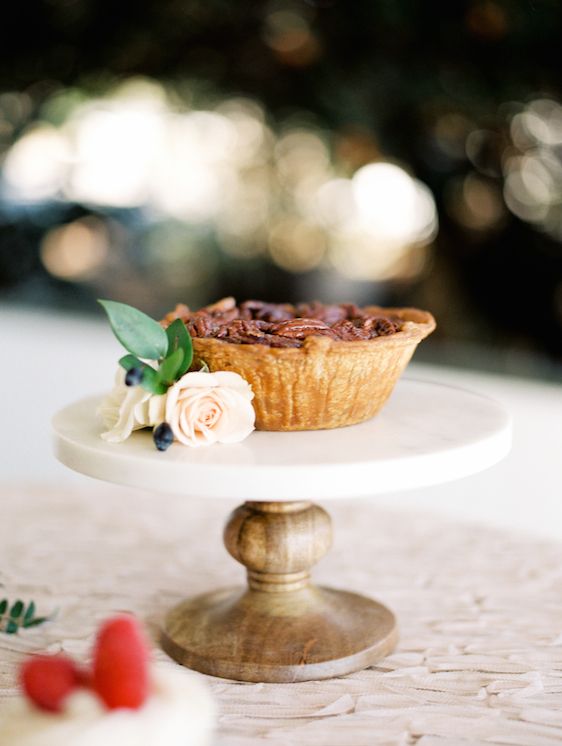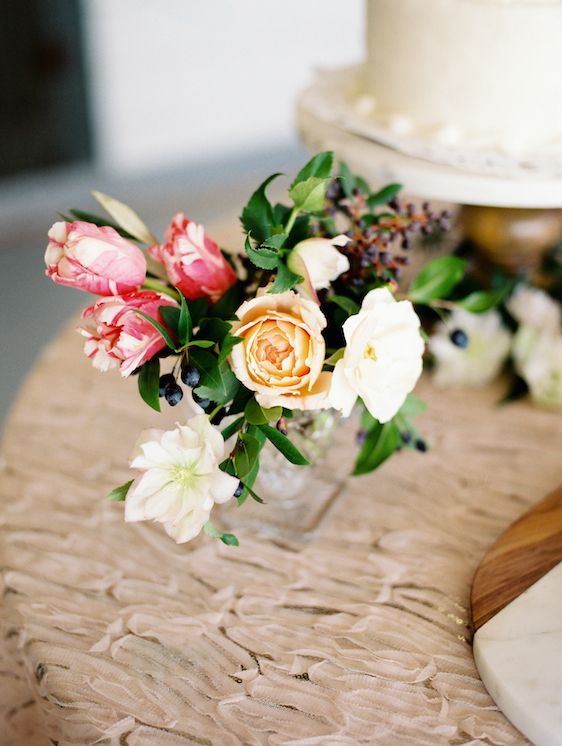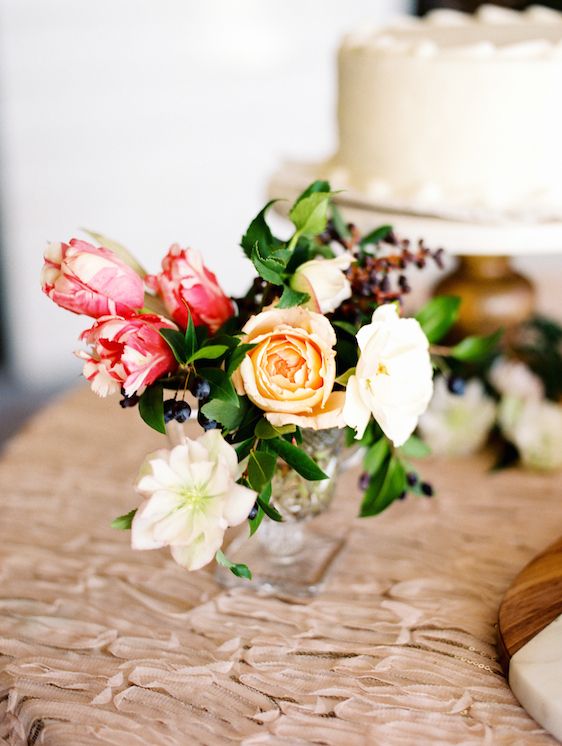 And these textured linens? Gorgeous!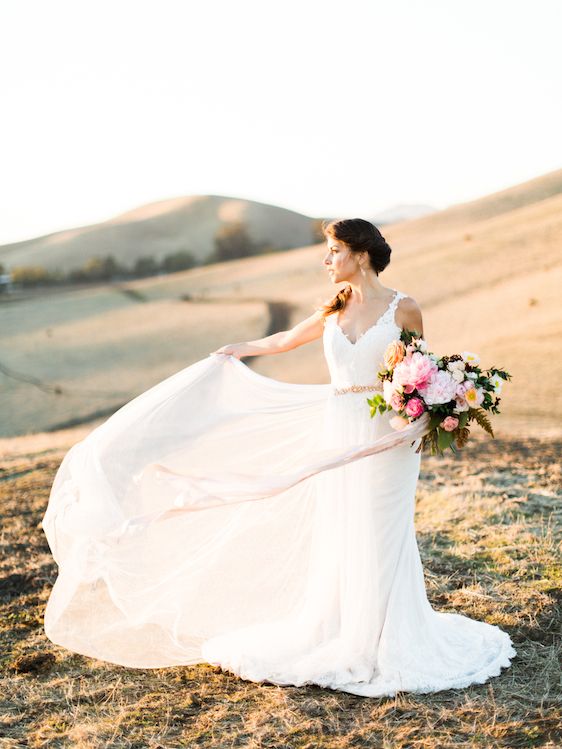 As the sun began to set, the most gorgeous light danced across the landscape...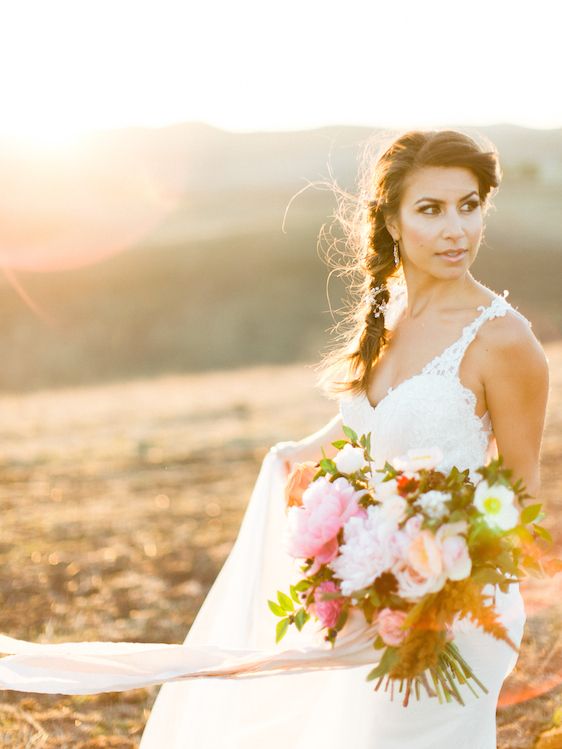 And with ever gorgeous glimpse, I'm falling more and more in love...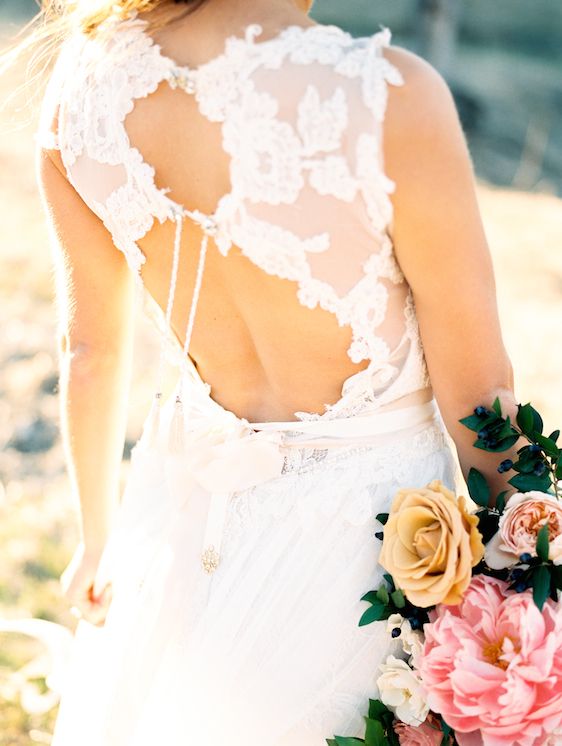 And this gorgeous capture? Easily one of my favorites from this shoot!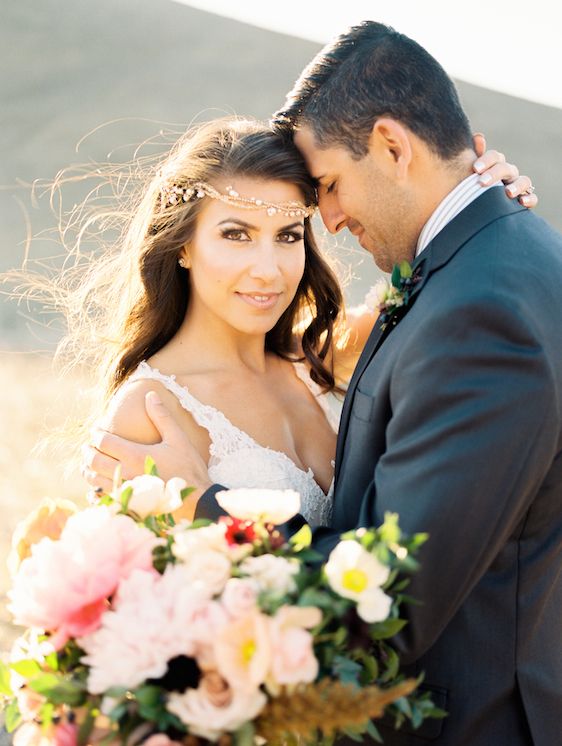 So elegant with the sunlight spilling in...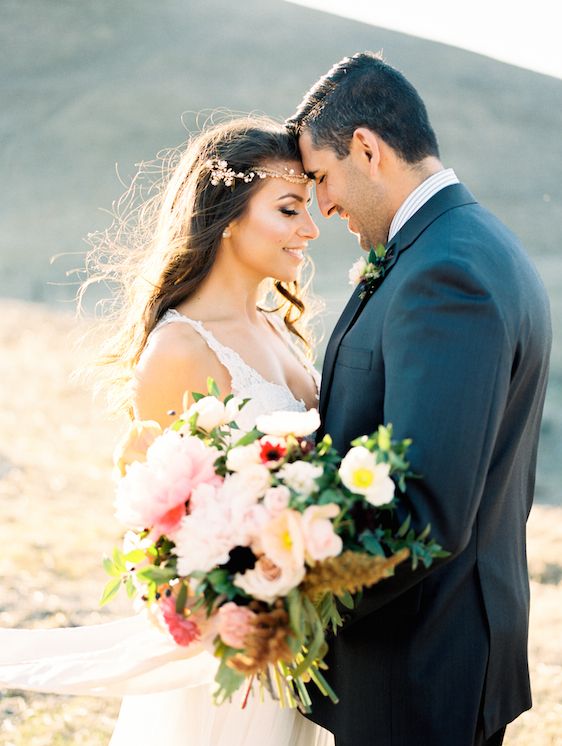 And these two? So absolutely sweet, if you ask me!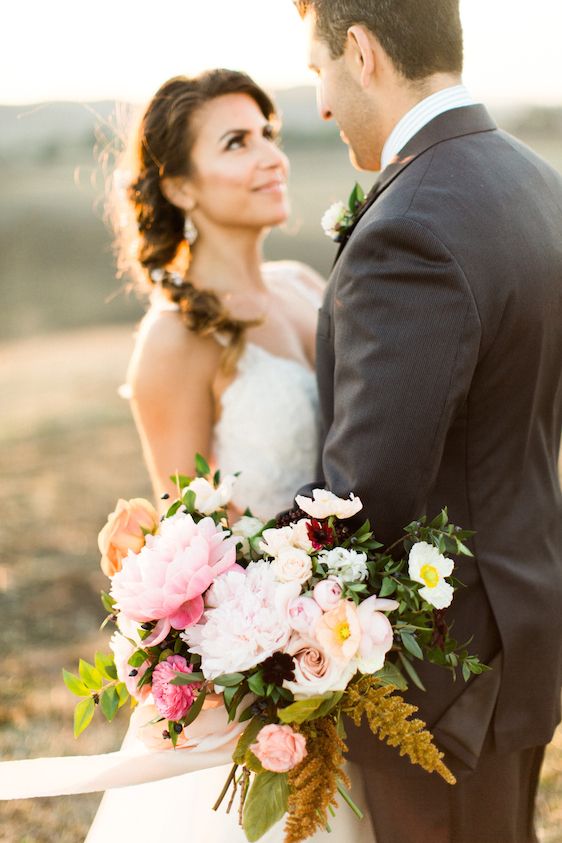 Hair and makeup was done by

Moderne Beauty

and what a beautiful job they did!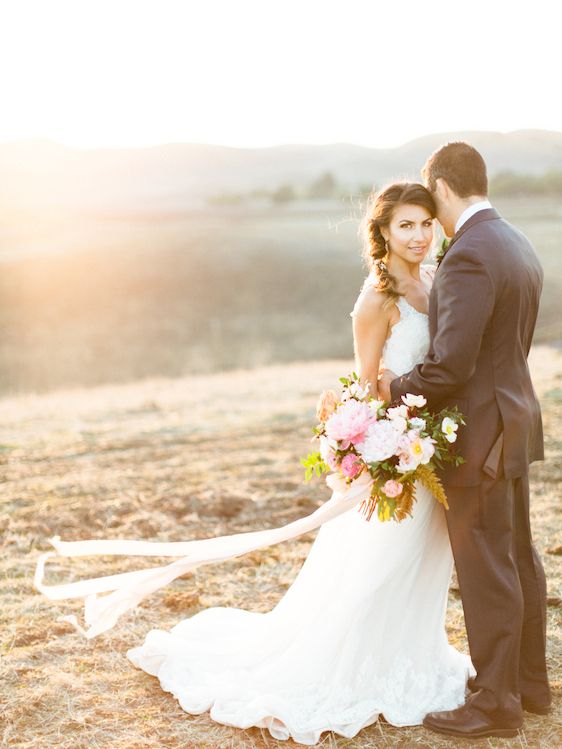 I'm especially loving the smokey eye we're seeing on our bride-to-be!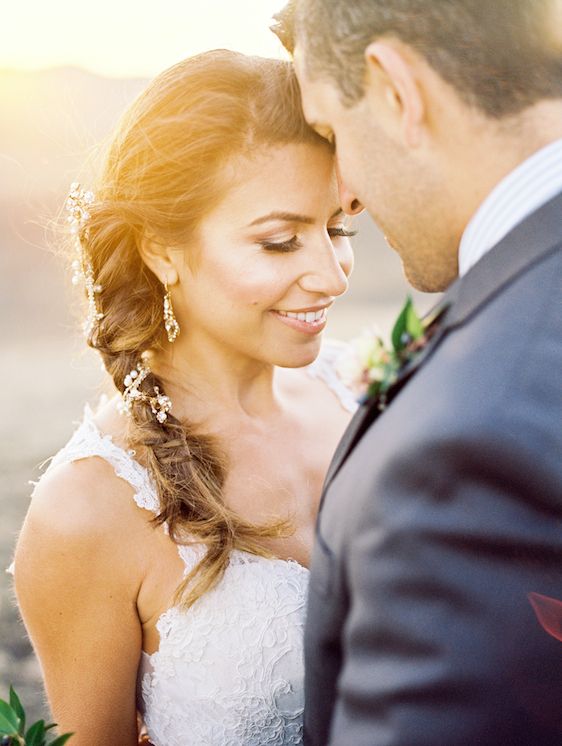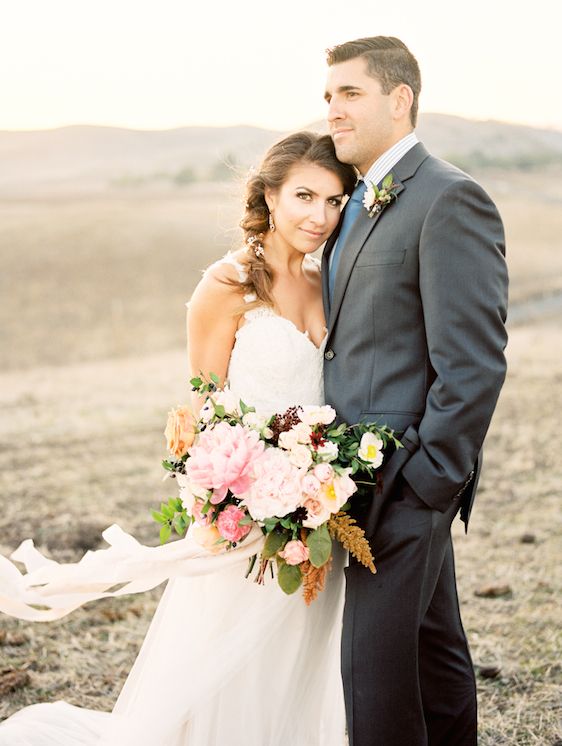 Definitely a beautiful shoot with so many gorgeous details to love.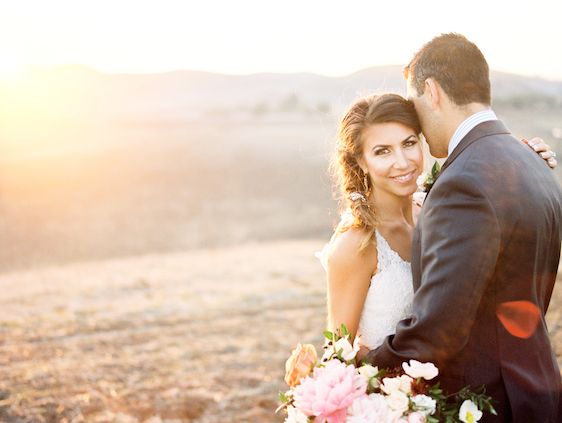 Huge hugs and high fives to all the pros who made this beautiful styled shoot come together.

Ariana Batz

, your eye for design and your appreciation for color inspires me and I can't go without again mentioning my love for these lush blooms by Michelle Lywood, and these stunning captures by

Jeff Brummett

!
Share This: