What happens when a talented team of Seattle wedding pros get together to create, and collaborate, and celebrate their love for color and design? Get ready for gorgeous, because this dream team made it happen with this fun and fabulous shoot!
Bright & Co Events
led the design and coordination and with florals by
Juniper Flowers
— today's styled shoot captured by
B. Jones Photography
is truly for color-lovers. Seriously, just one look at
The Fremont Foundry
and I'm instantly wishing I could hop into this scene and stay awhile.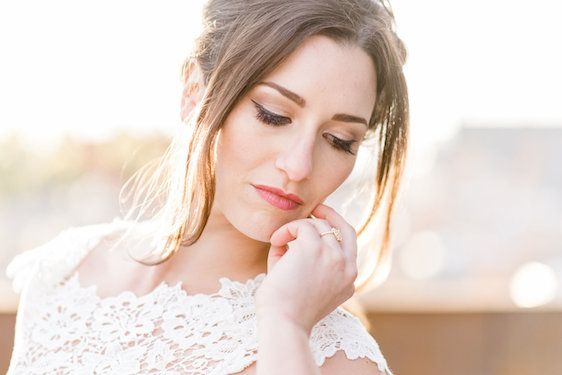 From the design team, "When I first started dreaming up this shoot I was in the middle of a "Mad Men" marathon..."
"So of course that got to thinking about the style of the era and how effortless and really how hip everything and everyone was back then."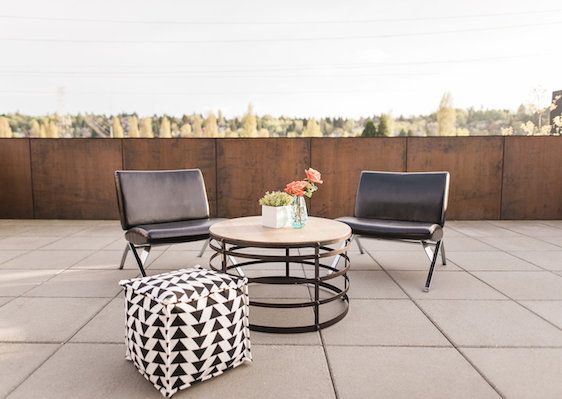 "Before I knew it, I was immersing myself in all things mod. I am a fan of nostalgia and this theme let my imagination run wild."
"I took inspiration from the music, fashion, and of course the motor scooters that were so important to that time period and was able to create such a fun and beautiful day!"
"Becca of

B. Jones Photography

captured all the lovely details and colors of this shoot to perfection..."
"...and I really appreciate how the entire day we were able to be evocative of the mod era, but to also stay relevant and translate to the weddings of today."
"What we were able to put together was something chic and timeless with just the right amount of whimsy!"
The Fremont Foundry
was the ideal location for a shoot like this. It is gorgeous and versatile and on top of that they already had a plethora of mid-century modern furnishings on hand.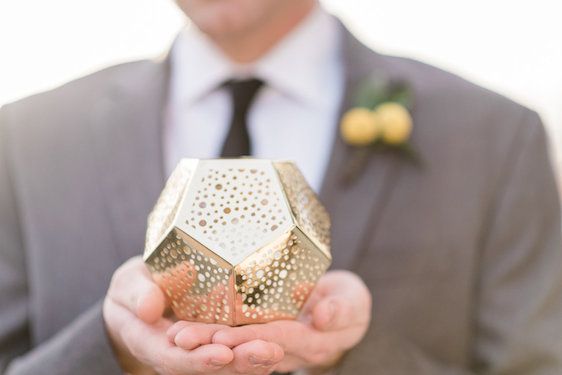 "We were lucky enough to get to play with not one, but two lovely bridal gowns thanks to

Belltown Bride

."
"But the icing on the cake was the beautiful blue Vespa that

Vespa of Seattle

dropped by that made for some extra dreamy captures."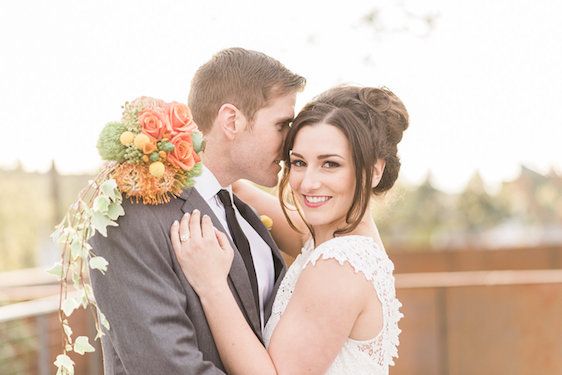 "Oh, and what would a mod shoot be without cocktails? Happy Camper Cocktail Co. selected a bride's drink, a groom's drink, and fun drink to pair with the cake!"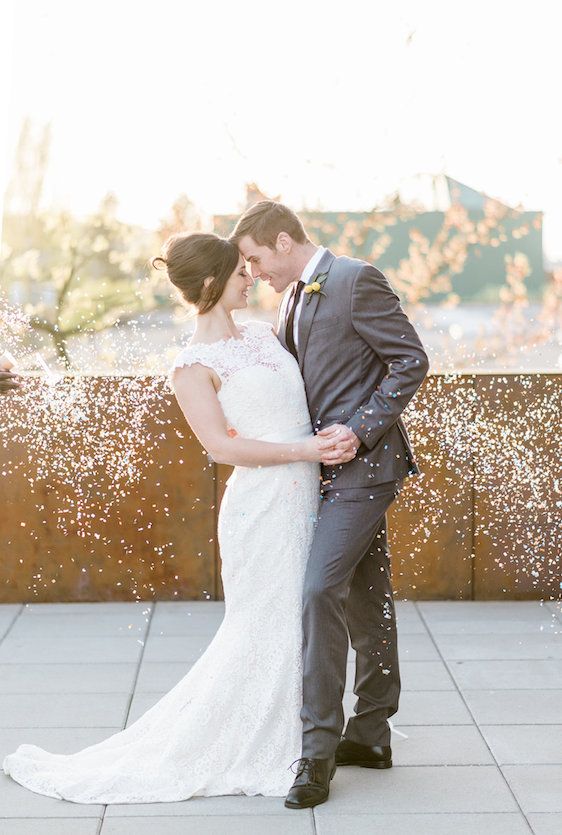 They gleefully mixed and served fresh garden to glass cocktails with a vintage flair for the day.
The groom's Old Fashioned is a floral take on the classic for whiskey lovers while the bride sipped a light citrus cocktail that keeps guests refreshed well through dancing.
Served alongside the cake, the Bee Keeper is an herbal variation of the prohibition cocktail the Bee's Knees, and brings to the celebration an extra dose of color and cheer.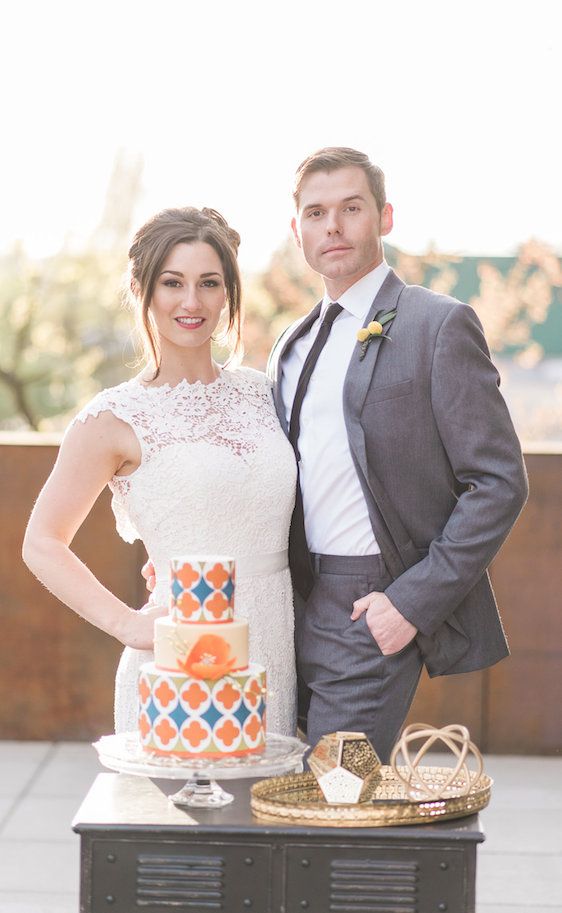 "Cocktails are meant for sharing and Happy Camper Cocktails was kind enough to share my favorite cocktail of the day below. I can personally vouch that the Bee Keeper is truly the bee's knees!"
Kind of obsessing over this ring shot and how lovely is this golden hour lighting?
And these darling tassel balloons? Fabulous doesn't even begin to describe it!
Yay for love! And gorgeous lighting! And bare feet!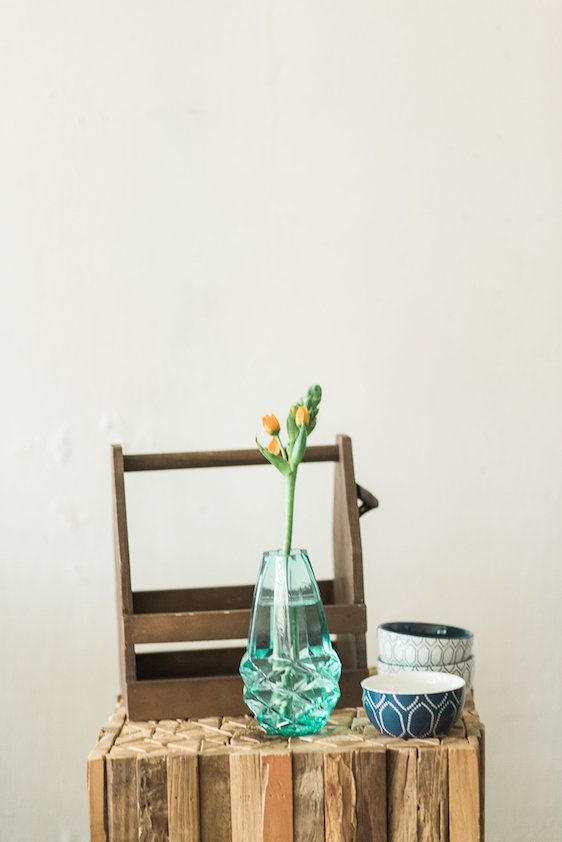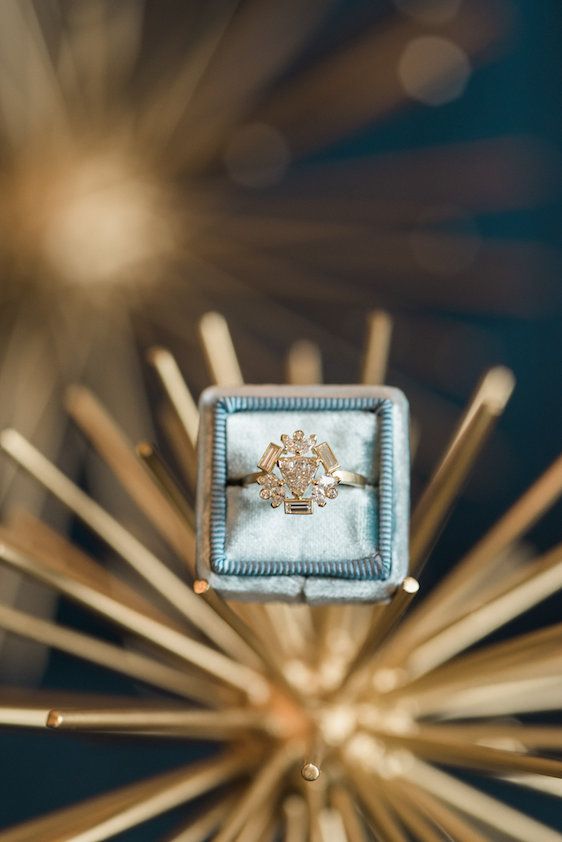 And this gorgeous detailing on this wedding gown? Swoon.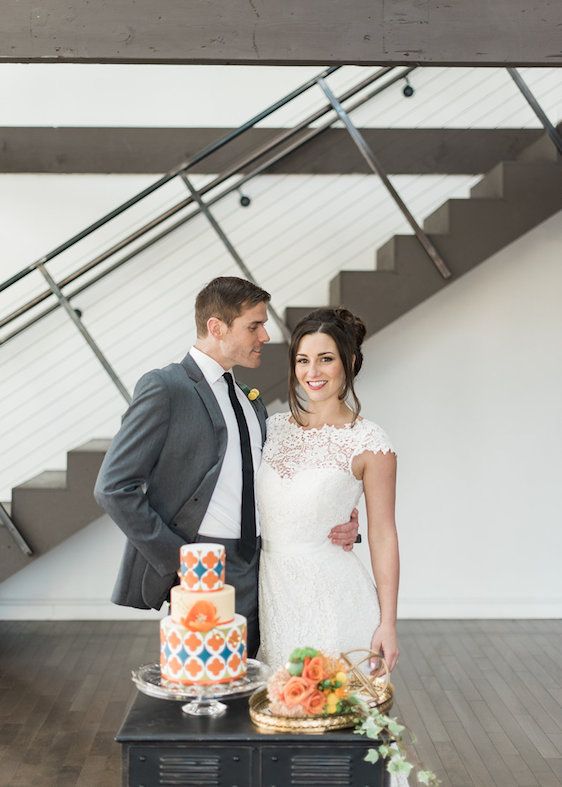 Sweetness happened on this day, you guys! So much inspiration in every little detail.
And how cute are these two?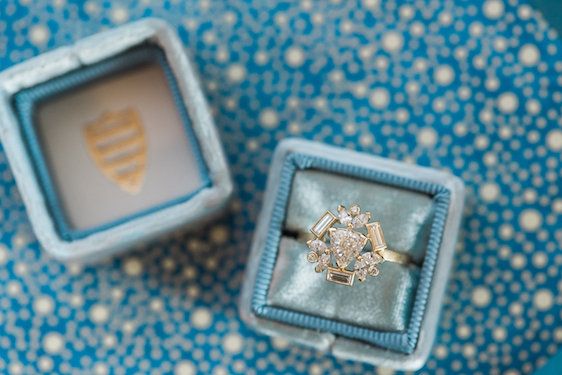 I just love this bright and beautiful cake by Honey Crumb Cakes!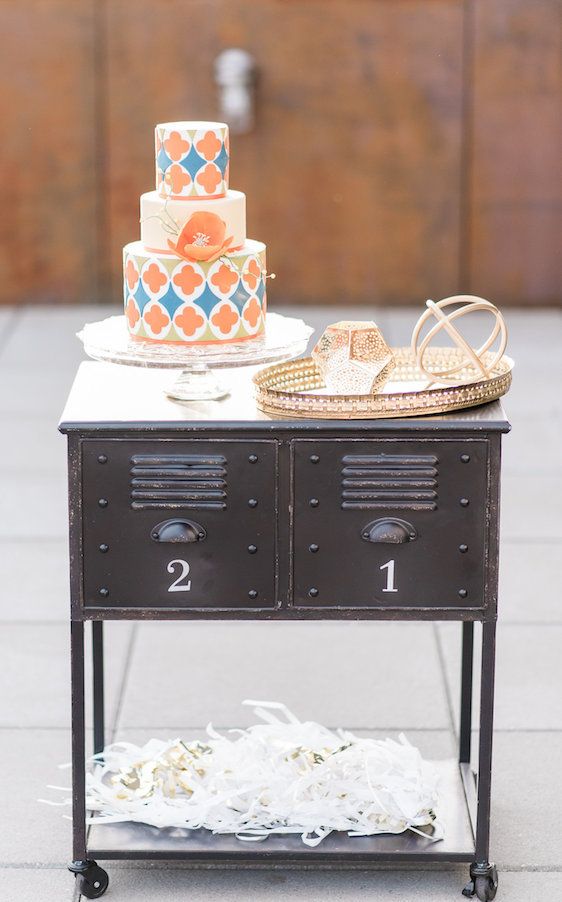 What a stand out! And what's not to love about this color palette?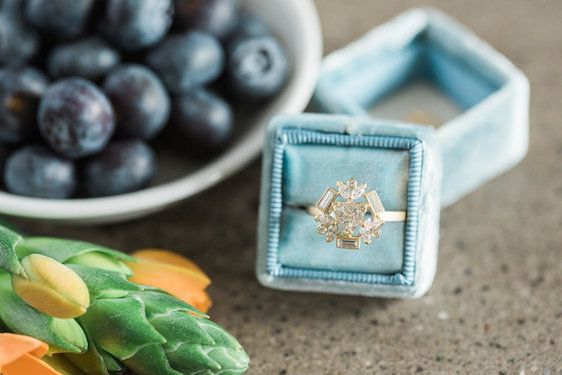 A Mrs. Box perfectly displayed this gorgeous vintage inspired ring by Green Lake Jewelry Works.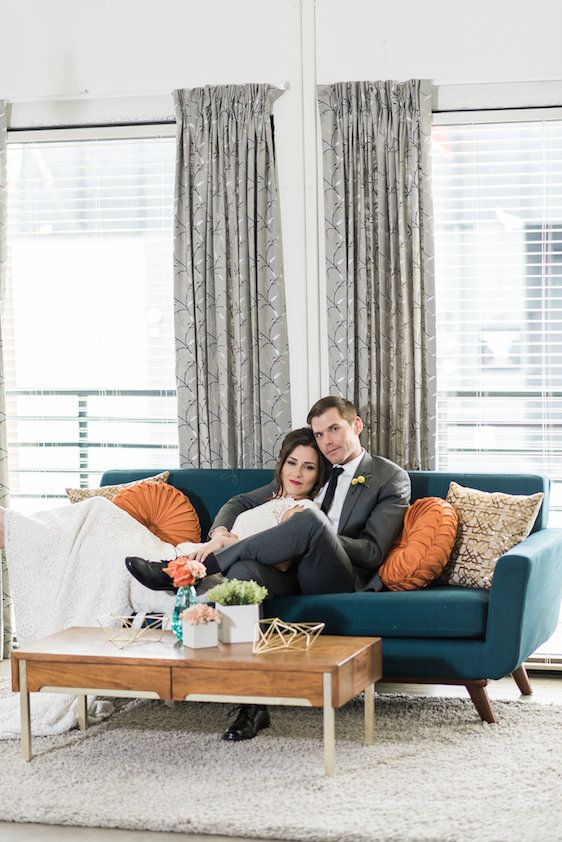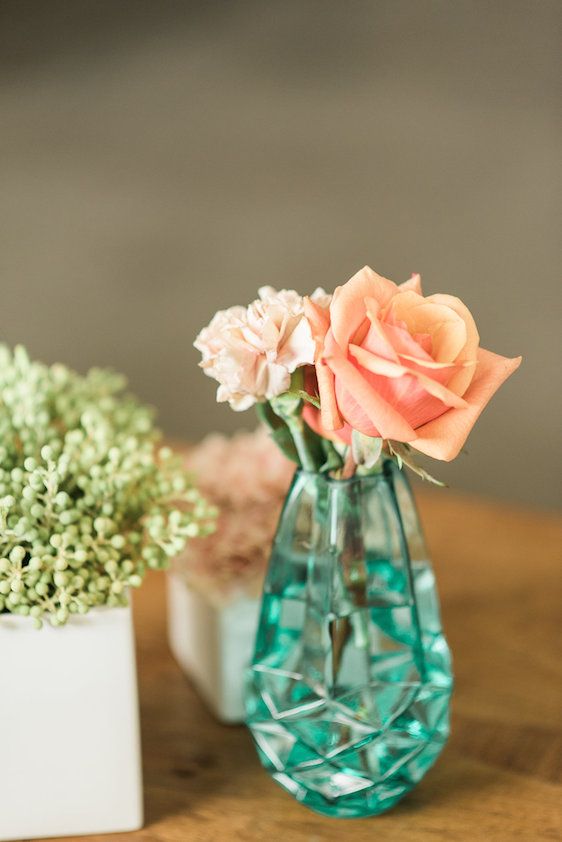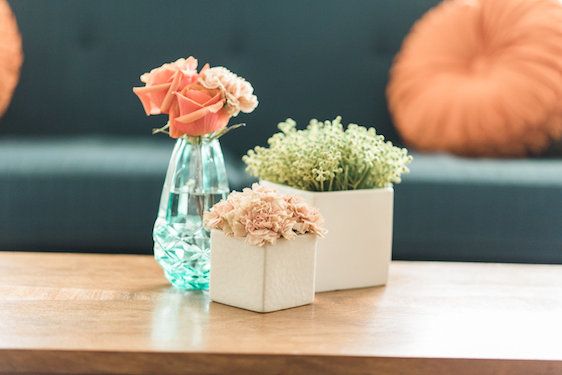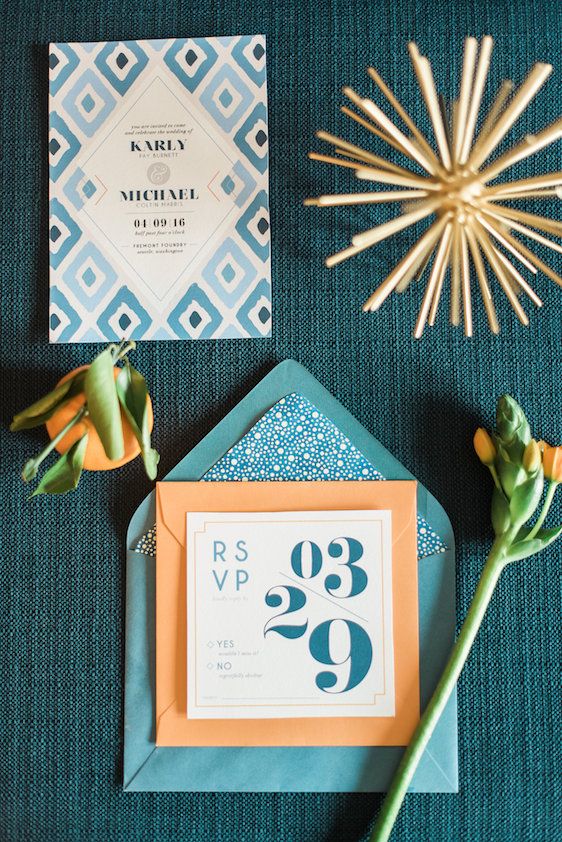 And what's not to love about these cozy apartment scenes?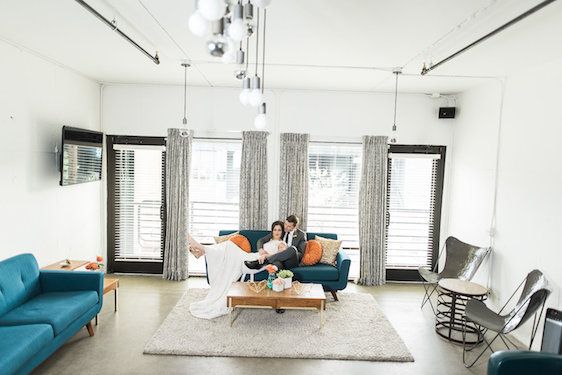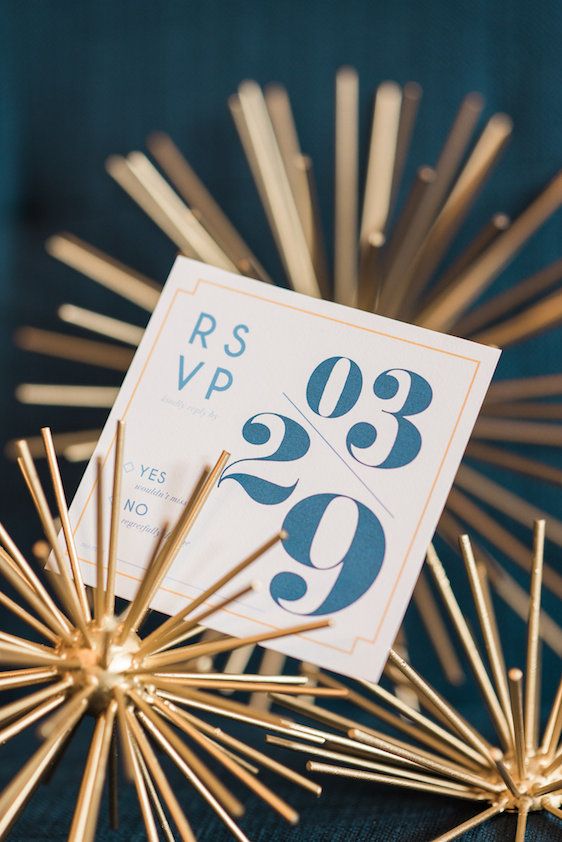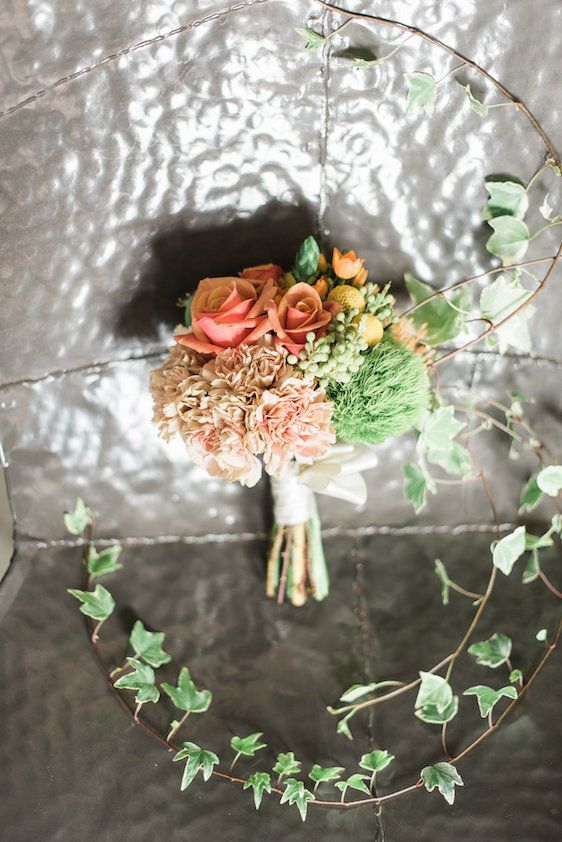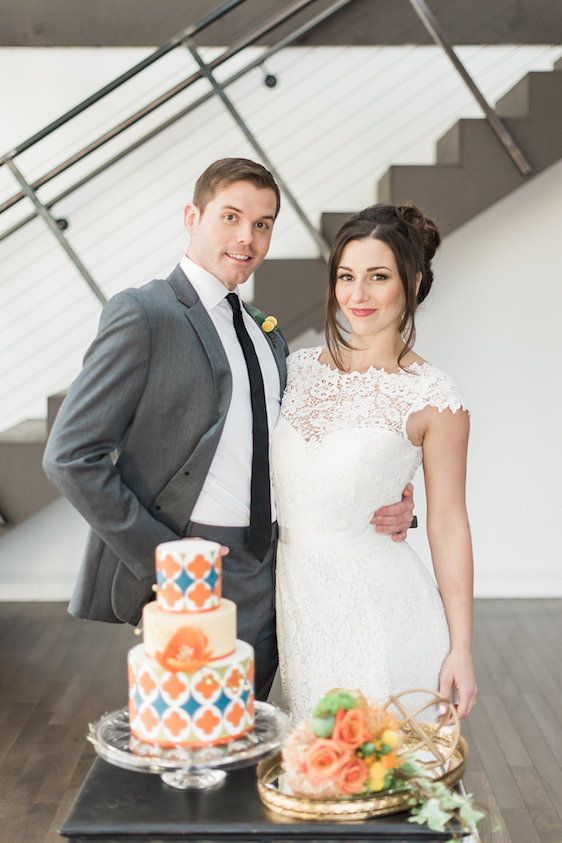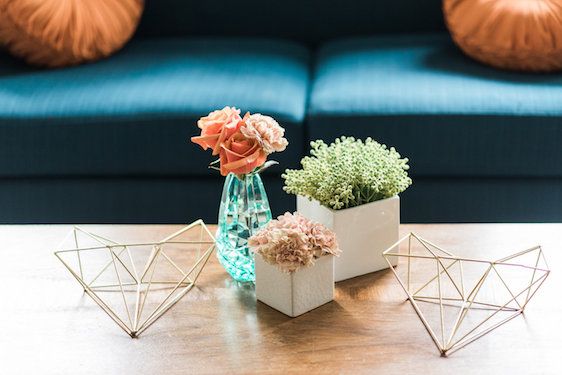 Seriously, the cutest bar ever! And how fun is this guy?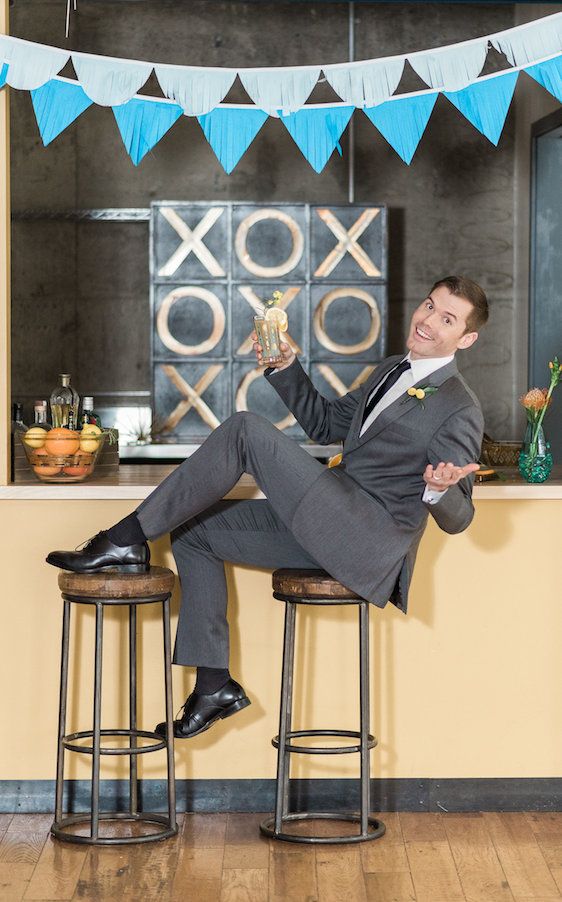 One of the most exciting parts of this styled soiree is definitely this fabulous bar setup!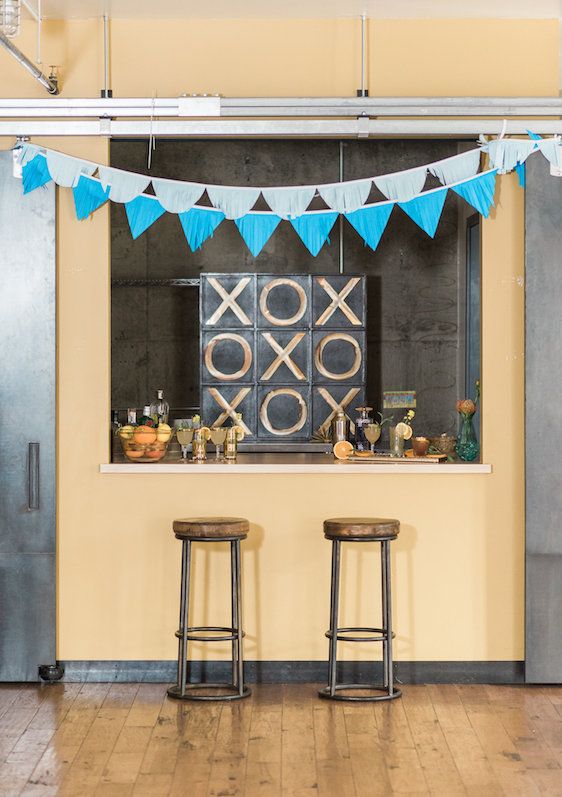 I just love the fact that Mixologist, Happy Camper Cocktails, was there to whip up an array of tasty cocktails.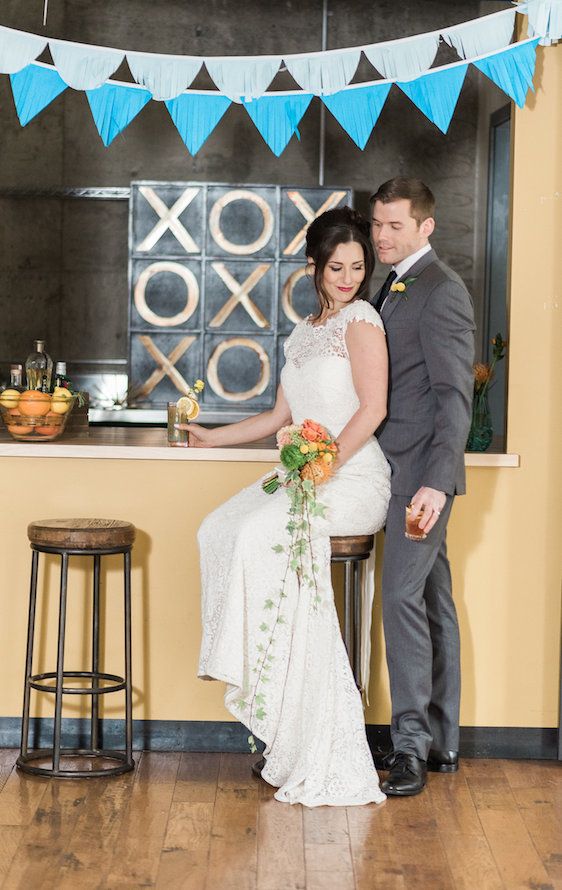 And how darling is this tic tac toe inspired backdrop?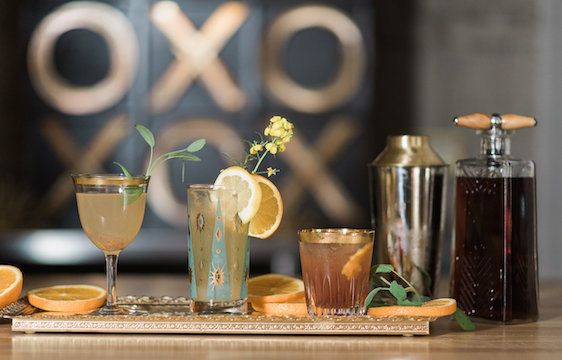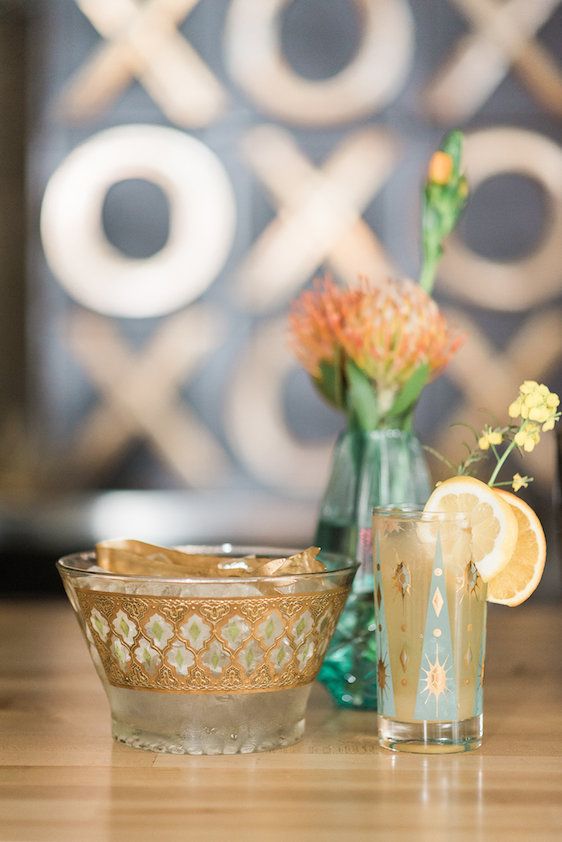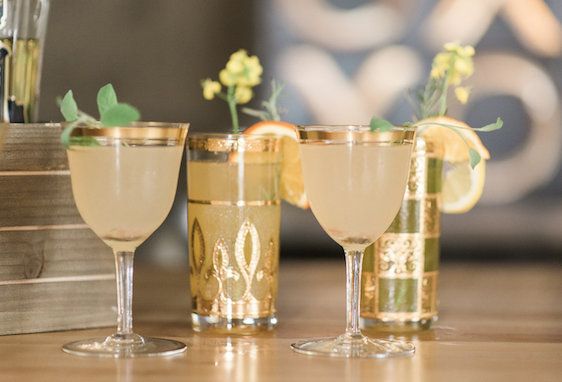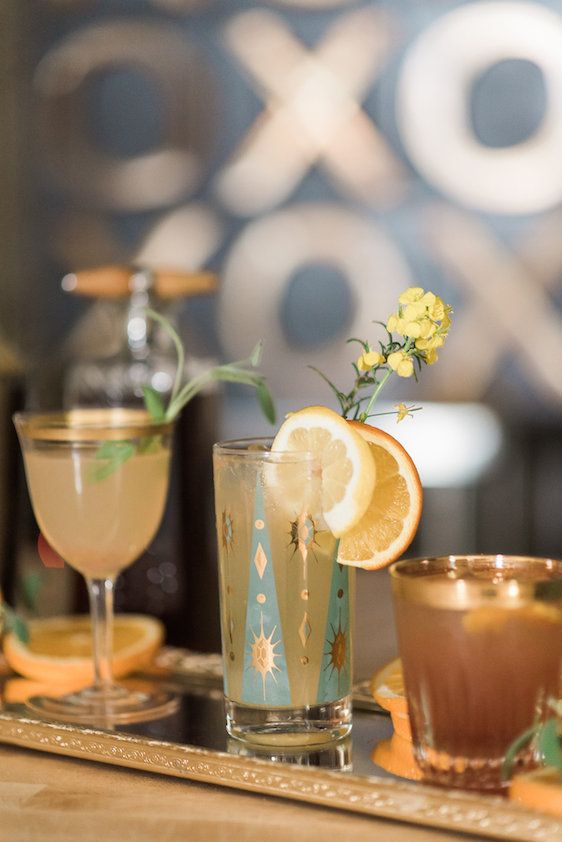 Stationery by

Ivory & Vine

tied the entire scene together and I just love the ikat pattern!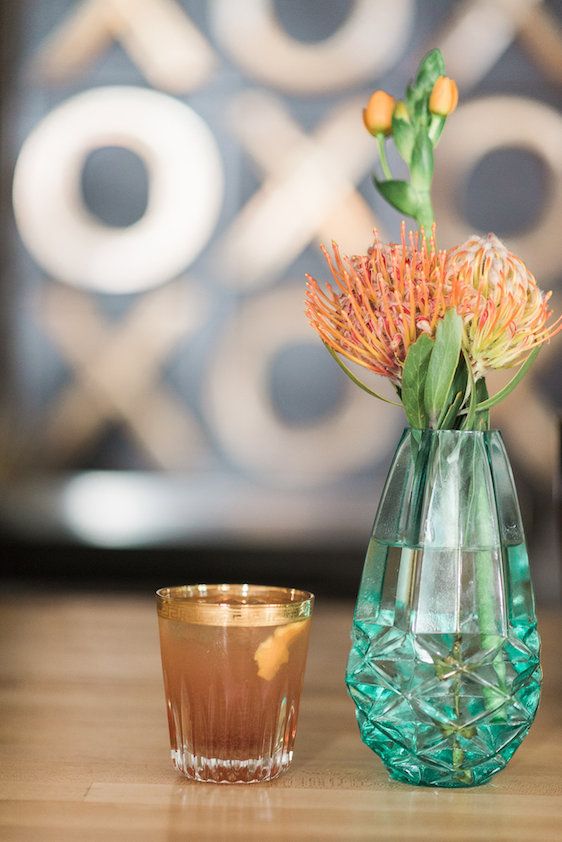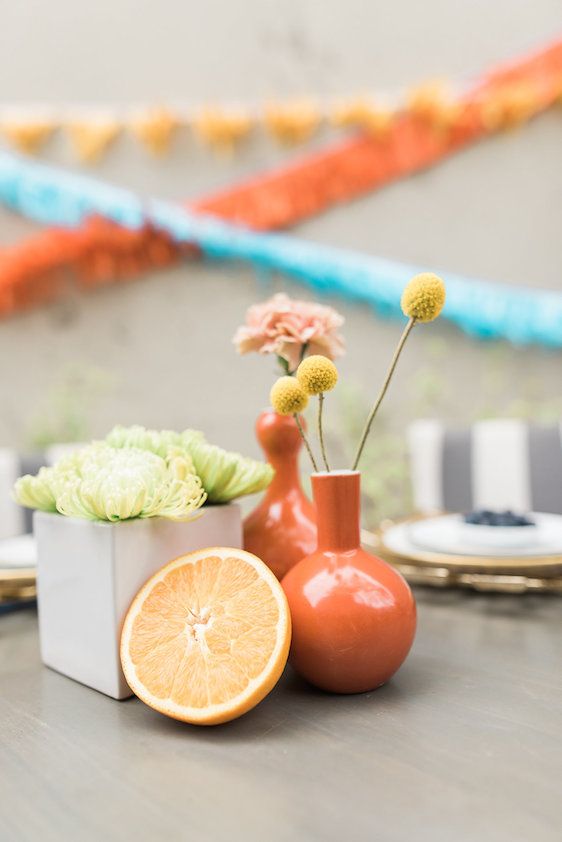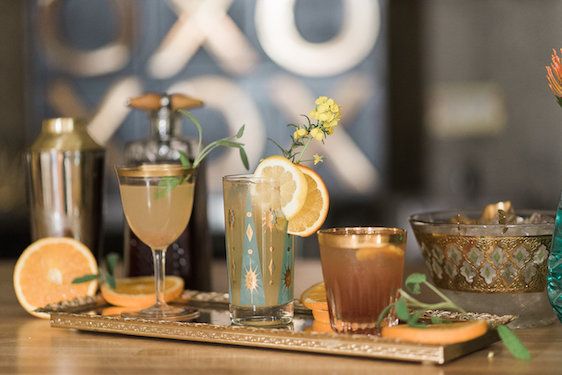 Festive fringe garlands add such a celebratory vibe...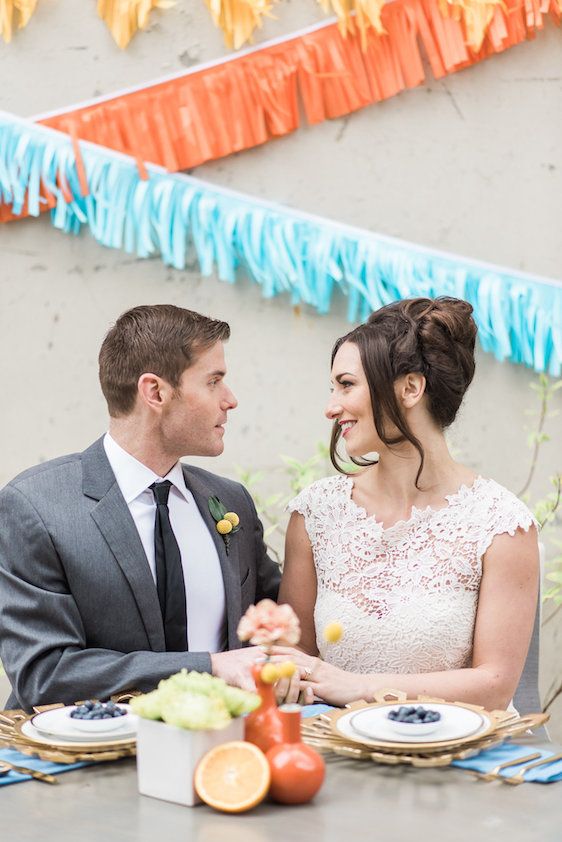 And how beautiful is this creative and colorful setup?
Cocktail, anyone? So playful, so modern, so absolutely elegant!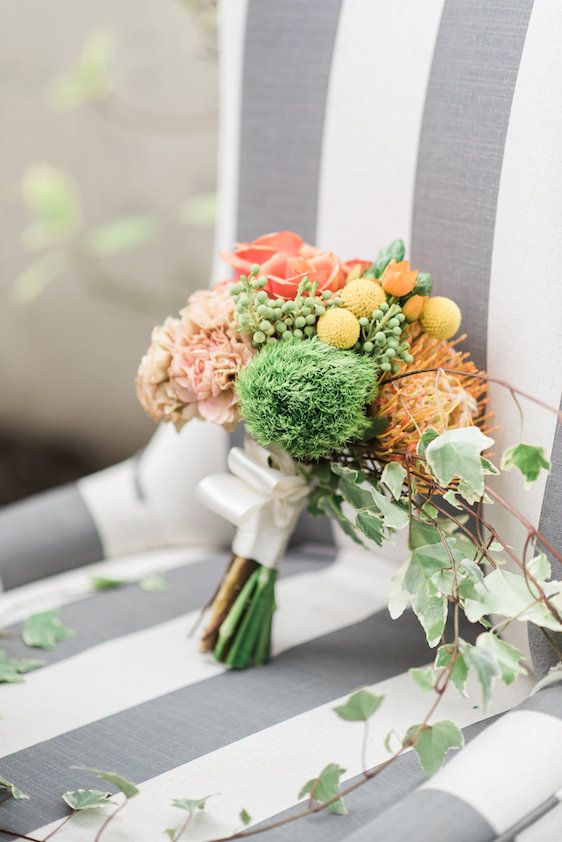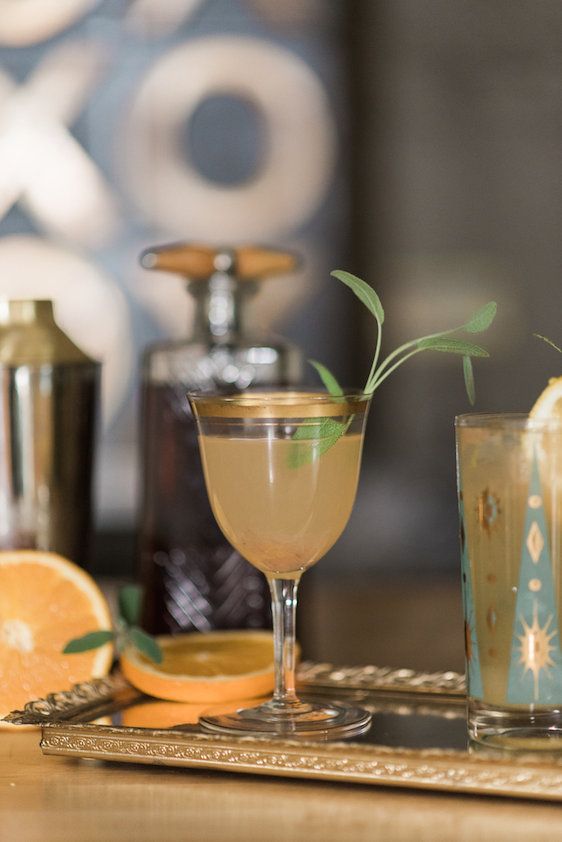 And these blooms, you guys! Gah, I'm in love!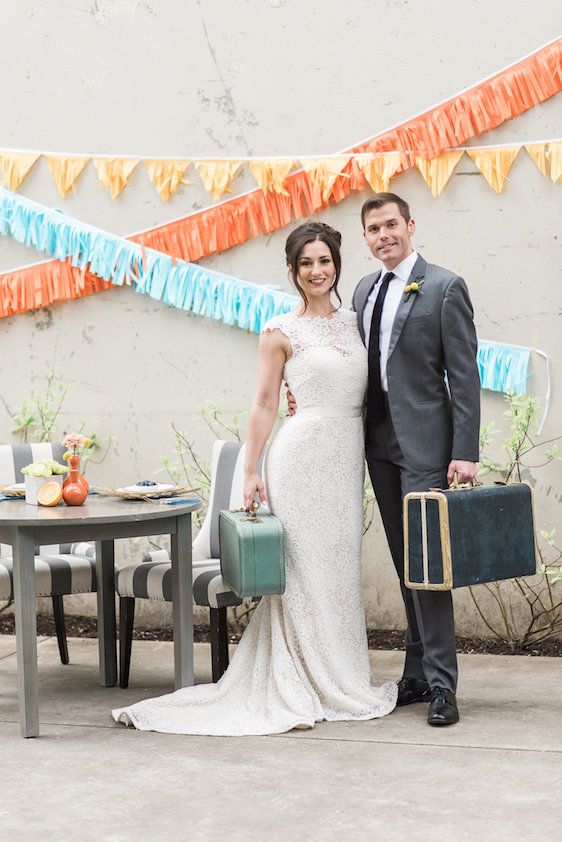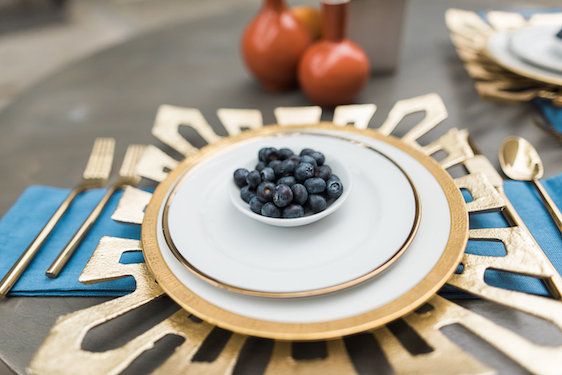 Shimmery gold place settings were designed with modern accents and food was used to emphasize color.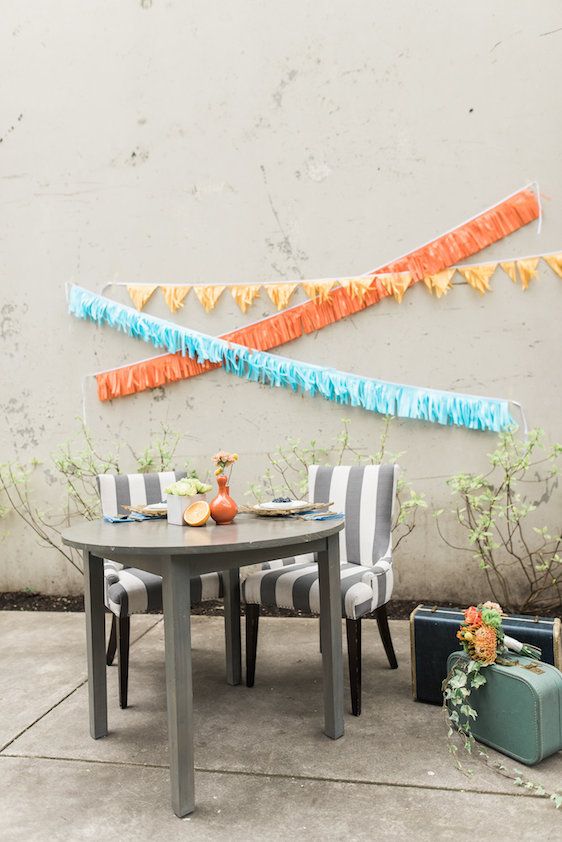 They then switched up the scenery and went inside to capture a more elegant vibe with this beautiful, ballroom scene.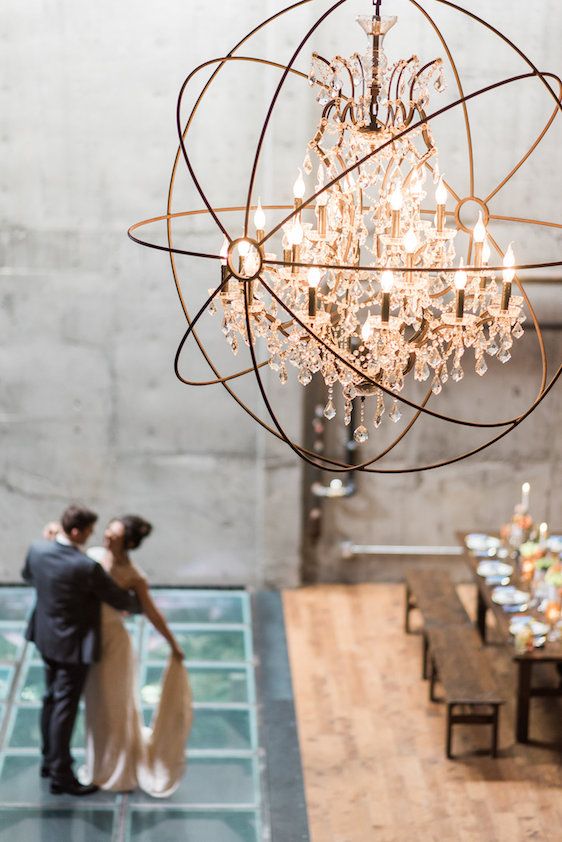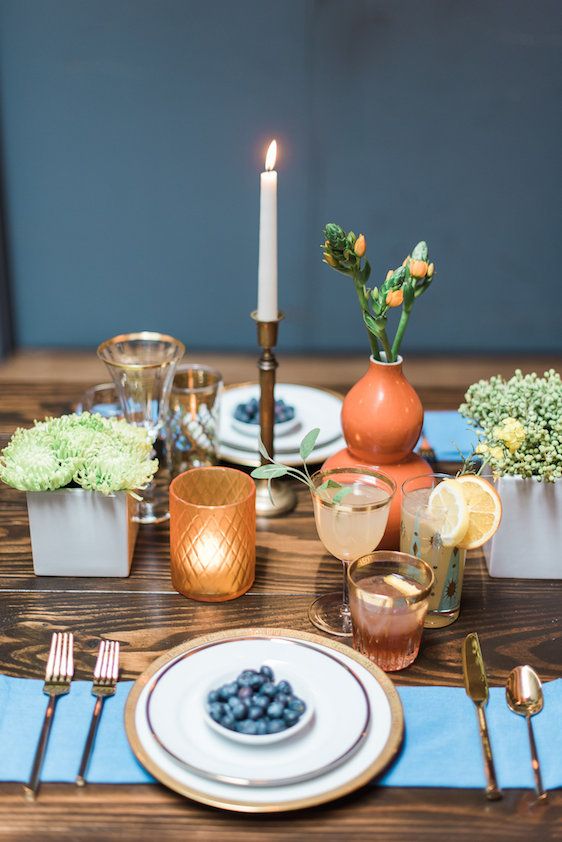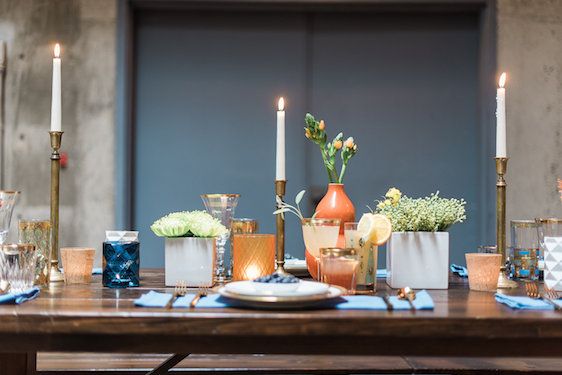 Kind of obsessed with these modern, white vases.
But this chandelier though? Wow. So seriously pin-worthy!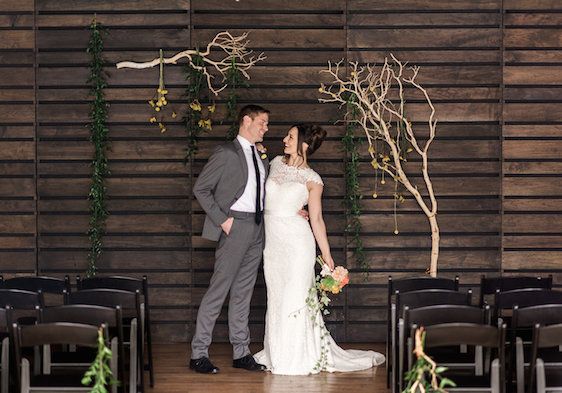 An industrial space with exposed beams and concrete walls sets the scene for this dreamy wedding story...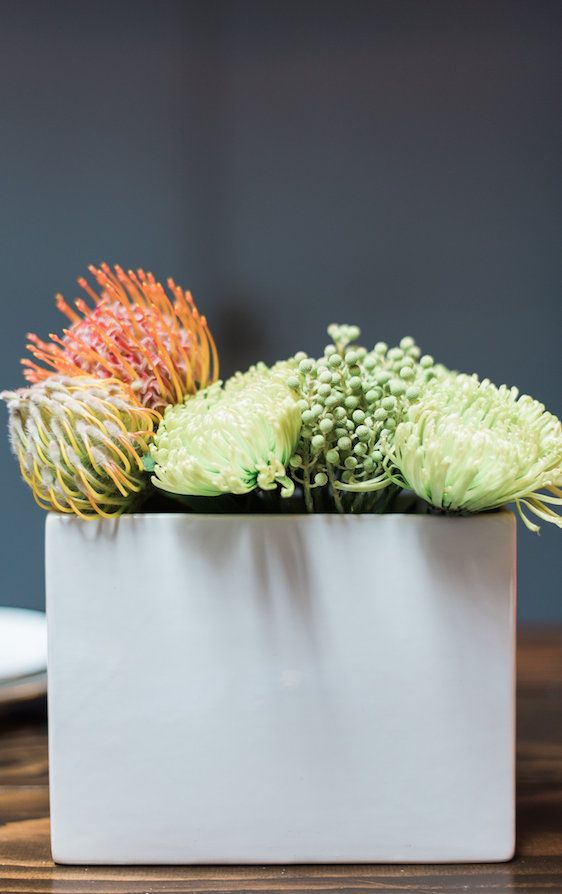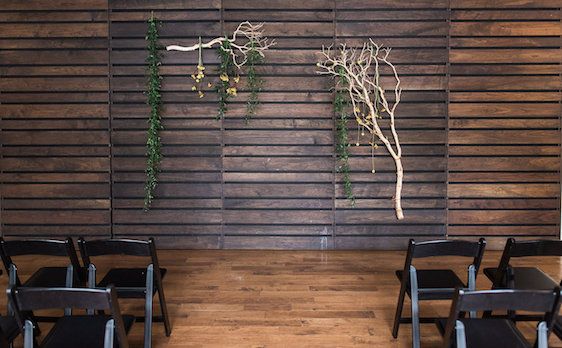 And what's not to love about these manzanita branch details?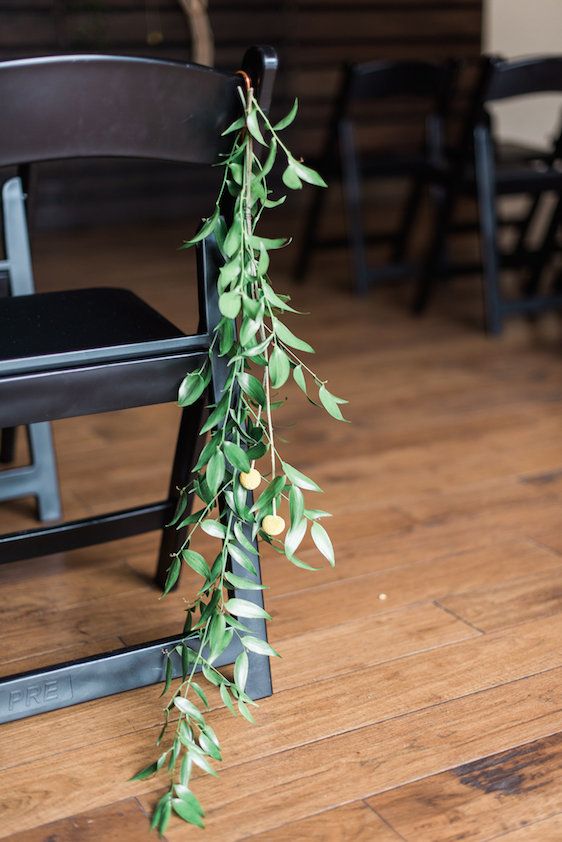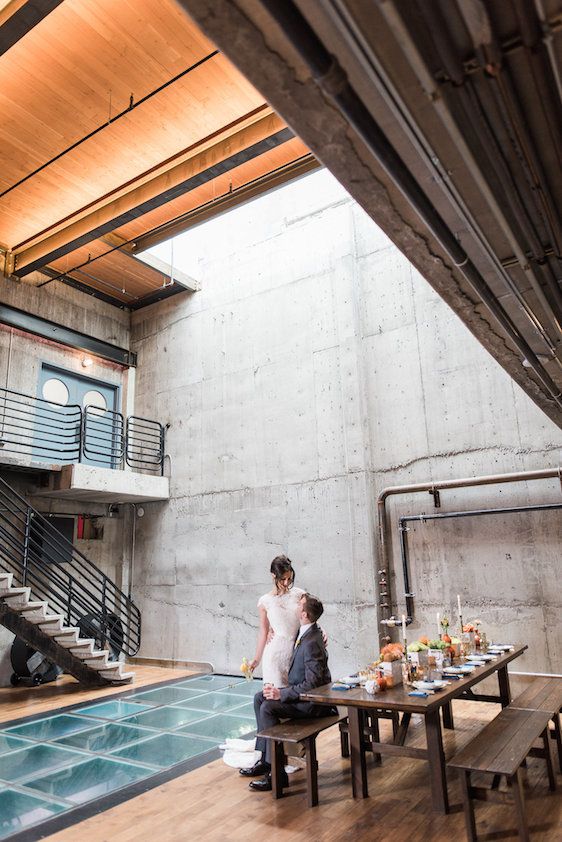 And you know what they always say right? Confetti is always a good idea!
Or was that champagne? Either way, both are always a 'YES' in my book!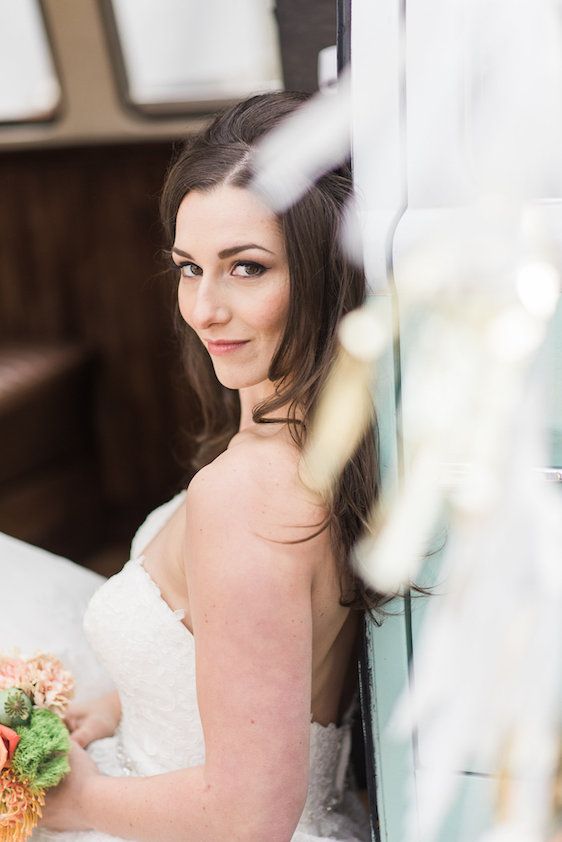 Oh, and this gorgeous vignette? Cutest. photobooth. ever.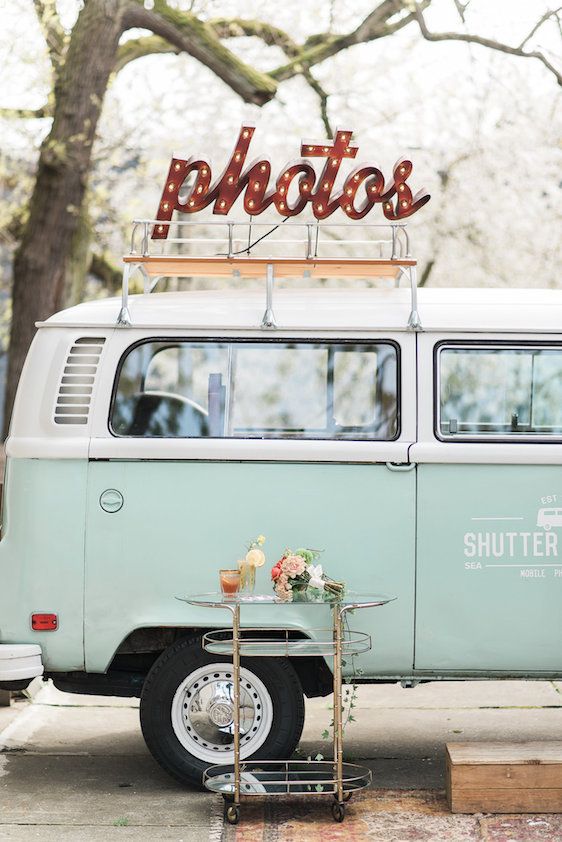 Because what's not to love about this VW photobooth bus by

Shutterbus Co.

?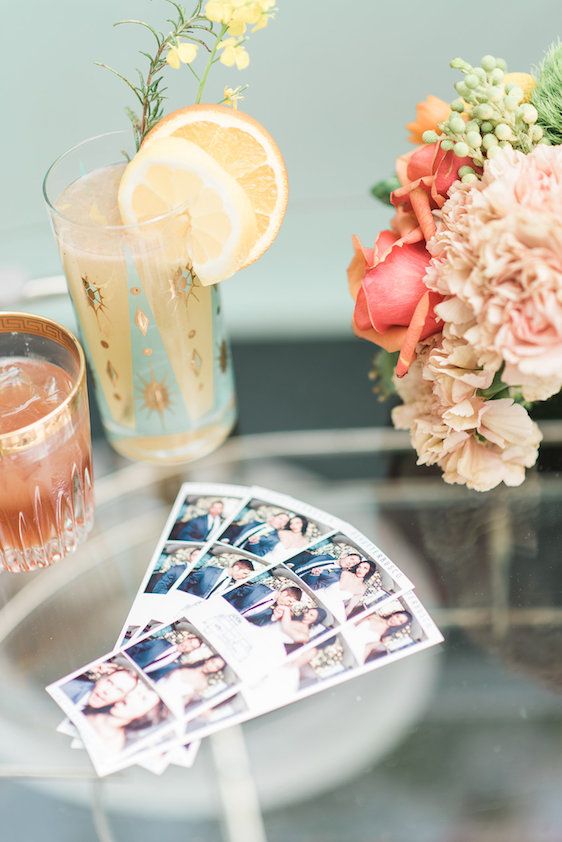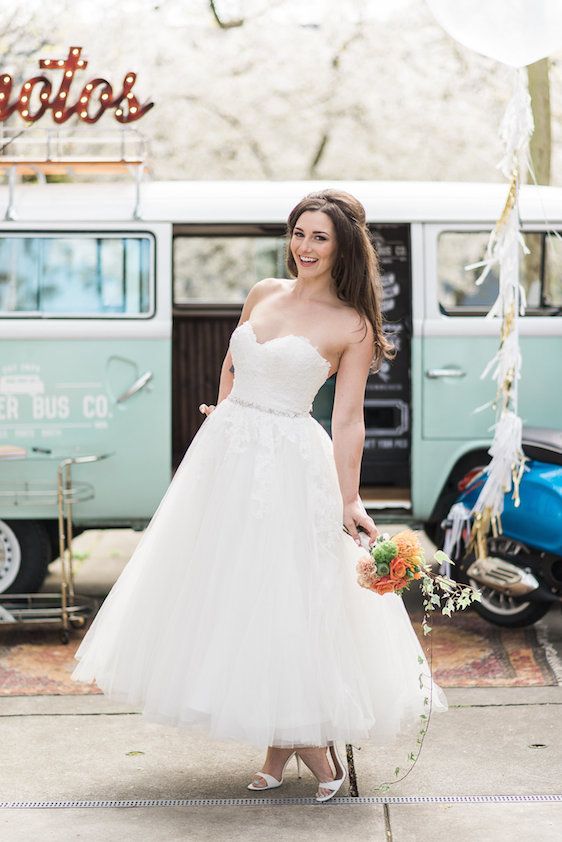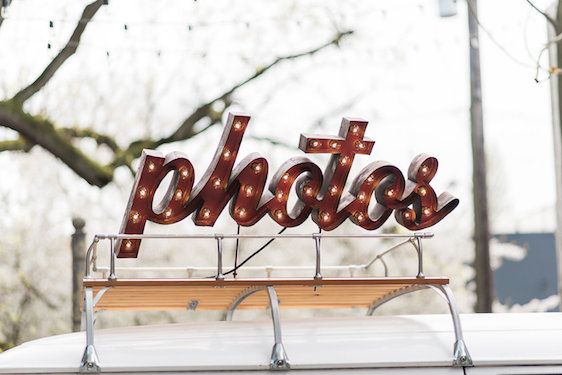 Plus I just love this amazing mint color!
So many sweet and silly photo opportunities to be had here, m'dears!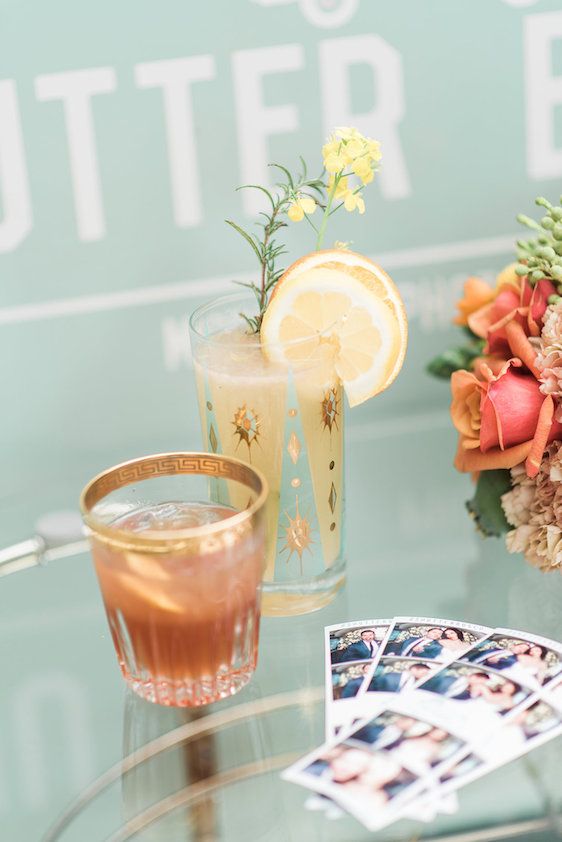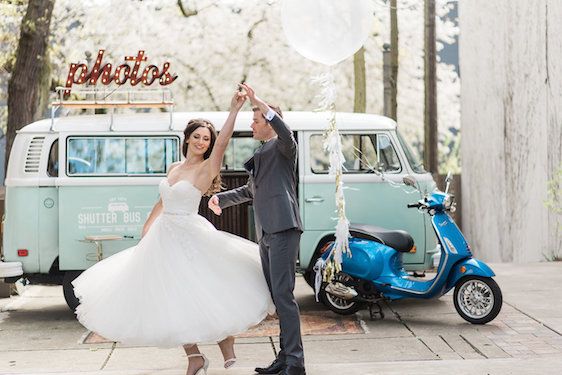 ...And I just love this mid century modern bar cart with this bright blue Vespa parked on the side.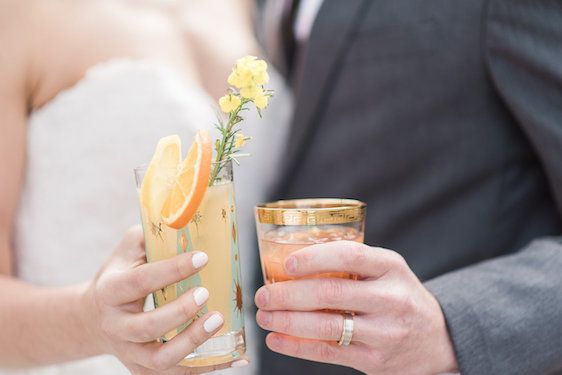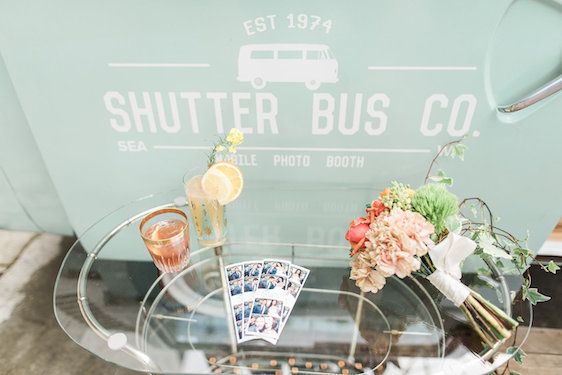 And just look at this darling setup, you guys!
And this dress by Stella York? So totally twirl-worthy!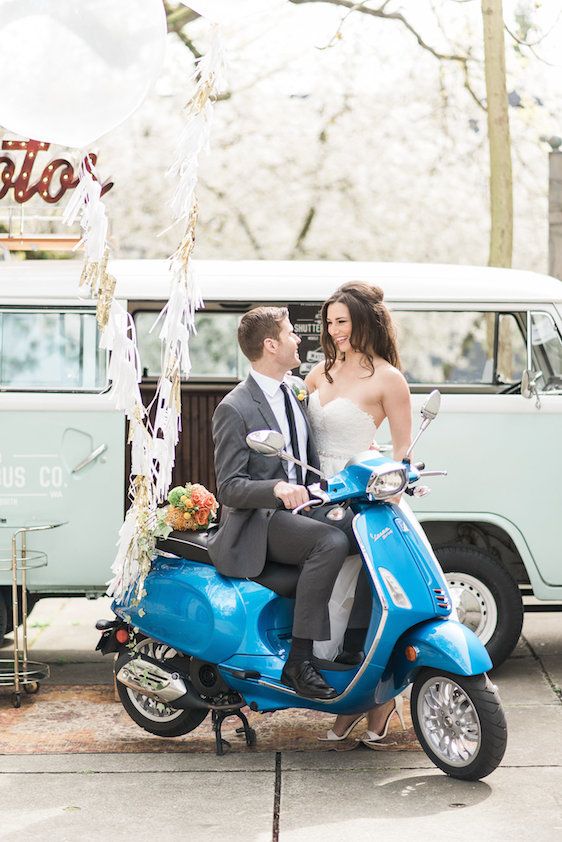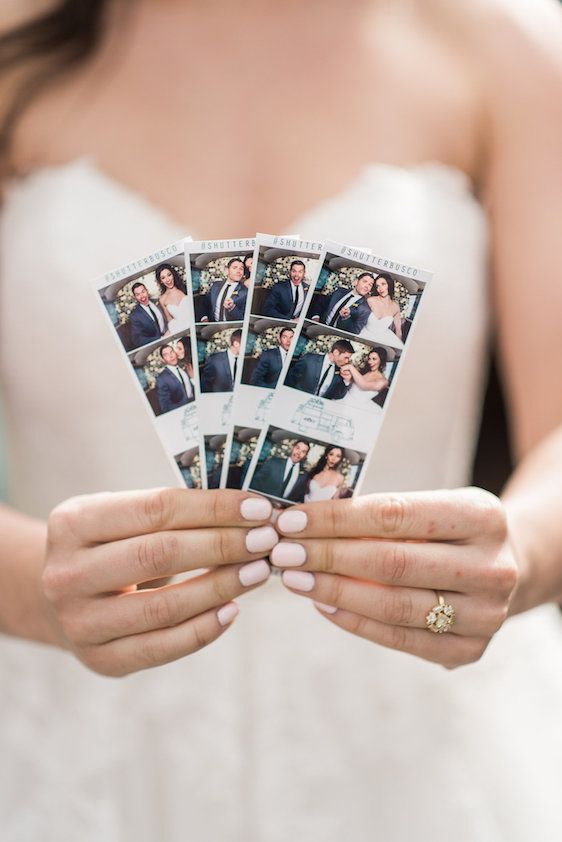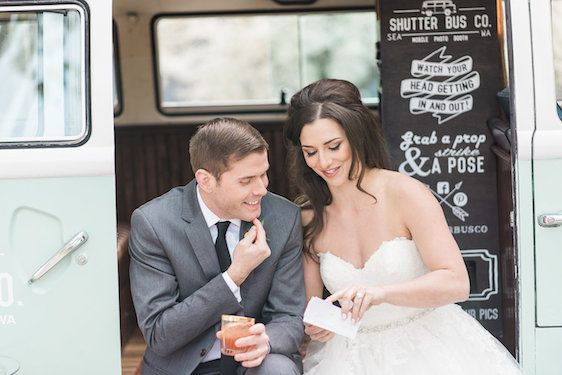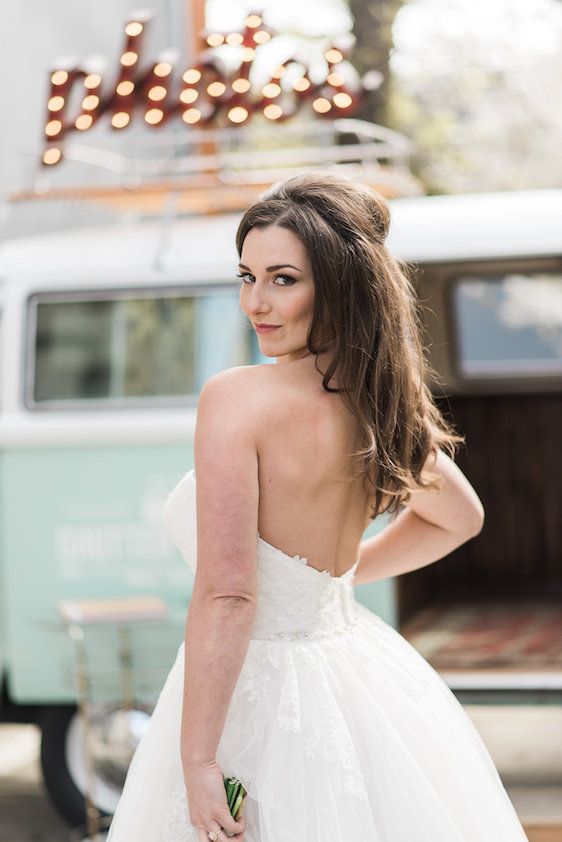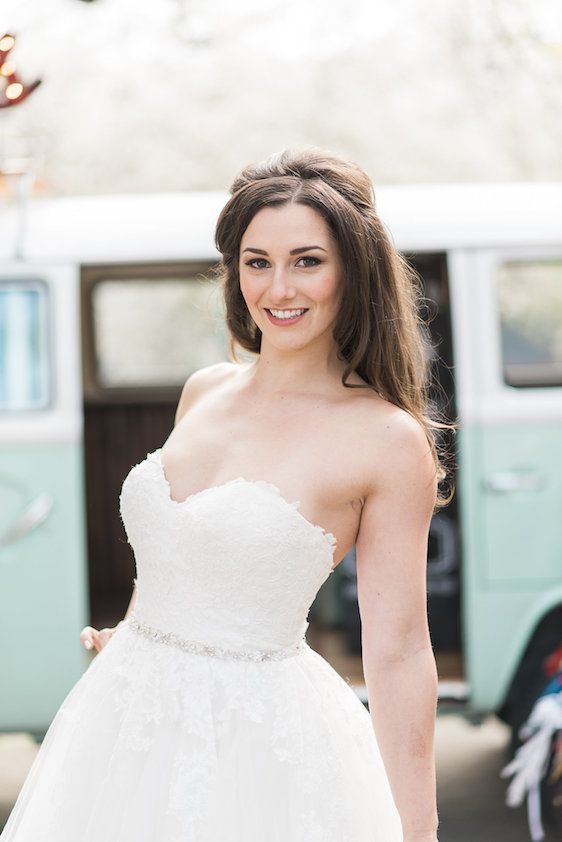 Fun, fabulous, and all kinds of pretty, I just can't get enough of this minty mobile!
Say cheese!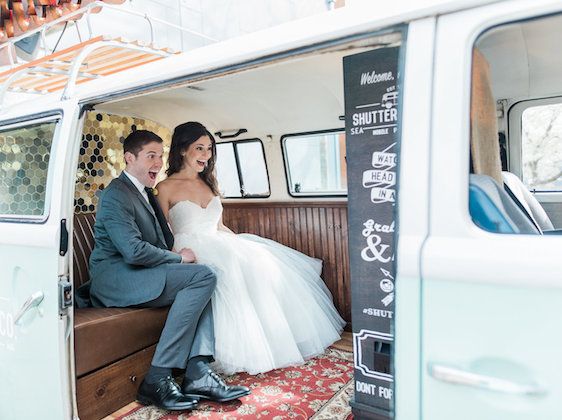 Oh, and can we just talk about how cute these two are?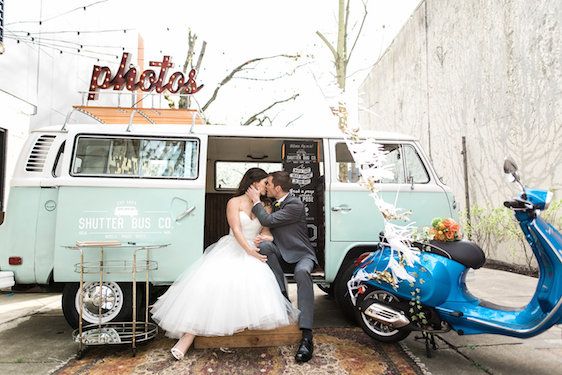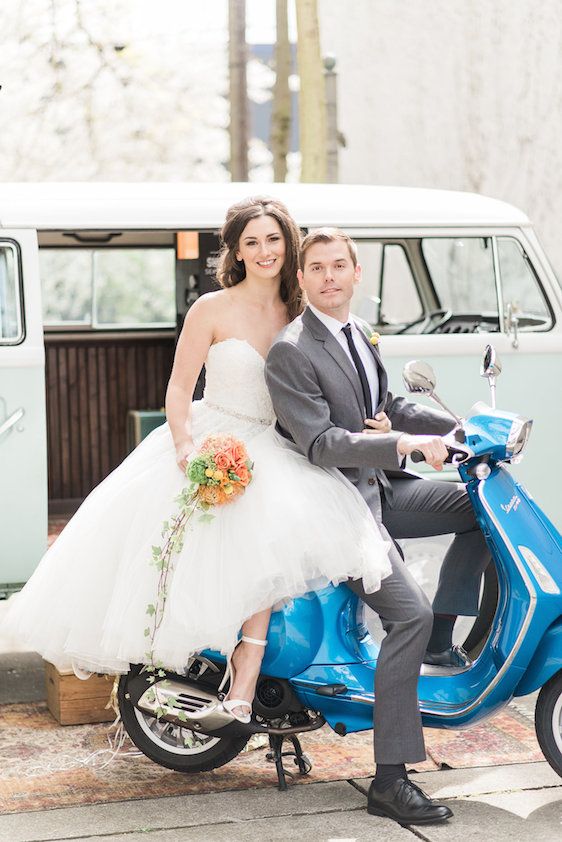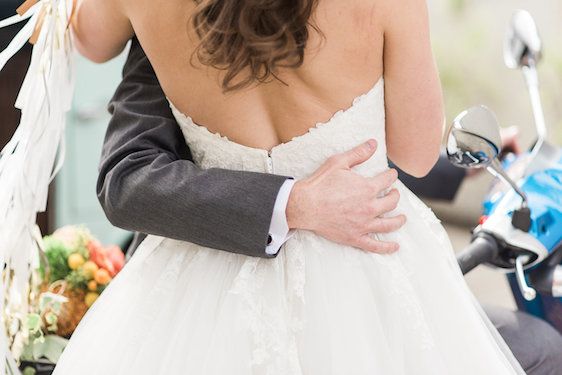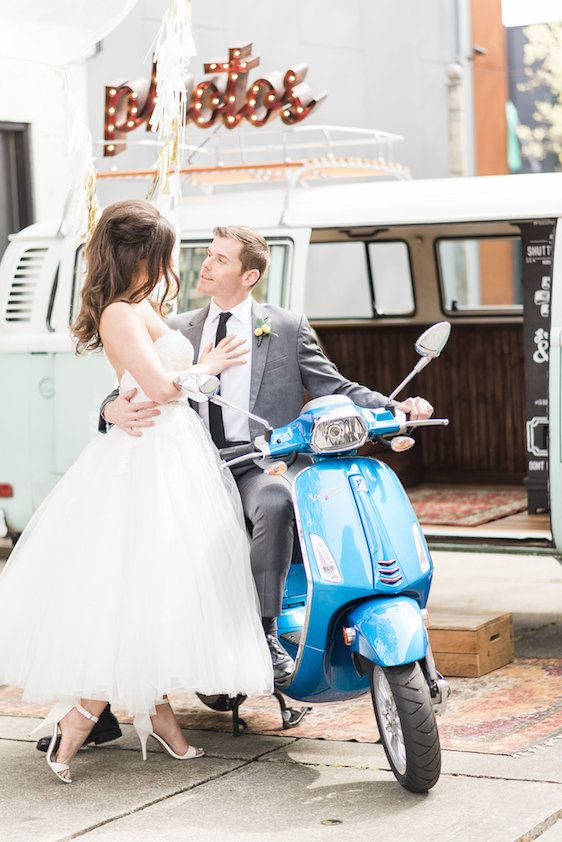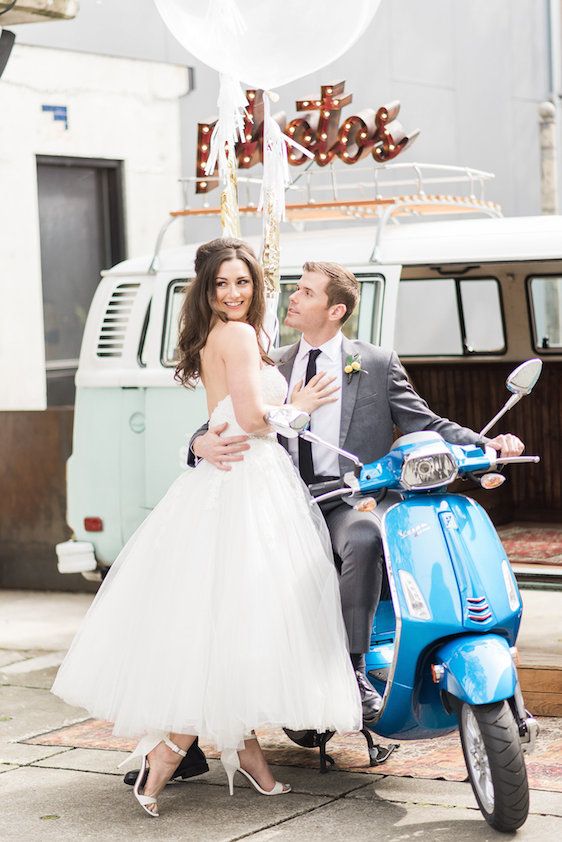 Old fashioned photo booth strips for favors? Yes, please!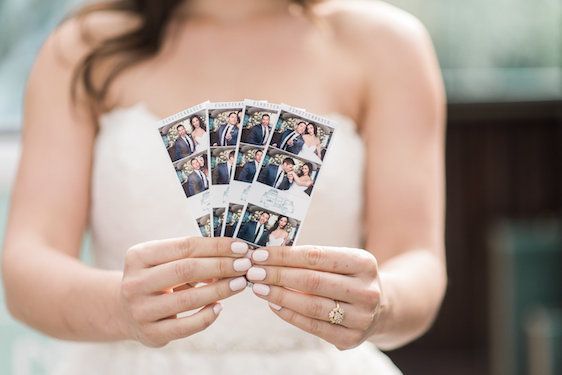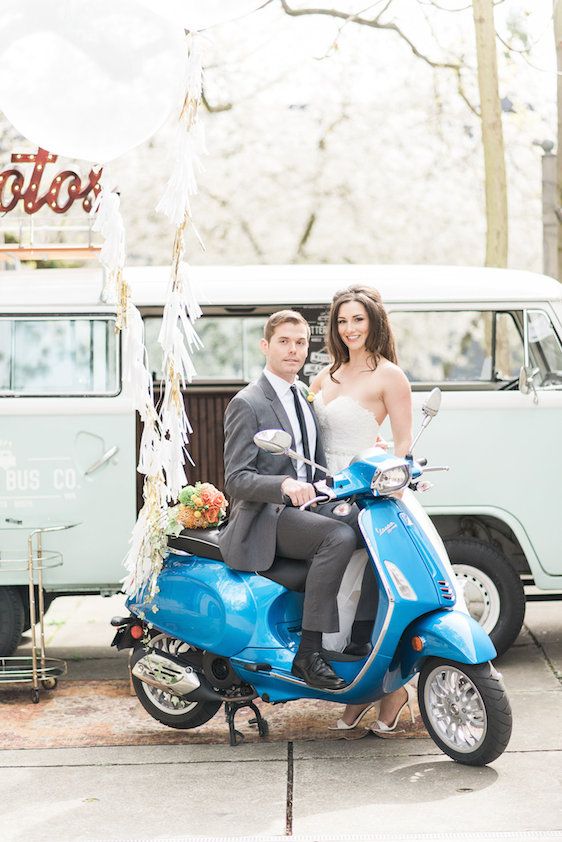 So absolutely gorgeous, if you ask me! And what's not to love about driving away in style?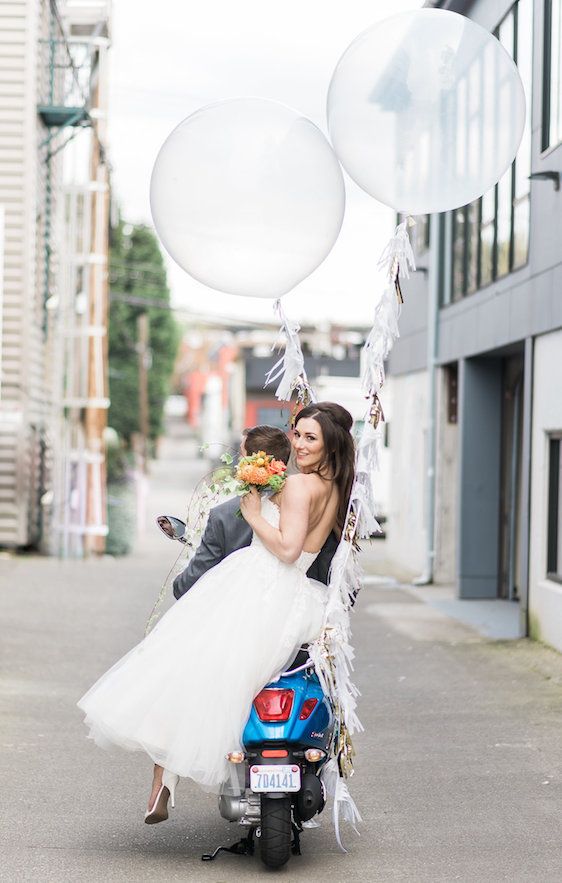 Huge hugs and high fives to this dream team of Seattle wedding pros for creating such a beauty of a shoot. I, for one, am so blown away by the creativity, the colors, and all the beauty that was captured on this day and I have a sneaking suspicion that I'm not alone in this love of mine.
Want to get in on the fun? Here's one of the cocktail recipes from Mixologist
Happy Camper Cocktails
! Sounds delicious to me. I'll take two please!
Bee Keeper
(An herbal variation of the traditional Bee's Knees lemon + honey + gin cocktail. (Makes 2 servings)
1/4 oz honey dissolved into 1 oz warm water
ice
3 oz gin
2 oz fresh citrus juice- can be orange, grapefruit, or lemon or 1 oz each of two juice
4 fresh sage leaves
2 fresh sage sprigs
In a cocktail shaker, stir honey into water until dissolved. Add sage leaves and muddle with honey syrup, then add juices and ice. Shake for 30 seconds then strain and pour into a stemmed cocktail glass, garnish each glass with a tall sprig of sage.

Strain liquid and pour into highball glasses filled with ice, top each glass with club soda to taste. Garnish each with a tall sprig of rosemary and a tall edible flowers, and hold them in place with the fruit slices. And that's it. Enjoy!


Share This: