Charming, beautiful, and absolutely heartfelt, today's styled anniversary party tells a story that's full of love, and celebration.
It's a story of a group of girlfriends who spend the afternoon helping their friend decorate and prepare for a simple, romantic, and flirty at-home date for their friend Marissa and her handsome beau.
With beautiful captures by
Shauna Veasey Photography
and d
esign by
Lea Ann of
Southern Flair Events
, just one glimpse of this gorgeous scene and it's easy to see that this afternoon was filled with love and laughter and all kinds of sweetness!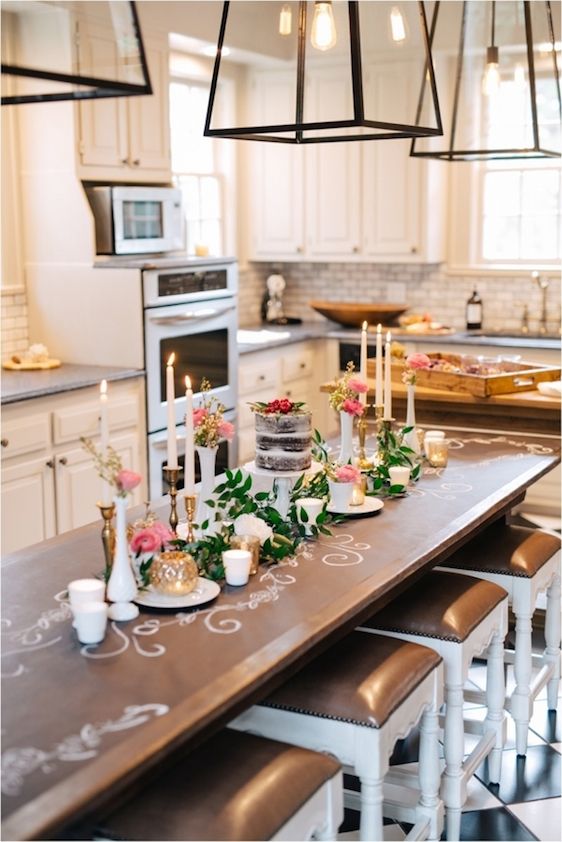 This dream team of pros set out to show how easy and fun it could be to coordinate at-home dinner party date all while squeezing in little girl time.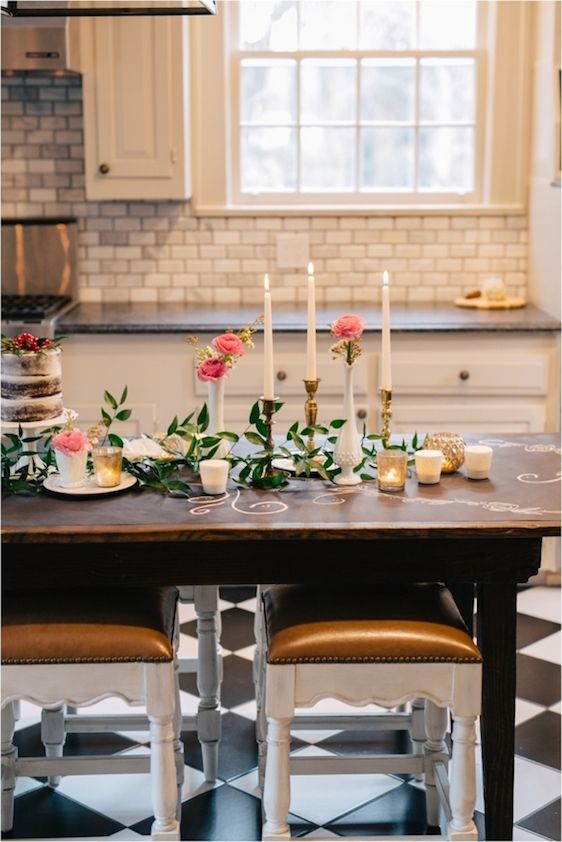 Because who wants to get out in the crowd when you can enjoy yummy treats during a flirty kitchen date followed by a snuggle-sesh on the sofa with hot cocoa anyways?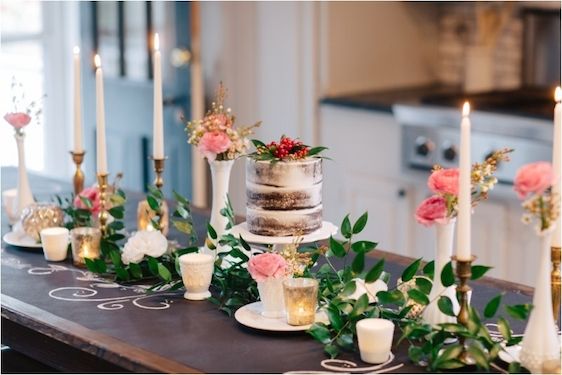 Marissa and her girlfriends, Ashlee and Chyna, spent the morning giggling, decorating, and cooking in preparation for a simple yet thoughtfully designed at-home date.
Marissa luckily had the help of her party planning girlfriend, LeaAnn Hurd of
Southern Flair Events

...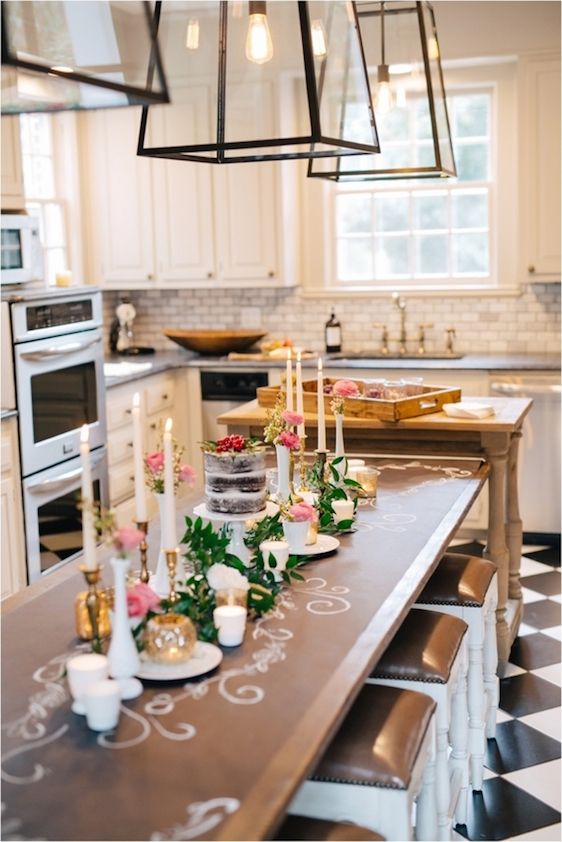 ...as well as her girlfriend, Chyna, who's actually an assistant coordinator at
J.Elliott Style who h
elped her with chalkboard art on the table runner.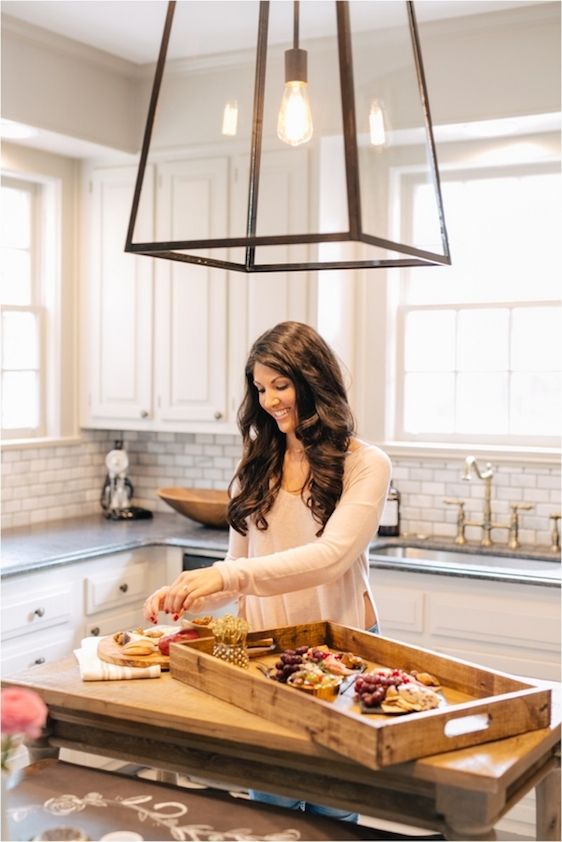 Ashley, a professional make-up artist with

Beauty Asylum

, not only whipped up the sweetest signature cocktails, but she also made sure that Marissa looked her best when her fiancé arrived.
Because as any girl knows; team work makes the dream work!
The ladies' to-do list included simple ranunculus arrangements, a DIY chalkboard table runner, and miniature cheese platters....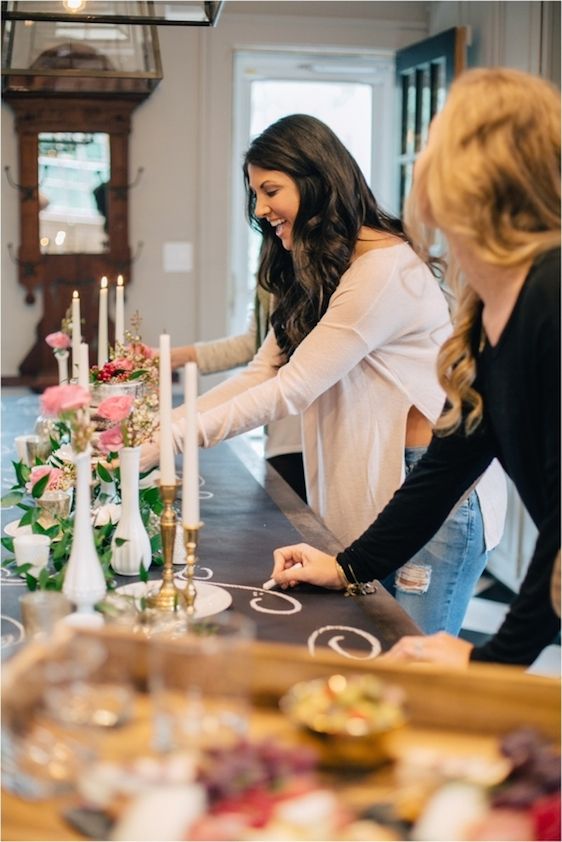 Oh, and not to be forgotten: the cranberry, thyme, and pomegranate cocktails!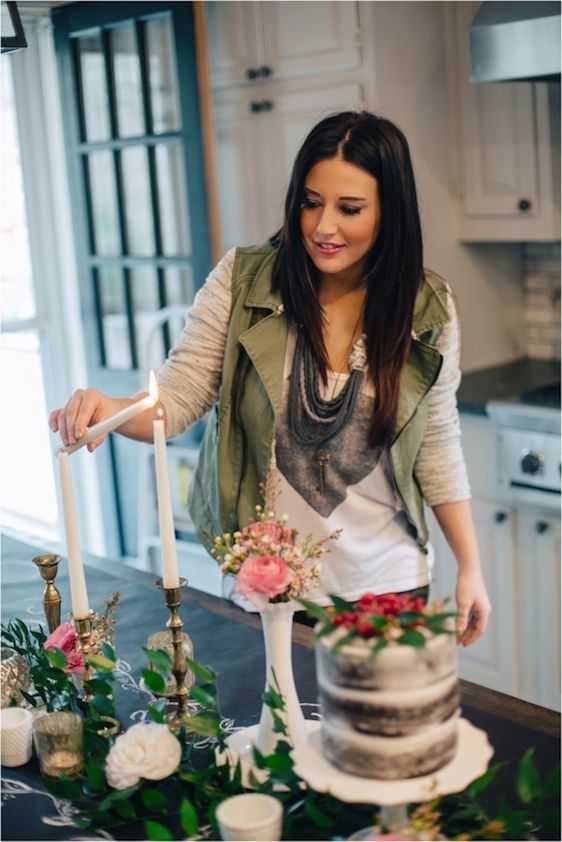 As well as rhubarb, pomegranate, and vanilla mini skillet cobblers.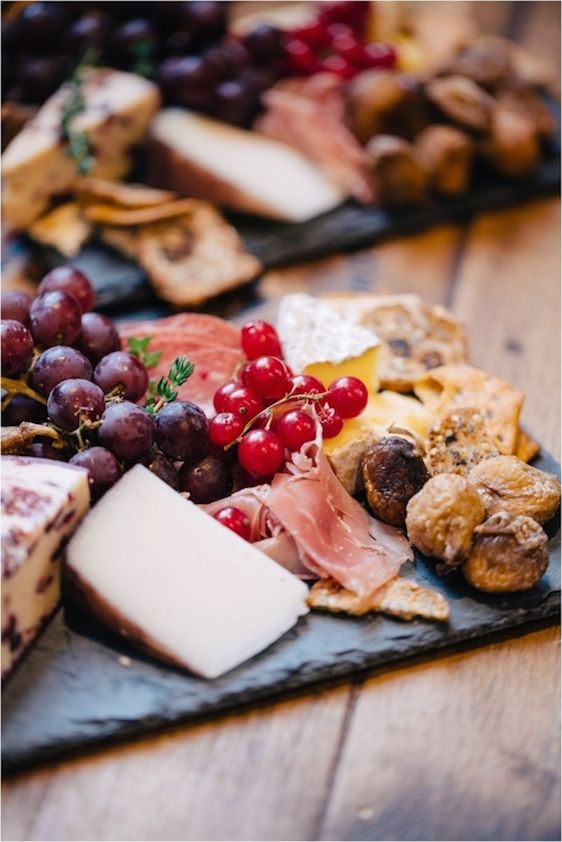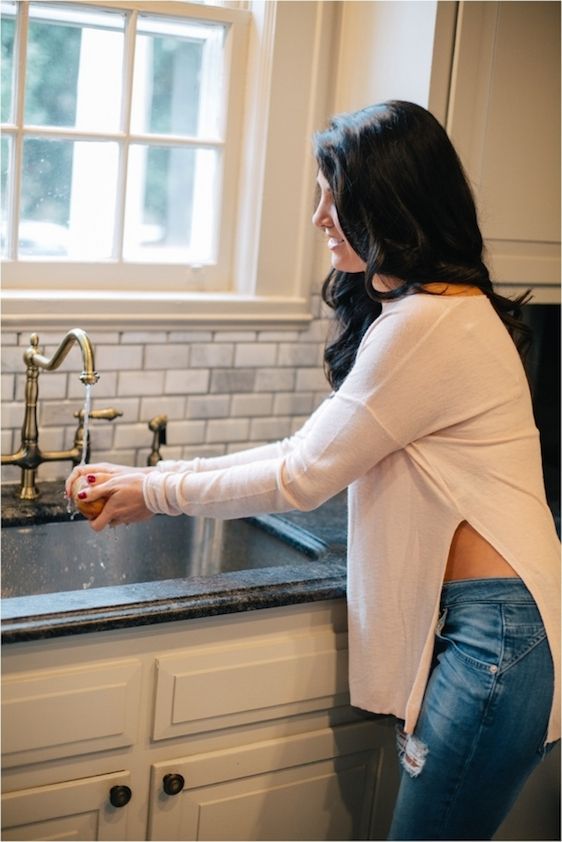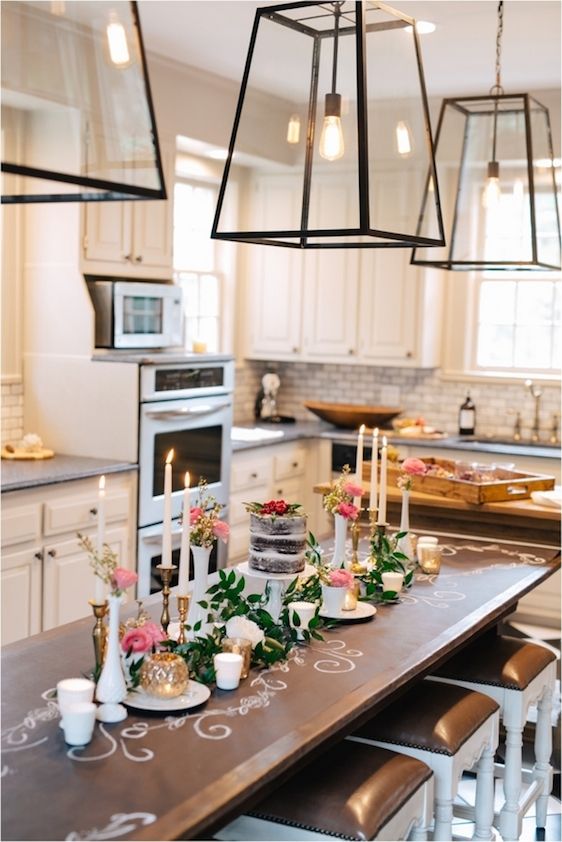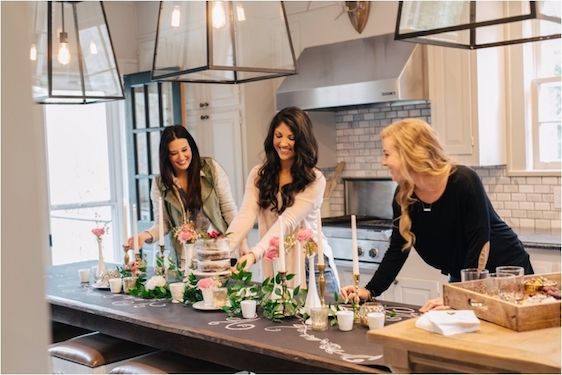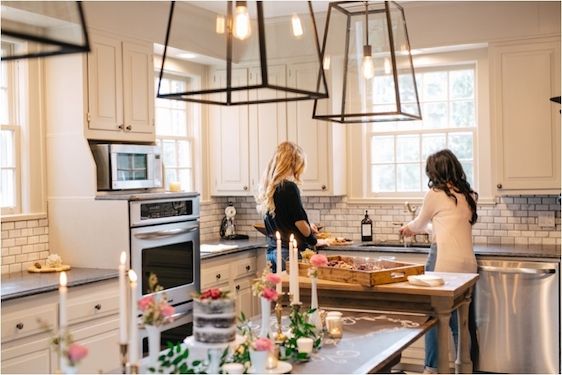 To save time, Marissa picked up a tiny chocolate naked cake made just for two from her favorite bakery, Blooming Flour Bakery.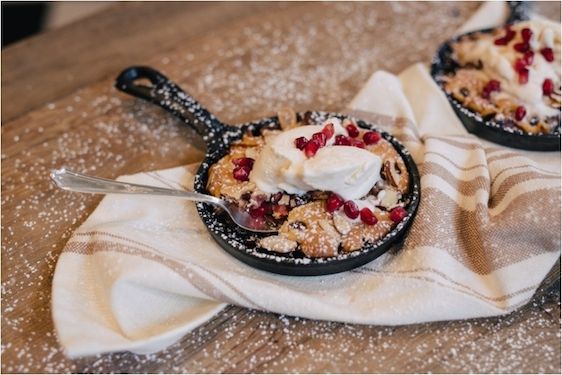 ... which gave her enough time to make her own homemade rhubarb, pomegranate and vanilla skillets.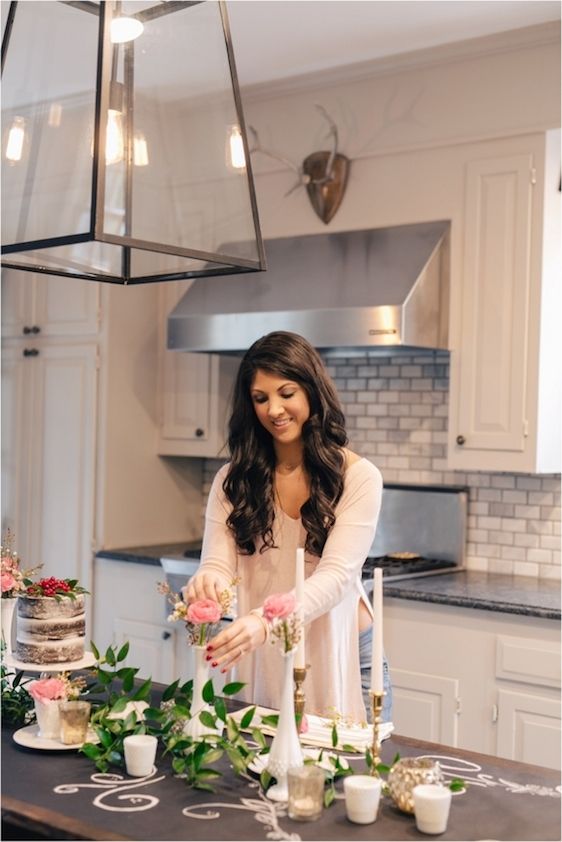 The milk glass vases truly popped against the DIY table number!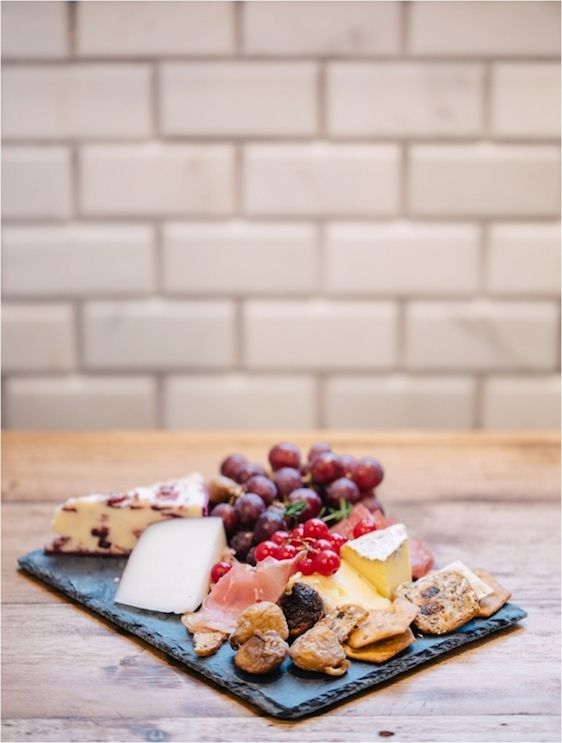 I just love how the chalk illustrations tie into the tablescape...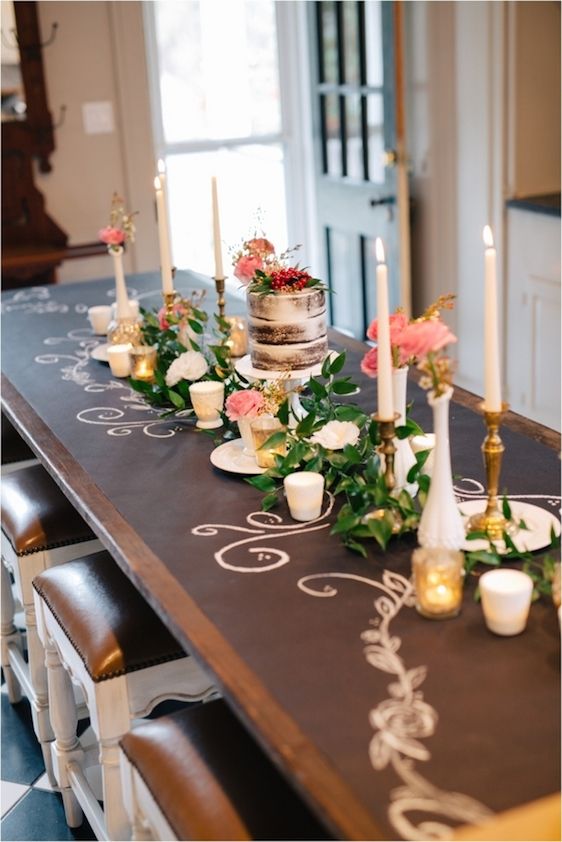 And how delicious does this look?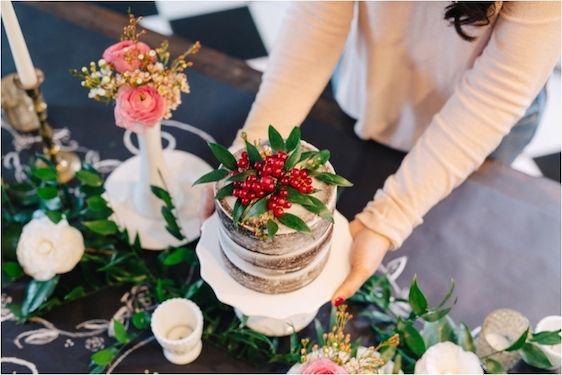 Taper candles really set the scene for romance...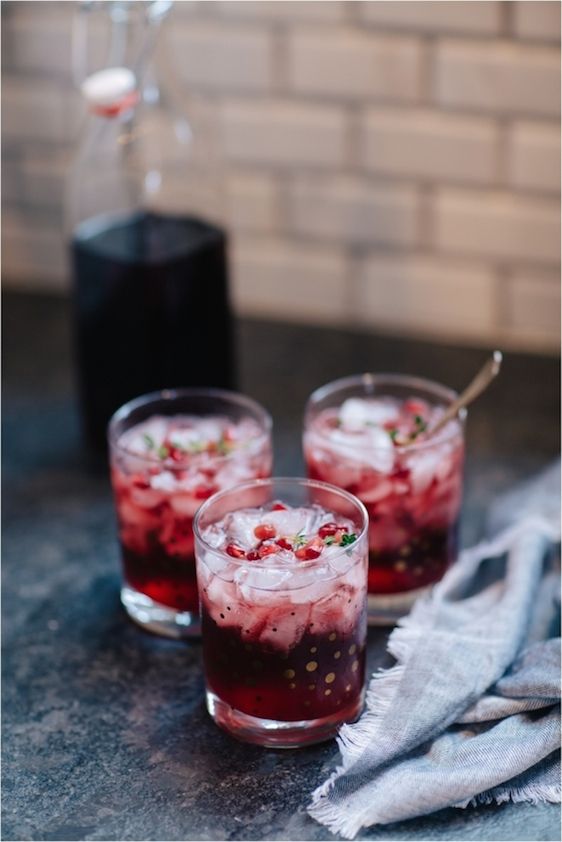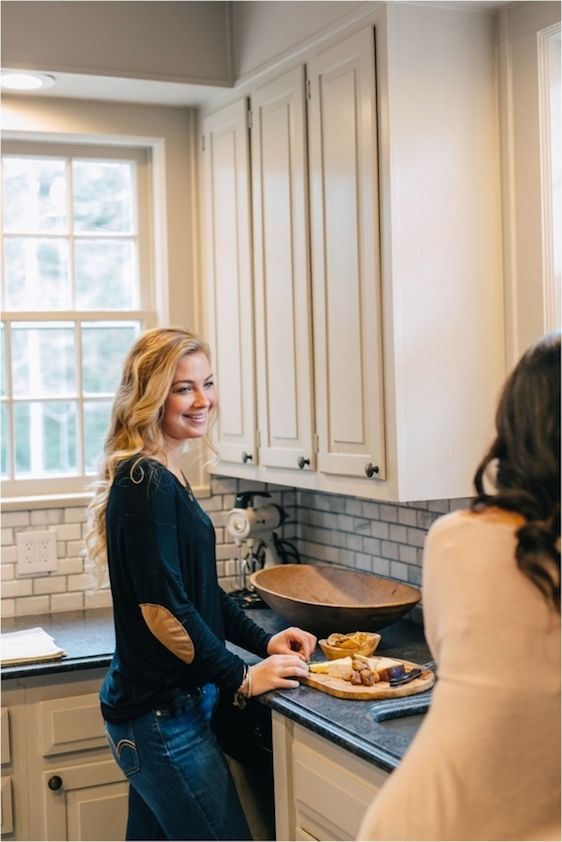 Plus how incredible is this kitchen with it's large lanterns and subway tile?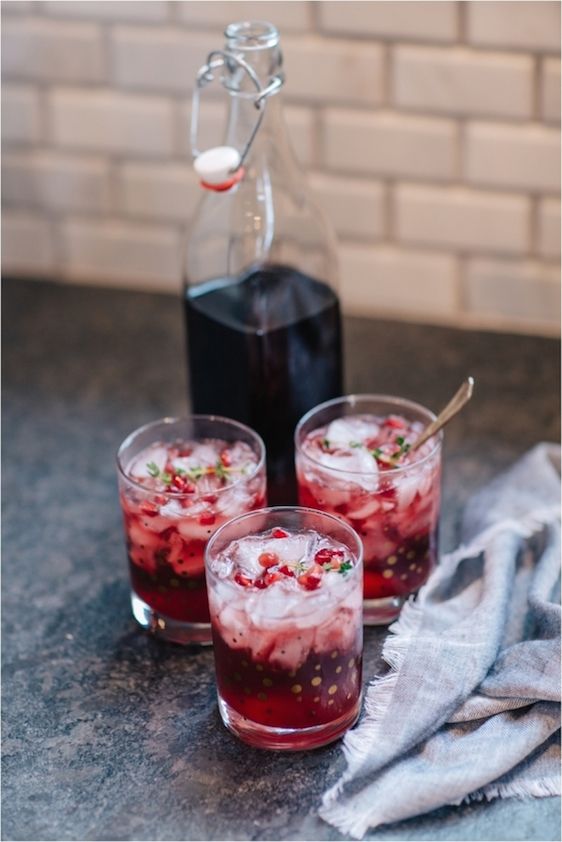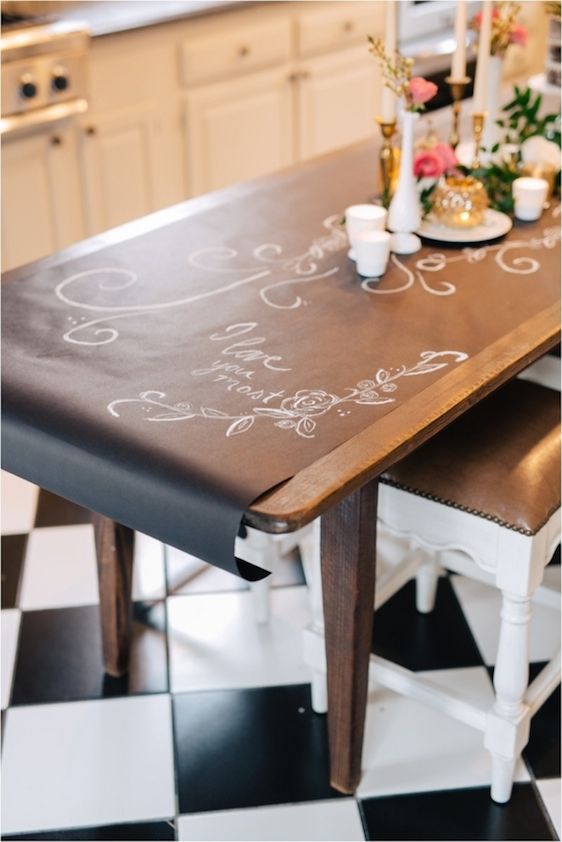 And this darling trio of friends? Love these three!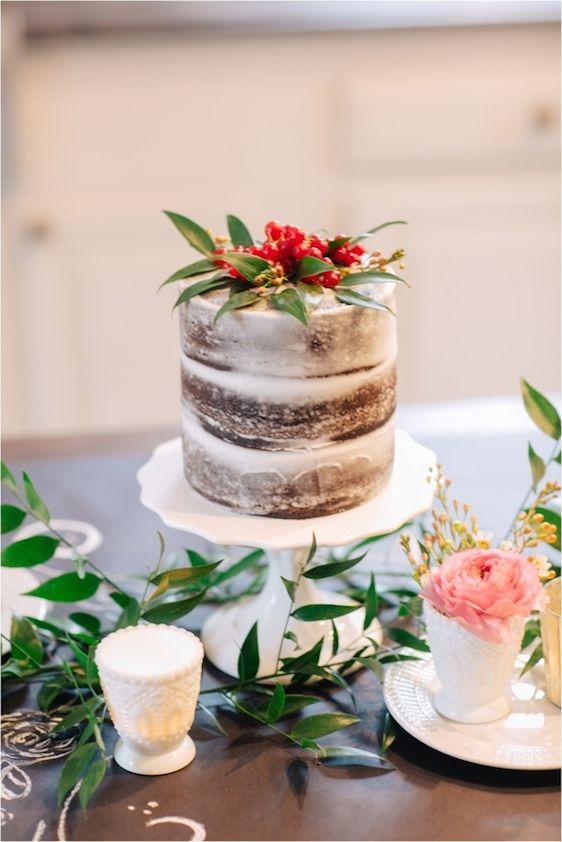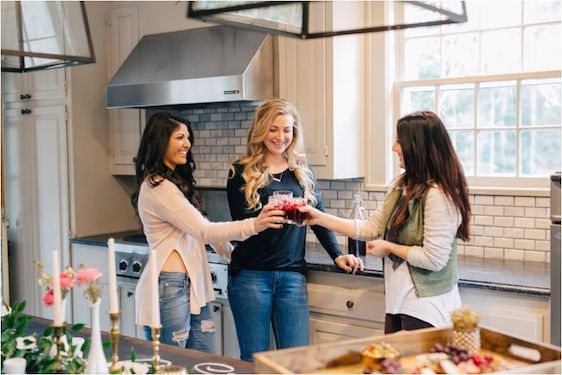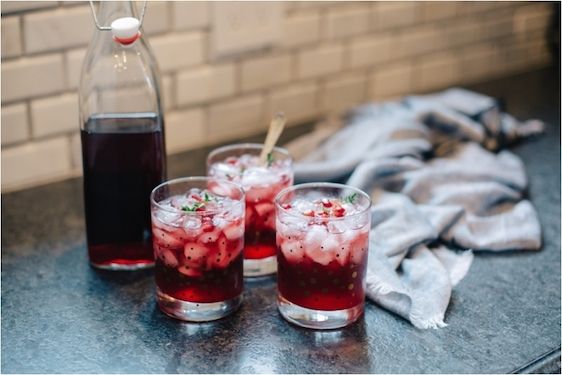 While preparing for her date, Marissa chose to dress in her coziest jeans and a comfy tee too...
So super cute, if you ask me! Because what's not to love about this comfy look?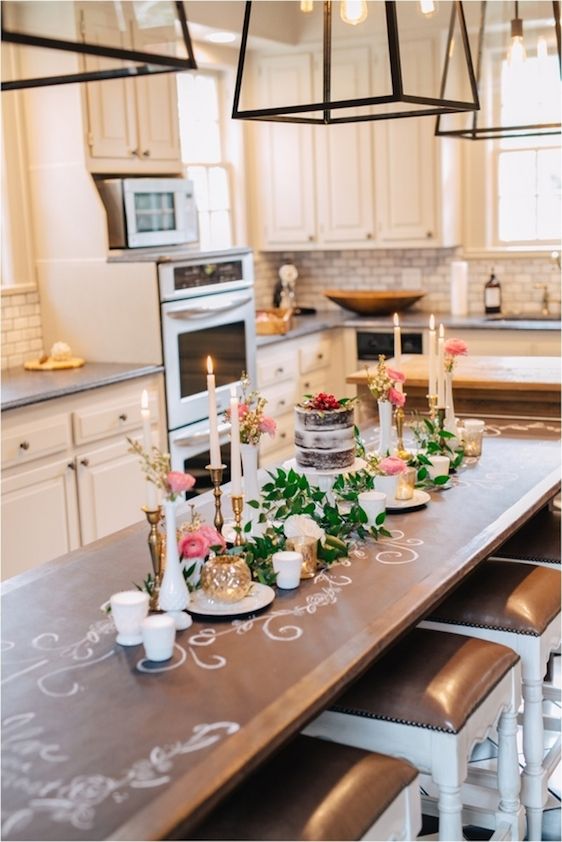 Before they knew it, Marisas's finance had arrived...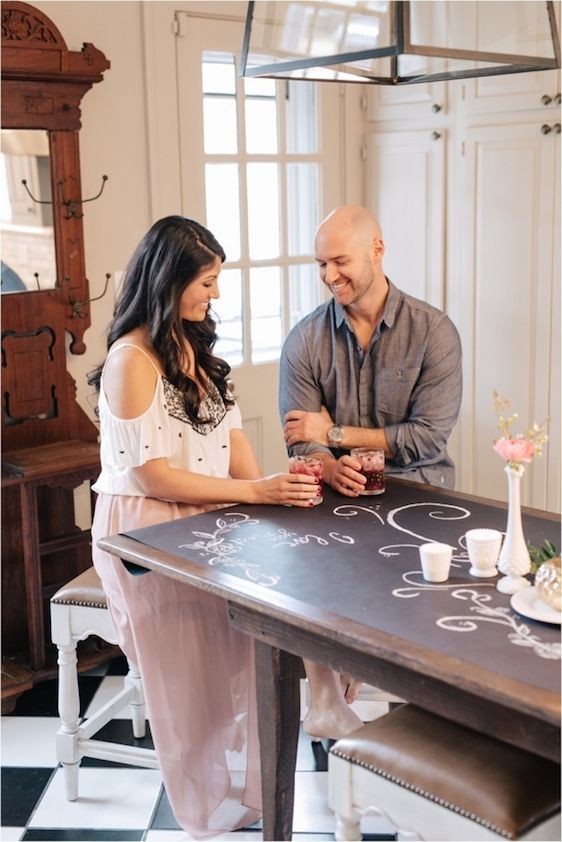 They cooked together and had a cocktail together...
And reminisced about all of the fun times they have shared dover the years!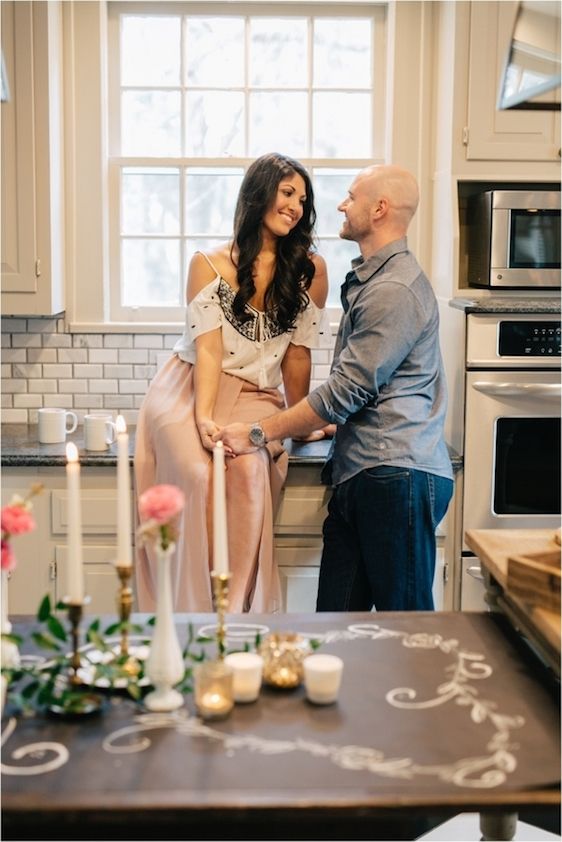 They even put on a little music to add to the ambiance...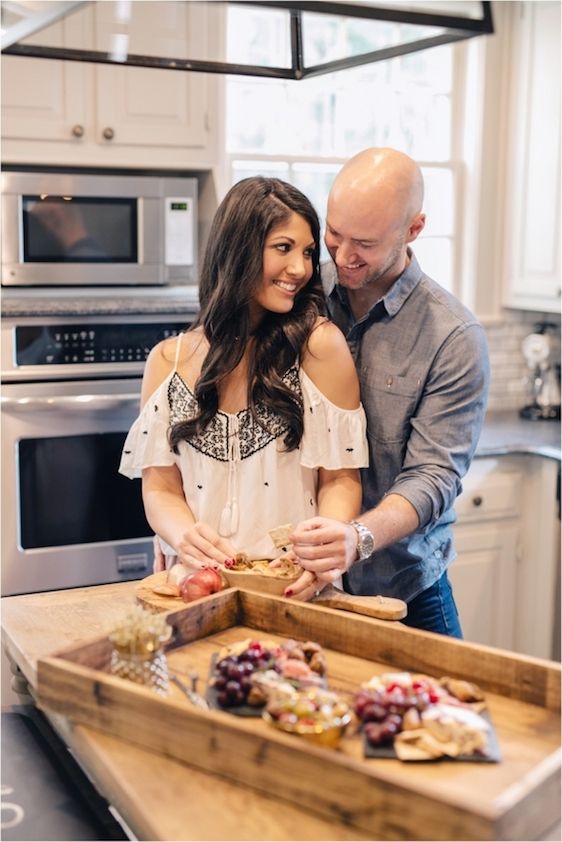 As you can see, Marissa slipped into something a bit fancier for the date itself.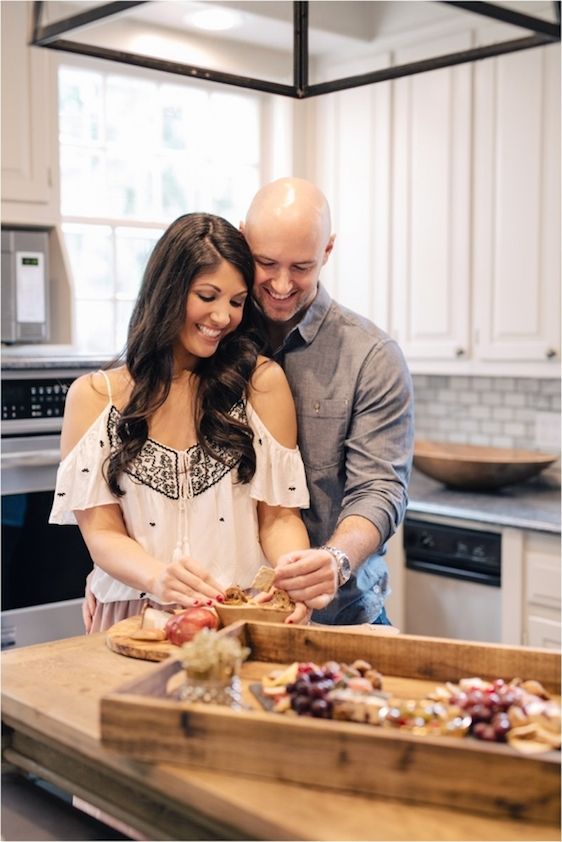 And after dinner time? It was time for dessert of course!
So darling, so special, so absolutely sweet!
And how adorable are these two?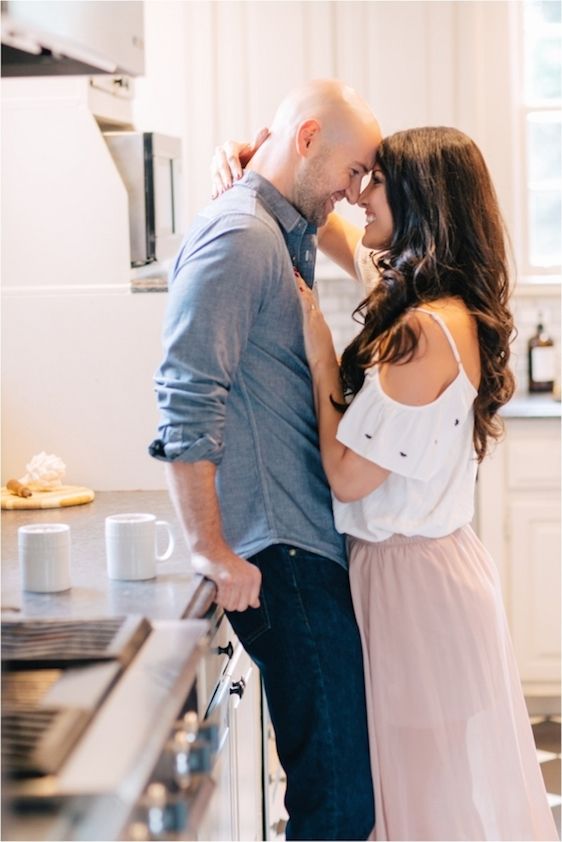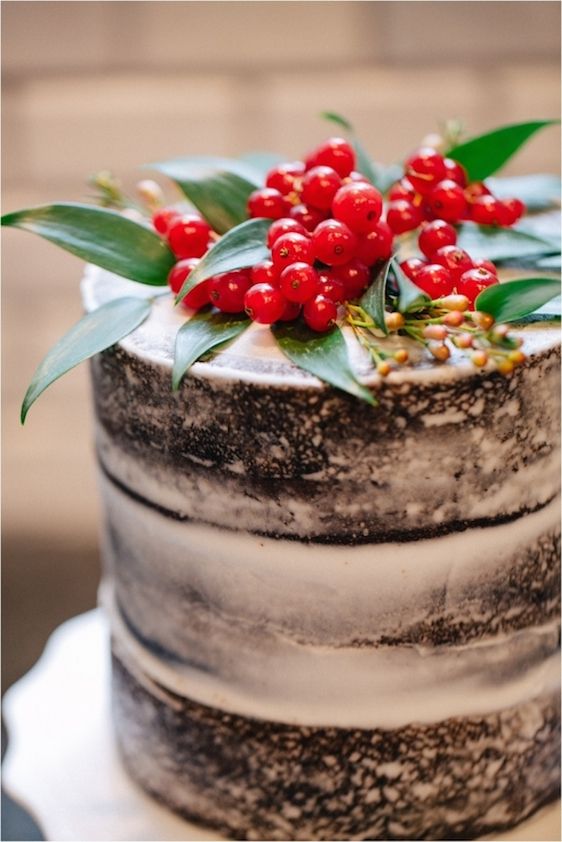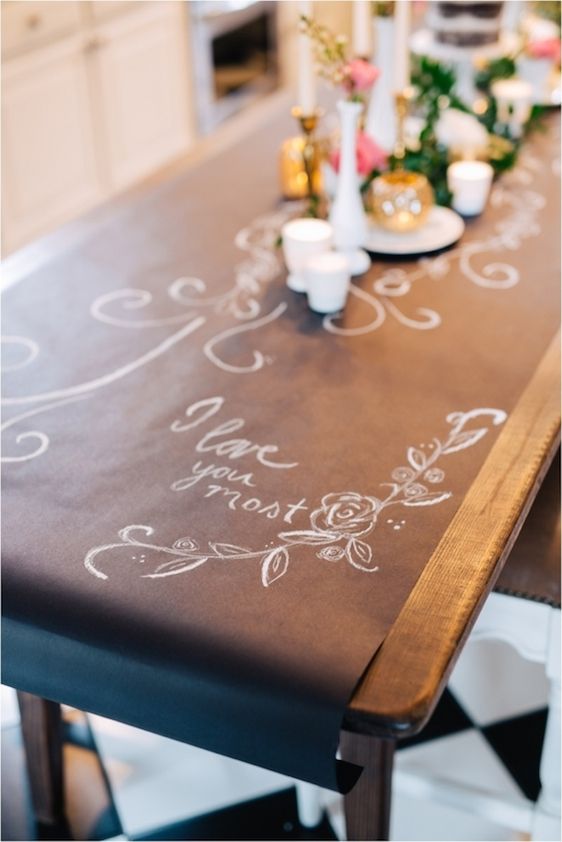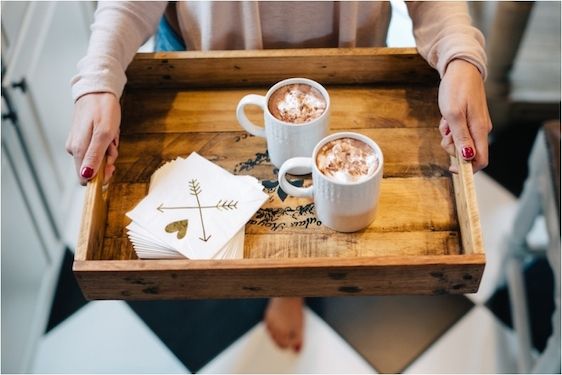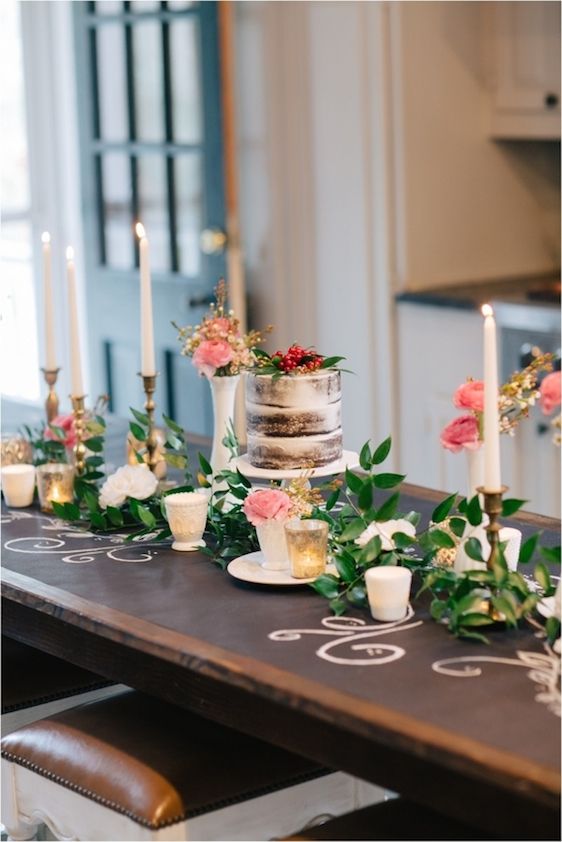 It was a night filled with good food, good drinks, and the best company ever!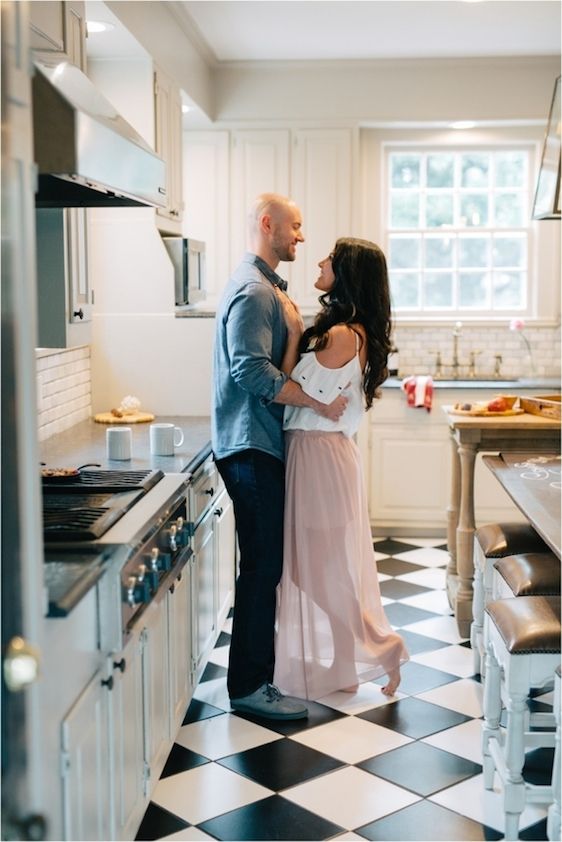 After dinner, Marissa made cocoa for two and the lovebirds headed into the living room where they talked and cuddled...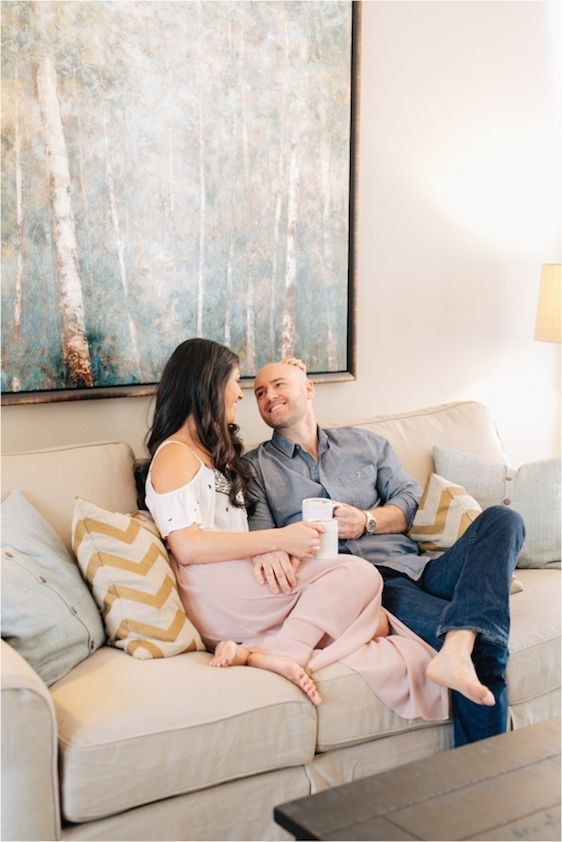 And what a special anniversary it was! So full of sweetness and feel good vibes!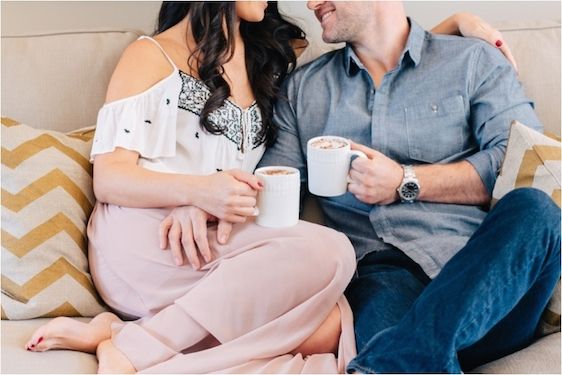 Huge hugs and high fives to this talented team of vendors. Oh, and if you'd like to learn how to make your own skillet cobblers and cranberry cocktails, see the recipe below!
Rhubarb, Pomegranate and Vanilla Mini Skillet Cobblers
2 cups self-raising flour sifted
3/4 cup butter
½ cup caster (superfine) sugar
1 cup buttermilk
2 teaspoons vanilla extract
3 pomegranates, seeds removed
3 stalks rhubarb, trimmed and chopped into 1/2 in lengths
1 cup caster (superfine) sugar
Extra 2 vanilla beans, split and seeds scraped
1 cup flaked almonds icing (confectioner's) sugar and double (thick) cream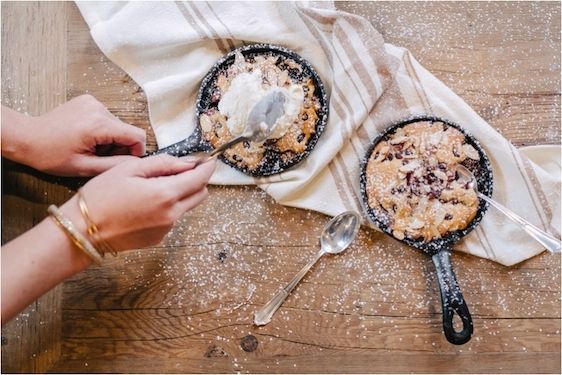 Directions:
Preheat oven to 350°F.
Place the flour, butter and sugar in a food processor and process until the mixture resembles fine breadcrumbs.
Gradually add the buttermilk and vanilla extract and process until the mixture just comes together. Add 1 of the pomegranate seeds and stir to combine. Set aside.
Place the rhubarb, extra sugar, remaining pomegranate seeds and vanilla in a bowl and toss to coat.
Divide between 4 x 1 ½ cup-capacity skillets.
Top with the cobbler mixture and sprinkle with the almonds.
Bake for 35–40 minutes or until golden and cooked through.
Dust with icing sugar and serve with cream, if desired. Serves 4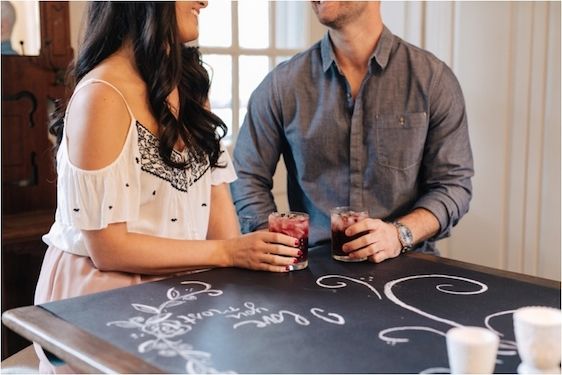 Cranberry, Thyme and Pomegranate Cocktail
1 Ounce Thyme Pom/Cran Simple Syrup
2 Ounces Vodka
2 Ounces Pomegranate Cranberry JuiceSplash of Tonic Water.
1/2 cup cranberries
1 cup of Pomegranate Arils
½ cup Pomegranate Cranberry juice
3 to 4 twigs of thyme (tied with kitchen twine)
Share This: