With an outside-of-the-box wedding concept in mind, a group of talented wedding vendors set out to draw inspiration from non-mainstream sources. Captured by
From the designer, "As vendors we often work with couples who are overwhelmed by what they feel their wedding should look and feel like ... and so what we really wanted to do was to provide some direction around how to make your wedding uniquely yours."

"We set out to encourage our clients to explore different options design-wise. As a photographer I wanted to work with a group of pros who had the passion and drive to dream up something unique and fun while still creating a cohesive design."
Union Pine is a beautiful, industrial indoor setting on the Southeast side of Portland.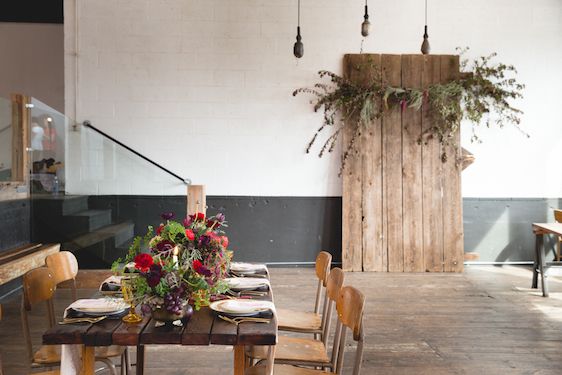 I'm loving this mix of the reclaimed wood and the industrial lights...
"On the day of the shoot, everything just fell right into place..."
"I think that also speaks to putting together a real wedding; choose quality vendors who you trust and when it comes down to it, it all just works together."
Wildfang

is amazing and creates the best suit styles for women...
The bouquet by

Emerald Petals

was to die for and I just love all the lush greenery.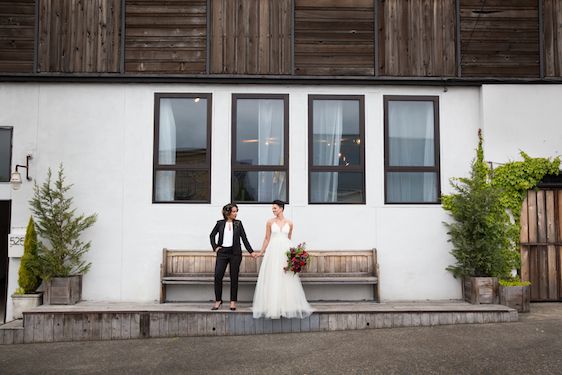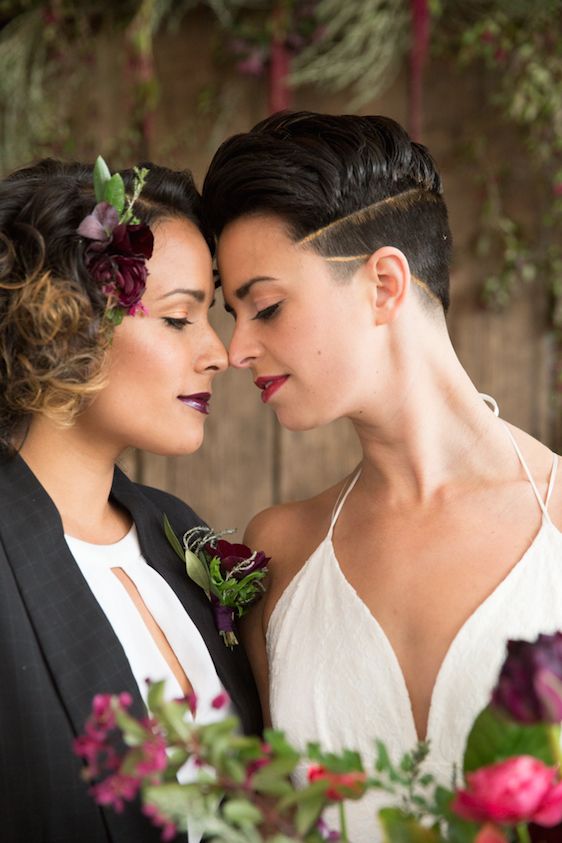 For the ceremony backdrop, a simple and organic design was created. Some dried greenery on a rustic door. Beautiful and timeless, while still being unique and fresh.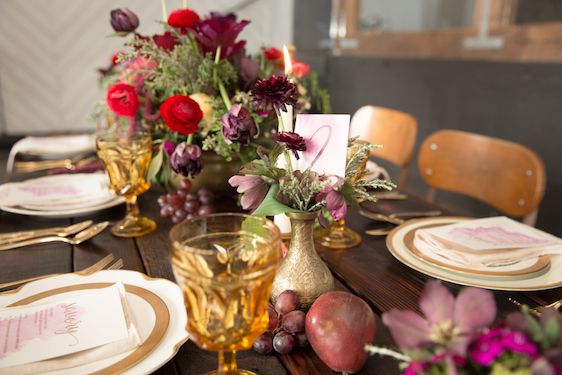 Looking for a way to add interest to your tables? Why not incorporate fruit to add a variation in color and texture?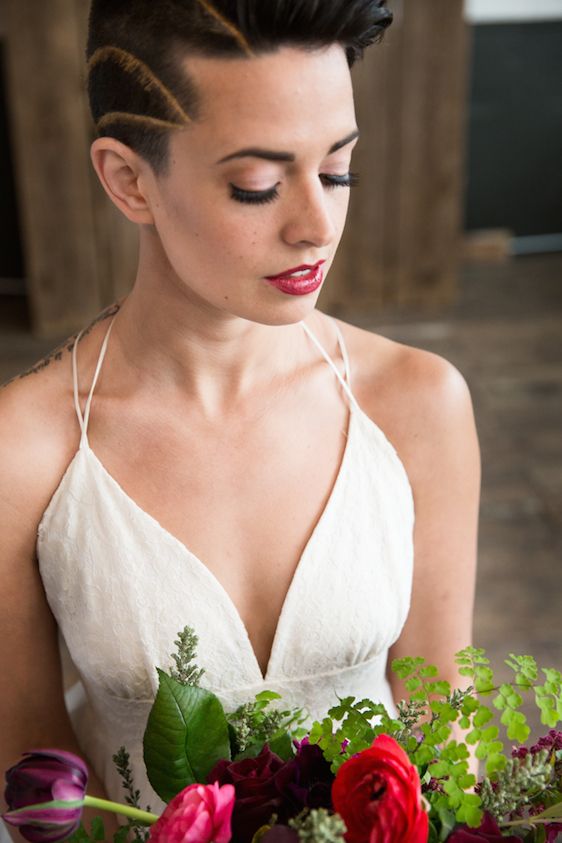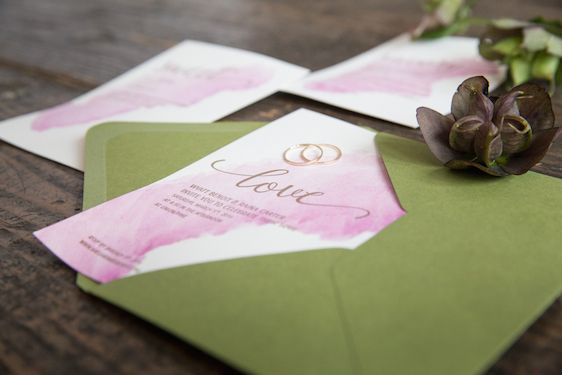 Another standout for me is this gorgeous stationery designed by Jehn Glynn!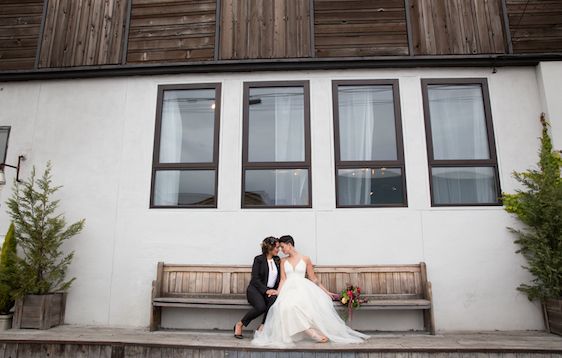 Elizabeth Dye is an incredible wedding gown designer who in based in Portland but shows all over the world. I love the juxtaposition of a feminine dress with a tomboy, female suit.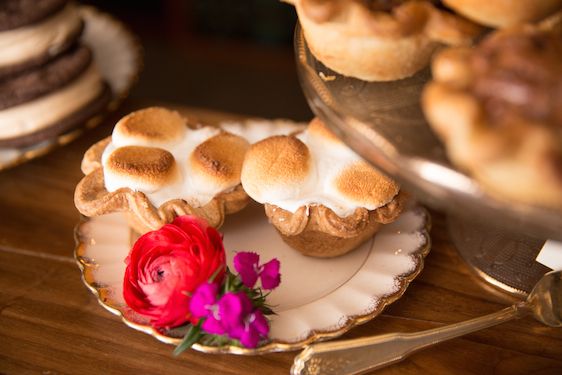 Want to think outside of the dessert box? Goodbye cake, hello pie and ice cream.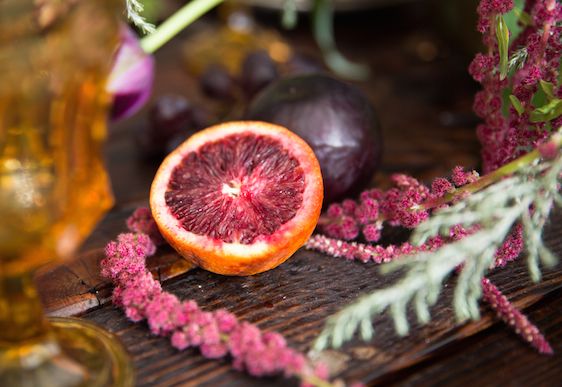 Carrie Strahle knocked it out of the park with makeup and hair. Because, um? Have you seen these gorgeous gold lines that she place in Wyatt's hair? She perfectly mixed femininity with edgy with both brides.
For your floral design... think unique, asymmetrical, and sprawling. Hilary of

Emerald Petals

put together these beautiful centerpieces using rented golden glassware and fruit.
From the photographer, "Wyatt and Raina have quickly become two of my favorite people."
They are a real, married couple, but their own wedding was quick and they weren't able to have a lot of the elements that they had always dreamed of having.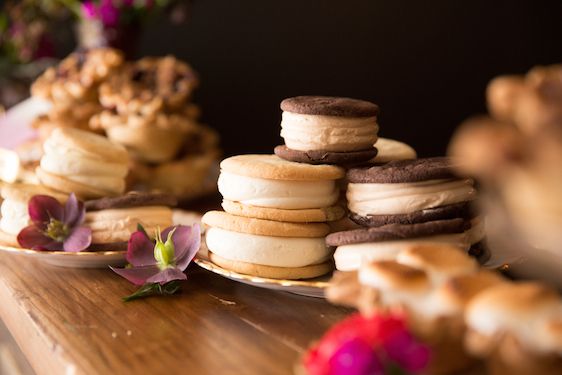 I just love how these gold glasses make the purple and red hues in the flowers pop, and they are unlike anything I've seen at a wedding. Wyatt got to wear her dream dress for the shoot...
And they got to experience a setting that was put together by local professionals with their unique styles and personalities in mind. Win, win.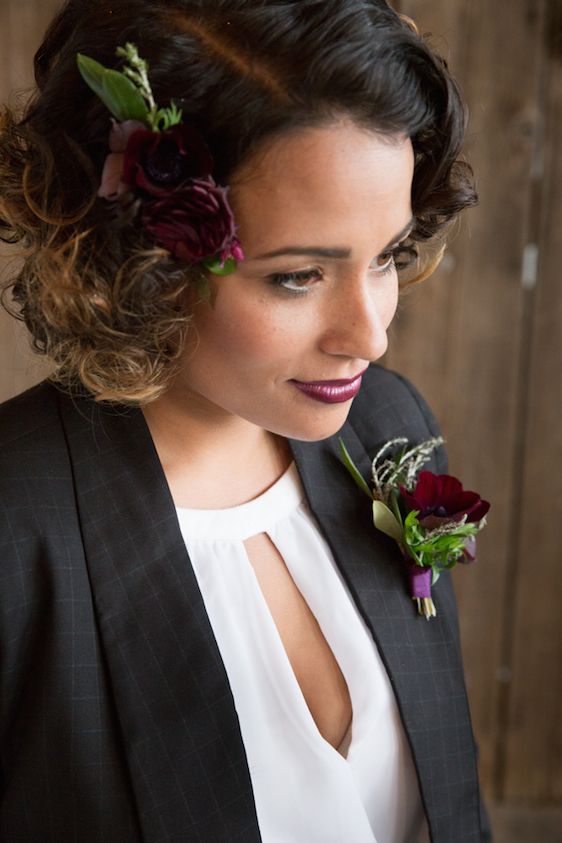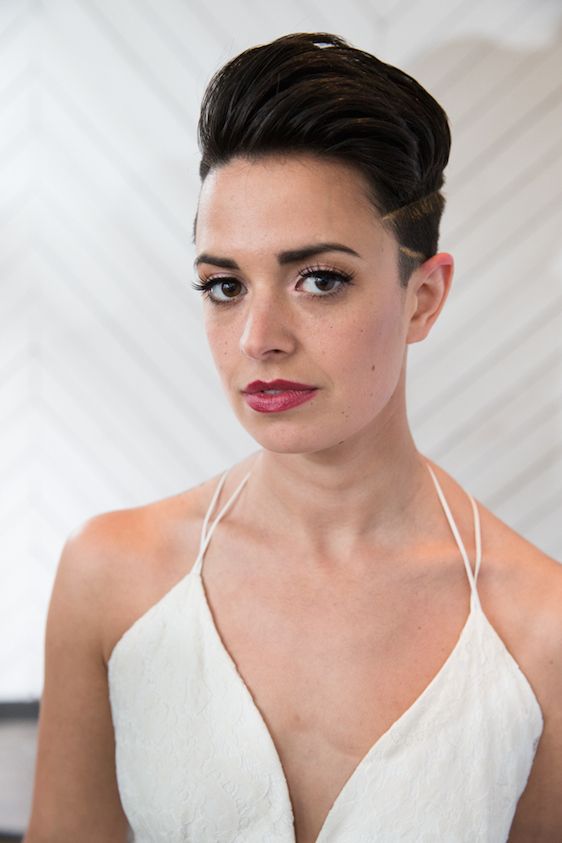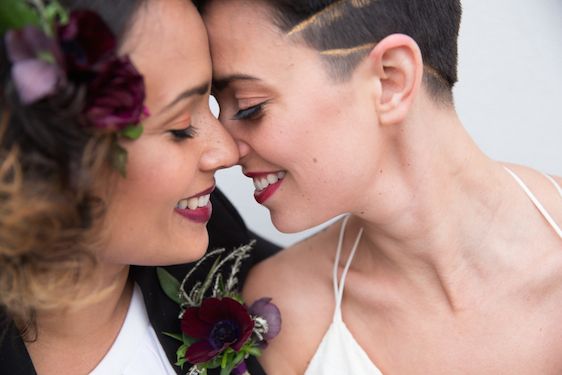 Their smiles are contagious are they not?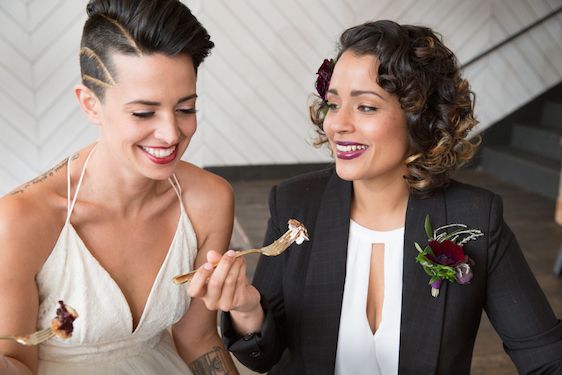 So inspiring, if you ask me! Thanks to all of these amazing Portland wedding pros for all that they did to bring this ultra-hip, boho-inspired shoot to life.
I so appreciate all of the edgy, artistic, and thoughtful details! Time to pin, pin, pin!
Share This: