The holidays are just around the corner, you guys! Know someone who might be thinking about popping the question? Or perhaps you're looking for a special gift for the lady in your life? Please tell me that you've heard about my friends over at
Simon G. Jewelry
?
With a gorgeous collection featuring the prettiest diamonds, statement pieces, and engagement rings, Simon G. Jewelry really does have it all!
And lucky for me? As chance would have it,
I actually had the opportunity to meet the Simon G. team while I was in New York City during Bridal Fashion Week! And I actually came away with some amazing tips that I think you'll find really helpful if you're looking for jewelry this holiday season!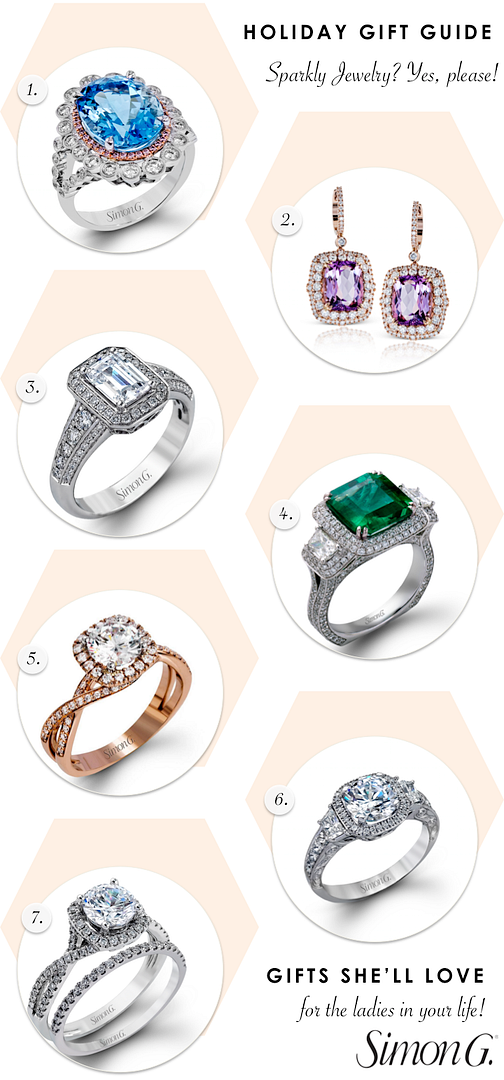 1.

LE01023 Fashion Ring

2.

ME1732 Earring

3.

MR2385 Engagement Ring

4.

MR1794 Fashion Ring

5.

MR1394-A

6.

MR2404 Engagement Ring

7.

NR468

First things first, let's talk about diamonds, shall we? You see, one thing I want to stress is the fact that diamonds aren't just for special occasions anymore, my loves! And so if you're looking for a classic gift, something that they'll be able to wear forever, I absolutely recommend a pair of
diamond earrings
or even a
pendant necklace
.
Seriously, you can't go wrong with a simple and elegant piece of diamond jewelry. Here's some of my favorites from their collection!
Looking to make a statement? Well, if you're buying for a bigger occasion like an anniversary, for example, I suggest trying a statement piece. Have a piece custom made! Simon G. designs and crafts many of their statement rings around singular gemstones so that the entire piece is completely unique.
Want to know the kind of statement pieces I love the most? A sparkly
cocktail ring
or an ornate, vintage-inspired
pair of earrings
are always on my list of favorites. Plus when you buy a quality piece like the ones from Simon G. Jewelry, it becomes an instant heirloom.

Are you thinking about popping the question? Looking for the perfect
engagement ring
that says it all? Maybe you're a little bit nervous about the whole ring buying process? Well, not to fret, my loves, because I'm here to give you a couple of pieces of advice that I'm sure will help ease your mind a bit.
First, let me applaud your choice to pop the question during the holidays! As people travel to be with their families and look ahead to the coming year, it really is such a magical and memorable time to get engaged.
One thing I would suggest, however, is this - If you're planning to propose during this holiday season, please, please, please do not leave ring shopping to the last minute! You see, customizations or ring sizing can add weeks onto a ring building timeline.
Also, don't forget that once the holiday parties start and and traveling begins, schedules can get quite busy and overwhelming! I suggest that you make arrangements well ahead of time so you'll be fully prepared when the time comes.
So what are you waiting for? Go ahead and pop the question! Make a statement and gift the lady in your life something she'll love and cherish! And don't forget to head on over to
Simon G. Jewelry
to start discovering all that awaits in this stunning jewelry collection!
Share This: