So... let's get one thing straight. People love food. And so it might not come as a surprise to you when I say that edible wedding favors are always a hit! Seriously. You can't go wrong with donuts or mini bottles of champagne. Am I right?
And so if you're engaged and trying to figure out what to hand out as favors. I'll give you this one little tip. Go for an edible favor! Don't waste your money on favors that guests will throw away or leave on the table at the end of the night!
Food is always a good idea. Trust me.
1. DONUTS
I love the idea of giving out a midnight snack! And so these donut favors are a total hit in my book! Bonus points for Krispey Kreme donuts. My favorite!
Shop boxes
here
2. CHAMPAGNE
And what goes great with donuts at midnight? A bottle of champagne for the hotel room, maybe? Yes, please! I'll take two. Professionally printed labels and a little bit of ribbon sure do make a pretty presentation. Wouldn't you agree?
Shop labels
here
and also
here
and
here.
3. OLIVE OIL
Having grown up near Napa Valley, I can definitely say that Olive Oil bottles were always in demand in our household. Great for vineyard weddings!
Shop bottles
here
4. SALSA
Did someone say homemade salsa? Yes, please! I'm always up for spicing up my dishes! And so that's why this favor idea is a huge hit!
Shop mason jars
here
and you will find tags and labels
here.
5. COCA-COLA BOTTLES
Ask anyone who knows me. I'm a huge Coca Cola lover. And most people are! It's not something I drink all the time though! So it's definitely a treat!
Shop Coke supplies
here
6. MACARONS
Macarons have become super popular here lately and it's easy to see why! First off, they're adorable. And secondly, they are super tasty. It's a win-win! Order them from a local bakery, or make your own!
Shop Macaron supplies
here
and
here
!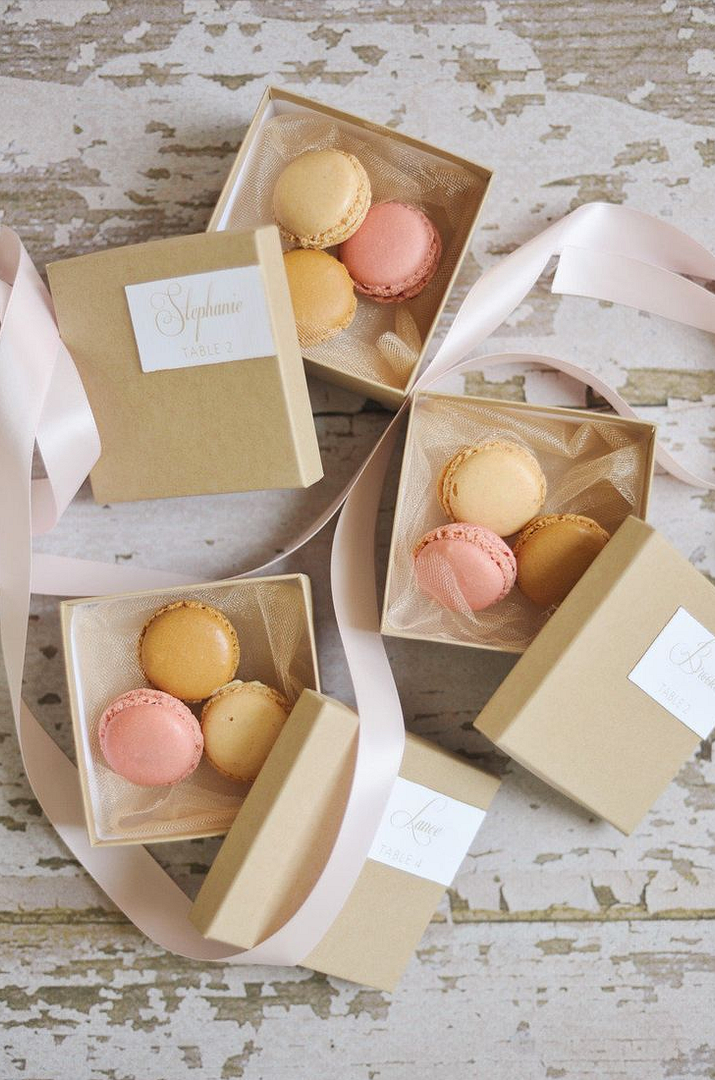 7. S'MORES
S'mores is another favor that will surely be a hit with your guests! Because what's not to love? Pick up the food supplies from a local grocery store + wrap them up in plastic boxes with a bit of ribbon!
Shop plastic containers
here
or go here to
buy them assembled!
8. HONEY
Honey is another cute favor idea. It's a staple in most homes so it's definitely a very sweet and sensible favor. I like the idea of honey favors for Summer weddings especially.
Shop honey dipper stir sticks
here
and shop all the honey favor ideas
here.
9. CARAMEL CORN
Caramel corn, anyone? Don't mind if I do! Prepackage them to make them simple to take home! A bit of burlap, a little twine, and mason jars? That's all it takes, my friends!
Shop mason jars
here
and caramel corn
here.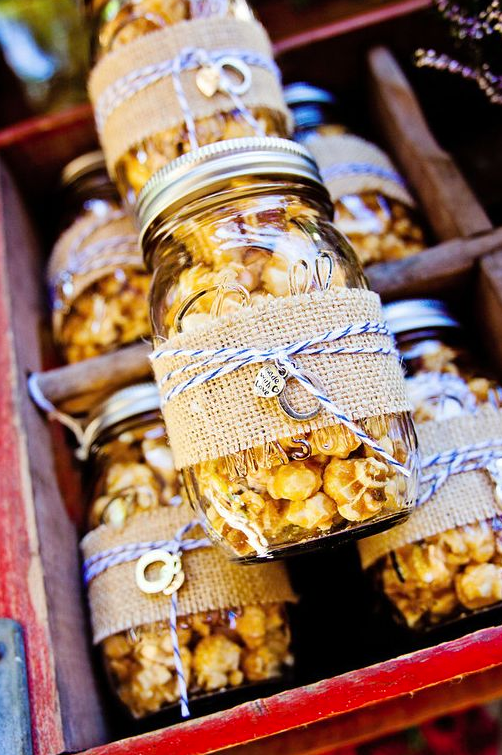 10. COFFEE
Another awesome favor idea is coffee! Because again.... What's not to love? Most people drink coffee and if they don't they'll surely know someone who does!
Shop coffee favors
here
and
here.
Planning your wedding or know someone that is? Be sure to pin all of these fun ideas! You'll be glad you did!
Share This: