Wedding colors are a tricky thing. You want to pick a color palette that will work with your venue, but you also want to be sure that the colors will compliment your bridal party too. And then there's the whole idea that you'll want to select colors that are practical for the season.




And with irresistibly pretty palettes around every corner, it's no wonder that so many couples have trouble narrowing it down. Am I right? Believe me, I considered all kinds of colors! From the bright and bold to the light and airy...And guess what? I fell in love with far too many color palettes along the way. It's too bad we couldn't have used them all!




Still on the hunt for the perfect palette for your Winter wedding? Here's a look at 5 of my favorites for Winter!



1. Berry Tones + Blush Pink:
Berry tones will always have a place in my heart. And I'm hoping you can see why. From cranberry to raspberry and everything in between, I'm really liking this combination here lately. Throw in some blushy pink tones, and a touch of ivory and you'll have a palette that's nothing short of photo-worthy.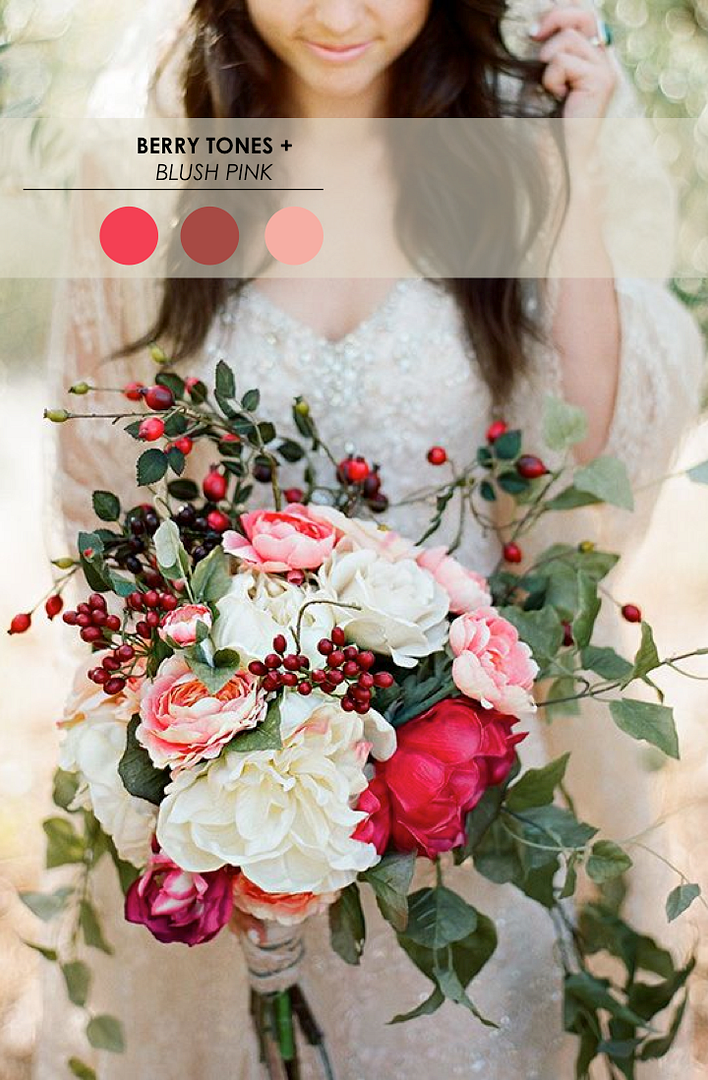 2. Emerald Green + Gray Tones: If you're a green girl at heart, then you're going to love this palette which combines emerald and gray tones. Elegant, romantic, and all kinds of gorgeous, this shade of green really is an amazing one. And definitely fits nicely for the season.
3. Radiant Orchid + Blush Tones: Absolutely exquisite. That's the thought that comes to mind when I see these made-for-each-other shades! Radiant Orchid looks so nice with blush tones like these. And it's a perfect color palette for Winter. A great color palette for exuding elegance, sophistication, and beauty.
4. Ice Blue + Grayed Jade: If you're a cool color lover, then this one is for you! I really love the idea of mixing ice blue tones with grayed jade. Throw in a bit of romantic ivory and you'll have yourself a palette that's romance-ready!
5. Brown and Gray Tones + Ivory: A natural softness makes this neutral color palette of beautiful brown and gray tones look cozy and approachable. So easy to pull together and what a beautiful look it is! I like the idea of incorporating tons of texture with this palette.
So here's when you guys tell me your favorites? Today palette #1 and palette #2 get my vote! Happy holidays, you guys!
1. Styling + Florals by

Clayton Austin

+

Love is a Bird

2.

Lauren Nelson Photography

styling by

Kae and Ales

via

Wedding Sparrow

3. Photography by

Morning Light by Michelle Landreau

Floral design by

Flowers by Yona

via

100 Layer Cake

4.

Ashley Nicole Events

, photo by

Shalynne Imaging

via

Wedding Chicks

5.

Kerrie Dolittle Photography

via

Style Me Pretty
Share This: