Say hello to my new favorite color palette. Midnight blue and glittery gold sure do look like they were made for one another. Wouldn't you agree? And with so many gorgeous and elegant ways to bring these colors to life, it's no wonder I had a tough time narrowing down the images I wanted to use for this vision board.
I'm loving all of these star details and those glittery, twinkle lights. I've always been a fan of those. Very whimsical.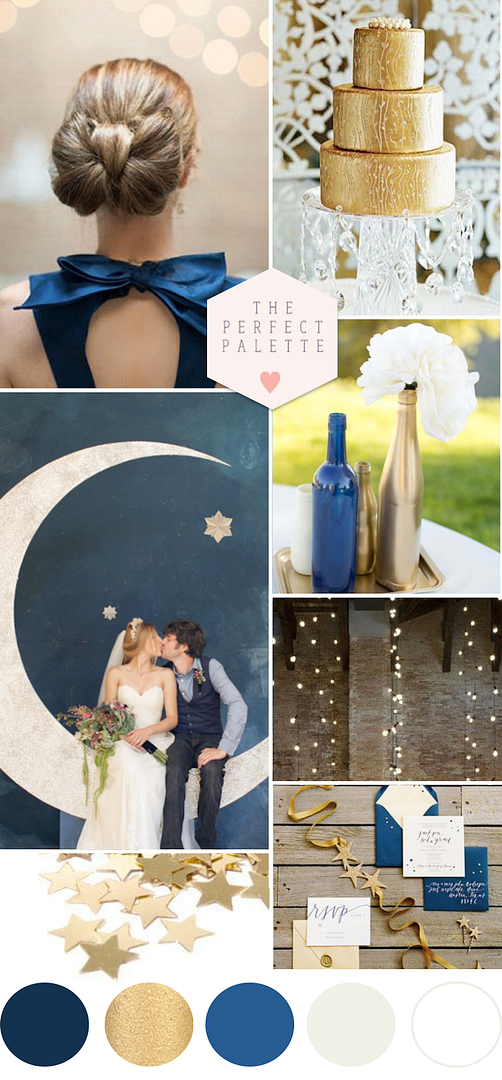 Oh, and who isn't loving the idea of using spray painted bottles as vases? Hello inexpensive centerpiece idea! Can you tell that my DIY obsession has been growing leaps and bounds here lately? Yep, I was a DIY bride myself and I couldn't love this creative idea more. So simple. So lovely.
These are the sort of colors that make me want to throw a party! What do you think? First off, would you want to come to a party that looked like this? And secondly, are you liking the way these colors work together? And if so, what kind of ideas would you incorporate to make it yours?
Share This: