When it comes to registering for your big day, it's no secret that this wedding-obsessed lady here at The Perfect Palette knows
exactly
where to turn. Did someone say

Williams-Sonoma

?
Not only do they have the top brands, and the most amazing kitchen items EVER, but they also make it easy-as-pie for you to create the perfect registry.
The best part? You can add to your registry in-store (hello, amazingly fun scanner!) or online!
Want a chance to win your

Dream Registry

? Well, get excited because when you create a registry at Williams Sonoma you're automatically qualified to win a $5,000 Williams-Sonoma Gift card plus exciting weekly prizes from KitchenAid, Le Creuset, Wusthof and more! Are you imagining the possibilities? I sure am. Oh, and can you believe that everything I've featured below is actually under $100? Yep, it's true!

Want to know what I love most?
100s of

Williams-Sonoma

items are priced at $100 or less! This makes it simple for friends and family to get you a little something special without breaking the bank!
They offer a

10% completion discount for 6 months after your event date!
Williams-Sonoma gift cards can be used at both Pottery Barn and West Elm! (Two of my other all-time faves.)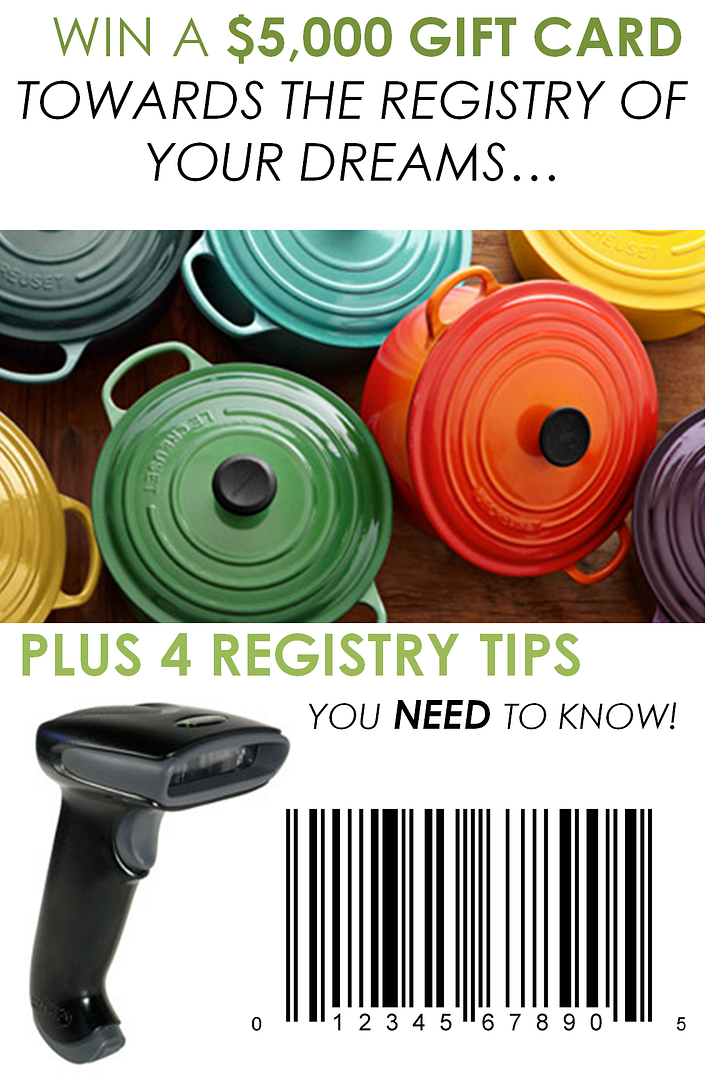 Need a few quick tips? Okay, here's my short list including the
4 tips you need to know:
1)
Don't register on an empty stomach (need I say more??)
2)
Do
register as a couple (it's a bonding experience plus you'll want to make these decisions together).
3) If you opt to start your registry in the store, don't think that you need to do it all in one trip (you can always finish the registry online).
4) And last but not least... try, try, try to not check your registry the week before your shower! It seriously takes the fun out of it! Trust me.
Oh, and don't forget to register for some of the items from Williams-Sonoma's new
Open Kitchen
. With 100+ everyday kitchen essentials starting at just $5, if you're anything like me than you're sure to find yourself in kitchen gadget heaven.

DREAM REGISTRY SWEEPSTAKES:
Prizes: $5,000 Williams-Sonoma Gift card plus weekly prizes from KitchenAid, Le Creuset, Wusthof and more!
TO ENTER:
1) Visit

Williams-Sonoma Registry page
2) Scroll down and click on "create a registry"
3) After you create your registry click on the "Dream Registry Sweepstakes" bar at the top of the page.
To increase your chances, enter daily through March 16, 2014.
So what are you waiting for? Hop on over to

Williams-Sonoma

with your main squeeze

, and start setting up the registry of your dreams! The only decision left to make is what to register for first! At the top of my list?

The KitchenAid Stand Mixer

. I'd

love to hear what you're pointing that registry scanner at!

Happy registering, friends.
*
Sponsored by Williams-Sonoma but all opinions are my own.
Share This: