Okay, so I'm pretty sure that I've voiced my opinion on the whole mix and match bridesmaid dress trend in posts past. Admittedly, I've never been a fan. But here lately, I've seen some really great examples of this trend ''done right'' and well, I think I'm changing my tune.
Still on the hunt for the perfect bridesmaid dresses?
Here's a look at 5 of my favorite mix n' match looks! From the prettiest neutrals to most creative color palettes, I have to admit, that I'm inspired by them all. And I'm hoping you can see why?
purple gray and black |
photo by bella bridesmaid
via get hitched give hope
1. A Pastel Palette:
If a soft elegance is what you're going for, then this is the perfect palette for you! Perfect for Spring, these sweet shades were just made to go hand in hand! I love that these dresses all have the same sweetheart neckline, but then they decided to mix in some different accessories, like necklaces and heels. This way, each bridesmaid has her own little look. And quite frankly, I'm in love!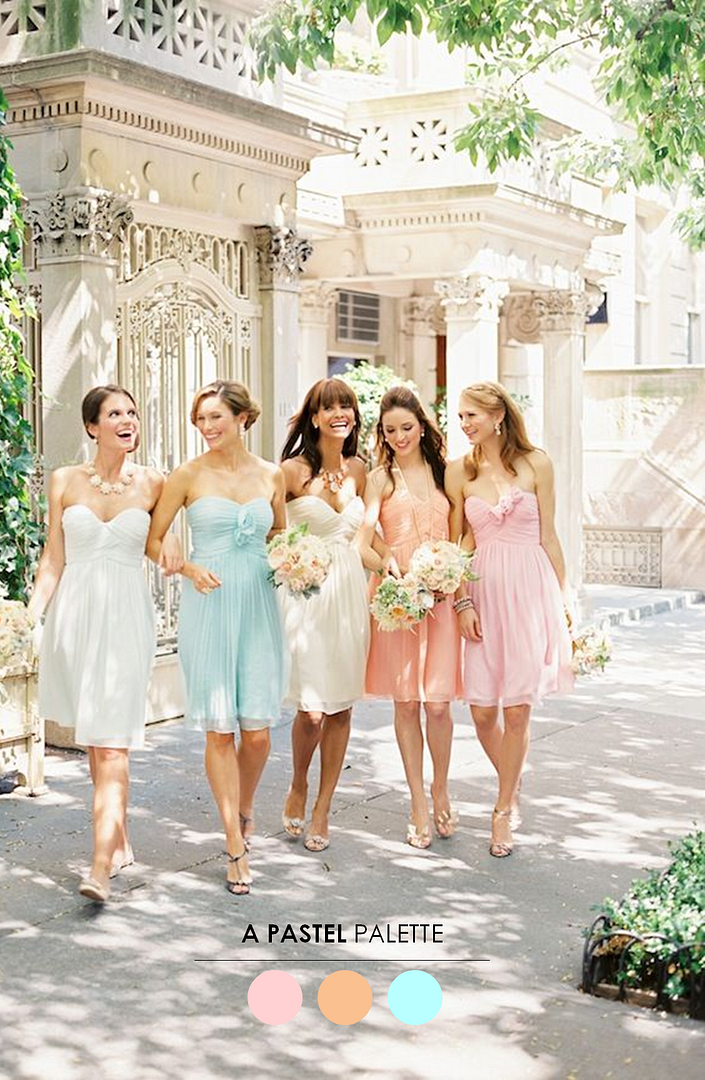 a pastel palette | photo + dresses by donna morgan
via bridal musings
2. Shades of Purple:
I can't say enough about this pretty palette! Perfect for Fall, these colors always have me at hello! I'm absolutely in love with all of this gorgeous texture, not to mention the different necklines and hemlines. Looks like they just walked out of a fairly tale. A very beautiful example of mix n' match done right.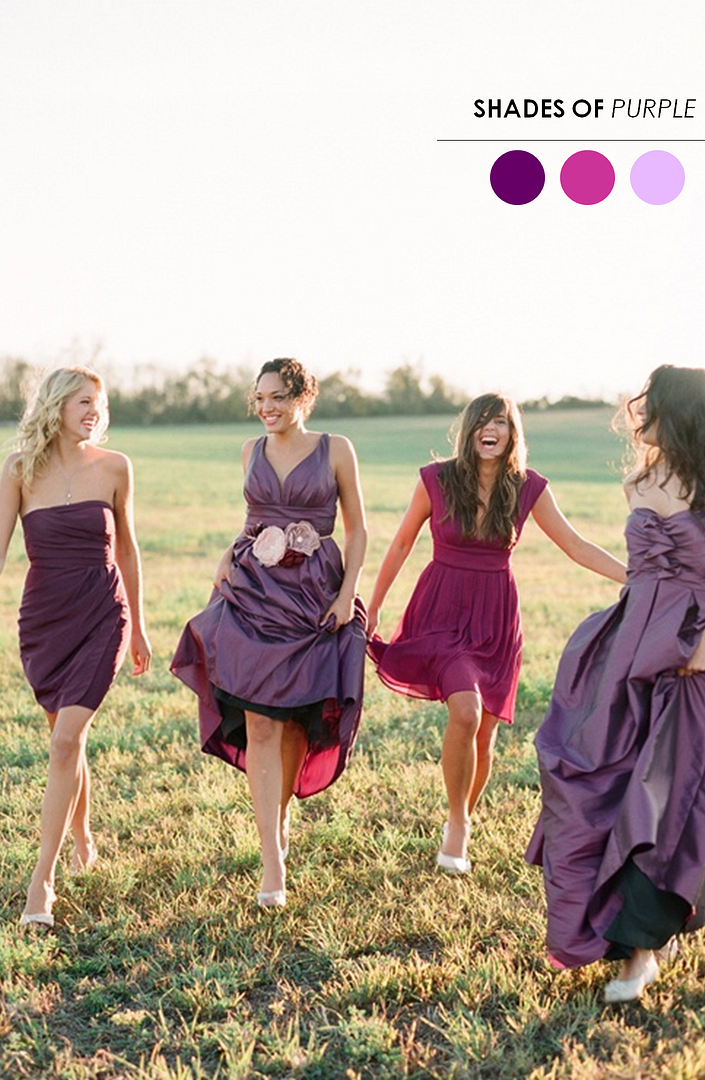 3. A Muted Palette: A natural softness makes this neutral color palette of beautiful muted tones look ethereal and all kinds of dreamy. I'm totally obsessed with how these different neutrals shades coordinate so effortlessly. And just look how they flow in the wind. So dreamy if you ask me!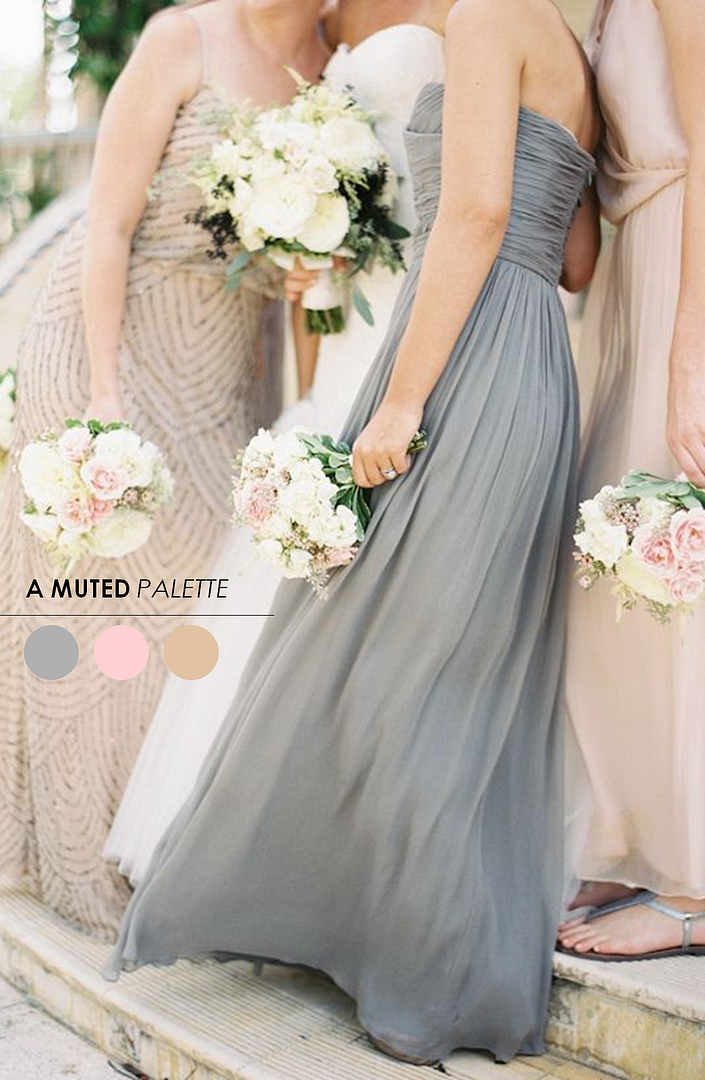 4. Shades of Green: What's elegant and romantic and gorgeous all over? This mix of green shades happens to fit the bill. What makes this work is that these colors are in the same family. So when paired together, they have a way of coming across especially easy on the eyes.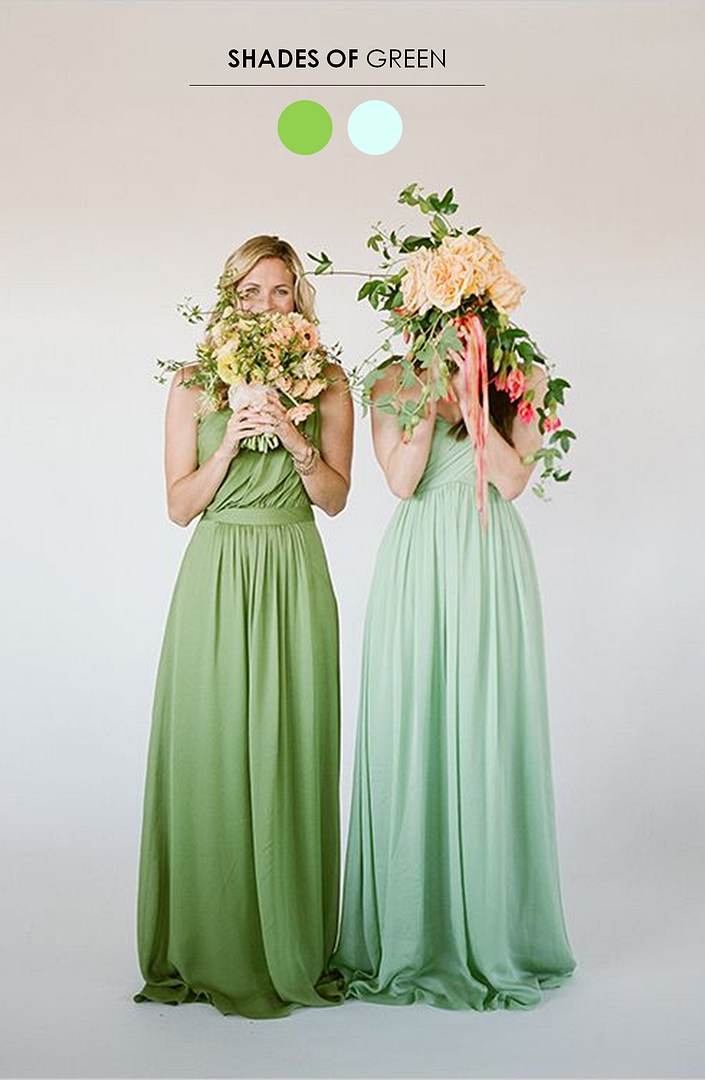 5. Teal + Mint: Looking for an ultra romantic color palette that's full of possibilities? Why not consider this beauty of a palette? Works for all seasons and it's so easy to pull together! Plus I'm in love with how the bride had her friends wear a mix of lace and chiffon.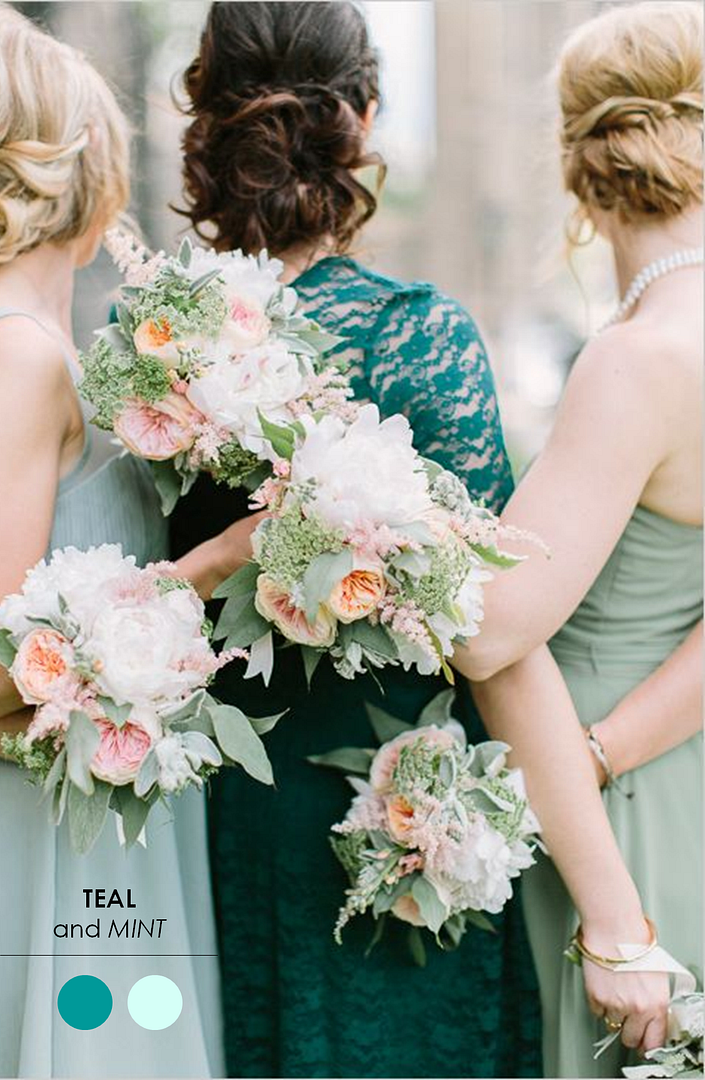 So there you have it! 5 of my favorite mix n' match looks for bridesmaids. Did you see any favorites? I know, I know. It's a bit hard to choose just one! And yes, my opinion has totally changed when it comes to this trend. How could I not be on board after seeing these lovely looks?
So tell me... Are you a fan of the whole mix and match bridesmaid dress trend? And if so do you lean toward the more bold pairings or towards something a bit more subdued? I can't wait to hear! Oh, and if you're looking for a few more color ideas, be sure to head over to the
color palette gallery
where you're sure to find more wedding color ideas than you could ever need!
Share This: