It's definitely feeling like Fall here in Georgia this week. Which of course makes me just about the happiest girl alive. I don't know about you, but a nip in the air always has a way of putting me in the best mood. Maybe it's because it gives me a reason to turn the AC off and open up a few windows. Or maybe it's because I sort of have a way of romanticizing Fall and everything it entails?
One thing is for sure... Fall has a way of capturing me. The colors, the textures, the smells. Yep, I'll always be a Fall girl at heart! And so today I thought I'd put together a few Fall color palettes. But instead of going all bright and bold, today I decided to stay on the softer side. So here go! Here's 3 neutral palettes inspired by the greatest season of them all! Yes, yes. I'm totally playing favorites.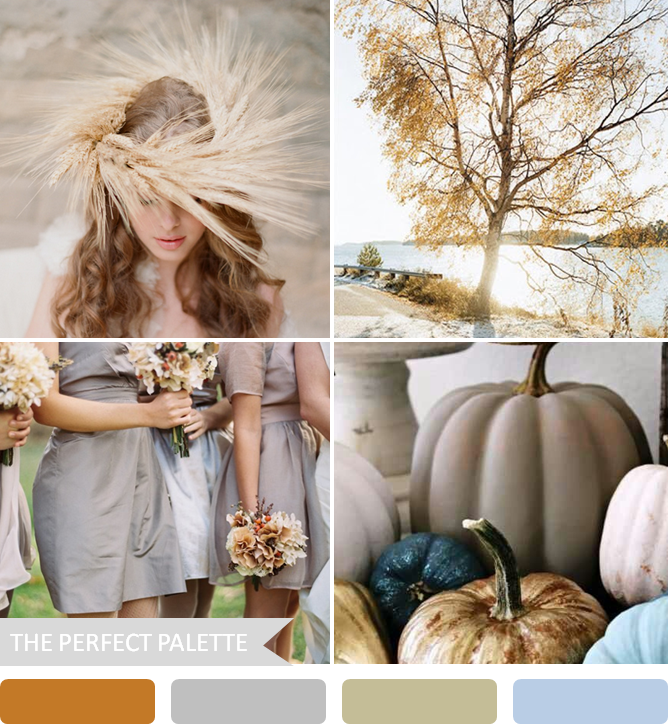 This first palette combines the prettiest of neutrals with barely there blues and just a hint of copper. I really love this one because it has a very natural feel. It's harvest inspired, but at the same time it's not the same old generic look we seem to see year after year.
Looking for a color palette that is a bit unexpected? I'm loving these moody purples combined with gray for Fall. These faded tones are beyond gorgeous. And I can't help but fall in love with this lace, vintage inspired fascinator.
And lastly, we have this lovely look that combines dusty blue with shades of soft gray and a yellowy-ivory shade. It's natural and a bit rustic. And I really like it because it comes lace accents like we see here on this gown as well as touches of burlap. It incorporates a little bit of fancy and a little bit of that down home charm that's always been near and dear to my heart. Plus these colors are definitely taking me somewhere dreamy!
So there you go, loves. I hope you enjoyed seeing these Fall inspired neutrals. I definitely enjoyed putting them together! Tip: Always remember w
hen looking at neutrals that there are warm & cool neutrals as well as light & dark neutrals. So try to keep this in mind when determining the perfect shades to pair them with! So tell me... which of these 3 do you like most? And why?
Share This: