Hello! My name is Emma from

Emmaline Bride

and it is a pleasure to guest blog at The Perfect Palette today! When Chrissy asked me to pick a favorite wedding palette to share, many came to mind; however, one of my favorite wedding palettes is coral and gray. I love this palette because it's so versatile. You can plan a bold wedding with dark gray and an intense shade of coral - almost orange - or lighten it up with a soft, more delicate shade paired with light gray. This palette is perfect for spring and summer weddings and looks both chic and sophisticated. Since I'm obsessed with handmade weddings, I've incorporated plenty of handmade coral and gray wedding finds, too, along with inspiration from real weddings. I hope you enjoy this palette as much as I do!

Happy Planning!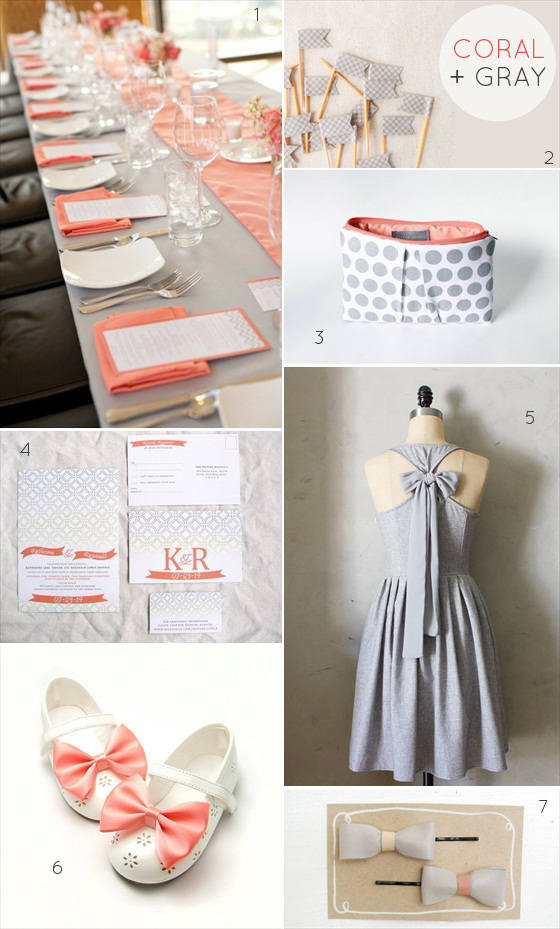 1 -

wedding table | elizabeth scott photography

|

styled by: ashley baber weddings

, |

via style me pretty

, 2 -

drink flags | nomes whimsy

, 3 -

clutch | allisa jacobs

, 4 -

invitation suite | runk pock designs

, 5 -

gray dress | fleet collection

, 6 -

flower girl shoes | my sweetie bean

, 7 -

bowtie bobby pins | gwaen's shop.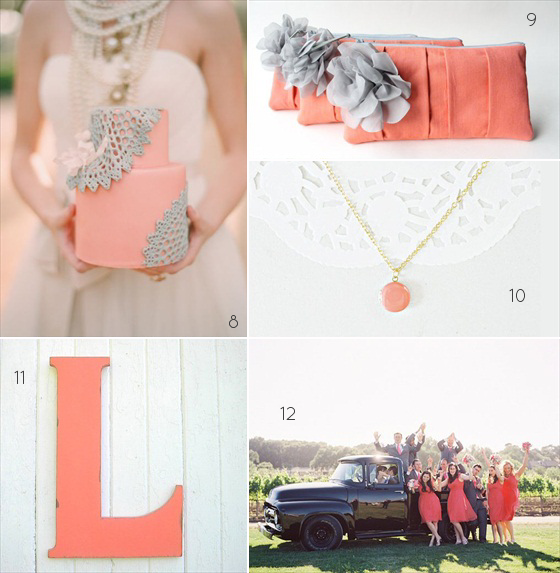 8 -

wedding cake | photo by elizabeth messina

|

cake by sweet and saucy shop

|

styled by: cortnie purdi of canvas and canopy

, 9 -

bridesmaid clutch | allisa jacobs

, 10 -

necklace | the blooming thread

, 11 -

letter | letters of wood

, 12 -

bridal party | michelle warren photography.

13 - j
ournal | duryea place designs
, 14 -
handmade sash | love like style
.
About the Author: Emma Arendoski is the Editor/CEO of EmmalineBride.com, The Handmade Wedding Guide. Check out her blog at www.EmmalineBride.com and her book,

The Handcrafted Wedding

in bookstores now!
Share This: