I don't know about you, but when I was engaged I definitely remember feeling as if I wanted to do everything I could to look and feel my very best on our wedding day! So for months I did everything from eating healthy to getting regular pedicures and admittedly, I even did a little teeth whitening! Because I don't know about you, but I've always felt that a girl's smile is her best accessory! But what if you're not completely happy about the way your teeth look? Maybe you've always wanted them a bit straighter?
Well, today's your lucky day, my loves! So get excited because
Martha Stewart Weddings

is actually looking to cast two brides-to-be who would like to straighten their t
eeth before their wedding to participate in this exciting initiative. Please see below for details.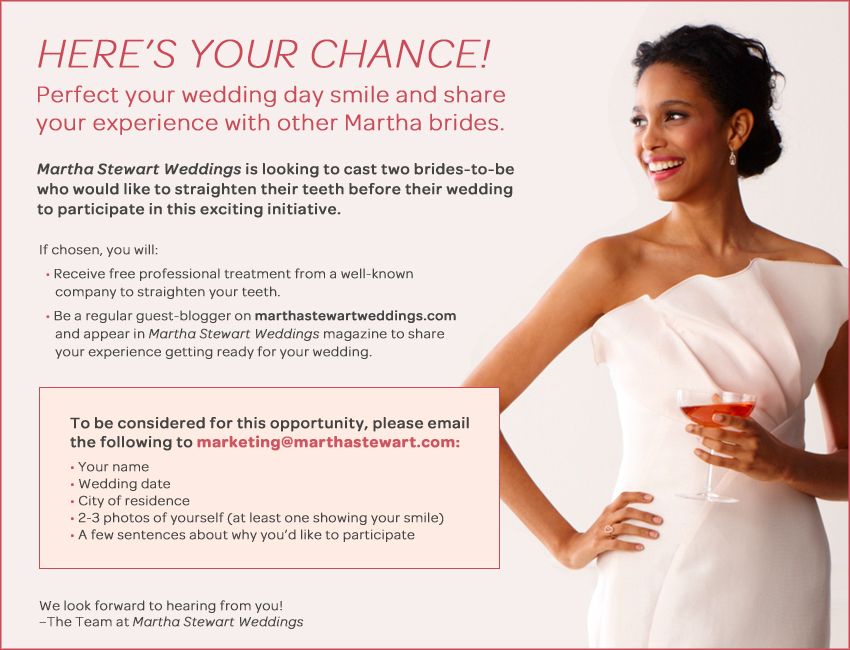 If chosen you will receive a free professional treatment from a well-known company to straighten your teeth! In addition, you'll also become a regular guest-blogger on
Martha Stewart Weddings
and appear in Martha Stewart Weddings magazine to share your experience of getting ready for your wedding!
To be considered for this opportunity, please email the following to the email address above!
*Your name
*Wedding date
*City of residence
*2-3 photos of your yourself (at least one showing your smile)
*A few sentences about why you'd like to participate.
So what are you waiting for? Last day to enter is Friday, 3.15 so be sure to get your entry together and send it in! Such a great opportunity if you ask me!
Share This: