Happy Monday, friends!
So here's the thing. Working on color palette posts is one of my favorite things to do. Truly. It's just plain old fun for me. But every once in a while, I just fall head over heels in love for a color palette and this is one of those. This pretty pairing of coral and shades of aqua really has me feeling inspired. Plus I don't think it helps that I'm already in a Summer state of mind! I know, I know... it's not even officially Spring time yet. But I can't help it! Planning our upcoming trip to the beach in May is probably not helping! In any case, I hope you will see what I mean when it comes to these colors...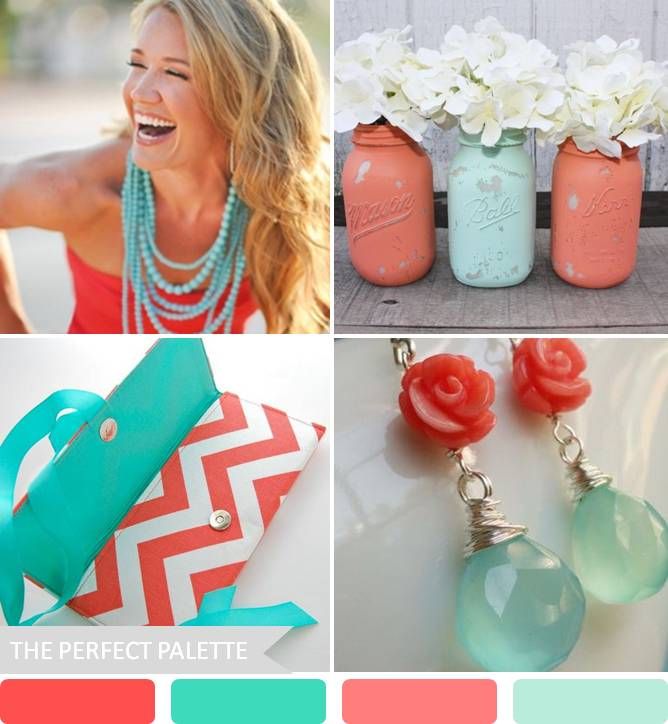 Coral and shades of aqua really do go hand in hand! I'm loving how bright and tropical and beachy these colors feel. Plus I'm already starting to imagine all of the pretty ideas one could use to bring a Summer wedding by the beach to life! Or why not a beachy inspired party with chic chevron touches? Bright, bold and oh so beautiful, this is the sort of palette that grabs my attention and inspires me to think creatively. So what do you think? Are you seeing the party planning potential with these colors? Or perhaps this is inspiring an upcoming wardrobe choice? Whatever the case may be, I hope you find some inspiration in this pretty palette!
Share This: