You might have noticed that it's been a bit more quiet around here on the Perfect Palette lately. And as much as I've truly missed you guys, I promise you it's been for good reason! My husband and I are so excited to announce that our twin girls were born on July 24th, 2012. Olivia Marie was born at 8:59 p.m. and her twin sister Brenna Rose was born a minute later at 9:00 p.m. I'm proud to say that I carried the girls to 36 weeks and 5 days and they were born at the very healthy weights of 6 pounds, 11 ounces and 6 pounds 7 ounces.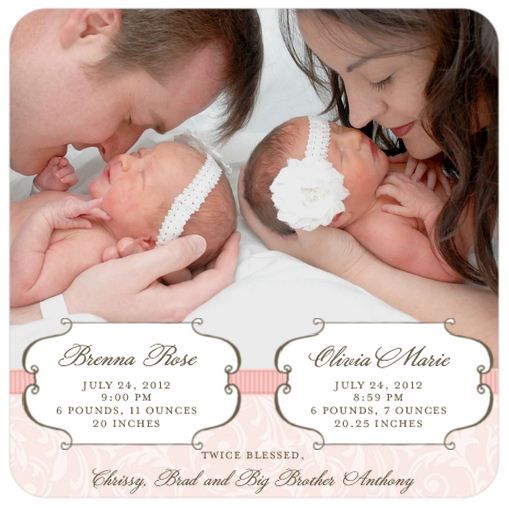 With a two year old little one already at home, as you might imagine we really do have our hands full. Yes, we're over tired and yes, we are overwhelmed at times.
But I truly wouldn't have it any other way!
The girls are such welcomed additions to our family and we feel so blessed that they are here and healthy. That being said, I wanted to let you guys know that I'm so looking forward to getting back to blogging. I've definitely missed you guys! So be sure to swing by next week as I have some creative ideas that I've been dying to share! I can't thank you all enough for all of the sweet messages, well wishes and thoughtful gifts! I seriously have the sweetest readers!
Share This: