When it comes to
wedding planning, nothing excites me more than discovering ways to make planning easier! Because let's face it... wedding planning can be overwhelming. Am I right, ladies? Well, listen here because I'm about to let you in on a very exciting way to make dressing your bridal party a piece of cake. Ever heard of
Macy's Wedding Shop
? It's the destination for everything wedding - your dress, his suit, their dresses, gifts and more! Not only has

Macy's Wedding Registry

taken the guess work out of finding the perfect look for everyone in your bridal party, but they've also created a tool called
My Bridal Party
which allows you to easily shop, create and share head-to-toe outfits with all your friends and family. Have bridesmaids who live in different states? Well,

My Bridal Party

is definitely for you!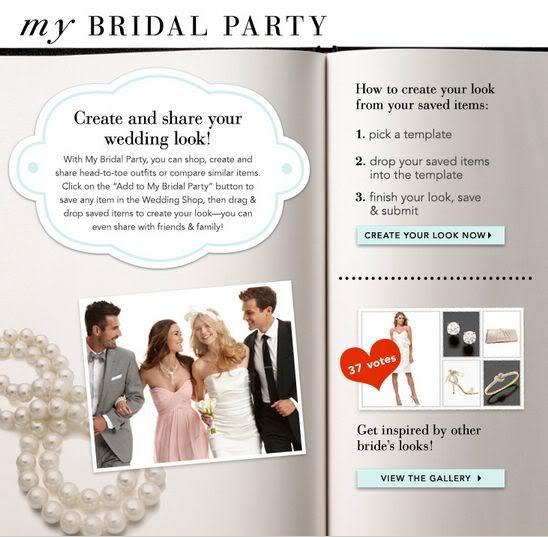 With the

My Bridal Party

tool, your bridesmaids can easily get involved by chiming in on what they love most and casting their vote for their favorites! It's fun, interactive and quite honestly... so easy! Oh, and I hope this goes without saying, but if you haven't yet registered... I definitely urge you to consider registering with Macy's! Not only do they have all kinds of newlywed essentials, but they also have a pretty sweet rewards program!
Macy's Registry Star Rewards
program is full of perks designed to help you earn reward dollars each time a gift is purchased off of your registry and/or as you stock up on all your fashion favorites. Receive 5% rewards on all of the registry gifts you receive and 10% rewards on purchases with your Macy's card!
What's not to love? So no matter where you're at in the wedding planning process, I invite you to hop on over to

Macy's Wedding Registry

and take a closer look at all of the amazing ways that Macy's has made shopping for your wedding a little more sweet! Believe me... you'll thank me later!
Share This: