After you've decided upon the perfect color palette for your wedding you might ask yourself, what next? Well, aside from determining where your wedding will take place and who might be in your bridal party, I personally think it's important to start thinking about selecting your wedding invitations. Now, as a former bride-to-be myself, I can definitely relate to how overwhelmed you might be feeling when you take a look at your ever growing to-do list each day and see just how much you still have yet to do...

But I'm here to tell you...it will all get done. I remember there was a period of time in which I let myself dream, and dream, and dream of all the ways I could put together my 'perfect wedding.' And you know what? At some point, I realized that all of the dreaming wasn't getting me anywhere. It was time to start making some solid decisions + it was time to get organized. Lucky for me my mom is all about 'getting things accomplished' and she definitely kept me on track when it came to giving me that extra push to making solid decisions.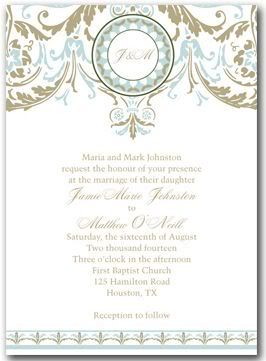 So let's say, for example, that you've decided upon a palette of shades of gray, red and white. Well, now you can safely start looking around at invitations within this color palette. I have two confessions to make. #1, I'm sort of picky when it comes to invitations. And # 2, I'm a sucker for a website that lets you 'search by color.' I guess my pickiness comes from knowing that the invitation is the first impression that your guests will receive upon being inviting to your wedding. Because, let's face it, your invite sort of sets the stage, in essence, as to what type of wedding they'll be attending...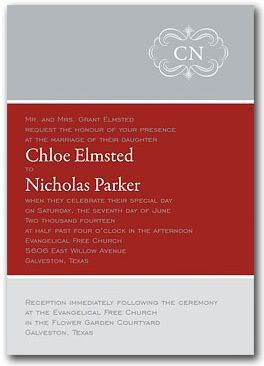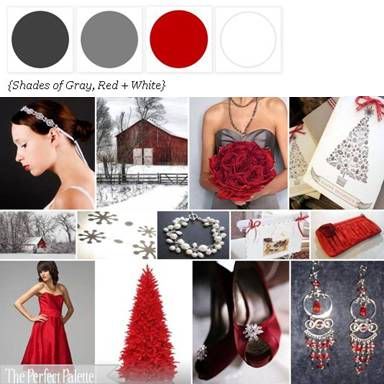 And being a self proclaimed 'queen of color' it's user-friendly color tools like this that just make me happy. That being said, I am always on the look out for fabulous shops that have both quality invitations + user-friendly color tools! Please tell me that you've heard about
Invitation Consultants
?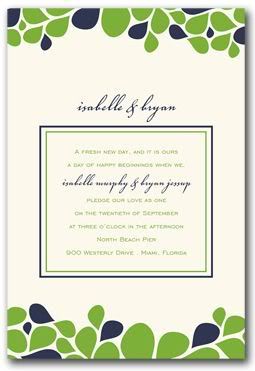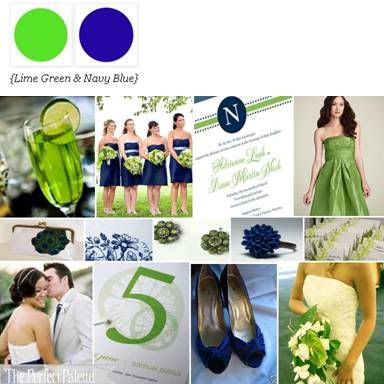 I don't know about you, but I'm all kinds of in love with their invitations. They have such a great collection of color palettes. And they seem to be really in tune in terms of what colors look best together. What I especially like is that not only do they let you search by color, but you can also search by more than one color at a time. Pretty, great right? See the invitation above that has the green + blue scheme? This gives you an idea of the unique color palettes that they offer.

And it's not just great color palettes they have. They also have some really incredible designs! I love the modern design above in the yellow + gray. It really has such a sophisticated look about it, but at the same time it comes across as so charming too.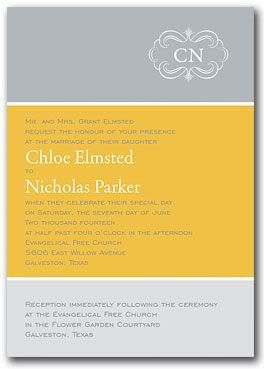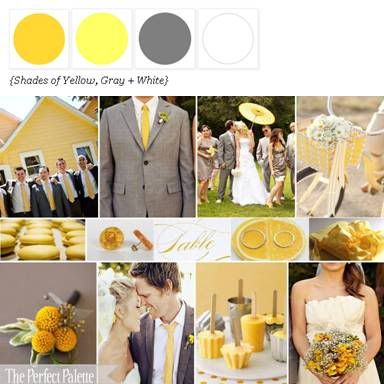 And just look at this gorgeous invitation in pink + gray! I really love this romantic design. It definitely has a way of being playful, elegant and fun all at the same time. I can see this one being so pretty for a Summer or Spring wedding. What do you think?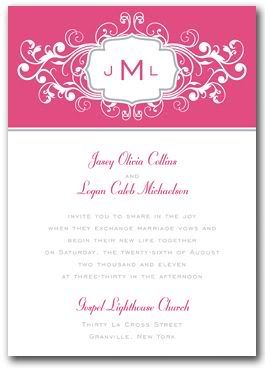 I guess the most important thing to remember is that your special day requires a special invitation. And whether you're having a
tropical wedding
,
modern wedding
or
traditional wedding
, the
Invitation Consultants
have something for you! I invite you to browse all of their great
colors
and
themes
!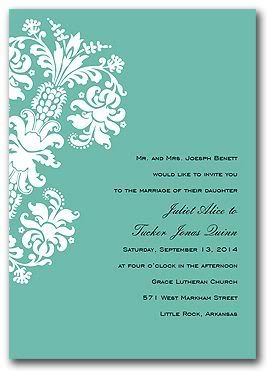 So tell me.... have you started to make headway on your 'to-do' list yet? Have you chosen a color palette? If so, don't be shy, let us know what colors you've decided upon? Oh, and don't forget that if you're still on the hunt for your wedding invitations that you should definitely check out the
Invitation Consultants
. Whether you're using bright, bold colors or lighter muted ones, the
Invitation Consultants
definitely make it easy to coordinate your color palette with your invitations. What's best is that they're always introducing new designs + bringing fresh new products to their site so they are definitely a shop you are going to want to bookmark!
Share This: