Happy Wednesday! To get us over the hump of the week, we're turning our eyes to this ultra-bright and contemporary shoot captured by
Amy Gray Photography
and coordinated by
Color Pop Events
.
Dreamed up because of the pop art movement, this jaw-dropping inspo is full of colorful pinks, deep blues, and the most fantastic yellow ranunculus and red anemone floral arrangements by
Michelle Edgemont
. The designer and florist for the shoot, Michelle was inspired by the pop art style and especially Andy Warhol's famous "Flowers" series. See how amazing this design is below!
From the coordinator,
"

I was approached by My Wedding magazine to put together a pop art-inspired shoot and could not say yes fast enough. My first call was to Michelle Edgemont, who I knew would bring the perfect design perspective for the shoot, and my second call was to Amy Gray, one of my fellow color lovers and an amazing California-based photographer. (We timed the shoot around her schedule to be back on the East coast.)"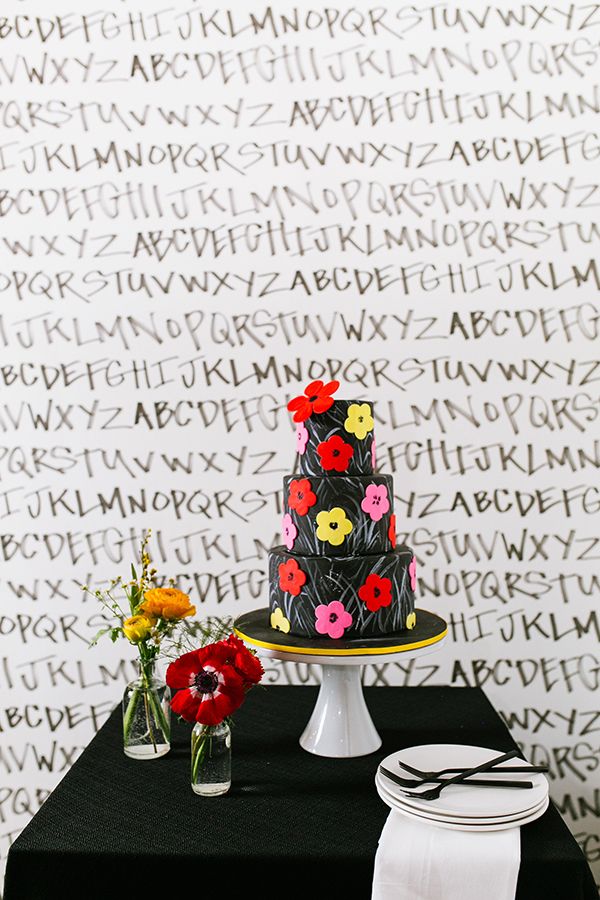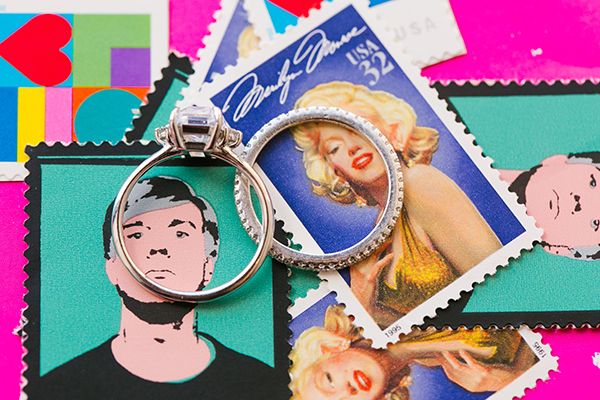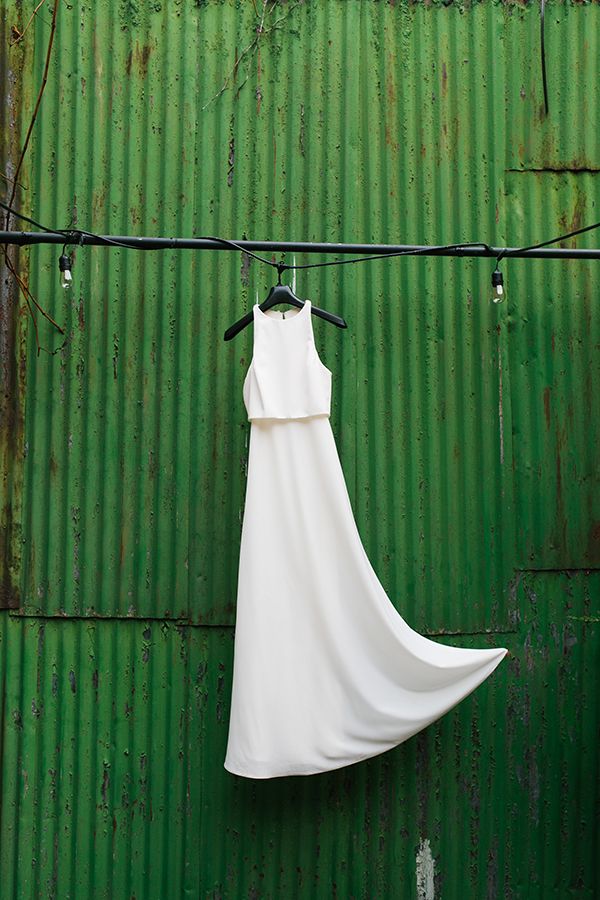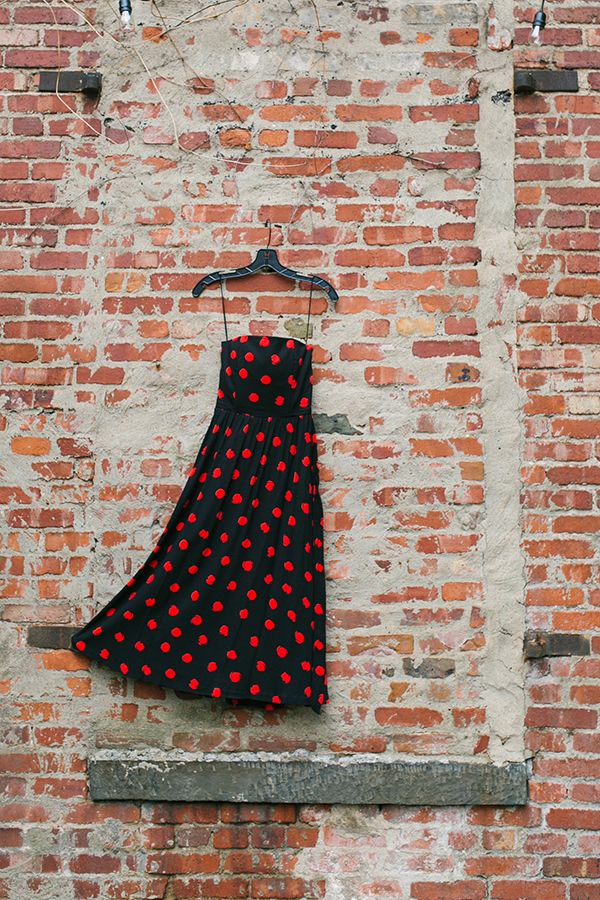 "
For a location, I couldn't think of a better spot than Dobbin St., one of Brooklyn's newest venues, and whose aesthetic is very heavily modern art-based. Our models for the shoot were one of my couples who got married last summer."
"In a funny twist of fate, they actually had Andy Warhol's flower painting as a backdrop for their wedding ceremony, and that same painting was Michelle's inspiration for the shoot's design. It was meant to be!"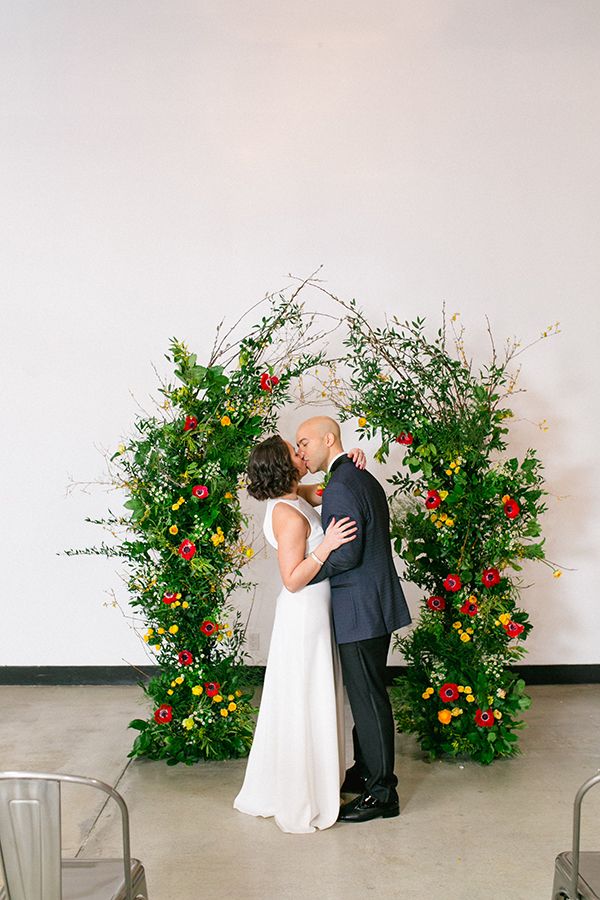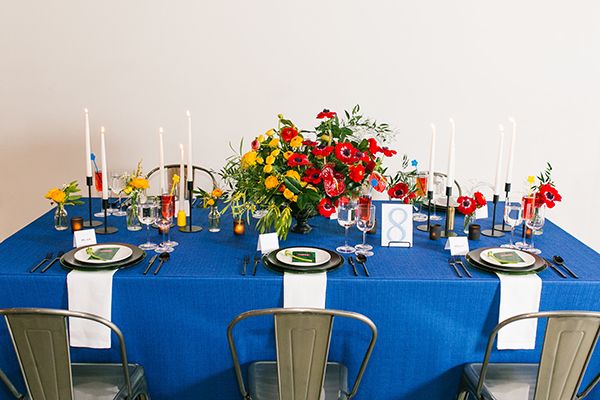 From the florist and designer, "
I did a lot of research on the pop art movement by digging into my art history books from college."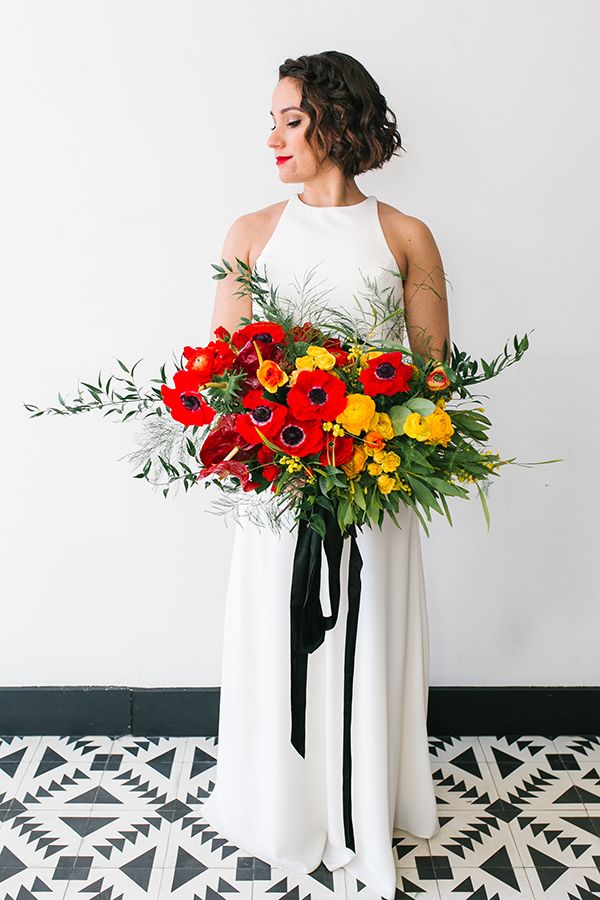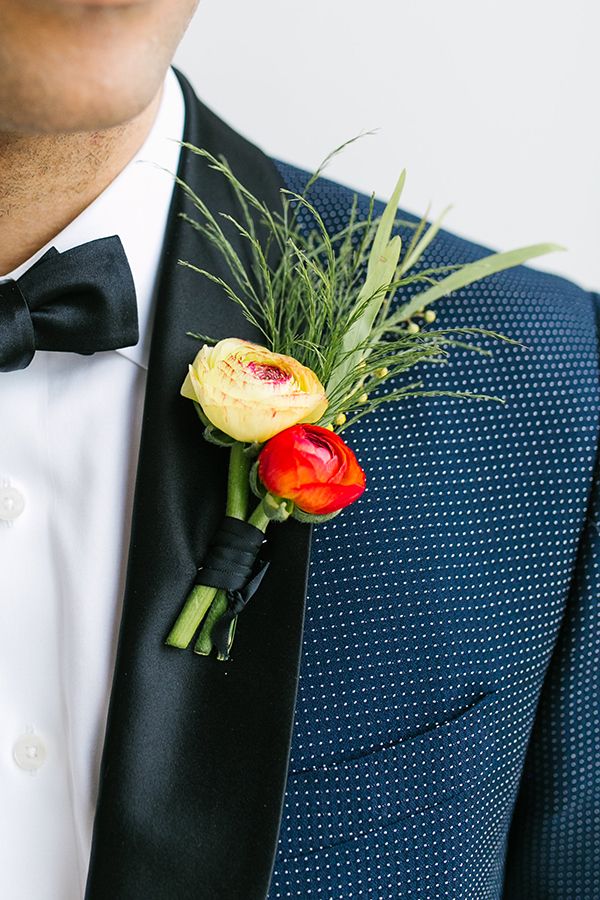 "Everyone thinks of Warhol's soup cans and Lichtenstein's screen prints as quintessential to the movement and although those are both lovely and important works of art, neither scream "wedding" or "classy" or "relatable" to me."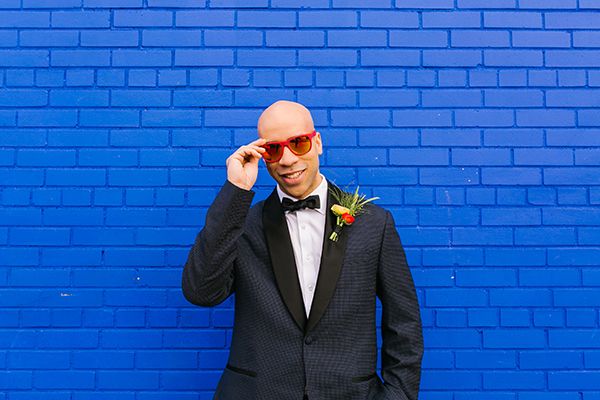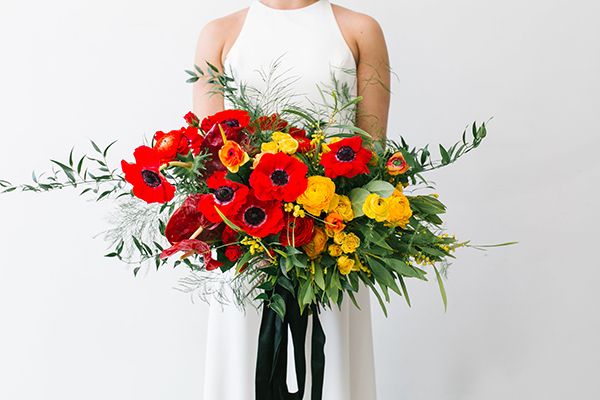 "
When I get the opportunity to design editorial shoots, I like to use the inspiration in a way that couples can relate to and use on their own weddings."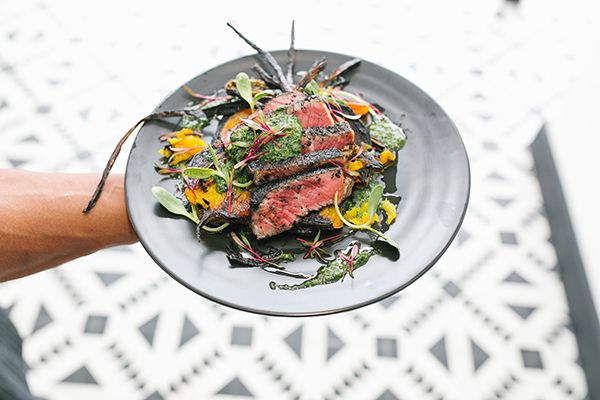 "This means making items that are easily replicated for a wedding day in a design aesthetic that is more relatable to the general public while still being fun and unconventional."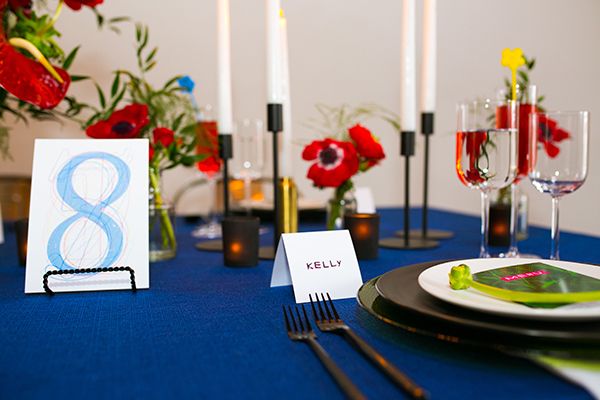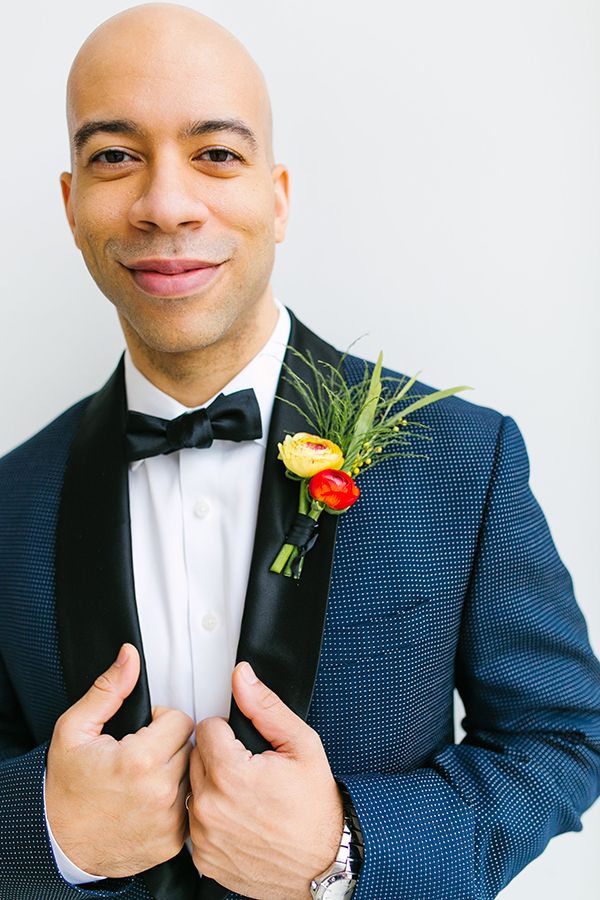 "
I decided to use one piece of art from the pop art movement as our main inspiration for this shoot. Warhol's Flower series was it. It's bright, colorful, full of flowers, and easily translated in a variety of decor items."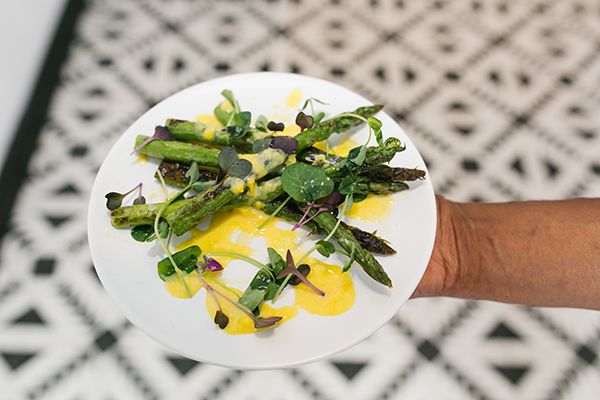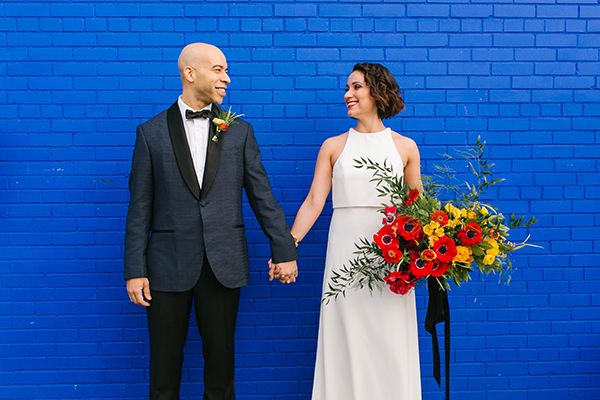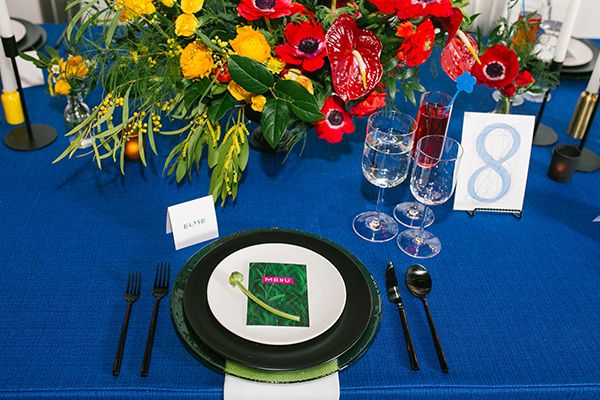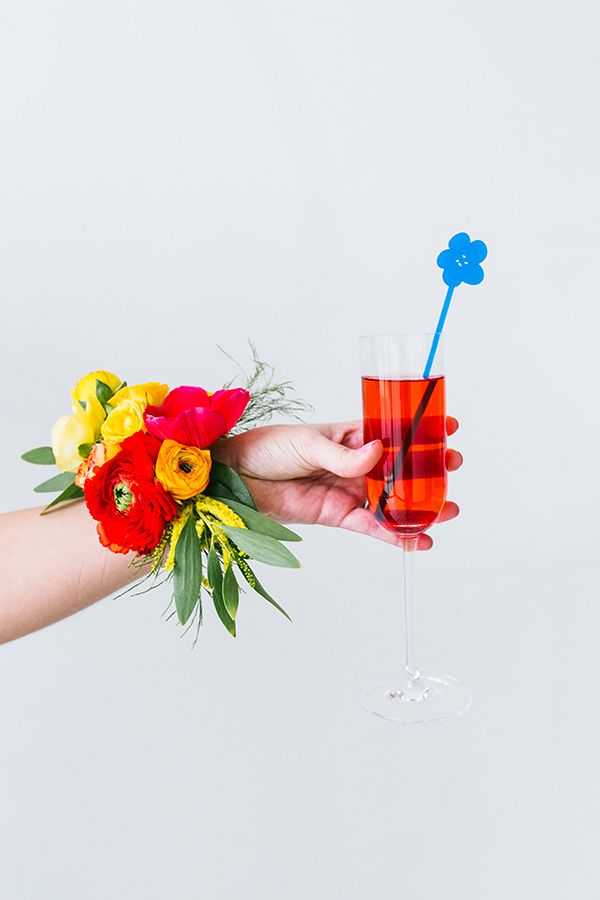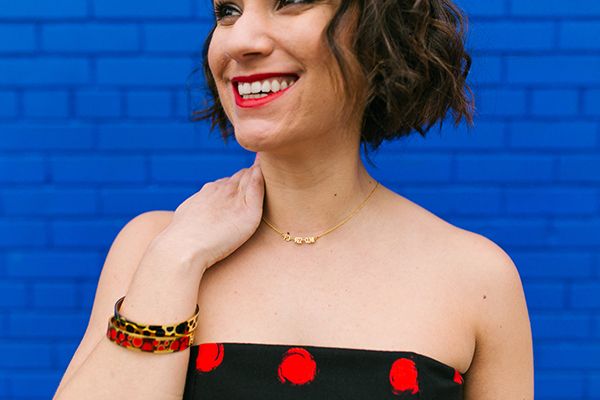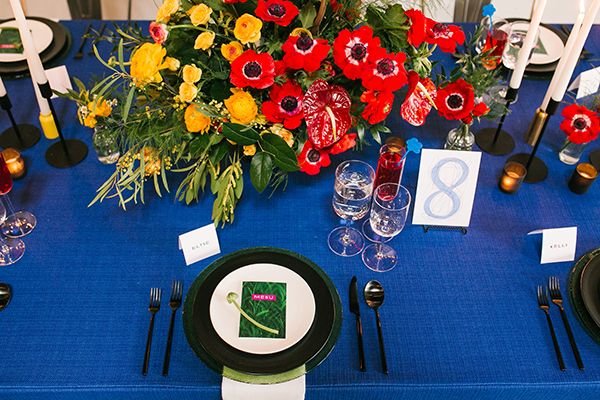 And this cake, you guys? Wow! Such a beauty by
Hudson Cakery
.
Modern, colorful, and all kinds of inspiring, we don't think it gets any more creative than this! Now excuse us, because we have some major pinning to do. Care to
join us
?
Produced in Partnership with

My Wedding Magazine

// Photography:

Amy Gray Photography

// Coordination:

Color Pop Events

// Design and Florals:

Michelle Edgemont

// Venue:

Dobbin St.

// Paper:

Suite Smith

// Drink Stirrers:

California Lustre

//

Rentals:

Broadway Party Rentals

// Custom Painted Backdrop:

Hannah Lowe Corman

// Linens:

Nuage Designs

// Cake:

Hudson Cakery

// Cookies:

Sweet Dani B

// Catering and Signature Cocktail:

Purslane Catering

// Microgreens and Edible Flowers:

Brooklyn Grange

// Hair:

Styles on B

// Makeup:

Pre-Dame //
Dress:
BHLDN
and
Alice and Olivia
// Suit:
The Black Tux
// Jewelry:
Susie Saltzman Custom Fine Jewelry
//
Share This: