Have you checked out the amazing new calligraphy shop that the Blissful Bride recently unveiled? Well if you haven't then I invite you to go over to her new website and for lack of a better word....swoon over all the lovely calligraphy services she has available
'Swoon Over It' is a calligraphy studio designed with the modern bride in mind. Because let's face it...the envelope is the very first thing your guests will see when you it comes to your wedding. And when you have spent so much time and money on your invitations, why would you do anything less than hire a professional to take care of the rest for you? Having a professional hand address your envelopes is a charming & unique way to make your wedding invitations even more special.
That's why it's with great pleasure and incredible excitement that I announce to you that one lucky reader is going to win free addressing for 100 outer envelopes!!!

You have 3 different styles of writing to choose from!

The New York, The Paris & the London.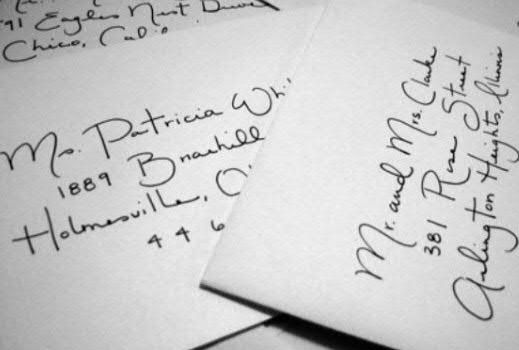 To enter... simply hop on over to: http://www.swoonoverit.com/ and check out the 3 styles which are featured in her writing samples section. Once you've chosen your favorite...come back over to the Perfect Palette & leave a comment on this post explaining which style you would choose should you win!!
A winner will be chosen next week on Tuesday May 5th. So please be sure to check back to see who the lucky winner will be! Good Luck to Everyone!