Happy Monday, Friends! It's someone's birthday! And that someone just happens to be me! It's my birthday today! I just love birthdays! Don't you? It's that one day out of the year that is set aside to celebrate yourself! A day to indulge a little perhaps.
Wh
at I love most about birthdays definitely has to be celebrating with the people I love. And since I happen to love all of you I thought why not have a little celebration with my readers!
Have you heard?
MagnetStreet Weddings
is now offering Personalized Save the Date Magnet Samples! Perfect for couples who wants to "see before they buy"
So to celebrate my birthday, we thought it would be fun to give them away! Yep, that's right, we're celebrating by giving 1 FREE personalized Save the Date Magnet sample to the first 50 Perfect Palette readers 5/23/11-5/27/11!
Order a Personalized Sample of your favorite design to see the difference and to feel the quality! Personalized Samples are available in Classic Magnets, Mini Magnets & Photo Booth Magnets.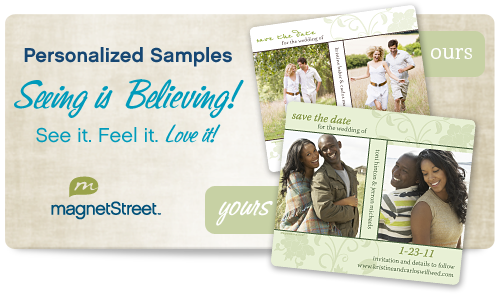 Why Personalized Samples? Brides Talked. Over and over, MagnetStreet heard from from brides that what they wanted was to see a sample Save the Date with their colors, photos, fonts and wording on it. MagnetStreet Heard. Brides can now get what they've always asked for… personalized Save the Date Magnet samples! It's brand new, exclusive to MagnetStreet and a true value-add service to brides who want to see before they buy! What's not to love about that?
How to Order your FREE personalized Save the Date Magnet Sample
Be among the first 50 to get yours FREE
1. In Celebration of my Birthday, Please
Like The Perfect Palette on Facebook!
2.
Choose your Save the Date design
.
3. Select a quantity of one. 4. Personalize the design with your colors, photos, fonts and wording. 5. Check Out. 6. Enter promotional code WTPPPS 7. Leave a comment below and let us know which design you chose and how you customized it to make it yours!
So what am I planning to do today for my birthday you ask? Well, this weekend we celebrated with a fun-filled cookout. There was good food, good laughs and great company. And tonight I'm looking forward to a special birthday dinner with my hubby. Also I'm thinking of treating myself to a new hairstyle. Maybe some fun layers? Something lighter for the Summer months! I know, I know... sounds a little boring, right? Guess that happens when you turn 31! How did this happen? Someone tell me? I was seriously just 12!