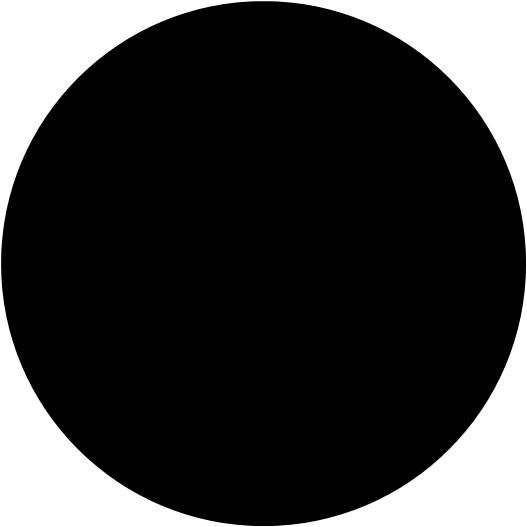 {Yellow & Black}
If you go back into the archives you will see that I have never made an inspiration board that includes the prospect of rain. Not once have I ever even considered putting together any rain day wedding inspiration. Well, I'm 7 days out from my own wedding day and the sad sad truth is that they are calling for rain on our wedding day. How could this happen? October 24th has always been considered the best day to get married in the Fall up in the North Georgia mountains. Not only are they calling for rain, but it's looking like its going to be pretty darn cold too. My dream of blue skies, beautiful leaves turning & a slight nip in the air just may not happen. So, in order to sort of come to peace with the idea of rain on my wedding day- I thought I would put together some rainy day wedding inspiration. {continued...}

{Click to Enlarge}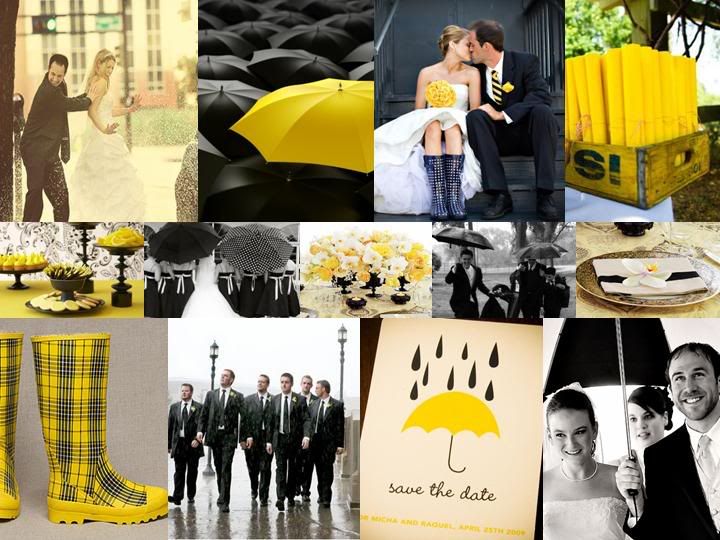 top row: newlyweds,
sea of umbrellas
,
bride in rain boots
,
yellow programs
, middle row:
dessert display
,
maids
,
centerpiece
,
groomsmen
,
dinner napkin
, bottom row:
rain boots
,
groomsmen
,
rainy motif save the date
,
newlyweds
.
Details We Love
Save the Date
Groomsmen Walking in the Rain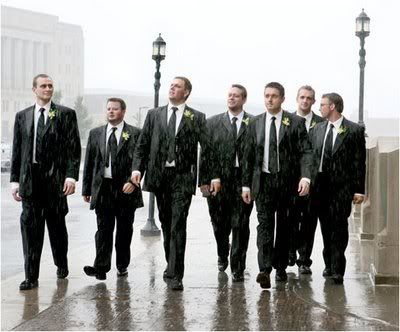 Gorgeous Dessert Display
Bride in Rain Boots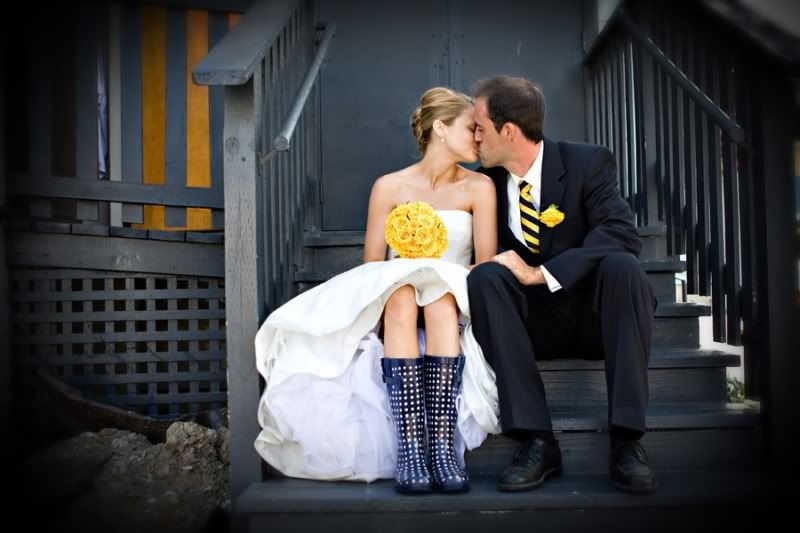 Dont get me wrong, I love rain - just never imagined it on my wedding day of all days. Obviously, a wedding is not about getting pretty pictures, but I have to admit that it kind of makes me sad that I may not get the outdoor shots I was hoping for. Surprisingly, this rainy day wedding looks pretty fun though. Wouldn't you agree? I mean, who doesn't love a bride in rain boots? And check out the images of the groomsmen walking in the rain! What an incredible picture! And what about those great umbrellas! Such fun! In the end, my wedding day is about getting married to my best friend. And rain or shine I know it will be the best day of our lives. Rest assured, I won't be letting a few rain drops rain on my parade. Cliche as it may sound, I will definitely be dancing in the rain!