{Slate Blue & Latte}
Slate blue and latte make quite the team, wouldn't you agree? This palette was made especially for bride-to-be, Kyla, who wrote to me with a Western wedding theme in mind. She said she wanted to have some country elements incorporated but did not know exactly which way to go when it came to figuring out a color palette. The answer was simple I told her....Go with this lovely combination of latte & slate blue. {continued...}
Click to Enlarge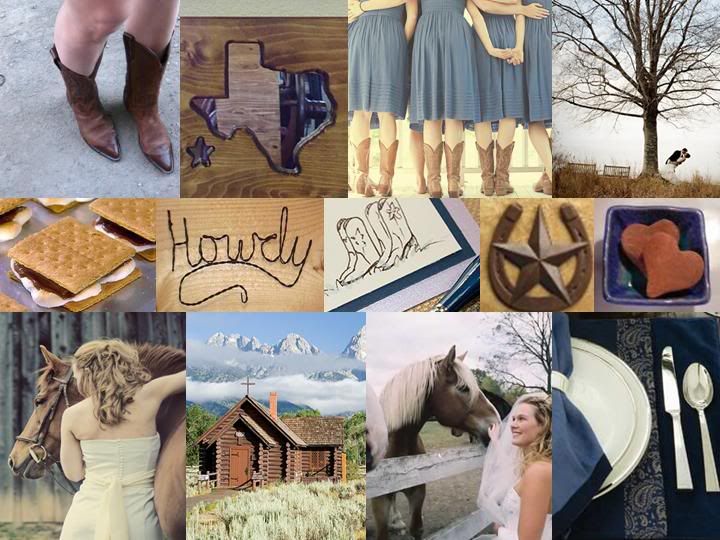 top row:
cowboy boots
,
Texas symbolism
,
bridesmaids in boots
,
newlyweds/tree
,
middle row:
smores
,
howdy sign
,
invitation by Momental Designs
,
horse shoe
,
dessert
,
bottom row:
horse & bride
,
log cabin chapel
,
bride & horse
,
western place setting
.
Details We ♥

Bridesmaids in Boots!

Rustic Signage
For her wedding, I imagined the ladies would look darling in blue knee length dresses. And to compliment, what better way to add some country to your attire than to step out in style with a pair of authenic cowboy boots! I imagined that the wedding could take place in a log cabin chapel with an outdoor reception to follow. Special attention would be paid to place settings & blue bandana accents would be incorporated. In lieu of wedding cake, smores would be served! Oh and who doesn't love that invite design by
Momental Designs
?
You Might Also Like...