{Our Wedding!}
Our Venue
It just dawned on me that I haven't told you all about where we are getting married this October. So I thought Id give you all a little sneak peak at where it's all going to be going down this fall! Brad and I are getting married in a charming little town in Georgia called Dahlonega. After searching high and low for the perfect spot to say 'i do' we ended up where we always knew we would marry! Our favorite place! The place we go to get away from it all!
Frogtown Cellars! A quaint little vineyard up in the North Georgia Mountains!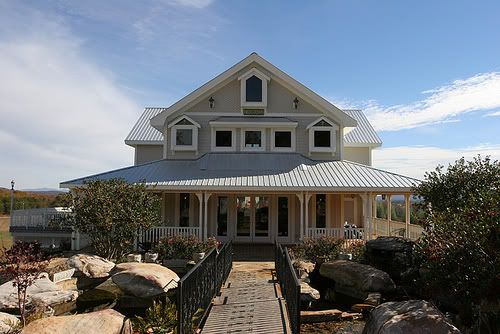 I just love the craftsman style architecture & it's wrap around porch. It's charming, it's special to us and its definitely the perfect spot for our rustic fall wedding. The facility is a timber-frame structure with cathedral ceilings. The building has hand-carved Tennessee flag stones walls and Brazilian cherry floors. Two large decks envelop the structure with breath-taking views of the mountains and the vineyards!
Ultimately, it met all of our requirements and at the end of the day there were no other locations that could compare! What's even more exciting is that our date was originally taken, however the bride who had the date ended up eloping! So as fate would have it, we will be tying the knot exactly one year from the date of our engagement. It's so exciting for us to imagine all of our friends & family getting together up in mountains this October.