{Trends We ♥ }
Bridesmaids Dresses that Break the Mold
Looking at these lovely numbers just gives me a dose of spring fever. So much so that I thought we would share them with you! Aren't they fabulous? This year, in 2009, the trend of creating a bridal party that is unique and not so 'matchy, matchy' will continue.
Brides are letting go of the mold so to speak and letting each of their maids wear dresses that are all a little bit different.
In the example above we have a bride who has chosen a color palette of peach, melon, satsuma & carrot. Instead of dressing them all in peach, the bride has chosen a uniform length for all of the dresses but has allowed them to chose the neckline. And oh what an impact this makes! Because all of these colors are considered to be in the same family of color, it just works! So in this case her bridesmaids wore their own individual color and their own individual style!
♥
Here is another example where the bride chose to allow her maids to wear different shades of blue and different styles too! Are you surprised at how well it flows?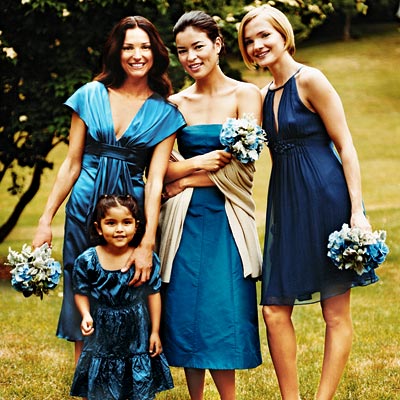 Another way to break up the monotony of your bridesmaids attire is to have them all wear the same color but allow them to chose a different style.
There's nothing cookie cutter about this bridal party!
Simply stunning!
So it just goes to show that you may want to loosen up when it comes to the style of your bridal party! Just look at how unique and fun the result is! Breaking up the monotony when it comes to dressing your bridal party really will add unexpected personality that your guests are sure to appreciate.